Best Ironclad Gloves Reviewed & Rated for Quality
In a Hurry? Editors choice: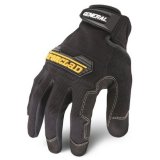 Test Winner: General Utility

What exactly are Ironclad gloves? If you work with your hands and are exposed to extremely hot or cold temperatures, certain caustic chemicals, and other potentially hazardous materials, it is required by OSHA that you wear proper, approved, hand-protecting garments. Of course, they have a multitude of uses beyond the occupational realm. They can be useful around the house (especially while attempting any sort of DIY repairs), repairs involving a car engine and its component parts, and anything involving cold temperatures, such as
snow blowing
or shoveling for an extended period of time.
Whether you work in a trade that necessitates the use of this type of hand protectant or you are interested in owning a pair for personal use, there are a lot on the market for you to choose from. Let's dive a bit deeper and see what Ironclad has to offer.
Standout Picks
Criteria Used for Evaluation
Effectiveness
How well your new gloves work is, without a doubt, the most important consideration. If they fail to protect your hands from injury, what on earth is the point? For carpenters, machinists, framers, remodelers, electricians and a vast array of other workers, hand protection is not an option - it's a necessity.
Do your research before buying a pair. Make sure they do everything you need them to do. If you need thermal options to protect you from handling extremely hot items, check to see the thermal rating. Do the same if you are handling extremely cold items. Check out how the gripping is rated. Are they bulky? Will you struggle trying to grip a power tool or hold something steady? Your safety is literally in your hands. Take your time and do your homework before settling on a pair. If they fail to live up to your expectations, do not hesitate to return or exchange them.
Comfort
Comfort is also quite important. You will most likely be wearing them for hours at a time, and the last thing that you need is to experience undue discomfort. This can be caused by products that do not fit properly. If they're too tight, they can cause irritation and cut off circulation. If they're too loose, they can fall off and cause you to have a clumsy grip.
Also, remember to look for options that are adequately ventilated. Even if you need your hands to stay warm, there should still be at least a portion of breathable material. That way, your skin will stay comfortable underneath the glove, perspiration will not build up and you will not develop a rash or irritation.
Fit
It can be tricky to find a proper-fitting pair when shopping online. Often, the sizes run small, but you cannot just make that assumption. Some sellers include helpful sizing charts that are useful if you have your measurements readily available. Otherwise, it is worthwhile to take a drive to the local hardware store to try a few different pairs on in person.
Remember, the phrase "fits like a glove" was coined for a reason. This type of garment is meant to be form-fitting. However, there is a happy medium between a snug fit and being too tight, which can cause irritation and even cut off your circulation. Take the time to either use measurements and a sizing chart or go down to a hardware store and try on a few pairs for size.
Insulation
Insulation is key when selecting which product to purchase. The insulation does the most important part of the work. Whether it's keeping your hands warm or cool, the insulation serves to protect you and aid you in whatever task you are doing.
When considering insulation, note that it is almost always made of synthetic materials. Try on a few different types before purchasing them to make sure that the material will not cause you any discomfort.
Durability
These products should be made tough, built to last, and built to withstand heavy duty work. After all, we are not talking about disposable latex options here. Rather, you want to find a pair that will last you for several years with proper care.
Your best bet is to read through the customer reviews. Is it a common complaint that the gloves you are considering do not last very long? That is a huge red flag. Does the manufacturer offer any sort of a warranty? Will the seller refund or exchange your gloves if you are unhappy with their durability, finding them to be substandard? These are all questions that can be answered through your careful research.
10 Best Ironclad Gloves


Ironclad is considered to be the gold standard as far as the production and manufacture of high-quality, reliable protective handwear, so right away, you can feel confident knowing that you are purchasing an option from a brand you can trust. The GUGs offer superior protection, comfort, and durability, all at an affordable price. Ironclad has offered a simple, easy, affordable and comfortable way to protect your hands while doing hard labor.
Reinforced, Rubberized Zones
The GUGs have been carefully designed to feature rubberized reinforcement where your hands need it most. Specifically, the knuckle impact zone is reinforced with rubber. On the saddle, fingers and palm, you will find synthetic leather double reinforcements that have been stitched in. Your hands and wrists are entirely protected using various materials selected to provide optimal shock absorption, cushioning and comfort.
Secure Closure
You do not have to worry about them staying on securely thanks to a secure wrist closure that stays comfortably, yet firmly around the wrist. You will still have a full range of motion and will not experience any irritation due to the snug fit. Ironclad includes a sizing chart so that you can be sure to order the correct size; everything from S to XXL is available. If you should have a problem with the size you ordered, Ironclad is fast and responsive with returns and exchanges.
Cost and Value
The GUGs are an excellent value. They are fairly priced, have excellent reviews, are carefully designed and well-built, and offer superior comfort and protection. They stay on securely and protect your hands like a virtual set of armor. The GUGs are a superb value offered at a fantastic price, and are a very smart buy.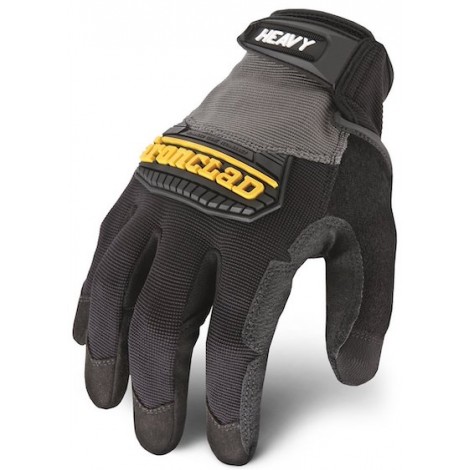 The Ironclad HUGs are yet another example of a fine product sold by a reputable company at a fair price. Ironclad has a reputation for manufacturing tough, durable, long-lasting products and the HUGs are no exception. They are especially resistant to abrasion and are the perfect pair of hand protectants for a wide range of applications/jobs/tasks that require nothing less than the best in hand and wrist protection.
Performance Fit
The material these are composed of is surprisingly well ventilated, malleable and comfortable. You will have no trouble gripping tools, bending your fingers or with delicate motor skills. The material, which is a mix of synthetic leather, nylon, terry, and PVC, is form-fitting and does an excellent job of conforming to the shape of your hands and fingers. You will not have to worry about accidentally losing your grip on a tool; you will be able to maintain a steady hold as if you were not wearing any at all.
Side Walls
The HUGs keep your hands protected from accidental impacts at all directions. Like the GUGs, the HUGs also have a rubberized padding surrounding the knuckle area. There are also synthetic leather side walls that protect the fingers and palms of your hands. Your hands and wrists are protected from impacts in all directions, without them feeling bulky or cumbersome.
Cost Value
These are quite affordable, well-reviewed, reliable and in general, quite impressive. Considering the low price tag, the excellent reputation, the reputable brand, the durability, and long-lasting performance, these are yet another example of a high-value item available at a low cost to the consumer.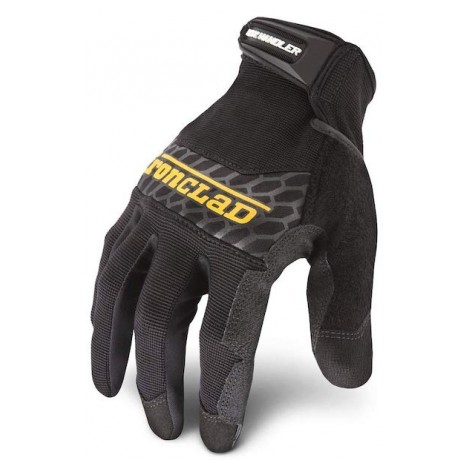 Here, we have another great option. This is not to suggest that Ironclad is the only player in the ironclad glove game; however, based on expert analysis, critical reviews, customer remarks and other sources of information based on both opinion and scientific testing, Ironclad does appear to be in a league of its own. Here, we have the BHG, which are specifically intended for workers who regularly handle boxes. Whether loading or unloading trucks, stocking inventory, managing a warehouse or otherwise, boxes can wreak havoc on your hands, and wearing protective handwear is essential.
Patented Palm
The BHGs have a patented palm construction that allows for a powerful grip. The palm is reinforced with a patented Diamondhead, silicone fused material that allows you to grip a box as if it is adhering to your palm. This patented, unique material makes carrying, lifting and pulling down boxes much less hazardous than attempting to do so while using options with an inferior grip.
Knuckle Protection
The knuckles are afforded superior protection thanks to Neoprene. Neoprene is a unique material in that it offers impact protection and cushioning to the knuckle area, without inhibiting manual dexterity or fine motor skills. Your knuckles are protected from injury and yet free to grip and hold with unfettered strength.
Cost and Value
The BHGs are no exception to Ironclad's policy of producing high-value items at affordable prices. They are extremely affordably priced, but there is absolutely no correlation between the low price and the quality/value of the product. To the contrary, The BHGs are popular among customers and critics alike, and their low price is just the beginning. They are well-made, carefully designed, superbly engineered and masterfully manufactured. The end result is the total package: an excellent value.



The aptly named KONG are designed to be tough as heck. They are designed for use in the oil & gas field so laborers who work in this sector will find the KONG to be very beneficial.
Hi-Vis
You're not going to lose your KONGs no matter where you take them thanks to their bright orange color. They are also outfitted with a hi-viz palm.
Protection, Protection, Protection
Anyone who works in the oil and gas sector can attest to how much of a beating their hands take on a daily basis. This product is designed to provide ample protection where it matters - the knuckles, the palm and the metacarpal.
Cost and Value
The KONGs are very decently priced. They may be overkill for some folks, but if you're working in the oil and gas sector, you will find the KONG to be incredibly beneficial.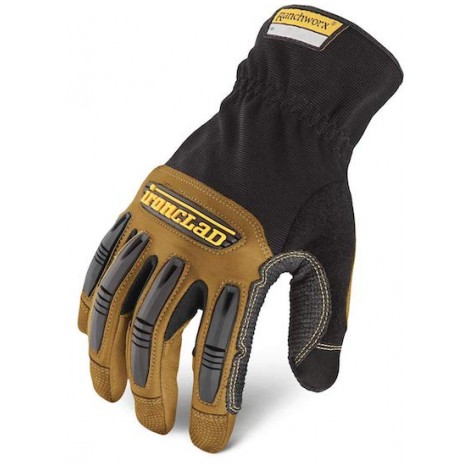 Ironclad is back with a pair specifically designed for ranch workers, the aptly named Ranchworx. The option is made with real bullwhip leather. They are packed with advanced features that make them the ideal pair of gloves for a ranch worker or a farm hand. Strong, resilient, durable and unbelievable tough, the Ranchworx are in a league of their own.
Let's Talk Dexterity
The dexterity offered by the Ranchworx is advanced, well-designed and rather brilliant. These feature what are called roll top fingertips, which not only provides extra protection but also bolsters dexterity, just as your natural fingertips would. There is also a feature called exo-guard dexterity that further protects your fingers while improving your manual dexterity and fine motor skills.
Built-in Terry Cloth
A large piece of super absorbent terry cloth is located behind the thumb area. This allows you to wipe away perspiration, keeping your hands dry at all times. Your hands will be incredibly comfortable without the buildup of moisture and sweat inside, and you will not be slowed down by having to periodically towel dry your hands.
Cost and Value
True to Ironclad's reputation, these are very affordably priced, high-quality, well-built, carefully designed, comfortable and reliable. Once again, Ironclad has produced a fantastic product that is budget-friendly and incredibly useful. All in all, they are a superior value.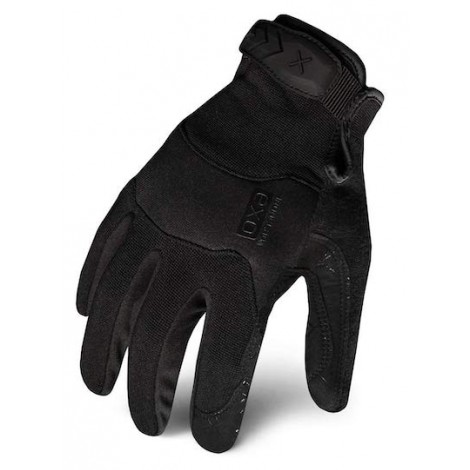 Ironclad has an entirely new style with its all-black, stealth, pro-operator product. Its overall appearance is quite chic and bold, with all the advanced features camouflaged by the deep, dark material. They look like regular gloves. So, what is it that makes the EXOTs special?
Ergonomic Design
First and foremost, Ironclad took extra care to make sure that the EXOTs are ergonomic; comfortable, supportive, and do not cause any undue stress or strain. The shell is form-fitting, made of spandex and Neoprene. They comfortably conform to the shape of your hand. Your hand will stay cool no matter how taxing the task at hand; Ironclad designed these carefully. Even if you should perspire while wearing these, there is a small terry cloth match of material located in the webbing of the thumb area that absorbs any excess moisture, allows you to wipe away any sweat, and provides a breathable, ventilated area to keep your hands at a comfortable temperature at all times.
16-Point Measurement System
At the Ironclad Company, the phrase "one size fits all" simply does not apply; it's borderline taboo. Ironclad uses an exclusive, patented 16-point measuring system to create the ultimate fitting pair. With options that fit and move like a second skin, Ironclad offers stellar, amazing performance that, quite frankly, blows the competition out of the water.
Cost and Value
Ironclad has continued to stick to its commitment to manufacturing the highest-quality goods at the lowest possible prices. The EXOTs are no exception; they are superb quality, earn high marks across all categories, and are priced to sell. Ironclad could easily command two, three or perhaps four times the price it asks for its exquisite items, but that would go against the company's principles of manufacturing the best quality products it possibly can at prices that are affordable and fair.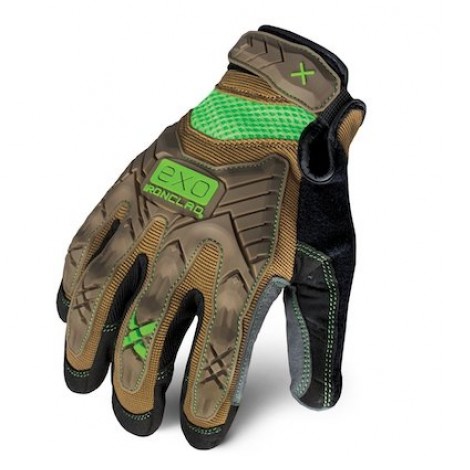 The Ironclad Impact are the ideal choice if you are working with heavy machinery, from jackhammers to large drills and everything in between. If you need an option that will aid in shock absorption, protect your hands from the impact of the machinery, and will not be a hindrance to your dexterity, Ironclad has you covered.
Project Impact
Ironclad has released this pair as part of its Project Impact. Project Impact cloves offer superior protection from the impact on the outside of the hands. This is done via thermoplastic rubber. The thermoplastic rubber primarily protects the metacarpals and the knuckles. This is all done without a bulky or clumsy feel. Rather, you will enjoy a superb grip, and your dexterity and ability to hold a steady grasp on power tools will not be hindered. Additionally, as with several other Ironclad products, the Impact includes a patch of terry cloth material under the thumb area that absorbs perspiration and moisture.
The Mesh and the Palm
The palm area is reinforced using a process known as exo embossing. This provides comfort and bolsters the grip. Vibration is reduced in a manner similar to shock absorption. This requires you to exert less force while gripping whatever tool you are using, and you will be able to do so with added safety and stability.
Cost and Value
The Protection is very competitively priced. They are slightly more expensive than some of the other options reviewed here, but that is to be expected considering the fact that they are loaded with amazing, state-of-the-art features that keep you protected while operating heavy machinery. They are absolutely worth the cost and much more; a superb value.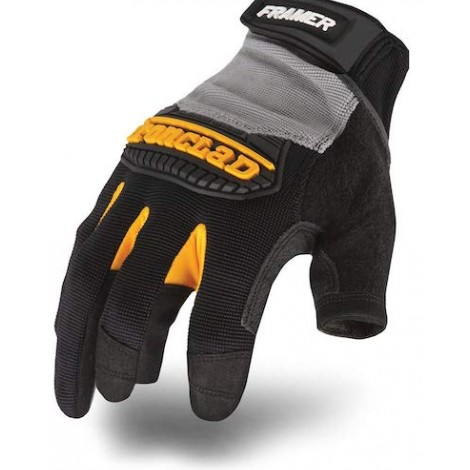 As the name suggests, the Ironclad Framer are intended specifically for framers. Their detailed design is made to facilitate careful, meticulous framing work, and to take away the difficulty of finding a suitable pair for the job. Ironclad has thought of everything, much to the appreciation of professional framers everywhere. The Framer simply do not disappoint.
Dexterity That's Fingerless
The Framer feature open, exposed finger dexterity on the middle and index fingers as well as the thumb. The rest of your hand is provided with incredibly strong protection. So, you are provided with Duraclad's patented protection on top of the kind of dexterity that can only be provided by a fingerless option. This makes a world of difference when you are using power tools, framing, doing electrical work, rigging or performing carpentry-related tasks.
Sweat Wipes
Similar to other products, the Framers feature a patch of terry cloth material underneath the thumb area. The terry cloth absorbs any moisture that could accumulate underneath. Also, it is ideal for wiping away perspiration while you work. The terry cloth patches are also ventilated and breathable, providing extra comfort.
Cost and Value
The Framers are very low priced and an exceptional value, true to Ironclad's modus operandi. They are quite affordable and would be useful to keep in your toolbox or to give to the person in your life who loves DIY projects. The fingerless dexterity truly sets these apart; your fingers and hands are still protected, and yet you get to enjoy the benefits of the fingerless design. Once again, we are presented with an excellent value.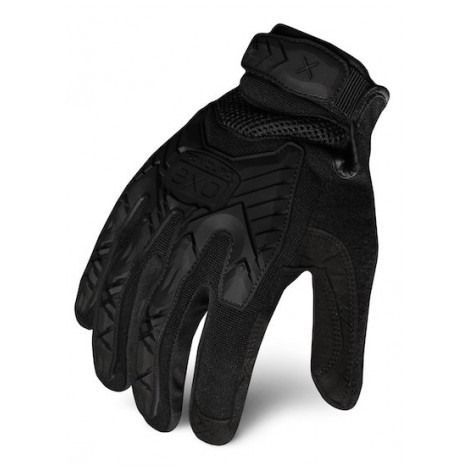 Ironclad is back again with more options! What makes these so different from the all-black pair we previously in this list? Well, for starters, from an aesthetic point of view, the design is completely different, and these are available in a wide variety of colors. Still, they offer the same benefits, making them special and well...a little intriguing, to be honest.
Miltary or Law Enforcement Use
What exactly makes the EXOT-IBLK a great option for those in law enforcement? The EXOT-IBLK offers a superb, strong grip, allowing you to hold a club, firearm, or whatever the case may be. They also offer superior protection, padding your fingers and knuckles without being bulky.
Protection
Despite the EXOT-IBLKs seemingly thin material, it is, in fact, quite strong. The knuckles are protected and the sides of the hands and wrists are adequately cushioned and protected. They are designed to be impact resistant. They are deceptively strong, with a form-fitting protective barrier keeping your hands protected from any sort of attack or trauma you might sustain.
Cost and Value
True to form, Ironclad has manufactured a well-made, trustworthy, durable pair that are as functional as they are affordable. Ironclad shatters the idea that you get what you pay for. That old adage is simply not true. It is possible to find a well-made, long-lasting product sold at a fair price, and that's exactly what Ironclad brings to the table with its wide array of products.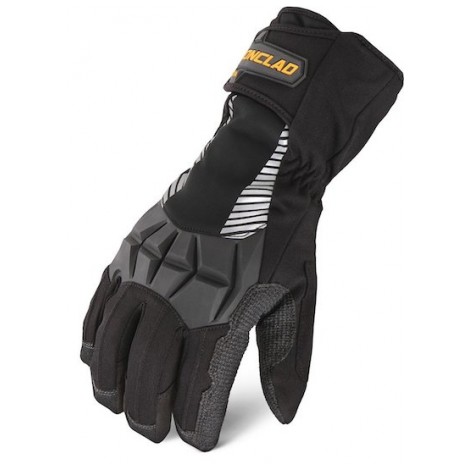 The Ironclad Tundras, as the name suggests, are made to withstand sub-zero, absolutely freezing temperatures, which, unfortunately, have recently become a reality across the United States thanks to the Polar Vortex. Having adequate protection against the cold, from coats to hats, scarves, insulated pants and of course gloves, we are responsible for our own safety when inclement weather hits and hits har
Sub-Zero Temps
The Tundras are rated to provide warmth in sub-zero temps. This is crucial. If you've ever been outside in freezing temperatures, exacerbated by a strong wind chill, you know how easy it is to lose feeling in your fingers. This is absolutely no joke and can lead to serious conditions like frostbite in a matter of minutes. This is why it is of the utmost importance to find properly insulated products from a trusted brand that can protect your hands while you de-ice your windshield, shovel your walkway, or do whatever needs to be done until you can get back inside and warm up again.
Palm - Duraclad
200 grams of Cryoflex insulation is used to line the fingers, thumb and palm. What exactly does Duraflex do? It is a blend of synthetic materials that offers over eight times higher durability than the synthetic leathers typically used to line these products and other outdoor temps. In the event you have to stay outside for an extended period of time, such as an emergency or a car accident, you will be grateful for the extremely warm insulation keeping your hands safe from frostbite.
Cost and Value
The Tundras, as you probably guessed, are competitively priced, excellently rated and are a wonderful buy. However, they are more expensive than the majority of other products reviewed here, which does not mean that they are unaffordable or unreasonable; they are simply more competitively priced. For a fair price, you can purchase some of the strongest protection on the market against the bitter cold temperatures that have visited us time and time again this year. Yes, spring has sprung, but unfortunately, next winter is never that far away, and you want to be prepared.

Subscribe to our Newsletter