Best Ice Fishing Shelters Reviewed & Rated for Quality
last updated:
Apr 10, 2020
If you're an avid angler, you know nothing beats the thrill of fishing during the winter. The long waits and the adrenalin pump once you get hooked are simply unexplainable. While battling the adversities the weather throws out makes the catch even greater, you need to keep yourself safe and warm as you wait it out. The best investment you can make is an ice fishing shelter. With the right information, you can easily make a quality purchase that will compliment your fishing and meet your needs. Lucky for you, you're in the right place.
In a Hurry? The test winner after 14 hrs of research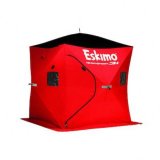 Eskimo 2-4 Person
Why is it better?
It is easy to use
Is lightweight and highly portable
Strong durable fabric that is water and wind resistant
Has windows for good ventilation
In a
Hurry? Editors choice: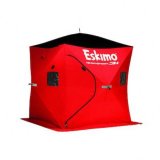 Test Winner: Eskimo 2-4 Person

13
Researched Sources
15k
Reviews Considered
14
Hours Researching
14
Products Evaluated
Style
Materials
Size
Ease of Use
Durability
By Default
10 Best Ice Fishing Shelters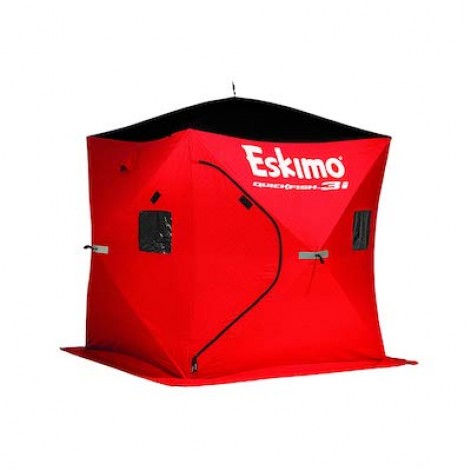 It is easy to use
Is lightweight and highly portable
Strong durable fabric that is water and wind resistant
Has windows for good ventilation
The poles are not the best quality
Harder to set up with wind blowing
This ice shelter is a mix of portability and convenience. It is easily one of the best sellers and offers plenty of room for up to three people. It is a great ice shelter to consider if you're bringing friends or family on the trip. Despite the roomy feel it offers, the shelter weighs about 20 pounds. You can easily carry it to your preferred spot. It comes with an oversized zipper bag making it easier to carry. It is even easier to set up and with the tapping ice anchors, you're assured it will stay in place. The extra-dense, water and wind resistance fabric ensures you stay dry and comfortable as you wait for your prey to take on the bait.
Portable
Most times, you have to carry your equipment to your fishing location. It's impossible to drive in the thick snow. You need lightweight equipment that won't pose a challenge if you have to cover a significant distance on foot. Coming in at only 20 pounds and paired with a bag where you can squeeze in the shelter, it is easy to carry.
Easy to Set Up
You can quickly set up the shelter without much trouble. The 6-self tapping ice anchors offer good grip to keep the shelter in place even under demanding weather. The ease of setting up means you are only exposed to the bad weather for a short time and you can set up and start your fishing sooner.
Cost and Value
If you're looking for a premium product and you prefer convenience over anything else, you will find the cost of this ice shelter just fine. It has plenty to offer and it is easy to work with. Its lightweight nature is handy and the ease of setting it up are factors that will be critical to your fishing experience.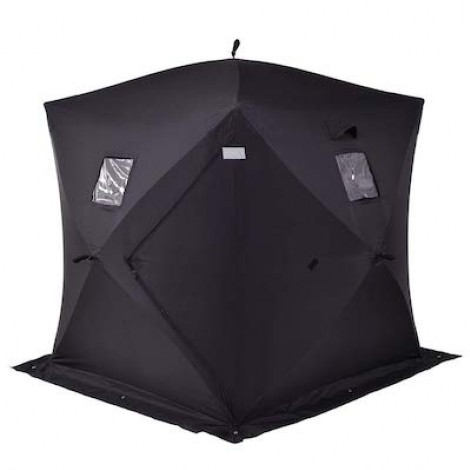 Made from quality and durable materials
Has multiple detachable windows for ventilation
Offers enough space for up to three people
Lightweight and easy to set up
Setting up in the wind requires at least two people
It is not insulated
Fishing equipment can be costly. Any opportunity you get to land some quality item for a bargain should be seized immediately. This Tangkula shack is one such opportunity. The brand might not be as popular as some of the others on the list but the features and quality of the ice hut are definitely one to admire. The shelter is made from 300D oxford fabric and only weighs 22 pounds. Getting it your fishing spot is going to be a breeze and the set up will save you time. The fabric is weather resistant and can withstand temperatures of -220F. The poles remain strong and sturdy under the weather and the 4 detachable windows allow you to circulation when you need it then you can seal them off. The shack is perfect for up to three people.
Plenty of Ventilation
Being cooped up for hours with limited space and minimal ventilation can be nauseating. To help you fish longer with your pals without affecting your comfort, the tent has up to 4 windows to bring in the light and some much-needed air. When it gets too cold, the windows can be sealed up to keep yourself warm and prevent the cold air from coming in.
Flexible Poles
To make setup fast and easy, the poles are flexible. This saves you the time and energy you would spend trying to get different parts of the ice shelter to fit. Instead, the poles are easy to maneuver with minimal effort. It is perfect when you are looking to save time.
Cost and Value
This is a great ice shelter for anglers working on a tight budget. It offers the features of a premium shack at a rock bottom price. You get to enjoy plenty of room, a lightweight easy to carry and easy to set up build and quality and durable ice hut altogether.
3

. Thunderbay Ice Cube 3 Man Portable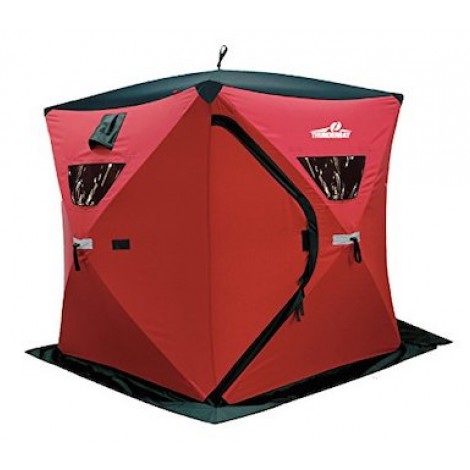 The price is right for the ice fishing shelter
Has plenty of room for up to three people
Convenient hook and loop windows
Self-tapping ice anchors for quick and easy setup
It is not insulated
The door zipper is a little stiff
This 3-man ice shelter adopts a hub-style design that focuses more on convenience and maximizing on fishing space. It has quite a number of impressive features that will have any ice angler ready to make the purchase. Given the demanding weather, freezing cold temperatures and high winds, you need a hut that will withstand the aspects and time. With a 300 denier fabric, this shelter promises a safe haven for you as you do what you love most. It also has a blackout coating that keeps the light out unless you want it in. Other noteworthy features include windows, six self-tapping ice anchors, and a bag. You also get a few accessories to help you get set up faster.
Hook and Loop Windows
Sometimes, you need to have some air flowing in. In other times, the temperature might be so low that the air is too cold for your comfort. With hook and loop windows, you have control of when fresh air comes in and when it stays out. The addition of the windows also makes it possible for you to use other handy gadgets like heaters without damaging the hut.
Self-tapping Anchors
A savvy and essential features, self-tapping poles save you time and effort and keep the hut firmly grounded even as the winds blow. You get to set up faster and save energy. You have a properly secured hut and keeps you safe from the harsh elements outside.
Cost and Value
With a fine mixture of features, quality and price, this is a great option for any fisherman whose looking to spend a decent amount for a good quality hub style ice shelters that offer just enough features and is comfortable and convenient. It offers great value for money.
4

. Nordic Legend Wide Bottom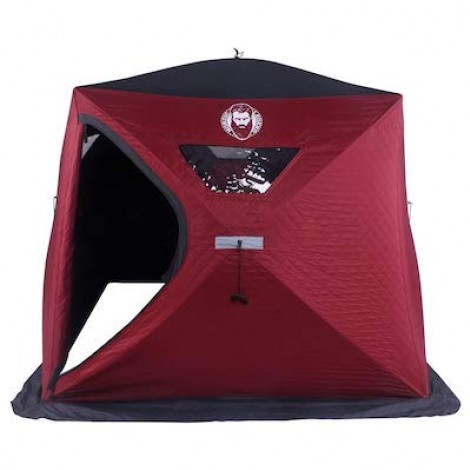 Offers plenty of space for up to four anglers
Made from premium grade materials
Insulated fabric to keep you warm
Lightweight and portable
It's expensive
Setting up might be challenging at first
This Nordic Legend ice hut thrives on maximizing space. It is the perfect solution if you have a large fishing entourage and want to enjoy each other company as you fish. The shelter offers up to 40 feet of fishing area. It's more than enough for up to four people.
The shelter is not only big on space. It's very comfortable. The fabric is insulated and keeps you warm even when the temperatures are below freezing. The frost doesn't build up on the walls keeping you warm as you patiently wait for the fish to grab the bait and chat away with your buddies.
Poles
Any good ice fishing shelter is defined by the strength of its poles. However, while you need the poles to be strong and durable, they shouldn't be heavy. To solve this, Nordic Legend has fiberglass poles. They are extremely strong and lightweight. It's the perfect blend to offer you a durable yet lightweight structure.
Carry Bag
You need to have a method to help you easily carry the equipment to your fishing spot, the shelter comes with a rugged carry bag fitted with shoulder straps. It makes it easy for you to keep all the parts of your new shelter together and more importantly, carry it with ease along with your other fishing gear.
Cost and Value
The Nordic Legend Fishing shelter is going to set you back a pretty buck. The insulated fabric and the fiberglass poles are premium quality materials and demand a higher price. However, with the build and quality, you will enjoy extended amounts of fishing grounds, warmth and a structure that will easily withstand the elements of weather.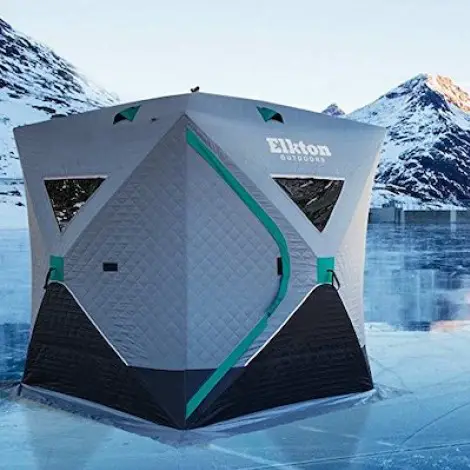 Aesthetically pleasing design
Premium materials for improved performance and better experience
Insulated and waterproof fabric
Easy to set up and take down
Not ideal for users with a limited budget
Despite housing up to four people, the hut only has one door
The Elkton fishing tent is a blend of style and functionality. It is perfect for anglers that love not only fishing but also love making a statement. It is a beautifully designed ice hut with premium features for impressive functioning and killer looks. It has three layers of quilted insulation and has a watertight tarpaulin seal that keeps the frost out and ensures you stay warm inside the tent and you have a warm and dry fishing trip. You might be worried about setting up with the different features. The ice hut is easy to set up and break down and takes just a few minutes to get going.
Easy Set Up and Take Down
You don't want to spend a chunk of your fishing time setting up the fishing shelter. With this shanty, you only need a couple of seconds to set it up and you can start fishing. Once you're done take down the hut is just as easy. You can safely tuck the shelter in the carry bag once done and head on a back home looking forward to your next fishing trip.
Insulated and Waterproof
During winter, cold weather and water can pose a big challenge to your fishing experience. You can easily suffer from hypothermia and your trip comes to an abrupt end. With an insulated and waterproof ice fishing tent, you can comfortably continue fishing for as long as it takes. You stay warm and dry.
Cost and Value
The Elkton Outdoors Insulated ice fishing shelter is made for anglers looking for a premium experience. It's made from high-quality materials that are functional and don't compromise on results. As such, the price is indicative of the results you should expect. Even though not a good option for anglers looking for a budget-friendly option, every penny you pay for this option is worth it.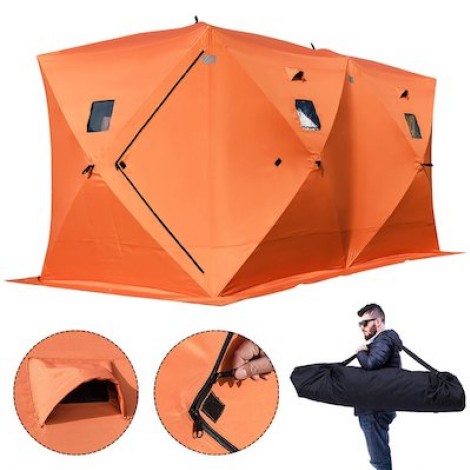 Can house up to 8 people
Strong waterproof fabric
Lightweight and easy to carry
Has a rib design for stability
It's not insulated
Set up might be a little challenging because of the size
The Popsport Ice hut is designed for anglers with a large entourage. If you like going for the fishing trip with your friends or family, this ice hut is designed to provide all of you with plenty of room for your fishing while protecting you from the harsh elements outside. It is fitted with plenty of features that will come in handy during the trip. It's definitely a worthy addition to your arsenal. Among its wide range of features is the 300D Oxford fabric that keeps out the cold. It is supported by heavy-duty poles made from D9.5 solid fiberglass to give them incredible strength without making the tent unnecessarily heavy. Considering the number of people the tent is able to hold, it would be difficult to be comfortable if it didn't have windows. It has 4 windows which are totally covered and detachable. You can cover or open them as is necessary.
Fabric
The fabric of an ice fishing shelter tells a lot about the structure. It needs to be strong enough to withstand the winds and at the same time keep the cold out. The Popsport hut is made from 300D oxford fabric which among the best quality fabrics in the market. Waterproof and water proof ensuring your shelter serves you for a long period of time.
Ventilation
During winter, having a well ventilated shelter can be a double edged sword. You need to control the amount and length that cold air can come into the shelter and when you would prefer to keep the warm and dump air inside. To help you with this, the shelter offers four detachable windows. They are easy to operate and give you complete control of the free flow of air without compromising your experience.
Cost and Value
One of the best things about this ice hut has to be the price. For its size and its features, the price is quite pocket-friendly and perfect for a group of friends who are just starting to explore their love for ice fishing. You get plenty of features and a highly durable ice shelter at a convenient and affordable price.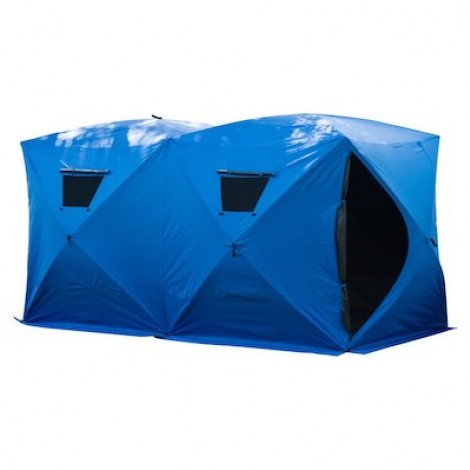 Plenty of space for up to four anglers
Well ventilated with hook and loop fastened windows
Has two zippered doors for easier access
Made from durable materials for long term service
Set up might be tricky in windy conditions
Because of its size, it is heavier and less portable
Most 4 people ice fishing huts don't have the same space that this one has to offer. You can fish, stand and even walk around this ice hut without any challenges. Even though fishing is a waiting game, walking around freely can make the wait more bearable. The impressive range of features extend to other aspects other than the space and size. It has a pop-up style set up saving you set up and tearing down time so you can fish longer. The fabric is fully insulated to keep the chilly weather and frost outside and keep you warm and dry. The insulated fabric is made from 300D Oxford fabric which is highly durable and functional. No matter how bad the weather gets, you don't have to forego your love for fishing.
Well Ventilated
While staying warm is important, enjoying a fresh round of air is just as important. To help you enjoy the balance between warmth and fresh air, the ice shelter has two zippered doors on opposite ends. When you need extra amounts of air, you can also use the windows. These options allow you to let in air when you need it and keep it out when you don't need it.
Pop-Up Style
You take a lot of time to get to the right fishing spot. If you spend even more time setting up your ice fishing shelter you might not have enough time to fish before you need to tear down and head back home. With pop up style set up, you can set up the shelter in a matter of seconds and you can start catching some fish sooner.
Cost and Value
Considering the quality and features you get to enjoy by buying this pocket-friendly is reasonable and pocket-friendly. You get lots of space, comfort, and convenience with this option. The easy set up ensures you spend more time fishing instead of trying to figure out how to set up the shelter.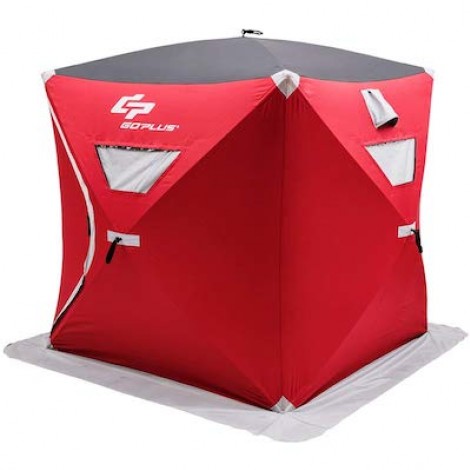 Affordable price with all the necessary features
Two layers of the window for light and ventilation functions
Lightweight and easy to carry structure
Waterproof material
Does not have enough space to comfortably accommodate three people
It is a little short and tall users might not be able to stand up straight when inside
For buyer's on a budget and want the fill of the Eskimo Ice Shelter that we reviewed first but don't have the price to match, this is a worthy alternative. Everything about it including the finish is similar to the Eskimo but the price. It is more affordable. Nonetheless, it still offers a rich offering of quality features that are handy in helping you survive the harsh weather while fishing. Some of the features you get to enjoy include the high-quality 300D oxford fabric which is waterproof, a lightweight and easy to carry structure that comes complete with a carry bag and the shelter can comfortably hold up to three people.
Dual Purpose Windows
Oneshortcomingsest short comings that most of the options we have reviewed have is the windows. In most cases, the windows have been designed to provide circulation of fresh air. However, it's impossible for you to get light in without the air. With this option, you get two layers of window. One PVC and the other Hermetic each designed to serve different functions.
Plenty of Space
The shelter has a hub design that maximizes on fishing space. It gives you enough room to fish and move around keeping you fresh and focus as you fight out your patience with the fish. With plenty of leg room, you can move around and avoid stiffness making your fishing trip comfortable and relaxed.
Cost and Value
The GoPlus Portable Ice Shelter Pop-up Ice fishing tent shanty costs significantly less than the Eskimo option. It doesn't skimp on the features or quality and makes for a great option if you're willing to forego your brand loyalty for something less popular but just as good. It is good for up to three people and offers plenty of comfortable and convenience features.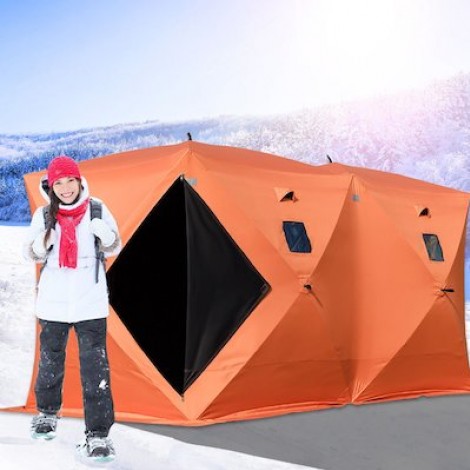 Plenty of room to fit up to eight people
Made from high-quality durable materials
Has four windows to let in light
Easy to carry. Comes with a holding bag
The windows don't let in air. They have PVC seals
Only Ideal for large groups
For your friends and family who love angling just as you do, this is a great option for you to have. The shelter can house up to eight users comfortably. It is strong, durable and highly stable. It makes the perfect shelter for ice fishing for a couple of reasons. The first is, it's built from high-quality lightweight materials. The fabric is made from 300D Oxford fabric which is waterproof and frost resistant. It can withstand temperatures of up to -22 degrees Fahrenheit. The poles are made from D9.5 solid glass fiber. They are extremely lightweight but hold very well under the pressure of heavy and fast winds.
Portable
One of the primary factors to consider when buying any ice fishing shelter is the weight. In most cases, you have to get to the fishing spot by foot. With the heavy boots and fishing gear, the last thing you want is for your shelter to wear you down. Being lightweight makes it easy to bring the shelter with you. The fact that this one also comes with a holding bag makes it even more portable.
Size
Size is essential especially if you're bringing family and friends along. You want a shelter that will provide ample housing for all of you without cramping or stepping on each other. With the unique design of this shanty, floor space is maximized and you can easily fit eight people into the tent.
Cost and Value
Considering its sheer size, it's impressive that the price of this ice hut is not as high as you would expect it to be. This is more so the case considering how well built it is and the quality of materials that have been used in building it.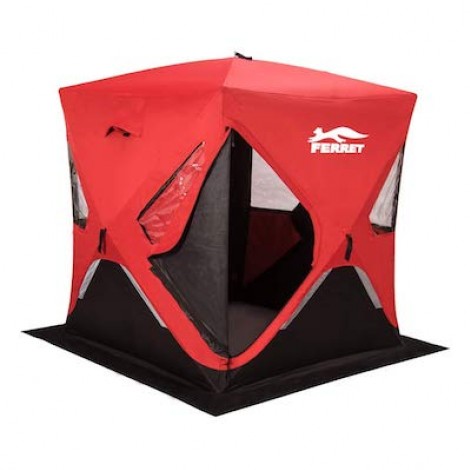 Has a great and functional design
Rich collection of features
It's extremely lightweight
Comes with a one year warranty
Not ideal for multiple users
The air vents are not sealable
The Ferrent Waterproof Ice fishing hut is built with lone anglers in mind. It has enough space for two but, best suited for anglers that love space and love taking in the experience in solace. The hut offers plenty of amenities for its occupant among them being a strong and sturdy fiberglass frame that will stay put in windy conditions. The 300D insulated oxford fabric keeps you safe from the biting cold. It is waterproof so you don't have to worry about getting wet if it rains giving you an excellent, warm and dry fishing experience.
Impressive Design
It has a great design with 2 air vents for plenty of circulation. You also get two zipped doors that you can also use to regulate air flow. For vision and light, the tent offers six double windows with Velcro to give you the best angle of view and allow plenty of light into the hut.
Sturdy
Even though the structure weighs only 18 pounds, it is highly stable. It has four holes on each corner and five web handles on each side to stabilize the tent with the use of ice anchors. This ensures that the structure stays in place even in adverse weather conditions.
Cost and Value
This ice fishing shelter is a little costly. For two people at most, you're expected to pay a pretty penny. It has a great build, it is very stable and offers plenty of features which will suit your ice fishing escapades. Simply put, the price is justified by the features you get to enjoy.
Criteria Used for Evaluation


Style
There are three different types of ice fishing huts that you can choose from. While the style of hut does not matter much, each of them is designed to satisfy different needs. The most popular and one that has been reviewed here are the hub style shelters. They are optimized for space and they are also the most pocket-friendly. The flip style shelters are ideal if you like moving your fishing spot around a couple of times a day. They are incredibly portable and optimized for quick setup and breakdown. Lastly, there are the cabin style shelters which are lightweight and come with a built-in floor for those extra cold locations.


Materials
Braving adverse conditions requires you to be properly prepared. Buying an ice shelter built from the best materials will give you the best chance at life and provide you with the comfort you need as you fish. Look for options that have a 300 denier oxford fabric with fiberglass poles. These two materials are hardy yet lightweight.


Size
Size is a preferential factor depending on the purpose of the tent. If you go for the fishing trips alone, a fishing shelter built for one or two people is ideal. If you're just starting out, you might want to invest in a shelter that has more space. If you get other buddies, you won't have to worry about buying another one. When considering size, don't get too tied to the floor space. Remember to check on the headroom as well. It should be at least six feet so you can stand comfortably and move around.


Durability
Ice fishing shanties are not cheap. Even if they were, you wouldn't want to buy one every few months. More so considering the type of weather they have to deal with. You want an option that will give you value for money and provide you with service for a long time. The best approach to use when gauging how durable the product is, is checking the quality of the materials used. If it is made from high-quality materials, there's a high chance it will last longer with the right care.


Ease of Use
This is where things get a little touchy. Getting to your fishing spot will usually take the most time. Once you have the perfect spot, you want to get started as soon as possible. If it takes you hours to set up the hut, you don't have much time left to fish. That's why you should go for easy to use, set up and take down huts. For this, look for options that have a pop-up set up. They are ready for use in just a matter of seconds.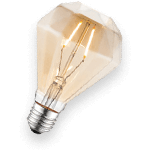 Lightweight Goes a Long Way
Getting to your preferred fishing spot is hard work. The last thing you want is a heavy and chunky bag that will tire you out as you try to identify where to set up. The shelter should not only be lightweight but easy to carry. Having a carry bag goes a long way in your mission for portability. Which is why you should always check to make sure that any shelter you're buying comes with a carry bag.
Other Factors to Consider


Value
With any purchase no matter how small or big, you always want to make sure you get the most value for your money. Even with ice huts, this is possible. There are a few ways you can ensure you get value. Before making the purchase, consider the quality, size, workmanship and if the shanty has some added extras like a carry bag before settling to buy. You will notice that you can get much more by just looking around.


Weight
A lot of thought goes into designing ice fishing shelters that are lightweight yet strong and durable. That's because of the difficult of walking or travelling in thick snow. If the equipment is lightweight, it drags you down less and it's easier to carry. Some of the best ice shelters weigh as little as 18 pounds.


Accessories
Never turn down the opportunity to get some free equipment. Sometimes you might not need it at the time of the purchase but down the line it can come in handy. It's also a great way to save money. Ice huts are not known to come with a whole lot of accessories. Mainly, they come with carry bag which is more than enough.


Brand
Unlike other fields where some brands have built a huge following based on their reputation, the world of ice fishing shelters is a little diverse. There are quite a few options to choose from. However, knowing the most reliable brands can save you a lot of pain especially when you don't know much about ice shelters.
Frequently Asked Questions
q:

Does it matter the type of ice fishing shelter I buy?

a:

It does! Unless you don't care about your experience. Different huts are designed to optimize different functions. Some are more affordable, others are more portable while others are more comfortable. You can choose the type depending on what suits you best.
q:

Do all ice shelters come with a bottom?

a:

No. Some do others don't. If it's an important feature for you to have, make sure it's mentioned explicitly before making the purchase. However, most cabin style shelter do have a floor
q:

What is the appropriate size I should consider when buying a shelter?

a:

That's a tough question. But, it has a simple answer. Always go for a one size higher. If you're looking for one person shelter, buy a two person shelter. This allows you to always have enough space. As for the height, most of them will be around six feet high. If you're taller than that, you might want to check if you can get one with more head space.
q:

Is there a difference between insulated and non-insulated options?

a:

Yes. Insulated options are able to keep the heat sealed inside the shelter. Insulated options are not very good at this. But, that doesn't mean the conditions inside a hut with fabric that's not insulated is inhabitable.
Subscribe to our Newsletter