Best Ice Fishing Bibs Reviewed and Rated
Plenty of things can be added to your loadout to better improve your experience lakeside, and even for those that brave the ice for the deep of winter. One of the most crucial components of your comfort is fishing bib. These are a pair of pants that can and should make your lower half waterproof. It is a big-ticket item to have for die-hard fishers because nothing spoils your serenity like soggy, soaked through legs and feet. Here, we will go through the ten best ice fishing bibs on the market today, and why they should be on your vetting list.
Standout Picks
Criteria Used for Evaluation
Water Resistance
It should come as no surprise to anyone that the most important factor in the probability of a good product in the scope of fishing bibs comes in the form of how well it keeps the weather away from the wearer. Yup. Huge shocker, right?
The use of these products is a large part of the act of fishing, especially in two specific scenarios. The act of fly fishing -- in which a fisher is usually standing knee-to-waist deep in a rushing river -- in one of them while fishing in winter on the ice is the other. Though, in the latter, there is a lot less of the actually getting in the water bit, because the water is dangerously cold. Which slides into the bigger subject; Weatherproofing.
Waterproofing is one thing and is generally the base to build on, but weatherproofing is something a whole lot larger, that is more necessary for the fisherman on the ice in the winter. Keeping oneself dry, and warm, is absolutely essential in the comfort and healthy partaking of this sport. It's so cold and potentially dangerous in its lack of physical exertion and truly needs these proofings to keep the fisher healthy, and safe.
Almost all of the products on our list are bolstered by full-blown weatherproofing, because it's practically necessary for this field, while others (one in particular) is a paired down, and solely waterproof option. If you're seeking a pair of pants, or bib, that are waterproof, and warm, go weatherproof. Take the next step up. And if you're heading to the frozen lakes and water, you absolutely HAVE TO go weatherproof.
Materials
Like most of the markets that are fashioned by long lists of fabrics and materials, the fishing bib marketplace can be quite daunting when you're doggy-paddling near the surface, shivering before diving right in. But, once you get below the general surface of the offerings out there, you'll notice trends, and following these trends and etching them as standards, is a fantastic way to ensure that whatever product you're vetting is a successful and worthy choice.
A smaller point of contention is the lining and protection of the zippers. They should be protected and covered, in almost all cases. It's important. Because the physically closed zipper isn't a seal.
Other, possibly extremely important things to focus on are things like the knees of the bib you are vetting. Most of the options on our list will have gusseted fabric on the knees (and other joints, if they include other joints) that make the bend and physical movement while wearing them, far easier. On top of that, some of the more premium options on the market will have ballistic, or padded nylon on the knees or both.
Keep your eyes peeled for protective brands like Gore-Tex, or YKK because the inclusion of those names and materials can prove to make a product astounding instead of just adequate.
At the end of the day, the actual material doesn't matter as much as the water and weatherproofing treatment that is applied to said materials. So while vetting products with this in mind will help you, it shouldn't be tedious or thought of above all else.
Features
Pants, in essence, aren't normally something we pair with the idea, or the desires, for features. But the world of fishing bibs and truly any gear that is worn with a specific activity in mind should and will have features. These don't always make or break the worthiness of the product in question, but they sure do make a huge difference when you're actually using or wearing them.
Very crystal clear ideas of solid features to have on things like all-weather, or weatherproof gear, are things like fleece-lined pockets, to warm your appendages, and lined internals, to keep your body within it as warm as possible.
Other more auxiliary feeling additions might include things like tool hoops, or pouches, helping any fisher keep their most needed tools close at hand without fright or fraught. While things like quick-release straps, and or front zippers, can help in a pinch, or a trip to the lou.
Premium, and often life-altering features are that of the life-saving variety. A few of the options on our list have internal floatation devices, that assist in keeping any wearer from drowning. Others have ice-breaking tools built-in, or simply just have enough room for one to be able to wear a life-jacket underneath. Smaller touches like reflective bands, or hi-vis colors, are great additions at hardly any difference.
Regarding which features you should look for, the answer is sort of nothing. It's important that they (the bibs you vet) keep you safe, dry, and warm, everything else should be considered a miracle, or an absolute surprise.
Value
There's not a whole lot of variety when it comes to the price ranges of the best pieces on the market, but we've managed to dig up some really solid options at a below-average price, and one or two just a bit more than average.
At a few hundred dollars, the contained price range of the middle-range, to premium options in the fishing bib industry, is a pretty easy one to vet through. Anything far above that is probably over-priced, and anything two digits long in the price department either isn't worth a dime or isn't the complete protection one is looking for. Case in point, our Helly Hansen choice, which is waterproof, and not necessarily weatherproof, making it a far cheaper resort.
As with many things, the entire world over, the price will often reflect the costs a manufacturer takes in and put forth within the materials and build of the product. This simply translates into "anything worth buying, is worth spending some money on" and that is no different in this market.
When you set out, note our industry average for top tier products, and attempt to stick near that, if you can afford it, and head a little lower if you need to. But we suggest not going higher.
10 Best Ice Fishing Bibs
1

. Cabela's Guidewear with GORE-TEX
This sport and all types of open and moving water fishing can get to be pretty cold. Here (where I write this) in British Columbia, almost all of our fresh water comes from mountain ice melting, making the temperature frigid even on the hottest days. Which is where the bib comes in, and makes a huge impact on your time. The Cabela's partnership with Gore-Tex has produced a ton of amazing products, none of them are more relevant than their Xtreme Bibs.
"Pro-Level" Waterproof
As it may seem very relevant, the most important part of the idea that one would want to stay dry is the waterproofing, and there is no better, bigger, or more illustrious brand than Gore-Tex. They have been making water and full weatherproof gear from head to toe since the late 1970s, and continue to be the brand and logo folks look for on their products they are vetting.
Mobility
Something that is often left by the wayside when developing and designing products like this is the mobility, but thankfully the Cabela's and Gore-Tex collab puts that kind of thing front and center. With gusseted crotch inlays, and articulated knee stitches and patterns help the wearer move comfortably in all situations.
Cost and Value
Everything on our list might surprise you at the heights they reach in the price department, but when you sit back and admire just how much extra comfort one gets while wearing them in the water, costs begin to dissolve. The Gore-Tex remix with Cabela's house-brand is an insanely versatile, and not horrible to look at version.
In a marketplace where even the average prices on premium products can be a little bit looming, we thought it proper to prop-up a product that could be considered "budget-friendly", and the Frogg Toggs Pilot II's are truly where it's at when it comes to getting an absolutely great product for less than the average price. They're not flawless, but they come to the table with a whole lot for roughly half the general asking price.
Zip-to-Knees
I've you've never suited up in the internationally known sealed out waterproof suit, then you understand just how difficult it is to get in and out of these things. Matched with the lock and hooks on your waterproof shoes and boots, it's a trivial adventure dressing. Thanks to zips that ride all the way up to the knee, this is crazy easy to get in and out of.
All the D-Rings
There are a lot of things one can bring with them on the adventure that is fishing. So many accessories and tools that are both auxiliary and astoundingly useful. This is precisely why Frogg Toggs steps up their game when it comes to being able to connect, and hook accessories all over the place on the Frogg Toggs Pilot II, for the ease-of-use for fishers in mind.
Cost and Value
At the budget end of our list, we were just as shocked as you probably were, in seeing how epically adorned with all manner of build quality, and all of the things they've added to ease the use, and provide solid quality of life. The biggest downside is the most-likely life length of this bib versus the bigger brands, but there's so much value to wade in here.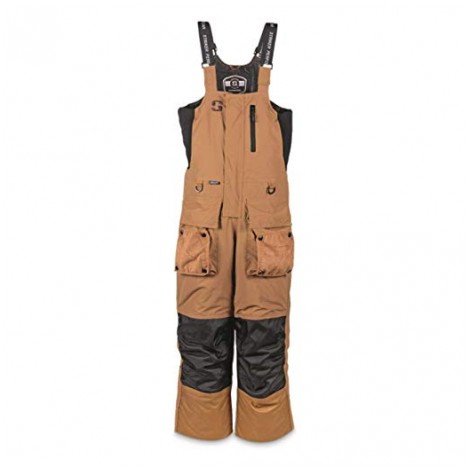 Striker Ice is one of those brands that just won't quit, and it has become a very recognizable brand in the world of warmth and weatherproof gear, making a huge impact in the lives and practice of fishers the world over.
Removable Liner
One thing that helps this product stand among the top of its class, and even poke its head out from the crowd every one and a while, is the removable liner. Plenty of bibs are meant to keep your legs dry, and not necessarily warm. With the think liner in the Climate Bib from Striker Ice, you've got a product ready for even your wildest fishing adventures. And you can remove it during the hotter excursions, making it the best year-round pant.
SureFloat
As funny as it may sound, sometimes fishing in cold or moving water can become very dangerous. But this product comes with built-in SureFloat technology, assisting in keeping the wearer near or above the surface of the water.
Cost and Value
There's a pretty average price here, but you get with that price tag an extraordinarily strong history of quality, mixed with a few really amazing, and most unique features. Through added safety, and cold-weather comfort, the Striker Ice Bib is flush with value.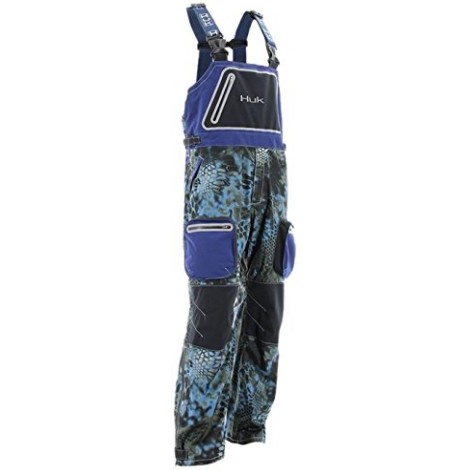 Huk is one of those brand names that lives and breathes within the fishing world and doesn't much take dips outside of those walls. It's well known among those with a lure while being relatively undiscovered by any and all those without any connection to fishing. Their All-weather waterproof bib is one that must be vetted if you're on the lookout for quality fishing gear.
Chest Pouch
There's something to be said for a good mesh. Most men have known the crucial integrity of mesh and water mixed thanks to the design of swim shorts since the mid 20th century. The Huk Nxtlvl All-Weather Waterproof Bib has a large zipper-shut mesh chest pouch that can fit one or many of your belongings that you need to keep close and at hand.
The Cinch
Not many pieces of gear in any sport can claim that they have put much thought into their design regarding the fit and comfort of their wearer. It's always about use and safety. Bibs don't usually fit all that well, and Huk Performance Fishing took their time to add a velcro waist cinch, helping the slouch disappear.
Cost and Value
Definitely, on the budget end of the scale, the Huk Nxtlvl All-Weather Waterproof Bib is something that folks should be shocked by. People don't come across products nearer the bottom of the tier list, that can also uphold in the industry for which they speak. This, the Huk, is one of those rare exceptions.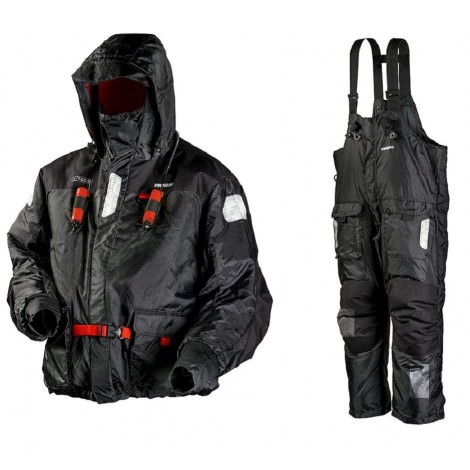 It took us almost exactly half this list to get to a full-blown package deal, and that's exactly what we're propping up here with the Frabill offering in the I-Float suit, one of the all-weather fishings largest, and whitest of whales. It's full-bore and brings everything it can to the table in order to provide wearers with the utmost protection and comfort. Granting them the ability to fish and enjoy it, regardless of weather conditions.
Full Suit
While standing in water is a normal occurrence in the world of fishing, and a lot of fishers can get away with simply wearing a pant bib, there comes a time where the fully-blown injection of bad or winter weather can be too much for the human body. This is why sets like this one, offered by Frabill, come with a jacket to match the pants, creating a full suit of weather protection.
Floatation
With the addition of the jacket, Frabill has been able to step up the on-board safety for the fisher in question, thanks to a full-fledged USCG Certified floatation device built-in. This is especially crucial for those fishers that seek the scenic, and frigid temperatures and water that come with this sport.
Cost and Value
With this product from Frabill, you get an almost completely covered head to toe protective suit for comfortable fishing and sport in almost any kind of weather conditions possible, all of this while not doubling the average price, regardless of doubling the amount of coverage you gain. Now that's a real huge value.

6

. Frabill I4 Jacket & Pant Suit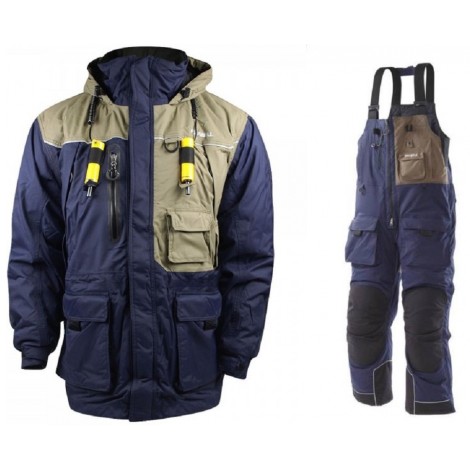 Another astounding full-coverage suit from Frabill, the I4 Waterproof Insulated Jacket and Pant Suit brings all of their renowned features to this suit for prime weatherproofing of the human body, allowing enthusiasts to throw or drop a line at any time, during any kind of weather you may find.
Nylon Oxford Shell
Something that many neglect to consider when they begin to shop for weatherproof, or waterproof gear is that in order to be so protective against the elements, the gear is normally not very airey. It gets sweaty, and warm, without the ability to circulate air. But thanks to the 300 Denier Nylon Oxford Shell in the Frabill I4 set, you've got a premium level of breathability.
Emergency Self Rescue
Fishing in the winter on the ice doesn't, on the surface, appear to be that dangerous of a past time, but if you consider the weather conditions, the calm and zen of the action, and the normally solitary nature of partaking in the act, one can be exposed to some rather dangerous scenarios. The most dangerous of which is falling into the water and under the ice. The Frabill I4 comes with a built-in patented self-rescue ice pick set attached to the suit.
Cost and Value
Just slightly above the asking price of the previously mentioned Frabill full suit, the Frabill I4 Waterproof Insulated Jacket and Pant Suit is probably the most premium, and protective option on our entire list, as a whole outfit. It's stellar in almost every way.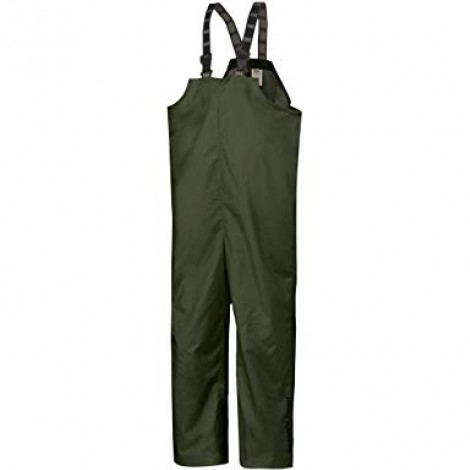 Helly Hansen is a prolific brand in Europe and North of the United States, but just because it doesn't pull the same amount of brand recognition elsewhere in the world, doesn't mean it's lacking in anything. The brand loyalty is strong with Helly Hansen, especially considering that almost all of their products come with a 100% repair, lifetime warranty.
The Simple Things
There's always something to be said about taking the road less built, and simpler. Plenty of astounding products come from a place of the simplest designs, and many folks out there prefer things to be simple -- the minimalism trend is heavy and boundless -- so Helly Hansen developing the perfect, and basic (in a good way) waterproof bib overall is a fantastic thing.
A Budget Buy
Due to the fact that Helly Hansen isn't trying to take over any of the bigger kids at the table, rather, playing their own game in the fishing bib world, they have attached a very pleasing price on the Mandal Durable. It does a whole lot less than other options on our list but comes in far below the rest of the weight class when it comes to prices
Cost and Value
Like we've mentioned in both of our two selling features here, the Helly Hansen Workwear Mandal Durable Waterproof Rain Pant Bib and Overalls are an extremely valuable budget pick. A sleeper draft (if you're into those fantasy sports references) if we've ever seen one, in almost any industry.

Back on the Frabill camp, we've got one final "must be included" addition to this list. And by "must include" we mean, you just can't ignore it. Rated slightly below the other Frabill options on here, the I3 from Frabill is an astounding choice for those looking for something that's not-quite budget, but still below average.
Giant Front Pockets
Something that everyone who would need to or ever choose to wear something like a fishing bib wants is more pockets. The Frabill I3 Bib has multiple pockets, but the real prom king and queen are the two gigantic pockets on the top of the thighs. They are almost full-size hoodie pouches, each.
Ventilation
Thanks to the waterproofing and other proofings, plenty of products in these markets are pretty tough to breathe in. Your body can definitely get stressed without the circulation of oxygen. But Frabill has solved that problem, with their zippered air vents. Obviously, these should be used when the vents aren't underwater (unless you don't want that waterproofing anymore).
Cost and Value
We mentioned it in the intro, the Frabill I3 is a fantastic product that sits slightly above the budget zone of this market, yet falls quite a bit below the market average. Even though it comes in at a pretty stellar price point, the Frabill I3 Bib doesn't come shy with the goods, and that spells great value in any game.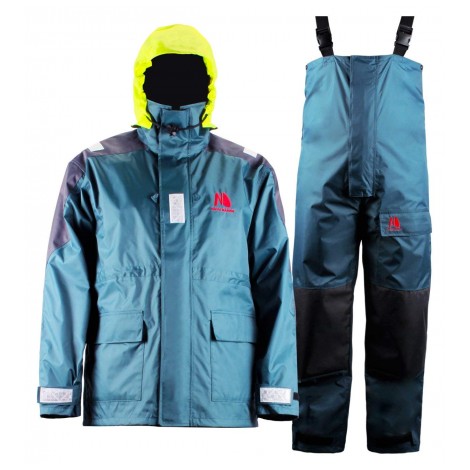 Our time going through the marketplace of fishing bibs is nearing the finale, so we wanted to introduce you to a brand that is doing almost as much as the big boys, and their full suit offerings while remaining closer to the average price of just the pant bibs offered by most of the popular brands. You get twice as much, without any bump in price.
Hi-Vis Hood
There are plenty of amazing things that have been added and made to be part of the Navis Marine Coastal Sailing Jacket and Bib, but not many things beat out the simple change that Navis Marine has made to the lined hood of the jacket. Making it highly visible neon, making it concealable in the collar, all help folks see you, and keep your head protected from the weather and the wind.
Hand Warmers
No one needs to suffer through the action of fishing, regardless of the active weather, and doing so with the uncomfortable use of cold hands, which is why Navis Marine put hand warmer pockets inside the main coat pockets, allowing fishers of all sorts to add a bunch of extra warmth to their pockets with ease.
Cost and Value
Partially due to their lack of recognition, but in no way because of a lack of attention to detail, the Navis Marine full jacket, and pant combo clocks in at around the average price of just the pants. It's high quality, has a few touches that make it unique, and is a great value at both pieces, making for an impactful option for this list.

10

. IceArmor by Clam Edge
This product from Clam Edge is one of those that will probably come up in conversation if you were to ever ask a fisher what they picture when they imagine the most essential piece of gear you could slap on top of your pants, to protect you from the weather. It's simplistic enough to be filed below the market average but is drenched in quality.
Padded Knees
From the perspective of someone standing on the shoreline, watching from afar, one might not suspect that fishers have to have padded and protected knees. But as a lot of fishermen find themselves working on the ground, or kneeling into the water to adjust, or catch, the ballistic nylon knee pads in the IceArmor bib from Clam Edge are premium additions that many of the competition doesn't stack up to.
Fleece Lined Pockets
Much like the beloved slide pockets built for the slip of a pocketed hand warmer, the IceArmor from Clam Edge comes with fleece-lined pockets that act as a near-instant hand warmer, attached to your body via pants, and this could mean the huge difference between warm and cold hands, with ease.
Cost and Value
Below the average price of most of the items on our list, the IceArmor from Clam Edge skirts the roof of the "budget-friendly" range here, but it doesn't shy away in the quality, and additions made by Clam Edge make it stand out amongst the crowd of popular brand names, and honorable builds in this market.

Subscribe to our Newsletter