10 Best Gore-Tex Boots
In a
Hurry? Editors choice: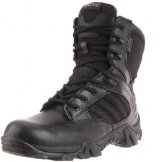 Test Winner: Bates Men's GX-8

For nearly 50 years, Gore-Tex has been one of the top materials used in clothing and boots when protection from the elements is a high priority for the wearer.
Waterproof
, versatile, and built to last, this go-to material is trusted by athletes, hikers, and outdoor enthusiasts for all-season and all-weather use. We've reviewed ten of the best Gore-Tex boots currently available on the market.
With the ability to keep water out and remain breathable at the same time,
boots
made with Gore-Tex linings are ideal for those who love to hike or need to work in rainy conditions and rough terrain. Whether you're hiking on a snow-covered mountain in
cold temperatures
or walking through muddy trails in the woods during hot summer days, your feet will stay dry and comfortable.
Standout Picks
Criteria Used for Evaluation
Water Resistance
Gore Tex® has created a unique membrane that has a microporous structure that offers three qualities that go into the brand, it is breathable, waterproof and windproof. These three properties are, as you know the foundation for a boot that is up to the job. This is boosted with the Gore Tex® laminated layering system, that has an outer fabric, the membrane inner and a lining. This combination coupled with Gore-Seam® tape (which sealed every stitch in the garment), made them ultra water-resistant.
When the lining is inserted within a leather boot, they are primarily bonded on the heel and the toe to compliment the natural qualities that leather has – toughness and breathability. The same principle is used in synthetic uppers and provides the user with an even greater choice of available options. The ability of the lining to stop droplets of water entering the boot ensures your feet will stay dry on your hike or trial, and the bonus of the lining to allow sweat to be released is invaluable in the performance of your boots.
Comfort
Walking was never thought about as a simple pleasure in times gone by. You walked with the aim of getting to work, or for supplies or school, although this may sound odd – there wasn't the 'free' time to consider the pleasant walk. No mod cons, no public transport or your own car, (well; not for the majority at least!) so the need for a decent boot was minimal. In the earlier days, leather was primarily used to make a comfortable, tough and hard wearing hiking boot; but pure leather was not up to scratch and couldn't perform well enough to tick all the boxes. Untreated leather would leak, won't be sturdy enough and definitely won't be comfortable.
Many years and many blisters later, 1979 saw the entry of Gore Tex® into the arena of boot manufacturing. They came up with a clever material for boots that made them ready to wear in comfort, and they had the properties we associate today with waterproofing and functionality. These revolutionary materials such as the synthetic polymer EVA (ethylene-vinyl acetate), began being used in the 1980s and were welcomed because they offer better flexibility than leather, and they are more durable and effective for trail use.
Now you know what you want, and in what style; you may also be keen to find out how your new boots will perform with you on a decent hike or for a long working day. At first base, every aspect of a new design is put through a rigorous testing regime by Gore Tex®, this should give you peace of mind when you're packing your kit bag. However, to give you a little taste of what your boots go through before you buy them – here are a few things they go through in order to make the high standard demanded by the Gore Tex® brand.
Prototype boots are put through their paces on a machine that will see them walking up to a staggering 200,000 steps in water – mechanical feet pace these boots to test them for water-tightness. Any leaks – and the prototype is sent back for modifying. Wicking is also tested thoroughly, all materials used in the production are tested to ensure the full waterproofing when you need it most.
The boots also go through a unique centrifugal test that spins the boots whilst full of water to determine any weak spots; this allows the boot design to be rectified if necessary. And last but not least by any means – is a comfort test the boots go through. The breathability and waterproofing qualities, combined with the entire components go through a final test to ensure the boots are comfortable for you to wear in any given situation you may come across on your travels with them.
Features
So, you want to have the best boots you can find, but you also want great design and style. There are many ways you can achieve this whilst not relinquishing the overall functionality of the boot. If you want designer, then that base is covered – Gore Tex® is often teamed with a great design and superior quality. The variations, of course, are not simply restricted to the top of the range boots – the addition of Gore Tex® technology covers a wide range of available options. So, you want different colors – no problem, you want decent boots for your kids – no problem, you want specific gender designed boots – no problem. In a nutshell – you want a great pair of Gore Tex® that matches both style, design, and functionality – there's a pair on the market just right for you.
Another feature to take into consideration is the boots lacing system. A boot with poor lacing is sure to have you readjusting every few steps, a task no one wants to do when hiking up a tall hill or while getting work done. Therefore, having a good lacing system provides secure support to your feet and ankles as it helps keep the foot as stable as possible during rocky pathways. By investing in a boot with a good lacing system you will immediately notice the difference in the way your foot sits in the shoe and even how much more enjoyable your walks become.
Insulation
Now you know the basics for the Gore Tex® boot before you buy a pair you may want to think about where you will be wearing them, in what conditions and in what climate. Different conditions will require different boots. Of course, the qualities you get with all Gore Tex® are both functionality and comfort. But if you are planning outings in warmer weather the last thing you want is a heavyweight boot that is designed for protection against freezing temperatures. Summer boots are designed specifically to allow moisture to escape, the breathability and the minimum insulation will ensure your feet are well protected and supported in the hottest weather.
In the winter, you will still need the breathability that Gore Tex® boots offer, and the waterproofing and wind-proofing qualities. The main difference here is the level of insulation your boots will have. This can make the difference between freezing feet and a great winter trail hike. The different levels of insulation are achieved in the way that the laminated layers are put together when the laminate is sealed onto the outside of the boot – it creates less insulation, and on the reverse – when it is placed within the layers – it creates better insulation. Both methods still retain the quality of the overall Gore Tex® performance so your feet should keep you going for as long as you want to.
10 Best Gore-Tex Boots
1

. Salomon Quest 4D 2 GTX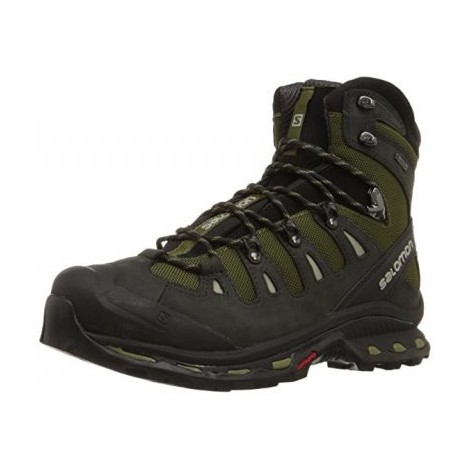 A stylish and rugged men's boot with sturdy ankle support, it features Nubuck leather combined with canvas. Its high traction sole makes it suitable for hiking on terrain with uneven surfaces. The footbed and toe cap are unique features you won't find on every boot. Available in 3 colors, these waterproof boots will complement any active wear.
4D Chassis for Stability
The chassis construction combines the flexibility of a running shoe with enough support for hiking. Unique to the Salomon brand, this technology will protect you from rolling an ankle or losing your balance.
High-Quality Metal Lacing Hardware
This boot features 4 dual-enforced lace hooks on the foot, plus another vinyl loop at the toe and 2 on the ankle for the perfect, secure fit. No tangled laces, or pit-stops to re-tie.
Cost and Value
While this Gore-Tex boot is a bit pricier than some others on this list, the stability, ease of cleaning, cushioned arch support, and neutral color options makes it meet even the highest standards for value.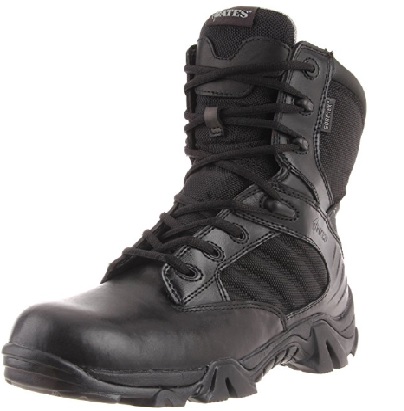 The Bate Men's GX-8 is the perfect blend between a boot that will get the job done yet is aesthetically pleasing. Featuring a military style, these boots have been constructed with construction cement in order to provide a lightweight, flexible shoe. Furthermore, they have a cushion lining that can be removed for an added dose of comfort.
100% Waterproof
The Gore-Tex waterproof lining is paired with a breathable membrane make the perfect pairing as they ensure your boot remains 100% waterproof for a comfortable feel even in extreme conditions. Additionally, the boots have a waterproof leather and non-puncture upper; two materials that when paired together create a rugged pair that is still lightweight. In order to continue the waterproof appeal of these boots, the brand included a moisture absorbing lining that moves moisture away from your foot for an extended comfortable feel.
Slip Resistant
Having slip resistance is a must when you are planning on using your boots in multiple different weather conditions. These Bate GX-8 boots have an Ultra-Lites Xtreme rubber slip-resistant outsole for better traction. What this means is even in the slipperiest of situations you will have supreme traction every time.
Cost and Value
For all the high-quality materials you are receiving with these boots the value and cost of them is quite affordable. They offer undeniable durability, making them efficient for many years to come.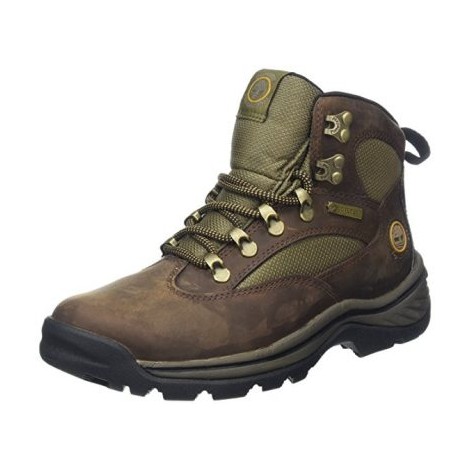 Style and function truly come together in Timberland's Chocorua Trail Boot. The gold lace hooks add elegance while the leather and breathable fabric provide durability. The footbed features dual density. This boot system for motion efficiency, ensuring you can move fast without missing a step. It also features a vinyl loop behind the ankle.
B.S.F.P. Motion Efficiency
This technology allows you to walk, run, climb, and hike with ease as it adjusts to the angle of your foot while providing traction. This boot is great for those constantly on the go.
Metallic Hardware
The gold hardware found on both color options is something you don't find on just any boot. This feature keeps your laces secure and makes them easy to tie in dim lighting.
Cost and Value
The second most affordable option on our list next to the Merrel J87311, this boot delivers a smooth surface that is easy to clean along with a breathable, waterproof interior.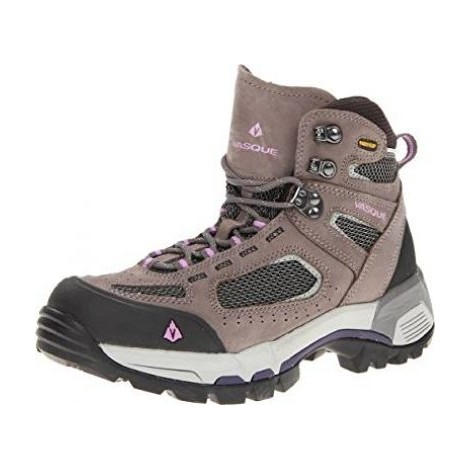 Available in two shades of soft brown with lavender or blue accents, the Vasque Breeze 2.0 women's Gore-Tex hiking boot it features a wide boot opening to get them on easily. The piping is reflective, so you can wear them at night or in the early morning and be visible. The boot's technology is focused on comfort
Loop Behind Heel with Reflective Piping
The reflective piping is dispersed throughout the boot, including on the canvas loop which helps glide the boot onto your foot. This can also be used to hang the boots on a hook.
Brand's Most Breathable Boot
This hiking boot from Vasque is not only breathable, but also resistant to abrasions, leatherworking panels, uppers, and leather working together to achieve this important feature.
Cost and Value
Also on the more affordable side, the pops of color reflect light for increased safety while the rubber toe cap shapes to your feet and the soles have deep grooves for optimal traction.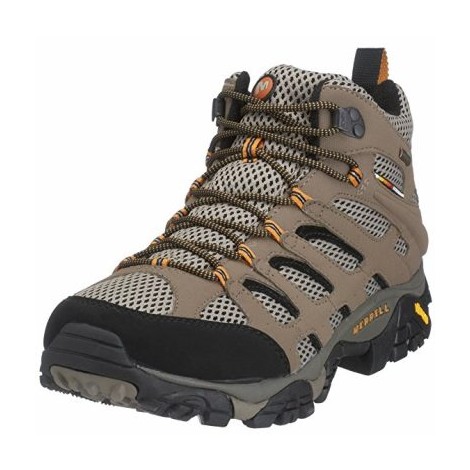 One of the most affordable Gore-Tex boots available, the Merrell J87311 is a soft brown with orange accents. This is a low rise boot made with mesh and leather that focuses on preventing foot odor. The tongue keeps debris away. Shock absorption and stability also come together, so this boot is dependable on a wide variety of surfaces.
Prevents Odor
Your feet will never smell with the built-in M Select FRESH technology, a feature that absorbs and wicks away sweat and moisture for a comfortable, confident fit.
Debris-Resistant Tongue
Merrell's Bellows tongue incorporates mesh and is shaped to cover a wide area, which means small stones, sticks, and leaves will stay out of your boot when you're trekking through the woods.
Cost and Value
This is by far the most affordable Gore-Tex boot listed here and you get so many unique features for the price. This is a great choice for those new to wearing hiking boots.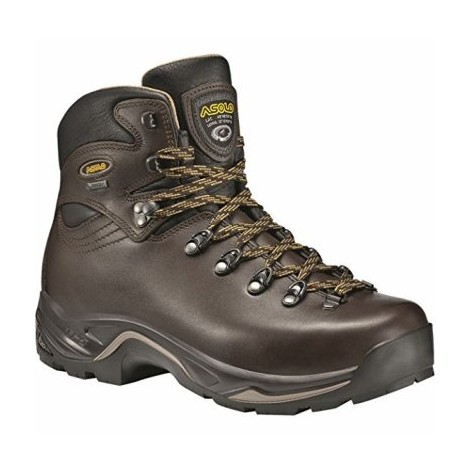 Solid, shiny, and deep brown, the Asolo TPS 520 GV Boot for men is a heavy duty boot. They make a great work boot, but can also be used for hiking on uneven ground. The outsole is rubber and the yellow flecks on the laces increase visibility. Despite the sturdy waterproof construction, it is also breathable.
Three Shock Absorbers
This is one of the few boots available that features three shock absorbers, making them suitable for activities with high impact. Rest assured you can go all out in these high quality boots.
Strong Grip
Paired with the shock absorbers, the strong grip on the bottom also lends to strenuous activity. Hikers who need to carry a lot of weight rely on these chestnut boots.
Cost and Value
While this boot is more expensive, your feet and ankles will thank you when you challenge them the most. The deep brown leather blends into any outfit, meaning you can wear them all day for various activities.

7

. Rocky S2v Cold Weather 101-1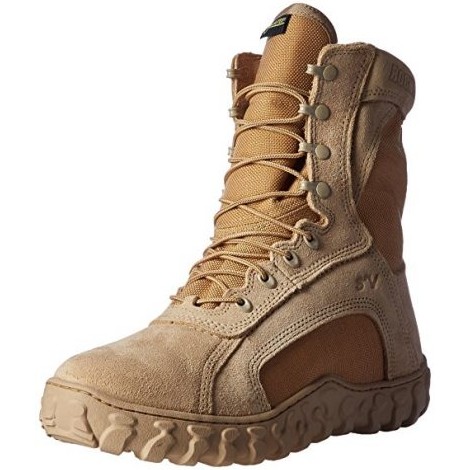 One of the rarely seen high rise boots, these tan ones from Rocky come up to mid-calve. The soles are triple stitched for long-lasting durability. This design is also compliant with many work uniforms. Wear them on the job or on a weekend excursion—you won't be disappointed. They are also one of few flame resistant Gore-Tex boots
Flame Resistant
If you work around flammable materials, these boots will ensure your feet stay protected. You can't beat the quality or the peace of mind that comes with these comfortable boots.
Vibram Sole
The sole design is also unique, called a Vibram sole, with close-molded grip that wraps around the edges. You won't roll an ankle in these tough, rugged boots.
Cost and Value
One of the pricier boots, you'll see that you are paying for quality and unique features you won't find in any other design. It features a microbe shield, suede sections, and a combination of eyelets and metal lace hooks.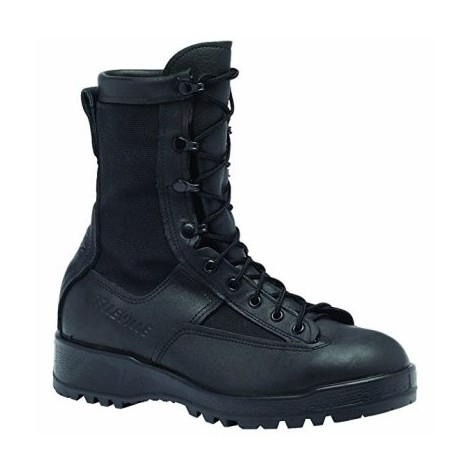 The Belleville 770 is a combat boot that made the best Gore-Tex boots list. Safety in any environment is the number one priority. The liner covers your entire foot with waterproof protection, and it also has Thinsulate. With a running sole construction, you can take this boot from the track to work or the woods with ease.
Cowhide Leather
The leather sections of this boot are made with 100% cowhide. This keeps the boot from scratching or cracking and ensures seamless pairing with the synthetic material.
Great in Cold Temperatures
The Thinsulate technology keeps your feet warm in even the coldest temperatures without adding bulk. This boot is 200 grams. Conversely, your feet won't sweat in warm temperatures, either.
Cost and Value
Right about mid-range, the value of this Belleville design far outweighs the cost. It is a high-rise boot that ensure there are no gaps between your pant legs and the top of the boot. The abrasion resistant nylon is very durable.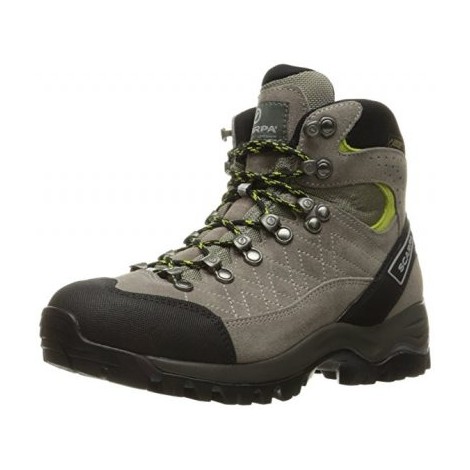 Featuring a wide boot opening, the Scarpa Kailash women's hiking boot has a padded tongue and collar. It also has a flexible mid-sole and protective toe guard. The "acid" green color is striking against the soft gray and black tones. The flexible ankle increases range of movement. The breathable lining and stitching details complete this fun style.
Wide Boot Opening
Featuring the widest boot opening of all ten best gore-tex boots, these are easily paired with thick socks and glide on easily when you're eager to hit the trails.
Ankle Flex
This is the only boot we've talked about that features two directions of ankle flex to increase movement without sacrificing stability. This boot works for trails with sharp turns and vertical rock climbing.
Cost and Value
One of the more affordable Gore-Tex boots, you are truly receiving benefits not found with other boots, including lacing hardware with the Scarpa logo, a sole built for traction, and a padded tongue for added comfort.

Subscribe to our Newsletter