Best Scope Mounts Reviewed and Rated for Quality
In a Hurry? Editors choice: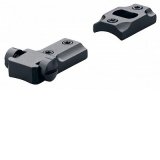 Test Winner: Leupold Standard

For many in more rural areas hunting is a valuable pastime. It brings home meat for the family and keeps everyone fed throughout the winter. Adding scopes and optics to your gun offer a huge variety of benefits. Not only are you able to aim better and more effectively, but you'll also be able to ensure you're hitting the animal on target (lessening their suffering in the process). There's a huge variety of scopes out there and an even larger variety of mounting options. Luckily for you, you don't need to struggle to flip through pages and pages of products and hunting gear guides. We've compiled the top ten best scope mounts for you to grab for Grandad this holiday season, ensuring that his scope stays stuck for more effective aim.
Standout Picks
Criteria Used for Evaluation
Durability
Quality should always be the first thing on your mind; it's certainly the first thing on ours. We judge products not only from a technical standpoint but also from the standpoint of, "would we use this?" While we're not personally hunters, we certainly have family and friends that are. Remember Granddad from the introduction? No one would ever dare give him anything low quality. That's the standard we're using: Granddad type of quality.
The manufacturing, as well as the material quality, are two specific components we looked at. Manufacturing quality ranges from everything to how compatible the scope mount is with certain weapons, all the way to how outstanding the customer service is. For example, warranty often pushes products higher up on our list simply because we know we're going to be able to get serviced if something goes wrong. This is something you should be keeping in mind too as we move further and further towards a highly saturated scope mount marketplace
Materials
Material quality is another factor we look at which aligns with the idea of manufacturing quality. If a manufacturer is using a poor quality metal, plastic, or glass, you need to know about it. That directly affects the joy that you get from using that product. We're certain that you'd rather we focus on the highest quality items, and not the ones which are the cheapest or look the coolest. Material and build quality affect the usability of these scope mounts. This is why we've used this standard for our scope mounts guide.
Effectiveness
The main purpose of using a scope is to improve your aim and be more effective. The only way to ensure this is if your scope is securely fastened to your rifle. Look for something that can easily be adjusted and possibly even be used for more than just one model of firearm. Read reviews from others who have purchased a certain model and find out what they have to say about it as well!
Versatility
Unlike other product lists we've done, we're not incredibly concerned with the aesthetic value of these scope mounts. A scope is a tool, like a screwdriver or a hammer. It doesn't need to look pretty to function. We believe in the power of the scope, and know that it's a great addition any hunter should include with their gear when they head out for a weekend away. However, scopes are only effective if they're the right one for the job. We've already discussed how quality affects the scope and mount. But what about versatility?
We chose to look at versatility as a criteria because it's often one of the most overlooked assets of a scope. We want to be able to mount a scope to many different weapons options. By using versatility as a judgement criteria, we were able to ensure that the most amount of people possible will be able to use these scope mounts. We also looked at versatility in the sense of usability. Will this work in the rain? How about in low light levels? Will it actually improve any visual fields or depth? Will it fall off the weapon? Versatility is both a physical property of the scope as well as a features property of the scope. By using both to craft our list we've found the most versatile, quality scope mounts out there.
Value
Price is something that many people can have issues with. Not only do we find that a lot of times people turn to the internet to find cheaper price options, but we also find that they're slightly more distrusting of the quality. Trust us when we say that these options are not only incredibly high quality, but the prices are comparable to what you'd find in a store. We love the way that these products, on the whole, match their value to their cost. Some might consider these products all on the more expensive side, but we think that it's justified.
However, we always promise to bring a variety of options with us when we look for products to make lists about. These scope mounts come in a fairly wide range of prices, and we hope we represented all of the aspects of that spectrum. Is it everyone's cup of tea? We hope so! Unfortunately, weapons additions are, on the whole, fairly expensive. We've included budget options in an effort to make it more accessible for everyone though, which we hope comes through in this list.
10 Best Scope Mounts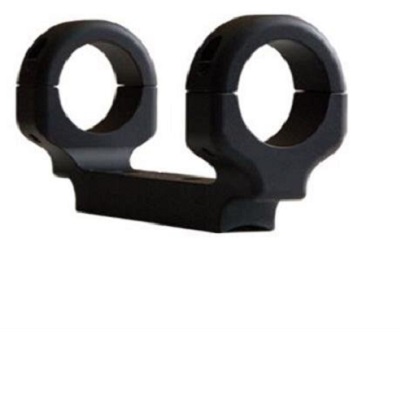 Starting us off on this list is DNZ Products' 1-piece scope mount. Were you expecting a combination of a scope and scope mount to take top spot? Think again. This product is all around the best choice, assuming you're in the market for a classic mount. This 1-piece is perfect for your longer scopes, and the construction means you never need to worry about having it fly apart due to recoil. Talk about a "mount"ain of benefits.
I can see the light
We don't mean "light" like daylight or a nightlight. Rather, we're talking about the lightness as in the weight of the product. This scope mount boasts about the fact it's made of aluminum. Not sure why that's a big deal? You must be superman, because aluminum cuts out 67% of the weight of the scope mount. This 1-piece mount is less than half as light as a traditional steel mount, and just as strong. This saves the weight for a heavier optic option, or another accoutrement to be added.
Temperature steady
On top of the super strength aspects of the aluminum, another benefit that this metal has is the fact that it stays steady in extreme temperatures. With the cold weather coming up (and already hitting in some places) this could be the difference between a shifted scope, burst mechanic, or accidentally-too-tight-mount. Temperature variations, and especially extreme temperature variations, can do some bad things to a scope mount. This is one of those items that doesn't have to worry about it, thanks mostly due to its manufacturing.
Cost and Value
Scope mounts, compared to the prices of other weapons accessories, are actually some of the cheaper options. People can buy scope mounts for less than what a quarter of a good holographic sight is. That's wild! However, even though the scale is a little lower, there are expensive scope mounts and cheap scope mounts. This basic mount is about average. This is what we would expect to spend on a scope mount, while ensuring that it's still of an acceptable quality.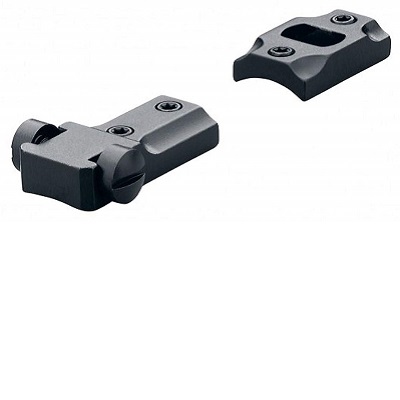 This next option might be listed as second, but we're more inclined to think of it as a rather effective alternative first place choice. While the one we chose is a great scope mount, this one might just be higher in the versatility department; and you know we're always looking for versatility. The Leupold Standard mounts are a great option for those looking for a current, top-of-the-line-quality mount.
The Versatility
The product description for this Leupold Standard mentions how it's a reversible base. This gives greater versatility to the product, and takes the pressure off when gifting this to someone. Now you don't need to sneakily find out which weapon is Granddad's favorite; you can just purchase it and this scope mount will fit! It's compatible with both left handed and right handed weapons, making it the best mount for any sided job.
Great Team Support
Something that's often overlooked in the world of weapons accessories is the customer service aspect. We're getting most of our scope mount options from Bass Pro Shop, which tends to have pretty solid service. However, that doesn't mean the company itself is let off the hook. Manufacturing errors are often more easily solved if we go straight to the company. The team at Leupold is said to be of a huge help. Reviews mention how they're second to none, and we have to agree! The tech team sounds patient and knowledgeable, and are always happy to help. That's a feature of this product that shouldn't be overlooked!
Cost and Value
A little cheaper than some of the other options on this list, that doesn't mean the quality is any worse than other scope mounts. In fact, this quality is still quite high. We believe that you do get the value of this cost in the product, but be aware that you might have to be buying additional items. From what we can tell this scope mount doesn't necessarily come with rings that are compatible for every weapon. This means that you're likely going to need to put out a little extra money that's not listed here.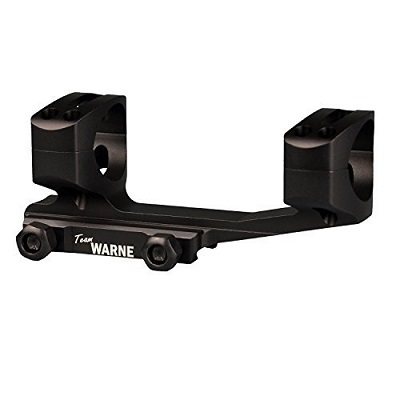 We've looked at a few super budget-oriented options. Let's look at some higher prices now, shall we? This scope mount from Warne is a standard that just can't be beat. Not only do all the reviews rave about it, but any seasoned hunter can tell from looking at it that this mount is of an excellent quality standard. Another aluminum-bodied beast of a mount, it's got all the power necessary to hold tight while you're taking aim.
Skeletonized
The word is right in the title, which means we had to explain it somewhere in this point. Skeletonized means exactly what you think it does. Unless you're thinking of spooky, scary skeletons that send shivers down your spine. In that case, try thinking of a different definition. This scope mount's skeletonized build basically just means all the extra stuff has been stripped away. Combining that practice with an aluminum metal rather than a steel means this product is as light as a heavy-duty scope mount can be.
Cantilevered
Ever wondered why your eyes are tired after focusing on tiny screens all day? The more rigorous focusing you make your eyes do the more likely you are to get caught with a condition known as "eye strain". Granted, it's not as dire as we may have initially thought. Eye strain basically just means your peepers are tired, and it happens naturally to both office workers and weekend hunters alike. The cantilevered design on this scope mount was created to help combat eye strain. By slightly tilting this forward and raising the height of your optics, you're never going to get caught with a case of tired eyes again! This will improve your hunting times, and might just give you the last hour you need to track that buck down.
Cost and Value
At twice the price of our top spot scope mount, we're not entirely sure if we can say with confidence that this mount is worth it. The people that love this mount seem to really love it. We're also sure that the raising of the optics does cut down on eye strain, making it a great option for those that are trying to keep their eyes happy during a long hunting trip. The lightness is another great quality that many of these kinds of scopes don't have. Oh, who are we kidding. It's a great scope; so what if we have to pay a little more for it? It's not outrageous, and the reviews are all glowing. We'll say that this is worth the additional price.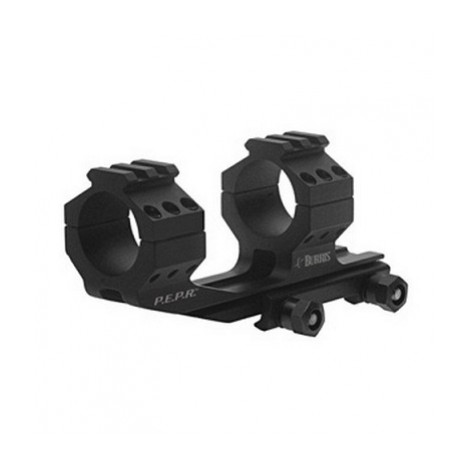 Another scope mount that rings in at slightly higher than our budget options, this Burris mount is comparable the one we just looked at. A similar sort of style, the Burris scope mounts are excellent for any sort of 1" barrels or tubes. The catch with this one, and the reason it's not sitting a little higher on our list? This is a mount that's primarily used with MSRs. You're not getting the versatility some other mounts offer, but there's a part of us that thinks that's okay. After all, we'll be the first people to admit that buying a product built specifically for your needs can only end well.
Quick Detach
The first mount we've seen to feature this feature, the quick detach option is excellent for those that want to switch back and forth from utilizing the scope to not using it. Not only do we find that the quick detach comes in handy for anyone who's wanting the most amount of mounting options, but it's also excellent for those that don't have the patience to sit and thread screws for minutes and minutes every time they want to take their scope off. Quick detach options are a great benefit; even if you don't think you need it, consider just how easy it would be to switch back and forth between a full range of optics. It's just one or two little levers, and it could totally upgrade your hunting game. Seems pretty good now, right?
Perfect Height
When considering the benefits of a scope, and especially the benefits of that scope's mount, it's important to consider the height that's optimum for you and your comfort. This scope mount boasts that it gives scopes the ability to sit at the perfect height for AR-platform guns. While that might shift a little for some hunters, starting at a baseline of "perfect" makes it easier to adjust to your own personal perfect height.
Cost and Value
This scope mount is definitely in our more expensive range, but for good reason. Quick detach is a tricky thing to get right. While we all think we would love it as a feature, cheaper models tend to lose some of the strength and holding capabilities when they opt for a quick detach feature. The price might be a bit of a struggle if you're building your perfect hunting set on a budget, but trust us when we say that you'll be happy with this scope mount. Er… You'll be happy if you have an MSR. If you have a different sort of weapon you're going to be sorely disappointed, as it likely isn't going to fit as well as it does on the MSR.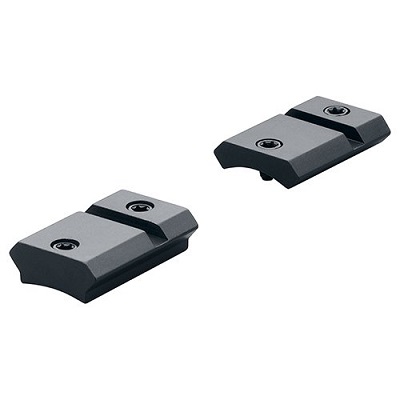 Here's another Leupold option. With a brand like Leupold even riskier product features are in safe hands. Remember when we were talking about the follies that can befall those that purchase cheaper quick detach models? The exception to that is when the product has a strong brand name behind it. While Leupold isn't exactly a cheap option, it is sitting in what we'll call our average price range. Quick detach can be risky, but with a brand like Leupold manufacturing it, we feel confident that this will be a solid addition to your hunting gear pack.
It's a Zero
Did we shock you with that teaser of a title? Probably not. Our readers are too smart to think that that's a star rating. The zero that we're talking about is what your scope will return to every single time. More important than star ratings is the number that your scope adjusts to. That's the difference between a successful shot and one that misses by a mile. The quick detach feature that this mount offers is further appreciated by the fact that it ensures all your scopes adjust to zero even if you've just put them in. This is great for the hunter who needs to change scopes in the middle of a hunting session; just flip, add, and lock, and you'll get that shot.
Compatible
So, what's the big deal with this quick detach product? Why would somebody opt for Leupold's version over the Burris version we looked at above? Honestly, it's all up to the person on that. They're of a comparable material and build quality. The biggest difference is the fact that this product is usable with a variety of weapons. The Burris is built essentially just for the MRS. We couldn't just offer a quick detach option for one type of weapon and not others! The compatibility is thus a huge benefit; at least on our list.
Cost and Value
We've fallen back into the average price range, which is likely bringing a sigh of relief to some people. We absolutely are fans of this product, as the versatility and quality far outweighs its actual cost. The value is high with this scope mount, and we're certain that you'll be pleased with the outcome. This is especially true if you're someone who owns and operates a variety of scopes. The quick detach is a huge benefit. One that might possibly be the dealbreaker for some of the other mounts we're offering.

6

. Weaver Detachable Top-Mount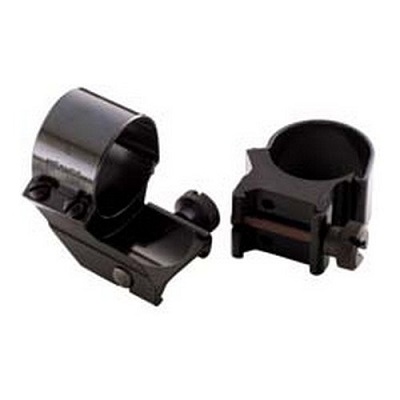 Another set of detachables, but with a little bit of a twist this time. These are just the detachable ring mounts, created in order to make any mount a quick detach option. Handy for those that don't want to spend a whole lot of money on separate mounts for each weapon, these rings are supposedly easy to attach onto any kind of base. They hold a variety of scopes, and offer the opportunity to switch to a variety of other scopes during usage.
The 4 Pack
Those that are weapons aficionados will likely be cringing at the idea of purchasing new scope mounts for every single one of their guns or rifles. Hunting gear quickly racks up the dollars, after all. The 4 pack that Weaver is offering makes changing out and upgrading your mounts a cost-effective, no stress option. It's easy to attach these rings to two or four different guns, depending on your scope's holding needs. This ultimately gives you more bang for your buck, and doesn't involve a whole lot of pricey purchases to upgrade your equipment.
Steel Constructed
We've heard tons about the benefits of aluminum, but what about the benefits to steel? This kind of construction might not be as well-loved as others, but it definitely serves a purpose. Not only does the steel offer a very reliable product, but the construction is done by a machine. While we're not totally sure why this is specifically listed on the product description, it does give us some peace of mind regarding the consistency of the manufacturing. Machine-cut and process steel is incredibly high quality, which means these rings can put up with anything and everything.
Cost and Value
One ring could be priced this low and we'd still call it a huge deal. But to get four of the same detachable rings? It's just incredible. We love the fact that you can purchase this set and instantly upgrade any weapon's scope mount to be a detachable option. The drawback? They're only compatible with Weaver mounts. If you're already set up with the Weaver mounts, this is excellent news. However, if you have to purchase a variety of mounts on top of these rings, the cost is definitely not equal to the value.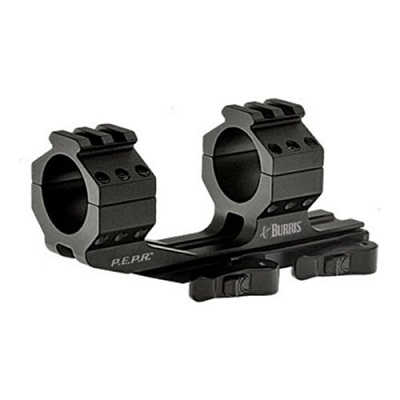 Burris is back, and this time with a different mount. Not only do we find that Burris is a company that really surpasses any and all expectations, but it's also a company that doesn't have as much of a reputation built up. At least, not that we know of. They're certainly building a good reputation for themselves by crafting such amazing mounts. This AR-P.E.P.R. Scope Mount is a great addition. High quality and no-nonsense, this is a mount that might just make Granddad crack a smile.
Picatinny Tops
Yes, that sounds a little silly. However, this feature is truly an excellent feature. Many scope mounts don't allow for the option of attaching another product on top of it. A lot of times that's for a good reason. We don't want to risk squeezing or shifting the scope, especially when tracking an important animal. This scope mount offers the option of adding other accouterments on top of the mount, thanks to its Picatinny attachment points. Not into adding anymore extras? No worries; this product also includes smooth ring tops.
The lift
We've said it before and we'll say it again: the ability to lift your scope to the right level gives you enough of an advantage that it could make or break your hunting game. The way that the lift works is that your scope can now have 2" of forward positioning. This makes it easy to adjust the scope to give you a little bit of levity on that eye strain and positioning. The lift is provided with love, so why not love your eyes enough to invest in it?
Cost and Value
The most expensive option on our list, we're actually not entirely sure if this product is worth the cost. There's always one in which that's the case, isn't it? In this list it just so happens to be this second Burris choice. The quality is great, yes. The product itself is an old standard, and is made with the same kind of commitment to manufacturing integrity that Burris brings to all of their options. What we're not sure about? The fact that it's anything special. We're just not seeing enough of a difference between some of the other scope mounts that warrants this additional cost.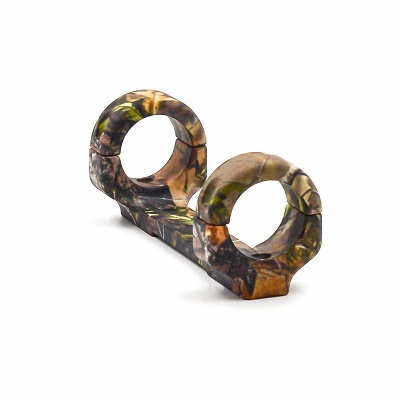 This is a classic style of scope mount that we're absolutely thinking will be a hit this holiday season. The pattern on it is way more fun than your basic black and brushed metal options, while the build and quality is just as high as any of the other choices we've seen. Aluminum is a popular building material, and for good reason. We don't think anyone would be upset receiving this scope mount.
Where'd it go?
Who doesn't like camouflage? This trendy pattern is a must for Kylie Jenner, which means it's also a must for Granddad. Not only does this mount offer the same sort of stability and quality that the other mounts we've looked at do, but it's got the kind of look that any hunter would love to put on their gun. The power of this product is tangible. Camo instantly makes anything look cooler, which is why this is such a big draw. Plus, if you're trying to hide in the forest, it's totally possible to disappear while getting the perfect aim.
Shock absorber
This might come as a surprise, but scope mounts greatly benefit from being shock absorbers. Whether it's the actual product build or just the fact that it's made of aluminum, the product description states that this mount is an excellent shock absorber. This is important, especially on weapons with heavy recoil. Too much rough and tumble movement can, in the worst case scenarios, cause your scope to shift slightly off of being zeroed. The ability to absorb the shock means this mount keeps your scope steady and stable.
Cost and Value
How much are you willing to pay to be cool? Good news: It's still in our range of average pricing. While this scope mount isn't the cheapest, it's nowhere near close to being the expensive option we thought it would be. The cool design is enough to convince us to pay even a little bit more than what it's currently priced at, making this pricing seem like a steal. We love the way that it looks sitting on top of a weapon, and know that you will too. It's not just all about looks, though. The quality is also high, making it a true value for its cost.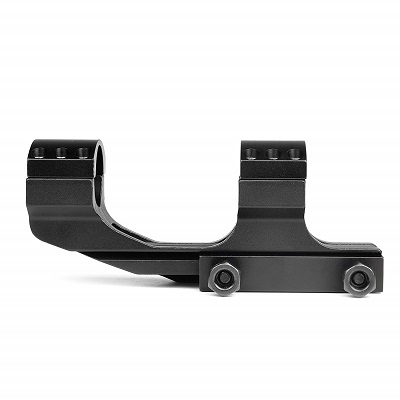 Ultimate Rifle Buld is actually an incredibly reliable manufacturer, creating high-quality scope mounts. They have a long history of success with their other outdoor adventure products as well. While we haven't seen the actual scope mount in action, the reviews are right there: these babies clamp on tight and work well.
Two Fer
Don't be fooled by the photo. While it looks like one 1" ring mount, all of the variations on this mount come in a set of two. The two pack is a nice touch, especially because it lowers the cost of these rings even more. It also gives more versatility in setting up the scope mounts that you could be trying to attach. No need to rush out and purchase an extra one just because you discovered that one ring mount won't cut it; you've already got the second!
The Finish Line
You can't tell from the photo, but this ring mount actually comes in a variety of colors and finishes. Hunters don't have to be all doom and gloom all the time. Not only can they also be concerned with aesthetics, they can also actively look for products that coordinate with their weapons and other hunting gear. RedHead makes it easy to find the finish your personal hunting style lends itself too. Gloss, matte, or even a silver finish adds a refreshing level of personalization to this scope mount.
Cost and Value
This two pack works out to be one of the cheapest options we could find. Not only do we see this being a positive for the mount itself, but we also see it being a positive for you. The chances are high that you've got more than one weapon if you're a particularly avid hunter. The cheaper this scope mount is, the more you can spend on other specialty mounts for you more unique, personalized weapons. Plus, the quality isn't compromised at all, even with the lower price. We think that all that makes for an excellent purchase (even if it's not the most unique set of scope mounts on its own).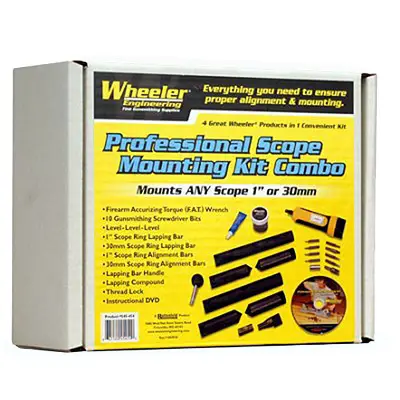 As the last option on our list we're moving away from the tradition scope mounting choices. We've almost solely seen different rings and bases at this point, which is great. If you're someone who doesn't like to get their hands too dirty. This scope mounting kit will make you feel like a true outdoorsy individual. A specific tool kit specifically made to help mount your scopes is a gift any hunter will appreciate.
The Power Of The Tools
One thing we want to point out is the fact that, with many of these mounts we've looked at, they don't offer a complete picture. Many individuals in reviews of these products have said that they're so easy to add to a weapon. But how do you actually go about doing that? This tool kit lays it all out (literally) for us. The products inside of this professional scope mounting kit will make any individual happy. A few of the standout products inside this kit include the gun-smithing screwdriver bits and the alignment bars. Now you can ensure any and all of your mounts are attached thoroughly and professionally… And with only a single one-time cost!
The Perfect Fit
Wheeler has really focused on the fact that they offer the perfect fit for almost all rifle mounting options. We're inclined to agree as well! The reviews mention that for many this kit provides the perfect mount. While some folks have mentioned the fact that the level might not be as pristine and level as it should be, that can easily be fixed by utilizing a level you have at home. Supplementing the kit isn't a bad thing. After all, true professionals know the power in adapting things to make them your own.
Cost and Value
While we're not sure exactly how much all these items would cost individually, we think that they would far out-price the individual items. We love the idea of this kit, and think that it makes for an excellent all-around product. The items that are inside of this kit makes it a great value for the cost. The one caveat we'll give is to say that that's only as long as you're using it. If you're not using this kit to mount your mounts and scopes, it might just qualify as being a waste of money. The kit itself, though? A great value for the cost.

Subscribe to our Newsletter