Best Boot Knives & Blades Reviewed for Quality
last updated:
Oct 06, 2020
When it comes to knives, there are a huge variety of different styles and designs to choose from. Knives are essential tools and life is a lot easier when you have the right tools for the job. A boot knife is a knife that may be used primarily for self- defense. Boot knives are easily concealable. After all, if you're carrying any form of self-defense, you don't necessarily want to make it obvious as to where you are carrying it. A boot knife, as with other weapons for defense, should also be easily and comfortably carried, and we've got both criteria covered in our best boot knives list.
In a Hurry? The test winner after 12 hrs of research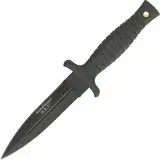 Smith & Wesson HRT9B
Why is it better?
Handguard
Blood groove and a lanyard hole
Rubber wrapped handle
Double edged
In a
Hurry? Editors choice: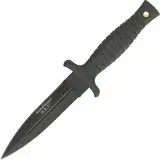 Test Winner: Smith & Wesson HRT9B

6
Researched Sources
12k
Reviews Considered
12
Hours Researching
10
Products Evaluated
Materials
Effectiveness
Ease of Use
Features
Value
By Default
Top 10 Picks
Handguard
Blood groove and a lanyard hole
Rubber wrapped handle
Double edged
Since Smith & Wesson first opened in 1852 they have made their mark in the field of weapons. Firearms they produce have been carried by law enforcement officers for over 100 years and used to be the standard issued weapon in a lot of departments. S&W carry over the quality and innovation used in making firearms to the world of concealed cutlery.
Lightweight Tactical Blade
This knife is made for concealment and is a great option for a fixed blade everyday carry knife. It weighs around 7 ounces and measures around 9 inches long. The sheath is versatile and can be made to carry on the waist or fit snugly in a boot for a hidden self-defense weapon.
Handguard
An important feature on any knife that might be used in offensive or defensive situations is a hand guard. Good combat knives are made with the purpose of dealing out punishment if necessary and a handguard will keep your fingers safe from the blade and will contribute to how well a knife can be handled.
Cost and Value
The Smith & Wesson HRT9B is a very affordable option as far as boot knives go. Typically knives at the HRT's price point are only half tang or similar design. The HRT is full tang and is a good knife for the money.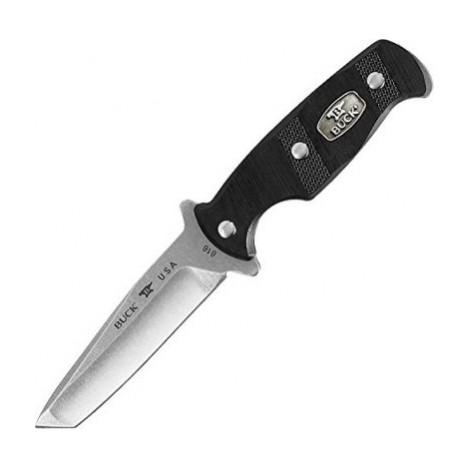 154CM Stainless Steel Blade
Full Tang Construction
G10 handle
Versatile sheath
Buck knives are well-known knife manufacturers and were founded in 1902. Since then, the Buck Knife company has remained a family business and has always delivered some of the highest quality knives currently available on the market today. The Ops Boot Knife is a Buck knife that is made for everyday carrying. While the sheath is designed to be laced into the boot, it also can be worn on a lanyard or carried on a belt.
Small Surprise
This knife measures at 6.25 inches in length. The full-tang blade is a tanto style that is razor sharp and ready to go right out of the package. The handle is made from a G10 material which means it has a good grip that can take abuse. This knife is one of the best for concealment and from a company that has a long reputation for quality products.
Versatile Carrying
A boot knife is a knife that should be easily carried wherever you go. The OPS boot knife has a sheath that is made of polypropylene and leather. One of the better quality sheaths available, it keeps the Buck knife securely in place so it won't fall out even if using it as a neck knife. It can also be carried on a belt.
Cost and Value
From the most affordable knife to the most expensive one, the OPS boot knife lies at the complete opposite side of the price spectrum. You might only be able to afford to buy one but that's probably all you're going to need as these knives last for a long time. The steel retains an edge yet is easy to sharpen. Buck Knives also has a lifetime warranty on all their products so if it does let you down, the company will try to make it right. Keep in mind this knife is made for concealment and is kind of small.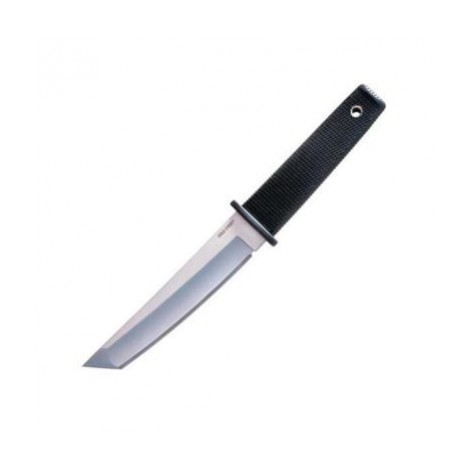 Japanese AUS 8A steel
Secure-Ex Sheath
Tanto blade
Kraton handle
Reports of poor blade retention of sheath
If a Samurai carried a boot knife, it would probably be something similar to the Cold Steel Kobun. Kobun is a term for a soldier in the Japanese underworld. This Kobun is made from premium components and offers quality that Cold Steel is known for.
Get a Grip
The handle on this full tang blade is made from a synthetic material called Kraton. Kraton is a rubber-like material that is resistant to weathering and very durable. Kraton is also resistant to things like chemicals and heat. Just the fact that the Kobun handle is comprised of Kraton makes it a good option for an all around utility knife.
American Tanto
The tanto style blade has a slim profile. However, due to its design, and Cold Steels manufacturing process, is extremely strong and resistant to breaking. The tanto style tip makes the knife useful for a variety of tasks and may be better suited for some jobs as compared to the spear point style.
Cost and Value
This boot knife is made of high-quality materials and offers a unique option when it comes to boot knives. The Cold Steel Kobun is priced slightly higher than average. However, this heavy-duty blade seems to be incredibly reliable and certainly worth the price.
4

. Ka-Bar BK11 Becker Necker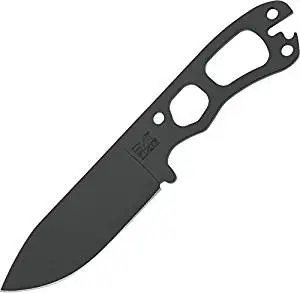 Improved bottle opener
Smooth finish
Full, flat grind
Lifetime warranty
All-around versatility
1095 high-carbon alloy will rust if not maintained
The knife is best suited for outdoor activities such as hiking or woodwork. If you collect knives, you will want this knife in your collection. The BK11 has a skeletonized handle that is light enough and small enough to be worn around the neck in a sheath.
The Blade
The Cro Van Steel 1095 of the Ka-Bar BK11 Becker Necker holds it edge effectively. The shape and length of the blade provide the opportunity to keep the knife for outdoor or daily domestic use easily. The blade tip has a modified-spear point. The sharpened tip rises above the blade's centerline.
Other Features
A feature avid outdoorsmen appreciate is the bottle opener that is an improvement from the earlier model. The wider mouth works like a charm on bottle caps. The sheath design is cleaner and looks more professional than the previous version. It is an injected-mold sheath having eyelets around the edge.
Cost and Value
There is a debate about the added thickness of this model's blade. Some feel it creates a slicing deficiency. The new model is a full, flat grind that makes up for the perceived slicing deficiency. The smoother finish and thicker blade make the knife stronger overall. It may not be able to slice tomatoes as thin as you like, but it serves a person well in the bush.
5

. MTech USA Xtreme MX-8059 Fixed Blade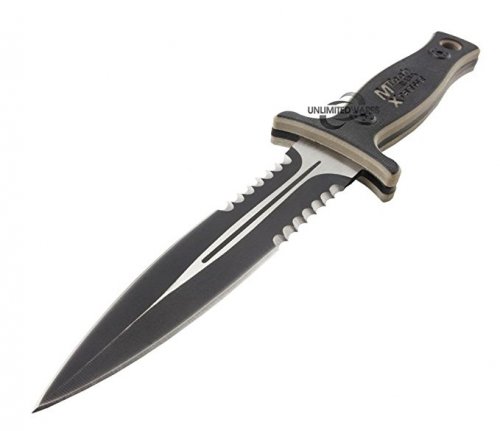 Quality made
A sharp and thick blade
Easy to sharpen
Sturdy sheath
Edge retention is not ideal
If you are looking for a snappy fixed blade knife with a cool holster, the superior MTech knife is a full tang knife that works well for any tactical job. The knife weighs less than ten ounces. The light weight makes it suitable for hiking and camping.
Blade
The MTech USA Xtreme blade is serrated. Serrated knives are a matter of choice. A serrated edge inflicts more damage than a flat blade when cutting. The two-tone silver and black blade are made from 440c stainless steel. The dagger has appreciable serrations and full tang on both sides. A guard that comes with the ⅛-inch blade ensures precision cut and safety. The partial black coating can be blurred or removed.
Handle and Sheath
Featured at the end of the G10 handle is a lanyard hole. It is designed to securely grip even in the hum and wet conditions. The black handle fits comfortably in hand and provides a superb grip. The durable material retains the grip level of the handle. It seems loftier than the blade but is not uncomfortable. The leather sheath allows the knife to be carried safely and efficiently. The knife has an overall length of nine inches. The heavy-duty knife has a sharp and durable five-inch blade.
Cost and Value
The knife belongs on everyone's list of quality boot knives. 440c non-stain steel is easier to sharpen than carbon steel. It does not hold an edge like carbon steel. The knife requires regular maintenance. An enduring trait of 440c is its high resistance to corrosion and rust in extreme conditions such as high humidity and wet climate. The handle is not ergonomically designed but does not affect the comfort or basic functionality of the grip. People who purchased this knife like that it has many features of expensive boot knives.
6

. CRKT Sting Fixed Blade Knife with Sheath


Indestructible spear point blade
Dual cutting edges
Resists corrosion
Perfectly contoured handle
Black powder coating will eventually scratch or chip away
This is a superb knife to have whether out in the backcountry or on the battlefield. The Sting knife is built with sturdy 1050 steel. It is compact and simple. The blade has been hardened to 52-55 HRC.
Blade
The blade shape has a spear point similar to needle-point. Both are designed for piercing. The spear point is stronger and has a slight belly useful for slicing. It is durable and perfect for this tactical blade. The blade is asymmetrically pointed blade having a point in line with the blade's center axis. Both edges rise and fall equally creating a point that lines up with the center. This knife is designed to stab.
Other Features
The coating lessens the drag for a quick stab and faster withdrawal. It has a balance between slicing and piercing. The handle made of 1050 steel also. The spine and belly have a large find groove that gives a comfortable and solid grip. The butt of the knife sports wide lanyard holes.
Cost and Value
This knife is priced similarly to other knives on the list. It is a carbon steel blade with manganese and carbon added to iron. The amount of carbon is on the low end of steel, but it works well in the fixed blade of the CRKT Sting knife.
7

. SOG Instinct Fixed Blade NB1012



Stainless steel blade and handle
Full tang construction
Nylon sheath with boot and belt clip
Lifetime warranty
The finger grooves are not idea for reverse gripping
The Instinct Mini is a wearable and compact blade knife made for those times when intuition or feeling demands your full attention. The knife is available in two handle types, skeletonized stainless steel and G10, and two sizes.
Carrying Options
The SOG Instinct is a necker, perfect to have with you at all times. It does not have to be worn around the neck. The sheath having a belt clip increases possibilities. The molded nylon sheath is placed in a variety of ways. It can be worn at the waist, bag, boot, neck, or belt.
Versatile
The Instinct is ready for action whenever you wear it. It plays a dual role as an exterior or concealable knife. The clip is 360 degrees adjustable. It holds the knife tight enough that there is no danger of it falling from a belt. The clip adjusts in eight ways on each side. It is secure both as a boot or belt mounted knife. It draws with minimal effort and feels solid.
Cost and Value
Many people find it a suitable knife. It offers multiple carry options that include secured to a bag or vest, clipped to a boot or belt with a multi-angle adjustable clip, or around your neck with a lanyard. This knife falls in the middle price range of boot knives. The sleep drop point blade is compact and economical. It sharpens and holds an edge well for a knife of this price.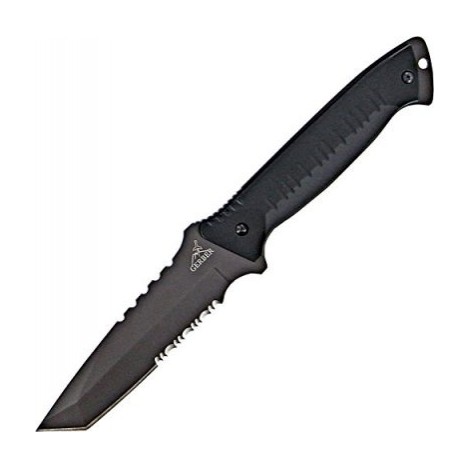 The texture on the spine for extra grip
Camo sheath
Partially serrated
Tanto blade
The aluminum handle may get slick
No list of knives seems complete without at least one that is made by Gerber. The Warrant knife has made its way onto our list of top ten best boot knives and is ranked close to number one. This is a perfect knife for keeping in a bug-out-bag or trunk kit as a back-up. The machined aluminum handle is durable and the serrated tanto blade gives you the versatility needed in an emergency.
Strong Backup
This full tang knife is around 9.5 inches. 4.5 inches of that accounts for the partially serrated stainless steel blade. Serrations combined with the tanto style make a knife that is up for a variety of tasks. While the blade portion is fit for sawing and slicing, the durable aluminum handle is heavy duty enough for hammering activities.
Digital Camo Sheath
One of the considerations of boot knives is how the knife is going to be carried. This digital camo sheath has an adjustable strap with clasps that can easily be clipped to your ankle or even be made to carry on a belt or web gear.
Cost and Value
Gerber knives are usually marked toward the higher end of the price spectrum. Fortunately for you, the Gerber Warrant knife sits at a fairly average price range. This knife is affordable and offers the quality that Gerber is known for.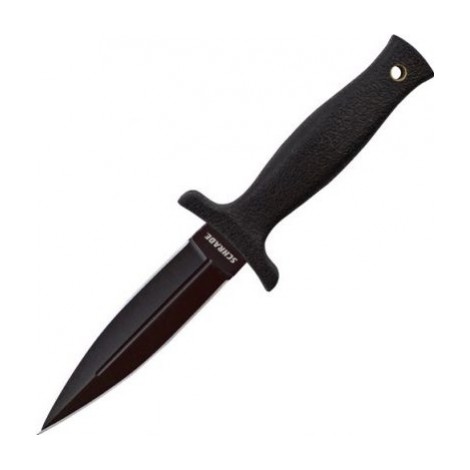 Textured wrapped handle
Lanyard hole
Handguard
Black leather sheath
Needs sharpening when you get it
Schrade shows up a couple of times on this list. The products chosen are two examples of several other boot knives that are available from Schrade. It was a tough choice but the Schrade Spear Point is one of the items that made the final "cut". This is a boot knife that would also be suitable as a diving knife due to its compact design, handle material, and blade material. The only thing that really keeps it from diving is the leather sheath. However, the sheath itself is very well made. It has a snap to keep the knife in place and a very strong clip that is suited to be hooked on a boot or a belt.
Out of Sight
One of the main attractions that boot knives have is the ability to conceal them. This knife is all black and measures around 7 inches in length. While it may not be a practical knife for everyday utility type stuff, it is compact and will stay at the ready for when you really need it.
Slip Resistant
The textured thermoplastic elastomer handle gives the grip the qualities of both rubber and plastic. The handle also has a handguard that contributes to knifes handling and safety.
Cost and Value
The Schrade Spear Point came pretty close to the best value on this list. You can get this knife, or several, and not have to worry about going broke. That being said, it is reported to not being very sharp straight out of the box as some knives are. However, a few grinds on the whetstone is worth it if you are looking for a good, affordable, blade.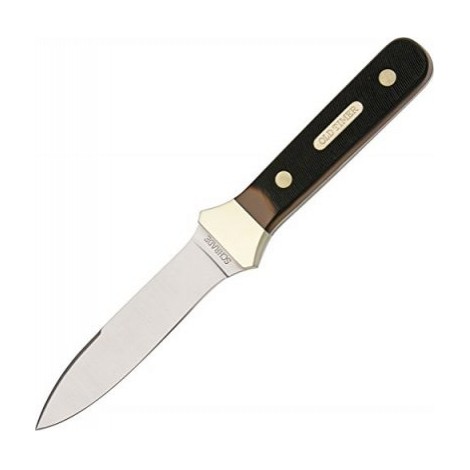 Nickel silver bolsters
Full Tang
Brown leather sheath
Saw cut handle
Looking at this knife brings a couple of things to mind. The wild west and my grandpa. It's not that it smells like leather, dust, and horses, like my grandpa, but that it screams experience, practicality, and tradition. On a list of knives that have more of a tactical design, the Old Timer shows up and gives off a presence of class and forgotten badassery, like my grandpa.
Full Tang Stainless Steel
The stainless steel of the blade runs the length of this 7-inch knife which adds to the durable nature of it. The handle is made from hand-cut slabs and fastened with nickel bolsters. While this handle material has been known to chip it handles improperly, you'll get a traditional look and feel from it. The handle is also textured to prevent slipping.
Middle Ground
The Oldtimer is a nice length for a knife of this type. At just under 8 inches, it is the perfect balance of being small enough to carry comfortably and big enough to handle well.
Cost and Value
The Old Timer knife, also from Schrade, sits at a price that is slightly lower than what the average is on this list. While it does not has a "tactical" appearance and lacks somethings like serrations it is a good all-around knife that would be a great fit for anyone's collection.
Criteria Used for Evaluation

Materials
There are tons of different types of materials that are used today to make knives. Stainless steel and high-carbon steel are among the most popular for blades. High-carbon is considered the harder of the two. Harder does not necessarily mean tougher.
In this case, high carbon blades are known for their ability to retain an edge but are more difficult to sharpen compared to stainless steel. You also have to be careful to keep the blade dry to prevent rust and pits from forming on the blade. You can also treat the blade with mineral oils. High-carbon knives may also be more affordable than their stainless steel counterparts.
Stainless steel looks nice and will resist rust and corrosion without any extra steps. It is easier to sharpen and is less brittle than carbon steels. Rust and corrosion resistance keep stainless steel knives from chipping, rusting, or cracking. However, they are more prone to bending and warping.
The blade material, while important, is not the only thing to consider when looking at the overall quality of a knife. You have to hold on to it somewhere. A good handle can make the knife easier and safer to use. Higher end knives use a synthetic material such as Kraton or G10. These materials are highly sought after as they have a good feel in hand and are slip resistant.
A handle may also feature a guard. The guard keeps your hand safe from the business end of the blade by creating a stopping point if your hand should slip or you try to grab the knife too high. It is a safety feature that should be included on any knife that is designed for piercing types of cuts.
Effectiveness
Perhaps most importantly, a good boot knife should be practical. There are a lot of sweet looking knives available on the market, but if it's not something that you can easily utilize, they are best left on the display stand.
Size plays a huge part in pragmatism. Because a boot knife should be easily concealed and carried, you don't want it to be too large. The biggest knife on this list is around 12 inches in length. Concealment goes out of the window with a blade so big. Knives like that are less for carrying every day and more for outdoor activities such as hiking and camping. While still considered a boot knife, it begins to tread in survival knife territory.
The size of the boot knife you choose reflects why you are carrying it in the first place. Smaller knives are more comfortable to carry and easier to utilize if you need it in a self-defense situation. They are also easier to handle if you are using it for everyday tasks.

Ease of Use
In choosing the best boot knives available several factors were considered. A boot knife should be something that you can easily carry whether it is out in the open or secretly concealed. That's why the method of carrying knives was one factor that we considered. Boot knives are named so because that's where they are typically carried.
There are several advantages to keeping a weapon on your boot or ankle. Typically, the lower legs are not the first place people notice when looking at someone. The ankle is not a place people normally look or even think of when they think "concealed carry." Keeping a knife in your boot also leaves pockets and waistlines free for other objects you might carry with you every day. A boot knife is meant to be the last resort blade that is there when you need it. However, you can also use it as your regular EDC knife. Depending on the style of the sheath, you can carry the knife around your neck, on your belt, in web gear, or clipped to your pocket.

Features
Even though we're talking boot knives there are a few add-ons that we'll keep an eye out for. Mainly these will have to do with the sheath and how easily each knife is to attach to your leg and get to in a tight spot. If you're going to carry a boot knife it should at least be easy to access.

Value
Tempered steel blades and the like can cost a pretty penny. And while we're all fans of you get what you pay for, we don't want you to empty your pockets just to get a boot knife. So we're going to look for some great products at a great price, just like always.
Expert Interviews & Opinions
Most Important Criteria
(According to our experts opinion)
Experts Opinion
Editors Opinion
Users Opinion
By Default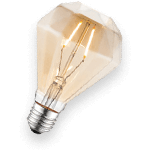 Should Be Easy to Carry and Use
A boot knife should be something that you can easily carry whether it is out in the open or secretly concealed. That's why the method of carrying knives was one factor that we considered. Boot knives are named so because that's where they are typically carried. There are several advantages to keeping a weapon on your boot or ankle.
Frequently Asked Questions
q:

What makes it a boot knife?

a:

Traditionally a boot knife is a dagger style knife that can be concealed easily and typically a boot knife has a blade length of around 3.5 to four inches. A short blade length allows the knife to be drawn quickly and easily when it is needed. Boot knives are typically used as an emergency backup blade if for some reason you can't use your primary everyday carry knife. A good boot knife can be worn comfortably and carried in a way that doesn't draw attention.
q:

Is it legal to carry a boot knife or a concealed knife?

a:

This is very important information you need to know before you decide to carry any kind of concealed weapon. Laws vary in different states when it comes to concealed weapons. This includes things like pepper spray, neck knives, and even regular pocket knives. It is best to know your local city and county laws before making the decision to own any kind of weapon you plan to use as a concealed means of defense.

Kansas has some of the most liberal weapons laws in the United States. Not only can you carry dagger style blades, disguised blades and even switchblades but it is also a "constitutional carry" state which means you can even carry a concealed firearm without a permit. Other states are not as lenient on weapon laws. Many cities have a limit on how big a knife can be. In Cleveland, Ohio it is illegal to carry a knife with a blade longer than 2.5 inches. Any longer than that and you need to register it and keep proof of registration with you as your knife can be inspected by law enforcement.

Whether or not you follow the law is entirely up to you. Just keep in mind that being ignorant of the law is no excuse for breaking the law.
q:

What is the difference between high-carbon steel and stainless steel?

a:

There are several differences between high-carbon blades and stainless steel blades. Each has its own advantages and disadvantages. Which metal is better is a hotly debated topic with knife enthusiasts and collectors. At the end of the day, it all depends on what you are using the knife for.

High-carbon steel has been used for a long time in fixed blade knives. By a long time, I mean hundreds of years. High-carbon is typically the choice when it comes to hunting and survival knives because of the sheer hardness of the metal. This makes the blade pretty durable but more brittle than stainless. A stainless steel knife will bend before it breaks while carbon blades will snap. High-carbon steel will hold a sharp edge longer than stainless steel but it is harder to sharpen.

Stainless is a popular choice for several factors. Obviously, stainless steel is resistant to rust and pitting of the metal. While it can rust over time, you do not need to add extra steps to caring for the knife to keep the blade in a rust free condition as you may have to do with carbon blades. Stainless steel has a certain percentage of stainless steel is chromium. This means the blade is easier to sharpen but is a lot softer than carbon steel.

Both types of metal are very durable but there is a difference between toughness and hardness. A stainless steel blade is typically considered tougher as the metal is not as brittle. However, carbon steel is a lot harder and will not warp or bend.
q:

Is a bigger knife more useful than a smaller knife?

a:

Even before Paul Hogan brandished 10-inch inch blade in Crocodile Dundee and exclaimed: "This is a knife." There has been a fascination with huge knives and a belief that bigger is better. This is very far from the truth. While bigger knives look cool and can be pretty intimidating, unless you're taking the thing into battle or fending off grizzly bears, large knives are for the most part impractical. While larger blades may play a part in things like camping chores smaller knives are easier to handle and more convenient to carry.

From a self-defense standpoint, it is much easier to draw out a knife with a blade that is 4 inches longer than it is one that is ten inches long. This is especially true when your feeling threatened and your adrenaline is pumping so much you feel your heart beating in your ears. Typically motor skills go out the window in these situations so the simpler it is to draw an object of self-defense the better.
q:

Where do I put it on my boot?

a:

Some of the knives listed have a sheath that is designed to be laced up into your boot. For longer knives, this might not be the most comfortable. However, for shorter knives, this is an easy way to carry your blade with you every day and not misplace it or forget it before you leave your house. A lanyard can also be strung through these holes to use the blade as a neck knife.

Other sheaths may have a clip incorporated into the design. Knives like this can be clipped to the side of the boot with the body of the knife inside the boot or inversely on the outside of the boot. Typically the knife will be more secure if it is carried on the inside but depending on the length of your boots this may not be the most comfortable. Sheaths with clips can also be carried on your waistline in a belt or just clipped onto your pants.

Ankle straps are another popular feature. Even if you are not wearing a boot the knife can be attached to your lower leg for concealment and carrying convenience.
q:

Whats the difference between a tanto, drop point, spear tip, etc.?

a:

There are a huge variety of blade designs. Each one has pros and cons. Here is a little information on the blade designs that were included in the top ten list:

Tanto: The tanto blade point was popularized by Cold Steel in the 1970s when they came out with the American Tanto blade. This design was inspired by Japanese cutlery. Not only is it aesthetically pleasing but it is powerful. From a structural perspective, the Tanto style blade is the most durable. This type of blade has a second edge and almost resembles a chisel. This lets a lot of force to be transferred from the handle through the tip. Tanto blades are best for stabbing harder materials and because of the lack of a "belly" are not as good at slicing.

Drop Point: Named so because the spine of the blade is unsharpened and flows down from the handle and drops to the point. The drop point is the most versatile style of blade. The belly allows for easy slicing and cutting, however, the tip is weaker than the geometrical shapes of the tanto and spear tip. Drop point blades make the best utility knives and multipurpose blades.

Spear and Dagger: These types of points are popular in combat and fixed blade knives. In dagger style blades, both sides are sharpened and form symmetrically into the tip. A spear tip may or may not have both sides of the blade sharpened. Like the dagger, the point of a spear tip lies on the midline of the blade. Spear tips can also be seen in throwing knives because the geometrical symmetry of the blade makes also makes it a strong tip. These knives are best for puncturing and stabbing types of cuts. However, they are more likely to get stuck or break than the tanto. While they can be used for slicing, drop points are easier to handle for such cuts.

There are other types of blade styles such as clip point, gut hook, and sheep's foot. The type of style you choose depends on what you need the knife for or what you need to add to your collection.
Subscribe to our Newsletter