Best Wading Boots Reviewed & Rated for Quality
last updated
May 17, 2019
As the effects of winter start to thaw, it is no surprise when you see anglers getting their gear ready for the upcoming fishing seasons. In the area that my family and I reside in, trout fishing, in the streams is ever growing in popularity. Preparing gear for all four of us can be exhausting at times, but also rewarding when the final outcome yields great results. Here you will find that we have created a list of what we feel are the best wading boots available to you. We have given you a quick review of each of the boots on our list, this is meant to give you the opportunity to make an informed decision for yourself.
In a Hurry? The test winner after 12 hrs of research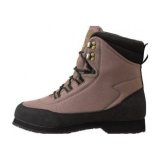 Caddis Wading Systems
Why is it better?
These boots have a rubber sole.
Extra padding has been added to the insole and sides of the boots.
The toe and heel have been reinforced.
These boots run a half size bigger to allow room for socks.
In a
Hurry? Editors choice: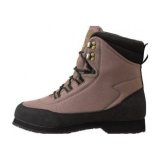 Test Winner: Caddis Wading Systems

21
Researched Sources
28
Reviews Considered
12
Hours Researching
50
Products Evaluated
Midsole
Weight
Support
Size
By Default
Criteria Used for Evaluation


Midsole
A boot is only as good as the traction it provides, therefore choosing a pair of boots with great traction ability is more beneficial. In today's market, you have several choices for wading boots soles. Some will prove to be better than others, depending on how and where you will be using the boots. Here is a look into your choices for soles:
Rubber: Rubber soles can be found with a couple of different pattern options. They are available in a more traditional wader pattern or can be found to resemble the tread of a hiking boot. Which one is best for you will depend on the terrain you plan to travel over. For instance, an angler who prefers to travel light, over rough terrain to get to their fishing hole. A hiking tread would be highly beneficial to that angler. As this type of tread can be worn on land or in the water. Rubber soles are known for their durability, traction, and the fact that they are easy to clean.
Felt: Still leading the pack for traction, is the felt soled boots. These are designed for use even on the slipperiest of surfaces. However, they are not made for hiking over rough terrain. As the years have passed, states have outlawed the use of felt-bottomed wading boots. The reason for this, it has been found that different invasive species are being transferred from one body of water to another. Believe it or not, the invasive species are surviving in the moisture that the felt holds in. As we all know this can be detrimental to the natural habitat of the fish, therefore it is best to check the regulations in your area, before purchasing wading boots with a felt bottom.
Studded Soles: A studded sole is made from rubber but will allow you to add studs to the soles of the boots. They are relatively easy to place and remove. Most anglers will purchase these when they know they will be in conditions that they will need a little extra traction. A prime example of this, a faster running river or stream, the studs can help ground you. This will give you a better sense of balance while navigating the debris at the bottom of the water.


Weight
The upper portion of your wading boots holds an equal amount of importance. They should be made from materials that will allow water through the boot, but not holding the water within the material. Most boot uppers can be found made from either polyester or nylon. There are some that can be found made from a synthetic form of leather as well. These materials are lighter in weight, which only adds to your level of comfort.
Breathable materials are also important, just because your feet are submerged, doesn't mean they won't sweat. An example of a better constructed upper would be one made from a combination of synthetic leather and nylon. These materials when combined will allow water to flow, without adding too much weight to the boot.


Support
It should not come as a surprise that ankle and foot support is an important aspect for choosing a pair of wading boots. Walking over large, unstable rocks can pose a huge challenge for anglers. Often times this is where accidents happen, an angler will attempt to move from rock to rock. In a split second those rocks can shift, causing your ankle to buckle. Many manufacturers have come up with features to combat that issue. You will find boots that offer extra padding to the ankle and stiffen the area around the heel. This will limit the amount of movement your ankle can make, in the event that you slip.
As for your feet, finding boots that have a good lacing system is crucial. When your boots are laced properly, you reduce the risk that your boots will allow your foot to slide around. A pair of boots with a wider tongue area, provide added protection against debris entering your boots. There is no worse feeling for discomfort than a tiny pebble entering your boot. It is also best to look for a pair of boots that offers added toe and heel protection. This protection is normally found in the form of an extra piece of rubber over both of these areas. That rubber is your best line of defense against rubbing and bumping into debris.


Size
Selecting the right size wading boot is another crucial decision to your feet. Some brands will accommodate their sizing for the use of wading socks, while other brands do not. A good rule of thumb for choosing the correct size is to go with a size up from your normal boot size. This will allow you the proper amount of room within the boot for a comfortable fit. You want to have a little wiggle room in the toe area, as wading boots do tend to suffer from some shrinking. When your boots are too tight, this can cause problems with circulation in your feet.
Most manufacturers will have a size chart you can use to compare for which size you need. When ordering online, many will have a warning about their sizes, letting you know whether or not they run bigger. Often times when the wrong size is ordered you can return the product for the correct size. It is highly recommended that you do this, don't just settle for the size you have. Doing so can be detrimental to your feet, as well as causing a possible accident.
Expert Interviews & Opinions
Most Important Criteria
(According to our experts opinion)
Experts Opinion
Editors Opinion
Users Opinion
By Default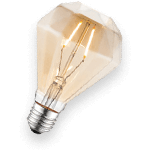 There are an abundance of benefits to using wading boots
Wading boot designs and features have changed drastically over the years. This is due to the materials available in current times, making the quality of wading boots better. The theory behind wading boots is simple, add a pair to your regular fishing gear. Doing this will add a high level of safety to your fishing experience, as well as saving you some money in purchasing new shoes after your fishing trip.
General boot care
We have already touched on the invasive species aspect, in order to do your part in preventing them from spreading, you will need to clean your wading boots. This should be done on a regular basis, after each fishing adventure. You can wash off as much of the mud as possible with a hose.
How the boots will drain
First-time users of wading boots may not know what to expect from their wading boots. Here is the lowdown, wading boots are not made to be waterproof. Instead, they are made to allow water in, which provides you with a little weight for added balance. They will also need to let the water out at a rapid pace, as to not weigh you down too much. Wading boots that do not achieve this, will leave you feeling exhausted at the end of your fishing trip.
The reasons for wearing wading boots
You might be wondering why on earth you would need wading boots. One of the top reasons to wear wading boots is your safety. There are numerous reports of accidents, due to slipping in the water, that occur while fishing in streams and rivers. These cause of these accidents is typically the type of footwear the angler has on. Wading boots can reduce your chance of slipping when the right type of sole is worn.
Frequently Asked Questions
q:

How do you dry wadding boots?

a:

After you have cleaned your boots, the best way to dry them is by leaving them in the sun. The rays from the sun will kill any remaining bacteria. Of course, we all don't live in an area that is always sunny. Here is an effective way to use your dryer to dry your boots:

Start by tying your boots together using the laces. Open the door to your dryer, set the laces over the door, with the boots on the inside of the door. When you close the door, the boots will be hanging on the inside, never touching the drum of the dryer. Run your dryer for a standard cycle, when it is finished, your boots should be dry.
q:

Which sole material is the most durable for wading boots?

a:

The most durable sole material for wading boots is going to be the boots that have rubber soles. These boots can be found to mimic hiking boots, which allows you to wear them over the rough terrain you travel to arrive at your fishing destination.
q:

What type of sole offers the best traction?

a:

Among anglers, this answer is a rather large debate, causing many arguments. Some will tell you that a rubber sole will offer the best traction. You can get rubber soles that look like a typical water boot or choose one that resembles that of a hiking boot. For added traction, there are even rubber soles that studs can be added. On the other hand, you are sure to find opinions that sway toward felt boots being the best for traction. Many anglers are creatures of habit, therefore they will stick with an original item. You will need to keep in mind, that some states have banned felt bottomed boots. Due to their ability to host invasive species. When choosing a sole consider your method of travel, as felt boots are meant solely for the water.
q:

Are wading boots waterproof?

a:

On the contrary, to popular belief, wading boots are not meant to be waterproof. They are the exact opposite, wading boots allow water into the boots. Which adds weight to keep your balance more stable. But when the water goes in, it must also come out at a rapid pace. This will ensure that your wading boots don't weigh you down too much. One can think of wading boots having to create a delicate balance to accommodate your fishing needs.
q:

How do I know what size boot I will need?

a:

In most cases, the manufacturer will have a size chart for referencing the size you need. In the event that they do not, it is best to choose a size that is one full size more than your regular boot size. This will allow room for using wading socks with your boots as well. When planning to use the boots in cooler water, adding extra size and half are recommended to accommodate for thicker socks to be worn.
q:

If my wading boots are too small will that be a problem?

a:

Yes, wading boots that are too small can cause a couple of issues. First, since your feet are not comfortable, your footing won't be as secure when you step. This can cause you to become unbalanced, which can lead to falling into the water. Next, wading boots can sometimes see some shrinkage, this can cause an already ill-fitting pair of boots to become worse. Small boots can restrict the flow of blood in your feet, causing numbness or tingling. When used in cold water, small fitting boots can cause your feet to freeze much quicker. It is best to shoot for purchasing a pair of boots that fit properly.