Best Fly Fishing Rods Reviewed & Rated for Quality
last updated:
Apr 06, 2021
A River Runs through it. There we've made the obligatory reference and can now get on to our buying guide. Honestly though, while we can certainly appreciate what the movie did for the sport we can say that Brad Pitt needs fly fishing lessons. But hey what they did get right is the fundamental attraction of the sport, the man vs. nature element of pitting yourself and your reel against the wily denizens of the deep. Even more so than land hunting or other types of fishing, fly fishing is a challenging hobby but once you get the hang of it, it's really rewarding. So dig through our list and get a starter kit or get a new rod for your collection and head out and discover or remember the joys of fly fishing.
This is the best product on our list that is currently in stock: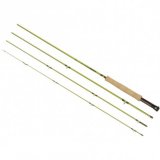 Sage Pulse
Why is it better?
Powerful design
Balanced feel when paired with the right equipment
A Durable backbone for larger catches
Deadly accurate at mid-range
In a
Hurry? Editors choice: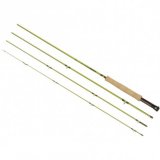 Test Winner: Sage Pulse

16
Researched Sources
12k
Reviews Considered
9
Hours Researching
10
Products Evaluated
Weight
Flexibility
Materials
Versatility
Value
By Default
10 Best Fly Fishing Rods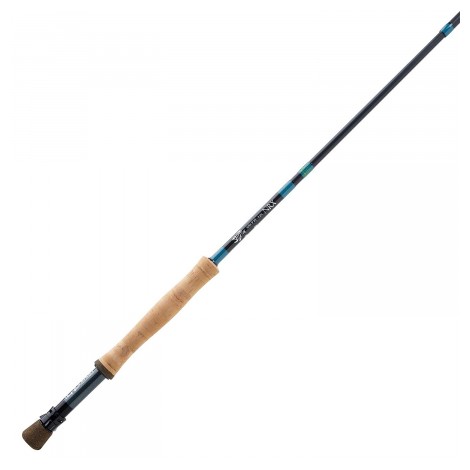 Excellent, durable build
Precise accuracy at short-mid range
Good enough at longer ranges to get things done
Feels excellent in-hand
Easy loading and releasing
Pricey
Cork isn't as durable as it needs to be for a rod like this
Starting off the list, it's the G Loomis NRX. G Loomis is considered one of the master classes in fly fishing, and their rods are more than a match for that hype, with the NRX in particular referred by many as one of the best 6 weights on the market. While overall considered a medium range, the NRX will take you decently far at any distance if you know what you're doing. Paired up with a good fly or nymph, and you'll be a force to be reckoned with.
Build Quality
The NRX has an excellent build to it, incorporating materials from skeletonized aluminum to titanium, making for a build that is sturdy, while also being just light enough to use. And if you think that lightweight is going to be a problem when you go up against larger fish, don't worry. The materials are light, yes, but also durable, meaning that if you have your eyes set on a big trout, feel free to cast away.
Accuracy
The NRX possesses a surgical accuracy at close-mid ranges, and can even square targets as small as 10-inches at 45 ft. if you know how to utilize the rod's design. This means the better you become at fly fishing, the more options open up for you with this rod.
Cost and value
The main sticking point for many with this rod is its admittedly high price point. Obviously, a rod made of such high-grade materials and design choices isn't going to be cheap, but even among the priciest of these entries, it's still rather expensive. Still, if that isn't a problem for you, there's no reason to turn down this top of the line rod.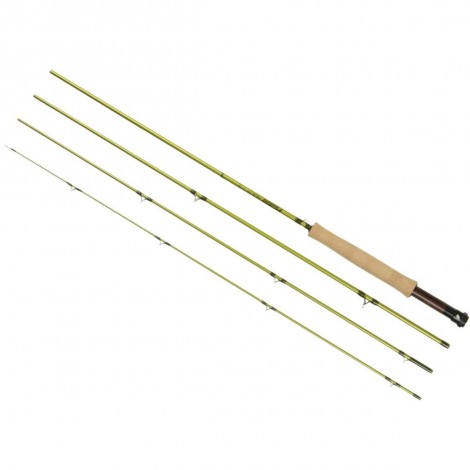 Powerful design
Balanced feel when paired with the right equipment
A Durable backbone for larger catches
Deadly accurate at mid-range
Beginners will have trouble without practice
Pricey
Fishermen have many expectations when they see a rod with the Sage name on the label and for good reason. Luckily, the Sage Pulse more than lives up to the name. The pulse is the type of rod that makes you want to find a nice, big lake and spend the day testing it out. Comprised of high-quality materials, designed to near perfection, the Sage Pulse fly rod is a fly fishing expert's dream.
Powerful
The backbone of the Sage Pulse rod is a monster in its design, so much so that, despite this rod being designed with fishing trout in mind, people have used it to catch plenty of larger fish like bass. Its graphite rod laden with Fuji ceramic stripper guides will serve you well against the most stubborn sea-dwelling foes.
Balance
If you mount this rod on the right reel package and line, the feeling of control and power that this rod will imbue in you will be unmatched by any other rod in your collection. Not only will this make holding the rod feel marvelous in itself, but your accuracy at mid-range will be nigh unparalleled.
Cost and value
Like the G Loomis, the Sage Pulse is a rather pricey piece of hardware. While not the most expensive thing on this list, it will cost you a pretty penny to get your hands on this rod.
3

. FISHINGSIR Fly Fishing Rod and Reel Combo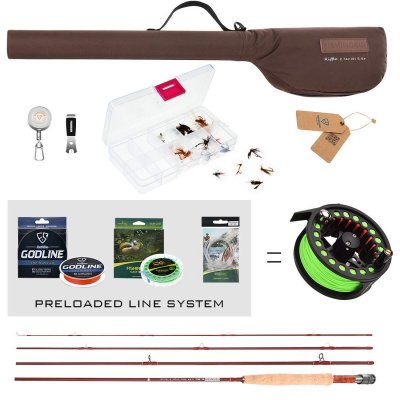 Stainless Steel Construction
55 yards of a 20-pound test line
Handmade Flies
Carrying Case
High-Grade Cork
Missing Parts
Breaks Easily
This is a great starter rod, it comes in on the cheap side but you get a lot of gear for not much money and that makes it a great way to get acquainted with fly fishing. We like the look of the carrying case and all the cool included stuff like the fly box and the East Cast Line System and we even like the orange line that's easy to keep an eye on. Looking to get into the sport but not spend much scratch? This is the way to go.
Easy Cast Line System
This is one of those things that will make the difference between giving up and really getting into the sport. Being able to get the hang of casting a fly rod is kind of the point and this makes it just a bit easier to catch the rhythm that'll put dinner on the plate.
Handmade Flies
These 24 flies come gratis with the reel and include both wet and dry flies, and streamers. And believe it or not, they are actually created by fly-fishing professionals and 100 percent handmade produced. I'm not sure what handmade produced might mean but no matter this is a plus when it comes to getting into the fly-fishing scene.
Cost and Value
Winner, winner! This is a cheap well-made rod that will safely allow you to get out on the water and start learning how to fish without the huge initial outlay of other fishing enthusiasts that might include, you know, buying a boat. This is a great rod for the money and a great way to start out at the sport so if you're into fishing you don't really have an excuse not to try fly casting.
4

. Orvis Clearwater Outfit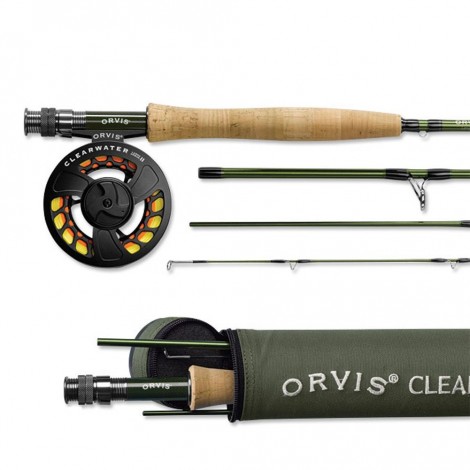 Near universal utility as a fishing rod
Very flexible while using
Balances its versatility with a good, sturdy design
Great for beginners who don't have the disposable income for a dozen different rods for certain scenarios
Reasonable price, but not cheap
Being a jack of all trades means that in specific areas, it falls behind other, more specialized rods
If there is any name in fly fishing that towers above the rest, it's Orvis. This is mostly due to the fact that they not only put out quality products, but they put them out fast and affordable. And the Clearwater is no exception, bringing the usual Orvis seal of quality, as well as its famously reasonable price.
Universal utility
Easily the part of fly fishing that's going to strain your wallet the most is the amount you have to spend on different rods. Nymph rods, dry fly rods, streamers, rods for windy/sunny/rainy days, the list goes on and on. The Clearwater, meanwhile, is built in such a way as to be a jack of all trades when it comes to the scenarios in which it can be implemented.
Flexibility
One of the most essential facets of a fly rod is its flexibility, giving you more breathing room when reeling in those hard to catch bass. Luckily, the Clearwater has more than enough flexibility to get the job done, giving you a good amount of control over what otherwise may have been a clunky, over-designed rod.
Cost and Value
Although slightly pricier than, say, the Rio Santo, the Clearwater is still priced fairly reasonably for a rod of its ability.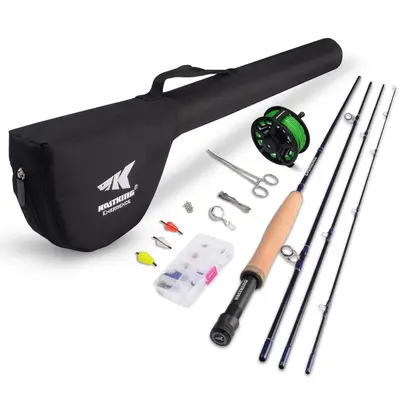 Perfect for beginners
Comes with everything you need to start fly fishing
Lightweight and easy to hold
Comfortable cork handle
Good value
Might be missing instructions
This combo from KastKing is perfect for beginner fly fishers a well as the more experienced. The rod set has everything you will need to get started with fly fishing and more experienced fishers will be able to appreciate what this rod can do. What makes it a great set is that is it both lightweight and durable.
Great for beginners
This combo has everything you will need to get started with fly fishing, and that is why it is perfect for beginners just starting out. This one even includes some of the handy hardware you will need to begin your journey into the world of fly fishing.
Comfortable cork handle
Who knows how long you will be standing or sitting out there trying to catch fish. What we do know is that you want to keep comfortable. Especially if you are going to be out on the boat for hours. This fly fishing rod has a comfortable cork handle that is designed to be easy to hold and well comfortable to hold to extended periods of time.
Cost and Value
For the price and everything that you get with this combo, it's a pretty valuable set. Not only because it's designed for beginners, but because it includes everything you would need to get started without having to feel confused about where to even begin.
6

. Sougayilang Rod Reel Combo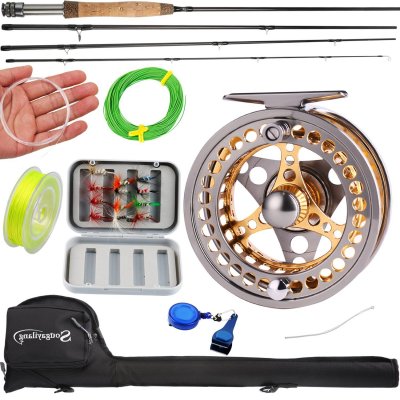 High-Quality Aluminum Rod
One-way Roller Bearings
100 Feet of Fly Line
Spare Leader
Carrying Case
The Kit Comes Incomplete
Reel and Eyes Don't Quite Line Up
Another Combo, not quite as cheap as the FishingSir rod and reel but this one has a few upgrades to our best value rod and reel that make it work the extra dough. It has more fly line for example, and it's made with a solid flexible graphite composite so it's built to last. It also comes with a selection of flies and has a comfortable cork handle for easier casting.
Aluminum Reel
The Aluminum alloy construction makes this reel lighter than most others on our list. But it also has a nice one-way roller bearing that keeps the drag on the line always in the same direction. And in addition to being lighter, the reel is strong.
All-In-One Kit
You've got pretty much everything you want in a rod and reel combo here. The rod, 100 feet of line, a selection of 12 flies, a cork handle, a spare leader zinger, and nipper and a carrying case so you look cool carrying it around.
Cost and Value
Still on the low end but not quite the lowest. That doesn't mean you're not getting a quality fly it just means that this is a great reel if you know a bit about fly fishing but really just want to get out there and test the waters. See what we did there, yes we did just make a fishing joke.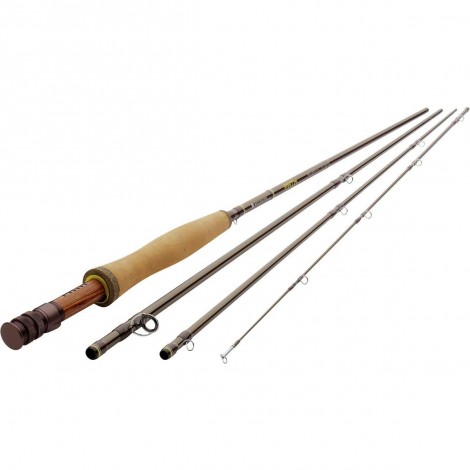 Casting is easy
Costs little to buy
Lightweight and feels good to hold
Simply really fun to use
While Redington isn't as well-known as Orvis or even Sage, it's not obscure, far from it in fact. One of their particularly favored brands is the Path series, with the Path II especially sitting as a favorite among consumers. This medium-fast action rod may be considered a "budget" rod, but it's a fun, reliable one, all the same.
Easy to cast
It doesn't look all that hard from the outside to cast a line, does it? Believe it or not, a lot of work goes into designing a rod just right for the sole purpose of making sure that the line casts smoothly and goes out exactly as far as intended. And the Path II delivers on this in spades, offering a cast that's so smooth and easy that a child can do it with minimal assistance.
Affordable
The Redington Path II is a very affordable rod, which has made it a desirable rod among beginners and those who fly fish purely as a hobby. However, its affordability is not a bad thing, by any means. The cost of this hobby is often what keeps people away beside simple disinterest. So having a good, functional rod for a reasonable price is a great way to get people into the sport.
Cost and Value
Even among other budget rods, the Redington Path II is considered very affordable. With how easy it is to get ahold of from online shopping, this can help more and more people get into fly fishing.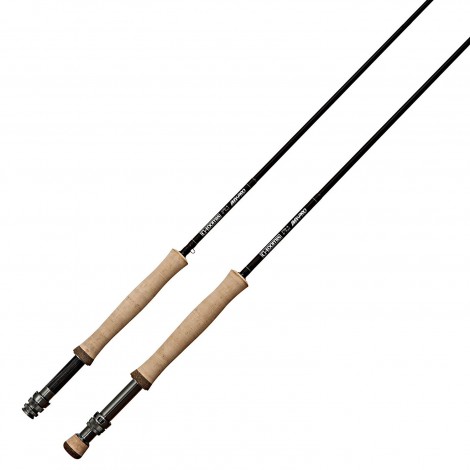 Handles well
Stands up to almost any range it goes up against
Feels crisp and lightweight in hand
Powerful despite its lighter weight
Hobbyists and amateurs won't get as much out of it as a pro
Very pricey
Anyone with a keen eye for detail and knows a quality rod when they see one will know beyond a doubt that the G Loomis IMX Pro is a rod made by and for pro fly fishermen. Unlike other rods on the market, the IMX was designed under the supervision of professional anglers, following their very clear specifications. What results is one of the best rods on the market, if you're a pro.
Great handling
As was stated previously, you're going to be holding a fly fishing rod for a very long time most days before you catch anything. As such, one of the best things about the IMX is how good it feels to hold. Proper weight distribution mixed with just the right amount of comfort for the grip.
Good at any range
While closer ranges are better handling than others, the IMX doesn't really lose steam as much as its peers the further out you go. So not only does it handle great, helping you fire off a quick shot even while walking. But that quick shot will go pretty decently far, under those circumstances.
Cost and value
Here is the sticking point. Because it's so well designed, and built with a professional's hand in mind, it's also built for a professional's budget. This is as far from a budget rod as it can get. While you may find cheaper prices for one online, that is the exception, not the rule.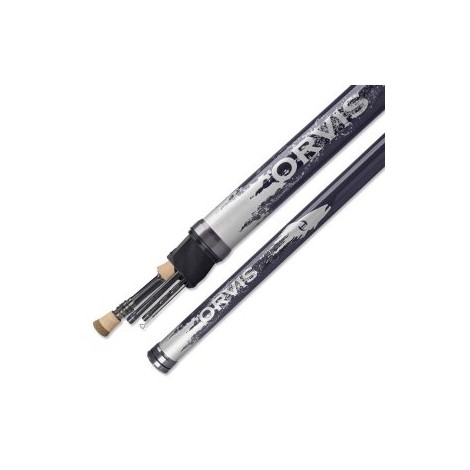 Lightweight
Excellent craftsmanship
Performs well
Controls best at short range
Performs poorly at long range
Our second to last entry is the return of Orvis with the Orvis Helios 2. The Helios series has performed admirably, but it's argued by many that it didn't get better than the 2, at least speaking in terms of the Helios series itself.
Craftsmanship
One of the most standout features of the Helios 2 is, of course, the craftsmanship. Outfitted with a western grip with a skeleton styled uplock seat, both paired up with a smooth, lightly colored burled wood for the rod. Orvis always makes sure that their rods are expertly crafted before shipping them out, and the Helios is far from an exception.
Short range excellence
While by no means bad at the mid or long range, the Helios excels in short range fly fishing. The Helios 2 has a good lightweight feeling to it that makes casting a breeze that just isn't felt as strongly at longer ranges. If you have a nice, small-ish pond or lake, this rod will work wonders for you.
Cost and Value
Being a lighter model rod, it won't cost you as much as the heavier duty items in the Orvis lineup. While by no means cheap, it won't generally ask as much from you like other models.
10

. Wakeman Charter Series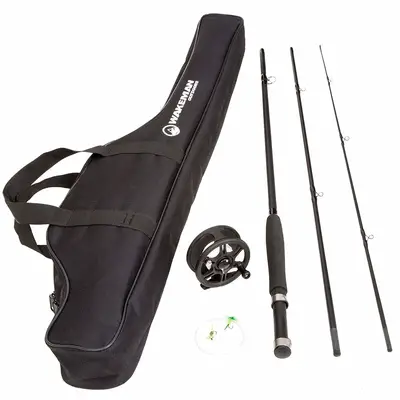 Comfortable handle grip
Has storage for hooks
A good quality reel seat
Plenty of fly line included
May not come with instructions
Might not be the most durable on the list
This Wakeman Charter series combo is designed for both youth and adult anglers. Whether you are a novice or expert in fly fishing, there's something to appreciate with this rod set. This starter kit includes everything you need to get rigged up and on the water.
Great for beginners
This Wakeman set is designed for beginner anglers to help learn the proper techniques for fly fishing. It's hard to learn techniques without good gear, so that's where this combo comes into play. No real experience necessary to master this rod. Also, because this kit has everything you need, you don't have to worry about figuring out all of the pieces and gear you need to start fishing.
Function over fashion
This rod kit is not only for beginners, though. It's true, this one is not the most high-scale and expensive one on the list, but because of that, you can really learn how to fly fish without tip-toeing around potentially breaking your expensive gear. This rod is the perfect rod for fishers looking for something that functions, not something that is super fancy.
Cost and Value
The price of this rod set can't be beaten. It's always a great rule of thumb to consider that you get what you pay for, but with this rod combo, you get a pretty great start kit for a very affordable price. While this is not the most high-quality rod kit on this list, it still warrants a place because of its ability to help new fly fishers break into the game.
Criteria Used for Evaluation

Weight
It's absolutely vital that the weight of a rod be used to judge its quality in use. Fishing of any kind is a sport that requires you to sit/stand in one place, holding that rod for what could end up being several minutes if not hours at a time. So you want to make sure that your arms aren't dead tired by the time you actually catch a biter. However, an important distinction to make is that the weight rating of a fly fishing rod is both the weight of the rod combined with the weight of the line being used. Also, the weight rating isn't the actual weight of the product, but a rating used to determine what fly line would best go with that rod.
Another thing to remember, and what makes this so tricky, is that a weight rating isn't necessarily even a determining factor in what the rod can handle. A 5 weight rod, for example, is best suited for freshwater ponds, but there are plenty of professionals who use them for deep nymphing. In short, you could dedicate an entire class to understanding the fly fishing weight rating system, but this covers the basics at least.
Typically, a fly-fishing rod weight is between 1 and 15. If you see a rod that is marked as a 9-wt. rod, that means that the rod can support 9 weight lines, not that the rod itself weights 9 pounds. And so on and so forth.
There are also modern graphite fly rods that can support multiple lines regardless of the rod length or line weight. The relationship between the rod weight and line weight classification and the size and power of the rod is a direct relationship. In other words, bigger is bigger and smaller is smaller. So, say a rod is a 10-weight rod, then it is bigger than a 9-weight rod, which is bigger than an 8-weight rod, and so on. The same rule of thumb goes for the corresponding fly lines, which are labeled the same way.
Overall, when it comes to weight with fly rods, "bigger" and "smaller" do not mean the length or the overall weight of the rod itself. What this refers to is the rod's capacity to cast a heavier line.

Flexibility
More complicated a concept than weight, however, is action. In the broadest sense, action refers to the deepness of the flexing of the rod during the act of casting the line. This action is then broken down into 3 categories: slow, medium, and fast action. Rods that are meant for long distance casting are fast action rods, whose rod is stiff with little flexing in comparison to the others. This makes for faster line speed and longer casting. Now, slow and medium action rods flex more upon casting, bend far deeper, even all the way down to the hilt. This makes for vastly slower line speeds and shorter range, but much softer presentations which carry less risk of scaring the fish.
In recent years, the gap between fast and slow action rods have grown smaller and smaller thanks to advancing technology making for more nuanced designs. Nowadays there are rods which can cast long distances, but with soft presentations that don't spook a single fish. However, the differences are still there, and so these different categories remain. Faster action rods are better suited to wide open lakes where fish are more spread out, while short-mid range rods are better for ponds and rivers, where the fish population is more densely packed and focused.

Materials
The key to catching bigger fish is a strong backbone, and the key to that is a good, sturdy material. As such, the status quo for fly fishing rods these days is to be made from graphite, typically found in every pencil you have ever held in your life. But believe it not, that flimsy material used to write your high school papers is used as the wonder material of the fly fishing world. Crafted correctly, graphite cannot only be tough, but it can be light as a feather while doing it. If you've ever held a modern fishing rod before, you've felt how light they are, yet you've seen them likely take some punishment from some stubborn bites.
The material used to create the rods is one of the key deciding factors in what gets placed where in the top ten list. Almost all of these rods have graphite in their craft, but how well they implement the materials they use is what's important. Yes, there are still holdout materials, like rods made from fiberglass, but on average, the argument has been won.

Versatility
This includes versatility in use, versatility in who can use it, and so much more. As an example, for all the praise heaped onto the G Loomis IMX Pro, it was stuck at #8, why is this? The biggest problem with it was that it was designed by pros for pros. And only pros. Now, its advantages ratcheted its place up to #8 despite this, as it is a truly excellent rod despite that. However, an amateur or hobbyist just wouldn't get as much out of it as a professional. Claiming that only trained professionals deserve the best rods is elitism at its most raw.
Likewise, versatility in the scenario is also important. For all its ability, the Maxcatch chose to not include any rods for short range, and that limits tremendously its versatility in what kinds of bodies of water it can be used in. Whereas the NRX, though obviously designed for one range, managed to keep the balance and be more than passable at longer or shorter ranges. Money is tight these days, and a lot of folks don't have the disposable income to spend on 5 different types of rods for certain scenarios. So it's imperative that rods design themselves to be as versatile as possible to make up the difference.

Value
The price range on fly fishing rods is profound, to say the least. And like golf, if you truly fall in love with this sport at some point to reach the top of your game you could be shelling out some serious scratch to get out on the river. And that's okay, because if you want to be the best, sometimes you have to pay to play. But it doesn't have to be that way for the beginner. So we're looking not only for the reels that are going to give the experts their best bet at catching the one that got away but some reels that will let beginners get their feet wet (pun intended) without emptying their wallet.
Expert Interviews & Opinions
Most Important Criteria
(According to our experts opinion)
Experts Opinion
Editors Opinion
Users Opinion
By Default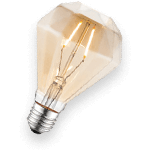 Going All In On The Fly Rod?
What's the first thing most people notice when they start shopping for fly rods? They can be incredibly and if you're not familiar with the sport seemingly unnecessarily expensive. What gives? Fly fishing experts are willing to pay premium prices for their rods because they are precision instruments worth every penny. But what if you're just getting into the sport? Well while we hesitate to parrot the old saying about a fool and his money we would suggest you not drop wads of cash on a fly rod until you know how to use one. Take your time, this is a pastoral calming sport after all so don't rush it.
Frequently Asked Questions
q:

What's the difference between fishing and fly fishing rods?

a:

Well first off, the name of a normal fishing rod is actually a "spin rod". And the difference is that fly fishing rods are lighter weight, and lines are cast by false casting. Spin rods, however, are heavier and cast a monofilament line with bait at the end in a single cast.

Fly fishing rods use flies at the end of their lines, which imitate bugs, small animals or other fish, basically, any form of food that a fish feeds on has its own fly counterpart. Spin rods use bait, heavy lures designed to imitate small fish that other fish feed on.
q:

Is there anywhere you can't fly fish but you can spin fish?

a:

Of course, not, there's nowhere you can spin fish that you can't fly fish. You can fly fish at a lake, a pond, or even out on the open ocean. As long as you have the materials, the right rod, and the right type of fly, you can fly fish just about anywhere there are fish.
q:

Does it matter what reel I use? If so, how do I choose the right one?

a:

Yes! A hundred times yes, it absolutely matters. Whether your reel matches up with your rod will determine whether or not your rod even casts properly at all. The fly reel and its relation to your rod are one of the most vital parts of any fly fishing training, and thankfully, it won't take long to learn.

As for how to choose, it's all about the weight rating of your rod and reel, the type of fly you're using, and of what you're fishing for. Their weight must be in sync with each other, otherwise, the cast will be all wrong. It won't arc properly and may even land far away from where you initially wanted it to. Thankfully, the system is so well known by industry professionals, that it should be rather easy to determine whether or not a line will match with your rod.

The wrong fly can ruin an otherwise great cast, dragging the line down from its ideal height and length. You need to find one that matches with the line and rod you're using. It sounds complex, but when it all comes together, the resulting cast will be wondrous.

Finally, you don't go after bass with a trout line. The bass will snap it in two, swim off, probably laugh at you too if it could comprehend humor. You need to research the watering hole you're going to be fishing in, figure out what type of fish are going to be found there, and whether your lines/rod/fly can handle them. It's a lot of pre-planning, but it's all for that big payoff.
q:

Can you cast in the wind?

a:

not without practice, but rest assured, it can be done. Even a pro will have trouble with this if his luck turns rotten, mostly because there's little way to predict the way the wind is going to blow without a few years in meteorology. If you know how to adapt to frequently changing wind conditions, and train your cast accordingly, then congratulations, you've just unlocked a whole new level of fly fishing, as you can achieve some insane distance by timing your cast with the wind.
q:

Why Graphite for fly fishing rods?

a:

Everyone wonders this when they first hear the idea since we've all snapped our pencil tips during a, particularly stressful test. However, graphite in pencils is practically a different metal entirely from graphite used for fishing rods. Fly fishing graphite is durable, flexible, and light as a feather. It's the perfect base for a fishing rod, as when paired with the wood, steel, aluminum and various other metals and woods that make up a fly fishing rod, that extra reinforcement makes fly fishing rods able to match with the most stubborn fish in the sea.
q:

Is the weight of the rod really that important?

a:

Very much so, for a few reasons. For one, fishing, in general, requires waiting. A lot of waiting. A lot of waiting where you are sitting or standing in one place for long periods of time. And you're holding your rod the entire time. As such, that thing needs to be as light as it can be, to make sure that you don't waste all your energy just holding onto the darn thing and end up losing the big one from your exhaustion.

Next, waiting is only part of the battle. The other part is the casting. And for a good cast, you need to make sure that you can get as much weight behind that swing as possible, and that you can control where it lands as much as possible. So how much it weighs is going to have an effect on how far out to sea you cast that line.

Finally, the weight of your rod plays into the weight of your line, and the weight of your fly. All three of these weight rates play a part in how well you cast, your presentation upon landing, and how well you can cast what eventually comes biting. And you need to memorize the weights of all three and make sure they sync up (making sure of that is much easier than it sounds, don't worry). The quality of your cast depends on this. The weight of your rod should be considered top priority when you judge it. It may not seem like much, especially if you're a particularly strong person, but the weight of your rod may just determine how well things actually go for you out on the water.
q:

Any tips?

a:

Just one: at the end of the day, all the technical stuff and listing is in service to one key factor. The fact that this is a sport, and that you should have fun. To find the best rod for you, find a good place to fish, and have some fun.
Subscribe to our Newsletter