Best Fly Fishing Rods Reviewed & Rated for Quality
Fly Fishing, the recreation of the contemplative man. Similar in many ways to its more traditional cousin, yet different in so many others. But while fly fishing may require a different approach, different casting techniques, and for the most part, different equipment than regular fishing, one thing remains constant: if you're going to fish, you need a fishing rod. And you may as well get the best one possible, right? Well, you could just jump in headfirst and grab the fish by hand, but people have found using rods to be the more efficient option.
Featured Recommendations
G Loomis NRX

Our rating
Build Quality
Price:

See Here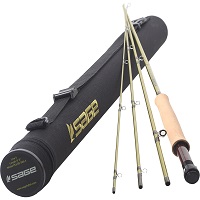 Sage Pulse

Our rating
Powerful
Price:

See Here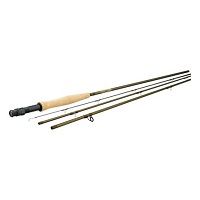 St. Croix Rio Santo

Our rating
Smooth
Price:

See Here

But what's so important about which rod you use anyway, you're likely asking. Many things, actually. Fishing has come a long way from tying string at the end of sticks, and fly fishing is no different. There's the weight of the rod, the fit and finish, its casting distance, accuracy, and so much more. Often the only thing between you and that delicious trout that lay just beneath the water is the right rod to reel it in once you have it.
This list of the top ten fly fishing rods will give you a thorough idea of what goes into making a great fly fishing rod. To do a job right, you need the best tools.
10 Best Fly Fishing Rods
1. G Loomis NRX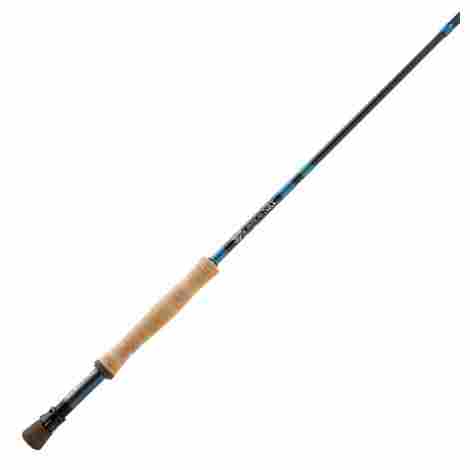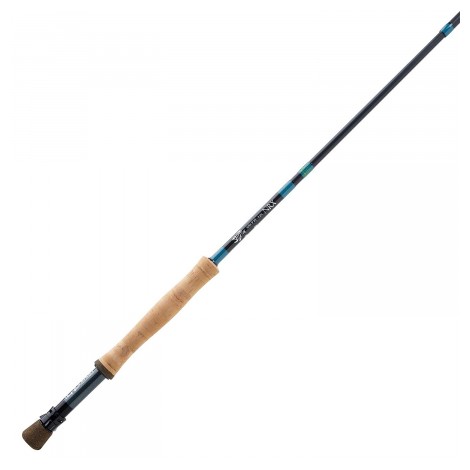 Starting off the list, it's the G Loomis NRX. G Loomis is considered one of the master classes in fly fishing, and their rods are more than a match for that hype, with the NRX in particular referred by many as one of the best 6 weights on the market. While overall considered a medium range, the NRX will take you decently far at any distance if you know what you're doing. Paired up with a good fly or nymph, and you'll be a force to be reckoned with.
Expand to see more
Build Quality
The NRX has an excellent build to it, incorporating materials from skeletonized aluminum to titanium, making for a build that is sturdy, while also being just light enough to use. And if you think that lightweight is going to be a problem when you go up against larger fish, don't worry. The materials are light, yes, but also durable, meaning that if you have your
eyes
set on a big trout, feel free to cast away.
Accuracy
The NRX possesses a surgical accuracy at close-mid ranges, and can even square targets as small as 10-inches at 45 ft. if you know how to utilize the rod's design. This means the better you become at fly fishing, the more options open up for you with this rod.
Cost and value
The main sticking point for many with this rod is its admittedly high price point. Obviously, a rod made of such high-grade materials and design choices isn't going to be cheap, but even among the priciest of these entries, it's still rather expensive. Still, if that isn't a problem for you, there's no reason to turn down this top of the line rod.
Excellent, durable build
Precise accuracy at short-mid range
Good enough at longer ranges to get things done
Feels excellent in-hand
Easy loading and releasing
Pricey
Cork isn't as durable as it needs to be for a rod like this
2. Sage Pulse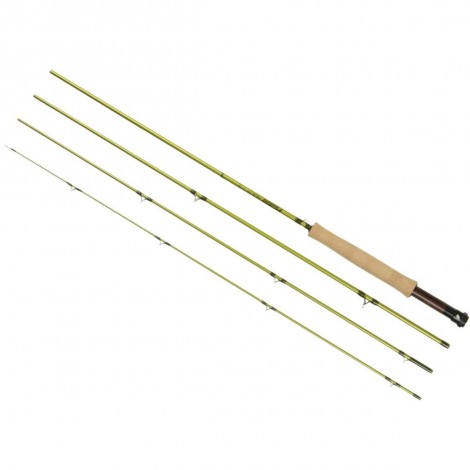 Fishermen have many expectations when they see a rod with the Sage name on the label and for good reason. Luckily, the Sage Pulse more than lives up to the name. The pulse is the type of rod that makes you want to find a nice, big lake and spend the day testing it out. Comprised of high-quality materials, designed to near perfection, the Sage Pulse fly rod is a fly fishing expert's dream.
Expand to see more
Powerful
The backbone of the Sage Pulse rod is a monster in its design, so much so that, despite this rod being designed with fishing trout in mind, people have used it to catch plenty of larger fish like bass. Its graphite rod laden with Fuji
ceramic
stripper guides will serve you well against the most stubborn sea-dwelling foes.
Balance
If you mount this rod on the right reel package and line, the feeling of control and power that this rod will imbue in you will be unmatched by any other rod in your collection. Not only will this make holding the rod feel marvelous in itself, but your accuracy at mid-range will be nigh unparalleled.
Cost and value
Like the G Loomis, the Sage Pulse is a rather pricey piece of hardware. While not the most expensive thing on this list, it will cost you a pretty penny to get your hands on this rod.
Powerful design
Balanced feel when paired with the right equipment
Durable backbone for larger catches
Deadly accurate at mid-range
Beginners will have trouble without practice
Pricey
3. St. Croix Rio Santo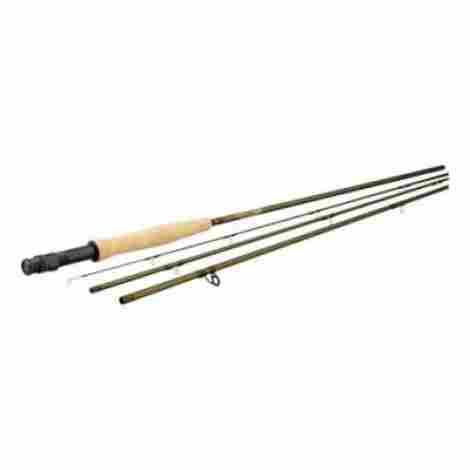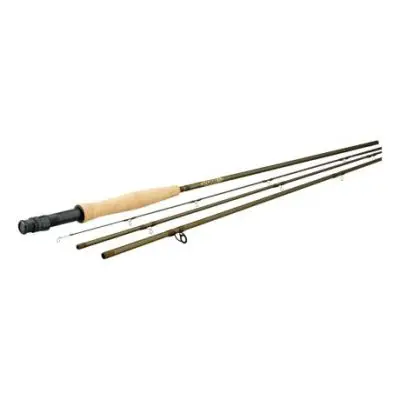 If you're just getting into seriously fly fishing, no longer doing so casually but approaching it as a serious hobby or as a potential career, then you want to start off right. Just because you're a beginner doesn't mean you should have to settle for a lesser rod. This is where the St. Croix Rio Santo comes in. This rod is designed with a beginner in mind but nonetheless is designed with the same love and care as any technical rod on the market.

Expand to see more
Smooth

The St. Croix may feel a hair slower than your typical rod at first, but if you look past that, you'll see one of its biggest strengths: its smoothness. You feel every action with this rod, from the rod loading to the grace with which it casts its line. You'll find yourself somehow instinctively knowing when and how to start your forward cast.

Control

When you cast, the real beauty of this rod will show itself. The casting control is spot on with the Rio Santo, managing to keep you in command of the line. You can cast this line with ease and maintain a good loop for as far as 40', even with a breeze that would otherwise trip up lesser models.

Cost and Value

The best thing about the Rio Santo, at least as far as the rod itself, is the cost. You won't be paying nearly as much for this as you would for even the other cheap options on this list.
Excellent price
Smooth handling
Surprising amount of mid-cast control
Ideal rod for beginners
Reel isn't as high quality as it could be
Speed falls a tad slower than moderately fast
4. Orvis Clearwater Outfit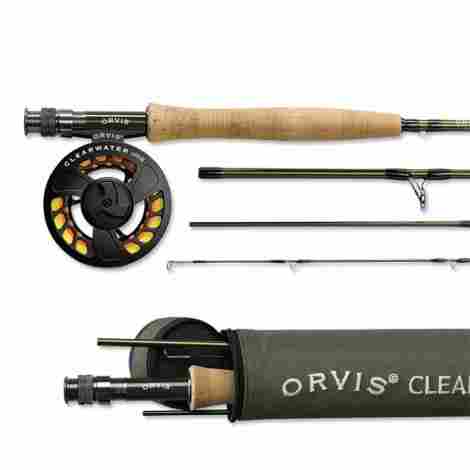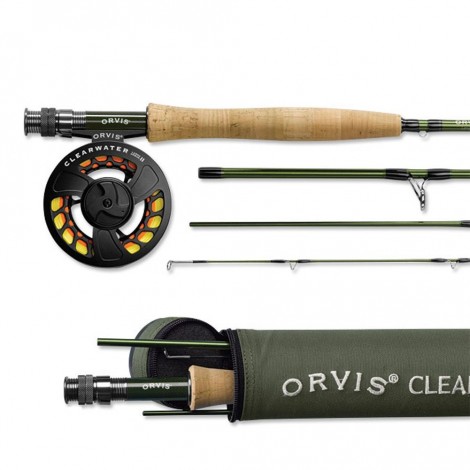 If there is any name in fly fishing that towers above the rest, it's Orvis. This is mostly due to the fact that they not only put out quality products, but they put them out fast and affordable. And the Clearwater is no exception, bringing the usual Orvis seal of quality, as well as its famously reasonable price.
Expand to see more
Universal utility

Easily the part of fly fishing that's going to strain your wallet the most is the amount you have to spend on different rods. Nymph rods, dry fly rods, streamers, rods for windy/sunny/rainy days, the list goes on and on. The Clearwater, meanwhile, is built in such a way as to be a jack of all trades when it comes to the scenarios in which it can be implemented.

Flexibility

One of the most essential facets of a fly rod is its flexibility, giving you more breathing room when reeling in those hard to catch bass. Luckily, the Clearwater has more than enough flexibility to get the job done, giving you a good amount of control over what otherwise may have been a clunky, over-designed rod.

Cost and Value

Although slightly pricier than, say, the Rio Santo, the Clearwater is still priced fairly reasonably for a rod of its ability.
Near universal utility as a fishing rod
Very flexible while using
Balances its versatility with a good, sturdy design
Great for beginners who don't have the disposable income for a dozen different rods for certain scenarios
Reasonable price, but not cheap
Being a jack of all trades means that in specific areas, it falls behind other, more specialized rods
5. Wild Water 9'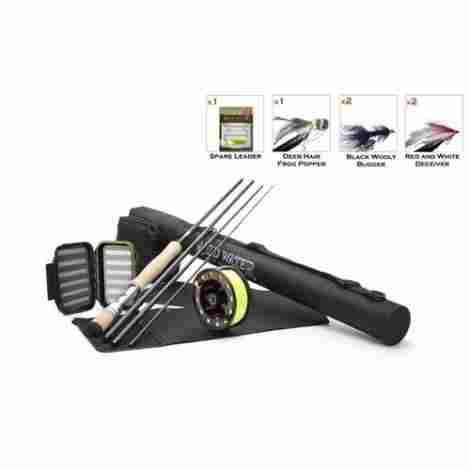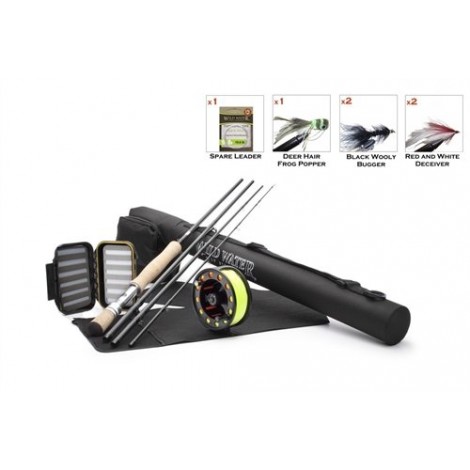 With the advent of online shopping, shopping for anything, in general, has been made a breeze, with more options opening up as independent businesses now have more ability to reach consumers. And one of the most popular fly fishing sets and rods on the internet is the Wild Water 9', available in the wild water starter package. But this is focusing squarely on the rod itself, which deserves its own praise anyway.
Expand to see more
Great Introduction
There are certain aspects that are vital if you are making a rod for beginners. You need to make sure it's functional, of course, but there are other areas to tweak. The action needs to be a bit slower, it needs to have a good mid-flex design to accommodate amateur handling. The Wild Water does this in spades, making a rod that feels good to use, rookie or pro.
Durable
Like many high-quality rods, the Wild Water is made of graphite. While making it a bit on the hefty side, it also makes it very powerful and able to wrangle in a larger game.
Cost and Value
The best way to get this rod is by buying the starter package but worry not, as you won't be spending nearly as much as you think. For a complete starter package with
bait
, rods, attachments etc. it's a refreshingly affordable kit.
Surprisingly affordable, given the circumstances
Specially designed for a newcomer
Strong, durable design for larger game
Versatility
Needs to be bought with the whole package, which can be a problem if you just want the rod
The reel may not be fully functional
6. Douglas DXF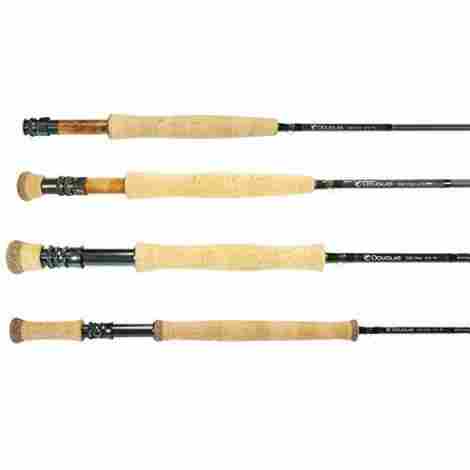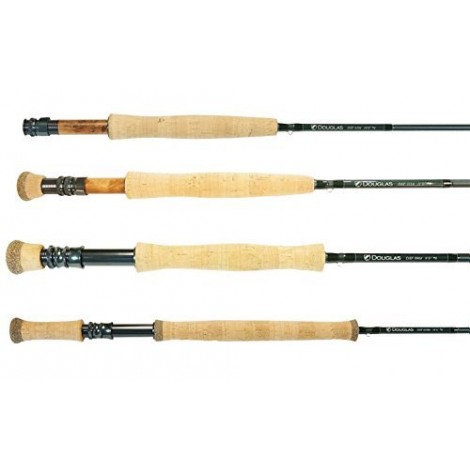 Stepping up to the plate is the scrappy newcomer to the fly fishing business, Douglas. Douglas has more than made a name for itself for its mid-priced, high-quality rods and accessories. And nowhere is that more apparent than with the DXF. Coming in different forms and sizes, the DXF offers versatility and accuracy and accuracy at short to mid ranges.
Expand to see more
Short range precision

Though the DXF does lose points for losing steam the further out range it goes, at short to mid-range, the DXF stands its ground, even outperforming other mid-range rods like the Sage X or Recon as far out as 50 ft.

Lightweight

One of the best qualities that a rod can have is to be lightweight. Strength and durability are fine, especially when going after larger prey, but you need to be able to hold the rod in your hand for long periods of time as well, and so a good balance must be found. The DXF manages to find this balance.

Cost and Value

Being a much smaller company than, say, Orvis, Douglas doesn't charge terribly much for their rods. Not to say it's cheap, mind you, but it's a reasonable price for a high-quality fishing rod.
Precise at short range
Lightweight and easy to keep holding for several minutes at a time
Very reasonably priced
Unique cork handle that feels good to hold
Casting loses steam at over 50 ft.
Noticeably heavy on the swing
7. Redington Path II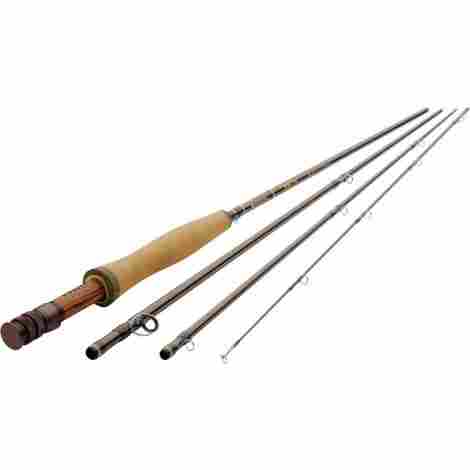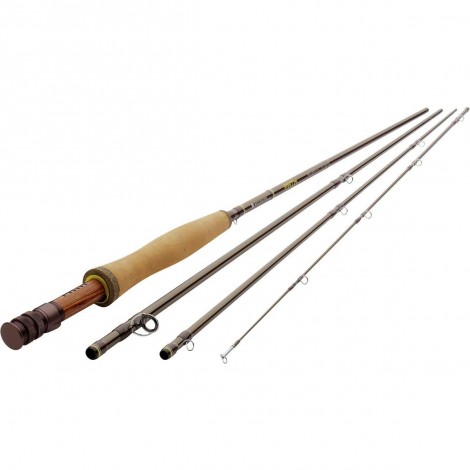 While Redington isn't as well-known as Orvis or even Sage, it's not obscure, far from it in fact. One of their particularly favored brands is the Path series, with the Path II especially sitting as a favorite among consumers. This medium-fast action rod may be considered a "budget" rod, but it's a fun, reliable one, all the same.

Expand to see more
Easy to cast
It doesn't look all that hard from the outside to cast a line, does it? Believe it or not, a lot of work goes into designing a rod just right for the sole purpose of making sure that the line casts smoothly and goes out exactly as far as intended. And the Path II delivers on this in spades, offering a cast that's so smooth and easy that a
child
can do it with minimal assistance.
Affordable
The Redington Path II is a very affordable rod, which has made it a desirable rod among beginners and those who fly fish purely as a hobby. However, its affordability is not a bad thing, by any means. The cost of this hobby is often what keeps people away beside simple disinterest. So having a good, functional rod for a reasonable price is a great way to get people into the sport.
Cost and Value
Even among other budget rods, the Redington Path II is considered very affordable. With how easy it is to get ahold of from online shopping, this can help more and more people get into fly fishing.
Casting is easy
Costs little to buy
Lightweight and feels good to hold
Simply really fun to use
8. G Loomis IMX Pro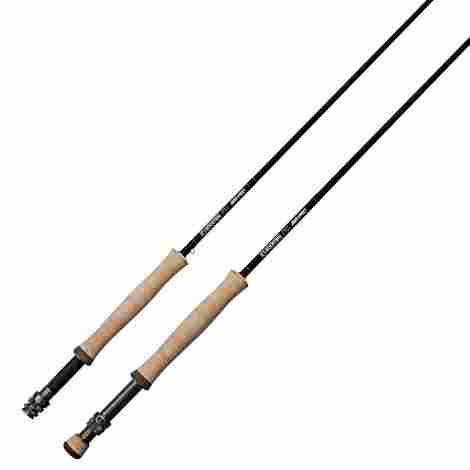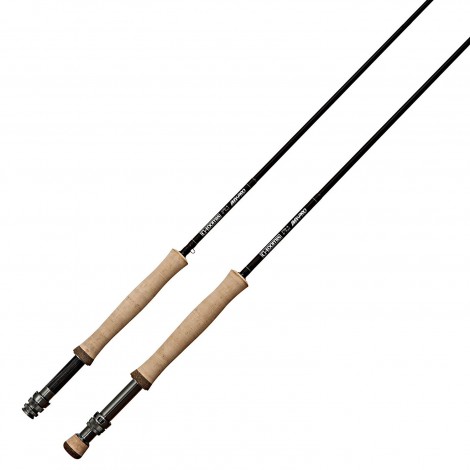 Anyone with a keen eye for detail and knows a quality rod when they see one will know beyond a doubt that the G Loomis IMX Pro is a rod made by and for pro fly fishermen. Unlike other rods on the market, the IMX was designed under the supervision of professional anglers, following their very clear specifications. What results is one of the best rods on the market, if you're a pro.

Expand to see more
Great handling

As was stated previously, you're going to be holding a fly fishing rod for a very long time most days before you catch anything. As such, one of the best things about the IMX is how good it feels to hold. Proper weight distribution mixed with just the right amount of comfort for the grip.

Good at any range

While closer ranges are better handling than others, the IMX doesn't really lose steam as much as its peers the further out you go. So not only does it handle great, helping you fire off a quick shot even while walking. But that quick shot will go pretty decently far, under those circumstances.

Cost and value

Here is the sticking point. Because it's so well designed, and built with a professional's hand in mind, it's also built for a professional's budget. This is as far from a budget rod as it can get. While you may find cheaper prices for one online, that is the exception not the rule.
Handles well
Stands up to almost any range it goes up against
Feels crisp and lightweight in hand
Powerful despite its lighter weight
Hobbyists and amateurs won't get as much out of it as a pro
Very pricey
9. Orvis Helios 2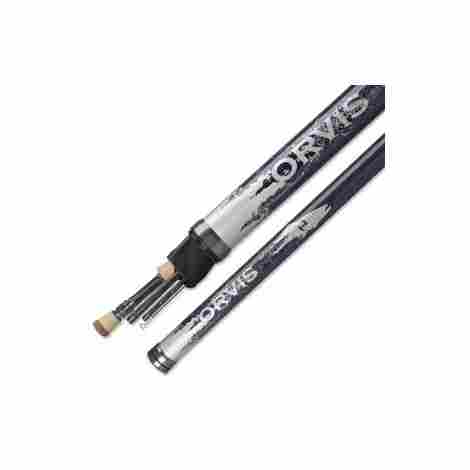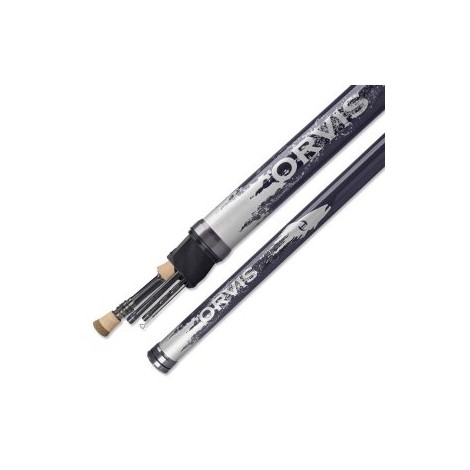 Our second to last entry is the return of Orvis with the Orvis Helios 2. The Helios series has performed admirably, but it's argued by many that it didn't get better than the 2, at least speaking in terms of the Helios series itself.
Expand to see more
Craftsmanship

One of the most standout features of the Helios 2 is, of course, the craftsmanship. Outfitted with a western grip with a skeleton styled uplock seat, both paired up with a smooth, lightly colored burled wood for the rod. Orvis always makes sure that their rods are expertly crafted before shipping them out, and the Helios is far from an exception.

Short range excellence

While by no means bad at the mid or long range, the Helios excels in short range fly fishing. The Helios 2 has a good lightweight feeling to it that makes casting a breeze that just isn't felt as strongly at longer ranges. If you have a nice, small-ish pond or lake, this rod will work wonders for you.

Cost and Value

Being a lighter model rod, it won't cost you as much as the heavier duty items in the Orvis lineup. While by no means cheap, it won't generally ask as much from you as other models.
Lightweight
Excellent craftsmanship
Performs well
Controls best at short range
Performs poorly at long range
10. Maxcatch Extreme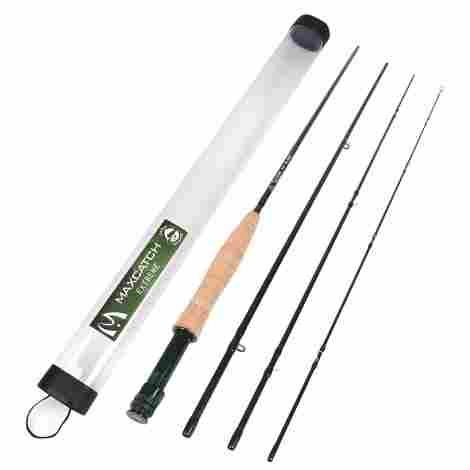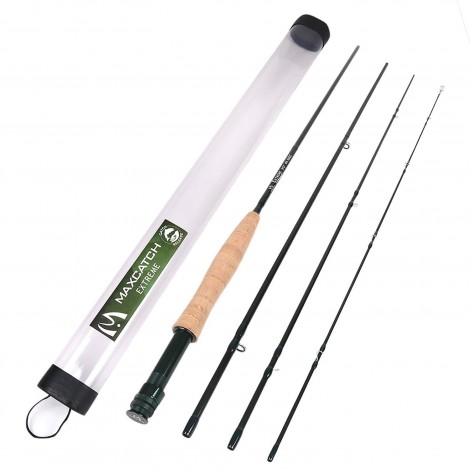 Rounding out this list, we have the critically lauded Maxcatch Extreme Graphite Rod. It cannot be overstated just how universally praised this rod is, to the point where consumers have foregone the matching set to just buying the rod itself (though you will need a matching reel and line in order for it to work properly). Coming in a variety of different rod sizes, each interchangeable with each other, this fly rod is incredibly versatile and able to be used in several different scenarios.

Expand to see more
Great mid-long rods
While the Maxcatch falls short in having short-range rods in its lineup, and that is a legitimate problem with the package, that doesn't mean the mid-long range rods aren't up to snuff, because they very much are. The rods that you're given when you buy this model are top quality and will more than get the job done when you're out on the
water
.
Great casting
Whichever rod you choose, one thing remains constant: the Maxcatch feels smooth and light in your hand when you cast. There's little to no resistance, even with a strong breeze, and unless a particularly stiff wind hits the line mid-cast, it's unlikely to be interrupted.
Cost and Value
Read any review of the Maxcatch, and it will tell you the same; that the price for the Maxcatch is a steal considering what it's offering. The Maxcatch rod is very reasonably priced on average, especially considering the average price for a fly fishing rod these days.
Great mid-long range rods
Casting feels smooth and natural
Excellent design and craftsmanship
Reasonably priced given all that you're getting for your money
Criteria Used in Choosing the Best Fly Fishing Rods
Weight
It's absolutely vital that the weight of a rod be used to judge its quality in use. Fishing of any kind is a sport that requires you to sit/stand in one place, holding that rod for what could end up being several minutes if not hours at a time. So you want to make sure that your arms aren't dead tired by the time you actually catch a biter. However, an important distinction to make is that the weight rating of a fly fishing rod is both the weight of the rod combined with the weight of the line being used. Also, that the weight rating isn't the actual weight of the product, but a rating used to determine what fly line would best go with that rod.
Another thing to remember, and what makes this so tricky, is that a weight rating isn't necessarily even a determining factor in what the rod can handle. A 5 weight rod, for example, is best suited for freshwater ponds, but there are plenty of professionals who use them for deep nymphing. In short, you could dedicate an entire class to understanding the fly fishing weight rating system, but this covers the basics at least.
Action
More complicated a concept than weight, however, is action. In the broadest sense, action refers to the deepness of the flexing of the rod during the act of casting the line. This action is then broken down into 3 categories: slow, medium, and fast action. Rods that are meant for long distance casting are fast action rods, whose rod is stiff with little flexing in comparison to the others. This makes for faster line speed and longer casting. Now, slow and medium action rods flex more upon casting, bend far deeper, even all the way down to the hilt. This makes for vastly slower line speeds and shorter range, but much softer presentations which carry less risk of scaring the fish.
In recent years, the gap between fast and slow action rods have grown smaller and smaller thanks to advancing technology making for more nuanced designs. Nowadays there are rods which can cast long distances, but with soft presentations that don't spook a single fish. However, the differences are still there, and so these different categories remain. Faster action rods are better suited to wide open lakes where fish are more spread out, while short-mid range rods are better for ponds and rivers, where the fish population is more densely packed and focused.
Craftsmanship
Craftsmanship is more than being about the rod looking pretty, though that can be a major factor for a lot of people. Craftsmanship is all about how the rod feels when it's in your hands, how smoothly it carries itself through the air upon being cast. A rod must be designed a certain way in order to snugly fit into a human hand. And not just a single human hand, but any human hand, and that is a whole different ballgame.
The human hand, more than any other exterior part of the human body, is the one that experiences the most change through constant use. No two human hands are alike, yet the people who make these rods have to make them in such a way that they'll fit into any hand with ease. That includes accounting for a nearly infinite number of variables, and no, no rod is going to be made for everyone. But the closer a rod gets, the better it feels. And that is what separates the merely good, from the truly great.
Versatility
This includes versatility in use, versatility in who can use it, and so much more. As an example, for all the praise heaped onto the G Loomis IMX Pro, it was stuck at #8, why is this? The biggest problem with it was that it was designed by pros for pros. And only pros. Now, its advantages ratcheted its place up to #8 despite this, as it is a truly excellent rod despite that. However, an amateur or hobbyist just wouldn't get as much out of it as a professional. Claiming that only trained professionals deserve the best rods is elitism at its most raw.
Likewise, versatility in the scenario is also important. For all its ability, the Maxcatch chose to not include any rods for short range, and that limits tremendously its versatility in what kinds of bodies of water it can be used in. Whereas the NRX, though obviously designed for one range, managed to keep the balance and be more than passable at longer or shorter ranges. Money is tight these days, and a lot of folks don't have the disposable income to spend on 5 different types of rods for certain scenarios. So it's imperative that rods design themselves to be as versatile as possible to make up the difference.
Materials
The key to catching bigger fish is a strong backbone, and the key to that is a good, sturdy material. As such, the status quo for fly fishing rods these days is to be made from graphite, typically found in every pencil you have ever held in your life. But believe it not, that flimsy material used to write your high school papers is used as the wonder material of the fly fishing world. Crafted correctly, graphite cannot only be tough, but it can be light as a feather while doing it. If you've ever held a modern fishing rod before, you've felt how light they are, yet you've seen them likely take some punishment from some stubborn bites.
The material used to create the rods is one of the key deciding factors in what gets placed where in the top ten list. Almost all of these rods have graphite in their craft, but how well they implement the materials they use is what's important. Yes, there are still holdout materials, like rods made from fiberglass, but on average, the argument has been won.
FAQ
Frequently Asked Questions
Q: What's the difference between fishing and fly fishing rods?
A: Well first off, the name of a normal fishing rod is actually a "spin rod". And the difference is that fly fishing rods are lighter weight, and lines are cast by false casting. Spin rods, however, are heavier and cast a monofilament line with bait at the end in a single cast.
Fly fishing rods use flies at the end of their lines, which imitate bugs, small animals or other fish, basically, any form of food that a fish feeds on has its own fly counterpart. Spin rods use bait, heavy lures designed to imitate small fish that other fish feed on.
Q: Is there anywhere you can't fly fish but you can spin fish?
A: Of course not, there's nowhere you can spin fish that you can't fly fish. You can fly fish at a lake, a pond, or even out on the open ocean. As long as you have the materials, the right rod, and the right type of fly, you can fly fish just about anywhere there are fish.
Q: Does it matter what reel I use? If so, how do I choose the right one?
A: Yes! A hundred times yes, it absolutely matters. Whether your reel matches up with your rod will determine whether or not your rod even casts properly at all. The fly reel and its relation to your rod are one of the most vital parts of any fly fishing training, and thankfully, it won't take long to learn.
As for how to choose, it's all about the weight rating of your rod and reel, the type of fly you're using, and of what you're fishing for. Their weight must be in sync with each other, otherwise, the cast will be all wrong. It won't arc properly and may even land far away from where you initially wanted it to. Thankfully, the system is so well known by industry professionals, that it should be rather easy to determine whether or not a line will match with your rod.
The wrong fly can ruin an otherwise great cast, dragging the line down from its ideal height and length. You need to find one that matches with the line and rod you're using. It sounds complex, but when it all comes together, the resulting cast will be wondrous.
Finally, you don't go after a bass with a trout line. The bass will snap it in two, swim off, probably laugh at you too if it could comprehend humor. You need to research the watering hole you're going to be fishing in, figure out what type of fish are going to be found there, and whether your lines/rod/fly can handle them. It's a lot of pre-planning, but it's all for that big payoff.
Q: Can you cast in the wind?
A: not without practice, but rest assured, it can be done. Even a pro will have trouble with this if his luck turns rotten, mostly because there's little way to predict the way the wind is going to blow without a few years in meteorology. If you know how to adapt to frequently changing wind conditions, and train your cast accordingly, then congratulations, you've just unlocked a whole new level of fly fishing, as you can achieve some insane distance by timing your cast with the wind.
Q: Why Graphite for fly fishing rods?
A: Everyone wonders this when they first hear the idea, since we've all snapped our pencil tips during a particularly stressful test. However, graphite in pencils is practically a different metal entirely from graphite used for fishing rods. Fly fishing graphite is durable, flexible, and light as a feather. It's the perfect base for a fishing rod, as when paired with the wood, steel, aluminum and various other metals and woods that make up a fly fishing rod, that extra reinforcement makes fly fishing rods able to match with the most stubborn fish in the sea.
Q: Is the weight of the rod really that important?
A: very much so, for a few reasons. For one, fishing, in general, requires waiting. A lot of waiting. A lot of waiting where you are sitting or standing in one place for long periods of time. And you're holding your rod the entire time. As such, that thing needs to be as light as it can be, to make sure that you don't waste all your energy just holding onto the darn thing and end up losing the big one from your exhaustion.
Next, the waiting is only part of the battle. The other part is the casting. And for a good cast, you need to make sure that you can get as much weight behind that swing as possible, and that you can control where it lands as much as possible. So how much it weighs is going to have an effect on how far out to sea you cast that line.
Finally, the weight of your rod plays into the weight of your line, and the weight of your fly. All three of these weight rates play a part in how well you cast, your presentation upon landing, and how well you can cast what eventually comes biting. And you need to memorize the weights of all three and make sure they sync up (making sure of that is much easier than it sounds, don't worry). The quality of your cast depends on this. The weight of your rod should be considered top priority when you judge it. It may not seem like much, especially if you're a particularly strong person, but the weight of your rod may just determine how well things actually go for you out on the water.
Q: Any tips?
A: Just one: at the end of the day, all the technical stuff and listing is in service to one key factor. The fact that this is a sport, and that you should have fun. To find the best rod for you, find a good place to fish, and have some fun.
Sources
Take Me Fishing – Fly Fishing Basics
Chucking Fluff – Best Fly Fishing Rods
Outside Online – Best Fly Fishing Rods of 2018