Best English Riding Boots Reviewed & Rated for Quality
In a Hurry? Editors choice: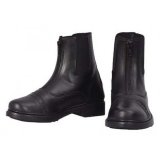 Test Winner: TuffRider Children's Starter

Having a good quality pair of riding boots that will last you for multiple seasons is worth every penny that you spend. To find ones that really suit you and your lifestyle can really be hard. With the multitude of choices in quality, style, and prices available for children, women, and men today - how you do choose which pair will give you the comfort, protection, durability and polished look that you're after?

For that specific reason, we've compiled a list of the top ten best options that come in an array of prices to suit any and every budget out there. In addition to that, we also have a buying guide that will help you decide which pair to indulge and invest in. Let's take a look at what these products have to offer as well as other important information you need to know before you commit to purchasing!
Standout Picks
Criteria Used for Evaluation
Materials
Traditionally, this footwear has been made with leather, usually pigskin or cowhide. Therefore most of the show styles still remain which gives a more classic look. However, nowadays vinyl, synthetic, and other materials are starting to become more common.
The two most popular materials that are currently used are leather and synthetic. Both have their fair share of advantages and disadvantages, with the price and quality ranging quite significantly between the two.
Leather
Footwear that is made with leather is usually the highest quality. They offer wearers with a traditional style. They are also great in terms of contact with the horse, safety, and comfort. In addition to that, they are also elegant, stylish, and expensive.
Usually made from cowhide or pigskin, leather options get more comfortable and smooth over time with use. They are suitable for all seasons, waterproof, and molded in shape.
The only main downside with leather is that you will have to clean and take care of them more regularly to keep them in perfect condition.
Synthetic
On the other hand of the scale, synthetic styles are easy to clean and are inexpensive in comparison to their leather counterparts. These are also perfect for everyday riding, durable, and waterproof.
The biggest disadvantage of synthetic material is that they might not be the most comfortable shoe you wear. Unlike leather, they also do not easily mold to your feet. As they are also not too breathable, they are not the best option to be worn in the summer and winter months. To avoid this, you'll need two pairs of synthetic shoes - thinner, lightweight pair for the summer and a thicker one for the winter months.
Style
There are six main types of riding boots, with ease of them being designed to complement the different styles of riding. These include long riding, field, dress, hunt, short, and Jodhpur.
Long Riding
Referred to as 'tall' riding boots, these are what is known as the standard competition footwear for adult riders. These are also simply the traditional style. These types typically extend up to the knee of the rider.
Nowadays, most long riding have a full-length zipper at the rear of the boot. Traditionally, they had a 'pull' tab to allow the pull-on method. The zipper ones are preferred by many simply due to the ease that they provide.
Within this style, you'll find three subcategories, which are field, dress, and hunt. All of them share a similarity in length, but they vary in functionality, aesthetics, and fit.
Field
These types feature a lace up closure at the front of the boot. This allows for more flexibility from the ankle of the rider. This type of riding boot is favored by riders that are in the jumping disciplines, such as event hunting, event jumping, and show jumping. It provides them with extra comfort that allows the rider to shorten their stirrups.
Dress
These are preferred largely by competitive show jumpers and dressage riders, but being the most popular style, these can be seen on riders of all disciplines. Typically of a black color, these can be seen made from leather to rubber. The synthetic models also riders on a tighter budget to still have something that performs just as well.
Typically, this type of boot has a higher cut on the outside side of the leg to extend over the outside of the knee. These are called a Spanish Cut style that protects the knee in case of any falls.
Hunt
Similar to the dress, the hunt have a cuff at the top of the boot. These are traditionally only made from black leather with a cuff of brown or tan leather at the top. These are often only worn my male hunt riders.
Short Riding
Short riding are the more informal option. These are often favored for children by their parents as well as beginner riders. Some riders find it really hard to cope and tolerate the long riding, which is where these shorter riding come in.
Some of the main types of these are the jodhpur and paddock boots.
Jodhpur
These are one of the styles of shorter riding styles. They rise up just above the ankle and offer the rider with flexibility and support. Jodhpur feature a slightly pointed toe, smooth sole, and low heel. They vary in their technology and material. Some even have top innovative cushion technology in their footbed and sole.
As these are mainly used for everyday purposes, the soles are often made of composite material or rubber. This helps to ensure that they are not damaged or rot from wetter weather conditions.
Paddock
Paddock options are often known as mucker boots. These are worn for jobs on the yard and not advised for use for horse riding. They are designed to be worn while working around the horses or the yard.
If you require a sturdier, more durable boot for yard work, then a pair of paddock are the ideal choice for you. This is because they are generally made from the more durable synthetic materials. They offer you maximum protection and comfort regardless of the weather as they have a well-padded sole and a protective toe. Paddock styles are also often waterproof and clean easily.
Fit
Aside from the style and material, the fit is the most important factor for you to consider when purchasing a new riding boot. The type of boot chosen, regardless of the style, should fit you comfortably. There is nothing worse than getting footwear that hurt and rub your feet as you ride.
Most boot manufacturers have different sizes available to allow those with different calf widths and leg lengths to find one that fits them well. In some cases, you'll need to order bigger sizes to fit you and in others, you'll have to order a smaller size.
To avoid the hassle of ordering the wrong size or one that won't fit you well, it might just be better for you to measure your feet. You'll need the measurement of your calf and the length of your leg to determine which size will fit you best. Ensure that you measure with socks on to get the best results.
Comfort
Your comfort level with the shoes will depend on various factors. These include the type of boot, material, characteristics, size, and quality.
Before shopping or finding the cheapest option possible, it's important to see what type you will need. If you're competing in any sort of event, then you should check to see what is expected and warranted.
After that, you'll want to narrow your list down further in terms of the materials available. Though leather might be the more elegant option, many cannot afford to buy leather. In those times, try to see which one works for you and your budget.
Once that is chosen, you have your pick of characteristics. These can include anything from inserts to color. Keep in mind all the features you want and try to find shoes that accommodate that.
The most important step is finding a suitable size. More on that in the next section.
Heel
The reason that this type of footwear so important is that no other shoe will be suitable enough. Many other shoes have too much tread and lack a distinct heel. Without the much-needed heel, you will risk having your foot slide too far into the stirrup. This then negatively affects the position of your legs along with your stability. If this happens, then you'll struggle to maintain a secure position while riding.
The deep tread that is often found in many outdoor activity shoes is great at giving you traction while you're in the mud, but it's not great for when you're in a stirrup. The bigger the tread, the higher the likelihood of the shoe getting caught in the stirrup.
10 Best English Riding Boots
1

. Sam Edelman Women's Penny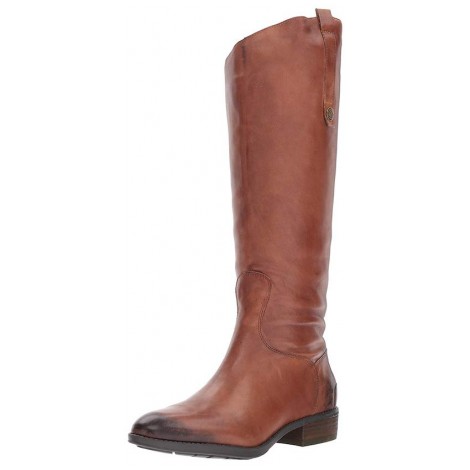 The classically designed leather Penny by Sam Edelman, adds a little bit of luxe chic equestrian outfit with its timeless, sleek silhouette. It's designed to be universally flattering through the back zipper closure and pull on tab. This can easily be paired with a tailored dress or skinny jeans and a blazer.
Sizing
This Sam Edelman is available in regular and wide calf sizes, making it a great choice around. Sizes in this range from a Size 4 to a Size 13.
Versatile Use
The Penny has been designed with a versatile use in mind. While wearing these, from country roads to city sidewalks, you can easily do anything and stay comfortable.
Cost and Value
The Sam Edelman Penny is designed with the rider's comfort in mind. The snap tab closure, elastic gore, leather lining and cole, all of it is chosen carefully with the wearer in mind. Though it's higher up in the price range, it's well worth it due to the luxurious quality that you get with it.

2

. FRYE Women's Paige Tall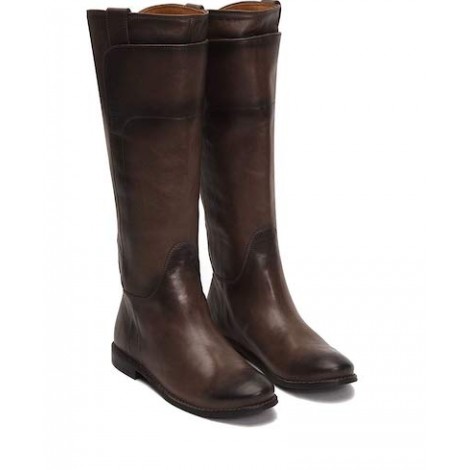 This Paige by FRYE is a riding-inspired, sleep option that offers you with incredible comfort and style. It features pull-on tabs and a notched back. The intricate stitching and overlapping front panels help to give it an artisanal look. This option is constructed with antiqued burnished leather to help it look loved and well-worn.
Burnished Antique Leather
The leather material helps to pair this option nicely with any western style. The smooth lining also aids in giving you a more comfortable fit.
Comfort
It features a cushioned leather footbed that gives the wearer even more comfort along with the stacked leather heel and rounded toe.
Cost and Value
Whether you're on horseback or walking on a busy sidewalk, the FRYE Paige can suit all environments. The leather outsole has a split rubber heel that adds traction. Though it is one of the highest priced items on our list, the value that it adds balances out its high price point.

3

. Brinley Co Women's Vega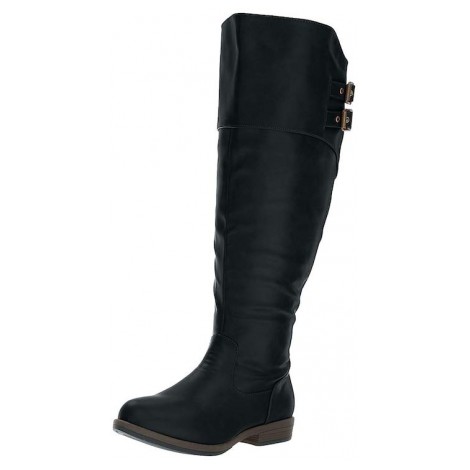 The Brinley Co Women's Vega adds urban chicness to your outfits, enhancing them even further. The shoes are weather resistant and made with vegan leather. The buckles on the side and the opening makes it easier to slip on and off.
Wide Sizes Variety
The Vega Knee High come in three sizes varieties, including the regular, wide calf, and x-wide calf sizes. They even have a helpful chart that lets you see the calf sizes for each shoe size.
Zip Opening
This Brinley Co option features a zip on the inner sides to allow for an easier time taking them on and off. Though they are initially still slightly stiff, it makes them easier to place on.
Cost and Value
The Brinley Co Vega features detailed stitching and buckles that allow you to tighten the opening to customize the fit to you. In addition to all that it can offer you, it's also one of the lower priced options.

4

. TuffRider Children's Starter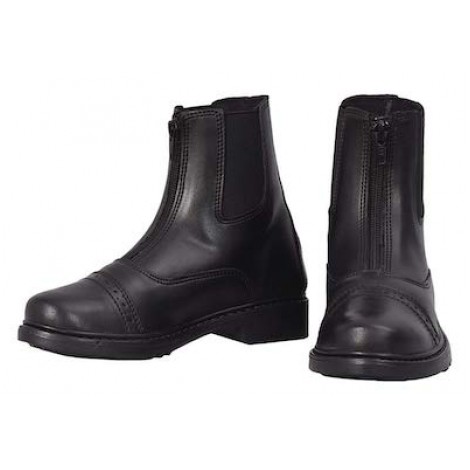 TuffRider's Children's Starter is a great choice for novice and experienced riders. They have a punched toe cap that gives them a more classic show ring feel and look. It also has elastic side gussets and a front zipper for the convenience of the wearer. These are great for the sun and rain as they are water resistant.
Versatile Use
TuffRider prides themselves on vigorously testing in all sorts of terrains and weather conditions. So, regardless of whether you're in a wet monsoon, snowy winter, or dry summer - these won't fail you.
Detailed Work
This option features elastic gussets to give you more flexibility and detailed stitching for more durability. The soft and breathable inside is surrounded by a PVC outsole to help make it weatherproof.
Cost and Value
The TuffRider Children's Starter have a rounded toe that is crafted to offer wearers with the highest amount of safety possible along with spur rests which make it a more comfortable wear. As they are one of the lowest priced options, it makes them a definite purchase.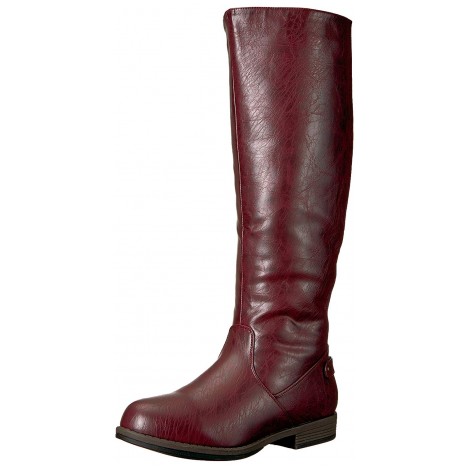 The Brinley Co Estes features premium faux leather uppers and stacked block heels. It has two stripes in the back that give them a sleek look and make them more versatile. The two way stretchy material in the back gives a detailed look and completes it. These can easily be paired with patterned tights or skinny jeans for a more trendsetting, modern look.
Synthetic Leather
Though the material of these is synthetic leather, they do last you for a few seasons. They have a great structure and a well-made construction.
Stretchable Material
The portion that houses the calves is stretchable, so even if you have slightly larger calves, they might still fit in the regular size. They also have wide calf sizes available, starting from size 6 to size 10, with the wide sizes ranging from size 7 to size 11.
Cost and Value
The Brinley Co Estes generally runs true to size and have a more stretchable material that allows a variety of people to fit into their regularly sized shoes. These are on the lower end of the price range, therefore making it worth its set price.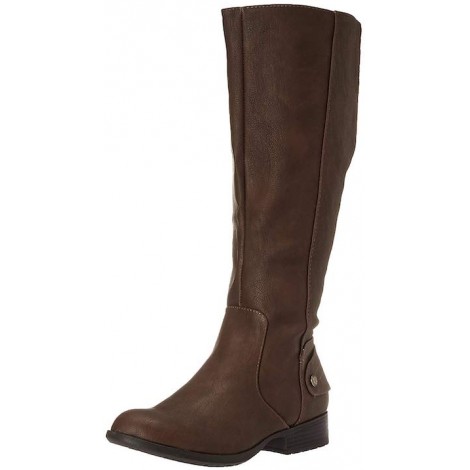 LifeStride has been known to give their customers the most current must-have looks and styles. This Xandy is no different. These are great for completing your bold and stylish looks. It features LifeStride's Simply Comfort Technology and upper shaft sweater inserts that helps to make the fit more flexible.
Simply Comfort Technology
LifeStride's Simply Comfort Technology that ensures wearers will be comfortable regardless of the length of time that the shoes are worn for. They come in regular and wide calf sizes, ranging from size 5 to 10 and size 6 to size 9.5 respectively.
Detailed Construction
The Xandy features decorative button details that add to the overall look. They also have a traction sole that helps to provide the wearer with additional stability.
Value
The LifeStride Xandy features a round toe, fabric lining, a synthetic traction sole, and an inside zipper closure. All of which help to make this footwear more comfortable for you. Placing this shoe in the mid-price range means that you get a lot of bang for your buck with this shoe.

7

. Equistar - Field (All-Weather)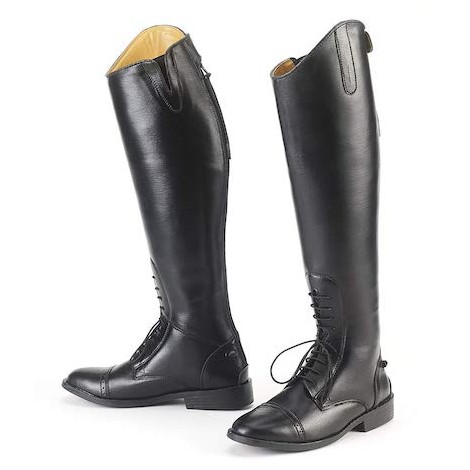 Rain or shine, the Equistar - Field (All-Weather) will support you through it all. It's made with a leather-looking material that provides superb wear with a soft leather feel. It has a slim profile to make it flattering for most as well as a v-style gusset. It even has a synthetic leather material at the top of the shaft to give it a more traditional appearance.
Dri-Lex
The shaft of this product is cushioned with Dri Lex, a moisture-wicking lining that helps it to remain comfortable and dry regardless of the weather type you are in.
Gussets and Spur Rests
These feature v-style gussets at the insides of the leg to give users additional comfort as well as including twin spur rests. At the bottom, the Equistar Sole System ensure the ultimate comfort.
Cost and Value
The Equistar Field is designed to be wearable regardless of the current weather you're in. From Dri Lex to Sole System, the medium-high price range makes itself well worth it. They also have regular and wide calf sizes, ranging from size 5 to size 10 and size 5 to size 9.5 respectively.



The TuffRider Ladies Belmont Black is designed to be a versatile solution to the riders every need. With the riders utmost comfort in mind, this riding boot is crafted with supple and soft leather. The elegantly styled option features two side spur rests, and a punched toe cap to give the rider a fully lined style.
Spanish Top
This product features a moderate Spanish top that's paired with TuffRider's emblem at the knee. In addition to that, it also has a full elastic gusset zipper and a snap keeper at the ankle and knee.
Custom Fit
The Belmont come in a range of sizes from size 6 to size 11. They also have different shapes available, including Regular, Slim, Wide, X-Slim, and Extra Slim.
Cost and Value
The TuffRider Belmont is sure to avoid any discomfort for the rider due to any shoe problems. Plus, with the near-custom fit that you are able to get with these, makes them well worth the higher price range.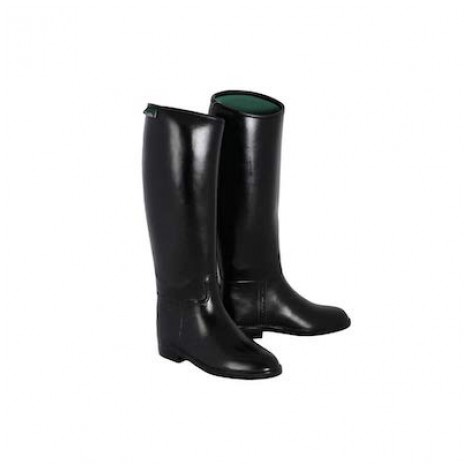 The Dublin Universal Tall are made with high-quality molded rubber that makes them a great option for beginner riders. The material also helps them to be great for muddy, rainy days. It features a polyester jersey lining as well as a durable sole. The Universal Tall are also completely waterproof.
Polyester Jersey Lining
The Dublin Universal Tall is lined with a polyester jersey that helps it with moisture absorption and breathability, resulting in a product that is fully waterproof.
Leather Look a Like
This tall option is made with a rubbery material that resembles and gives off the same (similar) vibes as a leather boot would. It's waterproofness just makes it that one bit better.
Cost and Value
The Dublin Universal Tall is a durable option constructed with a rubber material. It is available in regular and wide calf sizes, from size 5 to size 11 and size 6 to size 10 respectively. With a medium-high price point, the pros definitely outweigh the cons with this one.

10

. EquiStar Cadet Flex II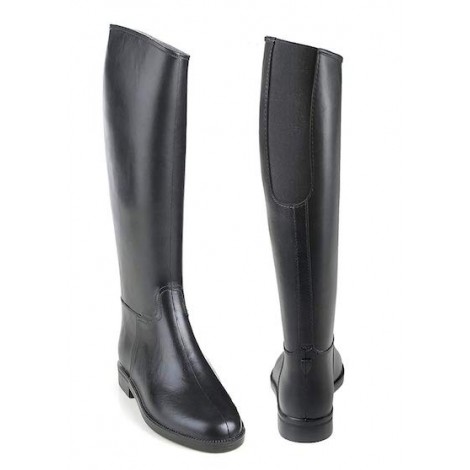 The Equistar Cadet Flex II is designed to make it easier for kids to take the shoe on and off as well as remain comfortable. It's constructed with rubber to make it more waterproof along with more breathable. It's ideal for those with regular and larger calves.
More Calf Room
These are designed to have additional space in the calf areas to ensure that even those with wider calves can fit into them easily.
Elastic Insert
The elastic insert gives riders extra comfort while they ride along or walk outside. They can be comfortable regardless of what activity they are doing.
Cost and Value
The Equistar Cadet Flex II is made with a flexible material that is mostly waterproof and comfortable. With it being one solid rubber boot, it means that there won't be any areas where it leaks or pulls apart. With its price in the lower end of the scale, you won't be able to do much better.

Subscribe to our Newsletter