Best Electric Can Openers Reviewed & Rated for Quality
In a Hurry? Editors choice: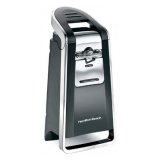 Test Winner: Hamilton Beach

Have you ever attempted to open a can using a manual can opener? It can be a nasty experience with drinks splashing all over. Most often they are very rigid and not user-friendly. It is unimaginable what they can do you since the lid might fall into the can and that's not all, the jagged edges can bruise your fingers. However, there is a solution to this; you can use an electric can opener to cut the lid automatically and take less time to get the hang of using it. They are easy to use and
convenient devices in the kitchen
that cut smoothly and efficiently and are also useful for people with weak muscles. In this guide, I have compiled a list of ten electric can openers that will guide you as you shop for this remarkable device.
Standout Picks
Criteria Used for Evaluation
Effectiveness
The primary purpose of an electric opener is to simplify and hasten the task of opening a can. However, this may not be a walk in the park if you chose a complicated device that is not easy to operate and more so if there are no manufacturer's instructions. It may expose you to dangers such as uneven edges that may bruise your fingers. The main question is if there are options for opening a can more reliably and efficiently. An electric opener with adjustable or removable blades that can open the tin from the side and at the same time cut from the top is ideal. Your preference will depend on how you want to operate it and if it is convenient.
When searching for the best electric opener, it is worthwhile to consider if it will get the job done and with perfection. It should leave a smooth edge that won't cause injuries to your hands. Also, metal parts from the cut metal should not fall into the food inside the tin. If you attempt to align the opener's blade, it can have severe effects on the quality and safety of food inside. Ensure the opener have sharp blades that will leave smooth edges. It should also have a magnet that holds the lid once done to prevent it from falling into the can thus maintain food hygiene.
Advanced Features
The best can opening device is one with features that will ensure it performs the job effectively. Unlike the traditional can openers that require your manual input, the modern electric ones have an automated system that gets the job done in a fast and simple way while leaving a smooth cut on the can and lid. The system has an automatic shutoff system that switches off the device when the can is fully opened. They have a lever system and an electric or battery-powered blade that ensures there is a clean, smooth cut. They are also fitted with magnets which grips the lid as you open thus preventing it from falling into the can and ensuring the hygiene of the food inside. Most of the automatic openers have added features such as a knife sharpener and bottle opener. These are some of the advanced features you should look at when buying an electric opener.
Value
When shopping for any product, its price is one of the things that top your priority list since it all boils down to your budget. An electric tin opener is no different, and its price is influenced by factors such as quality, features and brand. Refrain from picking overpriced can openers that over promise yet under deliver in term of performance. Like in every other market, there is a product for everyone. Pick a gadget that reasonably priced, within your budget and that which will give you value for money.
Durability
Your kitchen is not complete if you don't have a can opener, and an electric one that is simple to use and maintain. However, you may not use it regularly as compared to other kitchen utensils such as a knife and a spoon. Never the less, it is a necessity that you must have in your kitchen as it simplifies the task of opening cans while guaranteeing a smooth and neat edge. With this in mind, its quality and durability should be a top concern. If you are shopping online, carefully have a look at the customer reviews and if you are buying from a kitchenware store, go for the trusted brand.
Speed
Electrically powered can openers come in various shapes and sizes. The ideal one should have a sleek, compact design with a wide base so that it can rest well on your countertop. Look out for a perfect size that fits in your drawer when not in use and convenient to minimize the storage space. It should add more clutter on your table, and a tall device is ideal for opening cans of all sizes. Avoid bulky openers since they may not offer a comfortable grip thus ensuring ease of use.
10 Best Electric Can Openers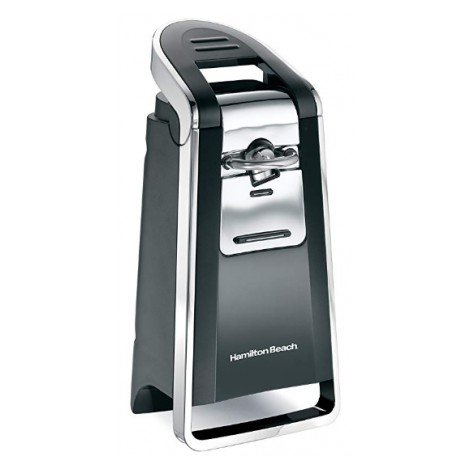 Say goodbye to rigid can openers by using this hands-free device. This Hamilton Beach appliance is easy to use since it has no wheel or any other irritating parts. It has an automatic system where you only need to poke a hole on the lid, take your hands off and then allow it to cut along the top and shut off when done. It is unique in that it can cut on the sides and leave a neat, smooth edge. We particularly found this piece of equipment to be quite versatile since it can open all can size and pop-top lids cans.
Smooth cut
If you have ever opened a can with a manual device, chances are you may have noted liquids spilling more easily on the lower edge. However, this opener cuts on the higher side thus leaving no mess. The lever lowers pretty easy, and the opener holds the magnet firmly when cutting. It is quite easy to lift off the lid; however, at times to break the vacuum seal, you may apply some pressure.
Advanced features
You will love the Hamilton Beach due to the state of art features it has. At first glance, you will notice it has a long cord, which is an added advantage since you can pull it the way you want. It also gives you the flexibility of opening your can from a distance. It also has an ergonomic lever and magnet that ensures you achieve a smooth cut.
Cost and value
You will be extremely happy with this electric device, unlike the cheap or the expensive ones that don't last, the Hamilton Beach is built to last. We would recommend it since it cuts smoothly, is easy to use and is fairly priced. You will get value for your money and will not regret your purchase.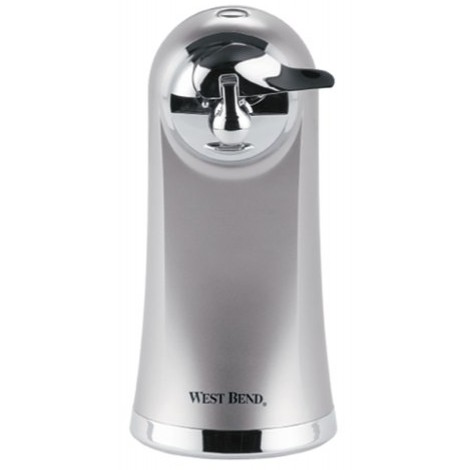 This gadget features a tall, sleek, elegant design that enhances the appearance of your counter space. Its tall design enables it to open even extra tall cans with much ease. It works perfectly by opening cans smoothly and efficiently and its measurements are 6x10x5 with a weight of only four pounds. It is made of aluminum metal and chrome with some parts made of plastic. It has an automatic shut off system, so you can carry on other tasks as it cuts.
Features
The West Bend appliance is reliable and convenient than its peers on the market due to some of the unique designs. One striking feature of this device is the tall, slender design that is ideal for opening all standard size cans. Its chrome cutting tool can be detached for easy cleaning and is also dishwasher friendly. The West Bend device has base storage when you can tuck in the cord neatly.
Versatility
We give the West Bend device our recommendation since unlike other devices, it is versatile in its operation which is a bonus since it saves on kitchen space and prevents a situation whereby you would have many tools in the kitchen. It has multifunctional design thus you can use it for other purposes such as; sharpening the knife and opening bottles. It is made possible due to the knife sharpener and bottle opener features at the back.
Cost and value
The West Bend has the most beautiful design ever, once you receive your package, you will note that it looks as good as it does on the picture. You can even gift someone on a special occasion. That aside, this appliance costs less, performs well and is an excellent addition to your kitchenware. You won't regret the purchase as it will give you value for your money.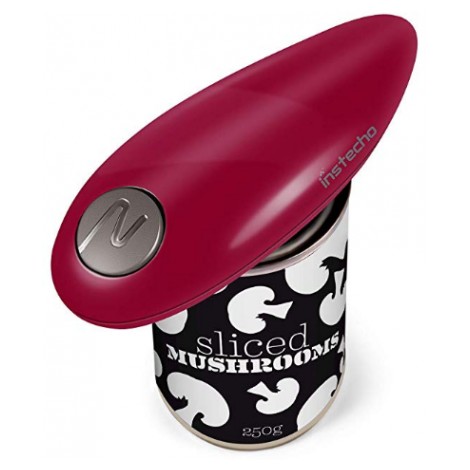 The Instecho appliance is perfect for the senior citizens and people with arthritis who may be having difficulties grasping things due to pain or inflammation. After placing it on top of the lid, it rotates automatically while cutting the lid open thus allowing you to lift the lid quite easily.
Features
It has a stylish design and available in different colors. Other features include a push button, metal gear, cutting blade, battery container, and the magnet. All these parts are made from high quality materials, build to last and also guarantees a neat, smooth cut. It has a compact design; thus can do not clutter your counter space and is also portable.
Efficiency
If you have ever used can openers that are either too hard or too flimsy, then you will love the Instecho which is a double-sided jar opener that allows you can open small and large cans. It is particularly useful for old people with weak muscles and people with arthritis. It automatically cuts the lid by rotating around thus ensuring a smooth edge below the rim and eliminates all the sharp edges. You can still use the top again for storage of your can.
Cost and value
This device is just what you need to open your cans. It automatically rotates around the can thus making it easier to use gadget. You can use it in the kitchen, outside the house for a barbecue and while camping out. Also, it is relatively cheap compared to other brands on the market. Therefore you can shop with confidence that the product you are buying is a good bargain.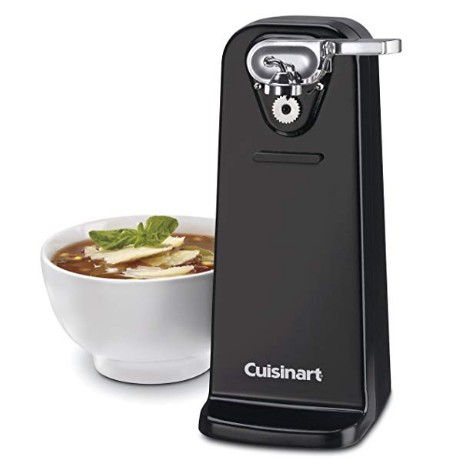 Cuisinart is a trusted brand when it comes to the provision of quality and durable kitchen appliances. When you pick this can opener, you will be confident you are using a product from a top brand. It is stylish, convenient to use and features a state of art motor system that cuts any lid with a single touch. It can handle any type of jar, and the activation lever is removable thus easy to clean. It has an automatic shut off system that switches off one it has opened the top cover.
Design
It has an elegant design with chrome accents and outlines and blends well with other kitchen appliances. It has an automatic button and can open all standard sizes of cans. It also has a power cut blade and a magnetic lid holder all attached to the detachable lever; thus you can easily remove it for a clean-up. It has a wide base; therefore it rests well on the countertop which prevents tipping.
Safe to use
It is made of high quality material that is easy to use, clean and maintains. The plastic materials are BPA free thus safe to you, your family and environment. It has complied with North American Electrical standards in regards to safety.
Cost and value
This product is elegant, and you would be mistaken to think that it is an expensive piece of kitchen equipment. However, it is relatively priced and will deliver the best service. It opens pretty much anything and will slice through the can quite easily. It is undoubtedly worth the price tag considering the 100% money back guarantee.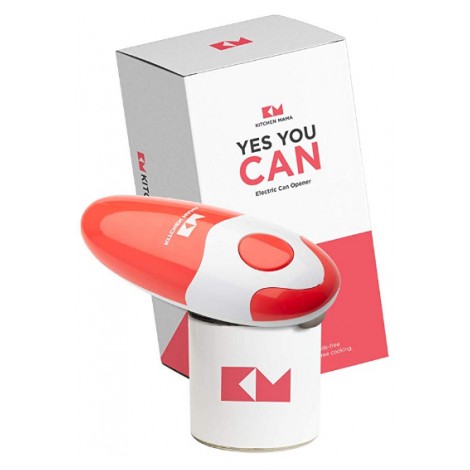 Everybody loves Kitchen Mama's product, time to jump on the bandwagon and pick this stylish automatic can opener. It has a beautiful design and a perfect gift idea for your loved one. It is unbelievably so easy to use, and all you only need is to place it on top of the lid, press the button and watch as it rotates around the can and produces a neat, smooth cut.
Effective
The Kitchen Mama is your must-have everyday kitchen tool. It will open all jars any size rapidly and leave a smooth edge gentle to the hands. No risk of small pieces of metals getting to your food as the edges are outstanding with no chance of contamination. It will cut through the thick and sturdy rim of any can size.
Compact design
The Kitchen Mama will not clutter your space; it has a sleek, compact design that fits well on your countertop. It will not also take much space in your drawer; it is portable and not bulky on your hands.
Cost and value
Unlike other pricey can openers in the market that do not perform efficiently, the Kitchen Mama is fairly priced and will do the job. It is a good buy that will give you value for your money.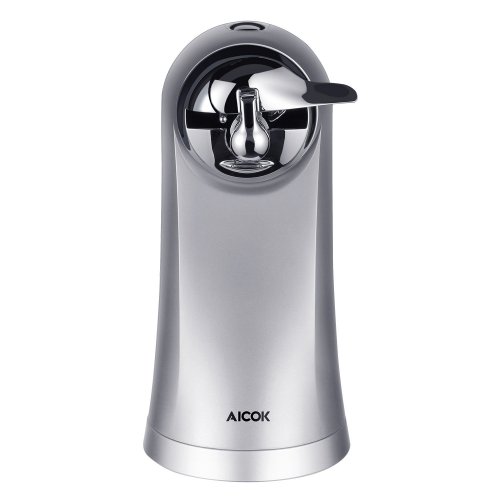 The AICOK appliance is tall and slender that cuts both the side and the top of the can. It has an automatic magnetic button that prevents the lid from falling inside the can. It ensures a smooth cut this does not leave traces of metal shavings, and you are thus assured of maximum safety. The metal cutting is detachable with a lever design that is dishwasher safe therefore easy to clean.
Convenient design
This device has a sleek design that accents your countertop and saves on storage space. It has convenient storage for the cord at its base. The base is wide thus rests well on the counter and prevents it from tipping.
Advanced features
You will love this device since it is multifunctional with the bottle opener and knife sharper. It also has an automatic shutoff system that turns off when done. It does an excellent finish and leaves smooth edges.
Cost and value
The AICOK is a beautiful automatic can opener that is also versatile in its functionality. It is safe to use and portable too. It is a bit pricey as compared to other openers on the market. However, it is worth every penny you spend, and you will not regret the purchase.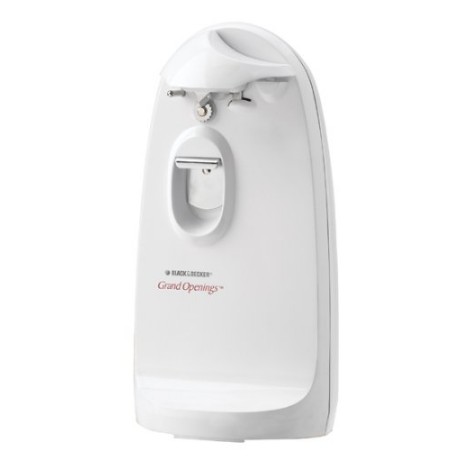 The Black and Decker is a modern addition in your kitchen and an extra tall device that opens cans of all sizes. It has a sleeve design that does not take much space. It is an elegant and compact device and rests well on the counter space due to its wide base. The parts are removable and easy to clean.
Versatility
No more having all manner of devices cluttering any valuable space on your countertop. The Black and Decker is a multipurpose device that gives you the freedom of opening cans with much ease. This device will not only open cans but also sharpen your knife and open stubborn bottles. It is a hands-free opener that uses a power pierce blade and has an auto shut off the system.
Ease of use
This device will make your kitchen life enjoyable and much easier. It has advanced features that are an extra utility thereby saving on space on your countertop. It has a cord storage at the base where you can neatly tuck in the cord. The detachable parts are dishwasher safe.
Cost and value
Black and Decker is a well-renowned brand in the supply of kitchen essentials. Its automatic can opener is exceptionally useful in opening types of cans and is pretty pricy as compared to other options. However, it is a good buy worth the price as it leaves a smooth motion without leaving any ragged edges.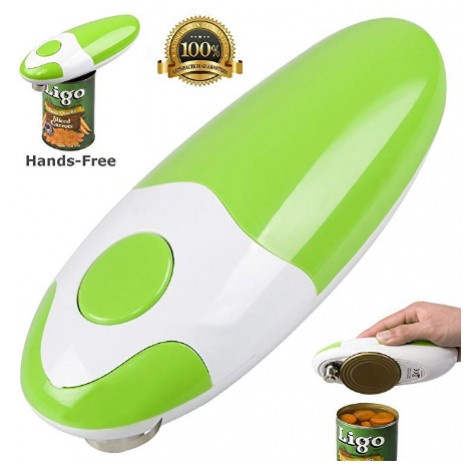 The Can Master will open your can just by the touch of a button. It has a lever system and a magnet that holds the lid to prevent it from falling inside the can. It leaves a soft, smooth edge and you can easily cover the food for easier storage. It is a hands-free device and ideal for people with weak muscles and arthritis.
Excellent features
We chose this device since it has an ergonomic design that allows for an easier and comfortable grip. It is slender and will not take much of your counter space. Its body is made of plastic material that is BPA free and also lightweight making it easier to carry and use.
Effectiveness
You will realize how easier life is with this device in your kitchen; it is particularly useful if you are suffering from joint inflammation conditions such as rheumatic and arthritis. I highly recommend this device since it will give you the luxury of opening your cans and jars impeccably and pretty fast.
Cost and value
Unlike other higher priced models, the Can Master device will work correctly since it is battery powered. This will come in handy in a number of situations but especially where you have a power outage or if you are using it outdoors while camping or when barbecuing favorite treats outside. You will not regret the purchase as it will get the job done.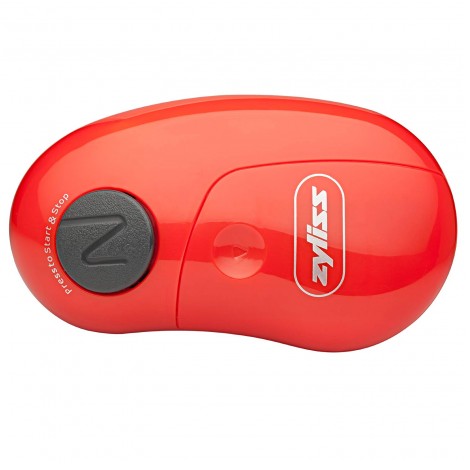 Your kitchen will never be the same again once you add the Zyliss automatic can opener into your kitchenware. It is able to open cans of different sizes by just pressing the button. Simply place it on top of the can and press the button and watch as the device rotates around the can opening the lid and leaving a smooth edge.
Unique features
We recommend the Zyliss appliance since it has a special magnet attached underneath that holds the lid once the can is open. Therefore, the rid will not fall into the can, and is ready for disposal. You can also use the lid to cover the residual contents in the can. It has an auto shutoff system that switches off the device once done. Therefore you can stay away while it does the job or even attend to other tasks in the kitchen.
Efficiency
The Zyliss opens cans with less effort in just a matter of seconds. It has a one-touch button that starts and stops thus ensuring hands-free opening. It does the job so perfectly such that it leaves no rough edges on the can or the lid, and guarantees hygiene since the cover does not fall into the food. It has a compact design that allows for easier storage and does not clutter your countertop.
Cost and value
The Zyliss is a useful piece of kitchen equipment built to last. It opens cans of all sizes and leaves smooth edges. It costs much less compared to other cans on the market. It has a two-year warranty form the market and is a 100% money back guarantee.



Oster presents the easiest and most convenient method of opening your cans. If you are looking for a device to open your giant baked beans, look no further since this special gadget will open any type of can with less effort.
Elegant design
The Oster has an innovative design with a side cutting mechanism that removes tops of any type of can. It is small sized and has a compact design that accents your countertop without crowding the space. It is a smart device that is a must have in any kitchen, say goodbye to the rigid old fashioned openers that are not user-friendly.
Automatic system
You will achieve a smart clean cut when you open your can using the Oster appliance. It has an automatic shutoff system that switches off the device once the can is fully opened. It works like charm by buzzing around the can and opening it while creating a smooth and neat edge.
Cost and value
At first, you may be skeptical about its price, however, the Oster is a good purchase that will give you value for money. It works so efficiently and it's a stylish gadget that will enhance your kitchen countertop and is the fastest way to open any type and size of a can.

Subscribe to our Newsletter