10 Best Climbing Treestands Reviewed and Tested
In a Hurry? Editors choice: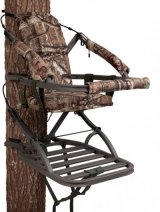 Test Winner: Summit Viper

Treestands, in our humble opinion, are a necessary evil. They're going to help you get your hunting job done that's for sure. But unless there's a house built around that chair, no matter how comfortable they say they are, it's still going to be a bit of a pain in the neck, to sling them out into the woods, get them hooked up and then get settled in them for a long day of hunting. And don't even get us started about the absolute scientifically proven maxim that goes the moment you get up in your chair and settled in, well then Nature will call. So, when it comes to finding the best climbing treestands we're looking for ones that give you a maximum combination of comfort, ease of use, and the least amount of pain in the wallet. We think we've done a pretty good job.
Standout Picks
Criteria Used for Evaluation
Value
When we looked at the prices, we tried to trim from our picks any that were too high in price. This was done due to their being no real feature changes after a specific price threshold. A lot of the tree stands that didn't make the list were high priced products that didn't offer anything new from the lower-priced alternatives.
That doesn't mean that there are no high priced options on the list, it just balances everything out. By getting rid of high priced ones with redundant features, we gained a considerable advantage when moving on to the next criteria. Our list was already shortened, and that made it easier to move into durability.
Durability
Durability was judged by the main base and of course the cables. These two combined needed to pass all of the industry-standard safety requirements to even be considered for the list. They also needed to have replacement cables ready for purchase at a respectable price.
Any that didn't have replacement cables that were easy to find was considered too much of a hassle and left off of the list. Buyers shouldn't have to hunt down cables, and when they find them it should be available at a competitive price. Extra points were given for companies that had the replacements available directly on their website.
Weight
Higher weight limits were preferred, so those that were not in the top five made it into the top three with ease. We valued a high weight limit since excess in this area is better for safety reasons.
Buyers are less likely to hit a high weight limit, even with the inclusion of guns and accessories. So if the tree stand starts to degrade over time, it will still maintain a fairly accurate weight rating compared to a tree stand with a lower weight limit. This criterion may have also led to a few surprises in the first half of the list, as a lot of quality products got pushed back due to their lower weight limit.
Comfort
Comfort was the hardest criteria to judge since it involved several factors not related to the product itself. In order to rate this fairly, we looked at whether they had advertised features for comfort. Any model that had good comfort features was given points based on how effective those features were in real-world tests.
There were plenty of models that had comfort features but didn't deliver on those promises, but they were not penalized too harshly. This was more about fine-tuning our top-tier products on the list that catered to the dedicated hunter. The top five is a good example of products that will remain comfortable for hours a day without giving in too much to the natural elements.
Weather Resistance
Weather resistance is still important for portable models, and we took all levels of resistance into consideration. Those that lacked weather resistance of any kind had already been eliminated from the list, so this portion was more about reorganizing the strong ones. Bad weather resistance can cause degradation of the entire product, lowering the effectiveness of the safety system. The better value will always be in a tree stand that offers good weather resistance. These are the tree stands that are built to last for years and not break down when things get rough.
10 Best Climbing Tree Stands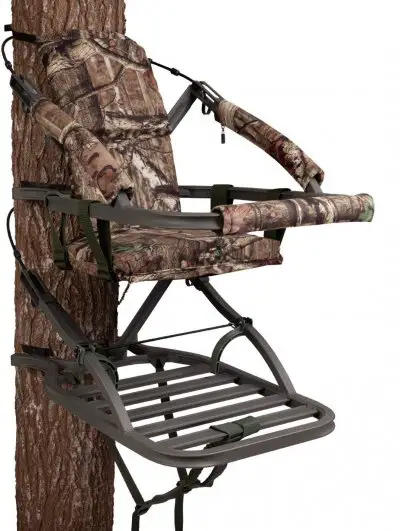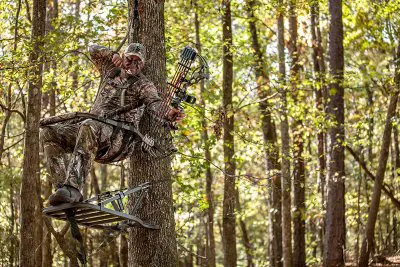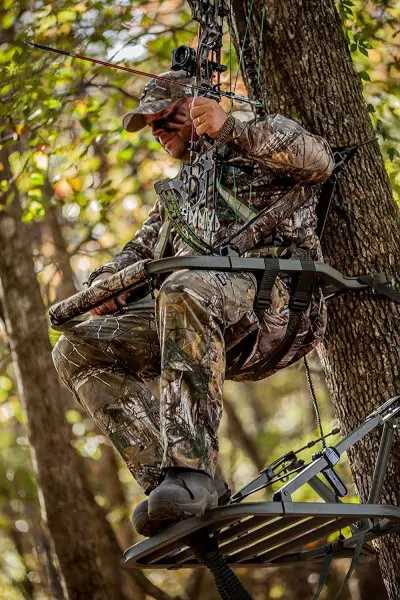 Summit nabs the #1 spot on the list with the Viper SD. It's everything you would want and sets the bar high for the rest.
Full Perimeter Frame
One of the specialties of this product is the full perimeter frame, a setup that makes the product a full-featured sit-down and stand-up climber. It's easy to manage the multiple positions it offers without worrying about it being secure.
Lightweight but Sturdy
The stand only weighs 20 pounds but comes with a 300-pound weight limit. To make it an even easier carry the aluminum construction comes with bungee backpack straps.
Cost And Value
The #1 product on the list is high priced, but not the most expensive. So the value is definitely there if you factor in the five-year warranty it comes bundled with.

2

. Ol'Man Multivision Treestand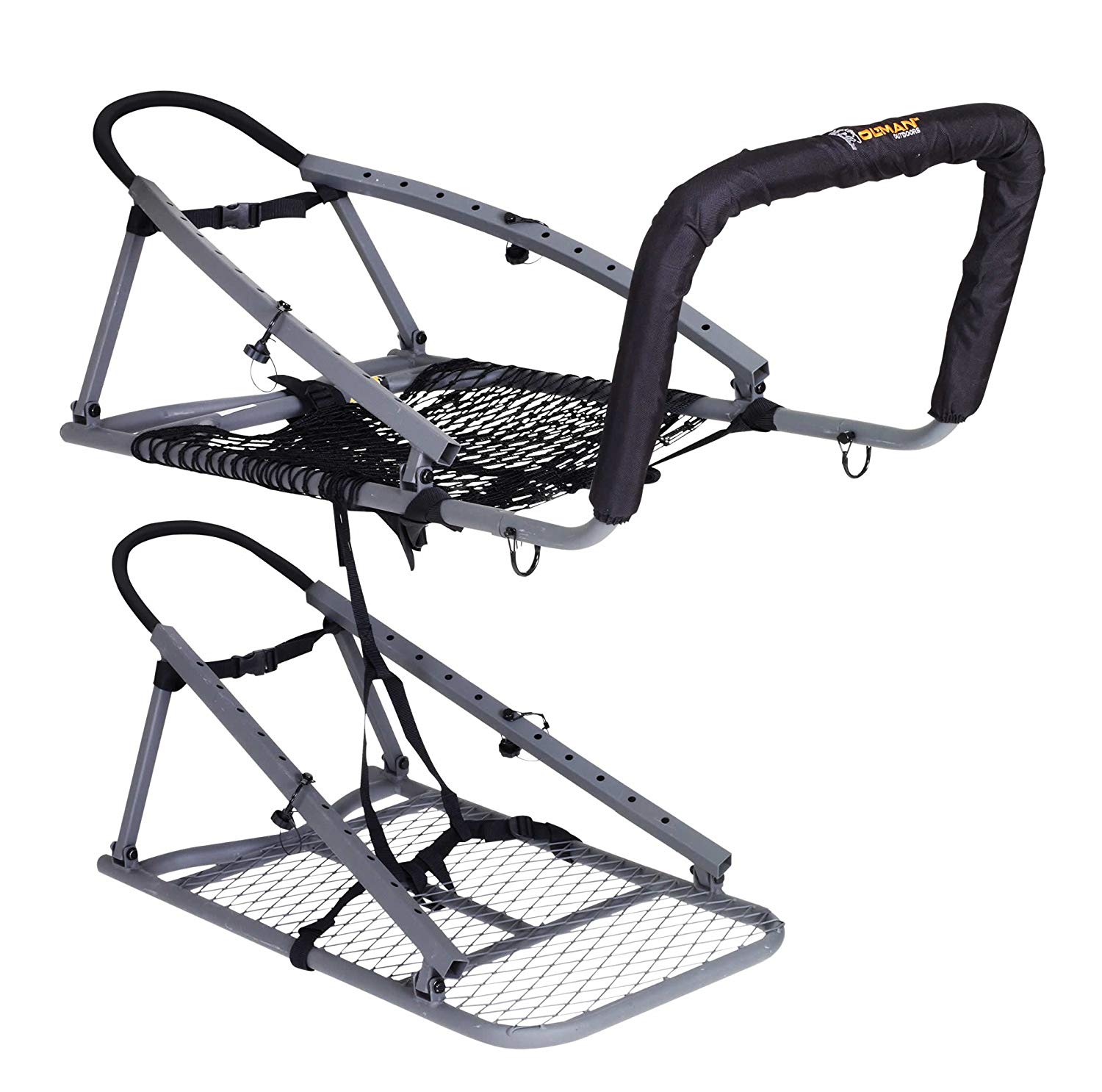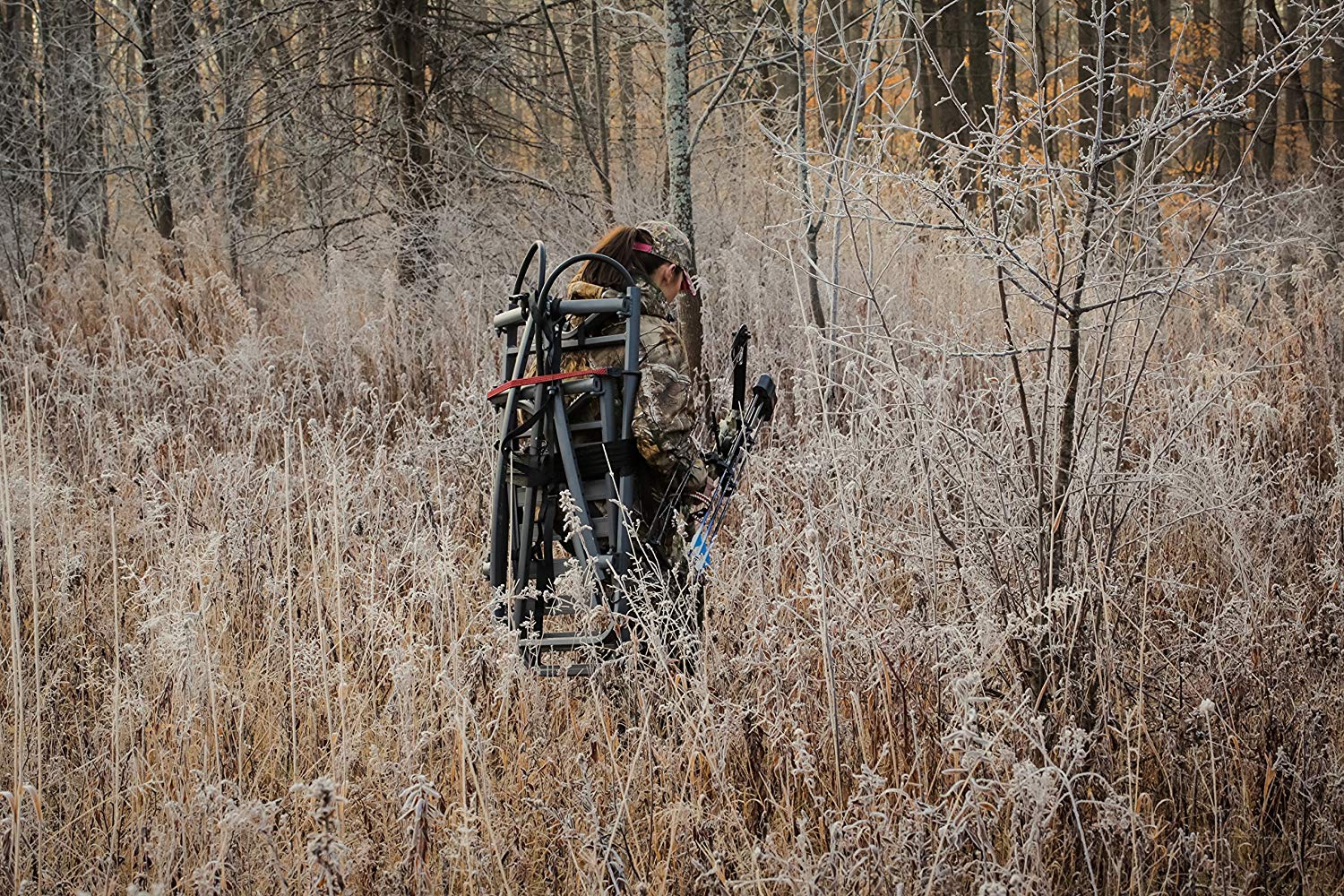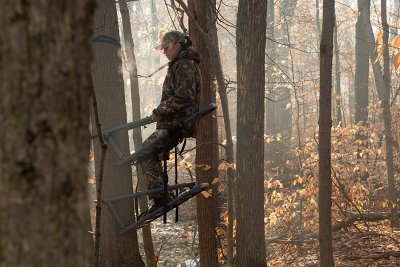 The steel construction of the Ol Man multi-vision will help ensure that you stay quiet up in the treestand. But don't worry they've somehow managed to keep this stand lightweight. We can also tell you that the sturdiness of the tree stand is one of its main selling points. We also love the reversible gun and footrest that allow you a bit more mobility than some of the others on the market.
3 Treestands in 1
This is a nice feature that lets you set up the treestand the way you want it. You can either set it up for a straight bar or you can reverse it for the reversible Gun Rest/Foot Rest so it will easily accommodate gun or bow hunters.
It's Quiet
That's due in part to the steel construction that will keep this rest from squeaking and groaning when you're settled up in it for hours. But it's also due to the great craftsmanship that comes with the Ol'man brand. The fact is that sitting still for as long as a hunt demands can be difficult, this chair will stay quiet and accommodate the inevitable shifts and movements every hunter makes.
Cost and Value
This seat comes in at a great mid-range price. And considering the steel construction and the lightweight carry and the ability to make this stand into exactly what you want and need for your hunt really makes it a bargain.

3

. X-Stand Deluxe Hunting
Now with the list heading into the top 3, this X-Stand model becomes a lot more attractive. It's one of the more unappreciated in the industry, so make sure to give it a chance.
Light and Adjustable
Moving with these constantly can be a hassle if they are big and bulky. The biggest advantage of this model is that it is built to lock into place when used, but easy to adjust on the fly to go higher or lower.
On The Cheap
This low-cost option only weighs 16 pounds but has rubber-coated design cables. And while it is inexpensive, it isn't cheap.
Cost And Value
At the mid-range price, this is the lowest costing on the list. That's a big deal for users that want to get the most for their money.
4

. Guide Gear Extreme Deluxe
This chair sells itself as being a roomy and solid piece of hunting equipment. It's made of steel so it's strong and quiet, and well-padded on the seat in case you have to spend the better part of a day up in it. Plus it packs and hikes in easily.
Padded Seat and Backrest
If you've spent any amount of time in a tree treestand you know that no matter how comfortable they say they are (and don't get us wrong, they can be comfortable) spend a few hours in one and you'll be uncomfortable. So, the goal is to keep people as comfortable as possible for as long as possible and these padded seats and backrests help.
Easy Storage
This folds up nicely so it won't take up much room on your back or in your house. And despite its steel construction, it's light enough to carry it on your back for a reasonably long amount of time.
Cost and Value
This is one cheap chair, and we don't mean cheaply made we mean it comes in at a great price that's hard to ignore. Given the lightweight construction and the padded back and seat, we think it's a great deal.
Lone Wolf surprises the industry again with the Sit and Climb Combo II. They refined some of the best things in their older model and made this iteration one of the best yet.
Build Quality
With such great build quality, hunters can move this repeatedly without worrying about damaging it. This model was built with hardiness in mind, and it shows even after years of use.
Built for a Bow
This stand is designed to be used by crossbow and bow hunters, but really it's good for any hunter. It has a contoured foam seat pad, and a 350-pound capacity so this is built to last.
Cost And Value
As one of the most expensive in the industry, the value holds well since it's useful for bow users. It's hard to find climbing treestands that provide the accommodations this one does.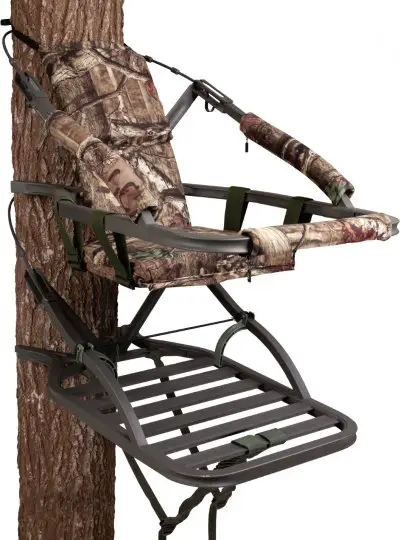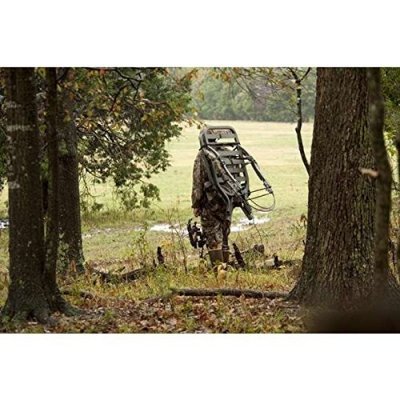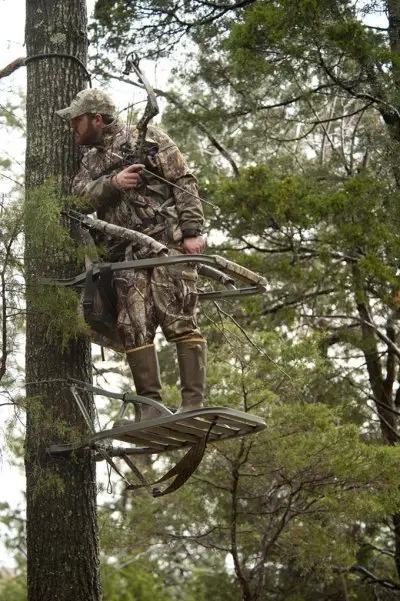 This particular brand has been in the industry for a while now, and their Titan SD is one of their best models. Light and strong, this is a stand with some good upside.
Good For The Back
Hunters with a bad back will find the extra support of the backrest perfect for their needs. Combined with the suspended foam-padded seat, there is a lot of support where you want it the most.
Safe and Strong
This stand comes with a full body harness system and can handle up to a 300-pound load. it's good for people suffering back pain.
Cost And Value
Following the same pricing scheme as the others on the list, this model is also high priced. Hunters with back pains will find the most value out of this product.

7

. Summit Treestands Goliath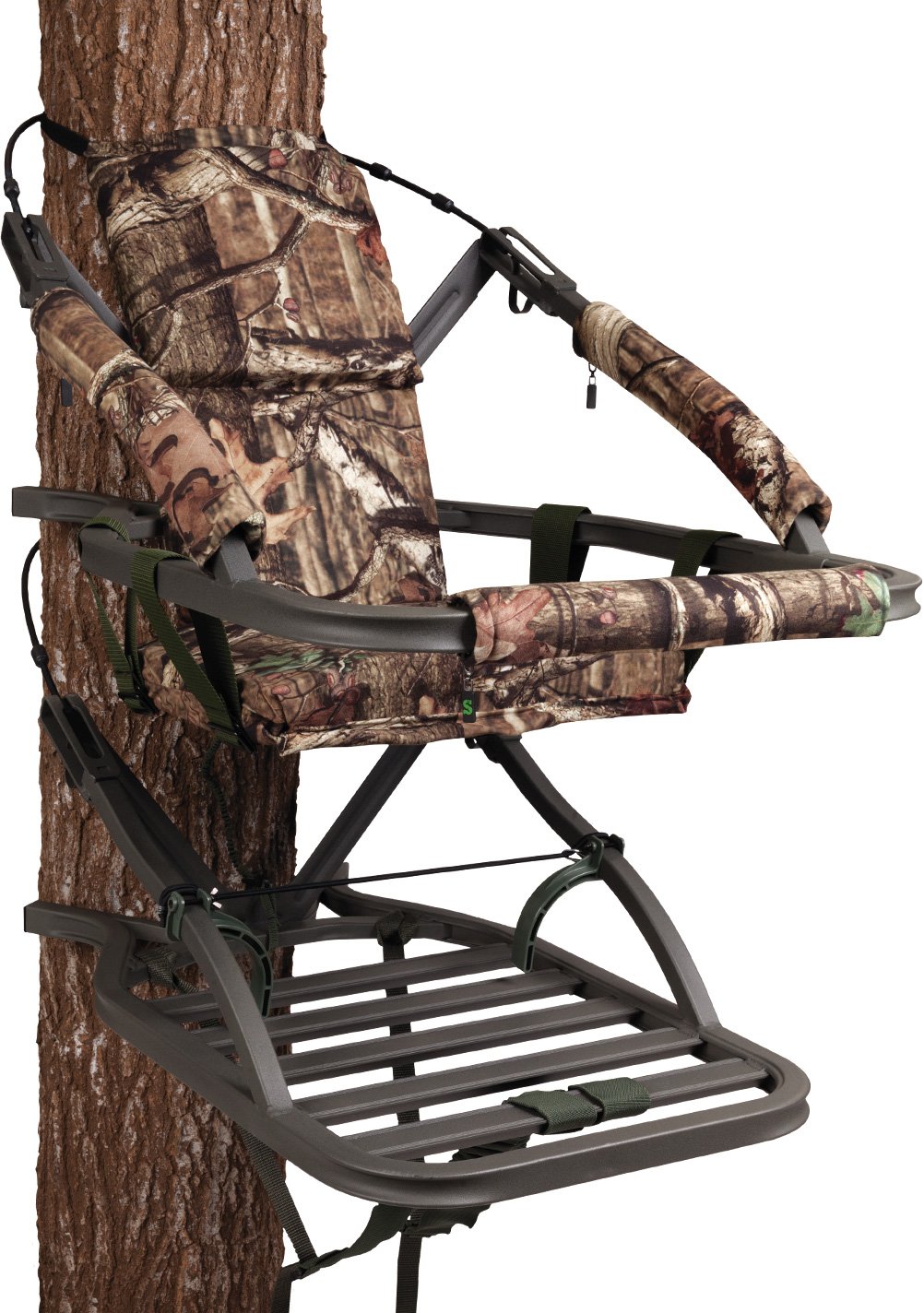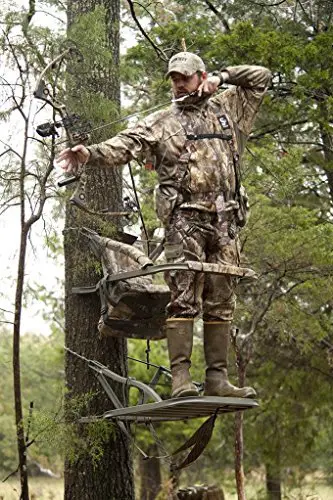 This treestand has a unique expanding foam construction that will keep it quiet while you're concealed off the ground. It's easy to get in and out of and easy to deploy so in no time at all you'll have a quiet sturdy and comfortable perch that gives a broad view of your environment.
Camo Finish
This stand literally melts into the surrounding vegetation and if you're wearing camo yourself you'll be next to invisible in your tree stand. It's a nice little feature but one that's a necessity if you're trying to do any real hunting.
RapidClimb
These stirrups are designed to be easy to use and to easily accommodate any shoe or boot. The goal is to get you into the stand quickly and easily and keep you safe once you're off the ground.
Cost and Value
This is a pretty pricey chair but you're getting really high-quality build and a number of features that are going to keep you safe and comfortable and quiet in your hot seat.

This climbing tree stand has some of the most conflicting specifications of any on the list but in a good way. No matter where you are on the list, The X-1 can stand toe to toe with any product as a good alternative.
Lightweight
How they managed to make this stand only 11 pounds is a mystery, but definitely one of the major selling points. Customers can see instantly that a massive amount of work went into this model's construction.
LightWeight but Strong
This is made with lightweight aluminum but it's the same metal that's used to make aircraft so it's going to be plenty strong.
Cost And Value
The price keeps climbing on this list, so expect to open your wallet for this model. So far it is the most expensive climbing treestand, yet well worth the money since it can go toe to toe with any other on the list.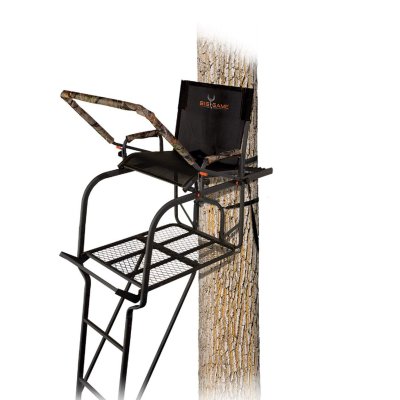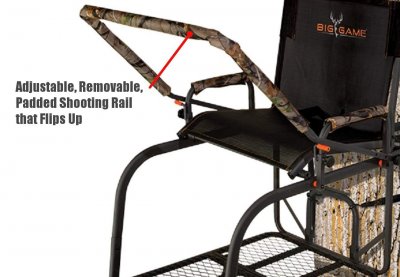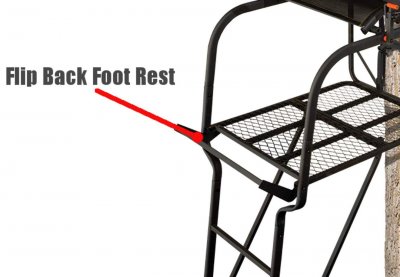 The Big Game takes the basic fundamentals of a climbing treestand and improves it with comfort. With both the design and the materials built to make the user comfortable, This one is the choice of many that tend to hunt for hours.
Extra Padding
Calling this a La-Z-Boy in a tree isn't as farfetched as you think. The company made comfort a focus and succeeded in making this one of the most comfortable on the list.
Lightweight
Despite being built of Aluminum this stand has a 350-pound weight capacity.
Cost And Value
This is another high priced climbing treestand, but one that makes back its value with comfort. Not having an aching body after a day of hunting will always make the high price worth it.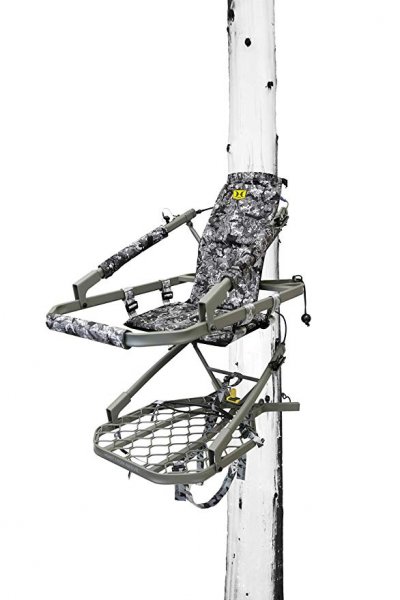 Good construction with a low weight is what makes this a popular pick in the industry. The Warbird continues to deliver results with some key features that make it stand out.
Light But Strong
The lightweight aluminum construction is exactly why you can depend on this climbing treestand. Carrying it to your destination is easy, and setting it up won't break your back.
Auto-Latch for Safety
This has an auto-latch cable system for safety and also has a 300-pound capacity.
Cost And Value
It is also one of the most expensive. Yet the high price doesn't mar the value, and this is an excellent deal.

Subscribe to our Newsletter