Best Ceramic Knives Reviewed & Rated for Quality
last updated:
May 20, 2019
In this new age of polymers, the trusty knife has moved beyond forged steel into a whole new world. One of the most interesting material changes pounced onto the market in the 1990s. That's when we saw the arrival of ceramic knives. They were promoted as being a step above any of the stainless steel choices on the market. The base material of ceramic knives is zirconium that goes through an extensive tempering process. This result is a blade almost as tough as a diamond. So consider ditching the steel for ceramics, if you're ready here is our list of the best of the best.
In a Hurry? The test winner after 8 hrs of research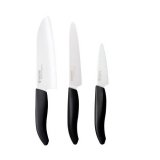 Kyocera Advanced
Why is it better?
These can be ordered as a set of three.
The knives hold their edge for a lengthy amount of time.
The company will sharpen the knives for only the cost of shipping.
Comfortable feel while using the knives.
You can also order these knives in sets of two.
In a
Hurry? Editors choice: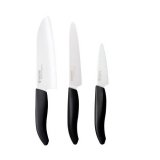 Test Winner: Kyocera Advanced

14
Researched Sources
12k
Reviews Considered
8
Hours Researching
10
Products Evaluated
Materials
Style
Use
Effectiveness
Accessories
Weight
Features
Versatility
Safety Hazards
By Default
Best Ceramic Knives Reviewed & Rated for Quality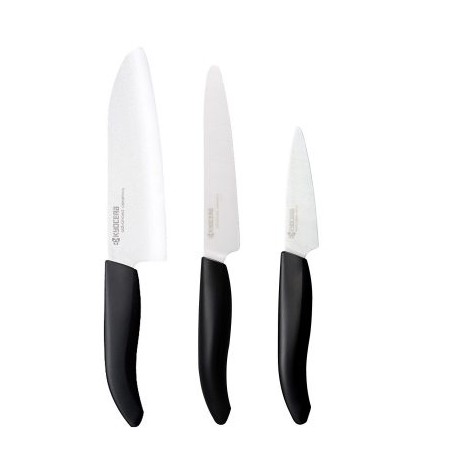 These can be ordered as a set of three.
The knives hold their edge for a lengthy amount of time.
The company will sharpen the knives for only the cost of shipping.
Comfortable feel while using the knives.
You can also order these knives in sets of two.
Complaints that the blade on the chef's knife is weaker than the others.
First on the list is this set of three knives. Each knife will hold plenty of useful potentials when used for the correct task. You can be sure that these knives will fit your hand like a glove.
The Set
This knife set has a chef's knife, which is great for slicing, dicing, and cutting meat. Just be sure the meat you are cutting has no bones. The next knife offers a slightly serrated edge, the edge makes cutting those tomatoes seem effortless. Last but not least, the paring knife, great for making fine cuts and dices.
The Feel
Comfort and control are among the key features a knife will have. These knives offer a balanced weight, making them easy to have perfect control over. The lightweight design of the blade, paired with the handle shape, will offer you comfort while using the knife for your cutting needs.
Cost and Value
In order to have a good quality set of knives, that won't let you down, you need to be willing to spend a little more. The good thing with this set of knives, if you don't need all three, you have options to order only the knives that you truly need.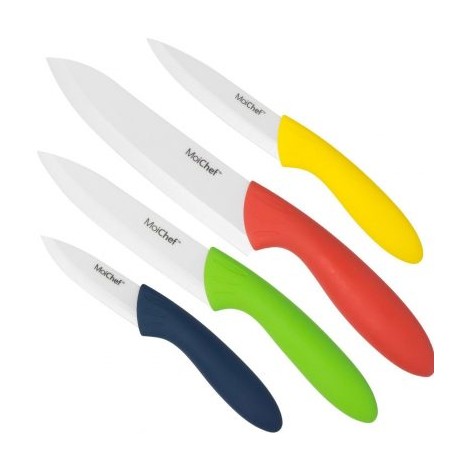 Knives have color-coded handles to help with identifying.
Blade holds the edge for a long period of time.
Comes as a set of four knives.
Each knife comes with a sheath for storing.
Chef's knife design is potentially dangerous.
The sheath for the blades fit too tight.
Here we have a set of knives that offer as much in style as they do in function. Add some brightness to your kitchen, with the different colors that make up the handle of the knives. While you still get all the potential that ceramic knives have to offer.
Handles
For those looking to add a pop of color to their kitchen decor, these knife handles will offer you just that. Whether you store these in a drawer or purchase a block for them, the color of the handles also serves as an identifier. Once you get a feel for which knife has what color handle, you can quickly locate the knife you are seeking.
Blade
Each blade is made from the same great quality ceramic, which means they will be razor sharp. Holding their edge for uses to come. You can slice and dice your heart out, chopping those vegetables for your next stew or soup.
Cost and Value
These knives are sure to become your next most valuable possession in your kitchen. The blades are sharp and will remain that way for years to come. The handles offer you fun colors, plus an easy way to identify the knife you need.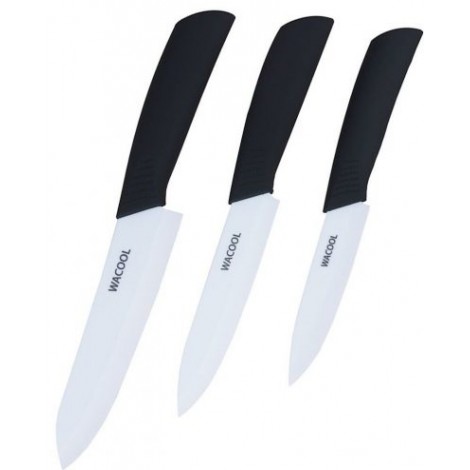 These are sold as a set of three knives.
Ceramic blade holds the edge longer.
Resistant to both corrosion and odors.
Slip-resistant handle design.
Knives have a flimsy feel in your hand.
The sheaths are quite snug fitting on the blade.
The next set of knives we come to on the list is another set of three knives. The blade of the knives are known for their resistance to corrosion and so much more. With a handle that holds just as much potential as the blade.
Blade Potential
Since the blade is made from ceramic, you already know that they will remain sharp for longer than a steel blade. They will not rust and will make clean up a breeze. The ceramic also will not soak up the odors sometimes associated with onions and garlic.
Slip Resistant Handle
When working in the kitchen, we all know that when our hands get wet, our knives are harder to control. That is not the case with these knives, as the handle has a slip-resistant design. Offering you better control, even in slippery situations.
Cost and Value
These knives are available to the consumer at a price that any budget can fit into. With such a great price point, you can feel free to pick these up as gifts. For those looking for the potential that ceramic knives hold, without the added cost, these knives are the perfect fit.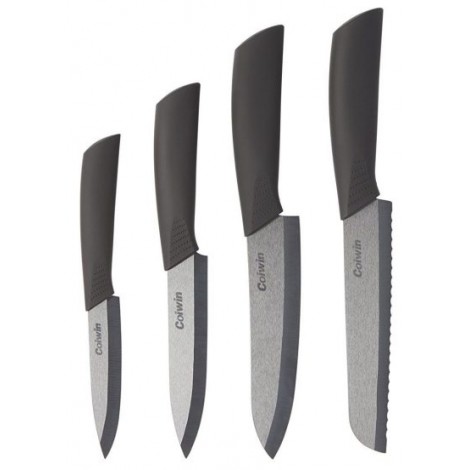 Offered in several knife combinations.
Also available in different color options.
Curved handle design for a comfortable grip.
The ceramic blade won't rust or stain.
Sharpness tends to vary by the knife style.
The blade is more fragile than expected.
This set of knives is the first that we have come across to offer a serrated bread knife in their set of four knives. The handle design of the knives will have you cutting like a professional in the kitchen. These are also available in different color and knife combinations.
The Bread Knife
For sandwich lovers, no knife holds more potential than a good bread knife. Cutting through that crusty exterior of the bread, while not demolishing the soft interior of the bread. After all, the bread is the canvass for any great sandwich, ruining the bread ruins the meal.
Handle Design
As we already know ceramic knives are lighter than a stainless steel knife. But what good is a knife without a great handle design? This knife set offers you the best of both worlds. The handle has a curve implemented into the design, fitting snugly into your grip. This provides you the control you need to become a pro in the kitchen.
Cost and Value
Available in several knife combinations, these knives hold a potential amount of value for your kitchen needs. The handle of a knife plays an important role in your cutting abilities. The user-friendly design of these handles will allow you to cut your way through food prepping with ease.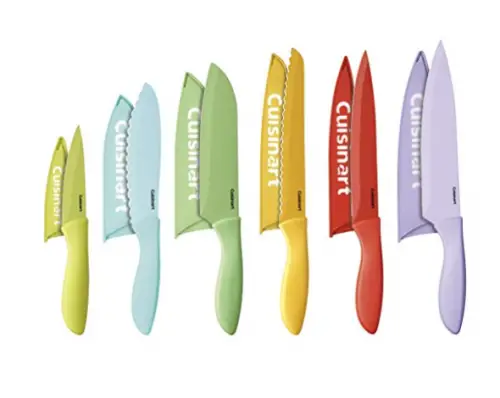 These can also be ordered individually.
Handle design offers a comfortable grip.
These knives come with a five-year warranty.
The slots in the wooden block are not properly sized for the knives.
These knives tend to chip or crack rather quickly.
Here we take a look at a set of knives that offers you six knives with covering sheers for each knife to protect them in storage. The knives are color coded in order to assist the cook with avoiding cross-contamination when preparing food. This manufacturer is best known for their lifetime warranty.
Knife Sheers
This knives all come with their own knife sheer, to assist them in staying sharp and looking their best when they are stored away in a drawer. These sheers also help individuals avoid cutting themselves when entering drawers looking for the utensil they need.
Ordering Potential
You can choose to order these knives as a set. With this manufacturer, you can also order these knives individually. Doing so allows you to replace just your favorite knife from the set. This manufacturer also guarantees there knives, making it easier to get your knife replaced.. for free!
Cost and Value
These knives come at a lower price than numerous competitors it currently has on the market. The more convenient cost makes it more likely someone will buy this set, and of course, enjoy it as well.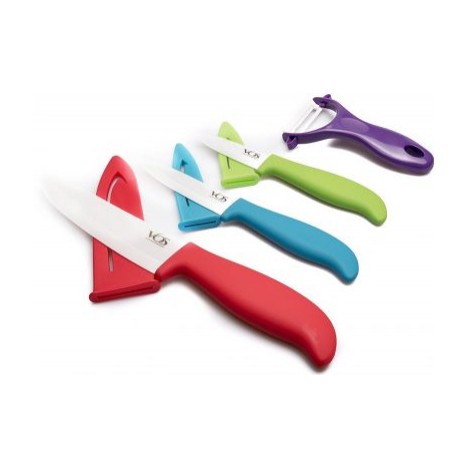 The ceramic blade will hold an edge for longer.
When purchasing this set of knives it comes with two free gifts.
These knives are lightweight and balanced.
The knives come with a sheath for each blade.
Customer complaints that the blades were dull when purchased.
The blades seem to crack or break faster than other brands.
With this set of knives, you will also get a couple of bonus gifts as well. Which adds to the overall value of your purchase. You gain three new knives with all the great high-class qualities that ceramic knives can hold.
Blade Quality
Each of the three knife blades is made from ceramic, giving them the hardness and retentive properties that everyone is looking for in a ceramic knife. The edge of the knife is said to last fifteen times longer than any other material. When used properly, you can count on these knives over and over again.
Bonus Gifts
Who doesn't like free gifts? With the purchase of this knife set, the manufacturer has thrown in a couple of extra added benefits. For those seeking inspiration in the kitchen, you can browse the cookbook that comes with this package. Haven't tried a ceramic peeler yet? Well, you will get that opportunity upon ordering these knives.
Cost and Value
For some, the added gifts are enough to make this purchase valuable. I mean, who doesn't like free gifts? Especially the type of gifts you will actually get to use. As for the cost, first, consider what you are getting here. Then you will see that the benefits far outweigh what comes out of your pocket.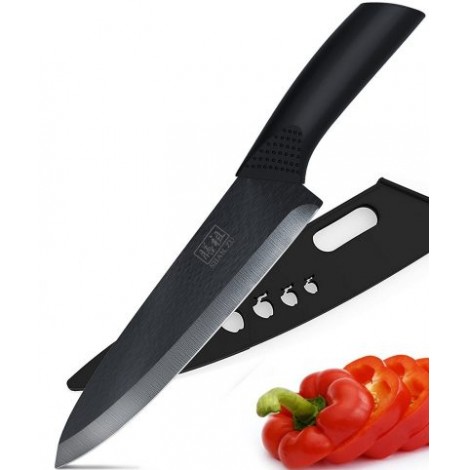 This is a single knife option.
The blade will not rust.
The handle has a comfortable design and feel.
Handle also has a non-slip grip.
Some complaints that the handle comes loose after several uses.
Some users have noted that the blade seems overly fragile.
This is the first knife we have on our list that is offered as a single knife. Don't let that scare you away, this chef style knife has plenty of potentials to offer all on its own. From the handle to the tip, you can be sure that this knife will perform at the top of the class.
Handle Design
The best place to start when looking at a knife is with the handle. That is the area that allows you to control the knife. The handle for this knife will provide you with a comfortable feel. Added to the design of the handle is a non-slip grip area. This helps you maintain control of the knife even when your hands get wet.
Blade Potential
As we already know, this is a ceramic knife, we have been over the potential that ceramic has to offer. A quick recap, this knife will remain sharp for longer periods of time. The blade will not rust or hold in any unwanted odor. A chef style knife is perfect for slicing vegetables and chunks of meat, which of course has no bones.
Cost and Value
Offering you one knife, at a great price, instead of a set. For some, one knife is all they are looking for. These people may shy away from a set of knives, instead of searching for that one perfect fit.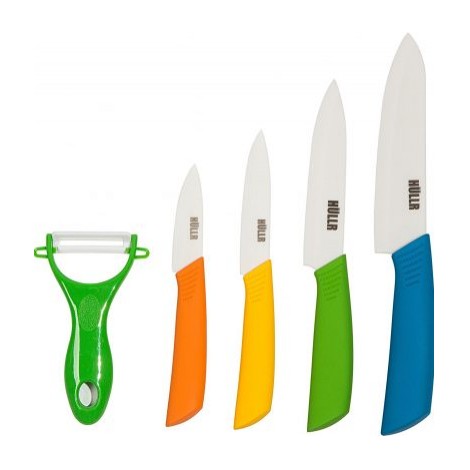 These knives come in great colors.
The design of the holder gives the knives a modern look.
The knife blades stay sharp for longer.
The handle design offers a comfortable grip.
Complaints that the knives had damage upon arriving.
There are some that think the blades of the knives are weak.
This knife set offers you color and a style all their own. You can give your kitchen that more modern look and feel with a set of knives like this. While your kitchen is looking sharp, you can be sure that your knife blades will be sharp as well.
Modern Look
Having a set of knives like this, allows you to push your kitchen decor into the present date and time. The bright colors of the handle add a stunning addition to your cutlery. A new design style for storage will have your kitchen looking like you stepped into the future.
The Basics
The blade will remain sharp use after use. There is no need to worry about staining the blade with acidic items, as the ceramic material is stain resistant. What good is a knife without a great handle design? Well, this set of knives offers a great handle design as well.
Cost and Value
These knives are a great place to start when looking to upgrade the style and function of your cutlery. Not to mention, they will give your kitchen a whole new look and feel. All of the benefits that a great set of ceramic knives has to offer, but at a lower cost than some of the others.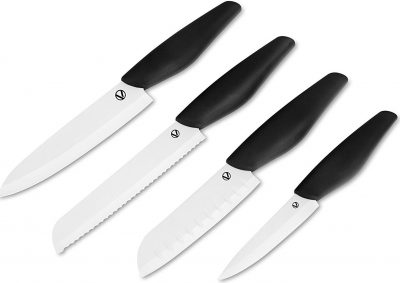 The holder has room for extra knives.
These knives are lightweight.
The ceramic blades will remain sharp for extended periods of time.
The design of the handle offers comfort to the user.
Complaints that the blade of the chef's knife is weaker than the other knives.
Next up on the list, is a set of four knives which also includes the block for storage. But this block will stand out above the rest for potential. As for the knives, the handle and blade design are made to mesh together perfectly.
The Block
Storing your knives on the counter just became a whole lot easier. This set offers a storage block that has room for more than just this set. It can hold up to four additional knives, of course, that will depend on the size of the knives. Which for you means that you can have all your favorite knives at arms reach.
The Perfect Fit
In order for a knife to be effective, there must be a balance between the handle and the blade. That is exactly what these knives have to offer, the blade will retain the sharp edge. While the weight of the knife is in the handle design, allowing you total control over all your knife strokes.
Cost and Value
As we already know, quality comes at a higher cost, often times we try to cut corners. When doing this, the only ones who suffer are ourselves. In this case, you will get great benefits in your kitchen with a set of these knives.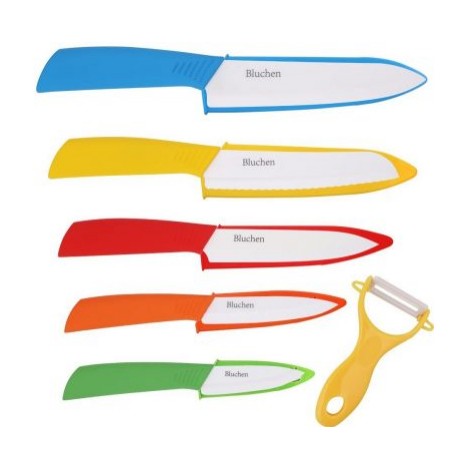 The blades are designed with rounded edges.
The handle has a non-slip grip.
This is a set of five knives with a peeler.
The blade will resist rust, staining, and odor.
Some users have complained that the handles are designed to be too small.
The last set of knives we come to works hard to promote your safety while using the knives. That is not all this set has to offer, you get a number of great knives and an extra tool to use while preparing your meals.
Safety First
The first step to safety when handling a knife is you. Knowing how to handle a knife properly can reduce the number of accidents in your kitchen. These knives have bumped up the safety features to help you along. Creating a non-slip designed handle helps you control the knife. But one step above the safety bar, are the rounded edges of the knife. These edges keep your digits safe while cutting.
The Set
This set holds a ton of potential, you get an amazing set of five knives. Some of which will include a bread knife, paring, and medium-sized knife that can be used for slicing. You also get a peeler, which can be used on both fruits and vegetables. For some, a peeler will shave the amount of time it takes to prep a meal.
Cost and Value
A set of knives that values your safety as much as you do, these knives have doubled down on the safety features. For the amount you pay, you will get more bang for your buck with this purchase.
Criteria Used for Evaluation

Materials
Ceramic VS. Steel 
It is noteworthy to say that each of these materials will have perks, as well as downfalls. As for which material is actually more beneficial, well that will depend on your situation. We can, however, provide you with the comparisons between the two materials for you to decide for yourself. Here is what we do know:
Bacteria: Metal is a porous material, which basically means that it will soak in bacteria and odors from the object you are cutting. Ceramic is considered to be non-porous, so no need to worry about scrubbing away odors or bacteria.
Weight: Ceramic blade knives are lighter in weight than that of steel bladed knives. Depending on what you are using the knife for, a lighter knife could mean that it is easier to control.
Corrosion: As we all know, stainless steel is indeed resistant to corrosion. But over time, it has been noted that these blades will begin to become tarnished or even start showing signs of rust. Ceramic blades have completely changed the game for resisting corrosion. Ceramic blades will not rust what so ever.
Now that we have touched on the good, we need to bring up the downfalls to ceramic knives. This will give you a better understanding of how ceramic knives can be used. Ceramic knives are known for their sharpness, however, they are not known for being durable. You will not be able to cut into anything that is hard, so cutting meat from the bone with a ceramic blade isn't going to work. Cutting hard objects with a ceramic blade can cause chipping in the edge or tip of the blade.

Style
Chef's Knife: 
A chef's knife was made to be an all-purpose choice. Making it perfect for all your meal prep needs. You will find these to be anywhere from 6-12 inches in length.
Paring Knife: The paring knife is relatively short in length, typically found to be 2-4 inches. You would normally use this type of knife for peeling the skin from such things as potatoes or cucumbers. When cutting an onion into smaller pieces, this is the knife you want to reach for.
Utility Knife: First let us be clear, this utility knife will not be found in your tool belt, that is a totally different type of knife. The utility knife we are talking about falls between the chef's knife and a paring knife, ranging anywhere from 4-8 inches. You can use this type of knife in the same fashion that you would the chef or paring knife, for some this size knife is a more comfortable feeling.
strong>Bread Knife: These are intended to do as the name states, cut crusty types of bread. The serrated edge can also be used as a saw, to skin a pineapple or melon. We have also seen it used for slicing through tomatoes, for thicker slices that are.

Use
When using a ceramic blade knife it is best to pair this knife with a wooden cutting board. A wooden cutting board is a softer surface for cutting, therefore reducing the risk of damaging the blade. Another great reason to use a wooden cutting board, they won't hide bacteria like the plastic cutting boards tend to do.
As for cleaning the knives, some can be placed in the dishwasher. For those that can be sure to put them on the top rack, laying flat. It should be stated that you don't want anything to come into contact with the blade during the wash cycle. Always be sure to check with the manufacturer's directions for cleaning first. Most people will get better results when washing the ceramic blade knives by hand.
Effectiveness
Yes, it is a fact that ceramic blade knives will hold their edge for a longer time frame than metal blades will. But as the old saying goes, "All good things must come to an end." So does the edge of the ceramic blade, which brings us to sharpening. Since the ceramic is harder than steel, the typical sharpening materials you would use will not be effective on the ceramic. Sharpening them on your own will require purchasing a more expensive sharpener, with diamond grit.
Even with the proper equipment, these blades can be difficult to work with. It is recommended that you either purchase a new knife since they last much longer this is more cost-effective than you think. You can send the knife into the manufacturer for sharpening, which often times is costly and you pay the shipping fees.

Accessories
Most knives, in general, will either come as a set with a block or have a sheath for the knife to be placed in. As far as ceramic knives go, it is best to store them in a wooden or plastic butcher block. This keeps the blade from getting banged around inside of a drawer, possibly causing serious damage to the blade. If you need to store them in a drawer, it is best to do so with the blade inside of the sheath. This is for a couple of reasons, the sheath can offer protection from accidental cutting when reaching for the knife. The sheath can also act as a buffer, protecting the blade from accidental contact with objects inside of the drawer.
Expert Interviews & Opinions
Most Important Criteria
(According to our experts opinion)
Experts Opinion
Editors Opinion
Users Opinion
By Default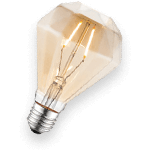 A Fad Or a Game Changer?
It's a hard thing to answer definitively because at the end of the day it might come down to simple preference, but ceramic knives do offer things that steel doesn't. In theory, they are going to keep their edge much longer. So, if you don't dig sharpening your own knives than ceramic may be what you need. Secondly, ceramic is non-porous so it's going to stay clean and resist bacteria longer. Also, ceramic is resistant to acidic substances like citrus fruit so you can cut all the oranges you want without ever having to worry about cleaning the knife. Make no mistake these are different products so give one a try and see what you think.
Frequently Asked Questions
q:

If a ceramic knife is dropped will it break?

a:

Much like anything else, all knives when handled improperly can become damaged in one way or another. As for ceramic knives, yes they are more fragile, but will not shatter when dropped. This is due to advancements since the first ceramic knife hit the market. They can, however, sustain damage to the tip or fragile cutting edge with misuse.
q:

Can you sharpen a ceramic blade?

a:

Although a ceramic blade will retain its edge for much longer than a steel knife blade, it will need some attention along the way. Since the edge is made to be razor sharp, it is more delicate, so can become chipped. While you can certainly repair or sharpen them at home, you will need a different sharpener than you would use on steel blades. You will need a sharpener with diamond grit to do the job. It is highly recommended that you check with the manufacturer before beginning. Attempting to repair the knife on your own may negate any warranties. Often times the manufacturer will often lifetime sharpening, but you may need to cover the shipping costs.
q:

Is a ceramic knife dishwasher safe?

a:

For the true answer to this question, you will need to see the instructions for care set forth by the manufacturer of the knife. However, often times ceramic knives get tossed around in the dishwasher. They are lightweight so the force of the water tends to send them cruising around. You will find that placing them in the dishwasher can cause unnecessary damage to the knife. It is best to hand wash the knives with a mild detergent and hot water.
q:

What can a ceramic knife be used for?

a:

Ceramic knives are great for making thin slices and can be used on boneless cuts of meat or fresh fruits. You can also use a ceramic knife on softer types of cheese. It is best not to use a ceramic blade knife for boning cuts of meat or on anything frozen that you may need to cut. This is why it is recommended that you keep some steel bladed knives on hand as well.
q:

What type of cutting surface should you use for a ceramic knife?

a:

It is best to use a cutting surface that will give a little under the pressure of the knife. Preventing the tip or the cutting edge from getting damaged by the cutting surface. The best example of this type of surface is a wood cutting board. Not only does the wood give under the pressure, but it also holds health benefits as well. A wooden cutting board is your best defense against bacteria, as they won't allow the bacteria to hide. Natural properties in the wood kill of the bacteria as well, therefore a simple hand wash in mild soap will take care of the rest.
q:

Why are there ceramic knife sets that come in different colors?

a:

Manufacturers have now been offering knife sets that include a set of knives that are each a different color. This is for the convenience of the cook; it helps the cook to differentiate between which knife was used to cut which product they are preparing for their meal. This comes in handy, especially when preparing raw meat when attempting to avoid cross-contamination.
Subscribe to our Newsletter