Best Freeze Dried Foods Reviewed & Rated for Quality
In a Hurry? Editors choice:
Test Winner: Augason Farms 30-Day Emergency Supply

Having a supply of nonperishable foods is a must, whether you are a backpacker or simply stocking up 'just in case'. Once an industry dominated by a few major suppliers, the number of freeze-dried foods has grown to a daunting degree over time. Luckily, smart shoppers don't need to shortchange taste or value when choosing the right products for them. Let's look at a few of the top items on the market today. Some are simple, straightforward meals, perfect for a multi-day trek.

Others are compact kits intended as a long-term food supply in adversarial situations. Still more capitalize on sheer compact sustenance for only the direst emergencies. Regardless, we will be comparing and contrasting the benefits as well as a few of the downsides of each so that you can make the most informed decision possible as a consumer.
Standout Picks
Criteria Used for Evaluation
Effectiveness
Your food needs to provide you with the proper kind of nutritional value so that your body has what it needs in order to give you enough energy.
While calories are important in determining nutritional value, you will also need to make sure that freeze-dried food has the proper amount of minerals, carbohydrates, fats, and proteins. Every nutritionist will stress the importance of eating a well-balanced diet and this can be especially true when you are in survival situations where your body is under stress.
There are several things that you will want to look for on the food label. One of the things that you will want to check is the amount of sodium that is used to prepare the food. Many preserved foods are high in sodium because sodium removes water from the food which inhibits the growth of bacteria. The more sodium there is in the food, the longer the food will last because of a lack of bacteria that would normally break down the food.
Protein is another thing that you will need to look for in the freeze-dried food. Your muscles require protein to repair themselves when they are damaged from exercise so it is important for you to get enough protein in your diet if you are going to be doing strenuous activity. For example, hikers, rock climbers, or people in a survival situation may benefit from having additional protein in their diet because it will help promote muscle recovery between meals. Protein also takes longer for your body to digest so it can help you feel fuller for a longer period of time between meals which is also beneficial.
Carbohydrates are sugars that are broken down by the body and provide you with energy. There are two forms of carbohydrates which are complex carbohydrates and simple carbohydrates. Freeze dried foods that are high in complex carbohydrates will provide your body with nutritional energy for a longer period of time because your body needs to work harder in order to digest these foods. This means that you should look for freeze-dried foods that include grains such as wheat, oats, or brown rice as all of these foods will be high in complex carbohydrates. On the other hand, foods that are high in sugar such as sweetened foods will be high in simple sugars that will not provide your body with as much energy like complex carbohydrates.
The final nutrient that you will want to be aware of is fats. Although fats are important, you will need to make sure that you only have a little bit of fat in your food as your body does not need a lot of dietary fats. Once you have considered all of the nutrients, you will have a solid understanding of how well the food will nourish your body while you are eating it. You may have to mix different foods in order to get a proper balance in your diet in terms of nutritional value. However, the better job you do at getting the proper nutritional value in your food, the better you will feel.
Taste
It is almost impossible to get excited about a meal when you can't stand how it tastes.
All food tastes different and the difference in taste increases when the food is freeze dried because it changes the chemical structure of the food. You need to make sure that you actually want to eat the food that you buy in the first place. Although it is generally the case that just about anything will taste better when you are extremely hungry, the reality is that eating should be enjoyable and pleasure rather than a chore. When you are picking out freeze dried food for any purpose, you need to make sure that you like how it tastes so that you will actually want to eat the food when you are hungry.
Freeze drying can also have aftertaste issues as well which you need to be aware of when you are purchasing a freeze-dried meal. Many manufacturers have worked around the taste and aftertaste issues by adding flavors to the food. This will help add flavor to the food and may also cover up any unexpected flavors that you would otherwise taste when you are eating the food.
You should keep in mind that the additional flavoring may come in the form of seasonings and spices or it may also be artificial flavors as well. Some people have objections to artificial flavorings so once again, you will need to read the ingredient label to check what has been used to process the food.
Value
Whether you're hiking the Himalayas or preparing yourself for possible disasters, having a safe, accessible supply of nonperishable foods is a must.
These freeze dried foods are a good start to stocking any well-prepped pantry or travel bag. Remember to carefully weigh the price of the product against its purpose, as not all of the above are intended for the same thing. Ask yourself what your immediate needs are – Recreation or Preparation? If preparing yourself for the worst-case scenario situation, it may be worth spending a bit of extra money for an emergency ration. If it's casual hiking you're after, go with what's safest for your pocketbook.
How much space do you have? Do you have any food allergies? With a daunting variety of products out there in the marketplace, keep in mind what your unique needs are as a consumer.
Features
There are plenty of people who require a specialty diet and if you are one of those people, then you will need to pick out your freeze-dried foods that comply with your diet.
Many people eat a specialty diet because it is important for their health. Other people eat a special diet because of personal reasons that are not related to your health. Like regular food, freeze dried foods come in a variety of different foods that should make it possible for you to pick foods that meet your dietary requirements. There are some diets where it may be more difficult to find foods than others so you may have your work cut out for you if you are on a diet that isn't widely practiced.
A reduced-sodium diet is another diet that is commonly followed for health-related reasons. High sodium intake can cause high blood pressure which leads to heart disease and strokes. This is why many people who are on high blood pressure medication are told to follow reduced sodium diets because it will directly relate to their cardiovascular health. The problem with freeze-dried foods as it relates to people who need to reduce their sodium is that sodium is also a preservative. For this reason, many freeze dried foods tend to be high in sodium which can become a difficult problem for people who need to reduce their sodium intake.
Some people have to avoid gluten for health reasons. Gluten comes from the endosperm of different grains such as wheat, rye, or oats and some people are allergic to gluten or have other health reasons to avoid gluten. If you are somebody who has an allergy to gluten you are in luck when it comes to freeze-dried foods because there are plenty of freeze-dried foods that are available that are completely free of gluten. The important thing to keep in mind is that you have to make sure that the food is labeled as being gluten-free. You can also check the ingredient label to make sure that the food does not have any gluten so that you do not get sick while you are eating freeze-dried foods.
Some diets are not health based but are instead based on a person's beliefs about food. For example, many vegans consider it unethical to eat any animal based product and there are some religions that prohibit eating certain animals such as pork. Once again, your decisions about the kinds of freeze-dried food that you eat will be based on your dietary requirements but reading the label will help you determine if there is a prohibited ingredient in your food.
Although we have not covered all of the specialty diets that are available, dietary requirements will determine what sort of freeze-dried foods you will end up purchasing and eating. The most important thing to remember is that there is freeze-dried food that can satisfy just about anyone's dietary needs.
10 Best Freeze Dried Foods
1

. Augason Farms 30-Day Emergency Supply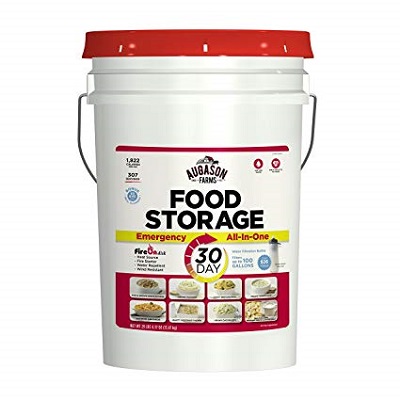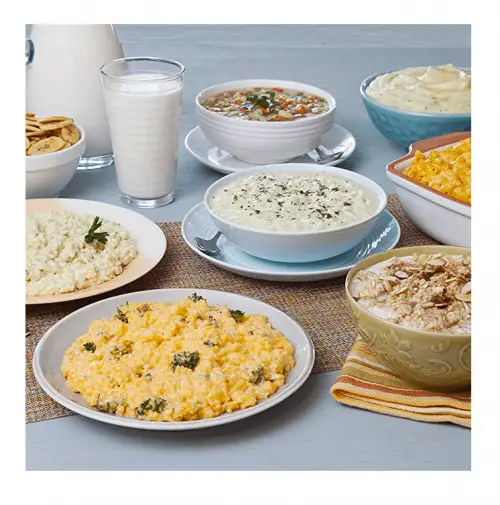 While far from space efficient, this 29 lb tub contains everything you need for thirty days worth of meals. Depending on one's preference, the seven-gallon pail can produce between eight and twelve different types of meals and can endure a 25-year shelf life so it's always there if you need it. Definitely, too much to handle for the average backpacker, but ideal for those storing food in case of emergency.
Quantity
When considering the scenario in which this product is to be used, the value is all in the overall volume as opposed to quality. With thirty servings of more than a half dozen different types of meals, this product gets the job done.
Price-To-Meal Ratio
This is a far more expensive item than many of the others on our list. However, when averaged out over a month it works out to just a few dollars a day. This makes it a much safer bet for emergency rations when compared to individually wrapped meals.
Cost and Value
While this would not be a good value for your everyday hiker, the volume of choices contained in this package makes it economical for long-term food storage. The price point is comparable to other products on the market.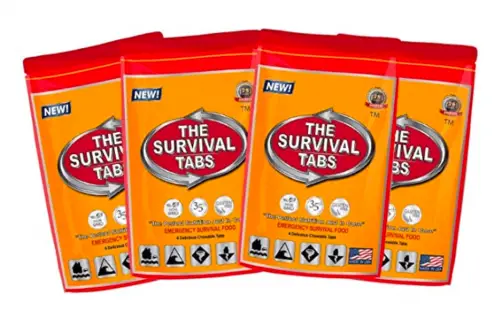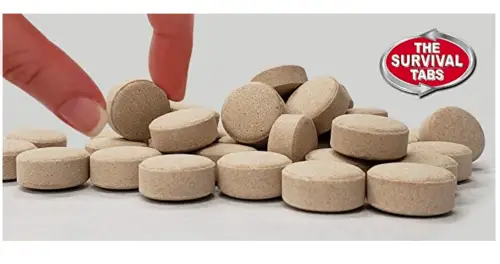 Looking for something small and compact with a long shelf life to toss into your bug out bag? While these tabs may not have the flavor of a reconstituted meal, they will provide you with all of the nutrition you need to fuel your body without much fuss. Just pop a tab in water, and drink up! Each tab is carefully formulated to provide you with the exact balance of vitamins and nutrition that your body needs to survive.
Enjoyable Flavor
While some tabs are flavorless, this option comes in vanilla, butterscotch, chocolate, or strawberry to offer a little bit of joy and flavor when traditional meals are not an option. Users find that the flavor is enjoyable, although some find them to be a little on the chalky side. However, if you are looking for quick and easy nutrition, these faux-shakes go down easy.
Good Nutrition Value
We also like that these tabs are carefully balanced with the same amount of nutrients and nutrition gained from a traditional meal. Each tab has about 20 calories with a good balance of carbs, protein, fat, vitamins, and minerals. It may not provide suitable nutrition found in your average meal, but they are enough to keep you alive when you find yourself in a tight spot!
Cost and Value
If you are in the market for something that is small and compact to pop into your pack in the case of an emergency, this is an excellent choice. We love that they offer unique flavor options that are easy to drink and come in at an incredibly affordable price point.

3

. Mountain House Chili Mac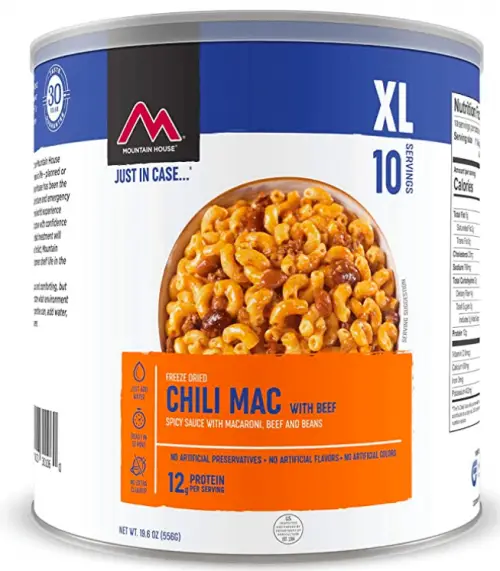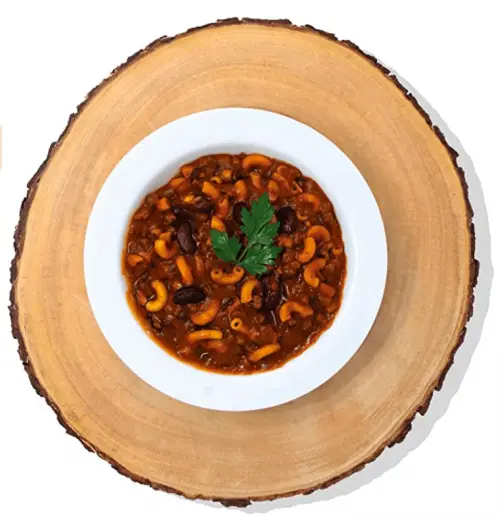 Mountain House is featured prominently on this list, which is no surprise. They have been selling freeze-dried foods for over fifty years, and in that time have earned a sterling reputation amongst backpackers and fans of the outdoors. Their Chili Mac with Beef heads up our list of rich ingredients and a spicy kick, all within a quick and easy 10 minutes of prep.
The Kick
While most Mountain House products get top marks for quality, their Chili Mac in particular gains praise for the spicy kick that places it a step above other meals that, while hearty, sadly lacking in the flavor department.
The Ingredients
Make no mistake, this is a full-on meal. The ratio of sauce to meat in this offering is generous, with every bite loaded with stomach-filling nutrients. This is one meal that will leave you satisfied.
Cost and Value
In addition to tasting great, this Chili Mac is also a great deal. The price point is around a dollar less than comparable sizes from other vendors. When you pair that with the bold flavor and satisfying ingredients, this meal is a home run.

4

. Mountain House Beef Stroganoff & Noodles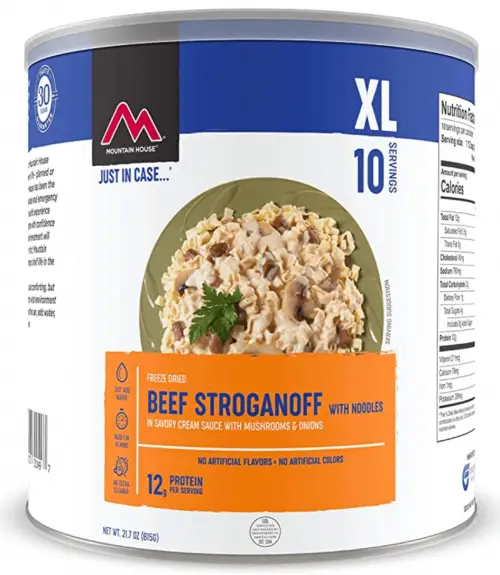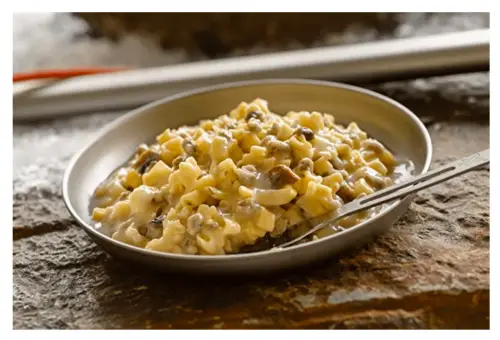 Did I]we mention that Mountain House was a popular brand? Snagging the number two spot is their Beef Stroganoff meal, trumpeted by the company as one of their most popular offerings. The recipe is simple and hearty, featuring beef and savory mushrooms in a rich sour cream sauce. Like all other Mountain House products, it takes a mere 10 minutes to prepare.
Filling
While the packaging states that one pouch creates two-and-a-half servings, the filling ingredients create a meal that can be stretched out to more than that depending on who you're feeding. This makes it a great value.
Texture
After a long day, you want something with body. The heavy, cream-based sauce of this dish has a substantial texture that gives you the sensation of a hearty, home-cooked meal even if your home is miles away.
Cost and Value
Price is comparable or a bit lower than many of the other items featured. This one gains an edge in terms of value, however, with a serving size that can be expanded dramatically given the heartiness of the meal.

5

. Grizzly Gear Emergency Food Rations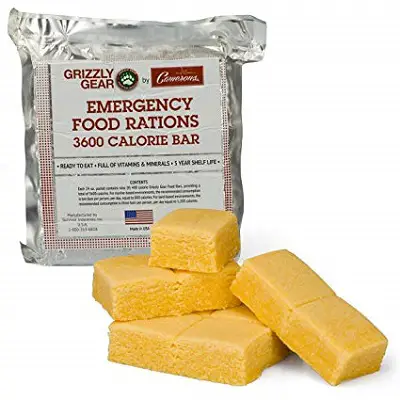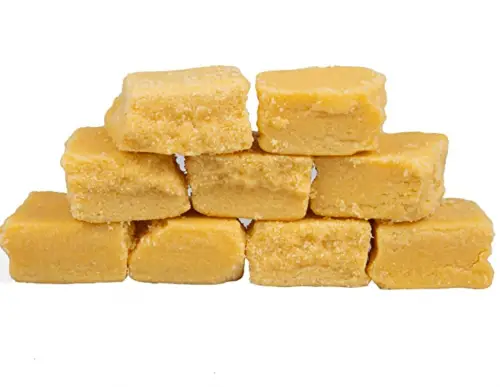 Rounding out our list is another survival product intended to stave off starvation. Each ration is contained within a 3600 calorie bar, with each case containing ten. While they are not described by flavor, each dehydrated bar is described as having a 'cookie'-like consistency with a slightly sweet flavor. This is an American-made product produced up to the standards of the US Coast Guard.
Durable
These bars are built to last, no matter what conditions they go through. From extreme heat to extreme cold, this product is built to last no matter what Mother Nature throws at you.
Flavor
As with any survival bar, the taste takes a backseat to sustenance and energy. However, while this bar features most of the main pros of the others, it does so with a pleasant lemon-shortbread flavor that is easy on the palate.
Cost and Value
The price point is similar to other food ration bars. Once more, this is an emergency product intended to pack a lot of nutrients into a very space-efficient package. As such the cost will be a bit more than other pre-packaged food items listed here. The trade-off is in the security of having a last-resort option.

6

. Nomad Nutrition Irish Shepherd's Pie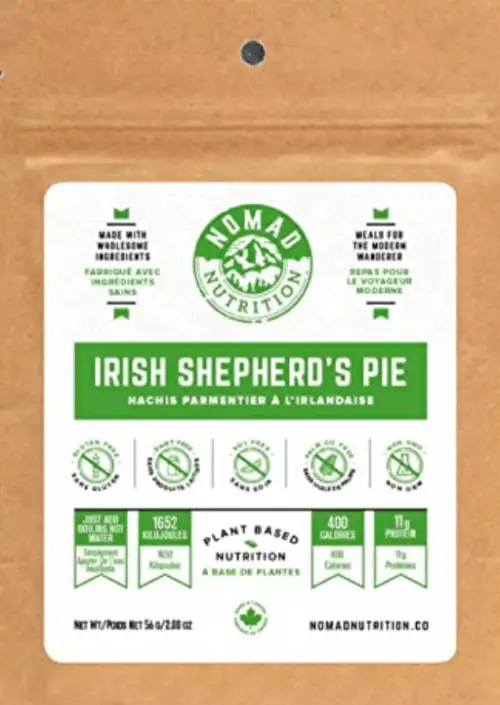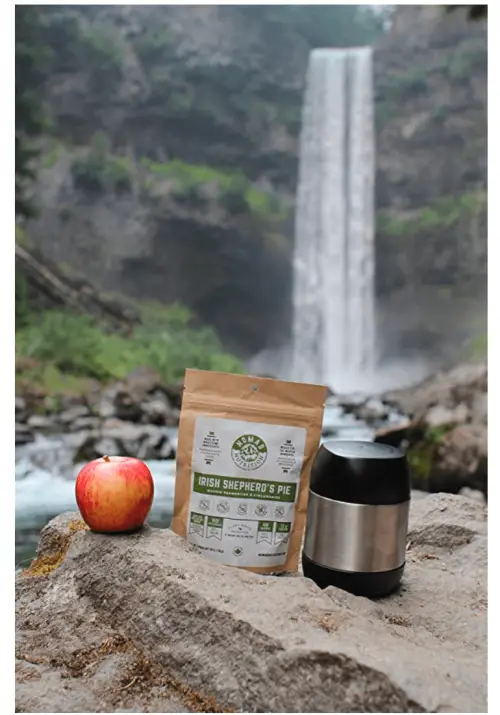 An Irish Shepherd's pie when out in the elements? Yes please! What we loved most about this option from Nomad Nutrition is that it is super easy to prepare, comes in a compact container, and has a unique flavor that will make you excited for mealtime. Plus, it is made from organic ingredients that are free of chemicals and unnecessary additives.
Punchy Flavor
So, does it really taste like shepherd's pie? According to previous users, the flavor is punchy and satisfying. Simply reconstitute the packs with a little water, and wait for the morsels to completely rehydrate before digging in. The great thing about this mix is that you can use hot water for a quick meal, or cold water when hot water isn't readily available (which may take longer to rehydrate).
Vitamins and Minerals
As far as nutrition is concerned, this package is able to keep your body satisfied and fueled throughout the day. One serving offers up an impressive 400 calories, which is one of the more filling options out there on the market. It boasts 11 grams of protein and 29 grams of carbohydrates, with a host of other beneficial vitamins and minerals that your body needs.
Cost and Value
This is a great choice for those that need something that tastes great and filling when you are miles away from a traditional kitchen. It is packed with all of the vitamins and nutrients that your body needs to fuel your day, and it is incredibly easy to prepare.

7

. Backpacker's Pantry Pad Thai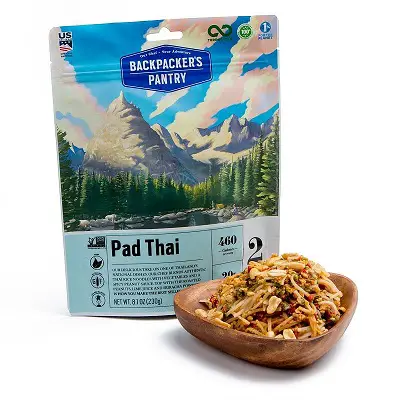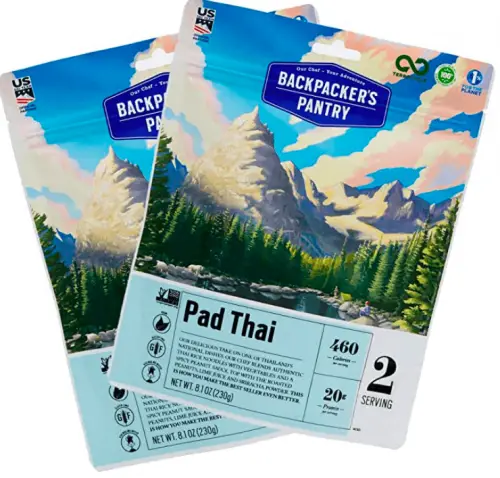 This rich, satisfying Pad Thai from Backpacker's Pantry makes two 13 ounce meals. Ingredients include rice noodles, sauce, vegetables, and even roasted peanuts. The vegetables, peanuts, and sauce are packaged separately, necessitating a bit of extra prep. With a shelf life of 84 months, this product is perfect for either long-term storage or immediate use on the go. It is also a vegetarian product.
Ingredients
This Pad Thai gets high marks for variety. Not only does it contain a rich sauce, noodles, and vegetables, but also peanuts and peanut sauce. Taken together, this makes for a varied meal in terms of textures and tastes, and one that is high in the Protein your body craves after a long hike.
Packaging
The sturdy, stand-up packaging makes it easy to prepare with a minimum of extra equipment. Just open, add the ingredients, add boiling water and stir. Makes cleanup a cinch too!
Cost and Value
Compared to other meals in comparable sizes, this was mid-range in terms of price. There were cheaper options out there but few that received as high marks for flavor and ingredients.

8

. Datrex 3600 Emergency Food Bar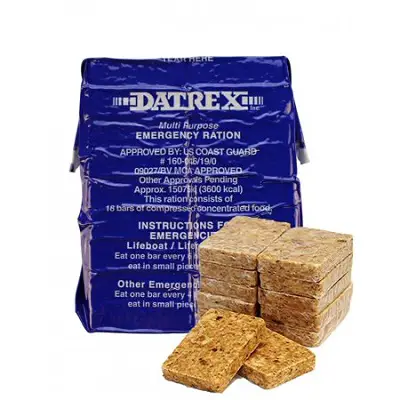 For the more extreme outdoorsman we have Datrex's Emergency Food Bar, a product designed to provide a sudden influx of nutrients and energy in cases of extreme hunger. Far from a typical food company, Datrex specializes in survival equipment and supplies. Each emergency food bars contains 3600 calories and is coconut flavor.
Compact
Imagine fitting three meals into the palm of your hand. That is exactly what this product does. One single, easy to store bar can last through a full day's worth of sustenance in an emergency situation.
Non Thirst Provoking
When the situation calls for use of a product like this one, the last thing you need is something that makes you need water as well. These bars are designed to be consumed without making you thirsty.
Cost and Value
The cost of one bar is equal to some of the full meals on this list, so it is not what one would classify as cheap. That said, it is not intended for everyday hiking or backpacking, but as a last resort emergency measure. As such, it is a small price to pay for peace of mind.

9

. Harmony House Veggie Soup Mix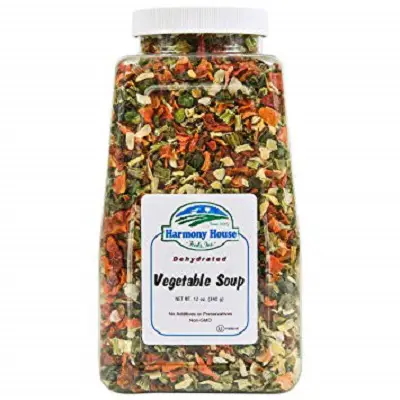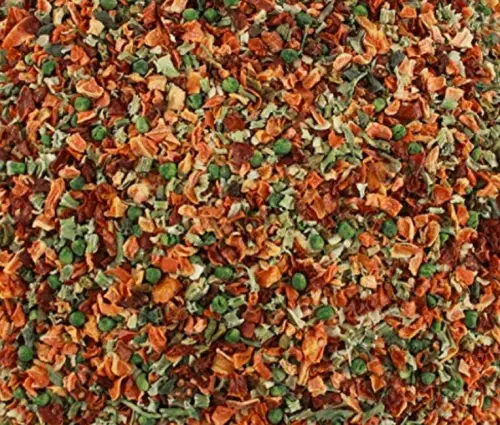 Harmony House is another highly regarded brand in the industry. Their Vegetable Soup Mix showcases the dependable flavor and convenience that has come to define their products. The name of the game here is a bulk convenience, with over 200 ounces of soup produced from one-quart sized jar of mix. Though dehydrated, the vegetables retain their nutrients, making it a perfect meal for hikers and backpackers on the trail.
Price
If you're looking for a possible bang for your buck, look no further. One quart container is enough for 24 servings of soup, making this the perfect staple item for any long-term pantry.
No Fillers
The contents of this product aren't a mystery. Herbs. Freeze dried veggies. That's it. Consumers can rest easy, knowing that what they're eating contains no preservatives or other fillers of any kind.
Cost and Value
Value is where this particular offering stands head and shoulders above the rest. For the same cost, other meals produce a mere three or four servings, while this soup mix can help create dozens of meals over time.

10

. Mountain House Breakfast Skillet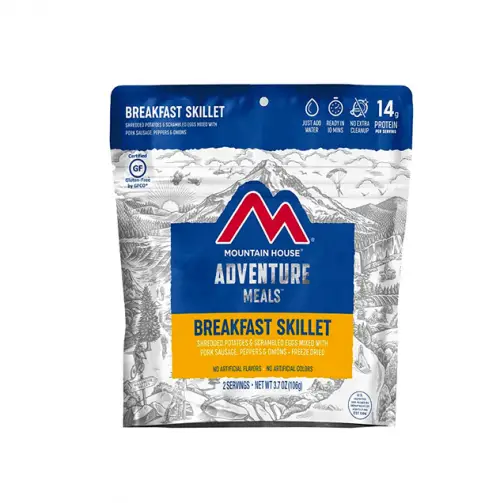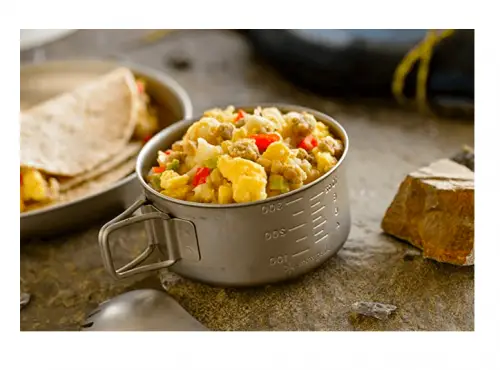 Mountain House is one of the most trusted brands in freeze-dried cuisine. A good and healthy breakfast is a great way to start the day before you head out for a day of fishing or hiking, and this Breakfast Skillet from Mounthouse is a great choice. It cooks up quickly and packed with the calories and protein you need to fuel your morning.
Easy to Prepare
One of the things that users love about this option is that it is very easy to prepare, even if you find yourself without hot water. Simply fill the jar with hot water, and wait 10 minutes for it to hydrate. If you don't have hot water on hand, simply fill it with the same amount of water and wait just a little bit longer for it to spring to life.
Great Nutritional Value
We also like that it is packed with the same amount of calories and protein found in a traditional breakfast. One serving boasts 260 calories, and one jar has 8 servings. We also like that it contains 14 grams of protein, which is 28 percent of your daily recommended dosage. It also has no trans fat or added sugars, which is a big bonus in our book.
Cost and Value
If you are in the market for something that tastes great and is able to provide you with enough fuel to really jumpstart your busy day in the wilderness, this option from Mountain House is an excellent choice. We love that it clocks in at an affordable price point and a single jar has 8 servings of nutritional goodness.

Subscribe to our Newsletter