Best Freeze Dried Foods Reviewed & Rated for Quality
Having a supply of nonperishable foods is a must, whether you are a backpacker or simply stocking up 'just in case'. For decades freeze-drying has been used to preserve food items that would otherwise spoil, creating a lightweight convenient product that has long been a staple for everyone from soldiers to astronauts. Due to their durability, freeze-dried products are a must-have addition to the food store of anyone looking for quick convenient meals in otherwise inconvenient situations. Once an industry dominated by a few major suppliers, the number of freeze-dried options has grown to a daunting degree over time.
Featured Recommendations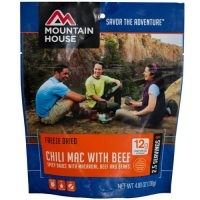 M. House Chili Mac w/ Beef

Our rating
Ingredients
Price:

See Here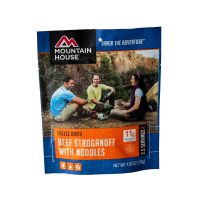 M. House Beef Stroganoff

Our rating
Filling
Price:

See Here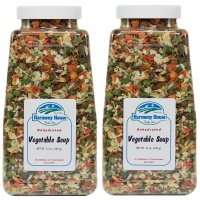 Harmony House Dried

Our rating
12 ounces
Price:

See Here

Luckily, smart shoppers don't need to shortchange taste or value when choosing the right products for them. Let's look at a few of the top items on the market today. Some are simple, straightforward meals, perfect for a multi-day trek. Others are compact kits intended as a long-term food supply in adversarial situations. Still more capitalize on sheer compact sustenance for only the direst emergencies. Regardless, we will be comparing and contrasting the benefits as well as a few of the downsides of each so that you can make the most informed decision possible as a consumer.
10 Best Freeze Dried Foods
1. Mountain House Chili Mac w/ Beef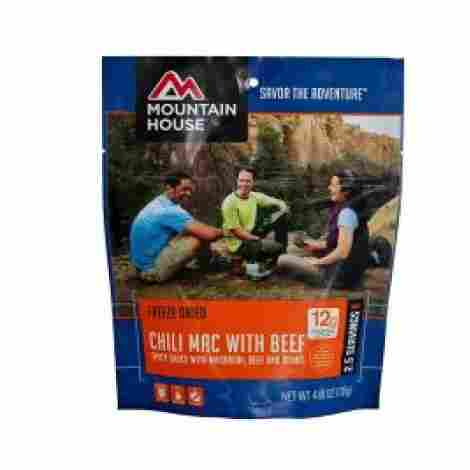 Mountain House is featured prominently on this list, which is no surprise. They have been selling freeze-dried foods for over fifty years, and in that time have earned a sterling reputation amongst backpackers and fans of the outdoors. Their Chili Mac with Beef heads up our list of rich ingredients and a spicy kick, all within a quick and easy 10 minutes of prep.
Expand to see more
The Kick
While most Mountain House products get top marks for quality, their Chili Mac in particular gains praise for the spicy kick that places it a step above other meals that, while hearty, sadly lack in the flavor department.

The Ingredients
Make no mistake, this is a full-on meal. The ratio of sauce to meat in this offering is generous, with every bite loaded with stomach-filling nutrients. This is one meal that will leave you satisfied.

Cost and Value
In addition to tasting great, this Chili Mac is also a great deal. The price point is around a dollar less than comparable sizes from other vendors. When you pair that with the bold flavor and satisfying ingredients, this meal is a home run.


Easy ten minute Prep time

30 Year shelf-life

No additional ingredients needed except water

Invigorating spicy flavor

Generous amounts of beef
Noodles can sometimes taste undercooked

Pouch is not resealable
2. Mountain House Beef Stroganoff & Noodles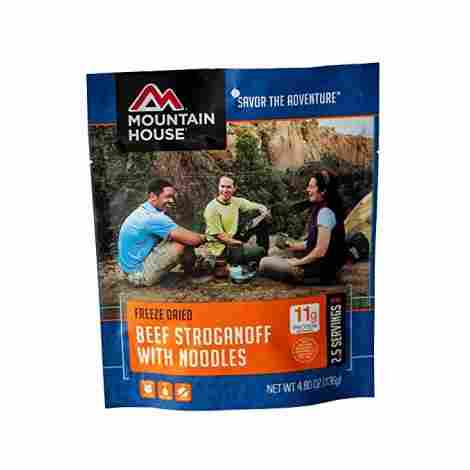 Did I mention that Mountain House was a popular brand? Snagging the number two spot is their Beef Stroganoff meal, trumpeted by the company as one of their most popular offerings. The recipe is simple and hearty, featuring beef and savory mushrooms in a rich sour cream sauce. Like all other Mountain House products, it takes a mere 10 minutes to prepare.
Expand to see more
Filling
While the
packaging
states that one pouch creates two-and-a-half servings, the filling ingredients create a meal that can be stretched out to more than that depending on who you're feeding. This makes it a great value.
Texture
After a long day, you want something with body. The heavy, cream-based sauce of this dish has a substantial texture that gives you the sensation of a hearty, home-cooked meal even if home is miles away.
Cost and Value
Price is comparable or a bit lower than many of the other items featured. This one gains an edge in terms of value, however, with a serving size that can be expanded dramatically given the heartiness of the meal.
Heavy sauce with rich, mushroom flavor

Reasonably priced, given the contents

Good portion of meat

Pouch packaging is space efficient for backpacking

30 year shelf life
Flavor is a bit bland compared to other Mountain House meals

Sodium content is high compared to other similar products
3. Harmony House Veggie Soup Mix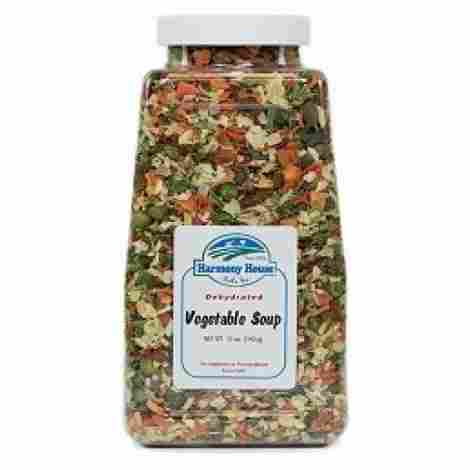 Harmony House is another highly regarded brand in the industry. Their Vegetable Soup Mix showcases the dependable flavor and convenience that has come to define their products. The name of the game here is a bulk convenience, with over 200 ounces of soup produced from one-quart sized jar of mix. Though dehydrated, the vegetables retain their nutrients, making it a perfect meal for hikers and backpackers on the trail.
Expand to see more
Price
If you're looking for a possible bang for your buck, look no further. One quart container is enough for 24 servings of soup, making this the perfect staple item for any long-term pantry.

No Fillers
The contents of this product aren't a mystery. Herbs. Freeze dried veggies. That's it. Consumers can rest easy, knowing that what they're eating contains no preservatives or other fillers of any kind.

Cost and Value
Value is where this particular offering stands head and shoulders above the rest. For the same cost, other meals produce a mere three or four servings, while this soup mix can help create dozens of meals over time.

No preservatives or fillers

Great, long lasting value for the price

Features a wide variety of freeze-dried veggies

Simple prep -- Just add water!

Extremely versatile when used with other ingredients
No instructions provided on amount of water needed to rehydrate

Stock can taste bland or watery without additional ingredients
4. Mother Earth Products Dried Chives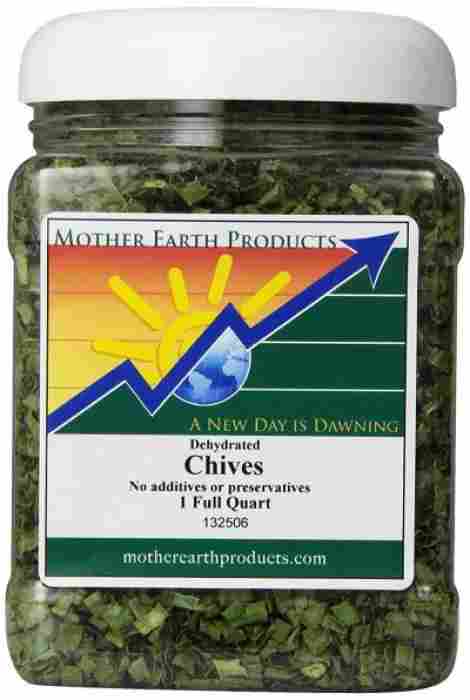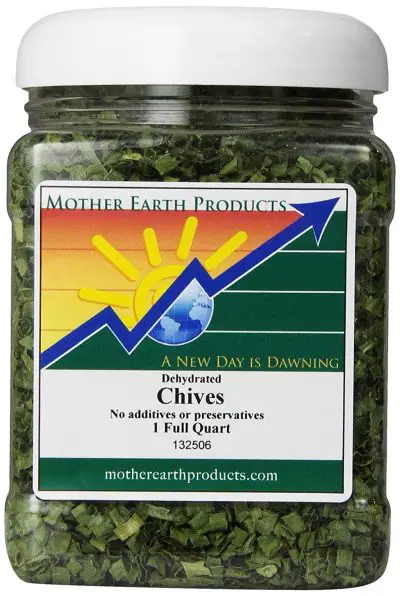 For those who prefer to prepare their own meals, we have Mother Earth Products Dried Chives. This Quart-sized container of freeze-dried chives has a 25-year shelf life and contains no GMO's or gluten. The company also assures consumers that their products are hand-packaged, ensuring only the best produce. This is a highly versatile option that can be featured in an endless array of meals and savory snacks.
Expand to see more
Flavor
When dealing with freeze-dried vegetables, in particular, one of the most common complaints is the loss of flavor when compared to the fresh alternative. Not so here, as the chives retain their pungent odor and taste throughout the freeze-drying process.
Longevity
When compared to the cost and lifespan of smaller
containers
of fresh chives, there's no contest here. This quart jar can safely last for months, so you don't have to worry about these vegetables going bad a week after you've purchased them.
Cost and Value
The price point is comparable to other freeze-dried vegetables, though the flavor is more highly praised. Additionally, the bulk-sized quart container is a steal compared to fresh chives.
Fresh, pungent flavor

Perfect for long-term use

Cost-efficient when compared to fresh alternative

Organic, GMO free

Perfect for use in many different dishes
Texture can be dry if used in large amounts

Color is lacking compared to fresh counterpart
5. Augason Farms 30-Day Emergency Supply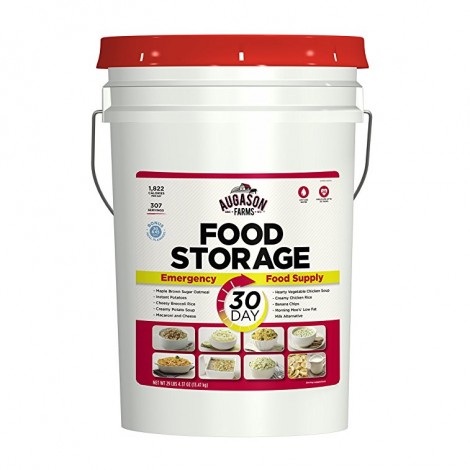 While far from space efficient, this 29 lb tub contains everything you need for thirty days worth of meals. Depending on one's preference, the seven-gallon pail can produce between eight and twelve different types of meals and can endure a 25-year shelf life so it's always there if you need it. Definitely too much to handle for the average
backpacker
, but ideal for those storing food in case of emergency.
Expand to see more
Quantity
When considering the scenario in which this product is to be used, the value is all in the overall volume as opposed to quality. With thirty servings of more than a half dozen different types of meals, this product gets the job done.

Price-To-Meal Ratio
This is a far more expensive item than many of the others on our list. However, when averaged out over a month it works out to just a few dollars a day. This makes it a much safer bet for emergency rations when compared to individually wrapped meals.

Cost and Value
While this would not be a good value for your everyday hiker, the volume of choices contained in this package makes it economical for long-term food storage. The price point is comparable to other products on the market.

Good variety of meals

Self contained meals, just add water!

Bucket is heavy but space efficient

Shelf life of one year once bucket is opened

Simple, straightforward food prep
Loose packaging can lead to rips and tears

Ungainly, heavy bucket can be difficult to open
6. MaryJanesFarm Chili Mac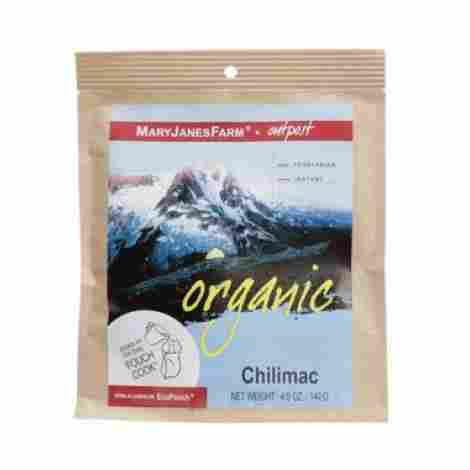 Here we have an offering from one of the newer kids on the block. MaryJanesFarm is the creation of Idaho native MaryJane Butters, whose boutique products have quickly been gaining fans. Her spin on the classic Chili Mac recipe comes in a 4.9 oz bag for a quick, space-efficient single-serving meal. Even better, this Chili Mac is marketed as vegetarian for the health conscious.
Expand to see more
Vegetarian
For health-conscious consumers looking to stay away from meat, this is a great alternative to the other Chili Mac featured in this list. Not having to worry about rehydrating meat makes cooking a lot easier too!
Organic
MaryJanesFarm prides itself on producing quality, certified-organic products. This makes it the perfect choice for those looking to avoid consuming products treated with pesticides or
other chemicals
.
Cost and Value
Compared to other products this one is a bit pricier. As this is a smaller, boutique company dealing in Certified-organic products, one might be led to expect this. That said, the quality of the ingredients make up for the higher price.
Certified organic

Vegetarian safe

Great Chili Mac taste

Convenient packaging makes cooking and disposal a breeze

Flavorful, but mild
Small serving size

More expensive than comparable products from other brands
7. Datrex 3600 Emergency Food Bar

For the more
extreme outdoorsman
we have Datrex's Emergency Food Bar, a product designed to provide a sudden influx of nutrients and energy in cases of extreme hunger. Far from a typical food company, Datrex specializes in survival equipment and supplies. Each emergency food bars contains 3600 calories and is coconut flavor.
Expand to see more
Compact
Imagine fitting three meals into the palm of your hand. That is exactly what this product does. One single, easy to store bar can last through a full day's worth of sustenance in an emergency situation.

Non Thirst Provoking
When the situation calls for use of a product like this one, the last thing you need is something that makes you need water as well. These bars are designed to be consumed without making you thirsty.

Cost and Value
The cost of one bar is equal to some of the full meals on this list, so it is not what one would classify as cheap. That said, it is not intended for everyday hiking or backpacking, but as a last resort emergency measure. As such, it is a small price to pay for peace of mind.

No preparation necessary

Packs a full day's nutrients into each bar

Vacuum sealed for freshness

Five year shelf life while sealed

US Coast Guard approved
Texture is crumbly and can be difficult to eat

Taste can be unpleasant
8. Backpacker's Pantry Pad Thai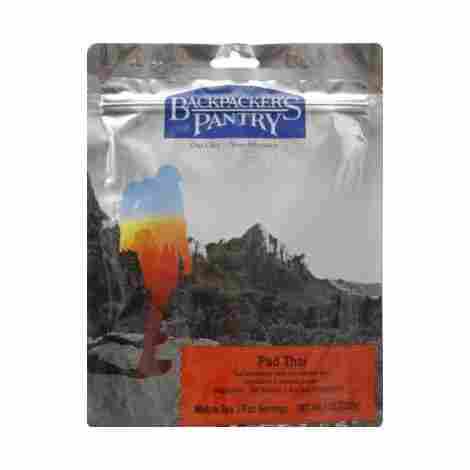 This rich, satisfying Pad Thai from Backpacker's Pantry makes two 13 ounce meals. Ingredients include rice noodles, sauce, vegetables, and even roasted peanuts. The vegetables, peanuts, and sauce are packaged separately, necessitating a bit of extra prep. With a shelf life of 84 months, this product is perfect for either long-term storage or immediate use on the go. It is also a vegetarian product.
Expand to see more
Ingredients
This Pad Thai gets high marks for variety. Not only does it contain a rich sauce, noodles, and vegetables, but also peanuts and peanut sauce. Taken together, this makes for a varied meal in terms of textures and tastes, and one that is high in the Protein your body craves after a long hike.

Packaging
The sturdy, stand-up packaging makes it easy to prepare with a minimum of extra equipment. Just open, add the ingredients, add boiling water and stir. Makes cleanup a cinch too!

Cost and Value
Compared to other meals in comparable sizes, this was mid-range in terms of price. There were cheaper options out there but few that received as high marks for flavor and ingredients.

Easy to prepare

Nutritious and high in protein

Peanuts and peanut sauce packaged separately

Bold flavor

84 month shelf life
Contains peanuts - Beware in case of allergy

Cheaper options are available
9. Crispy Green's All Natural Dried Fruit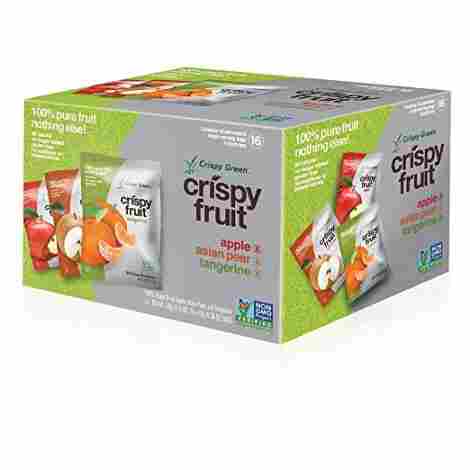 These single serving variety packs from Crispy Green make a great snack for out on the trail. Each package contains eight pouches of freeze-dried apples and four apiece of pears and tangerines. This is a non-GMO, gluten-free product. At less than one ounce apiece per pouch, this is a space-efficient snack for any situation.
Expand to see more
Convenience
Compared to other products on this list this product is far and away the most versatile. Whether you need a quick fix on the trail or a healthy snack to keep the kids happy, these fruit packs fit the bill.

All Natural
The pouches contain fruit and only fruit. This product is free of preservatives or any additional additives. For the health-conscious consumer, this makes it a great product for use anytime.

Cost and Value
Like many of the other all-natural products that we have reviewed, this one features a price point far above the more traditional dried fruit snacks out there. If you're willing to pay a little extra, however, it's a safe bet for a healthy snack.

Fully organic, non-GMO product

Small, endlessly portable packaging for when you're on-the-go

Variety pack includes three fruit varieties

Makes a healthy alternative for children

Fresh flavors that avoid chalky taste of similar products
Expensive when compared to other dried fruit products

Small serving size
10. Grizzly Gear Emergency Food Rations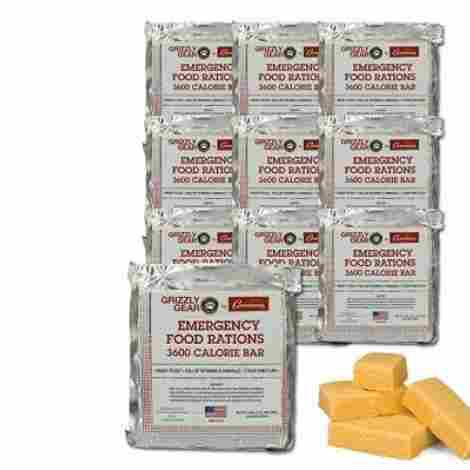 Rounding out our list is another
survival product
intended to stave off starvation. Each ration is contained within a 3600 calorie bar, with each case containing ten. While they are not described by flavor, each dehydrated bar is described as having a 'cookie'-like consistency with a slightly sweet flavor. This is an American-made product produced up to the standards of the US Coast Guard.
Expand to see more
Durable
These bars are built to last, no matter what conditions they go through. From extreme heat to extreme cold, this product is built to last no matter what Mother Nature throws at you.

Flavor
As with any survival bar, taste takes a backseat to sustenance and energy. However, while this bar features most of the main pros of the others, it does so with a pleasant lemon-shortbread flavor that is easy on the palate.

Cost and Value
The price point is similar to other food ration bars. Once more, this is an emergency product intended to pack a lot of nutrients into a very space efficient package. As such the cost will be a bit more than other pre-packaged food items listed here. The trade-off is in the security of having a last-resort option.

5 year shelf life when sealed

Non-thirst producing

Kosher Product

Contains less sugar than similar products on the market

Made in the USA
Expensive when compared to other similar products on the market

Has Partially Hydrogenated oils
Whether you're hiking the Himalayas or preparing yourself for possible disasters, having a safe, accessible supply of nonperishable foods is a must. These freeze dried foods are a good start to stocking any well-prepped pantry or travel bag. Remember to carefully weigh the price of the product against its purpose, as not all of the above are intended for the same thing. Ask yourself what your immediate needs are – Recreation or Preparation? If preparing yourself for a worst case scenario situation, it may be worth to spend a bit of extra money for an emergency ration. If it's casual hiking you're after, go with what's safest for your pocketbook. How much space do you have? Do you have any food allergies? With a daunting variety of products out there in the marketplace, keep in mind what your unique needs are as a consumer. Happy traveling!
Criteria Used in Choosing the Best Freeze Dried Foods
Taste
It is almost impossible to get excited about a meal when you can't stand how it tastes. All food tastes differently and the difference in taste increases when the food is freeze dried because it changes the chemical structure of the food. You need to make sure that you actually want to eat the food that you buy in the first place. Although it is generally the case that just about anything will taste better when you are extremely hungry, the reality is that eating should be enjoyable and a pleasure rather than a chore. When you are picking out freeze dried food for any purpose, you need to make sure that you like how it tastes so that you will actually want to eat the food when you are hungry.
Taste is highly personal and it starts with the kind of food that you are used to eating. When you are shopping for freeze dried foods, it is a good idea to start with food that you normally eat. In other words, if you love strawberries but hate beats, then you should purchase freeze-dried strawberries rather than freeze-dried beets. All freeze dried meals have an ingredients label which you can use to check and see what foods are in a freeze-dried food package. If there is food that you do not like, then your choices are to pick out a different meal or pick out the food that you do not like if that is an option.
However, you should expect that the food will taste differently after it has been freeze dried which will affect the flavor of the food. When food has been freeze-dried, all of the water from the food has been removed. This is why freeze-dried food lasts for such a long time because bacteria require water to live. Nevertheless, pulling all or almost all of the water out of food changes the chemical makeup of the food itself which will alter the food's flavor. This is why some people love fresh foods but hate the same food once it has been freeze dried.
Freeze drying can also have aftertaste issues as well which you need to be aware of when you are purchasing a freeze-dried meal. Many manufacturers have worked around the taste and aftertaste issues by adding flavors to the food. This will help add flavor to the food and may also cover up any unexpected flavors that you would otherwise taste when you are eating the food. You should keep in mind that the additional flavoring may come in the form of seasonings and spices or it may also be artificial flavors as well. Some people have objections to artificial flavorings so once again, you will need to read the ingredient label to check what has been used to process the food.
Freeze dried foods may also have a different texture than what you are used to tasting when you eat a food. Changes in texture come from the preparation of the food which involves removing as much water as possible. Once again, you will need to expect that freeze-dried foods will have a different taste than fresh foods so you need to make sure that the changes in food texture are also acceptable to you as well.
One thing that you will always want to do when you are purchasing freeze-dried foods is to prepare the food in the comfort of your home and try it first. This will provide you with an opportunity to make sure that you like how the food tastes in terms of flavor and in texture. There is no point of purchasing lots of freeze dried food if you do not like the taste. You are much better off in the long run to purchase a small amount to try first, prior to purchasing a lot of freeze-dried food.
You will also have a chance to adjust the flavor of foods that you do like as well. For example, you may decide that a food is good suddenly tastes great when you add a little extra seasoning or salt. The only way to know this for sure is to try the food ahead of time. This is another good reason for you to try a freeze-dried food at home prior to taking it with you in a backpack or storing it in an emergency kit.
How freeze-dried food tastes is one of the most important factors that you need to consider. The process of freeze drying a food can alter its flavor and its texture which is why it is so important that you try the food before you purchase it in large quantities. After all, you should want food that you can enjoy eating in any situation.
Nutritional Value
Your food needs to provide you with the proper kind of nutritional value so that your body has what it needs in order to provide you with enough energy. While calories are important in determining nutritional value, you will also need to make sure that the freeze-dried food has the proper amount of minerals, carbohydrates, fats, and proteins. Every nutritionist will stress the importance of eating a well-balanced diet and this can be especially true when you are in survival situations where your body is under stress.
In the United States, all food has to have a nutritional label that meets the requirements of the Food and Drug Administration (FDA). The European Union also has laws requiring that foods are properly labeled for consumers. The laws regarding food labeling will be different around the world so you will need to become familiar with your nation's food labeling laws to see what is in your food. The food labels are intended to provide you with enough information so that you can make an informed choice about your food. This is because everyone has different dietary needs so consumers need to be aware of what is in their food.
There are several things that you will want to look for on the food label. One of the things that you will want to check is the amount of sodium that is used to prepare the food. Many preserved foods are high in sodium because sodium removes water from the food which inhibits the growth of bacteria. The more sodium there is in the food, the longer the food will last because of a lack of bacteria that would normally break down the food.
There are situations where you may want your food to have a larger concentration of sodium. For example, if you are going to be hiking in hot and arid climates, you may want additional sodium because it will help your body retain water. However, there are times when you have to reduce your sodium for health reasons. Many people who have heart disease are told to reduce their sodium by their doctors because it will help with their blood pressure. Freeze dried food is known to be high in sodium because it helps preserve the food so you will need to check that the food has the proper amount of sodium.
Protein is another thing that you will need to look for in the freeze-dried food. Your muscles require protein to repair themselves when they are damaged from exercise so it is important for you to get enough protein in your diet if you are going to be doing strenuous activity. For example, hikers, rock climbers, or people in a survival situation may benefit from having additional protein in their diet because it will help promote muscle recovery between meals. Protein also takes longer for your body to digest so it can help you feel fuller for a longer period of time between meals which is also beneficial.
Carbohydrates are sugars which are broken down by the body and provide you with energy. There are two forms of carbohydrates which are complex carbohydrates and simple carbohydrates. Freeze dried foods that are high in complex carbohydrates will provide your body with nutritional energy for a longer period of time because your body needs to work harder in order to digest these foods. This means that you should look for freeze-dried foods that include grains such as wheat, oats, or brown rice as all of these foods will be high in complex carbohydrates. On the other hand, foods that are high in sugar such as sweetened foods will be high in simple sugars that will not provide your body with as much energy as complex carbohydrates.
The final nutrient that you will want to be aware of is fats. Although fats are important, you will need to make sure that you only have a little bit of fat in your food as your body does not need a lot of dietary fats. Once you have considered all of the nutrients, you will have a solid understanding of how well the food will nourish your body while you are eating it. You may have to mix different foods in order to get a proper balance in your diet in terms of nutritional value. However, the better job you do at getting the proper nutritional value in your food, the better you will feel.
Calories to Weight
Calories are an important part of every meal because your calorie intake is what ultimately decides how much weight you gain or lose. While all foods have to print the number of calories present in a single serving of food, this can be misleading for a lot of people due to the recommended serving size. Furthermore, there may be times where your body will require more calories so you will need to take your activity into consideration as well to make sure that you have the proper amount of calories for your body. There may even be times where you want as many calories as you can get in a small package because you have to carry your gear with you.
One of the things that you will need to immediately look at when you are picking out freeze-dried foods is the size of the serving. This matters because you have to compare calories as it relates to the serving size. For example, vegetables have a large serving size but are low in calories while meats have a small serving size and are high in calories. It is also why vegetables will make you feel full without you consuming a lot of calories.
Most of the time, serving sizes are measured in weight for solids or volume when measuring liquids. It is important that you consider the amount of food that you are getting for the same amount of weight. Vegetables do not weigh a lot which is why you get to have more vegetables on your plate in a serving while meat is dense. A serving of meat will not make you feel as full as a serving of vegetables. However, you need to look at the number of calories for the same amount of weight (or volume) to compare two different foods as well. This may require you do some math in order to calculate how many calories there are in a certain amount of weight so that you can compare two foods with the same amount of weight and see which food has higher calories.
This is a big part of the reason why people get lost with counting calories when they are reading labels. You will almost never find two foods with the same serving size so you can't quickly make a comparison on the calories without doing some math. There are many mobile phone apps and websites that are available that can assist you with this task so you may want to do an internet search for further guidance.
Sometimes you will want dense foods that are high in calories. For example, someone who is backpacking or mountain climbing may want foods that are small and high in calories. This will make it easier to carry more food in your backpack and it will provide your body with more energy when you are engaging in activities that require more effort. It is important that you watch what you are eating if you are packing such foods so that you do not eat too many calories in a single meal, but high-calorie foods are an easy way for you to get a meal's worth of calories quickly when you are on the move.
On the other hand, you may not have to carry all of your gear with you and can eat a more balanced meal in such situations. Many times when people are camping they can store gear on an ATV or even their personal vehicle. This means that you do not have to be as concerned about size and weight and can, therefore, allow your gear to take up more room. If you are in this sort of situation, then it is better for you to look for foods that are lower in calories so that you do not overeat and gain weight.
Calories are an important part of packing freeze dried food. If you consume too many calories, then you are likely to experience weight gain and can end up getting overweight. On the other hand, too few calories will cause you to lose weight which can be desirable for many people but it can also cause you to be underweight as well. When you are picking out freeze dried food, you will need to determine how many calories you will need to eat while you are away from home or in a survival situation.
Specialty Diet
There are plenty of people who require a specialty diet and if you are one of those people, then you will need to pick out your freeze-dried foods that comply with your diet. Many people eat a specialty diet because it is important for their health. Other people eat a special diet because of personal reasons that are not related to your health. Like regular food, freeze dried foods come in a variety of different foods that should make it possible for you to pick foods that meet your dietary requirements. There are some diets where it may be more difficult to find foods than others so you may have your work cut out for you if you are on a diet that isn't widely practiced.
One of the most common diets that people go on is reduced calorie diets. People normally go on such a diet as a means to lose weight and there are many different popular reduced calorie diets such as "South Beach Diet" or "Weight Watchers". Calories are the central theme for these diets and will be used as a basis for the foods that you end up purchasing. For example, many reduced calorie diets allow you to eat anything that you want as long as you do not exceed a certain number of calories for the day. Other reduced calorie diets will direct you towards specific foods as a way to reduce your calorie intake. You will need to consider the requirements of such diets when you are picking out freeze dried foods.
A reduced sodium diet is another diet that is commonly followed for health-related reasons. High sodium intake can cause high blood pressure which leads to heart disease and strokes. This is why many people who are on high blood pressure medication are told to follow reduced sodium diets because it will directly relate to their cardiovascular health. The problem with freeze-dried foods as it relates to people who need to reduce their sodium is that sodium is also a preservative. For this reason, many freeze dried foods tend to be high in sodium which can become a difficult problem for people who need to reduce their sodium intake.
If you are someone who needs to watch their sodium, then you need to read the label one your freeze dried food carefully as it relates to sodium content per serving. Plant-based foods will generally require less sodium to preserve than meat based food so this is something that you will need to keep in mind when you are looking for freeze-dried foods. You may also have to look around for specialty suppliers of freeze-dried food who sell reduced or low sodium foods. Depending on your situation, you may be able to reduce your sodium by bringing both fresh foods and freeze-dried foods together so that you are eating less freeze dried foods.
Some people have to avoid gluten for health reasons. Gluten comes from the endosperm of different grains such as wheat, rye, or oats and some people are allergic to gluten or have other health reasons to avoid gluten. If you are somebody who has an allergy to gluten you are in luck when it comes to freeze-dried foods because there are plenty of freeze dried foods that are available that are completely free of gluten. The important thing to keep in mind is that you have to make sure that the food is labeled as being gluten-free. You can also check the ingredient label to make sure that the food does not have any gluten so that you do not get sick while you are eating freeze-dried foods.
Some diets are not health based but are instead based on a person's beliefs about food. For example, many vegans consider it unethical to eat any animal based product and there are some religions that prohibit eating certain animals such as pork. Once again, your decisions about the kinds of freeze-dried food that you eat will be based on your dietary requirements but reading the label will help you determine if there is a prohibited ingredient in your food.
Although we have not covered all of the specialty diets that are available, dietary requirements will determine what sort of freeze-dried foods you will end up purchasing and eating. The most important thing to remember is that there is freeze-dried food that can satisfy just about anyone's dietary needs so there should be no reason for you to have to worry if you can't find the correct kind of food for your diet. The hardest diet to comply with as it concerns to freeze-dried food is a reduced sodium diet since sodium is a preservative and freeze-dried food tends to be high in sodium. No matter what your diet happens to be, just about any diet can still be practiced with freeze-dried food.
Country of Origin
One of the main advantages of freeze-dried food is its ability to preserve food for years at a time. However, for some people, this may be a drawback since well-preserved food can be grown, harvested, and processed just about anywhere in the world. It is a known fact that not every country has the same food safety standards and some people may find this to be concerning. For example, if you are allergic to a particular kind of food, then you will need to know for sure that your food has not come in contact with food allergies. The stricter the safety standards are in the food's country of origin, the more you will be able to trust that the food was safely prepared.
Most people are not aware of global supply chains so a brief introduction is in order when discussing country of origin. The food itself has to be grown in a certain country and then it has to be processed into freeze-dried food. In some cases, the food production and food processing happen in the same country. In other cases, the food may be grown in one place in the world and processed into freeze-dried food in another location. When you are looking at the country of origin with your freeze dried food, you should primarily focus on where the food was processed into freeze-dried food.
This is because almost all organisms that are harmful to the food need to be killed in order to create freeze-dried food. If the food is not processed properly, then it will not last and it can be contaminated when you eat the food. In theory, the act of processing fresh food into preserved freeze dried food should make the food safe to eat, which is why you do not need to be as concerned about where the food was produced in the first place since all food will need to be discarded at the processing plant, precooked to make it safe, or otherwise processed to make it safe.
This doesn't mean that you should not care at all where the food was produced, but you will need to keep in mind that tracking the source of the food product may be extremely difficult. Freeze dried food manufacturers may buy from different countries during the year because of different growing seasons so this will certainly make it more difficult to track where your freeze-dried food comes from. Furthermore, the manufacturer may even refuse to disclose such information to the general public.
However, there are reasons why you would want to know where your food is coming from and where it has been processed. One reason is trust. When you are eating food that is been prepared by another party, you are trusting that they have prepared the food in a fashion that makes it safe for you to eat the food without getting sick. Countries that have strong institutions tend to do a much better job of inspecting food processing plants and holding violators of the law accountable for their actions. Nations that have weak institutions may not be able to hold food processors to the same standard for a variety of reasons.
Trust is also about making sure that you are getting what you are paying for. Suppose you are an individual who wishes to purchase only organically grown freeze dried food. How do you really know for sure that the food was organically raised unless you can trust that a company is inspected and has verified to another independent party that the food was in fact organically raised? Once again, some nations have strict laws that regulate the advertising and labeling of food and enforce those laws strictly while other nations do not have such laws. If you trust a country of origin's institutions, then you are more likely to trust the products that are produced by that country.
Of course, this isn't to say that you always need to purchase food from first world countries in order for it to be safe or trustworthy. As a matter of fact, many countries can produce freeze-dried food at a lower cost due to local regulation and wages. This will allow you to purchase more freeze-dried food at a lower price which can also be an advantage for many consumers. As long as you have eaten the food and not gotten sick from eating it, then there should be no reason not to trust it just because of where it came from. Many food distributors who choose to sell internationally made food will still need to recall the food if it is found to be unsafe.
Many people do consider the country of origin to be an important criterion for picking out the best freeze dried food and with good reason. Some countries have strict food safety and advertising laws that are enforced. This lends credibility to the product that you are purchasing and will help you trust that you are getting the correct freeze dried food for your needs. On the other hand, you may not be uncomfortable with purchasing freeze-dried food that was imported from another country either. Knowing about the country of origin can help you make proper choices as a consumer and help you purchase the freeze-dried food that is right for your needs.
FAQs
Frequently Asked Questions
Q: Do freeze dried foods expire?
A: The shelf life of freeze-dried foods all depends on the brand, how it is sealed, and the different fat contents that are in the different foods. The flavor is known to pull a little with higher fat counts over time. Some of the foods reviewed have shelf lives over 25+ years, while others are known to last 10+ years. Looking into the moisture content left over after these foods are dried out, will also help determine the shelf life. In the event these foods are needed after 20+ years, you should be able to eat them, no problem, with a small risk of an off taste.
Q: Who uses freeze dried food?
A: Anyone that enjoys these foods or needs these foods can use them. Freeze dried foods are most popular for people who are out in the wilderness hiking or hunting. The reason why they are so popular for this is that they are sealed, keeping animals away, and they can remain fresh until opened or last a very long while. Astronauts also used freeze-dried foods in space as they are convenient and available, in any atmosphere. It is wise to have this type of food on hand for emergencies, as well.
Q: How long does freeze-dried food last after opening?
A: There is no exact time frame that the freeze-dried food will remain fresh. One of the things you will need to consider is the atmosphere the food is in. You will need to look at moisture, heat, cold, etc. When any food sits in the heat or moisture, it has the ability to go bad, a lot faster. It is said that the freeze-dried foods have the same rule of thumb as fresh foods, once opened. In order to keep your foods fresh, store in an airtight container in dark, cool places. This will help maintain the flavor and freshness that you get from freeze-dried foods.
Q: Do freeze-dried foods have preservatives?
A: If you are looking to make foods last, you would think that you have to add a lot of preservatives and additives. With freeze dried foods, that is not the case. When these foods are made, they have the majority of the moisture sucked out of them, so you would not have to include preservatives and additives as much as you would with a dehydrated food. By removing the majority of the moisture, you can give your food a longer shelf life, rather than having to use preservatives.
Q: Do freeze dried foods lose nutrients?
A: Freeze dried foods have been designed to maintain flavor and nutrition. While these foods are known to last a very long time and put in place for survival purposes, they do not lose nutrition like you think they would. The freeze-dried foods have a tendency to lose moisture but can maintain their flavor for very long periods of time.
Q: What is freeze dried food?
A: Freeze dried food is food that has been dehydrated without using heat to remove water from the food. It is a two-step process where the food processor freezes the food first and then exposes it to pressure which turns the water from a solid directly into gas which evaporates from the food. Freeze drying is highly effective at removing moisture from food which is why it tends to last for a long time due to its low water content.
Q: Why is freeze-dried food, lightweight?
A: Most of the weight of your food is due to moisture from water. The process of freezing drying your food is highly efficient at removing water from the food which in turn, reduces the overall weight of the food. This is why freeze-dried food tends to be popular in applications where you need to think about the overall weight of your food. Many hikers and rock climbers will use freeze-dried food thanks to its lightweight.
Q: How do I reconstitute freeze dried food?
A: Freeze dried food is reconstituted by adding water to the food. Since the food is almost completely dried, it will soak water like a sponge. Once the food has been fully reconstituted, it will be ready for cooking or heating. You will need to make sure that you are using clean and safe water when you are reconstituting your freeze dried food since unsafe water will contaminate the food and make it unsafe for you to eat.
Q: Why does freeze-dried food cost more than dehydrated food?
A: There are two reasons why freeze-dried foods cost more to produce than dehydrated foods. One reason is that the equipment used to freeze dry food is more expensive and the other reason is that freeze-drying has a slower processing time which means that the manufacturer cannot process freeze dried food as fast as dehydrated food. Both of these issues are reflected in the price of the food which is why freeze-dried food costs more.
Q: How should I store freeze dried food?
A: One of the main advantages of freeze dried food is that it does not require refrigeration to keep the food preserved as long as the food stays in its original packaging. You should try and store the food in areas that stay consistently below 75F. It will not matter if your freeze dried food is stored in colder environments but when it starts to get too warm, the packaging may get damaged which can cause the food to spoil.
Sources