Best Camera Sling Bags Reviewed & Rated for Quality
In a Hurry? Editors choice: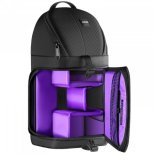 Test Winner: Neewer Professional

There are a million little and big purchases one can make if they are a photographer of any caliber. Plentiful areas of the accessory and equipment industry doesn't simply focus on the hardcore or professional photographer. This means that we get to look at a ton of amazing pieces of gear that appeal to all.

Something every camera operator needs, in one form or another, is a bag. Gig bags can come in all shapes and sizes, makes and uses. Today, we're looking at Slingbags. These are gear bags that are used a lot during situations where carrying all of your gear, all the time, is necessary.

A Sling bag is something that can be swung around one's body, giving the wearer access to their gear without even taking the bag off thanks to the normal single cross-body strap. Here are the ten best on the market right now.
Standout Picks
Criteria Used for Evaluation
Use
Part of me wanted to not sit here and explain what the use of a sling bag would be for camera users, but maybe that's really the most important part. Although the use doesn't do a whole lot to separate the products we've put on our list -- because in general, they've all pretty much got the same use -- but it does add a whole lot of value to the conversation regarding why one would choose to go with a sling bag in the first place for their gear carrying needs.
Camera carrying gear has traditionally come in a few different kinds. The giant hard-shelled roller cases (sometimes they don't even have rolling wheels on them), normal backpack style bags that can hold a bit of gear, and side bags (which no one truly wants, let's be honest). The Sling Bag is an essential tool in the photographers kit because it allows them to carry around gear (like they would with a normal backpack) but thanks to the single cross-chest strap, the bag can be spun around the body, bringing it to your front for quick and easy access to the gear you're lugging around.
There are some things that make sling bags not the right choice, and that usually comes down to how long you can have a sling bag worn without it hurting, and whether or not you need a larger selection of your gear. Most sling bags will fit a single camera set-up, with a few extras, and that's it.
Overall, the camera sling bag is something we think everyone should get. Whether or not you seek one out that can transform into something else, or provide you with more storage, now that's up to you.
Features
We're always so delighted to be able to write lists like this because there's just no shortage of amazing things to get hung up on. Camera and imaging accessories and carrying options just have such a large variety, and they are so feature rich, that there's just no way to get bored of vetting all the amazing options out there.
Features on many sling bags include things like cross-waist support straps, extra padding (which is usually a necessity, because camera gear isn't cheap, and can be rather fragile), and everyday essentials like laptop compartments, cellphone pockets, and more.
The best feature we can suggest that you stick to is the ability to have a modular camera gear compartment. Most of the bags on our list -- in fact, most of the bags in the entire market -- have velcro adhesive walls that can be changed around or completely removed to fit your precise needs. Maybe your on-camera lens isn't as big as a zoom, so you move the lens facing wall closer, and that could free up room behind it for a whole other lens to bring with you. Or maybe you need to fit a flash, and continuous light in your pouch, and so you need to make some squares. Anything (almost) is possible if you prioritize getting a camera gig sling bag that has a modular gear compartment.
Other features to keep your eyes peeled for are things like more space (which is hardly a "feature"), weather or waterproofing (which we will get to later in the criteria), and color options (because everyone wants to look as cool as they possibly can.
Features that come standard on sling bags are padded sling straps, quick or easy-access doors to the camera body portion of the compartment, and extra compartments for everyday items.
It's just as important when shopping for any sort of accessories, but especially for camera sling bags, to focus on the features you need, revel in the features you want, and be surprised by the features you didn't even expect.
Value
Value is the proposition that manufacturers, designers, and retailers offer their consumers a specific amount of "worth" in their products. The value of an item is a relative description of the products worth. This is both good and bad in the news department. It's great because we can easily decipher a products worth here and now, but it's also bad because, like we mentioned a moment ago, value is inherently relative to the consumer.
So while we've done our best to describe the value of these products, keep in mind that said value is without the personal aspect of the product, because that would be unfair.
Value is a simple equation that anyone can do. It's noteworthy that value is essentially obtainable by all products, if you follow the simple equation we set forth here. The easy math is just that, easy. Take all of the criteria used to judge a product on, like Use cases, Features, Shock Absorption, Weather Resistance, and add them all up against your needs, then, match that up against the price. Products that are feature-rich, and made with the utmost care and quality of content will be something that will cost more, while features-lite products that may not have the types of materials or extras as the upper echelon of the field will be lower in price, but remain relatively even in value because of the trade-offs.
This general rule of value is something we hold dear, as a group that is constantly putting up consumer products against one another. It brings a fair and even evaluation to all products, leaving the vetting up to you depending on the results.
10 Best Camera Sling Bags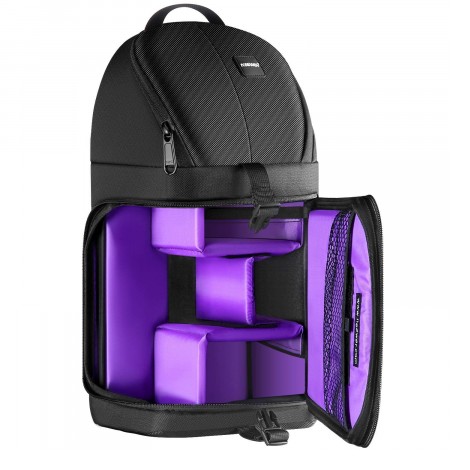 Neewer isn't a camera accessory brand/company that will often make first place in a lot of top ten lists, but they sure have made a habit of appearing on them, and in multiple ranks as well. As we spend the next few weeks talking about many different camera accessories, we're going to see the name a lot, so just get used to it now. They are perhaps one of the most quietly dominating brands in all of imaging accessories. And this product is absolutely top tier, and crazy full of value. Which is how it managed to snag the peak spot.
The Proof
Maybe it doesn't come up as often as it should, but there are something that make carrying around your really expensive camera gear a whole lot lighter on the heart, as you risk your stuff every time you leave the studio with it. The main thing would be waterproofing. Perhaps it's our fault, as photographers, not demanding this simple outer treatment of all our camera carrying products, but Neewer sure stepped up with their Waterproof, and Tear Proof exterior.
Large, Modular Compartment
A lot of camera storage gear is modular these days. In most cases, we would suggest flat out ignoring any gear that you come across that isn't modular. No two camera set-ups are the same, and no two photographer's needs are the same, which makes the space within your carrying bag something that should be specific. But how do you make a inner compartment specific for everyone, when their needs all differ? Make it modular. The velcro stuck walls can all be moved into many different positions, giving you the ultimate freedom of set-up and storage.
Cost and Value
At roughly the same price that you would pay for a large meal for two at any fast food joint, the Neewer Professional Camera Sling Bag isn't just a water and tear proof workhorse, it's insanely cheap compared to the high-end of this market. It's almost nothing. You can spend more than the cost of this sling bag on expensive cloth wipes. The value is crazy, and the product is very well made. It's an obvious choice for number one, we think.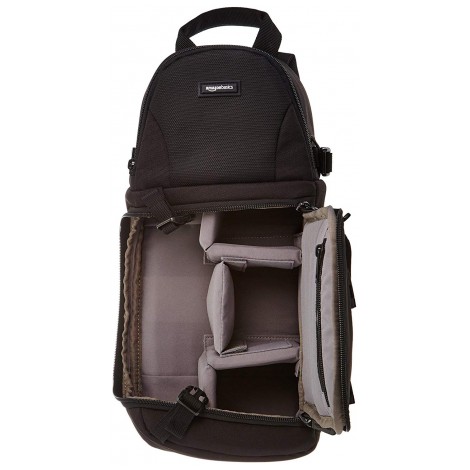 Another company that is always quietly destroying the competition within markets is Amazon themselves. They've always found ways to make inexpensive takes on very popular products and list them at such tantalizing pricepoints that it's difficult to ignore them. Yes, the AmazonBasics line-up is lower in quality than the big name brands, but it's also far cheaper in price, and thanks to our value equation, it holds.
Sits Small, Fits Large
Part of the difficulty in designing and manufacturing a bag for camera gear is the part where the consumers are always a little bit mixed on what they want. Most photographers would describe their perfect quick-access everyday gear bag as something that is both small, yet fits a lot of stuff. Therein lies the problem. However, the AmazonBasics Camera Sling Bag does a fantastic job of living life as a small bag, yet has enough capacity to store one DSLR with attached lens, and two extra lenses.
Two Stage Door
Another thing that plagues the minds of photographers as they walk around with their expensive gear strapped to their back, is security. There isn't a whole lot, on traditional bags, to stop someone from walking up behind you, ripping open the zippers on your bag, and taking your camera, or at the very least having your expensive lenses and body fall to the ground from back-height. The two-stage door on the AmazonBasics Camera Sling Bag has a cross strap that keeps the main compartment in place, even if you just open the quick-access door, making for a secure main compartment at all times.
Cost and Value
At a few cents cheaper than the Neewer Professional Camera Sling Bag that we propped up to the top of our podium, the AmazonBasics Camera Sling Bag just can't be ignored at this stage. The added security, the comfortable strap, the price point, the extra storage, it's all fantastic, and at this price, there's not a whole lot of room to complain about small corners being cut.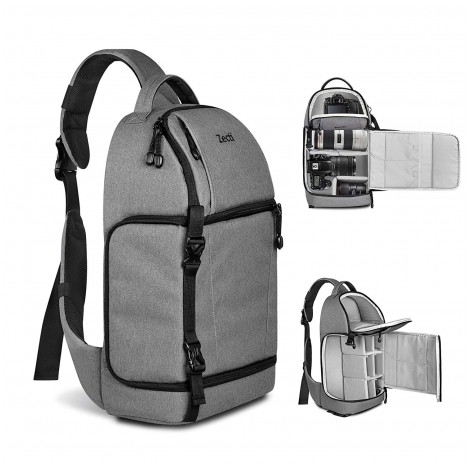 Zecti is one of those companies that you may never have heard of, but they have been dominating a weird sector of their markets in the middle in hushed tones, for years. They make all sorts of camera rigs, tripods, lights, camera bags, and even some video game console accessories. Their standard Sling Camera Bag is one of the nicest looking products we found on the market, and the complete set-up lives up to the reputation that the company has made for themselves.
Big Compartment
Though the Camera Sling Bag from Zecti doesn't look to be much bigger than the rest of the markets small-side sling bags, it holds quite a bit more than one would expect. From the diagrams on the product page, it can easily be shifts (the modular walls) to hold a full DSLR with zoom lense attached, a secondary lense and a full telescopic lense. That's big, as a lot of folks that photograph wildlife, and such need a good carrying bag.
Double Secure Tripod Sleeve
Much like the water bottle side pouches on everyday bags, most camera gear bags have slings and sleeves on the side to slap a tripod in so that you can take stable pictures on the go with you. The Zecti has a sleeve to slip two of the three tripod legs in, but it also has a strap and snaps near the top to secure your tripod to your bag in two spots. It's the ideal way to travel with your stand.
Cost and Value
It's a touch more than the Neewer and AmazonBasics versions of almost the same thing, but the Zecti brings a little more space to the party on the inside, and a lot more style to the game on the outside. It's a beautiful bag, inarguably, and fits a whole lot of gear comfortably. It's a real win win win in all aspects.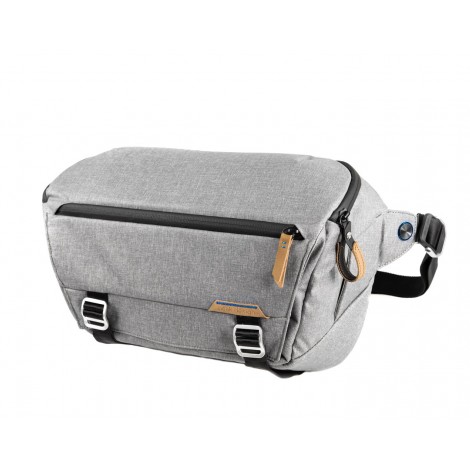 When we tell you that a brand has "got the juice" what we really mean (in millenial speak) is that something is so on point that there's no way to forget, ignore, or sometimes ever go back to what was before the products arrived for consumers. That's exactly what Peak Design has brought to absolutely everything they have made since arriving on the scene in style with an impressively crushed Kickstarter campaign. Their 10Litre Everyday Slingbag is probably the star of their entire line-up, so we had to put it on this list.
Compact Beauty
If you've never used a Peak Design bag of any size, let me tell you that there is no proper way to describe just how beautifully designed and crafted these bags are. No one would be cable to understand just how much you can fit within these bags until you've had the chance to try, and there is nearly no end to the kinds of kits you can fit within the 10L Everyday Sling.
Everything
Maybe we haven't been super clear, the Peak Design standard is absurdly high, and everything they've put into their products is meticulous, with intent for strength and durability, and comfort. The 10L Everyday Sling has so many clean design principles in place, it's the best looking and more protected bag you might ever own. It's waterproof, hard to break into, easy for camera operators to access, lasts forever, and looks absolutely stunning.
Cost and Value
There's little way to properly justify the price tag on Peak Design camera gear products other than to say that as of right now, they are my favorite company in the game, and almost all of my carrying gear is made by them. The astonishing design practices, and versatility of their products is almost beyond measure. If it weren't for the standard and the inexpensive products in this market, there would be a Peak Design product at the top of this list. Or just this 10L Sling in all ten spots.

5

. Lowepro Slingshot Edge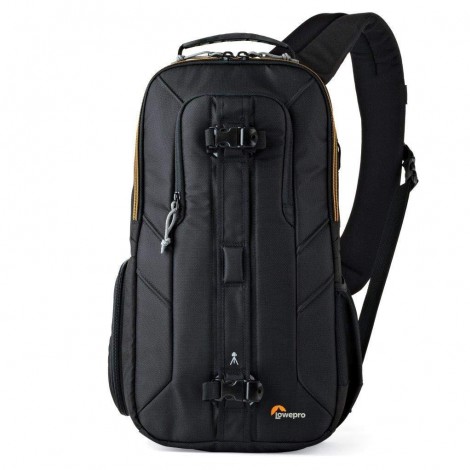 Lowepro is, contrary to most of the stuff we've written today, one of those brands that is well known, and is offered at so many stores across the world. They aren't an easy product brand to pin down to a certain side of the market or another. When they first arrived, one could easily call them budget, but now, they maintain a very beautiful middle-ground that just isn't done all that often in the camera or imaging marketplaces.
Fast Access, Back Closure
Something that the Lowepro Slingshot Edge does, that not enough backpack camera bags do is make the full opening for the gear compartment open to your bag. This means that the bag has to be completely off your back in order to get at all of your stuff. This adds a huge lift of weight on your worries, as there is no way to get to your things while the bag in on your back, and out of sight. The instant-access closure is well situated on the side of the bag for access to your camera within seconds, and just your camera.
Carry Your Essentials
The upper portion of the Lowepro Slingshot is something to marvel at as well, with enough space to carry medium or small tablets, books, headphones, and so many more of your traveling and walk-about essentials. It's a match made in heaven. There are even a utilities pouch out on the front side that has enough space for writing utensils, cellphones, and more. It's a storage bonanza!
Cost and Value
Like we mentioned earlier, Lowepro used to be one of those brands that made discount products that maybe could have used a lot more work. There is a lot to be said about the quality of work they are doing these days, however, making amazing bags like the Slingshot Camera Gear Bag that has all the additions and points of pride that one should expect from a three-digit price tag. It's a wonderful choice for those in needs of a sling bag.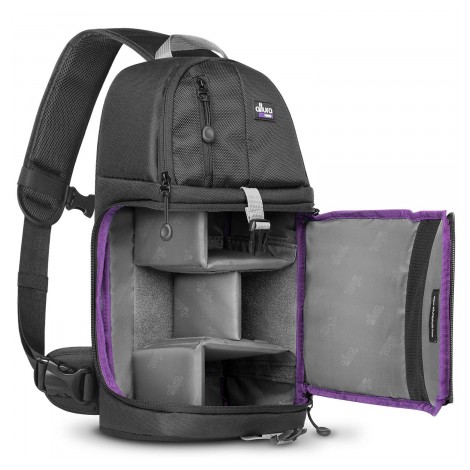 If you take one look at the Altura Photo Camera Sling Backpack and think "Hey! I've seen that bag before, even on this list!" that's because you're not entirely wrong. In what is essentially an exact copy of the Neewer Professional Sling Camera Storage Bag, the Altura Photo Camera Sling Backpack brings you a lot of the same amazing features that their inspiration gave, with a slight discount in the cost department.
Budget Friendly
It's not all that often that we select the price of a product to highlight during the actual listing, but the price on the Altura Photo Camera Sling Backpack is just too good to ignore. There is so much room here, in comparison to the top end of the market, that you can get so many other things to go alongside your new sling bag, thanks to all the money you've saved with this frugal, cost-cutting purchase.
Extra Wall Divider
While it may not be earth shattering, the extra little velcro wall divider that comes with the Altura Photo Camera Sling Backpacks makes it extremely easy to store a DSLR body with small lens attached, and three full-size lenses, all within the main compartment of the backpack itself. This is a crazy amount of gear to be able to bring around with you.
Cost and Value
At a slightly cheaper price point than the Neewer Professional Sling Backpack, and with almost the same design, it's a big of a toss-up. Maybe this bag would have landed atop our list if it had given more thought to the internal colors, width of the padding, or the exterior appeal. Either way, the Altura Photo Camera Sling Backpack is a crazy great deal, and will help you carry around a ton of gear.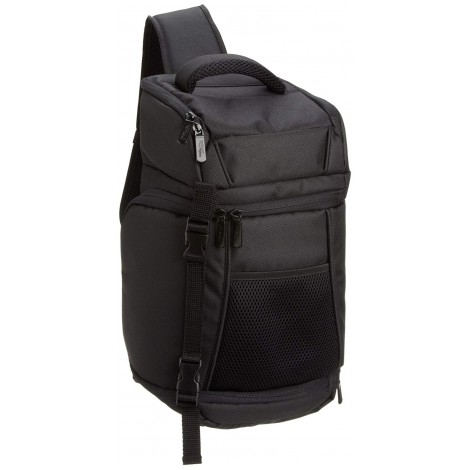 Our only repeat brand name on this list (that's pretty crazy right? How many industries and sub-sects of industries can boast this many quality options?) is AmazonBasics, and that's because no matter where we go or what it is we're talking about, we can't shake how well they make their budget products. There's a strong reason for their success with this line-up of cheap consumer products, and that's because they're made far better than their price speaks.
Access if Key
If we haven't driven it home enough by now, know that the biggest key to the success of any camera sling backpack is that there is a quick-access compartment. This is usually exactly where the full body DSLR is designed to live within the main compartment, and is usually access via opening a percentage of the main door. Often, the section of the door that needs to be opened to access your camera is controlled by an additional security strap that keeps the entire compartment from opening. The AmazonBasics Sling Backpack for SLR is the same as their DSLR version, just a big smaller.
Stand Up
One of the biggest pet peeves with using a backpack of any kind for one's gear is the access to the entire thing. Almost all of the time, you have to take the bag off, and lay it down some way on the ground, and pick at the compartment. The AmazonBasics bag comes with two large rubber feet on the bottom that keep the bag upright when you put it on the ground, and a strap on the top to help you pick it up easier.
Cost and Value
At a fraction of the cost one would assume they would pay for a great camera sling bag, the AmazonBasics SLR Sling Backpack is a great deal, that will help you carry around a bit of gear without all the hassle of roller-carts, or large uncomfortable backpacks. It's truly something that every photographer should have, and why not get an inexpensive and trustworthy one while you're at it.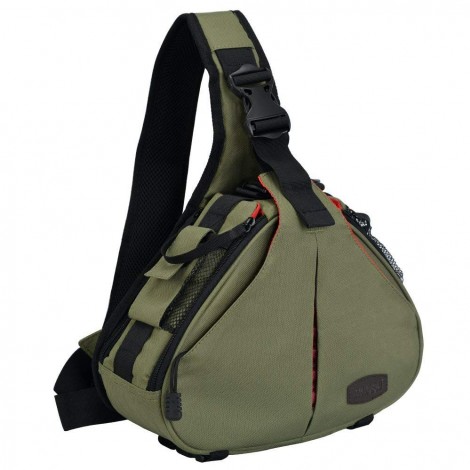 For the first time on our list, we're looking at the amazing fortitude of one of the best side brands in the world of imaging and camera gear, and that's CADeN! This, their DSLR Camera Sling Bag is one of those items that can look really weird from the get go, but will eventually turn everyone into people who say "why isn't everyone going with this kind of design? Yup, it's unique, and brilliant, all while offering a ton of support and assistance to the wearer.
Dual Access
There is a not a whole ton of room in the CADeN DSLR Camera Sling Bag, but that's okay, because they are doing something that no one else is, and that's allowing users to access both sides of a triangular shaped bag for quick and wonderful access to your camera on one side (with an attached zoom lens), and your backup or secondary lens on the other. Both sides have access doors, making it easier to grab your other stored gear.
Proof and Pudding
Not only do the pads on the inside of the compartment, modular velcro wall padding, and lids of the compartments have 7 layers of foam padding making for an almost drop proof bag, the external materials are treated to be completely waterproof. If that's not enough for you, the CADeN DSLR Camera Sling Bag also comes with a removable rain cover to ensure that the fiercest of downpours does not get at your gear.
Cost and Value
One would think that having a brand name a lot of people trust and admire, and some fairly unique and awe-inspiring design implementations would draw up a larger price on the tag, but it does not. Keeping in mind that the internal storage capacity on the CADeN DSLR Camera Sling Bag is slightly smaller than most of the products on our list, it's roughly near the bottom of the price range. Almost at the bottom to be exact.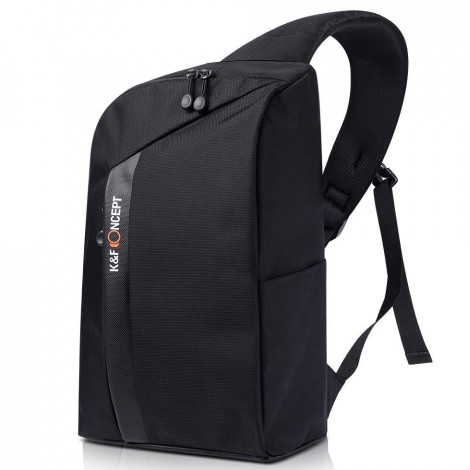 K&F Concept isn't a brand that you've probably heard of. In fact, it wasn't really something that we had heard of either. But that only goes to show just how great we think this particular bag is, because it has made our list, and we found it a perfect home in the number 9 slot. K&F Concept make a huge range of really amazing camera accessories and we're definitely going to be looking at them a lot more when it comes to imaging gear, thanks to the discoveries we've made with this product.
Wearable
Something that makes the sling style a no-go for a lot of people is the discomfort in wearing a bag with a strap that has to go around and across one's chest. It's pretty much a standard across the market. One thing many people don't think of is that this design makes it almost impossible to wear in any other way, but that's not the case with the K&F Concepts product, which you can wear over a single shoulder if need be, or even carry at your side like a suitcase thanks to a side handle.
Not Just a Camera Bag
The interior compartment of the K&F Concept Camera Sling Backpack is one of our favorites. It's padded well, it's deep, and it's modular. But the best part about it is that it's not actually built into the bag. The completely removable modular camera bag insert can disappear in an instant, transforming your K&F Concept Camera Sling Backpack into a leisure bag without any sort of hassle.
Cost and Value
Being a completely waterproof bag, and one that can adapt to non camera days just as easily, makes the K&F Concept Camera Sling Backpack a dream. Add to that it's ability to carry a regular sized Macbook laptop, the ability to wear it multiple ways, and it's ability to carry a camera body with two additional lenses makes one of the more perfect all-around packages we've come across in our journey.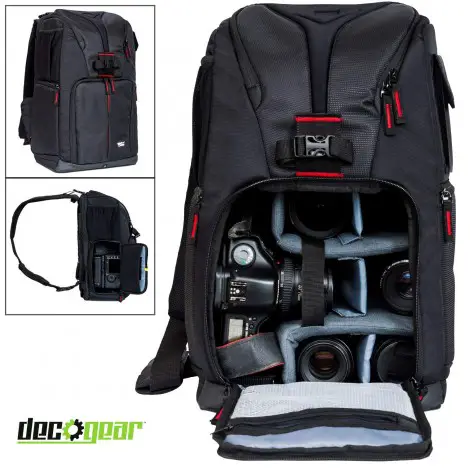 Originally, we were going to put another Peak Design product up here in the last spot but then we found this bag, and we fell so hard for it, we just couldn't leave it off the charts. Some might look at it and ask "Who is Deco Gear?", while others might see it and say "Isn't this a backpack?", and lastly, some might ask "what are we having for dinner?" Nope. That last one was just me? Okay.
Not Just a Sling Bag
One of the best things about this bag, and this is going to sound weird, is the fact that it has a very good shot of being disqualified from this list, because it's not necessarily a sling bag. There are three strap configurations with the Deco Gear Photographers Sling Backpack. You can have a left cross sling, a right cross sling, or just normal backpack straps.
Size Matters Sometimes
Most of the bags (actually all of the bags on the list) can only hold a single camera with lens, and sometimes up to two additional lenses. The Deco Gear Photographers Sling Backpack has the main compartment capacity to hold a DSLR with an attached lens, and upwards of five additional lenses. This all differs depending on how you configure the velcro walls within the interior compartment. It's a large bag, and fit for a large amount of gear.
Cost and Value
Something that probably helped Deco Gear get on this list with the bag is that this extra-large, heavy-duty backpack transformer sling bag isn't slapped with a ridiculously large price tag. At just a bit more than our average budget sling bag, the Deco Gaear Photographers Sling Backpack is a great deal larger, and packs just as much value as the others.

Subscribe to our Newsletter