Best Light Reflectors Reviewed & Rated for Quality
In a Hurry? Editors choice: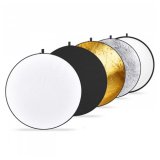 Test Winner: Neewer 43-inch

If you're any kind of photographer or cinematographer, then you know the simplest rule to capturing and creating beautiful imagery;
light is key
. For some, light is all they want to create with, and for others it's a necessity, but in no case is the light inconsequential, making it the most important aspect of visuals.
Light reflectors allow the "bouncing" of lights (from either natural or artificial sources) to help fill in the areas of an image that is crowded by shadows a little bit too much. Reflectors are a key tool for a photographer, and act extremely crucial in cases where you may only have one source of light, or you need light to come from a direction that you cannot facilitate putting a source.
Here are the ten best Light Reflectors on the market, right now!
Standout Picks
Criteria Used for Evaluation
Use
We've gone over it a bit so far, especially if you read the intro to this guide, but the biggest purpose and cause for one to need something like a light bounce, or as they are technically called, a Light Reflector.
Light is the key ingredient in photography. Whether you're using color or black and white to tell your story, light is going to play a huge (and probably starring) role in your tale. And while there is plenty of opportunity, and you'll find many times where shadows can make a huge impact on your photographs, the general idea of a light reflector is to help make shadows a non-factor in whatever it is you're trying to capture. A reflector, by duty, takes light from a source -- like the sun, that great giant ball of fire in the sky, or studio lights -- and reflects it onto your subject in a pliable way. This allows the artist (or capturer) to fill dark shadows, or dilute them just a tad.
Other uses for the different types of light reflectors -- using the multiple different types of faces that they come with (most of the time) -- do things like bring a warmer light to your subject, if you use the gold metallic bounce. Or bring a flat light, if you use the flat white face. Causes and effects, those are the real purpose of light reflectors, and the use cases should be on the forefront of your mind as you vet your options out there.
Almost all of our choices come with the standard five-in-one dealio, where you get five different types of bounces from a single products, and this obviously brings more use to the product than if it were to only have a few.
Getting the most out of your reflector is key here.
Portability
Normally we don't like to put things like portability or mobility all that high on lists of criteria, especially for that of photography gear, because most of it is portable to an extent, and yet when we use it, it's meant to be still.
The portability of your light reflector, however, could mean the difference between getting the right one, and the wrong one. Unless you're a photographer that already has a bunch of light reflectors in their kit, or at their studio, and you're not just looking to add another set to your load-out, then you're going to probably want to take this product with you, and nothing is worse than lugging about a bunch of gear. Especially when you consider how often (or should we say little) those things might be used if you're on the go.
Almost every single one of the light reflectors on our list are completely collapsible. That being said, their version of "completely collapsible" might not be as small as you're hoping for. Or, that might not be as small as you need, which is way more important.
Taking the time to adjust your search depending on how portable you need your gear to be, might be a really strong choice to make in this particular market. Most (like we said a minute ago) can fold down to roughly a quarter of their original size, and the majority of them come with carrying bags. But these are still products that won't be easily slipped into any of your bags, and definitely not into your pocket.
There are a few exceptions on our list that either aren't very portable, even when the disc is folded down. Or they are studio setup light reflectors and just aren't designed to be portable in the first place. Ensuring you get the right kind or size of light bounce is particularly important in the world of light bounces.
Value
Every single consumer product has value. Let's just get that out of the way from the get go. There are a ton of great things out there in the world, and it's important to understand that everything, on their own, has value. There's inherent value in them as products. Whether or not you decide to markably challenge one product's value against another specific product's value is your choice.
We, however, like to prop products up on their own value, and then decide which of them best fit our needs. Or, one can easily compare the percent of need or value is completed by said product. If one thing hits 98% of the points you need it to, that's pretty easy to compare to a product that can only match up to 70% of what you're looking for.
To find a product's inherent value, you first have to mark down all of the criteria that you use to judge said product. We're in that stage now, with this list, so the criteria would be the Use, the Portability, the Materials, and the Effectiveness. Take all of those ideas of what makes a perfect product in this market, and you match how well they fill out those criteria with the price point it's up against, and the price it's listed as.
This simple equation gives a clear indication of value no matter the budget. Cheaper products will have value, but fulfill less of those criteria to their fullest, while more premium products will do better in those criteria categories, and even add others, but will cost you more in the wallet department. This is the even trade that we rely on to properly judge the value of products regardless of their shopping brackets.
10 Best Light Reflectors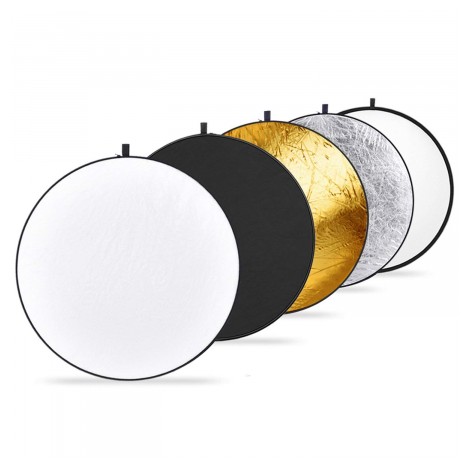 It's almost a surefire thing now when we take the time to highlight the best of camera accessories or tools throughout the market, we're almost guaranteed to mention a product from Neewer. Even better, their products are almost always landing on the podium. Neewer is a fixed face in this crowd now, and produce some of the best additions to anyone's kit, today. This, their 43-inch collapsible disc light reflector is something that encapsulates all that we want from a reflector and more.
Collapsible Cool
Certainly, you will come to know that almost all light reflectors made today are collapsible, making this pro not a gigantic stand-out from the rest of the crowd. But it's key to note that it should be a feature, and Neewer doesn't disappoint when it comes to making their light reflector easy to cart around in a bag or case, thanks to it's circular twist collapse, which makes the disc a quarter of the size while traveling.
Many Faces
Part of the deal that comes with vetting these photography light reflectors is that you can't just settle for a single face on the bounce. The Neewer 43" Collapsible Multi-Disc Light Reflector is a 5-in-1 reflector that brings five different sleeves (or covers) to put over your disc. Each of these disc faces provide a drastic difference in the type of like that is bounced onto your subject. The five includes a gold foil, a flat black, a semi-opaque white, a flat white, and a silver.
Cost and Value
At less money that it will cost to buy you, your assistant, and your subject fancy drinks from Starbucks, the Neewer 34" 5-in-1 Collapsible Light Reflector is the king of the crop, because it does all it is asked to do, a whole lot beyond that, and is affordable for pretty much anyone. Neewer continues to make a difference in the affordable accessories for image creators realm, and you'd be best to consider something they offer for almost any solution you need.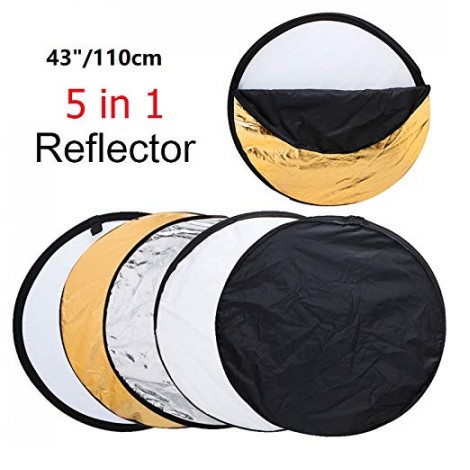 While there is a lot of room to continue to promote a lot of the same products from the same company, and Neewer definitely has enough reflectors to do so for a while, we thought our second place spot would be best reserved for a slightly cheaper (in more than one meaning) version of that exact Neewer 43" 5-in-1 Reflector Disc from the top spot.
The Five Faces
As this is going to get repetitive, we are going to continuously mention some of the same pros for these products, because there isn't a whole ton of variety in what folks can expect from these light bounces. Much like many other options you're about to see on our list, the 43" Photography Studio 5-in-1 Light Reflector comes as a standard translucent white disc, and is packed with a gold foil, flat black, silver foil, and flat white skins to put onto the disc, for use in so many different ways.
Carry With Ease
Thanks to a pretty well made carrying case, the 43" Photography Studio 5-in-1 Light Reflector Disc is easily carried around with the rest of your gear, and spin-folds down into something cmall enough to fit into almost any bag or backpack. This is a key feature in any camera or imaging accessory, because most of the time photographs aren't taken at the place where all of your gear is. It's crucial that you focus on gear that is portable, for the sake of you and your needs to travel with it all.
Cost and Value
We mentioned at the top of this review, that you're basically getting the same thing that Neewer is offering with their 43" Reflection Disc, and that's essentially true, but what you don't get is the Neewer quality that has made them a heavyweight in the lower-brackets of camera accessories. For that change in quality, you get a 25% discount on the price, which puts their value roughly the same.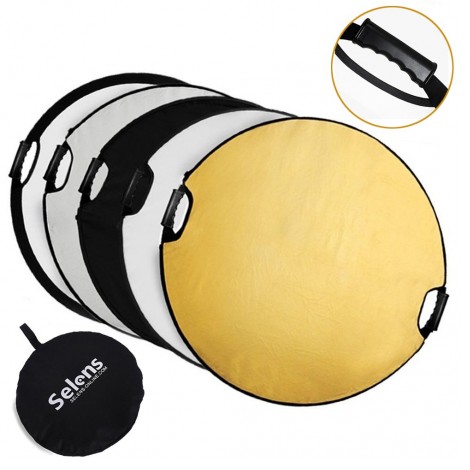 Our number three spot on this guide goes to a product that does a lot of the same things, but brings a few more ideas and carefully crafted product aspects together to make something that sparks adoration. Rounding out the podium for our light reflectors, Selens has a 5-in-1 Portable Handled Round Collapsible Reflector that is well worth your time to check it out. And we promise that it is.
Key Handles
There are two things that studios have that, most of the time, photographers shooting while wandering around don't have. Those are stands, and clips. In order to make things easier for any photographer looking to bounce some like, the Selens 5-in-1 Portable Round Reflector has two very comfortable handles on either side of the disc. This not only makes it easy to hold, but also very easy to hang or hook on things as needed -- as many photographers don't have assistants.
Protective Coating
One of the advertised features of the Selens 5-in-1 43" Inch Portable Round Reflector is their amazing four tier coating practice that adds so much protection from all sorts of things to their product. The four types of coating start with a protective exterior coating that protects from scratches and erosion. Then it's a rubber reflective coating for high quality reflective surface. Then an isolation layer that ensures the reflective layer of coating is kept away from any wavy or grainy fabric, which would make the reflection unsmooth.
Cost and Value
At the same place as the Neewer disc, with a few things (ultimately really good things) added to improve or make the product that much better, it's a bit surprising that the Selens 5-in-1 Portable Round Reflector Disc is the same price. There's going to be a lot of repeat in the price department during this list, and we're excited about that, because the is a ton of value in these products. Value that will bring better lighting to your images, whether they are still or moving.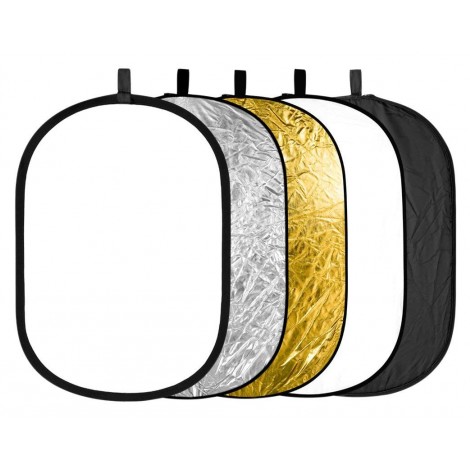 This is only the fourth of the products on our list and already we're showing you another product from Neewer. They are so fantastic at providing consumers with a product that is worth your time, and offering up a large amount of variety across all sorts of types of accessories ripe for the picking if you're a photographer or image specialist. This, though it remains roughly the same as their other light reflector products, has just enough that is unique, to set it apart from many others.
Rectangular Shape
It's the first time on our list that we take a look at a light reflector that is not a perfect circle, and there is a very good reason why the rectangle is a strong choice, and maybe even the same reason why it's better than the circular versions. That reason is the skinny width. Instead of dealing with a bounce that is even size on all side, the rectangle shape allows the photographer to get that much closer to the subject, without much hassle, and without giving up any of that light reflected.
Larger Sizes
In a case where Neewer is almost replicating large format studio versions of a light bounce, or softener, the Newer 5-in-1 Portable Collapsible Multi Disc Light Reflector has their normal 60x90cm size (which is rather large already), but they also have a wonderfully huge 120x180cm version of the exact same thing. It's large, and so very versatile.
Cost and Value
Would you be surprised if we told you that this keenly rectangle shaped collapsible light reflector disc is twenty five percent cheaper than the product we listed at the number one spot? Well it is, and we were just as blown away as you probably are right now, when we first saw what it was listed at. Of course, the larged option will run you more, but these are such great light reflectors that we just think that everyone should have one.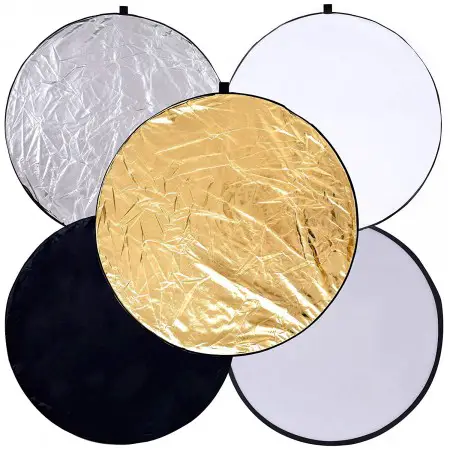 When it comes to products like the kind we see here, something that on the surface feels so simple, we (as consumers) are drowned with a bounty of options from all sorts of angles, and we're very fortunate because that large sea of options also comes with an astoundingly dizzying selection of prices and quality, bringing value from all kinds of brands and names we've heard of, and names we've never seen before. That's the true beauty of shopping for accessories that are easily copied.
Think of the BUDGET!
There is nothing more daunting about putting together an entire selection of gear than the price of it all. If you want to build out a mobile loadout, or even a small photography studio, you're going to have a long shopping list, and that list will have a bit of heavy number in the total price department. So, why wouldn't we all take some cheaper options when and where we can. Somewhere that we can definitely vet on the budget-friendly side.
Size Options
There are many people, and many options out there, that need to lean (or even want to lean) towards smaller gear for so many different reasons. Yanan, makers of a million tiny things, have propped up more than a handful of different sizes for your needs. There are five total sizes for this one specific product, that range from 24 inches (at smallest) all the way up to 43 inches. And at this price, you could grab a few different sizes to have around.
Cost and Value
In any market, there's always going to be a real place for a pretty good budget item. In the realm of gearing out a gig bag, or setting up a studio to better handle any situation, there is ALWAYS always room to vet out some cheaper options. The Yanan light reflectors, at their decent make and budget-friendly price, make for great options when and if you're in the need to produce smaller bills.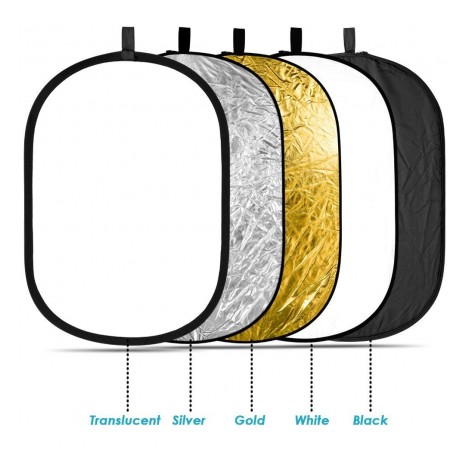 We're only six items into this list and we've now mentioned this single company three times, so it's safe to say that not only are we fans of the folks at Neewer and the things that they produce, but those same products are worthy of your attention. It's difficult to say with vast assurance that a company in the accessory business will hit it out of the park every time, but we challenge you to find a Neewer product that isn't worth it's weight.
The Size of the Matter
For every clear instance where someone would be better off using something that is compact, capable, and easy, there is another opportunity where the larger option would be far more viable, and there's nothing like bouncing a whole ton of light to make one realize that larger can be better sometimes. Such is the case with the Neewer 79 inch light reflector. This monster of a bounce is such a great option for many different opportunities and will come in grand handiness.
The Five Faces
As has been the case with every single light reflector that we've propped up on our list today, the extremely large Neewer 79 inch bounce comes with the ability to wear up to five different faces (not all at the same time of course). There are flat faces (white and black) that softly spread the light. As well, there are two metallic faces (silver and gold) to heavily reflect. And lastly is the original partially opaque white body of the bounce with nothing on it that allows some light to pass through it. This combination of five types helps creators in all sorts of situations.
Cost and Value
Take the established awesomeness of Neewer light reflectors, and bounces, and multiply the size by almost double, and you'll get roughly the same price ask as any of their other similar products. It's no science. They make wickedly great products and don't play around when it comes to listing them at respectable prices, giving all of the value away to their customers, and the proud owners of awesomely crafted light bounces.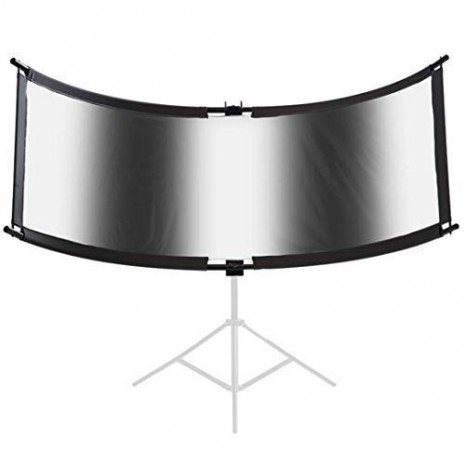 When it comes to a market -- any market, the type of product rarely seems to matter -- there is always going to be a premium end. In the case of photography, and light bounces (or light reflectors), that premium end comes in the form of something like this, the Eyelighter TriFlector Clamshell Light Reflector from Lumanio.
Metal Body
Maybe if you're not the T-1000 from Terminator, you don't know the bliss and quality that comes with a ruggedly metal body construction. The Eyelighter, TriFlector Clamshell Light Reflector from Lumanio has a fully metal frame, that will bring a very strong and sturdy reflector into your life. Part of the reason metals are used in most tripod and stand construction is because whilst shooting, the last thing you need to worry about is the flimsiness of your set-up. The metal frame here, adds to your comfort.
The Clamshell
Just in case you had yet to notice it, the Eyelighter, or TriFlector, or Clamshell Light Reflector (I guess they couldn't just decide on a single name, so they went with everything), is a very odd shape. But is it really? This, the clamshell reflector design, is very common in the studio space. The industry has gravitated towards the collapsible soft reflectors in order to have something they can move around with at ease. The clamshell does an astounding job of collecting light from a wide source, and reflecting it onto a small source. Soaking up and bouncing light onto a face with great substance and accuracy.
Cost and Value
The absolute premium style and techniques used by folks that photograph with clamshell light reflectors does a very accurate job of describing the type of price point you should expect when it comes to picking up something that is at this (the admittedly far) end of the marketplace. What Lumanio brings to the table with their Eyelighter, TriFlector, Clamshell light is something truly to behold. It's quality ontop of quality.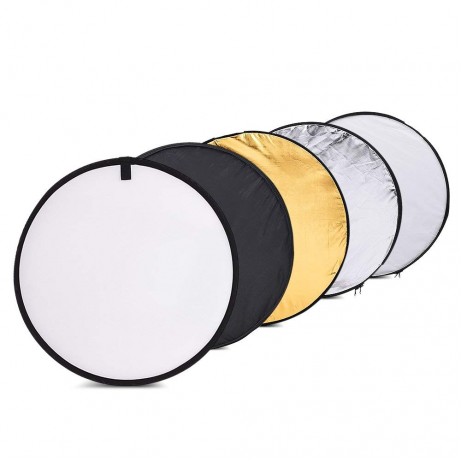 Sometimes in life, it's just easiest, or even best, to take the small road. Maybe it's a road unpaved, or maybe it's just scaling down the size of the light reflector you buy because in all honesty, there's no need in your gear bag for a 100 plus centimeter wide light bounce. That's probably where this TomTop 24-inch 5-in-1 light reflector somes in. It's got the price you really want to pay for something that can be very useful, and comes with all of the versatility that you've come to expect from this market in the (now eight) options we've listed thus far.
The Five Faces
Much like all of the other 5-in-1 light reflectors we've listed so far, the TomTop 24-inch Portable Photography Studio Multi Collapsible Photo Disc is (on it's own) a semi-opaque white circle, but comes with two reversable sleeves. These sleeves change the reflective surface of the bounce. One is metallic and has silver on one side, and gold on the other. The other sleeve is flat, and has a black side and a white flat materials. These five alternative faces make the light reflector versatile.
The Size
Across our entire list, one of the most substantial things that keeps setting these products apart from one another is the size. This is purely because the sizes make a huge difference in whether or not the product is for you. The bigger the bounce, the more light can be reflected. The smaller the bounce, the easier it is to carry around and wield.
Cost and Value
For less than a single large meal at any of the well established (but not very well respected) fast food establishments, the TomTop Portable Photography Studio Multi Collapsible Photo Disc is going to be extremely palatable for a lot of people, and we can't really blame them. It does a whole lot of the same things that these other bouncers do, but comes in a nice small size, in both measurements and price.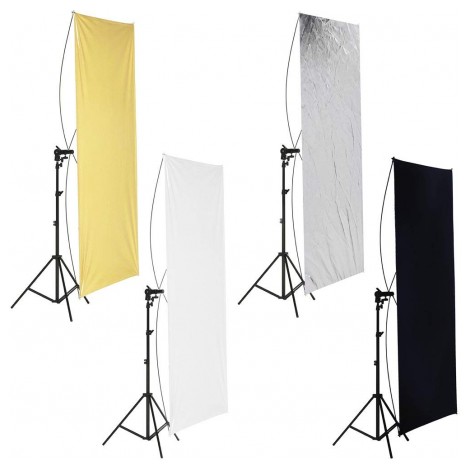 Alright. We swear. This is the last time will we show you a Neewer light reflector. Wait. Let me check ahead and make sure number 10 isn't also a Neewer product. Nope. It's not. We're good. If we haven't done a good enough job convincing you that Neewer makes pretty great products for their lane, and that all of them are worth the time to vet, or even pull the trigger on, then well, maybe we haven't been clear. Neewer is probably our favorite brand at this end of the market. They make surprisingly great products in an area that doesn't demand that kind of response.
Tall Trees
The Neewer Flat Panel Light Reflectors do quite a bit differently from other product on our list, and even sets itself apart by quite a margin from other offerings in the Neewer line-up itself. The tall, and thin panels are more the size of blacks or cut-off panels used in film and studio settings to ensure light bleed does not happen. These, are astounding light reflectors that also do a good job of that.
Quality and Portable
Not only are we seeing some of Neewer's best quality builds here with this fantastic and sturdy metal stand and butterfly sheet hold, but the entire thing is completely collapsible and portable thanks to a nice carry bag, and intriguing manufacturing. It's such a versatile tool to use in so many situations.
Cost and Value
Sure, they cost a bit more than most of the offerings from Neewer in the Light Reflector department, but that's because they are a ton more. These tall Flat Panel Light Reflectors by Neewer are almost essential to any studio set-up thanks to their sturdy build, fabulous design, and ultimate versatility. Neewer has outdone themselves here, and no one can argue that the price they're asking for here is unreasonable.



For our last item, we didn't want to do anything weird (which is sometimes our prerogative, as interesting options usually bring out the best in our searches) but we found something that is perfect for those looking to add more than just light reflectors to their studio set-up. In order to bounce light, you need light, right? Which makes this package deal from Grandekor so perfect.
Soft Box Lights
This bundle is mostly about the light reflectors, and that's why we're here because that's the name of the list. But the fact that this bundle comes with two amazingly capable softbox lights is a sight for sore eyes. Everyone needs more lights in their studio. Things to set-up and play with, and these well-made stands, hold well-made softboxes, that even come with LED bulbs for your lighting pleasure.
2-in-1 Reflector
While almost every single other entry on our list is technically a 5-in-1 light reflector, this double-sided silver and gold 2-in-1 light reflector doesn't fall too much shorter than those ones. It's an amazing product that will bring warm or contrasting light to your studio or outdoor photos for years to come. The added bonus comes in not having to put on, or take off sleeves in order to change up the type of bounce you're using.
Cost and Value
At the same price at the Neewer Light Reflecting Flat Panels, this bundle from Grandekor brings you a simple and easy to use 2-in-1 light reflector disc with silver and gold metallic sides, as well as a brilliant pair of simple softbox lights, that come with great hard metal stands for the lights, which you can use for other things as well. It's a great bundle to pick up for anyone.

Subscribe to our Newsletter