Best Machetes Reviewed and Tested
There is no shortage in choice for machetes. It's an odd kind of market, as the majority of consumers interested in a machete are focused on looks than quality. That's a pity because the machete has a long and varied history as a vital piece of equipment.
With that in mind, there are still many good options for reliable, hard-working tools that you can trust to get the job done; and a little searching soon turns them up. There are several included in this list. And of course, for those that want an imposing-looking model – either for strapping to the belt or for self-defence; there are a few of those options below, also.
Featured Recommendations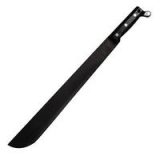 18" Military

Our rating
American made
Price:

See Here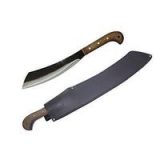 Parang

Our rating
heavy duty work
Price:

See Here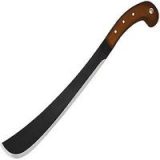 Golok

Our rating
robust
Price:

See Here

Why you need a machete
Unless you live in an apartment in a busy urban city like Manhattan, a machete could be a useful tool to have. One of the most common uses for the tool is with cutting down brush and maintaining trails. If you love hunting and fishing, you know how inaccessible some areas can be. Also, after killing an animal, you can use it for breaking the carcass down into manageable units. When hunting, you could also use a machete to protect yourself from aggressive animals. A machete is also a great tool for breaking down compost if you involve yourself in any level of agriculture. Think of other agricultural tasks, too, such as harvesting sugar cane, oats, rice, corn and more. The possibility and usefulness that a machete has seems virtually endless.
It truly is the multi-tool you need. Not only is it great for hunting or agriculture jobs, but for camping, hiking, backyard clean-up jobs and more. It has become an increasingly popular tool to have in your kit because of its versatility. An ax could accomplish a lot of what you would use a machete for, but often times it is too big and bulky. Likewise, a knife is useful, but could be too small for survival, defense and other tasks. That is why the machete is so popular. No matter which style you choose, it is just the right size to get the job done.
The history of machetes:
There is not one clear origin story of the machete. However, its design probably developed through many different designs from the use of swords and other knives over time. One thing that is certain is that the machete has been around and in use since at least the 16th century. An example is that in the mid-1700s Cubans were using them to guard the city when Great Britain attacked. It wouldn't be surprising if machetes had been used long before then, even.
Knife historians agree that the original concept of a machete likely stems from the falchion, which has a lot of similarities to the billhook. It was a popular one-handed medieval sword in the 13th century that offered incredible versatility much like we see today. On the billhook, the blade was curved inward, which improved cutting ability.
This seemingly timeless tool has been used throughout history to today in many of the same ways:
Agriculturally – it is renowned for its superb cutting ability, which is perfect for harvesting crops.
Clearing brush – this reduces the risk of wildfires and helps clear out walking paths and trails.
Camping – perfect for chopping firewood or wood for building shelter.
Food preparation – they are often used to butcher and prepare game after the hunt, the split open coconuts, harvest grapes and chop up vegetables.
Self-defense – throughout history this has been very common and still is today. It is an easy-to-carry yet aggressive tool that helps keep you guarded when out in the wild.
Criteria Used to Evaluate the Best Machetes

Steel Type
The primary function of a machete is to chop rather than slice. This exposes the blade to continued shock; and the steel needs to be able to cope with that. It stands to reason then, that 'sharpness' isn't as important for a machete as it is for a butcher's knife. Steels made for hardness and edge retention are favoured for machetes – even if it takes a little more work to sharpen them.
Steel hardness is a property derived from the amount of carbon present in the steel – and that's why most machetes advertise that they are made from 'high carbon steel'. Don't go on face value here though, as without the reference to what grade of steel it actually is – 'high carbon' means nothing.
Steel grades that are good for use in machetes include such classes as the following:
1075 high carbon steel
1085 high carbon steel
1095 high carbon steel
These numbers refer to the percentage of carbon in the steel; for example, 1075 means that there is 0.75% carbon present, 1085 has 0.85%, and so on.
Other classes of steel commonly found in machetes include 3CR13; which is a stainless steel. Stainless steels generally aren't as hard as carbon steels, but they do offer greater resistance to corrosion. This can be handy depending on the environment you plan to use the machete in.
Blade Design
There are many and varied machete blade designs available. These usually stem from regional machete designs from around the world. Common blade types include the following:
Bush/Latin machete – these are good all-rounders featuring a long, straight-spined blade. Weight is evenly distributed throughout the blade and they can be used for a variety of tasks.
Parang/Golok machete – these blades are curved, along the cutting edge as well as the spine of the blade. With weight distribution leaning towards the end of the blade, power is effectively transferred into a good chopping action – and they're perfectly suited to heavy-duty work.
Kukri machete – the Kukri blade design is instantly recognisable and separate from most other machete designs. These are usually shorter knives, and they offer powerful forward-weighted blades coupled with a pointed tip. The finer section of blade close to the hilt offers increased versatility for a variety of more delicate tasks.
Bolo machete – this is a simple yet highly effective chopping design, putting plenty of weight into the end of the thick blade.
Blade Length
The length of the blade on a machete makes a big difference in its intended use. If splitting kindling for the fire is to be the main purpose, a short blade is far easier and safer to wield. On the other hand, trekking through jungles and clearing paths through all kinds of vegetation can be easier achieved through a longer blade, which gives the user greater reach and power to do the job with minimum effort.
Blade Thickness
The tasks that a machete is exposed to put a lot of stress on the knife. For this reason, as well as to produce more power, blades are designed to be thicker. Thick blades stand up to abuse much better than thin ones – but don't expect to be able to get them as sharp as your pocket knife. A machete doesn't need to be shaving-sharp anyway. Machetes with slightly thinner blades can be honed to a corresponding degree of sharpness and are more useful for light-duty cutting and trimming.
10 Best Machetes
1. 18" Military – Ontario Knife Co.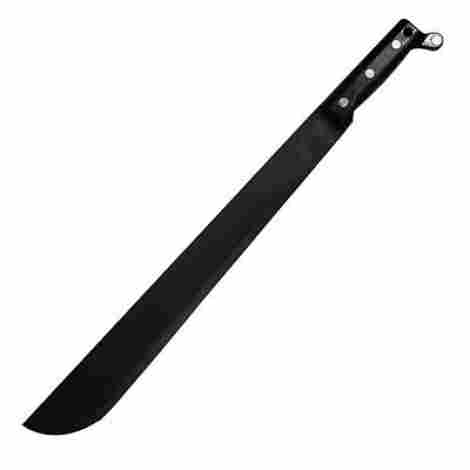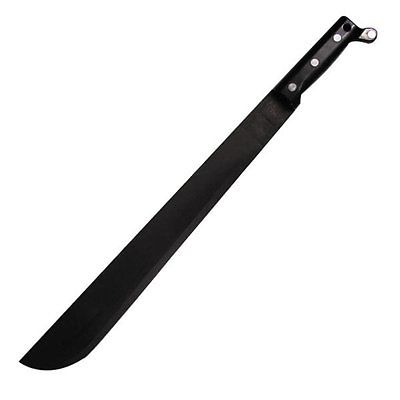 Let's be honest – the majority of consumers interested in machetes are posers. This interest in gimmicks quickly floods the market with cool-looking, poor quality products. Not so with Ontario Knife Co. – the only American made product on this list.
Expand to see more
A Tool, not a Toy

Ontario Knife Co. has manufactured the 18" military machete to U.S.A government specifications for over 70 years – and this machete is made to do work. There are no flashy looks or trendy handle construction; just high quality steel and craftsmanship built into every one.

Features and Specifications

18" blade length
1095 carbon steel
1lb 6oz weight
Full tang
4mm to 2.5mm blade thickness (above handle to tip)
Made in America

Price/Value

This is an extremely affordable machete and considering the quality, the best value option on the list.

Verdict

The 18" military machete by Ontario Knife Co. gives the user everything they'd expect from a machete. Ruggedness and reliability are what it's all about. It's a pity a sheath isn't included.
Simple, proven design
Moderate weight for extended use while still heavy enough for tough work
Made in America
2. Parang – Condor Tools and Knife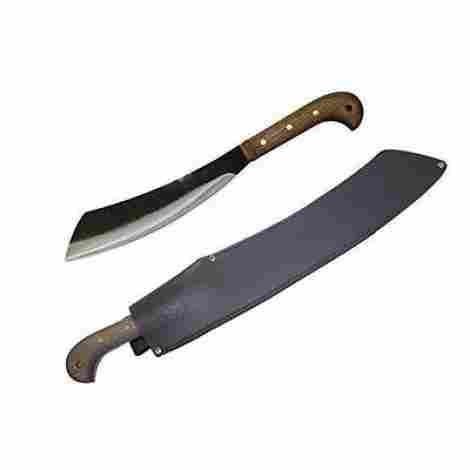 Condor Tools and Knife went all out in the construction of their Parang. It's an attractive piece of equipment and well-made. This blade design is for heavy duty work and is made to be a well-balanced chopper.
Expand to see more
For an Elegant Blade

Condor put effort into the construction of their machetes. The Parang features a slim-line and sweeping curved blade; putting the weight towards the end for good chopping power. The long blade gives the user plenty of reach.

Features and Specifications

5" blade
1075 high carbon steel
1/4" down to 3/16" blade thickness
92 lb
full tang
wooden handle with replaceable soft pads
leather sheath
Made in El Salvador

Price/Value

The Condor Parang is expensive for a tool intended for the toughest work. That being said – the quality of the product up its value and this would be a good choice for serious expedition work.

Verdict

This is a well-made machete with a versatile design. Not intended for light-duty brush trimming; choose this blade for heavy chopping work where reach is required.
Heavy-duty blade for rough work
Well-designed for variety of tasks
Attractive knife and sheath
3. Golok – Condor Tools and Knife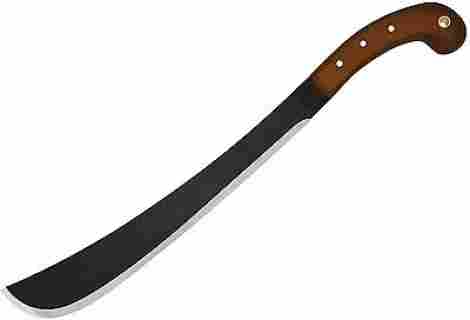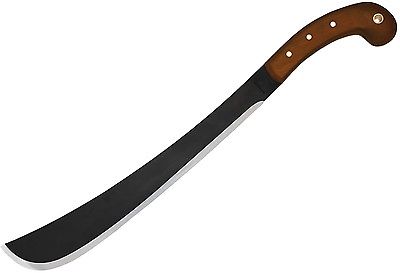 Here's another top contender from Condor Tools and Knife. This is the smaller brother of the Parang and has a similar, but more robust, blade. Condor's good looks and quality stand out; and it's a nifty worker.
Expand to see more
Short and Choppy

The Golok is shorter than the Parang, with the blade coming in at 14". This gives a blade that's a little easier to control while retaining the weight and strength in its steel.

Features and Specifications

14" blade
1075 high carbon steel
1/4" down to 1/16" blade thickness
3 lb
full tang
wooden handle with replaceable soft pads
leather sheath
Made in El Salvador

Price/Value

This is the most expensive machete in this list. Don't let that turn you off though, as this is a likely result of popularity and demand. Great value for a machete that'll go the distance and always be reliable.

Verdict

The Condor Golok is a good all-rounder machete. Its cost may be the deciding factor, but it's a good investment.
Versatile, strong blade design
Quality wooden handle for good grip
Attractive knife and sheath
4. Bear Grylls Parang – Gerber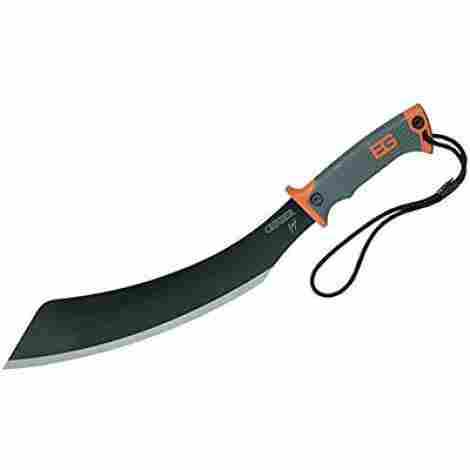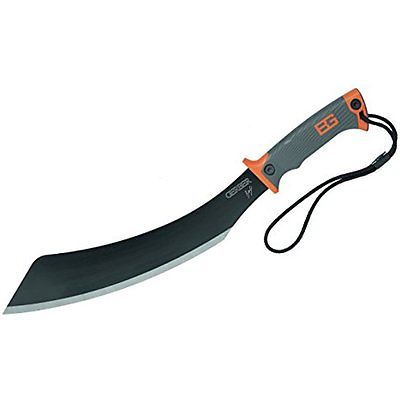 There's nothing outstandingly special about this parang from Gerber, but it sure is popular! It's an inexpensive tool that's well suited to chopping things – just don't rely on it in the wilderness. Remember, Bear makes TV shows; not scientific discoveries!
Expand to see more
Affordable All-rounder

The Gerber parang won't break the bank. It's got weight enough to chop well, but not enough for real heavy-duty work. For a variety of tasks it'll perform perfectly.

Features and Specifications

5" blade
1/8" blade thickness
9 lb
textured rubber grip
lanyard cord
sheath


rice/Value

The Gerber parang is affordable; but isn't the cheapest on the market. The Ontario Knife Co. machete is better value. However, for a short bladed machete, this is a choice that many will be happy with.

Verdict

The Bear Grylls parang offers users an affordable machete that won't take up too much space in a pack or on the belt. It's a good option for anyone on a budget.
Affordable
Comfortable handle
Made in China
Isn't full tang
5. Black Cutlass – Ka-Bar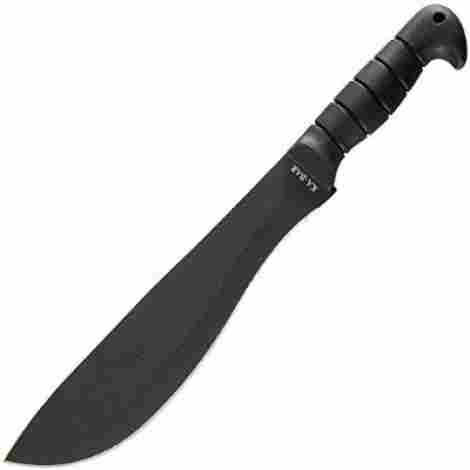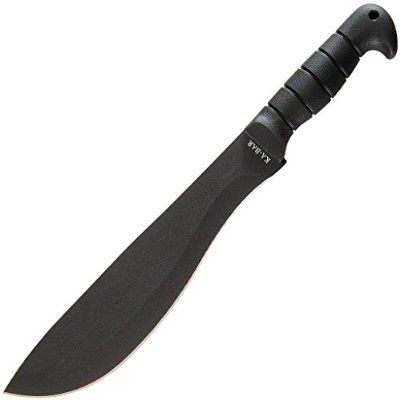 The Ka-Bar Black Cutlass is another short machete. The cutlass style blade puts weight where it's needed – towards the end – making chopping work more efficient.

Expand to see more
An Ergonomic Favourite

The Black Cutlass fits the hand well thanks to handle design and the materials used. The blade design compliments this and makes for a short, effective chopper.

Features and Specifications

11" blade
1085 carbon steel
5/32" blade thickness
12 lb
full tang
sheath

Price/Value

This is mid-range in price. It's probably the best value short-blade machete in this list due to the simple and efficient blade design.

Verdict

This is a short and effective machete designed to do hard work.
Comfortable in hand
Forward distribution of weight
Great design for chopping
6. 2-1249-9 Kukri – Ka-Bar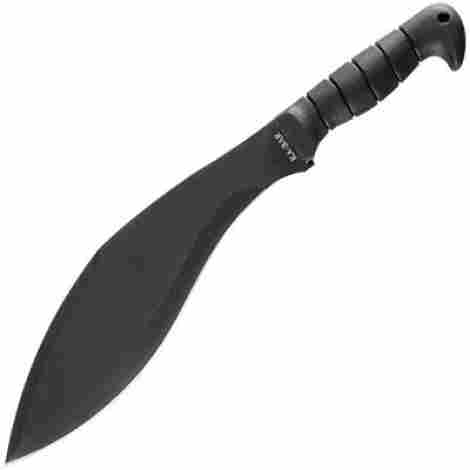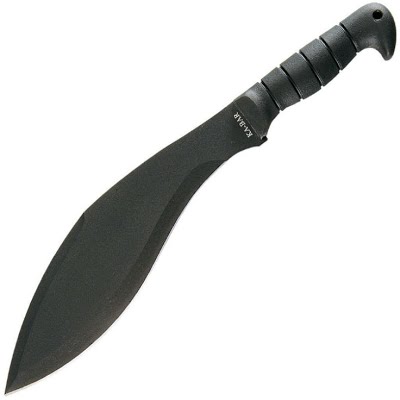 The Ka-Bar Kukri is another popular choice for a shorter machete. It offers plenty of weight to chop; and the blade design gives versatility through the pointed tip, broad cutting section and finer section near the hilt for whittling/shaving.
Expand to see more
Short and Stocky

The Kukri offers plenty of punch, weighing in at 1.7 lb in a blade only 11.5" long. This machete is well suited to a variety of tasks.

Features and Specifications

5" blade
1085 carbon steel
3/16 down to 1/8" blade thickness
7 lb
full tang
sheath

Price/Value

The Ka-Bar Kukri is on the expensive end for what it is. There are better value machetes out there, but the price comes with the name.

Verdict

It fits into the shorter machete niche and is relatively well regarded. It's a good worker.
Known for sharpness out-of-the-box
Good weight distribution
Durable and rugged
Made in Taiwan
Blade finish doesn't last
7. Schrade SCHKM1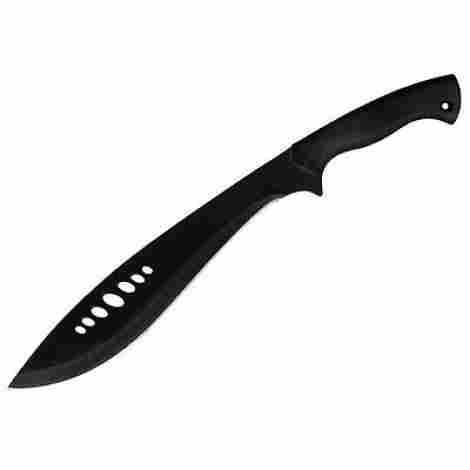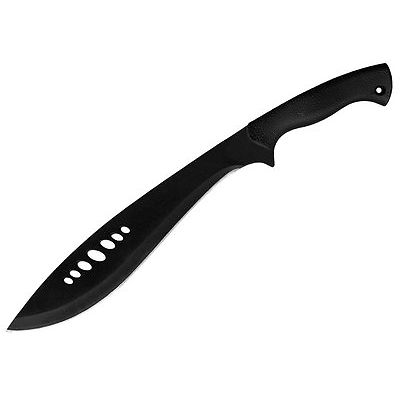 The Schrade SCHKM1 is an attractive machete that keeps things simple. It offers a good design.
Expand to see more
Shoulder it

The Schrade offers a shoulder-belt sheath – which is a good idea for keeping the machete out of the way when wandering around in the brush. It also comes with a sharpener and ferro-rod fire starter for the survivalist.

Features and Specifications

3" blade
3CR13 stainless steel
44 lb
full tang
safety grip handle
shoulder sheath
sharpener and ferro-rod included

Price/Value

It is quite affordable and offers reasonable value for money in the shorter end of machetes.

Verdict

This is a decent machete for the price and looks the part. The shoulder sheath and included sharpener and ferro-rod fire starter sweeten the deal.
Ergonomic and efficient blade design
Great balance in the hand
Thick blade
Doesn't retain edge well
Reported blade failures
8. 10" - Kershaw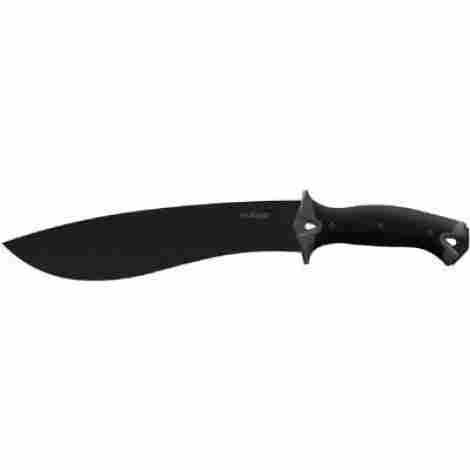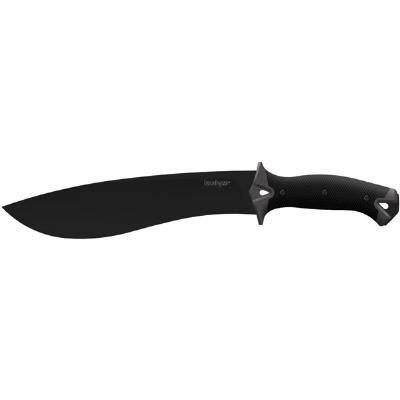 The Kershaw 10" machete fits into the dual category of machete/knife. This blade won't get in the way.
Expand to see more
Mix and Match

The Kershaw fills the gap between pocket knife and machete because of its size. Keep it sharp and it'll perform a variety of cutting tasks, or put it to work chopping and trimming.

Features and Specifications

10" blade
65Mn steel
1/4" blade thickness
1 lb 3 oz
Powder coated blade
rubber handle moulded over tang
sheath

Price/Value

This is another mid-range machete. The Kershaw is appreciated for its ergonomic design but value-for-money is mid-range too.

Verdict

The Kershaw 10" machete is a short blade 'crossover' between knife and machete. It's a good choice for light work and odd-jobs around camp; but don't choose it for heavy duty clearing.
Blade holds edge well
Comfortable to use
Well balanced knife
Not technically full tang blade
Blades are sometimes faulty
9. Gator - Gerber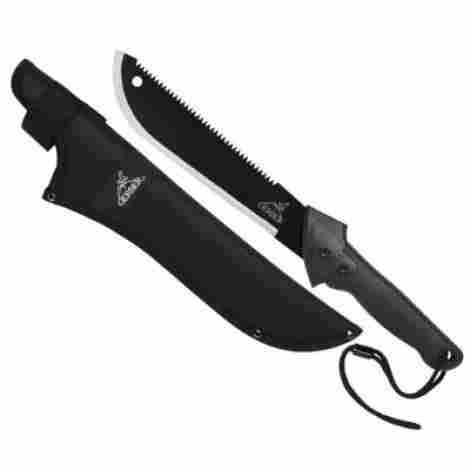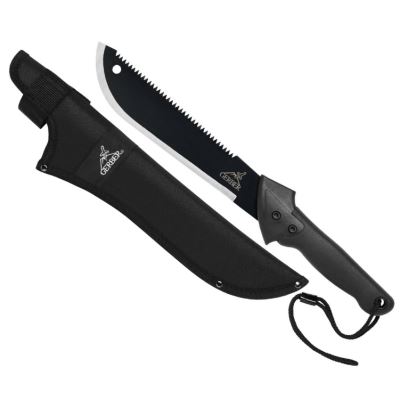 The Gerber Gator is the budget-minded option for those after a solid machete. This comes at the cost of some features, but never-the-less you'll get your money's worth out of it.
Expand to see more
A Light Blade for Light Work

The Gator weighs in at 1.1 lb which is the lightest knife on the list. This makes it great for those who can't swing all day. It also makes it effective for light work, and the thinner blade is effective in this regard.

Features and Specifications

18" blade
1 lb
nylon sheath

Price/Value

The value of this machete comes through low cost. For a light-duty, knock-around knife you can't really go wrong.

Verdict

While it may not have the bells and whistles of some of the other contenders, the Gerber Gator offers enough utility and value to make the top ten list.
low cost
Well-made for light work
Low weight
Blade isn't full tang
Sheath doesn't have belt loop
10. 18" SOGFari MC02N - SOG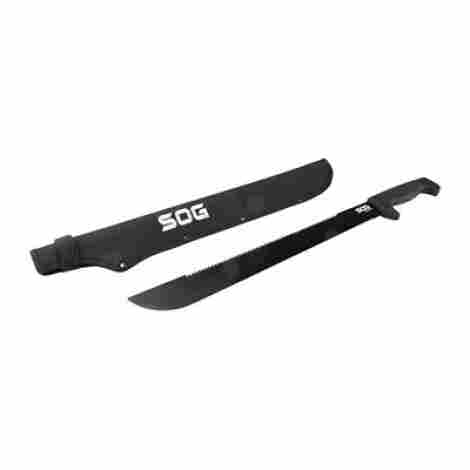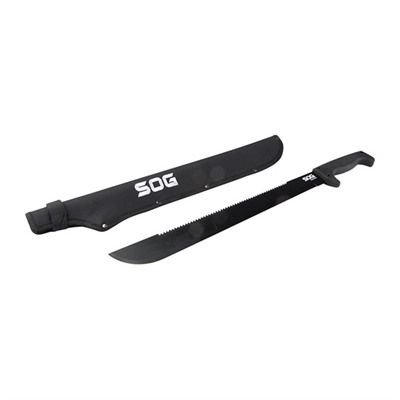 The SOGFari offers another budget, long-bladed machete. It also features a serrated saw edge on the spine of the blade.
Expand to see more
A Budget Package

Offering a long blade for added reach, and with a straight blade design for simplicity, the SOG is another budget choice for the prospective buyer.

Features and Specifications

18" blade
3CR13 stainless steel
8 lb
serrated saw edge
sheath

Price/Value

Bear in mind there are much better choices on this list.

Verdict

SOG definitely has its followers, and for those wanting a machete that looks the part this might be the choice. If you're after a hard-working tool, however, you'd be better choosing another machete from the list.
Low cost
Comfortable grip
Low weight
Lower quality construction and components
Criteria for Evaluation

Place of Manufacture
Where a knife is made tells the buyer a lot about what to expect from it. Most machetes are produced in China – which is fine – but the steels commonly used are of variable quality. That's why the number one on the list is a knife made in the U.S.A – you just know what to expect from steel produced there.
Steel Type
The type of steel used in manufacture is important for all knives – and machetes are no different. They have certain requirements from the steel used for the blade if they are to perform adequately. Steels of increased hardness – generally those with a high percentage of carbon – are a must for any machete to stand up to regular use.
Tang Type
The tang of a machete is the extension of the blade fitting into the handle. For a tool that experienced a great deal of shock and jarring blows, a full tang that extends through the entire length of the handle is best, as there is an extremely low chance of failure. Blades that don't have a full tang are liable to break free of the handle, rendering the machete useless.
Blade Length
It's important to cover the range of blade lengths in order to provide useful choices for varied applications. Long blades, up to 18", are bordering on swords and are restricted to heavy-duty chopping and brush-clearing. Indeed, they are perfectly suited to this task. However, many machete users are looking for a more versatile brush-cutter and wood-chopper – and for this task short blades are best. These machetes with a blade length of 10 to 15 inches make accurate and fast chopping – a far safer option for work completed close to the body or in a crowded camp site.
Price
You get what you pay for, always. The important considerations for machetes in steel quality – this is the most regulating factor in machete performance. Spending money on quality steel will ensure that you get a tool designed to work and last well into the future.
How to Clean and Maintain Your Machete
Your machete's blade is the part that will do the work and one that you will want to ensure remains in the best working condition. How you look after the blade depends on the material from which it is made. The two common materials used in making these blades are stainless steel and carbon steel. Guard against rust forming on the blade. Blades manufactured using carbon steel corrode easily while the ones made from stainless steel are often able keep their sparkle. The rust on blades is a result of moisture and in order to ensure that this doesn't happen, you will need to oil the blade. Use a thin layer of non-detergent oil.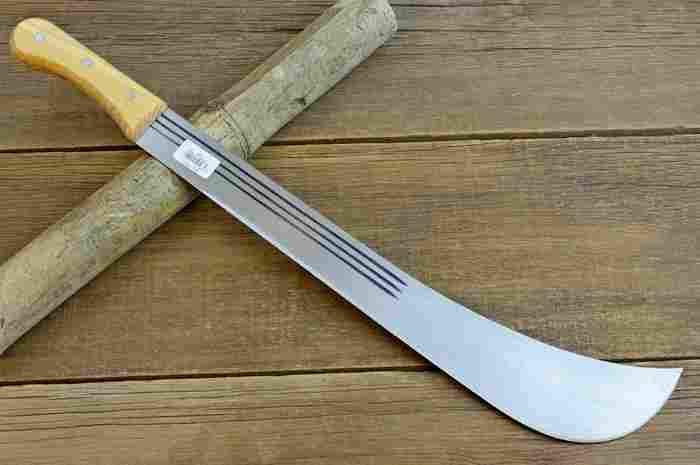 If the machete has been in contact with any moisture, always ensure that you dry it thoroughly. Also, ensure that you store it in an area that is dry.
Maintaining the handle
It doesn't matter how sharp or well looked after your machete blade is; if the handle is not given the same care you won't be able to use it effectively. If the handle is made from plastic, there isn't much maintenance required except making sure that it is not exposed to heat. With wooden handles, more work will need to be done. At regular intervals, apply furniture oil or lemon oil. Also ensure that the handle doesn't dry too much as this could result in cracking. When oiling the handle, ensure that the layer of oil is very thin and you wipe the handle off with a piece of cloth after oiling. Slippery handles can pose a safety hazard.
Cleaning the blade
The tips we give above will keep the machete in great condition, but it's possible that you've already made a mistake and left it to accumulate some rust and dirt. Even though restoring it to the state in which it was when new may be difficult, it's still possible. One of the common methods of cleaning the blade is to use a citrus-based paint remover. Give the paint remover a chance to penetrate the rust before using a course steel wool to rub off the rust or dirt. The course steel wool will leave the blade slightly rough. Hence, you will need to keep working down until you are using a fine steel wool that will leave the blade with a nice shine. Once you have dried the blade, run a thin layer of oil and follow all the tips we have given above.
If your machete is in use most of the time, you will notice that it self polishes. You'll need to keep the blade sharp so that it cuts deep enough to clean itself. If you don't use the machete a lot, it will be advisable to keep a chemical rust remover and a wire brush in your toolbox for cleaning.
Keeping the blade sharp
Even though the edge of your machete does not need to be razor sharp, it still needs to be sharp enough to cut. To keep the blade sharp, you can either take yours to the knife shop or do it at home. How sharp you make yours will depend on how you want to use it. If you are going to sharpen the tool at home, you will need to get a standard sharpening stone.
Storing the machete
It's important that you take care where you store your machete. Find a place which is dry, as moisture is the machete blade's number one enemy. If you find out some rust is starting to form, it could be an indication that the area was you have placed the tool has some moisture. Clean off the rust using the tips given above and find a new place to store the machete. While some people would advise that the machete should be kept inside a sheath when not in use, this could be a disadvantage as it is possible that moisture can accumulate inside and lead to rust. If you still think that it is a good idea to keep it in the sheath, apart from oiling it, ensure that you check the blade at regular intervals. It is important to ensure that you keep the machete out of the reach of people to whom it could be a danger.
Safety Tips and Machete Uses
Saying that there is a million and one uses to which you can put a machete to may be an exaggeration, but when you look at the things you can do with it, you'll understand the reasoning behind the statement. If you love fishing, hunting, camping, agriculture or any other outdoor activities, you certainly need a machete. If you already have one, you could benefit from some of the safety tips we discuss in this article.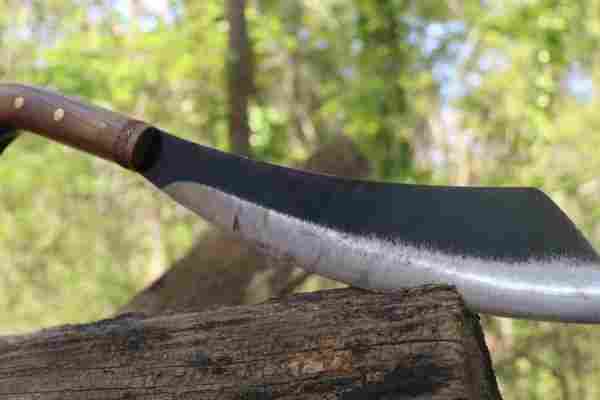 If you were only allowed to have one tool in your life, choose a machete. There is a reason why the tool has been used by people in different parts of the world for ages. It doesn't matter whether you are a hunter, fisherman or farmer, you can benefit from having a machete. All you need when using the tool is your creativity and of course your ability to work safely. The machete is mostly used in two broad areas: outdoors/ survival and in agriculture
Outdoors and survival
The machete is very useful when clearing places where you are going to set up camp whether you are going camping, fishing, or hunting. If you have a tent, the tool will be used to clear the land and if you are planning to make your shelter from three branches, the same tool will help you cut the poles and branches you will use to make the shelter or your shade.
Ask anyone who has ever been attacked by a wounded animal or snake what you need most and they'll tell you it's a machete. It is a useful tool to fend off the animals without unnecessarily injuring them.
Once you have killed an animal, a machete will be useful for breaking the carcasses into manageable units. When the time to cook the fresh meat you have just hunted comes, your machete will assist you to cut trees for firewood or making charcoal. Even though a machete may look too big to cut food into fine pieces, it is able to do this. Any vegetables and other agricultural produce you want to chop into small pieces can be handled with a machete. The tool is also useful for splitting coconut and other hard fruit.
For those who believe in herbal medicine, the machete could be a great tool to use for digging roots to medicate those injuries which happen when you are in the outdoors.
For fishing, the machete has also found a number of uses such as cutting branches which hang from trees and entangle fishing lines. It can also be a useful tool for cutting fishing lines. Once that large fish is in your hand, your machete can be used to gut it.
Uses in agriculture
The machete is a common tool in many tropical and sub-tropical countries where is often used for clearing paths through the undergrowth common in rain forests. A common use in agriculture is in the cutting of sugarcane during the harvesting season. Farmers growing trees also use the tool to clear the woodlot on the undergrowth which can take away valuable nutrients from the trees they are growing for commercial purposes. In many countries in Latin America, the machete is often deployed when cutting huge crops such as corn and sugarcane into smaller manageable units.
Another common use that farmers use a machete for is the cutting of fodder for livestock or other smaller animals.
And shaving?
We all know that life in the wild can be difficult and many people have to forgo such luxuries as proper razor blades. But can use a machete for shaving? Apparently, yes. Even though shaving with a machete could sound crazy, many people do resort to this tool when push comes to shove. If this is something you are going to try, we suggest that you make sure you have enough shaving cream and your concentration is sharp. Otherwise, just take a shaving machine with you the next time you go out in the wild.
Safety tips
Basically, machete safety comprises three elements: swinging the tool, holding it, and carrying it around.
Before swinging the machete, check your surroundings to make sure that its clear and there is no one behind you. The major causes of accidents is a swing that has been deflected by an object the user is not conscious of. Never use the tool when you are sick, tired or feeling weak. When cutting into an object, make sure that you do not do so perpendicularly, rather cut at around 45-degree angles. To mitigate against the risk of the machete sticking, alternate the direction you are chopping and remove slices of material.
When using the machete, ensure that you have gripped it properly. To get a proper grip, your hands should not be wet from sweating or handling some oily stuff. Use of proper gloves can be helpful.
Get a sheath for use when transporting the machete. Don't have a sheath? No problem, you can always create one using cardboard. When walking around with this tool, it should always be under your armpit with the handle coming out in front of you and the blade protruding behind you. Handling it this way ensures that in the event of an accidental fall, you don't fall on the blade.
A machete which is used safely could actually be the only tool you ever need when outdoors.
FAQs
Frequently Asked Questions

Q: Do all machetes come with a full tang?
A: No. It's important to find out whether a machete has a full tang as this is a big factor in the resilience of the knife. Full tang options are always better than half-tang.
Q: Will my machete cut down small trees?
A: It's a common question, and a difficult one to answer. It depends on the type of machete to start. Those with thin blades aren't designed for this kind of work – they're better suited to softer materials. Thick bladed machetes, especially those with long blades, are fully capable of chopping down the odd tree – but don't start hacking into a giant! Machetes aren't axes – they can only do what they were designed to do. A trick is to work on your swing and timing, using the momentum of the blade to cut – rather than attacking a tree with all the power you can muster. You'll tire yourself out, and probably fracture the blade.
Q: Will it come sharp?
A: It'll come sharp enough for a machete. These tools aren't designed to be razor sharp for a reason. The sharper an edge is, the finer it is – which is easiest to chip or bend over. A machete should have a suitably wedge-shaped edge that it can withstand chopping into things. By all means keep the machete sharp, but maintain this robust edge for best performance.
Q: Should I get a heavy one?
A: Again, it depends on the intended use. If you can't swing your machete without wearing yourself out, then perhaps it's too heavy. But weight is good in transferring energy efficiently, meaning that you have to work less. Heavy blades are better for heavy work and lots of cutting. Lighter blades are better for finer work and light-duty brush trimming.
Q: Does it have a double edge?
A: Most machetes have one cutting edge. This is somewhat safer, as swinging a double-bladed, 18" knife around can cause all sorts of damage to the user and those around them. For most cutting work, one blade is all you need anyway. There are certain specialise designs that have two edges, made for cutting through light jungle vegetation and grass.
Q: What does it mean when it says a machete is full tang?
A: The term "full tang" means that the knife/machete is one solid piece and the 2 handle pieces are pinned onto the blade, one on each side. This creates a stronger knife/machete blade, rather than two pieces (blade and handle) fused or fastened together. Full tang is the strongest of tang types. For example, half-tang machetes go to the length of the handle, but only half the width of it. Overall, it is a weaker design.
Q: What is a push tang?
A: Push tang can be found as both full tang and half tang. It is when the blade is secured to the handle by way of pushing it into a slot with glue or epoxy to hold it. A knife can be half push, which means it only goes into half the length of the handle while a full push would be the entire length of the handle.
Q: What is Rat Tail Tang?
A: With rat tail tang, the tang narrows as it goes, sort of emulating a rat tail. As it goes through the handle is narrows and is threaded at the end or welded to a piece of threaded rod. Then, a bolt or threaded pommel fastens the blade to the handle.
Q: What is Encapsulated Tang?
A: With encapsulated tang the tang is smaller than the handle. The handle is fitted around or molded around the tang to connect the blade and handle together.
The Final Choice
There are so many machetes on the market that it can be hard to narrow down to a single choice. The list included here offers a range of machetes suitable to a variety of tasks, and makes the search that much easier. Decide what you're going to use the machete for and base your choice on that, bearing in mind that quality steel is always best for a hard-working machete.
Sources
1. Wikipedia, Machetes