Best Survival Hatchets Reviewed and Rated for Quality
last updated:
Mar 05, 2021
When you're out in the woods and you've done a long day of hunting, or a long day of hiking and the sun is setting and it's time to get settled into your campsite the one thing that you want is for everything to be easy. You want to get your tent pitched easily, you want your fire to light up easily because chances are you're exhausted and ready to call it a day. But in order to make your life easy, you're going to have to have the right tools to make it easy. And that's where a survival hatchet comes in handy. Basically, we believe all things are possible when you have a good blade, attached to a long handle. Need firewood? Check! Need a sharp edge? Check. A solid lightweight hatchet just makes your life outdoors easier.
In a Hurry? The test winner after 14 hrs of research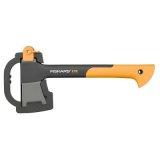 Fiskars X7
Why is it better?
Strong FiberComp handle
Locking sheath
Also designed for use as a hammer
14" makes it easy to store
In a
Hurry? Editors choice: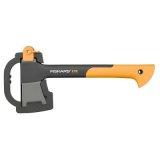 Test Winner: Fiskars X7

18
Researched Sources
11500
Reviews Considered
14
Hours Researching
15
Products Evaluated
Effectiveness
Materials
Comfort
Value
Versatility
By Default
BEST SURVIVAL HATCHETS REVIEWED AND RATED FOR QUALITY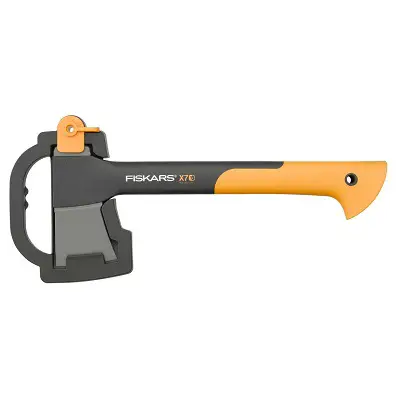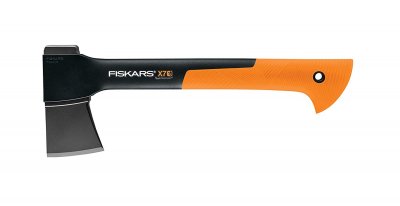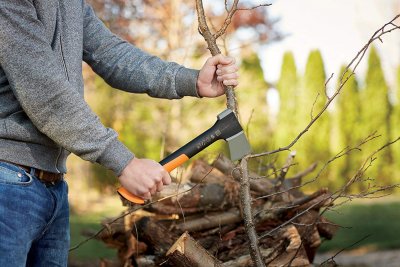 Strong FiberComp handle
Locking sheath
Also designed for use as a hammer
14" makes it easy to store
Textured plastic feel of the handle
Fiskars is a company that was founded in 1649. Originally, Fiskars gained a reputation for producing high quality forged tools and hardware. Three hundred sixty-eight years later they are a company that owns multiple brands all over the world. You might be more familiar with Gerber, one of Fiskars' international brands.
Cutting Edge Design
The Fiskars X7 is designed for balance and efficiency. The blade of the hatchet has a unique shape that is sharpened and coated with a low friction compound for smoother cuts. The hatchet also comes with a modern style sheath that outlasts many nylon and plastic ones.
Lifetime Warranty
Fiskars boasts that this product is virtually unbreakable. They back this claim by the lifetime warranty that they have on all of their products.
Cost and Value
This hatchet is set at a price point that is very affordable. This allows almost any individual, no matter what their budget may be, to obtain the high-quality features of the Fiskars X7.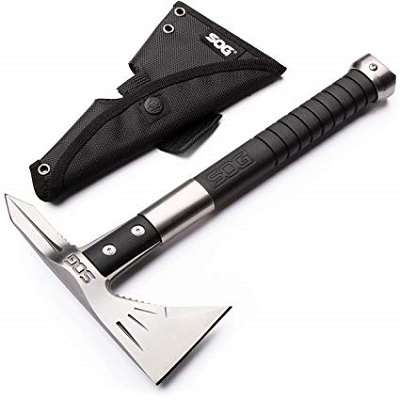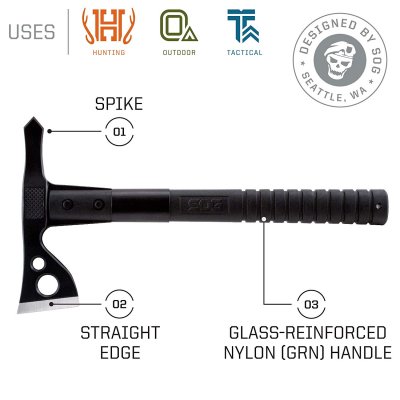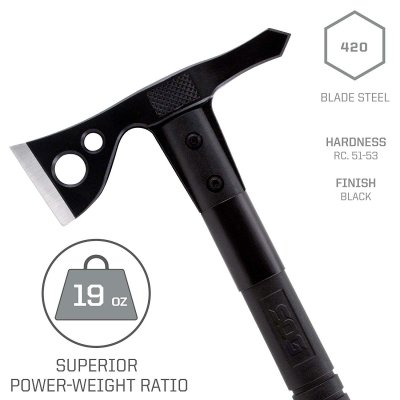 Scratch-resistant black coating
The sheath has a belt loop for easy carrying
Lightweight for hiking
The first of two tactical tomahawk style hatchets on this list, the SOG T-Hawk is a mean-looking hatchet that is built for multiple purposes. Being lightweight and only 15" inches long makes itgood for backpacking and camping.
Inspired by History
The SOG t- hawks design and versatility are based off tomahawks that were used by military forces in Vietnam. Tomahawks were popular because of their usefulness as a tool as well as combat applications.
Multi-tool
The butt of the hatchet features a spike that can be used for glass breaking or in excavation as a pickaxe. The side of the blade features a textured grip for use as a hammer.
Cost and Value
With a relatively low price point, the SOG T-Hawk is both obtainable and reasonable for what you get.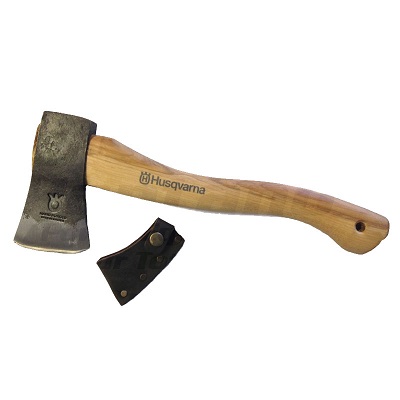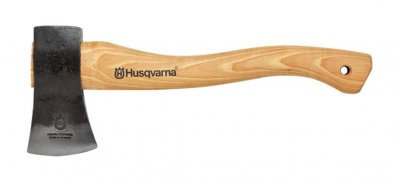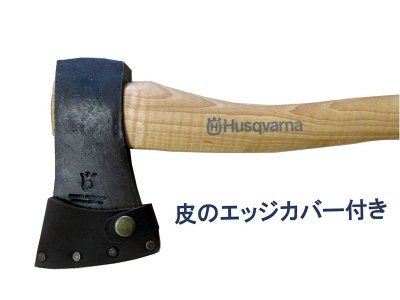 Available in various sizes
Sheath included
Heavy for cutting power
Wooden tools need TLC from time to time
Husqvarna is known for making a number of different tools ranging from leaf blowers to riding lawn mowers. This sturdy wooden handled hatchet is made in Sweden, a country known for remarkable ax manufacturing. This is our choice for Best Value but you'll notice that it's not actually the least expensive ax on our list. That's okay with us because it's not just about cost, but also about value. The axes that lower priced are in some cases smaller, and in some cases (in our opinion) can't match the uniquely quality construction that goes into a Husqvarna. In short, paying a few extra dollars will get you A LOT more ax.
Traditional Look
This traditional style 13" wooden hatchet mixes the charm of traditional looks with modern-day engineering. While it is also available with a composite handle, the wooden hatchet has a bit more weight for more potential chopping power.
Sturdy Design
Attached to a hickory handle with a steel and wooden wedge, this hatchet is built to last. Included is a leather edge cover.
Cost and Value
Having a traditional hatchet that is manufactured in Sweden with forged "Swedish ax steel" won't break the bank.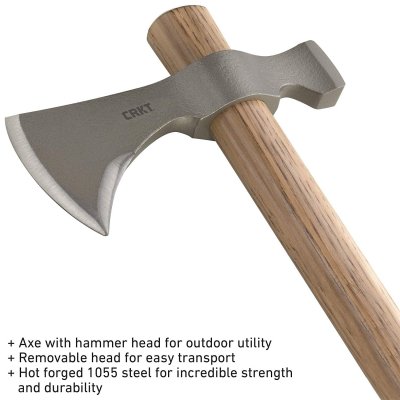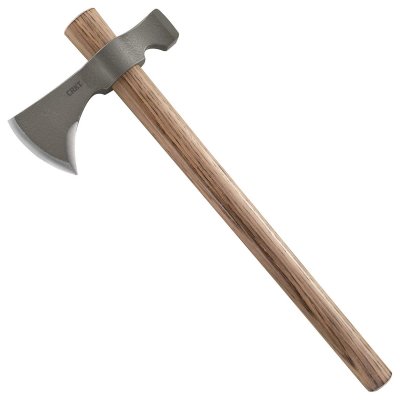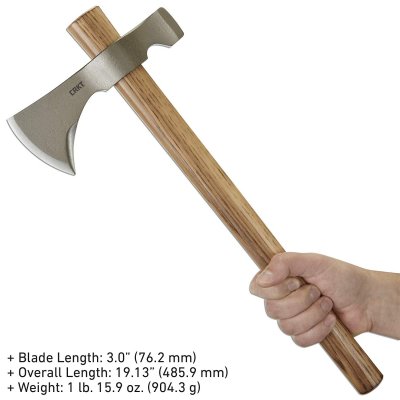 Carbon Steel Blade
Hickory Handle
Hammerhead Back
Lightweight
We like this hatchet because like a lot of great outdoor hafted blades this one has two or three different uses. We like the sharp edges of this carbon steel blade, we like the hammerhead on the back of the ax. We like the Tennessee hickory handle and we really like the lifetime guarantee because we're hard on our tools.
Versatile Blade
This a pretty wide blade which makes it useful for just about anything from brush removal to the chopping of firewood. But we also really like the hammerhead on the back which can be very useful when trying to drive pegs into the tough ground. The hickory handle lets you keep your grip but even though this is a hefty ax, it doesn't carry too much weight so you should be able to pack it back into the woods without too much trouble.
Carbon Steel Blade
The one thing you're going to need your ax to do is keep its blade. This is built to last and you don't want to have to keep having to sharpen the blade too often. And this carbon steel blade is guaranteed to hold it's edge for quite some time. In a lifetime of use, this will keep it's edge as long as you can keep getting out there.
Cost and Value
This won't set you back a whole lot but it's not cheap. This is a high-quality ax with a high-quality handle and it's built to last and comes with a limited lifetime warranty. All of these things make it easy for us to include it on this list.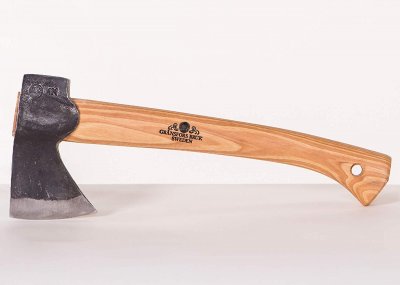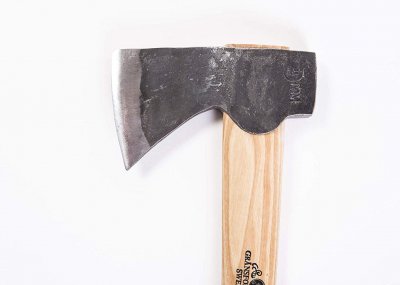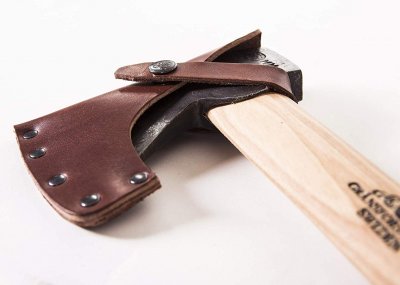 Broad Blade
Leather Sheath
Lightweight
Hammerhead Back
This is a classic but strong version that doesn't have as long a handle as some of the others on our list but has plenty of power and is strong enough to do almost anything you need to get accomplished. And not only do you get a nice leather sheath to go along with this but you also get a Gransfors Axe book that will teach you how to use your ax in a bunch of different ways.
Lightweight
This comes in at a slim 1.3 pounds, which means it's easily carried on your belt or in your backpack and won't hold you back too much. The size also makes it an easy carry but the big handle makes sure you can get a good swing and makes sure it'll do whatever you need it to do.
Hammerhead Back
We think this should just be mandated that all axes have a hammerhead on the back because at some point you're going to need a flat head from time to time, to knock in tent pegs, or to tenderize your dinner. It doesn't matter what you use it for but you're going to need it.
Cost and Value
This is an expensive one but it's a tool built to last. Because of the broad edge the sheathe that comes along with it, and the well-built handle we think that this is a tool that will last and that you'll look to early and often.
6

. Gerber Bear Grylls Hatchet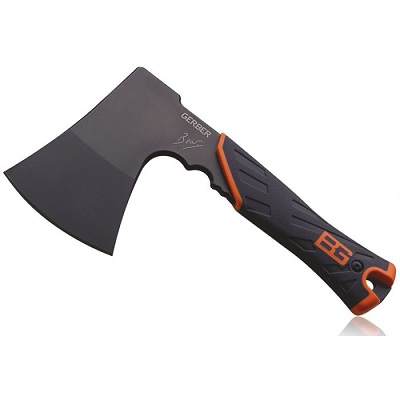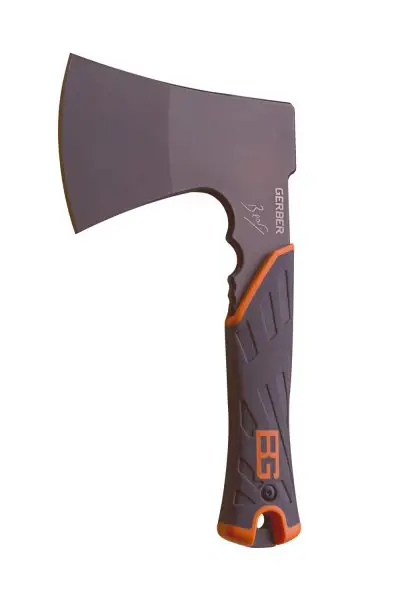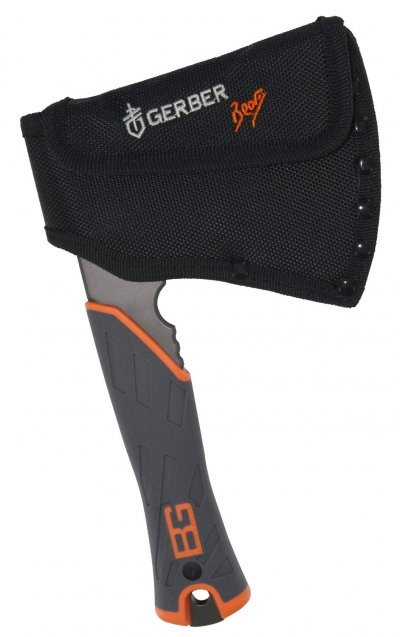 Military-grade sheath with belt loops
Super compact
Scratch-resistant coating
Back of the blade is textured for hammering
Slim profile means more swings for cutting bigger pieces of wood
Surely every outdoor enthusiast has heard of Bear Grylls. The former officer of the Royal Navy quickly became notorious for some of his survival techniques that seemed unorthodox (elephant dung, anybody). This "survive at all cost" mentality gained the attention of many companies including Gerber who created a line of survival equipment with the Bear Grylls name. The Bear Grylls survival series is based on what the man himself would want to carry in a survival situation.
Slim Design
The Bear Grylls survival hatchet features a slim profile and a blade that is razor-sharp. This combination creates a hatchet that has immense cutting capabilities and perfect for keeping with a backpack or bug out bag. This hatchet features unique finger notches on the neck or complete blade control when making kindling or skinning game. The hatchet is also full tang which means durability and reliability.
Non-Slip Grip
The grip is made from a textured rubberized material. Whether it's wet or dry, the handle will remain comfortable and hold strong. The pommel at the bottom of the handle also has a hole for a lanyard.
Cost and Value
Given the high-grade materials and design, this hatchet is a great buy. It also comes with the waterproof Bear Grylls Survival Manual.



Steel Blade
Long Hickory Handle
Lightweight
Long Blade
Another long-handled selection the Cold Steel is a powerful camping tool. You can cut down trees with this baby or you can just use it to collect firewood. Whatever you need this is the one that's going to help you get it done when you're out in the wilderness.
Drop Forged Steel
This guarantees a strong blade that will hold it's edge for a long time. The blade is also long and broad as well as the handle so there's plenty to get things done here.
Lightweight
This looks like it'd be a heavy but truth be told it weighs less than three pounds. That means it'll hike with you into the outback and won't take up too much space, and won't drag you down.
Cost and Value
This is a well-priced tool. You get everything that also comes with some of our other blades but at half the cost.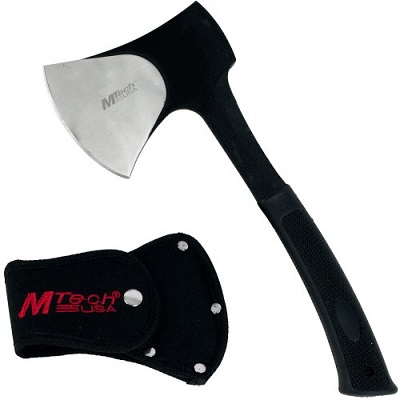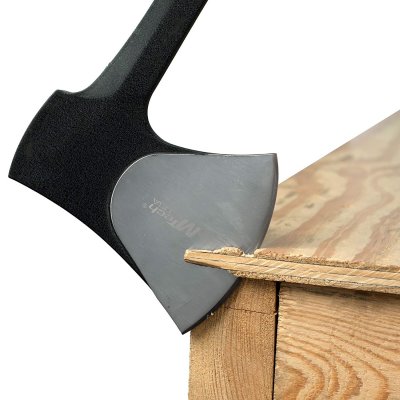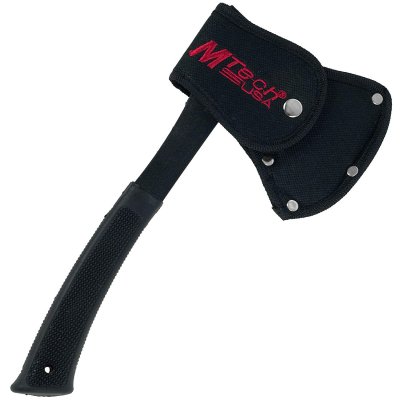 Cost-effective
High carbon 440 steel
Multi-purpose
The nylon sheath is poorly made
Master Cutlery, the MTechs parent company, is known for making a wide variety of bladed products including movie replicas, fantasy type weapons, tactical knives. MTech belongs to the Master Cutlery's line of camping and survival equipment. This one-piece ax is two-toned and at 11" is easy to store and carry when you're on the go.
Full Tang
This survival hatchet is made from one solid piece of 440 stainless steel. The cutting edge of the blade has a satin finish while the neck and handle are coated black.
Chop or pound
The 3" blade is sharpened at the factory so it is ready to go when you get it. The bach of the blade serves a dual purpose as a hammer. The handle is rubberized and textured for increased comfort and control even when wet.
Cost and Value
Master Cutlery brands all produce very well manufactured products that are also very affordable. This hatchet is no exception. It is also available to buy in two-packs from some retailers.
9

. Yes4All Multi-Functional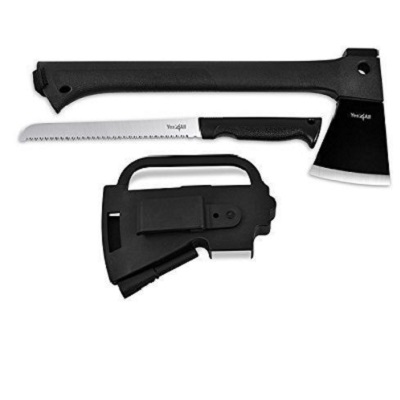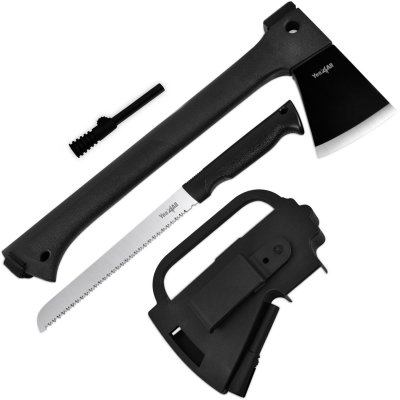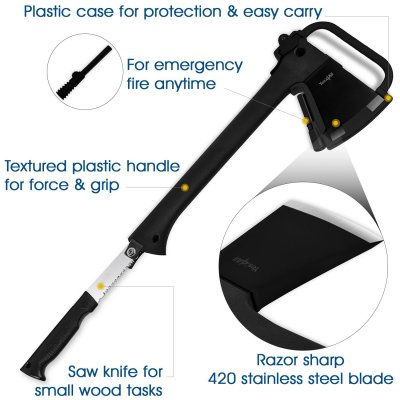 Heavy Duty Sheath with a belt loop and handle
Firestarter and saw included
Sturdy design
Company satisfaction guarantee
The blade may need to be resharpened often
The Yes4All Multi-Functional aims to cut down any obstacle in your way. It features a firestarter and a 12" saw that can be stored in the handle. This survival hatchet is the Jack-of-All hatchets. The plastic sheath that is included has a handle for attaching the hatchet to rucksacks or webbing.
Use of Space
When in a survival situation, the more resources you have the better off you are. The H307 includes a magnesium fire starter that can be used even when wet. A little tip though, most firestarters of this kind come painted so you may have to scrape off the paint before you can get serious sparks out of them. The saw fits neatly in the handle so its there when you need it and doesn't take up space with the rest of your gear.
Sturdy Construction
This hatchet feels similar to a baseball bat in your hands. While it's not full tang it is more than capable of splitting small logs for firewood. The Yes4All company also offers a 60 money-back guarantee. If you don't like it, send it back and you will be refunded.
Cost and Value
Like most products of this type, while it has many tools included with it none of the tools are can by no means be considered "high-end". However the fact that you can have all these tools in one compact package makes it well worth the price.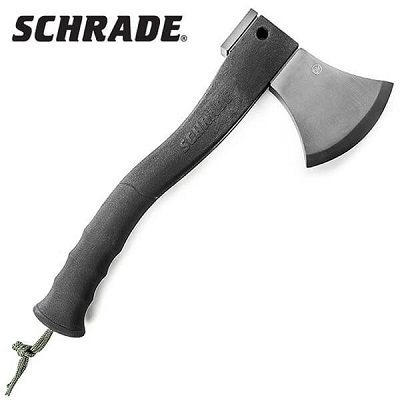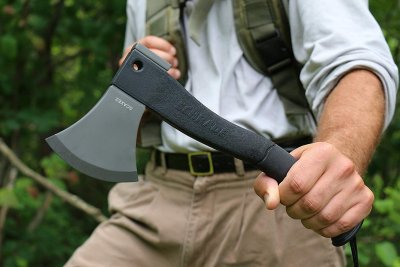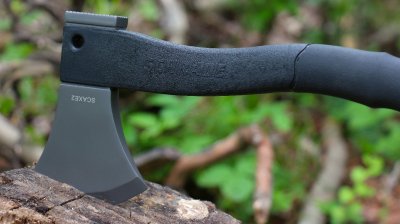 Ferrocerium fire starter
Ergonomic grip for reduced hand fatigue
Weight delivers the best of both lightweight and heavy hatchets
Firestarter may fallout after multiple uses
The SCAXE2 hatchet is balanced for delivering the maximum amount of force onto the blade with every swing. At around 1.5 pounds, the SCAZE2 is light enough to carry but heavy enough to chop 4" round pieces of wood.
Fire Starter
This survival hatchet comes with a ferrocerium firestarter that stores in the hatchet's handle. This combined with the ability to process kindling and bigger pieces of wood, make the SCAXE2 perfect for making fires.
Titanium Coating
The blade is made of 3Cr13 steel. It is then coated with titanium to contribute to the blade's strength and durability.
Cost and Value
Like the weight of this hatchet, the price can be seen as being right in the middle. It's not the cheapest hatchet available but definitely not the most expensive. Given the versatility and features of the Schrade SCAXE2L, it is worth paying a little extra.
Criteria Used for Evaluation
Effectiveness
When looking at survival hatchets one of the key components to the hatchet is called the head. The head of the hatchet should be sharp in order to get the cutting job done. Another important aspect of the cutting portion of the head is the spot located directly behind the cutting edge. This is known as the bit, you want to look for a bit that is not thick, having a thick bit can cause the hatchet to bounce of wood rather than stick in. A good rule of thumb to follow for the head of your hatchet, be sure there are no chips or nicks in the blade, this will ensure your hatchet will remain fully functional.
Often overlooked when thinking about a hatchet is the balance, this is a more popular aspect when we think of axes. Hatchets should also have a proper balance point, by proper I mean found next to the head of the hatchet. This makes the hatchet easier to control when swinging or doing any carving with the hatchet.

Materials
Another key component of a hatchet is the handle. Hatchet handles come in three main material types wood, metal, and fiberglass. Wood handles offer durability when the grain of the wood is running in the correct direction. Look for a wood handle where the grain of the wood runs in line with the bit of the head, this ensures the strength of the handle. One thing to watch out for while using a wood-handled hatchet, they can get slick when they are wet, making them harder to control during your swing.
Metal handles are known for being the strongest of all three choices but tend to add too much weight to the hatchet in the wrong area. The last option we come to is the fiberglass handle, these can be lightweight and normally come with a rubber grip attached. The grip is there in order to combat the fact that fiberglass is a smooth material, making it harder to hold your grip, on the bare fiberglass.

Comfort
Often overlooked when thinking about a hatchet is the balance, this is a more popular aspect when we think of axes. Hatchets should also have a proper balance point, by proper I mean found next to the head of the hatchet. This makes the hatchet easier to control when swinging or doing any carving with the hatchet. Good balance also ensures that you don't get tired too fast also.
A good comfortable handle is also important. Painful blisters are the last thing you want to deal with you're out trying to enjoy nature. You also want to make sure that the size is sufficient enough for you to get a good grip so that it doesn't accidentally slip out and cause damage.

Value
You may need to depend on your hatchet for fire, food, and maybe even defense. That makes this an invaluable tool to have when out in nature. Although you can't put a price on survival, you can put a price on the quality of the tool you have. For this criterion, we judged on how well the item was priced compared to the durability and usefulness of the model. If you are paying good money, then you'll want the best material and a hatchet that can also be versatile. Although a high price tag doesn't always mean you're getting the best quality, sometimes you're just paying for the name brand. Check out reviews and see what others have said about the product and if it was worth the cost.

Versatility
There are two types of hatchets that can be found in today's market, one being the traditional style hatchet, the other is a multi-purpose hatchet. The multi-purpose hatchet will normally contain within the handle portion a small saw, knife, or sometimes even a fire starter. This makes these types of survival hatchets perfect for camping or hiking gear. If you are going to be spending some time outdoors and prefer to keep your load as light as possible, a tactical hatchet with extra features will save you space and weight. These are also great because you don't have to worry about forgetting a tool.
Expert Interviews & Opinions
Most Important Criteria
(According to our experts opinion)
Experts Opinion
Editors Opinion
Users Opinion
By Default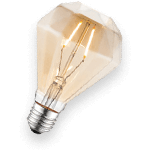 Hatchet Care
To prolong the lifespan of your hatchet there are several things you can do yourself that will keep your hatchet in top shape for years to come. The first thing you can do is keep the cutting edge of your hatchet free of chips, and maintain its level of sharpness. Keep the head of the hatchet dry, moisture causes corrosion, corrosion weakens the strength of the head. One last tip for caring for your hatchet, if the handle of your hatchet is made from wood, you should periodically oil the handle. This will keep the wooden handle from drying out and becoming brittle.
Possible Uses For A Survival Hatchet
Can help you make a campfire
Shaving wood to use for kindling
Aid in building cover
Weapon of defense when in the woods
Can be used as a hammer when needed
Making a clear space to set up camp
Clearing a path or walking trail
Frequently Asked Questions
q:

What is the difference between a hatchet and an ax?

a:

The only true difference between an ax and hatchet is their length and weight. The average length of an ax is 22 inches or longer, while the length of a hatchet is typically 12 inches. Axes are found to be heavier than a hatchet, which makes them more useful for chopping bigger trees than a hatchet. On the other hand, a hatchet is lighter and shorter making it easier to carry in a backpack.
q:

Why is my hatchet not penetrating the wood like it is supposed to?

a:

This can happen for several reasons, the first being whether or not your cutting edge is sharp. If the edge is dull, the hatchet tends to bounce off the wood rather than stick in. You will also want to be sure there are no chips on the edge of the blade. This changes the way the hatchet will perform. One last thing to check, is the bit of your hatchet thick? If it is then that is to reason for the trouble. You want to find a hatchet that has a slightly thinner bit, this will ensure your hatchet sticks into the wood.
q:

A hatchet is a dangerous thing, can you give us a few safety tips?

a:

Here's one of our favorite hatchet safety tips, use it from a kneeling position. What does this do? Basically, it ensures that a missed cut will end up hitting the ground before your lower leg or ankle. Simple, but effective right? Of course, it will impact that amount of force you can bring to bear on any swing but for us, the extra safety element is worth the trouble. Second, keep it sharp! If it goes for knives, it goes for hatchets. A sharp blade does everything better, and quicker, and ultimately safer. So take care of your blade. Finally, a hatchet should be a one-hand tool. Don't put your free hand anywhere near what you're cutting. We hesitate to be mean, but if there's a dumber thing to do when using an ax or hatchet, we can't think of it.
q:

How to keep it sharp?

a:

It's not as simple a question as you might think. Use a grinder if you're dealing with huge nicks in the blade but be careful not to overheat the blade, that's going to make it lose a bit of its temper, or it's hardness. So be careful if you're grinding your blade. Otherwise, a sharpening stone should do the trick. Wet your blade with oil and then rub the blade on both sides in a circular motion. Using even pressure and duration you should have a good edge in no time.
q:

What handle material is the best choice for a hatchet?

a:

The materials used for the handle of a hatchet each have their own good and bad points, it really boils down to a matter of preference. Wood handles can be very durable, fall in the middle for adding weight to the hatchet, but run the risk of becoming brittle if not properly cared for. Metal handles offer the highest amount of durability but are the heaviest adding the weight in the wrong area. This makes them slightly more difficult to control while swinging the hatchet. Handles made from fiberglass offer the lightest form of a hatchet but are lower on the scale for durability. One other good aspect that comes with a fiberglass handle is the rubber grip, this makes the hatchet more controllable.
q:

What are some tasks I can do with a hatchet?

a:

Chop
Hatchets make great chopping tools, this can come in handy when clearing brush or smaller sized trees from a campsite or walking trail. Keep in mind, an ax is better for larger sized trees if you attempt to chop down a large tree with a hatchet you will be there all day.

Split
Another handy task that a hatchet can be used for is splitting, this helps create firewood needed for warmth, light, and cooking. There are a couple of tips to share with you for splitting wood with a hatchet as compared to an ax. The first thing to think about is the difference in the length of an ax versus a hatchet. Since the hatchet is much shorter, it is best to split wood while kneeling down on your knees rather than standing. If you were to split wood standing with a hatchet and miss when you swing, where do you suppose the hatchet will end up? My best guess is possibly your shin, that could be quite painful, so splitting while kneeling down doesn't sound so bad. In order to keep the cutting edge of your blade protected, you should place the piece of wood you intend to split on top of another piece of wood. This eliminates the chance that your blade will come into contact with the ground, lessening the chance of chipping or dulling the cutting edge.

Carve
You can also use your hatchet to carve wood, and this technique can come in handy for shaving thinner sections of wood to create kindling when there is none available. To carve with your hatchet you will need to hold on to the hatchet by the head. This provides you the control and leverage needed to carve, all that you need to do now is move your hatchet in a downward motion against the wood. Fine-tuning these skills can create some amazing artwork, but a skill like that will take patience and practice.
Subscribe to our Newsletter