Best Survival Food Kits Reviewed & Rated for Quality
In a Hurry? Editors choice: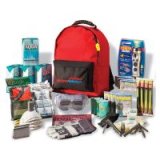 Test Winner: Ready America Deluxe

Whether you live in snowy states or hurricane prone tropical weather, emergency kits help individuals during times of need. But many of them don't come with food aid, which can sometimes mean the difference between life and death. There are a lot of options so we did the homework and are eager to share our Top 10 emergency survival food kits.
Standout Picks
Criteria Used for Evaluation
Bottom Line
When it comes to survival food kits, it can be easy and tempting for manufacturers to include a wealth of unhealthy foods. In truth, it's cheaper for these companies to offer cheap, unhealthy food. However, the last thing you need in the middle of an emergency is to eat unhealthy foods that can do more harm than good. When we began to evaluate this market, we wanted to share only the food kits that were made with quality in mind. So, as we looked at each product, we compared the different items included in each package, alongside its ingredients. We kept a close eye on ingredients like salt and sugar, for example, to make sure that these companies were not loading their products with unhealthy items as the such. So, you will notice, each product on our list is notable because of their healthy cocktail of food choices, making these options the most considerable options out there. 
Features
Next, to the quality of food, we recognized that one way these companies were positioning their products was based on the quantity of food in a survival food kit. With that being said, as we evaluated each product, we carefully looked at how many servings and how many days of food each kit offered. This is an important consideration. While it may be difficult to predict how long an emergency may last - the best thing anyone can do is be prepared. So, as you will notice on our list, we tried to offer only the best survival food kits that came in significant quantities to last a length of time.
Value
The single greatest way to ensure you are getting your money's worth when purchasing a product is through utilizing the cost to value ratio. This is simply the ideology of measuring the cost of a product, in comparison to the competition, and then measuring its value in comparison to its cost. In looking at the cost of all different products, and keeping the value in mind, it becomes incredibly easy to understand what products are priced fairly, and what products are scams. As we picked each product for our list, we wanted to ensure that each kit offered a wealth of value, unparalleled to other brands, alongside a great and convincing price tag.
Advanced Features
When it comes to survival food kits, consumers are really only receiving a food kit. However, today, many manufacturers have realized that the competition has become very saturated. In light of this, these companies have realized that they need to do something different to stand out from the competition. To do so, these companies took their regular survival food kits and offered unique additional features. For some companies, they offered consumers a unique canister to hold their survival kit - and others even created a branded backpack. With this all in mind, when we were evaluating each survival kit, we paid close attention to how companies tried to differentiate themselves by offering additional features. What you will find in this article is 10 products, all of which are loaded with valuable and healthy food options, alongside some interesting features, making each item worth considering.
Use
In our opinion, aside from many of the other areas that we talked about in the criteria, checking the customer reviews is one of the most underrated standards in consumer culture. Today, many people fail to check in with previous customers to see what their experience was like, whether positive or negative. Now, aside from the cost to value ratio, this is one of the best ways to ensure that you are getting your money's worth for a purchase. Now, we must mention, you need to be careful when evaluating a product based on customer reviews as there is a bias in each review. So, as we began to go through our list of products, we tried to get a fair range of customer reviews. In this, we tracked similar comments and reviews and were able to draw some strong conclusions, which helped us highlight the best product.
10 Best Survival Food Kits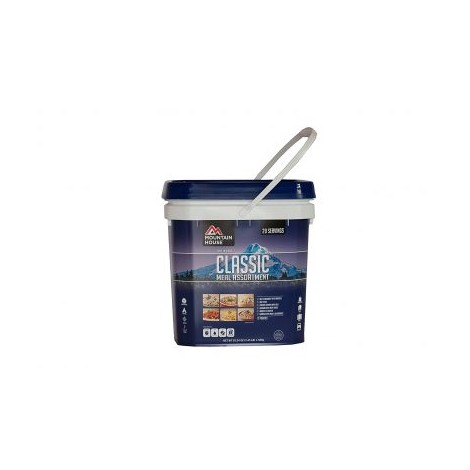 Whether it be for emergencies, hiking days, or swimming adventures, it is always important to have an emergency kit. Emergency kits add the peace of mind that in the case of emergencies, an individual will be able to take care of any bruise, kit, or scrape. However, how can an individual heal the equivalent of a hunger bruise? Meaning, when you are hungry! Well, Mountain House Pouch Kits ensures that an individual will never be hungry while hiking, camping, or any other outdoor adventure. Let's look at two of the biggest benefits!
Perfect For Hunger Emergencies
In the case of any emergencies, this food pouch kit is the perfect companion to any camping trip or an outdoor day on the lake. No one ever wants to think of going hungry. However, it is a real reality that can happen at the shift of a moment. For example, a day out on the lake can quickly turn into a stormy day stuck at the lake. Therefore, it is vital to include meal pouch kits such as these during any outdoor adventure.
Medley of Food
An individual would think that these specialty foods were prepared by chefs. This mountain pouch kit, in particular, offers 12 different meal items, in sets of twos. Therefore, there is everything from Beef Stroganoff with noodles to Chicken Teriyaki with rice. If you want a delicious meal during your next camping trip that is easy to prepare, easy to carry, and comes perfectly stacked, these pouch kits offer delicious meals that are perfect for any day adventures.
Cost to Value
When considering cost per value it is detrimental to look at the lifespan of these foods. Food items, unlike many other emergency items, can go bad if not prepared correctly. Therefore, this emergency food brand manufacturer and kit producer has created them in a way that is sealed tight, locked, and have a thirty-year guarantee. Yes, thirty years! With that in mind, the value of an item such as this is reasonably priced and created to make it affordable for anyone looking for an emergency meal plan.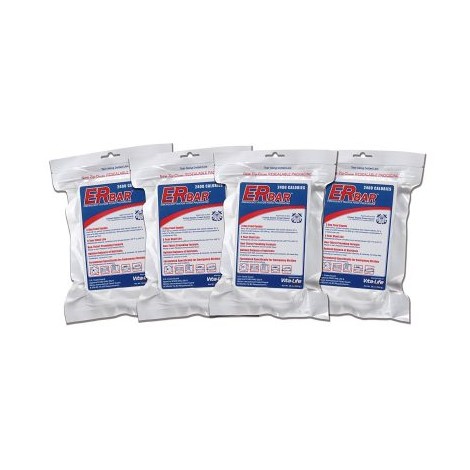 An individual never knows when an emergency will happen. Whether you live in the State of Connecticut or Florida, a snowstorm or hurricane can happen at any moment and inhibit whole towns from being able to access food, water, and proper care. With that in mind, it is always vital to have an emergency kit at hand and most importantly, emergency ration food bar kits. With a brand such as ER Emergency Ration dedicated their life to preparing emergency survival kits in the case of emergencies, we can live more assured that we are well taken care of. In this case, let's talk about the Emergency Food Bar.
Five Year Certification
The last thing an individual wants to do is open up their can of food to find that it has gotten old. We won't even describe the gross items that can be lurking in there because of old stale food, it can easily ruin anyone's appetite. With that said, we are happy to share that emergency companies such as these prepare their foods in a way that allows them to last for many years, five years in fact. With a 5-Year Certification by the U.S. Coast Guard, an individual can rest assured that these food bars will last a while.
No Unhealthy Ingredients
Now, it can seem somewhat nerve-racking to think about getting your daily meals from an emergency food bar. Most people do not even know what is inside these food bars? We think of the Family Guy episode where Peter ate thirty years' worth of food in a can and it did not look too appetizing. In fact, these meal plans are prepared without trans-fat, cholesterol, nuts, or coconut ingredients in the case of people that have food allergies.
Cost to Value
When we aim to answer the question if this product is really worth it, we directly look at what is the solution and purpose of such a product. With that in mind, this product offers plenty for such a reasonable price. Each packet, in fact, is for six individuals that are ready to eat 410 calorie bars. The most important aspect is that they require no preparation, just unpack and eat.

3

. Wise Company 60 Servings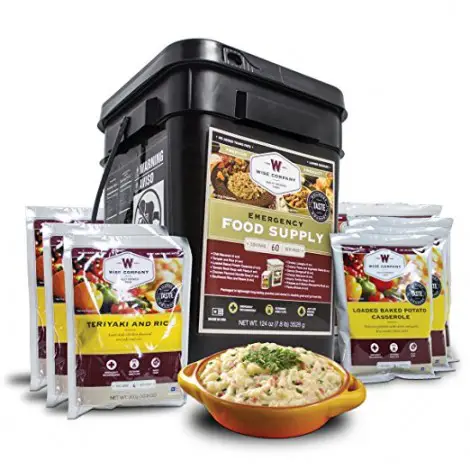 We've all had those extremely scary moments where an emergency is about to happen, or happens unexpectedly and all of a sudden, we find ourselves asking the big question, "why did we not prepare better." For example, Florida has hurricanes, California has earthquakes, and Connecticut has snowstorms. However, it seems that we as individuals think we are impervious to emergencies. Well, there are brands out there such as the Wise Company that think about the important moments that we don't such as, what if we run out of food? This is where the 60 Serving Go Foot Kit is the essential item to have in an emergency cabinet, garage storage, or home pantry.
60 Servings
Yes, 60 servings! The packets from this particular emergency preparation kit manufacturer come with over sixty servings of food. The servings are enough to feed an individual for thirty days or a family of four for about one week. This is the must-have item in the case a family is sealed shut during a snowstorm or an individual is stuck in ruble because of an earthquake.
Delicious Tasting Meals
Just because they are considered emergency meal plans does not mean they have to taste bad. In fact, these emergency meal packets are delicious. This brand offers savory stroganoff, pasta alfredo, and cheesy lasagna. With a delicious meal like these, it may be hard to not try them out when hunger strikes. With that said they contain the ideal calorie amount for an individual to have daily so they can obtain maximum fulfillment and not stay hungry for long.
Cost to Value
When we consider cost per value for a brand such as this and an item such as this we look at packaging, meals, and warranty. In fact, this brand offers a 25-year shelf life because of their properly and precise packaging that ensures they do not go bad. For this amount of value such as great tasting meals, the amount that the kid can feed, and the shelf life, we can say that the price is worth the value that it holds.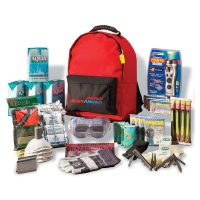 We have heard of emergency food kits such as food containers and plastic bins with food. However, can you believe an emergency kit backpack filled with everything needs for a 3-day emergency? For any emergency, this backpack is one of the most premiere backpacks in the survival food and emergency kit industry. Made from one of the most trusted companies in this industry and U.S. Coast Guard Approved, the Ready America Deluxe Emergency Kit Backpack is known as the 'must have' backpack for any emergency or hiking and camping trip. Let's see why!
The Kit
The past three products were primarily food related. However, this one does not only offer plenty of food items, it offers so much more at about the same price as the first kit on the list. The survival items include 4 food bars, emergency ponchos for people, duct tape of 10 years, safety goggles, packet tissue packs, leather gloves, whistle, and bio-hazard bags. This is not all! This alone is not a hurricane or tornado emergency backpack. In the case of the zombie apocalypse, any individual will be well prepared!
4 Person Kit
This survival backpack is not just for one individual, it is considered a four-person kit. Therefore, it is the perfect companion to a family hiking trip or outdoor adventure. Most of the items come in a pack of four to ensure that the whole family is protected during emergencies, raining days, and more. Feed a whole family of four for three days!
Cost to Value
Once again, when considering cost per value you have to look at the solution that a product such as this aims to solve. With plenty of items, emergency kits, and survival kits out there, we can say that this one deserves the name "Deluxe". With plenty of items and an approval rating that is four stars, this survival kit covers almost all emergencies. Whether a family of four is stuck in a snowstorm, or an individual goes hiking and lost his way, this backpack will make it a lot easier to gain peace of mind in the process.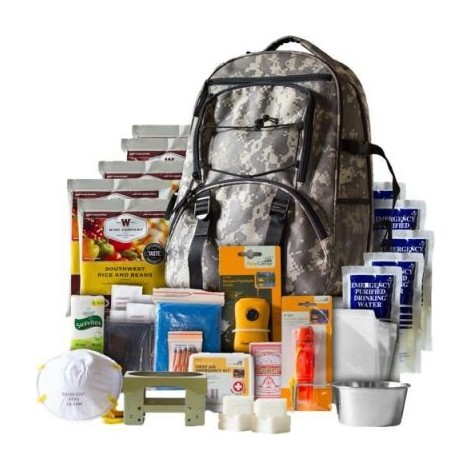 Much like the last product on this list, this backpack is used for emergency purposes and offers many of the same items in a specific ready-to-go package. With that in mind, this brand is highly touted and offers plenty of credible history behind their products. In the case of hiking trips, mountain adventures, camping, or emergencies, the Wise Company 5-Day Survival Backpack is the must-have item for any trip. Let's see why!
32 Servings
An individual never knows how long they will be in a state of emergency. Therefore, it is vital for a person to pack as much food as they can. However, packing food can get heavy and pricey. This is why a brand such as this produces a 32-serving packaging that offers plenty of delicious meals for emergencies. The meals include creamy pasta, veggie rotini, apple cinnamon cereal, and even whey milk serving for up to 12 portions. This alone makes it a worthwhile product that can last for a long time.
42 Piece First Aid Kit
What makes a backpack such as this even better is the fact that it also comes with an emergency first aid kit. Therefore, an individual gets two of the most vital emergency packets in one; a food kit and a first aid kit. The first aid kit includes everything from pocket tissues, to waste bags, whistle, emergency poncho, and even playing cards in the case that individuals have a long wait time before rescue.
Cost to Value
When considering cost per value it is vital to look at the shelf life of such an item and all it contains. A survival food kit backpack in this industry has a lot of competition to be number one and we can say that this backpack is easily worth the cost. With this in mind, another important aspect to note is that the shelf life of the food items is 25 years. With a kit such as this, an individual can rest assured that in the case of emergencies he or she, or the whole family will be covered. Most importantly, this manufacturer has a long history of producing some of the best emergency care products available today.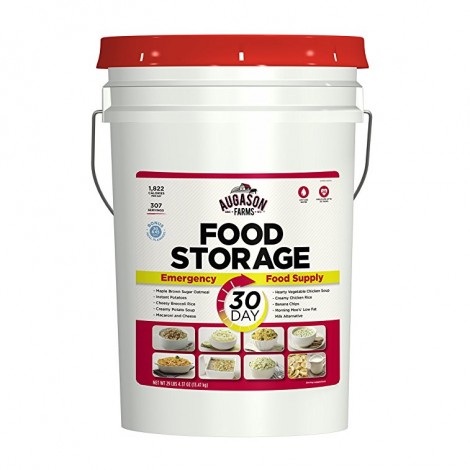 Coming to the middle of this list we are excited to share a product that is not only for a couple of days of an emergency. In fact, this manufacturer has included a 45-day meal planner and it can practically feed a whole village. We are eager to talk about the Augason Farms 30-Day Emergency Food Storage 7 Gallon Pail. This pail is so heavy and so big that it weighs 29 lbs. With that in mind, can you believe the amount of food it contains? Let's talk about it!
Servings
The most fearful aspect of an emergency food kit is if the individual has enough for the number of days they will be in an emergency state. Other than that, what if you are protecting a whole street from a hurricane because you are the only one that put up protective hurricane shutters? This is no problem with this unique 29lbs pail. The 7-gallon pail, in fact, has 307 servings of food and 35 food pouches, making it easy to fool everyone.
Shelf Life
As we have discussed in the previous items, shelf life is important when developing and manufacturing products such as this one. The shelf life of an item rapidly increases the value and we can say that with its premiere manufacturer process and age-ready packaging, the shelf-life of this food pail and its contents is up to 25 years. Therefore, an individual or family can rest assured that they are prepared for at least 25 years.
Cost to Value
When we take the cost per value into consideration, there are numerous factors that weigh in if it is worth it. Now, let's do a bit of math. If we had to take 307 servings and multiply them by even one dollar, it would be $307. What is exciting about an emergency product such as this is that it does not even come close to that price range. This manufacturer makes it easy for an individual and his or her family to receive peace of mind in the case of emergencies. Compared to other food packages on this list, we can say that this is well-priced, well thought out, and offers plenty of value.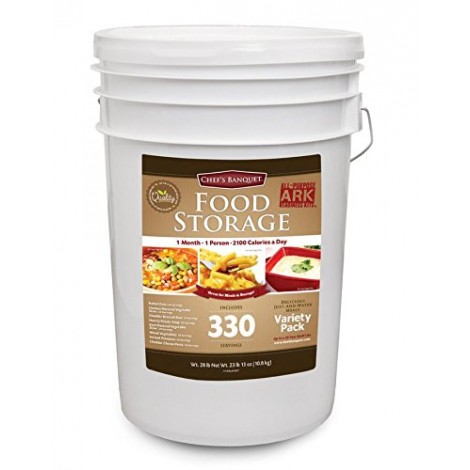 Following the bucket and pail trend, it's time to bring another brand into the mix offering a storage kit of food in a pail for extended emergencies or large families. Much like the last kit with certain differences, this brand focuses on providing gourmet style emergency meals in a simple pail. This 30 days emergency food kit offers plenty of variety in one simple kit, alongside the peace of mind that no one in your home will ever go hungry.
30 Day Kit
This 30-day emergency food kit is considered one of the best food kits in the industry. With 2,100 calories per day per 1 person, an individual can rest assured that they will always be receiving the most amount of nutrients and calories that they may need to stay full and healthy all day long. With that said, the shelf life of this item is 20 years if stored in a dry and cool environment.
Packaging
When taking a deep consideration of all of the products on this list, this one struck us as the one having one of the best packaging materials in the industry. The packages are metabolite pouches for high oxygen and moisture barrier containing an oxygen absorber in each pouch. Now, the zip-seal pouches mean you do not have to eat all of the food at once and the durable 6 gallons pail is weatherproof, includes a sealed lid, and can easily be stored in any area of your home or garage.
Cost to Value
When we talk about cost per value, it is always very important to look at the benefits of an item compared to the cons. We can say that this particular survival food kit and pail offers plenty of variety, value, and peace of mind. For example, the oatmeal gives up to 60 servings, the heart potatoes soup as well, and the chicken flavored stew is up to 30. With that said there are five more delicious gourmet meal items in this pail, making it a medley of delicious foods in the case of drastic emergencies.

8

. Urban Survival Bug Out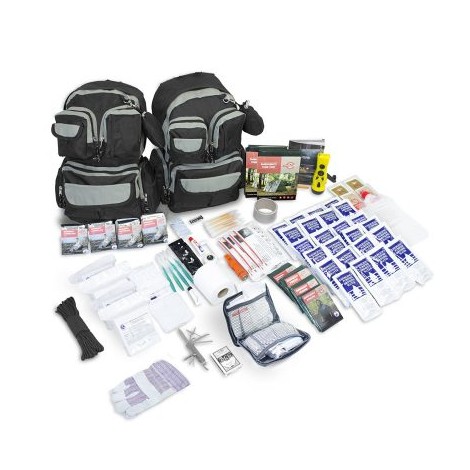 This next survival kit is somewhat different than the many other ones on this list, offering unique items and specs that make it a must-have survival kit. To keep it simple, this is the perfect survival kit that also offers an emergency preparedness guidebook, so an individual can bring out their inner boy scout. From Emergency Zone, let's talk about the Urban Survival Bug Out Bag, an everything-included 2 or 4-person disaster kit.
Weather Protection
You never know when an emergency can strike. You may be camping with the family and all of a sudden, your car breaks down hours away from any civilization. You may want to hike the mountains for a birthday excursion and all of a sudden experience extremely heavy rain. With this in mind, this survival kit includes 4 reflective sleeping bags, emergency ponchos, tube tent, and hand warmers, covering the essentials in the case of a snowstorm or heavy rain.
Water Purification
Another extremely important aspect that any survival food kit should contain is a water purification system. We as humans can go weeks without food, but only days without water. With this in mind, this manufacturer included a folding liter water container, 5 water purification powders, and water purification instruction sheet. This makes it easy to dip in a lake, purify the water, and drink!
Cost to Value
When taking this product into consideration it is evident the number of solutions this brand thought about. If you need light, they thought about it. If you get hungry, they thought about it. The kit even includes miscellaneous tools such as a whistle, gloves, and hygiene products. Now, for the purpose of this article, the most important products are the food and water bars. There is a total of 24, 4.2-ounce water pouches and 4 3600 calorie food bars in the case an individual gets hungry or thirsty.

9

. First My Family 4 Person


With families in mind, the particular survival kit manufacturer has created the essential family travel survival kit to ensure that families always comes first. When the unexpected happens a parent first wants to take care of their children. Therefore, First My Family has created and prepared the must have disaster kit in the case of major emergencies. With the 4 Person Premium Survival Kit, every member of the family can stay full, dry, and healthy in the case of major emergencies. Let's see how this particular manufacturer focuses on families first.
Food & Water
When the unexpected occurs, the first concern of any family member or individual is if there are enough food and water to last the period of the emergency. Whether you are hiking as a family or stuck in a snowstorm, the food and water kit offers 72 hours of Datrex emergency rations that are 2400 calories and offer a shortbread cookie flavor. With this in mind, an individual can rest assured that they are at least covered for a couple of days.
Stay Warm
In the case that a family has lost power or is stuck in the middle of the cold without any power, this survival preparation kit comes with a warmth pack. The pack includes matches to be able to start a fire and body warmers to keep all members of the family warm. Never allow your family or you to go cold again, thanks to this family-first dedicated brand.
Cost to Value
When we talk about cost per value, we can heavily respect a company that focuses on taking care of families and individuals in the need of emergencies. Solving basic solutions such as staying warm, full, and healthy in the case of emergencies, this survival four-person backpack comes with everything a family needs. Whether camping or stuck in a hurricane, this kit offers plenty of value at a reasonable price.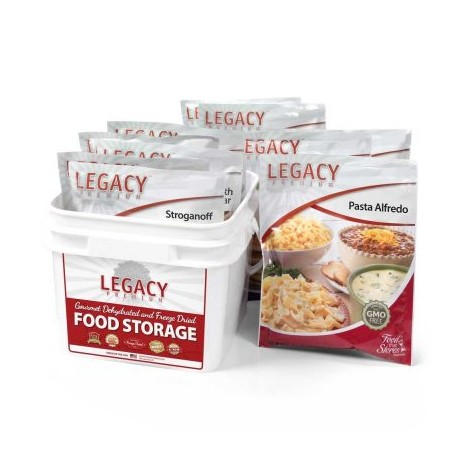 To finish this list, we have to bring another premium kit into the mix. This premium kit is essential for families that want to be prepared in the case of food shortages or emergencies. With 32 servings, this emergency food kit offers plenty of delicious freeze-dried foods that are healthy and can feed a whole family for up to 72 hours. In the case of major emergencies, it is always good to be prepared. Let's talk about Legacy Premium Food Storage Supply Kit!
Delicious Meals
Who would have thought that even in the case of emergencies an individual can eat some of their favorite foods? With plenty of delicious entrees, a family will not complain about the great taste of these premium platters. For example, the kit includes pasta alfredo, baked potatoes, classic chili, and broccoli soup. This is an emergency kit we can support easily!
GMO Free
If you support GMO-free products and are fearful about emergency food items that may have harmful ingredients then we can say that this manufacturer only focuses on supply natural and healthy items that are non-GMO. Meaning, you can ensure that even during emergencies you and your family are eating healthy meal portions that are not loaded with chemicals.
Cost to Value
We can say that this particular manufacturer of emergency preparation products is dedicated to producing some of the healthiest meal items and emergency food kits available today. There is a reason why it is known as a premium brand with premium packaging. For 72-hour emergency care, we can say that this product is slightly pricier than other survival food kits, but it is the quality that brings the cost up.

Subscribe to our Newsletter