Best Bear Bows Reviewed & Rated for Quality
In a
Hurry? Editors choice: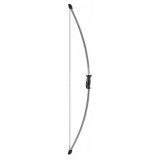 Test Winner: Archery Wizard Youth

Bear Archery is one of the leading manufacturers of both
compound
and
recurve
options. The company has been in business since 1933 so it's safe to say they understand the sport of archery rather well. Today, we will help you break down the best of the best in regards to the fine archery tools you will find from this brand. The following reviews have a little bit of everything; it does not matter if you plan to use the archery equipment you plan to purchase for hunting or just sporting, you will be guaranteed to find the exact one you are searching for.
Standout Picks
Criteria Used for Evaluation
Materials
Materials, like in every other product, dictate the quality and durability of the item itself. If it is made is from poor quality materials, you shouldn't expect top quality performance or durability. Assessing the materials is a challenge because different components require different materials.
For the weapon itself, the most accepted materials is aluminum, particularly for hunting varieties. It is lightweight and stands up well to the weather. It does not age and the finish is easily tweaked to meet your preference. Other parts like the limbs require composite or carbon materials while the smaller parts might settle for stainless steel.
Weight
For most people, the weight might not be an issue especially when you're buying it for target practice. However, for more experienced archers and hunters to be precise, weight is a big issue.
Carrying around a 10-pound piece of equipment the whole day along with your other gear can be tiring. That is why most compound hunting options are lightweight. A lighter option is also easier to operate. Typically, a decent choice should be between three to five pounds heavy.
Speed
In archery, speed is measure in Feet per Second (FPS). Different varieties have a different FPS rating depending on the purpose and level of construction. Target practice alternative has a lower FPS rating and will generally launch arrows at a slower speed.
With compound hunting options, the FPS is much higher. This is because of the quickly changing dynamics of the prey. The arrow should travel fast and with deadly force to kill the prey with the first strike. When considering speed, some of the factors to consider are the draw length and draw weight. The higher the values for these two factors, the faster the arrow.
Durability
The task of finding the perfect archery product is not easy. Once you land the right one, you hope that you can use it for eternity. That might not be possible but, by choosing a well-built option, you can enjoy its functionality and performance.
For durability, you need to consider a variety of factors. First, is the environment that it will be used in. Second, you need to look at the materials used to make the item and finally, the workmanship. Look at the details and the parts especially those that are constantly under pressure like the limb pocket.
Use
Different varieties are made for different purposes. It is vital that you first identify how you'd like to use it before you buy one. There are varieties meant for learner, target practice, hunting and the professional hunting alternatives for advanced archers.
There are also options designed for right or left hand use and those that are ambidextrous.When making your choice, all these are factors you need to consider. Make sure the choice is right of your level of experience, dexterity and purpose.
10 Bear Bows Reviewed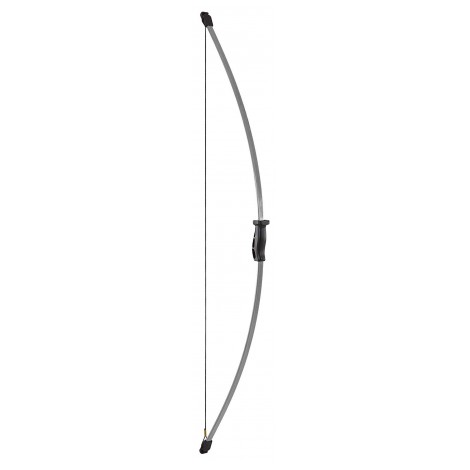 The Wizard Youth is made with beginners and particularly those in their early teens in mind. It is a basic option with all the necessary accessories that are perfect for target practice. Despite being basic, this option is fitted with some state of the art features to make it more effective and better suited for the user.
It has an 18 pound draw weight and the draw length comes in at 24 inches to give the arrows a much need punch and plenty of speed. The length of the archery tool from tip to tip is 44 inches. It is ambidextrous for both left and right-handed people; which makes this archery equipment much more user friendly, even has a set of features, which include a sight pin, and finger rollers that are also ambidextrous.
Draw Weight
When it comes to the right archery equipment that is suitable for young users; it can be rather intimidating when making an effort to pull the equipment back. The draw weight of this archery equipment has been prepared with young users in mind, which makes it less difficult for them to set up the equipment themselves and get to the maximum draw length with ease.
Ambidextrous Features
Finding a comfortable option that supports your style whether you're left handed or right handed is critical. With a few twitches, this archery equipment can be suitable to both left and right-handed shooters. It makes an ideal pick for parents who have children who show an interest in archery shooting but use different hands.
Cost and Value
Because this archery equipment is entry level, you would not expect the price to be extreme. In fact, The price of this archery equipment is quite affordable. Furthermore, considering the quality of the limbs and the added accessories you will get when purchasing this particular archery equipment, you will discover what a bargain you are getting.

For archery hunters who are better off with a compound built to maximize performance, shooting range and comfort, the Bear Archery Cruzer G2 is an excellent option. This tool is the perfect archery tool that is suitable for a variety of ages and users having various levels of skills. This equipment is complete with several features which will appeal to many users possessing a number of diverse abilities.
Adjustability
It is impressive to have a tool that you can adjust depending on who is using it. Considering that compound options are not cheap and they are not easy to find, the adjustable draw length and weight features on this are highly welcome. They make it easier for different people to share it without compromising the experience.
Draw Length
The draw length of this product is adjustable from 12 inches to 30 inches and the draw weight is adjustable between 5 lbs to 70 lbs depending upon the user and the application. Despite the fact that this weighs only 3 lbs, this equipment has capabilities of shooting at speeds upwards of 315 FPS (Feet Per Second) making it ideal for both hunting and target practice
Cost and value
Unlike recurve options, a lot of technology and workmanship goes into compound options. As such, the prices are quite different. With this particular one, it is not an entry level product and will set you back a few hundred dollars. However, it is well worth the price especially considering the features and the fact that it can be shared.
3

. Crux Ready to Hunt 70lbs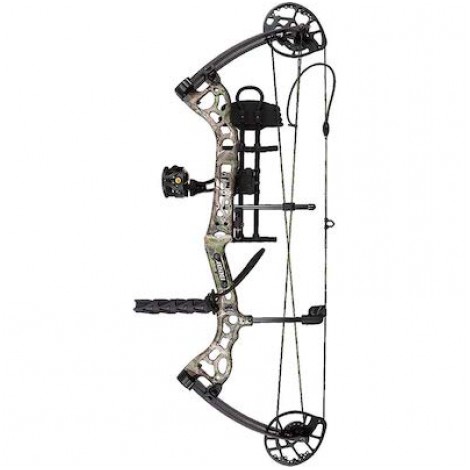 For hunting enthusiasts who want nothing short of a hunting option, the Bear Archery Ready to Hunt is there for them. Fitted with dual stainless steel sealed bearings and an aluminum build, this product is lightweight yet durable enough to keep up with the aspects of weather and the demands of hunting.
Among the impressive set of features this hunting equipment has, is the advanced grip design that increases accuracy by reducing hand torque. It also has a high precision limb pocket and provides maximum arrow power with max-preload quad limbs. These are just the features needed to give a hunter that needed edg when hunting in the woods
Quality Build
The use of aluminum gives this the right balance of weight and durability. Aluminum is not the only lightweight, it stands up well to moisture and does not rust which allows for a longer life of your archery weight is if exposed to extreme weather conditions.
Advanced Grip
When shooting arrows, the movement and energy that is required when releasing the arrow can also affect your accuracy. To prevent a decrease in accuracy, this has an advanced grip design, which aids in canceling out the hand torque effect to keep arrows flying straight increasing your chances of hitting your target.
Cost and Value
You should expect to pay nothing short of a premium for this product. For the features and its quality of build, the price is well worth it even if it is high. It is a highly specialized option and most hunters will appreciate what it has to offer.

4

. Brave Black with Biscuit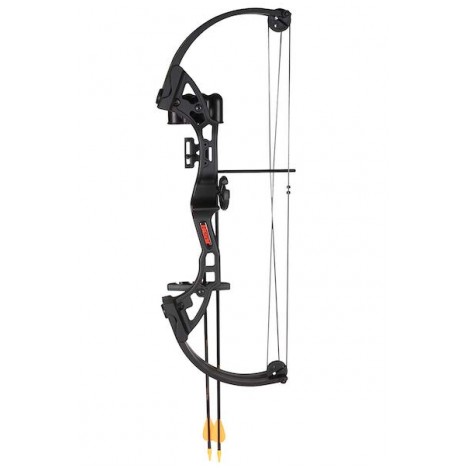 Whether you're starting out or looking for a good variety for all ages at a budget-friendly price, you might want to have a look at the Brave Black with Biscuit from Bear Archery. It comes with a nice aggressive black finish that is appealing to both the youthful as well as adult users. This archery tool is 26 inches long, affording the user ease at carrying it and has an adjustable draw weight of 15 to 25 pounds. The limbs and riser are made from durable composite, which makes it easy even for a child to use, and the brace height is set at 5.5 inches. With your purchase, you get a variety of accessories which include a biscuit arrow rest, 2-piece arrow quiver, an armguard, 2 safety glass arrows and 1-pin sight among others.
Accessories
Once you purchase this piece of archery equipment, you will be anticipating the chance to test the accuracy and ability of this product; having to wait for the arrows to be delivered can be a bit nerve-wracking. It comes complete with 2 safety glass arrows and a variety of other handy accessories that will improve your experiences like the whisker biscuit, a finger tab, and an armguard.
Adjustable Draw Weight
Because it is a product that is made with users of various ages in mind, being adjustable to fit the age of the user is an important aspect. The biggest challenge, especially for younger users, is drawing the arrow. With the adjustable draw weight, you can easily tune it to fit the strength of the user
Cost and Value
This is a great entry level compound option. Even though this does not have all the kinks and bells, it has everything you need for an excellent experience and the price is quite considerate. It is ideal for most buyers who want something budget friendly but with enough features to drive their passion for archery.

When looking for an alternative that will be suitable for hunting as well as work well during youth target practice; this option of archery equipment gets the job done. Even though the draw length is not adjustable, it varies from 13.5 inches to 19 inches. It also has a 65% let off for a steady and confident shot each time. The limbs and riser are made from composite to allow maximum durability and the brace height is conveniently placed at 5.5 inches. This option is 26 inches long from axle to axle and comes with additional accessories.
Whisker Biscuit
Even though the quality of the whisker biscuit that comes with this choice is simpler in comparison to other more advanced models, it is still quite functional and adds a great deal of accuracy to your release and positioning.
Accessories
For the price, you get more than just a weapon. You also get other accessories like the quiver, finger tab, arrows, and an armguard. These are pieces you would have to buy separately. Being bundled into your purchase allows you to enjoy your new purchase sooner.
Cost and Value
The Youth Brave Black is a great entry option for your kids and also for adults. It offers a great blend of features, functionality, and pricing and promises a great user experience. For the price, you not only get a great alternative but also quite a few accessories that will be handy as you develop your passion for archery.
6

. Br33 Realtree Compound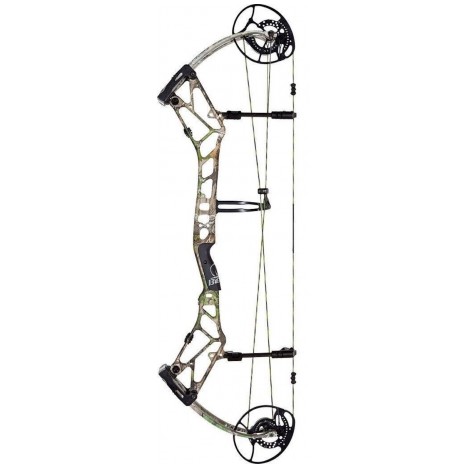 If price is not a problem and you want a top of the line option for hunting, the BR33 fits the profile perfectly. It is great for serious gamers who have experience and are looking for a fast shooting yet steady option. With shooting speeds of up to 330FPS, stainless steel stabilizing bushes, a 7-inch brace height and an EAZ Hybrid Cam system, this product gives you speed and accuracy. It is the perfect addition to your arsenal if you want to land more game.
Speed
The BR33 is optimized for speed. It is a smooth draw cycle. The Max-preload quad limbs provide all the power needed to push the arrow and the riser distributes the load to make sure your aim and release are straight for quick, accurate and deadly shots.
Impressive Technology
A lot of technology has gone into making this the trendsetter that it is. The most notable include the Advanced 7075 aluminum riser, the EAZ Hybrid cam system and also the High strength Barrel nut that adjusts the pivoting movement of the limb pocket.
Cost and Value
You should be prepared to dig deep into your pocket to land this one of a kind option. But, it will be for a good cause. With its set of features, build quality and performance, it will be an investment you will be happy to have made.



The LS6 Bold Legend is another worthy hunting variant for people who don't have a problem with budget and are looking for an option with performance in mind that is built for the great outdoors. Its design maximizes the shooting speeds which is perfect for hunting. It has an H17 Hybrid Cam system with a DrawDial that makes the draw cycle and eventual let down easier allowing the arrow to achieve maximum speeds. The max-pre-load quad limbs offer plenty of power for the arrow and the carbon Crosslock limb pocket ensures the weapon is strong enough to support the speeds. It has a maximum draw weight of 70 pounds and a let off of 70%.
Speed
When considering a variety for hunting, arrow speeds are an essential factor. The arrow needs to get to the prey quickly and deliver deadly shots without you having to launch follow-ups. With arrow speeds upwards of 300FPS and a draw weight of up to 70 pounds, this choice guarantees lightning speeds for your arrows and kills with only one shot.
Materials
To keep up the performance and ensure you can enjoy it for a long time, it is made from some of the best yet lightweight materials. These include carbon for the cross lock limb pocket and aluminum for the weapon.
Cost and Value
Like most high-end hunting compound varieties, the price on this one is a premium. That is because the item itself is a premium as well. It is made from quality materials, offers excellent performance and it's highly durable.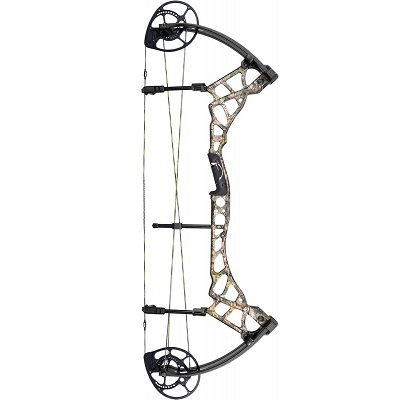 Considered as one of the best kept secrets in compound archery, this one of kind from Bear Archery has quite the impressive feature set. It is built for hunting with crazy arrow speeds and it is super light so you don't have to worry about carrying too much extra weight while on your trails.
Accuracy is a valuable asset while hunting and this one focuses most of the features on helping you get quick and accurate shots. It is fitted with H13 hybrid cams that are both effective and efficient at any draw length and work perfectly well even at high speeds. It is quite comfortable to use and comes with a removable rubber grip.
Accuracy
To improve precision, the Traxx RTH Realtree has a high-precision, zero tolerance limb pocket that offers a secure lock and a positive fit. It also has a bi-dimensionally adjustable at the bottom and the top and it has offset string suppressor for the perfect release.
Comfortable Grip
Even with all the features that compound hunting options have to offer, it is not much help if you can't get your grip steady. That is why the addition of the removable rubber grip is a great addition. It gives you two options to choose from depending on the conditions and your preference.
Cost and Value
To land the benefits, performance, and experience that this has to offer, you should be prepared to dig deep into your pockets. It will set you a few hundred dollars back but it is going to be worth it.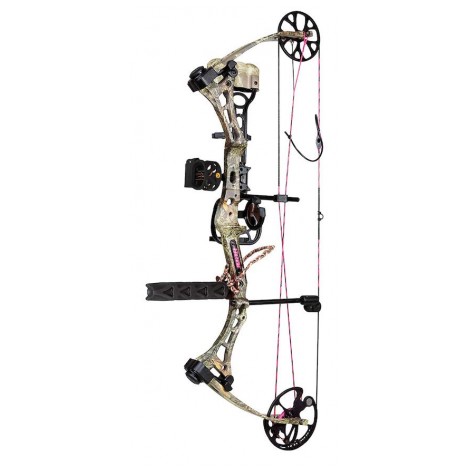 When you're looking to pack a little more power than usual in your arrows, this is the choice to look for. It is has flared quad limbs that give your shot an extra kick and just a little more speed. The limb pockets are highly precise and solid which gives your shot more controlled and accurate power.
This alternative is built with female archers in mind and has an FH1 rotating module single cam system that allows for shorter draw lengths that pack just as much power. The draw length can also be adjusted in ½ inch increments depending on what you prefer. The grip is, also, specially design to prevent the transfer of hand torque and keep your shot straight and accurate.
Flared Quad Limbs
To maximize on the draw length and give the arrow maximum power, the Finesse RT Max1 has flared quad limbs that help to increase the power in your short with less draw length and less draw weight.
Advanced Grip Design
When releasing the arrow, the energy from your hand is transferred from the hand to the weapon. This can alter your shot because the equipment moves slightly. The advanced grip design of this reduces the hand torque transfer and improves accuracy.
Cost and Value
For the features and quality that this has to offer, the price is carefully calculated and represents the quality and performance. It is built for women but can work equally well for men.

Last but not the least on our review is the Brace Flow Green which is perfect for users aged 8 years and above. This product has bold and vibrant colors for the young and for the young at heart. It is a great option to have for people who love standing out. Not only is this a great looker but, it is also quite the performer. It has a draw length ranging from 13.5 inches to 19 inches and the draw weight ranges between 15 and 25 pounds. The let off is rated at 65% for a steady and consistent shot.
Accessories
The package comes with quite a number of accessories to help you get set up and ready to go on your archery journey. The package includes a whisker biscuit, a one-pin sight, temporary tattoo, finger tab, arrow quiver and an arm guard among others.
Adjustability
This product is quite adjustable. Considering it can be used by archers of different ages, this is a welcome features. The draw length and the weight are both adjustable and they offer ample range for all types of archers to find their comfort.
Cost and Value
This is a great option for archers that have little wiggle room in their budget. Not only is the price pocket-friendly but, it comes with a variety of accessories that you would have to purchase separately so you save significantly on your purchase.
Subscribe to our Newsletter