Best Bicycle Chain Lubes Reviewed & Rated for Quality
In a Hurry? Editors choice: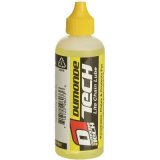 Test Winner: Dumond Tech

Hear that? That weird creaking noise in your
bike
chain? Noticing any performance issues that come with that sound? Those are the surefire signs that you need to lube up your bike chain. We love to think of our bikes as this invincible exercise and
transportation wizards
, who will always see us to our destination with ease and quality. However, the truth is that these are still machines, still tools. And machines and tools can still break, or in this case, just need a bit of lubing up. But which lubricant is the best for your needs? Well, that's what we're here to find out. Grab your rags and prepare to get greasy, because we're counting down the best bicycle chain lubes on the market today!
Standout Picks
Criteria Used for Evaluation
Effectiveness
You shouldn't have to deal with a bike that doesn't run smoothly. It's about as uncomfortable as a bike can possibly be without removing the seat and making you sit on the pole. But when the chain starts acting up, that's when the smoothness of your ride suffers. It runs slower, the pedals might get caught, etc. so you need to look for a bike chain lube that has smoothness as one of its selling points. After all, you're buying this thing so that your bike chain will run easier, so that should be your top priority when choosing bike chain lube.
Ease of Use
We live in the 21st century, the age of convenience has been here for over 20 years. So things like lubing up your bike chain should not take as long as they used to. Fortunately, lube manufacturing companies have access to more complex synthetic oils that, when put together correctly, do just that. The best bike chain lubes require little more than a small application, with the lube doing the rest. And just like with application, removal should be just as simple. If lubrication is left on the bike chain for too long, it can actually end up hurting the chain in the long run, gunking up the chain and slowing you down. Fortunately, most lubricants are easy to clean off, either with a quick rub down with a rag or even just spraying them with a hose.
Features
Cleaning and lubricating used to be two different parts of the process, but thanks to modern technology and increased knowledge of oils and synthetics, many manufacturers have learned how to mix the two together into a single substance. Because of this, many lubricants have come onto the market with the ability to both lubricate and clean, all at the same time. If you are the impatient type, who doesn't particularly care for the process of knowing when to clean and when to lubricate and which to do first, then these types of lubricant are your best bet for getting the most out of your bike chain lube.
Versatility
Your bike chain isn't the only part of your bike that needs to be lubed up every once in a while. Yes, it needs it the most often of all, but your cables, pivots, and other such areas also require lube when they get too much gunk in their systems. However, if you don't have the money to spare to pay for a lubricant for all of those other areas, then you'll have to rely on bike chain lubricant that can be used on other areas. These types of lubricants didn't always exist, but they're growing in number as the years wear on now that we know how to make them. Lubricants this versatile are a must have for the passionate bike owner or pro cyclist. After all, it's easier to keep track of one bottle of lubricant than 5 or more.
Value
Bike chain lube typically does not cost you all that much, usually only costing about $10-20 at most. However, that's only if you're looking at the bottle units measured in ounces. Meanwhile, a larger amount, like the 1-gallon units we saw in earlier entries in this list, can cost up to $100. So, if you're only looking for smaller amounts for your bike chain lube, the cost won't be an issue, so you're free to look for the one of the highest quality instead.
BEST BICYCLE CHAIN LUBES REVIEWED & RATED FOR QUALITY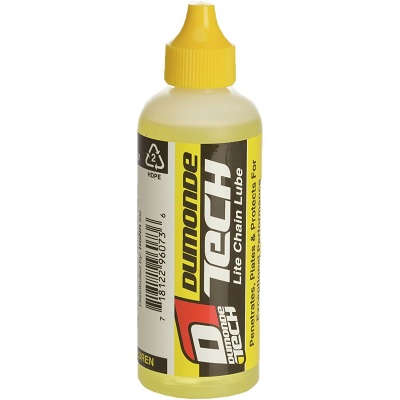 Starting off our list, we have easily one of the most well-regarded chain lubes known to cycling: Dumond. These guys have been around for a while, and so their Lite bike chain lubricant is the best lubricant you can find on the commercial market right now. What is it that makes it so amazing? Let's find out.
Easy to apply
You'd think just rubbing some greasy substance on your bike chain wouldn't be all that hard, but some lubes are concentrated too much and are thus more difficult to apply correctly. Fortunately, the concentration of the Lite BCL is low enough to still be effective, while also being much easier to apply than the leading brand.
Lasting effect
Directly contradicting what was said in the opening, this lubricant is a standout from its peers in that it does not need to be regularly applied to the chain in order to keep working. This lubricant is incredibly durable and lasts significantly longer than any of its commercially available peers.
Cost and value
This lubricant offers a fantastic price tag which is definitely a good deal for one of the best bike chain lubricants out there right now.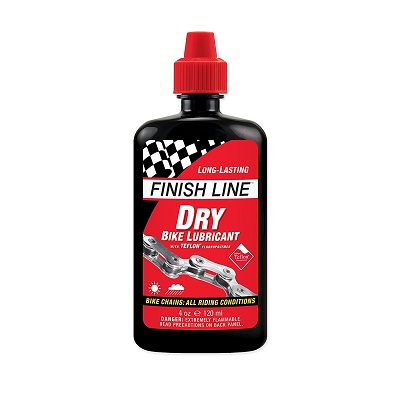 Next, we have Finish Line's Dry Teflon Chain Lube. Now, Finish Line has been in this business for a long time and has made a lot of good, quality chain lubricant, including a wet equivalent to this lubricant which we'll get into later down the list. But their dry Teflon chain lube still remains one of the best products they've ever put out.
Versatile
Some lubricant is meant for kids bicycles, and some are meant for hard as nails off-road bikes. Finish Line's lubricant can be used on both, and that is the secret to this lube's popularity. Not only that it works, which it does, but that it can work for almost anybody.
Synthetic oil and teflon
With a mixture of Teflon and various synthetic oils, this lubricant manages to achieve a long-lasting effect that, while not as durable as Dumond, will still last you a good long while.
Cost and value
This lubricant comes in a variety of sizes measured in ounces. So when looking for the cost of this lubricant, try to decide how much you need first and foremost and then go from there. You shouldn't expect to pay an arm and a leg for this product.

3

. White Lightning Clean RIde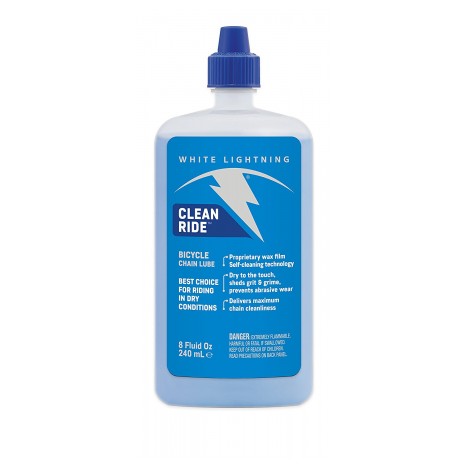 Here we have White Lightning Clean Ride lubricant. A self-professed "self cleaning" lubricant, this lube is special in that it looks like a liquid when you pour it out, yet feels dry to the touch. But that's not the only trick this lube has up its sleeve.
Self cleaning
By self-cleaning, this lubricant means that you don't really have to wipe it off afterward to take off the grime and dirt. Instead, all you need to do is ride around on it for a few minutes and let the lube do its job. The lubricant is automatically activated by the presence of dirt and grime, which it then absorbs by itself. The act of riding then makes the lubricant flake off by drying. Thus, a self-cleaning lubricant.
No oily film
The great thing about the lubricant being self-drying is that there's no chance of the lubricant accidentally picking up dirt particles that are floating through the air. Thus the bike chain is cleaned and no dirt is left in its wake.
Cost and value
Like before, this lubricant comes in varying sizes, but unlike our #2 spot, the prices are much more balanced and make for a better deal. The price range depending on the size.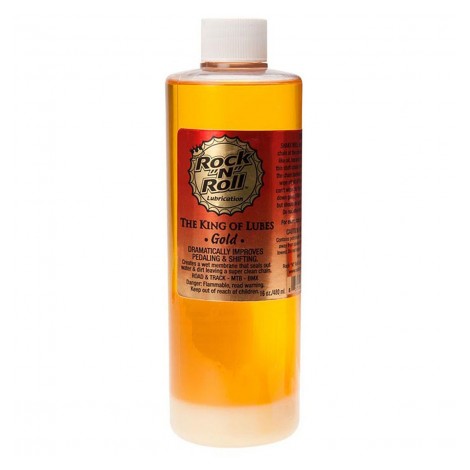 It's one thing to properly lubricate your bike chain, though, it's another to clean it up. If the bike is still pretty dirty after you apply the lubricant, then chances are it won't be long before it needs to be lubed up once more. This is where Rock N Roll It's Gold Chain Lubricant comes into play.
Simultaneously cleans and lubricates
Lubricating typically comes before or after cleaning, depending on what kind of lubricant you're using. However, this lubricant can be applied without cleaning at all, because it does both of those tasks at the same time. Simultaneously lubricating the chain whilst removing any stains, dirt, and grime that's built up.
Smooth and quiet
The two things you're looking for after you lube up your bike chain is smoothness when you ride afterward, and for the chain in question to be utterly quiet while riding. This lubricant does both so well, you'll start wondering whilst riding whether or not the chain spontaneously disappeared.
Cost and value
Not only does this lube come in different sizes, but also comes in packs of multiple bottles of the stuff. Luckily the price range that results from this isn't too bad.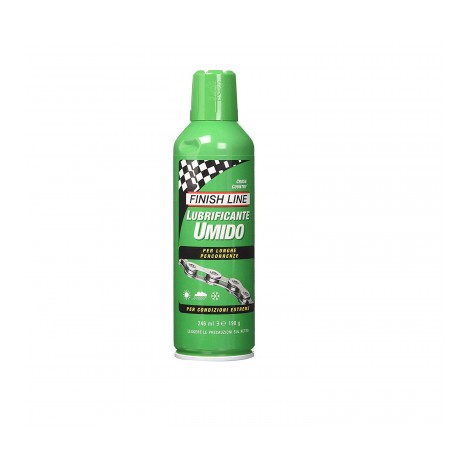 Here is another entry from this brand, Finish Line's Wet Bicycle Chain Lube. The main thing that sets this apart from its cousin is, obviously, the fact that it's a wet substance as opposed to a dry one. But is that all it has going for it? Not at all, as the following shall demonstrate.
Best for extreme conditions
Making this lubricant wet ironically makes it perfect for extreme weather conditions, like if you have to leave your bike out during a thunderstorm. The wet materials give this lubricant a cling like no other that certainly dwarfs its dry cousin.
Water repellent
One of the most common causes of bike chain failure is erosion and rust from the water like the rain. However, what makes this lubricant so perfect for such extreme conditions is that the formula used to make it is made of high viscosity oils, anti-wear additives, and most importantly, water repelling polymers that help to keep the elements off of your bike chain.
Cost and value
Like with its dry variant, this lubricant comes in a variety of sizes, from 2 oz to 1 gallon. The price range is reasonable, however, no matter what size you choose.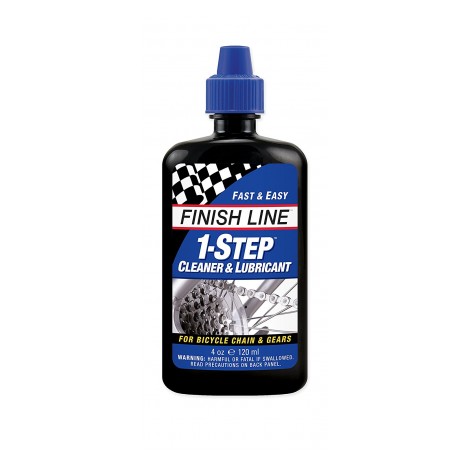 Keeping on Finish Line for one more entry, we have the 1-Step Bicycle Chain Cleaner and Lube. Like it says on the proverbial tin, this lubricant reduces the usually tedious process of lubricating and cleaning your bike chain down to just 1 step. How does it do this? The answer is very simple:
Fast and easy
This lube lives up to its name as early as the first application, digging into the chain and flushing out all dirt and grime that it finds. Thus lubricating your bike chain, as well as cleaning it thoroughly. But that's not all it flushes out.
Removes old lubricant
You heard that right, even previously applied lubricant can prove the downfall of your bike chain if you aren't careful. Like anything left out in the sun too long, the lubricant, if not properly removed, will rot and dry in the sun, gunking up your chain all over again. The 1-step removes and flushes out all old lubricant materials you may have missed during your last cleaning, leaving nothing but a clean and tidy bike chain behind.
Cost and value
The price of this lubricant depends entirely on the bottle size you choose. It comes with a reasonable price tag, however, regardless of what size you decide to go with.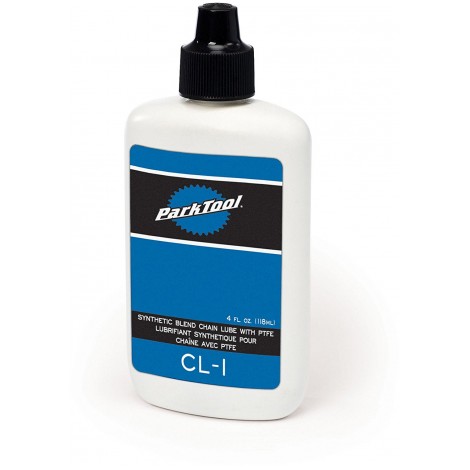 In our #7 spot, we have the Park Tool CL-1 Synthetic Blend Chain Lube. Though it may be situated at a lower spot on this list, make no mistake, this is still a very high-quality chain lube that will get you out of many a tight spot.
Work dry or wet
While this dichotomy is so stark with other lubricant companies, that they just decided to sell two different versions of the same product to compensate, the CL-1 runs laps around them by just making a formula that works in all conditions. Using its own blend of oils and PTFE, this lubricant will work wonders no matter what the weather conditions may be.
Versatility
Your chain isn't the only part of your bike that needs lubing up. There are plenty of other mechanisms on your bike that will need some loosening up from time to time. Luckily, this lubricant works on everything from spoke nipples, to cables, to even the derailleur and brake pivots.
Cost and value
This bottle only comes in one size, though thankfully it's very cheap. This lubricant will help you keep your bike running at peak efficiency, without breaking the bank in the process.

8

. Bike Medicine Purple Extreme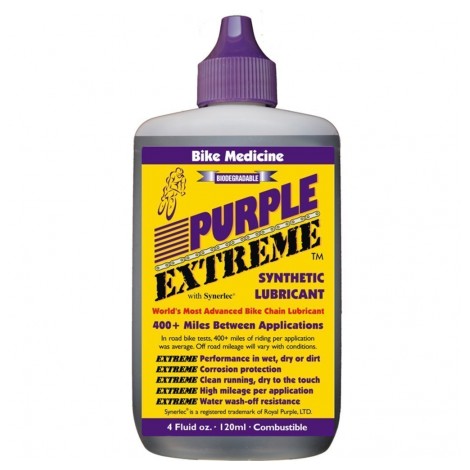 Starting off the final 3, we have the Bike Medicine Purple Extreme lubricant. This is one of the highest-rated lubricants out there, with several industry awards to its name, and it doesn't take long to see why. This is easily one of the most efficient bike lubricants you can buy today.
Superior mileage
This lubricant will give you the best mileage out of any other entry on this list and is easily the biggest point in its favor. Applied correctly, and you will gain over 400 miles of smooth operation before ever needing to apply the lubricant.
Also worth reading bicycle speedometer
High film strength
Low film strength can actually do more harm than good to your bike chain, which is why bike lubricant companies make good film strength one of their top priorities. And among them, the Purple Extreme stands as one of the best in that regard, with a film strength that guarantees no harm will come to your bike chain when you apply this lubricant.
Cost and value
Obviously, such a high-quality lubricant would cost a bit more, but thankfully the price isn't much. This lubricant may cost a wee bit more, but it's definitely worth the money.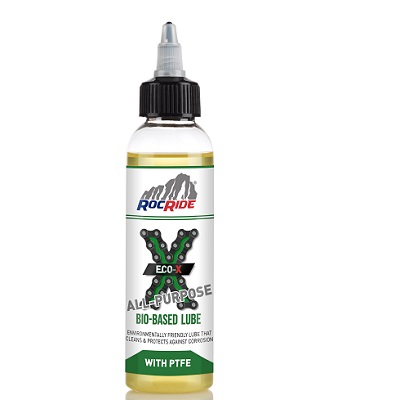 In our second to the last spot, we have RocRide-Eco-X-Best-Bicycle-Chain-Lubes Premium Chain Lube. This lubricant isn't as well known, which is a real shame, because it is a genuinely good product. It works wonderfully, it's priced well, it's just a good bottle of lubricant.
Unique formula
Not only does the formula used to make this lubricant allow it to be used whether wet or dry, but it also makes cleaning a breeze by making the oils able to be washed off of the chain with little more than w quick spray of water.
Biodegradable
Ever accidentally spilled some lubricant on the grass and immediately felt the environmentalist part of you wretch with shame? Well, don't worry, as this lubricant is completely biodegradable, so if you spill some on the ground, you don't need to worry.
Cost and value
This lubricant only comes in two sizes, either 2 or 4 ounces, and thus has a small price range. However, it's still pretty affordable.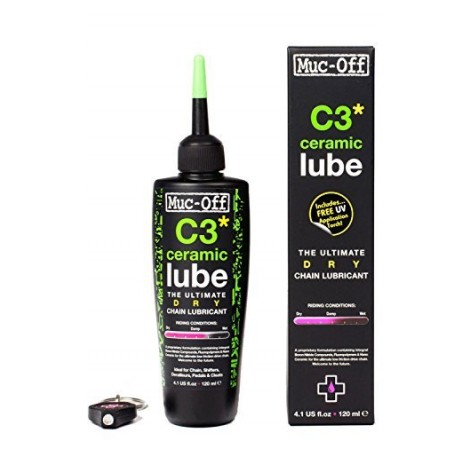 Finishing off our list, we have Muc-Off C3 Dry Ceramic Lube. Don't let the fact that it's at the bottom fool you, though. We went through dozens of other lubricants before we settled on this one, so it's still a winner in our eyes. What exactly did it do to get so far ahead? Read on to find out.
Biodegradable
This is a great lubricant to use if you care about the environment. Because of the specifically chosen synthetic oils, and the lack of petroleum used in the formula to make this lubricant, you can breathe easy knowing that any accidental spills won't hurt the environment in any way.
Longevity
Yes, you do have to apply more lubricant every couple of weeks or so, but that's a long time, especially if you rely on your bike as your primary source of transportation. So not only will this lubricant last you several weeks after application, but it will also last you even longer as a source of lubrication because you won't be using it nearly as often.
Cost and value
Like other choices in this list, this bottle comes in a variety of sizes. Which is where we get to the main flaw with this lubricant: the price. Not that it's too high, but when put against other, more reasonable deals on this list, it can be a bit much. For lubricants that, put simply, run laps around Muc-Off's entry, it becomes expensive by comparison.

Subscribe to our Newsletter