Best Bicycle Chain Lubes Reviewed & Rated for Quality
In a
Hurry? Editors choice: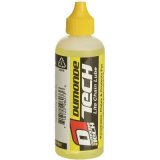 Test Winner: Dumond Tech

Hear that? That weird creaking noise in your
bike
chain? Noticing any performance issues that come with that sound? Those are the surefire signs that you need to lube up your bike chain. We love to think of our bikes as this invincible exercise and
transportation wizards
, who will always see us to our destination with ease and quality. However, the truth is that these are still machines, still tools. And machines and tools can still break, or in this case, just need a bit of lubing up. But which lubricant is the best for your needs? Well, that's what we're here to find out. Grab your rags and prepare to get greasy, because we're counting down the best bicycle chain lubes on the market today!
Standout Picks
Criteria Used for Evaluation
Effectiveness
You shouldn't have to deal with a bike that doesn't run smoothly. It's about as uncomfortable as a bike can possibly be without removing the seat and making you sit on the pole. But when the chain starts acting up, that's when the smoothness of your ride suffers. It runs slower, the pedals might get caught, etc. so you need to look for a bike chain lube that has smoothness as one of its selling points. After all, you're buying this thing so that your bike chain will run easier, so that should be your top priority when choosing bike chain lube.
Ease of Use
We live in the 21st century, the age of convenience has been here for over 20 years. So things like lubing up your bike chain should not take as long as they used to. Fortunately, lube manufacturing companies have access to more complex synthetic oils that, when put together correctly, do just that. The best bike chain lubes require little more than a small application, with the lube doing the rest. And just like with application, removal should be just as simple. If lubrication is left on the bike chain for too long, it can actually end up hurting the chain in the long run, gunking up the chain and slowing you down. Fortunately, most lubricants are easy to clean off, either with a quick rub down with a rag or even just spraying them with a hose.
Features
Cleaning and lubricating used to be two different parts of the process, but thanks to modern technology and increased knowledge of oils and synthetics, many manufacturers have learned how to mix the two together into a single substance. Because of this, many lubricants have come onto the market with the ability to both lubricate and clean, all at the same time. If you are the impatient type, who doesn't particularly care for the process of knowing when to clean and when to lubricate and which to do first, then these types of lubricant are your best bet for getting the most out of your bike chain lube.
Versatility
Your bike chain isn't the only part of your bike that needs to be lubed up every once in a while. Yes, it needs it the most often of all, but your cables, pivots, and other such areas also require lube when they get too much gunk in their systems. However, if you don't have the money to spare to pay for a lubricant for all of those other areas, then you'll have to rely on bike chain lubricant that can be used on other areas. These types of lubricants didn't always exist, but they're growing in number as the years wear on now that we know how to make them. Lubricants this versatile are a must have for the passionate bike owner or pro cyclist. After all, it's easier to keep track of one bottle of lubricant than 5 or more.
Value
Bike chain lube typically does not cost you all that much, usually only costing about $10-20 at most. However, that's only if you're looking at the bottle units measured in ounces. Meanwhile, a larger amount, like the 1-gallon units we saw in earlier entries in this list, can cost up to $100. So, if you're only looking for smaller amounts for your bike chain lube, the cost won't be an issue, so you're free to look for the one of the highest quality instead.
BEST BICYCLE CHAIN LUBES REVIEWED & RATED FOR QUALITY
Subscribe to our Newsletter