Best Bath Robes Reviewed & Rated For Quality
In a Hurry? Editors choice: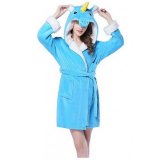 Test Winner: NEWCOSPLAY

A bathrobe is considered a personal product where luxury meets necessity. Aside from being useful, bathrobes provide an extra benefit of bringing the wearer a touch of softness and comfort that was only possible with spa and hotel robes. Today, you see these bathrobes everywhere - including on the internet. To ensure you select the best quality, it is best to educate yourself before making a purchase.

Take into account that not all bathrobes are created equal. That is why it is essential to do your homework. Many robes are available in both women and men's sizes. Some are unisex. There are even kids' bathrobes on the market sold as "one-size-fits-all"petite and large bathrobes.

We've picked 10 standouts for their style, feel, practicality, and comfort. There is no one robe that works for every person, but we think you will find a great match here.
Standout Picks
Criteria Used for Evaluation
Materials
Whether intended for lounging in comfort, or slipping on after a shower, a bathrobe's most important characteristic is the material used in its construction. Bathrobes are available in a broad range of fabrics; from cashmere to classic cotton. It is important to consider absorbency, weight, and feel of the fabric when making a choice.
Cotton Terry
When using a bathrobe as a replacement for a towel, make sure you are selecting one with a terry cloth material. For an extra-plush bathrobe, look for Egyptian cotton. Cozy and classic, soft Turkish and Egyptian cotton has been used for centuries in towels and bathrobes. Available in a variety of thread counts and weights, terry cotton robes have better absorbency and are popular for use in spas and hotels. The trade-off is that this particular fabric becomes heavier as more water is absorbed, making wear a bit bulky. As with all 100 percent cotton, look for preshrunk fabrics.
Cotton Waffle
Cotton waffle is identified by its diamond or square textured pattern. If has the absorbency of regular cotton, but is more prone to shrink and the fabric is thinner, unless it has been pretreated. Ideal for bulk purchasing and inexpensive, cotton waffle fabric is often used by hotels and spas that make bulk purchases.
Cotton Velour
Perfect for comfortable lounging, cotton velour comes in a velvety texture, resembling polyester velour. Thick and soft, it is found in winter robes and has a cotton content of around 80 percent.
Flannel
This material is ideal for colder months as it has great heating properties. Flannel is made from spun yarn such as wood or cotton. It is softly woven so that it's delicate to the touch, without being too velvety, like velour.
Satin and Silk
Warmer months call for lighter, cooler fabrics. Not undermining the water absorbency of looped-microfiber or cotton, silk or satin bathrobes provide fluid, light coverage and are the best choices.
Microfiber
Microfiber is versatile fabric with a combination of the breezy, light feel of satin and the breathable characteristics of cotton. Manufactured ultra-tiny fibers, microfiber can be whipped into millions of tiny loops or woven into a suede finish to create softness and superior absorbency. Available in several textures and weights, microfiber bathrobes are perfect for lounging or after-shower use.
Dual Layer Microfiber
Often used in spas, some robes are constructed with brushed microfiber on the outside and a terry cotton liner inside. This combination of performance and looks gives a suede-like, smooth appearance, while retaining the soft feel and absorbency of the terry cloth. These elegant robes are highly popular and are great gifts for special occasions.
Cashmere
Cashmere robes are the ultimate in luxury and are labeled pricier than most other options. This material is available in numerous varieties. These robes are mostly purchased as lounge wear during the colder months; providing ultra-warm, lightweight comfort.
Chenille
Chenille material has grown in popularity as a fabric for bathrobes. Micro-chenille is attractive due to its polyester makeup. Be aware that the quality can vary widely. Since both quality and imitation types look identical, feel a sample to ensure it has the lightweight and the softness of the better quality.
For the most part, consumers do not take comfort in purchasing a bathrobe that requires dry cleaning. Higher-maintenance materials that fall into this category are satin or silk. Fabrics such as plush, terry, linen, fleece, waffle, peshtemal, and knits can be washed and dried.
Style
There are different styles of bathrobes, including a shawl collared and Kimono. Shawl collar robes closes at the neck, like wrapping a shawl around you. They typically give you maximum comfort and warmth.
Kimono robes are a Japanese-styled dressing gowns constructed from silk patterns, which normally tie up behind the back. They offer a tailored fit with a streamlined flat collar and wrist length sleeves. These are popular as spa robes due to their lightweight comfort and their fitted, sleek look.
A hooded robe is designed for warmth and are great for drying wet hair after swimming or bathing. It also provide extra warmth around the head and neck area.
Cuffed robes are designed with a fold on the bottom of the sleeve.
Most come with a belt that ties around looped holes made in the waist, ensuring the proper fit in all sizes.
Bath robes are normally knee-length and are made from an absorbent fabric. They're designed to wear after a bath or shower or bath before getting dressed.
Spa robes are typically white, roomy, and long, making them a great choice for relaxing. They are usually constructed from comfortable fabric, and tend to feature a zip or belt at the front. Some add a hood for added comfort.
Lingerie robes are made of sheer, lace silk or fabric and are brightly colored to match any underclothes.
Color
Both men's and women's robes come in nearly any pattern or color you can imagine. Children's bathrobes also often come in patterns and fun designs or have cartoons or animal prints. You can find robes in black, white, blue, brown, or pinstriped styles for someone who is looking for a sophisticated robe to wear. Chenille bathrobes for men look great in burgundy or sage. Pastels or cream bathrobes are stylish colors that are great choices for women. Terry cloth bathrobes in teal or red are great colors for a sophisticated look.
If you are buying a higher-quality robe, consider going with a more neutral, solid color. In this way, your robe will always be in style, despite how the fashion changes. Sometimes, going with a fashionable or trendy pattern can go out of style over time.
Size
The size usually means two things when choosing a bathrobe: the waist and the length. Be sure to check the exact dimensions of a bathrobe to see if the sizing is accurate, as you might need to look around to find the right one.
For men and women who are looking for warmth during the autumn and winter months, an ankle-length microfiber bathrobe will make a great choice. A knee-length or mid-calf bathrobe is more ideal for warmer months. A knee-length microfiber is perfect for the swimming pool or spa. It gives you the coverage you want and is long enough to be absorbent. Shorter, silk robes will make a perfect bridal gift and is useful for covering up lingerie.
Brand
It is important that a robe be both long-lasting and comfortable. A good brand should have a reputation for customer service and quality. Even though a robe's size is somewhat flexible, it is nice to know that a manufacturer offers a good policy on returns just in case the bathrobe you just bought won't work. A lot of brands come with excellent warranties or guarantees.
10 Best Bath Robes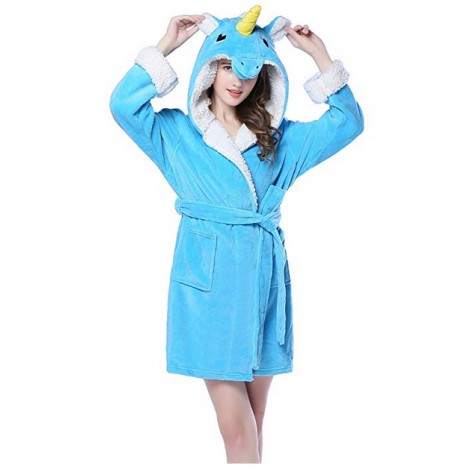 This eye-catching unicorn, unisex hood bathrobe is designed with a hood, teeth, eyes, and nose for full effect. Their adult robes are soft, cute, and snugly. You will wish to get home from your day just to throw it on and relax in! Match one with some animal slippers for your next down-time. Product dimensions are 9.8 x 3.9 x 2 inches.
Soft Fabric Material
The NEWCOSPLAY fleece polyester bathrobe is constructed with a sherpa and flannel material. The sherpa fabric is made inside the robe. It is super-absorbent and warm. Breathable and skin-friendly, this robe resists wrinkles and does not easily fade.
Unique Unicorn Design
The adult hoodie on this robe is really cute. Created with unique stitching, you will have a robe that will keep you cozy during those relaxing, cooler days. It is a unisex bathrobe, in which you can purchase two matching robes as a gift for a wedding or anniversary.
Cost and Value
The COSPLAY bathrobe can be worn as sleepwear or used as a bathrobe itself. This is beneficial for lounging beside a swimming pool, used as sleepwear or wearing it at a cosplay party. The manufacturer policy for exchanges and returns is in full effect with their 7-day returns warranty.



The Lusofie women's bathrobe is made to be super soft and stretchy. Their comfortable sleep shirt is perfect for lounging, layering, and for sleeping. The product sizes run from small to 2X large. Made from 95% cotton and 5% spandex.
Multifunctional
Lusofie have added a tie inside the robe for keeping it closed at all times, adding a sense of security while you are entertaining guests. It is constructed with roomy patch pockets and long sleeves for keeping the hands and arms warm. The pockets are large enough to hold your remote, cell phone, and other necessary items while nursing or lounging.
Stylish Robe
This kimono robe is made with an ultra-soft fabric. Comes with an adjustable tie waist and open-front, providing a customized fit and a classic look. It is crafted with neckline edges that provides an elegant feel and contrasting piping that surrounds the cuffs.
Cost and Value
The Lusofie bathrobe is designed with a cotton-rich blend that combines the performance of spandex, and the softness of cotton. Both provides stretchability and breathability for superior comfort. The manufacturer has a 'no-questions-asked' refund policy in full effect in the event you are not happy with your purchase.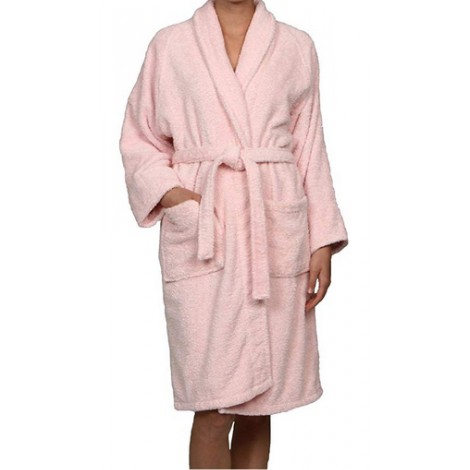 The Superior bathrobe is made to fit both women and men comfortably; surrounding the user with the softness and durability of quality cotton material. The cozy shawl collar and the long length makes these robes perfect for use after a soak in the tub or a dip in the pool. The product dimensions are 12.5 x 16 x 5 inches, with a weight of 3 pounds.
Guaranteed Fit
These premium bathrobes are designed to be roomy and extra long. They come with a terry belt that adjusts for a more secure fit. Made from 100% terry cotton material.
Multiple Colors
Every robe is made with adjustable sleeves and two patch front pockets to provide style and comfort. They are available in a variety of colors to suit every bathroom decor and personal taste. Sizes run from small through extra large. Features a terry belt.
Cost and Value
Superior boasts in designing high quality textiles and pride themselves on only producing the finest products. For returns, warranty, or refunds, you can contact the seller regarding their policy regulations and rules.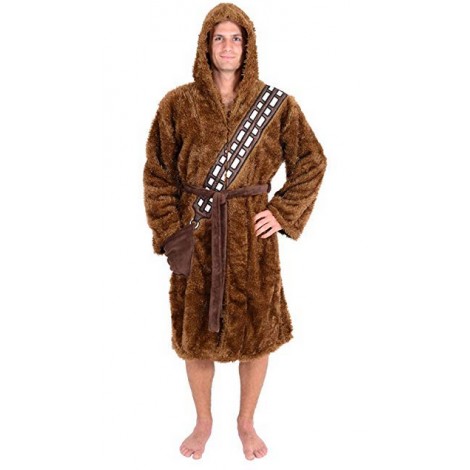 You can start off the day or end it with wearing your favorite Star Wars character! Sold by Robe Factory, they are made with 100% fleece material. The robes are embroidered with a design that will have you transport into lounge mode. Every bathrobe is licensed by Disney Star Wars. Product dimensions are 18 x 14 x 6 inches.
Hotel Quality Material
For any Chewbacca lover, this is a great robe. It fits comfortably in terms of hem length and sleeve length. It is super warm and very soft. The stitching is crisp, and the detailed metallic look is well designed. Made of 100% polyester and has a furry feel.
Officially Licensed
Sold by Robe Factory, the unisex fleece robe is licensed by Disney Star Wars. The standard length is 49" with a waist size up to 50". Designed with a tie closure, the Disney fleece robe also comes with an attached hood.
Cost and Value
The robe is a great value for the ultimate Star Wars fan! For any information regarding returns, refunds, and warranty, you can contact the seller for policy rules and regulations.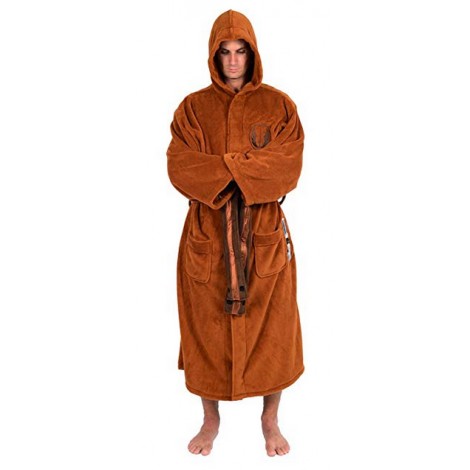 The Jedi Master bathrobe will make a great gift for Sci-fi fans. The Star Wars men's bathrobe is made from soft polyester fleece. Officially licensed, the robe comes with two front pockets, a self-tie closure, and a Jedi logo. Item dimensions are 18 x 2 x 12 inches.
One Size Fits All
Comes in one size that will fit most adults. Measures 54" from the top neck to the bottom hem. The width from one waist end to the other end is 54", and the bottom of the neck to the top of hood measures 12".
100% Fleece
The Jedi Master robe is made from 100% fleece. This officially licensed Star Wars bathrobe comes with a self tie closure, two front pockets, and with an embroidered Jedi logo placed on the front. The attached hood keeps the head warm and completes the entire look.
Cost and Value
This bathrobe is a great value for the ultimate Star Wars fan! For any information regarding returns, refunds, and warranty, reach out to the seller for policy rules and regulations.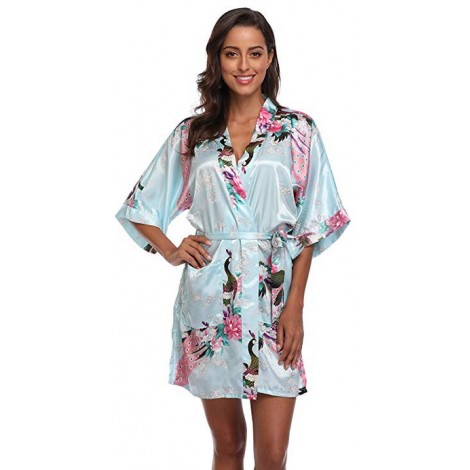 Experience style and comfort! Relax in soft luxury with this robe. Constructed from soft polyester, the kimono robe by CostumeDeals is very simple to care for. It can be worn as a light wrap jacket on warmer days, or worn at home as a bathrobe or a lounger. Item dimensions run from small to extra large.
Four Sizes to Choose From
Made from 100% polyester, the kimono robe has four sizes to choose from; S/M, M/L, L/XL, Medium (Free Size). The free size should fit most people. For accuracy, view the product description for size details.
Stylish
The kimono robe comes in a variety of colors. It is comfortable, lightweight, and smooth to the touch. It comes with inside ties, belt loops, a sash tie closure, and 2 side pockets. Yet affordable, this robe have a silky look and feel to it.
Cost and Value
The print is designed throughout the robe and runs into the sleeves. The two patch pockets and beautiful patterns make this bathrobe both practical and stylish. Makes a great gift for anniversaries, birthdays, or bridal showers. CostumeDeals kimono robe feature slits that shows off a sexy design. For returns, warranty, or refunds, you can contact the seller regarding their policy rules.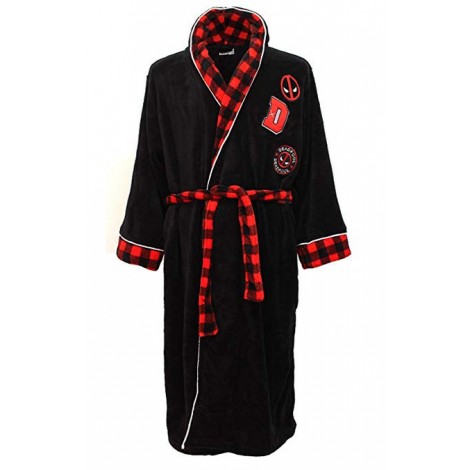 The Marvel Deadpool plush robe by BioWorld is designed with embroidered logo patches placed on the front. It comes with a waist tie along with a black and red plaid trim. A must-have for Marvel Deadpool fans! Product dimensions are 18 x 14 x 6 inches.
Plush Robe
Made out of 100% polyester, the Marvel Deadpool adult robe is super cozy and soft. The fabric is of great quality and very comfortable for lounging in on the weekends.
Makes a Great Gift
The Marvel Deadpool plush robe is the gift to give a fan, or the person in your life. The robe is not too thick, but it is plush. A medium size will fit a slim teen around 5'4. Decals on the robe are embroidered nicely.
Cost and Value
Officially licensed, the Marvel Deadpool robe by Bioworld is worth the value for the style, quality material, and usage. BioWorld have a refund policy put in place if you are not satisfied with your purchase. Contact their customer service and they will address any concerns and make the appropriate resolution.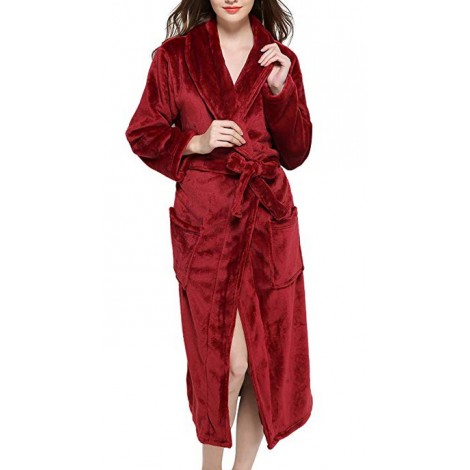 The LEINASEN women's kimono bathrobe features a soft plush fabric made from terry cloth. It is crafted with a special lining that brings about a luxurious feeling to the wearer. Comes with long sleeves and is crafted with a thick material to help keep you warm. Product dimensions run from small to extra large. The product weight is 1.98 pounds.
7 Colors to Choose From
There are seven available colors to choose from: purple, orange, blue, black, red, rose, gray, and white. This will make a great gift for showers, Christmas, and weddings.
Adjustable Waist Strap
Comes with an adjustable strap that attaches at the waist. The LEINASEN women's robe is designed with 2 side pockets for storing a remote, cell phone, or other smaller items.
Cost and Value
With a satin trim detail, this plush fleece bathrobe is lightweight, yet warm to wear in cooler months. The imported fabric is of a decent quality. You can wash and dry it without causing much shrinkage. For returns, warranty, or refunds, you can contact the seller regarding their policy rules.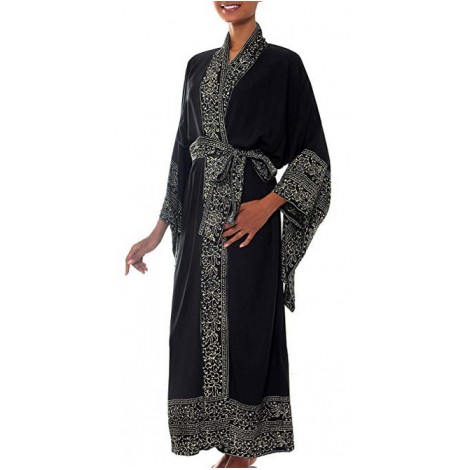 The NOVICA kimono robe is designed with lush patterns that are printed with batik designs. The black robe comes with a belt that emulates the batik design. The dimensions on the robe are 11.8 x 6.3 x 1.9 inches.
Certified
This kimono robe comes with a certificate of authenticity. Consumers will receive a NOVICA story card which certifies authenticity and quality. Each booklet also gives information about the manufacturer and the inspiration behind each purchase.
High Quality
Each robe is made with 100% rayon material, which offers exceptional quality. The kimono robe will be treasured as a keepsake for years to come. Please note that the robe does not come with belt loops and pockets.
Cost and Value
NOVICA works with other artisan designers globally to produce stunning products. Their mantra is spreading happiness. Their mission is to do everything to ensure you're a satisfied, happy consumer. NOVICA provides a return policy that is in full effect. If you are not happy with your purchase, you can contact them for a resolution.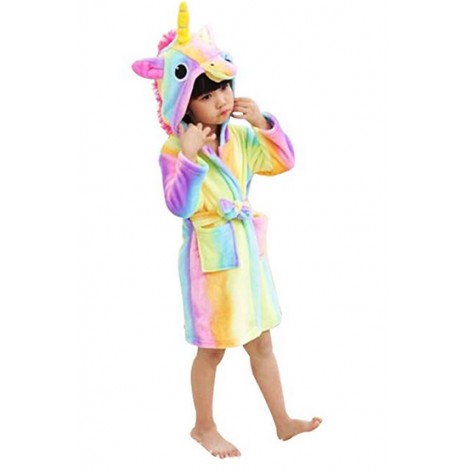 The RGTOPONE unicorn robe sleepwear is a great choice for children. It is made of soft, fleece and is warm in the colder months. Children can wear this as housecoat, homewear, beach robe, and, of course, a bathrobe. Your child will love its unique design. Product dimensions are 12.5" length up to 36.2" length.
Risk-free Guarantee
The bathrobe comes with a risk-free guarantee provided by the manufacturer. Offering a satisfactory after-sales service is the company's mission. Consumers can contact the company regarding any concerns, questions, or if they are not happy with their purchase. They will work to offer a solution.
Makes a Great Home-wear Outfit
The RGTOPONE robe is useful for all four seasons. Durable and practical, it can be worn during the summer after swimming, bathing, or lounging in an air conditioned room. It can also be worn during cold months after bathing and for lounging. The robe has a very soft feel to it and is eco-friendly. Your child will not have to worry about irritation.
Cost and Value
With an affordable price, the RGTOPONE unicorn bathrobe offer high quality to the consumer. Made with premium quality material, it is a robe that your child will enjoy. Regarding returns, the manufacturer has a policy in full effect if you are not satisfied with your purchase.

Subscribe to our Newsletter