Best Braided Fishing Lines Reviewed & Rated for Quality
In a
Hurry? Editors choice: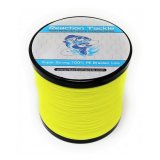 Test Winner: Reaction Tackle Braided Fishing Line

Fishing, either you get it or you don't. The sport is the point and making the catch is a great bonus. Nothing beats a serene day out on the water. But one thing that will quickly take your fishing trip south is if your line snaps in the middle of wrestling some big game. That's why you need a better line, to be specific, a braided fishing line. If you're going to spend good money on
rods,
and
bait
and
lures
, then get you some good fishing line as well. Braided fishing lines are one of the most storied and most enduring types of fishing lines out there. So, if you have decided you want a type of fishing line that isn't completely terrible, try out the following 10 braided fishing lines and see if any of them do it for you.
Standout Picks
Criteria Used for Evaluation
Features
When you're fishing on a narrow river, or even on a wide-open lake, there's still the chance that you'll catch your line on a tree branch, rock, or piece of driftwood. This event is known as abrasion, referring to the harm done to a fishing line by an object that it's caught onto. Obviously, you don't want this to happen, as it could cost you that big trout you've had your eye on all day. So it's something of a priority among fishermen that the line they buy is highly resistant to abrasion. Especially if your regular fishing spots have a lot of trees close to where your line is going to be.
One of the advantages of braided fishing lines is the fact that the lack of any stretching that is so common with braided lines makes line sensitivity that much stronger. Line sensitivity refers to the sensitivity between the caster and the bait at the end of the line, and how well you can feel every little bump and interaction between the bait and whatever is down there poking at it.
This is vital to catching particularly wily fish who love to tease your bait and run out at the last possible moment. This is why it's so important that lines be so thin when sensitivity is a priority because a thinner line is a more sensitive line. So try to find the line that strikes that perfect balance between being thin and being sensitive. Because that's the one that's going to help you catch the big one
Size
The diameter of your fishing line is particularly important. For one, it helps determine whether or not the fish even see your line. It's highly important that your fish not see the line, for reasons that should be obvious: if they see the line, then they know they're being played and that the delicious little morsel bobbing up and down is actually some guy at the edge of the lake waiting to take them out of their home and put them on a grill.
On top of that, diameter helps determine the sensitivity of the line, as the thicker a line is, the less sensitive it is. And losing even that tiny bit of sensitivity can spell the difference between whether or not you actually catch that big score.
Weight
Now, this is a subject that deserves its own list, as line weight is a much more complicated subject than one might believe. Line weight determines many things, not the least of which is the fact that a heavier line makes for a more pronounced presentation (the ripple effect of bait and line hitting the water) which can scare away fish all the more.
Now, of course, the question becomes: how do I know what line weight is the best for the body of water I'm fishing in? The answer is both simple and complicated, but the long and short of it is that it's decided by a few different factors.
Target species:
What fish are you fishing for? What type of fish do you specifically have your sights set on today? It is this question that should drive what weight of line you go with. Thankfully the information regarding the weight of a line and how it corresponds to different fish breeds are widely available online, so if you need more information about that, you'd be best served to find the specific info that way.
Location:
There's a very big difference between fishing for trout in heavy cover versus doing the same for the same kind of trout but on a small open pond instead of a heavy cover. And the biggest difference is in what kind of line you'd be best to use. When fishing in heavy, abrasive cover, use a higher pound test for your line, or even a new line type entirely, as that may not be the best area for that type of line.
Weather:
Just like how the location of where you're fishing should affect your decision on what line you use, so should the predicted weather patterns of the day you're going to fish. This is one of the many reasons that people choose to starfishing early in the morning. Not just because it gives them plenty of time to do said fishing, but also because the weather is typically clear early in the morning, so they have more time to fish with their preferred line before they have to change to accommodate for the weather. Study up on how different weather patterns affect different line types, especially braided lines.
Your gear:
And of course, your gear can play a huge role in how much your line weighs when it hits the water. This is why rods and reels will generally be labeled with recommended line weights, so be sure to remember those guidelines as well as those stated above when considering the weight of your line.
Effectiveness
One of the things you wouldn't think would get in the way of the hook really getting into the fish upon biting but almost always dooms an otherwise perfect catch. This is one advantage that braided lines definitely have over other line types such as monofilament: they, by nature, do not stretch nearly as much like other lines. While some will still stretch if not properly made, most simply hold firmer than their peers. This is one of the things that particularly makes braided lines popular because stretching has doomed many a fisherman's otherwise perfect catches multiple times in the past.
Durability
Obviously, you want your fishing line to be as strong as possible. The strength of your line adds onto the strength of your pull and of your reel. It helps you pull in the fish easier because you can pull on that fish until the cows come home, but unless you have a line that supports that strength and backs up those pulls, that fish isn't going anywhere.
This all comes down to the materials that the line is made out of. Most modern braided fishing lines are crafted from man-made materials like Dacron, Spectra or Micro-Dyneema as opposed to previous materials used like cotton or linen which simply were not strong enough or meant for the water.
10 Best Braided Fishing Lines
1

. Reaction Tackle Braided Fishing Line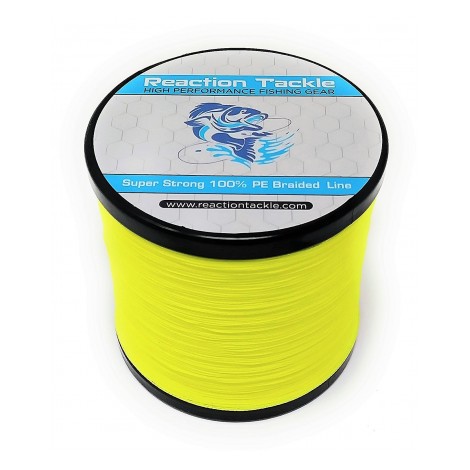 Reaction Tackle's braided fishing line more than earns its self-given moniker of high performance, because everything about this line has been specially modified to be as tight, responsive, and durable as humanly possible. Not only that, but this line has proven versatile enough to allow you to hunt for fish of all kinds, from bass to trout, to muskie, to so many more.
The strongest fiber
While it may not have the strongest abrasion resistance, there's no denying that Reaction Tackle's braided line is still up there with the best. Made entirely from UHMWPE, one of the world's strongest fibers, this line is guaranteed to tough it out against any fish that latches onto it, with little to no stretch at all.
Small diameter
One would think being a smaller line would mean that it weaker, but this is where people get the terms "small" and "thin" confused. The line is small, yes, but thick as well. It's just that the fibers used to make this line have been spun so tightly that it seems thinner than it actually is.
Cost and value
While not the most expensive thing in the world, this line can get pretty pricey the more line you look for. Of course, the strong fibers make this line a great option for a serious fisherman.

2

. Kastking Superpower Braided Fishing Line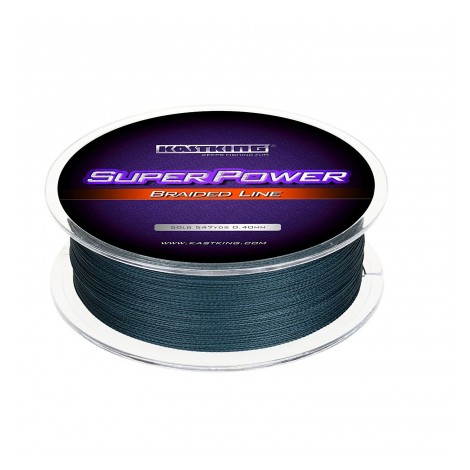 While sporting a smaller diameter than other braided lines, this fishing line more than makes up for it with incredible ease when it comes to tying knots with its smaller size. And because it lacks a waxy coating that its peers have, it can move all the easier through the water, making this the preferred line when moving through the water is a priority for you when it comes to your lines.
Superior Knot Strength
Not only do the dynamically incorporated strands that makeup Kastking's lines let you tie a more solid knot all the easier, but they also make it easier to tie a superior clinch knot.
Greater abrasion resistance
With kastking lines, there will be little to no chance of losing your line when it latches onto the big one because it scratched up against a rock just a little too hard. Though lacking the usual wax coating, this braided line remains one of the sturdiest on the market.
Cost and Value
Not only is this one of the best-braided lines on the market, but it's also one of the cheapest. This line will provide you one of the best fishing experiences you'll ever have without draining your wallet.

3

. Bravefishermen Braided Fishing Line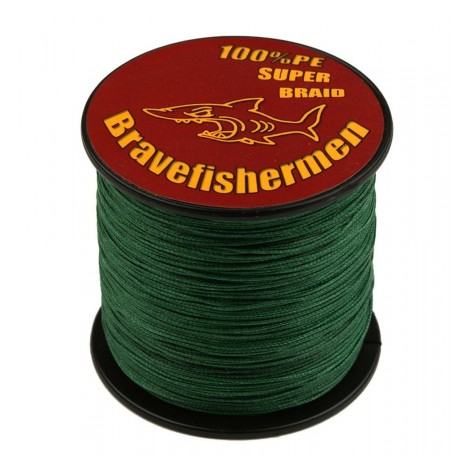 The fishing line here is rated according to the tension supported in pounds, which you can choose freely in terms of how much you need from your line. From 10 pounds to 100, this line has you covered, front to back.
Tension test
The tension test really is the standout feature of this fishing line. And the fact that you can specifically request how much tension you want your line to be able to handle is an added bonus.
Versatile
Whether you're going after catfish, bass carp, or whatever else, this line will still be going strong, without so much as a fray to show for the trouble.
Cost and value
The other best thing about this line is the cost, which is very reasonable and cheap, at least by the standards set by its peers.

4

. Suffix 832 Advanced Superline Braid Braided Fishing Line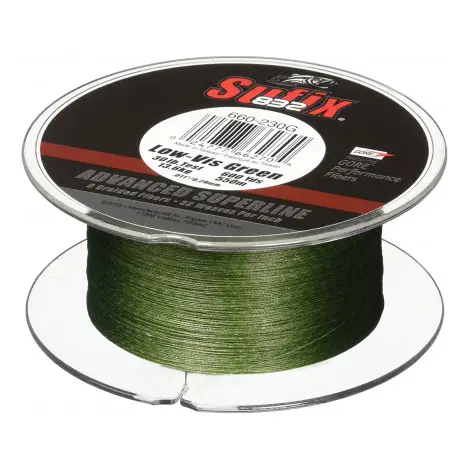 Next, we have Suffix with their outstanding 832 Advanced Superline Braid. Suffix has been around for a while when it comes to making fishing lines, but their advanced Superline brand is easily one of their best works.
Longer lasting line
The Suffix 832 line is braided with 8 different fibers, one of which is a GORE performance fiber, and the other seven being Dyneema fibers. What does all this jargon add up to? Simple, it means that this line is not only abrasion resistant but that it's also long-lasting.
More castable line
When you cast your average, run-of-the-mill line, you may notice this very slight resistance in how it casts. That's mostly the way it's weaved not working well with the pole you're using. However, with the Suffix 832, there is none of that resistance, meaning you can cast smooth and long casts all day long.
Cost and Value
You'll find this line to be rather reasonably priced for a line like this. It may get pricey as the length you need extends, but if you don't need all that much, it won't cost you all that much.

5

. Booms Fishing Braided Fishing Line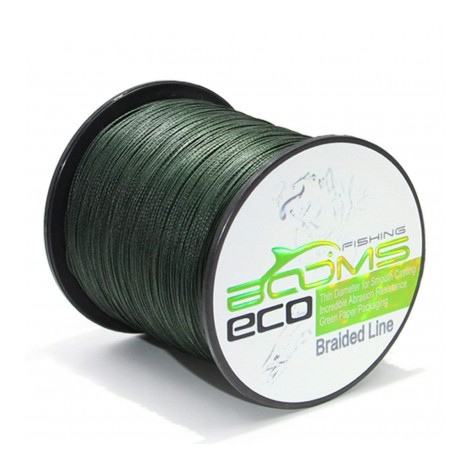 Considered one of the stronger brands of fishing line on the market, Booms Fishing ECO line is designed from the ground up to handle one type of fish and one type alone: trophy fish. The big ones. The fish that you don't take on with anything less than the best fishing gear you have in your arsenal. And it has a lot of features going for it that justifies such a brand.
Tough
Not to say it's indestructible, but when tested by most professionals, this line doesn't break on anything less than 60 lbs. of force. More than enough to handle most trophy fish.
Casts far
Which isn't to say other braided lines don't cast far, as long casting is one of the key features of braided lines. However, the Booms Fishing ECO goes out particularly far, and with a smooth as butter quality to it that is irresistible.
Cost and Value
This line stands at a rather average price range for what it's offering. If you're hoping to catch that trophy fish you've had your sights set on, this strong line may be just what you need to accomplish that feat.

6

. Hercules Braided Fishing Line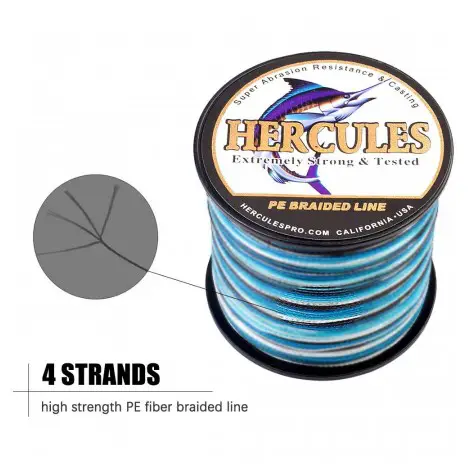 Considering its namesake, this line has a lot to live up to. Fortunately, the Hercules isn't just strong; it's super strong! Sporting a variety of different lengths and colors for a reasonable price, this tough as nails line will help you catch even the toughest of trouts.
Basically no stretch
Even with other lines with a little stretch, there can't help but be just a little bit of stretch. But with the Hercules, there's practically none at all. And what little there is can only be noticed with a trained eye, so there may as well be none.
Thinner diameter
Why is this good? Simple, a thinner diameter means that more line can be put onto the reel, meaning that you have more line to play with, which in turn means longer casts because of the extra length.
Cost and value
You'll find the Hercules line to be very reasonably priced, in fact, it could be considered one of the cheapest options on this list. This price may be seen by most as fairly cheap for a line of this quality.

7

. SpiderWire Stealth Superline Braided Fishing Line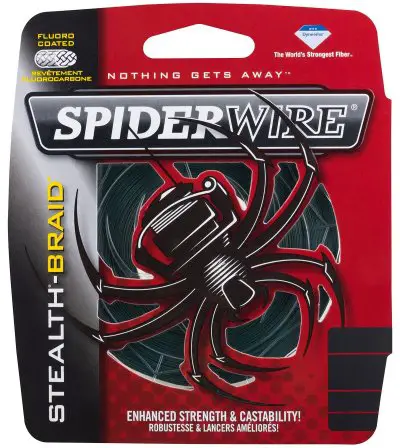 This line has a lot going for it. Ultra-thin diameter and high strength make this a line that will go easy on your budget but go long on you catching fish. It's designed to be quiet in casting and also give you manageability of mono line. It has Teflon treated microfibers which allow it to cast easily as well.
50 Pound Test
That's a lot of test for any line, and especially this line that promises mono manageability and silent casting. But if you're not looking to bag the big ones it also comes in a 30-pound test but gives you the same silent casting thanks to the Teflon coating.
Teflon Treated Microfiber
This means a few things, first of all, it means that this line won't break easily, the second just like Teflon nothing sticks to it so it won't' easily get hung up in your eyeholes and jam up your line.
Cost and Value
This stuff is inexpensive but not cheap. It's a high-quality line that plenty of fishermen swear by both for its silent casting and strong test. To be honest we also like the Moss Green color because the line tends to fade away into any body of water, and hopefully that will help you catch fish as well.

8

. RUNCL Braided Fishing Line 8 Strands Braided Fishing Line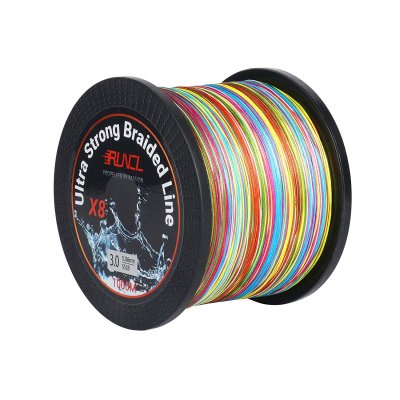 First of all, we like the name RUNCL, it just rolls off the tongue. But a sweet-sounding name isn't all this fishing line has going for it. It sells itself on its 8 strand braids, which makes it extra durable and able to hold a knot better. We also like the colors, because hey, who doesn't like color.
8 Strand Braid and Compact Weaving
This makes the line very strong and resistant to tearing or breaking. It also tends to make knots hold just a bit tighter. The Compact weaving makes for a really responsive line that makes each little nibble sing through the line. And if the goal is to actually catch fish that's a good thing.
Smooth Small Diameter Line
This does two things, it allows the line to pass through the eyeholes easier which makes for longer casting and it also allows you to get a lot more line on any reel that you have. If you're doing some serious deep-sea fishing this might come in quite handy.
Cost and Value
This is pretty cheap for fishing line and it comes in lots of different lengths up to 1000 meters. That's a lot of fishing line, and if you're using all of it you've somehow gotten lost in a Hemingway novel, so whatever you do, don't tie what you catch onto the side of your boat. Honestly, though this is inexpensive, high-quality line. Plus the colors.

9

. FISHINGSIR GODLINE Braided Fishing Line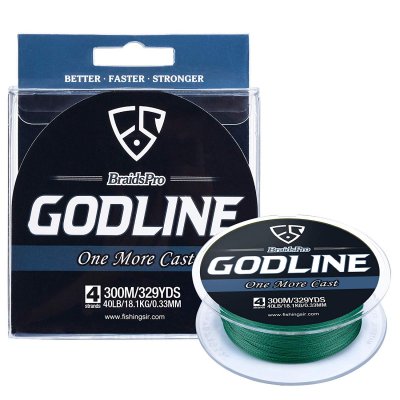 We're a bit skeptical of the name, but then again, considering the whole 'teach a man to fish' thing and all that we'll let it slide. This line promises a lot and it delivers quite well, low abrasion, easier knot tying, a little stretch, and low memory, which means it won't spring back in your face. These are all good things and so we find that we like Godline, so give it a try.
High Tensile and Abrasion Resistance
Imported PE fibers and a stout braid make this line strong and abrasion-resistant which really is a simple way to say it's less likely to break because of a big shock on the line and it won't abrade against your pole and eventually just break like all ropes/lines do in adventure movies.
Superior Sensitivity and Low Memory
Again, for non-fish whisperers, sensitivity is a fancy way of saying that the line has a very little stretch, and that means that you'll feel fish strikes just a bit better. And Low Memory is a way of saying that when you tug on the line it doesn't have rubber band stretch which means it won't fly back in your face, if you're pulling on it when it gets caught up in weeds or against a rock, and lets face it that's not just annoying, it can be dangerous.
Cost and Value
This is some cheap line and so we tend to like it. It's not as cheap as some of our other options nor is there quite as much of it as on some of our other choices, but still, it's some good line and a lot of thought has gone into this product so we say it's a great choice. Plus its Godline!

10

. mpeter Braided Fishing Line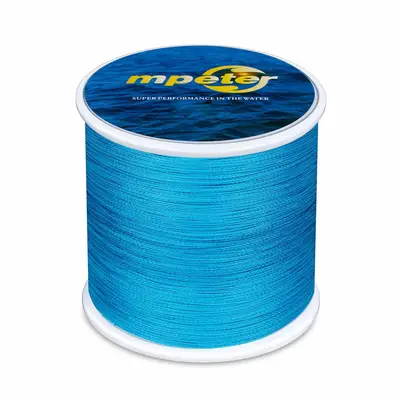 Now comes the company mpeter and its model of braided fishing line. With its 8 strand combination of high-class fibers, excellent color design, and long-range casting distance, this fishing line has more than earned its popularity.
Wear resistance
Some lines work better in certain waters than other lines, but the handing braided line excels because of its ability to survive in almost any water condition. No matter what kind of water it's working with, or what kinds of stuff is in the water it's being thrown into, the mpeter braided fishing line is more than ready to take it on.
Ultra sensitivity
Every line should be as sensitive as it can be so that the caster can have a better feel for the bait at the end of the line. Sensitivity helps the caster feel every little bite that touches the bait, and if that's a priority for you, then the mpeter braided fishing line is the line for you.
Cost and Value
This product is easily one of the best deals you can find for a fishing line of this quality.

Subscribe to our Newsletter