Best Wagons Reviewed & Rated for Quality
Everyone you meet will likely have positive memories associated with a wagon. There is just something magical about being pulled around in one when you are a kid – and it's an experience that most kids get. That makes for a lot of good nostalgia as an adult and the desire to pass it along to your children. What child doesn't have memories of being pulled behind their mom or dad on their way to the park or pulling their newspapers for their first job in a shiny red wagon?
Featured Recommendations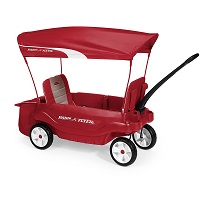 Radio Flyer Ultimate Comfort

Our rating
Expandable Rear Storage Bag
Price:

See Here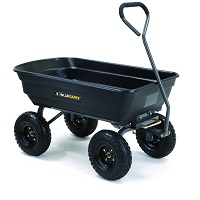 Gorilla Carts

Our rating
Pneumatic Tires
Price:

See Here

Mac Sports

Our rating
Can Fold To Be 9.7" Thick
Price:

See Here

But, wagons are actually good for a lot of other tasks as well and can make everyday life easier. If you like to garden or need to clean up the landscape around your yard, you would be well served to have a wagon. Do you like to go to the beach and want something to haul all of your towels, food, and beach toys in with? You might need a wagon. Do you live in an apartment complex and it is a hike getting your groceries (or anything!) in from the car? You might need a wagon. So, what are the best wagons available?
10 Best Wagons
1. Radio Flyer Ultimate Comfort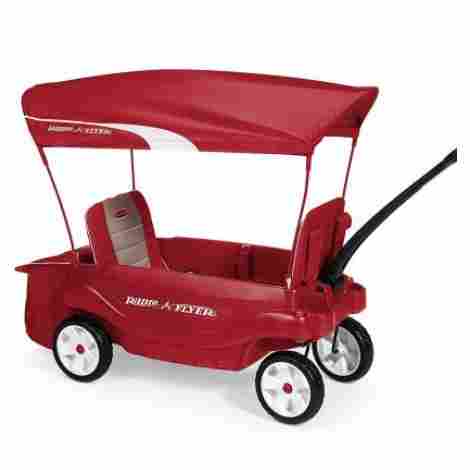 As the gold standard in wagons, it is hard to go wrong with a Radio Flyer. This is one of their newer models and combines a lot of good details into one product. It has a hard exterior, comes with a canopy, and has cup holders for both kids and adults. You can use it for many tasks as the inside landscape of the wagon is easily transformed.

Expand to see more
5 Different Uses
This wagon is easily configured in 5 different ways depending on your needs. First, it can serve as a wagon for two children. Secondly, you can fold down one of the seats and allow your one child to have an activity surface while you travel. Third, you can have an area of covered storage with one of the seats down. Fourth, you can have an extra large storage space and one seat. Lastly, you can fold both seats down and have a flatbed to haul whatever you may need.

Well Designed Seats
Not only is this wagon designed to have seating for two children, those seats are also padded and have seatbelts. The seats are made with moisture-wicking technology as well so you know the sweat issue will be minimized.

Cost and Value
The Mercedes of wagons doesn't come at a small price. However; considering all you will be getting this is actually a good price for the buy. You will get a very functional wagon that can be multipurpose and will last many years.

Can be configured 5 different ways

Includes a canopy and padded seats

Soft sided rear storage bag included

Has cup holders for children and adults
Expensive

Issues with canopy insertion are relatively common
2. Gorilla Carts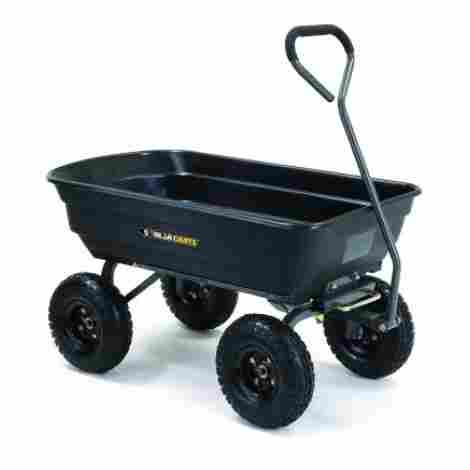 Not all wagons are designed to only haul children and this one is the perfect example of that. This Gorilla Carts wagon is a heavy duty alternative to a standard wheelbarrow and will haul absolutely anything you need it to as it is rated up to 600 pounds. As icing on the awesome cake, it is easy to clean and rust resistant.

Expand to see more
Patented Dump Technology
Unlike any other wagon on this list, this one includes patented dump technology. The bucket literally lifts right up from the handle side and dumps out the back much like a real-life dump truck would. This makes it very easy to load and unload quickly and efficiently.

Good For All Terrains
This is made with a balanced 4 wheel design. The tires are 10-inch pneumatic tires. Both of these factors mean that you can pull this wagon anywhere you want to. It can, and will, handle all sorts of heavy terrain without any issues. To further accommodate the weight load and boost its ability to go anywhere, the handle is padded to make pulling it a breeze.

Cost and Value
This is one of the cheapest wagons on our list. That makes it a great value as it is also one of the most heavy duty. If you want a wagon that will function both as a wagon and a wheelbarrow for hauling dirt, rocks, mulch, and whatever else you can think of then this Gorilla is your solution. It will easily tackle any task you throw it's way and is well worth the cost.

Can hold up to 600 pounds

Equipped with quick release dump feature

Sturdy and well built

Easy to assemble
The rubber tires strongly smell of rubber for a long time

May have to inflate the tires initially
3. Mac Sports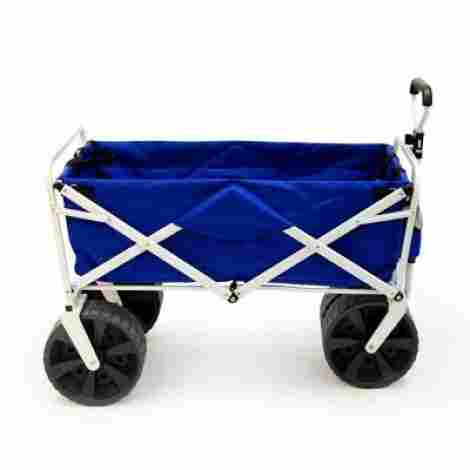 This Mac Sports wagon is a heavy duty, all terrain, beach wagon. It features adjustable handles and two mesh cup holders. The wagon itself is relatively light, but can hold up to 350 pounds. It folds down to less than 10 inches which makes it easy to transport and store when not in use.

Expand to see more
Wide Wheels
This wagon is equipped with wide wheels that make it much easier to pull over sand than a standard wagon. It has thinner slots in the wheels which also means that overall, it holds less sand. Ultimately this means more time enjoying the beach for you and less time hauling your stuff to and from.

Ease of Function
This wagon is very easy to use. It requires no assembly and can simply be pulled out and unfolded in order to use. It pulls well and steers well. You will have no issues hauling up to its weight capacity even if you actually weigh much less than that.

Cost and Value
Falling right about the middle of the pack, this wagon is a good bang for its buck. Not many wagons can confidently boast that they are good no the beach, but with a name like "BeachComber" you can rest assured that this one will. Not only is it good on sand, you'll be happy with its performance anywhere you take it. It is heavy duty and does its job well. If you want a wagon specifically to take to the beach, look no further than this one and don't even think twice about paying more for it than you would for others.
Wide tires make pulling over the sand easier

Good no all surfaces

Includes two mesh cup holders

No assembly required
Wheels are loud on pavement

Tips over easier than other models
4. Step2 Canopy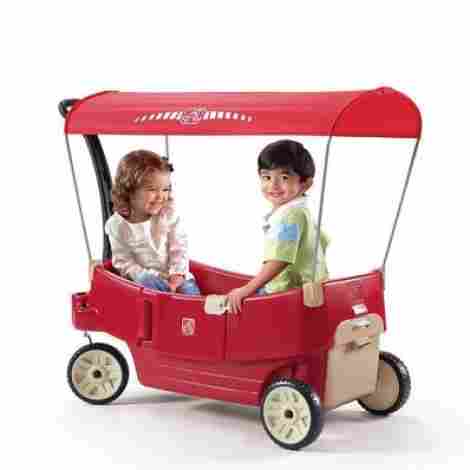 If you are looking for a wagon with a canopy that is specifically designed for hauling small children then look no further. This wagon is perfect for long neighborhood walks for both parent and child. It will comfortably hold two children, has a long handle to pull with, and ample storage for drinks, snacks, or anything extra you might need.
Expand to see more
Push Lever Wagon Door
This wagon takes ease to the next level with its door. It is easy to open and shut so your small toddlers can get in and out with ease. However; it also has a push lever which allows the parent to safely latch the door once the kids are in so that you know it won't be opened mid-stroll.

Rear Wagon Storage
Not only does this wagon have 4 different cup holders and a snack shelf inside of it, it also has a rear storage bin. You access this one from the outside of the wagon and it allows you to take anything extra you may need - diapers, towels, etc.

Cost and Value
This wagon is mid-range price wise on this list - which is a great value for all that you are getting. It is a nice, spacious wagon that includes a canopy that will keep your kids out of the sun and the sun out of their eyes. It is easy to pull and will get a lot of use for a long time. It is definitely a good buy.

Has "whisper ride" wheels that make for a nice, quiet ride

Comes with an included canopy

Lots of storage space that doesn't interfere with your child's space

Can be used as a flatbed, with the seats, or a table
Hard to assemble

Instructions are not user friendly
5. Radio Flyer 3-in-1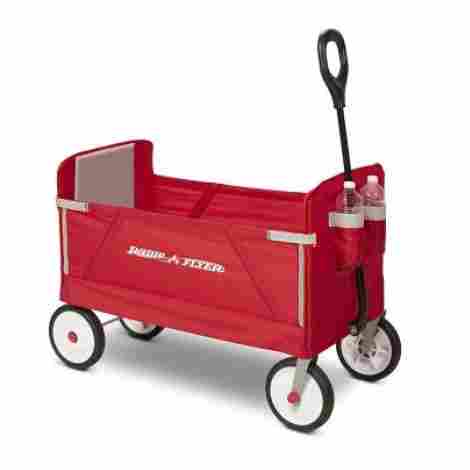 This Radio Flyer wagon is everything you want in a wagon. It has a 3-1 functionality, can hold up to 150 pounds, and includes 2 cup holders. It is easy to pull and is the only brand of foldable wagon to pass the toy safety standard - important if you plan on hauling children. You will love and your kids will love it.

Expand to see more
3-in-1 Functionality
This wagon can serve 3 distinct purposes. First, it will easily haul your kids around. It has seats with seatbelts on either side and a canopy can even be purchased to block the sun should you desire. It can also function as a hauling flatbed that you can fill full with all the things. Lastly, it can function as a bench. Simply unzip one side and viola! You have a bench to sit on.

Easy to Store and Haul
Radio Flyer makes a very easy to store foldable wagon. So easy in fact, they claim you can fold it one handed. It folds up quite slim and is easy to pack and go. It includes a telescoping handle so it is more easily pulled exactly as you want to pull it.

Cost and Value
This is definitely one of the pricier wagons on our list. But, if you are looking for a multifunctional wagon that you will get years of use out of, then this is a great option for you. It will keep your kids entertained, won't break your back pulling it, and can even work as a seat whenever you need it to or simply haul your groceries in. Good bang for your buck, but do expect to pay more.

3 - in - 1 functionality

Includes cup holders

Quiet ride tires

Only foldable wagon to pass toy safety standards
May tip over when turning

Hard to steer
6. Sandusky Lee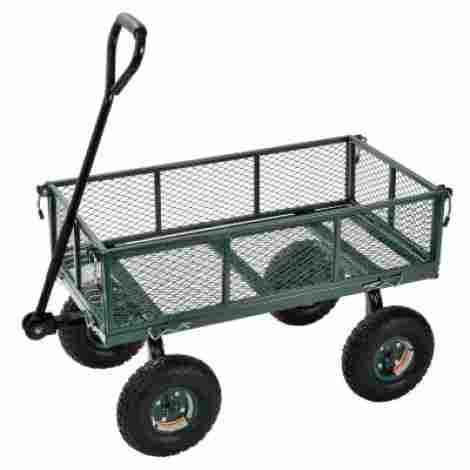 Look no further, your search for a quality wagon to use in all your gardening and landscaping needs is over. This Sandusky Lee Muscle Cart Wagon is exactly what you need. It has 10 inch air tires, is made of corrosion resistant mesh steel, can function both as a wagon or a flatbed, and is rated up to 400 lbs.

Expand to see more
Foldable Sides
You can configure to sides of this wagon to meet your exact specifications. All sides are easily folded down or even completely removed should you so desire. That allows this wagon to function as a 4 sided wagon, flatbed, or 2 or three-sided in order to accommodate your specific load.

Steel Mesh Crate
The entire body of this wagon is made of mesh steel. It is corrosion resistant and has a powder coated finish for added durability. This will allow you to haul whatever you need to and not have to worry about it spilling or making a mess inside of your wagon. This particular style is very easy to clean.

Cost and Value
This heavy-duty steel wagon comes at an excellent cost for the value that it offers. It will pull a large load in any configuration that you want it to and do so easily on its large, air-filled wheels. If you are looking for a wagon to use for gardening, landscaping, or other similar purposes then this is one of the best options for you.

Rated for up to 400 pounds

Sides are easily removable to be used as a flat bed as well as a wagon

Steel features increased rust resistance

10 inch pneumatic tube tires
Not suitable for hauling children

Included instructions aren't very easy to read or understand
7. Radio Flyer All-Terrain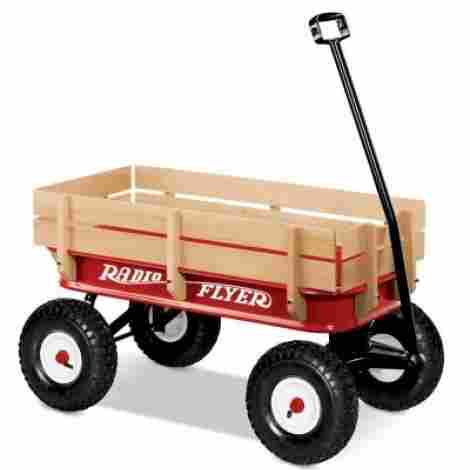 This Radio Flyer Wagon takes the classic standard and raises it up a notch. You get the steel body that you know and love from Radio Flyer but here they have added on wood sidings to make it an extra safe experience for those travelling over rugged terrain. Speaking of rugged terrain, the tires are built to handle that, as they are 10 inch air tires.

Expand to see more
Extra Long
[et_social_share_media]Handle
Radio Flyer has taken extra care here to ensure that your wagon pulling experience is a good one. The handle is extra long so that it can accommodate even the tallest of parents or gardeners out there. In addition, it easily folds underneath the wagon for easy storage and transport in your car.

Controlled Turning Radius
What good is a wagon if it threatens to tip over with every turn you take? That is not a problem here. The turning radius is controlled which makes it much easier to steer and maneuver. The larger tires also help control the wagon and even absorb some of the shock. You won't have to worry at all about tipping over.

Cost and Value
This is a rugged, all-terrain wagon made by the gold standard of wagon makers. As such, it won't come to you at a small price. It is not the most expensive listed here, but does come close. However; it's functionality will make it well worth the extra cost. It is solid and sturdy and won't be tipping over on you and you will get years of use out of it.

10 inch rugged, all-terrain tires
Handle easily folds over for storing and transporting
200 lb weight capacity
Good for on and off-road adventures alike
May arrive scratched or missing hardware
No cup holders or extra storage room
8. Mac Sports Collapsible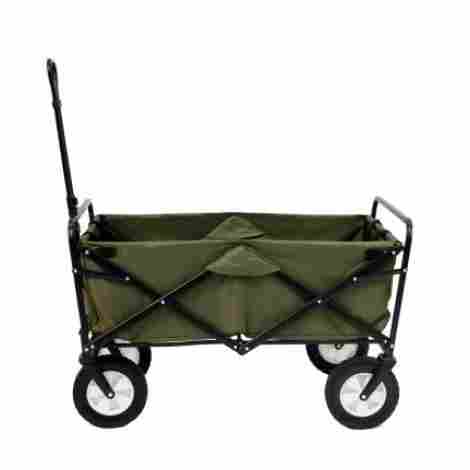 Mac makes a solid wagon. This one holds up to a lot of pressure. It's large inner capacity can carry a big load that weighs up to 150 pounds. It is constructed of a strong steel that will hold up with time and is easily and conveniently stored - folding up to only 8 inches thick.

Expand to see more
Functional Features
Whether you are pulling kids, hauling supplies to the beach, or working around the garden you need a wagon that will hold everything you need it to and not make a mess while doing so. This wagon does just that. It has an adjustable handle for the most comfortable pull and also comes with two mesh cup holders because no matter what you're hauling, the odds are good that it will make you want a drink, and one that won't spill at that.

No Assembly Required
In order to get this wagon out and about all you have to do is take it out of it's carrying case and open it up. There is no assembly required whatsoever which makes this wagon incredibly convenient wherever you may want to use it. Combine that with it's compact folded size of 29.5 x 20 x 8 and you have a nearly perfect wagon.

Cost and Value
This Mac wagon comes at a great price. It is on the lower end cost wise of wagons on this list but still maintains a lot of functionality. It will haul big loads over most surfaces relatively easily. You will definitely see a difference in your hauling capacity with this multipurpose wagon and be pleased that you treated yourself to it.
Large inner carrying capacity at 32.5 x 17.5 x 10.5 inches

Folds up to a small 8 inches thick for conveninet storing when not in use

Includes two mesh cup holders

Steel frame construction
Only holds 150 pounds

Slim wheels make it difficult to pull through sand
9. Step2 for Two Plus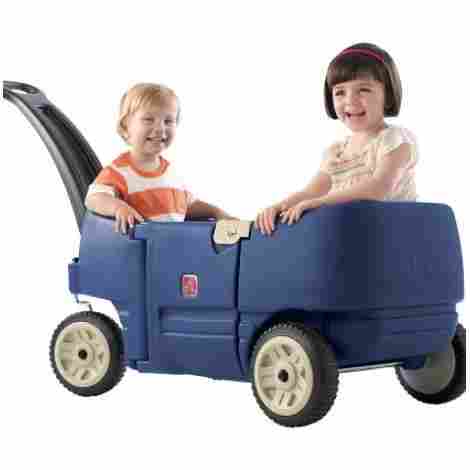 This is a great little wagon that your kids will have you begging to pull them around in all day - for better or for worse, lol. It is sturdy and will take a lot of abuse. It is made to hold two children and has enough room for a little bit of storage (think picnic supplies or water, etc.) that won't get in their way.

Expand to see more
Easy Latch Door
Unlike most on this list, this wagon includes an easy latch door. That means that your sweet little toddler can climb in all by themselves and do so safely. They can open the door, climb in, sit down, and will likely be yelling for you to go before you have a chance to gather your things so that you can.

Molded in Drain Holes
Because this is a solid piece, you can't take it apart to clean it when the need arises. However; Step2 took this into consideration when they made it and they added drain holes that are molded in as part of the design. So when the juice inevitably spills, it will just drain right out the bottom and not accumulate around your little's feet.

Cost and Value
If you want a wagon that is made to pull kids around in, look no further. You absolutely get that long-lastingry reasonable price. It is durable and long lasting and will provide countless hours of entertainment.

Stands up to abuse well

Long handle for pulling

Handles easily folds under for storing and transporting

Extra storage compartment underneath one of the seats
Assembly instructions aren't very helpful

Noisy
10. YSC Wagon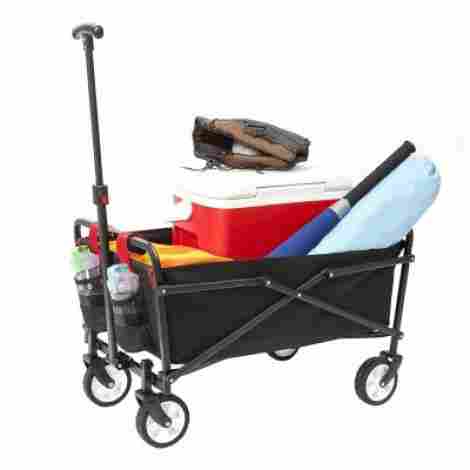 This wagon made by YSC is simple and straightforward. It is lightweight and easy to transport, but don't let that fool you - it will still hold up to 150 pounds. It includes two mesh cup holders on the front and folds up nice and small so that it is easy to store in the trunk or behind a door.


Expand to see more
Lightweight
This is the perfect wagon to take along on any shopping trips, or to the beach, or out running errands. All in all, it weighs right about 10 pounds which makes it easy to lift into and out of your trunk and adds very little weight to the load you fill it up with which makes it easier to pull.

No Assembly Required
One of the greatest features of this wagon is that there is no assembly required. You can simply pull it out of the box and go. It comes in one complete piece - and stays that way. There is a lot less margin for assembly error when you don't actually have to put anything together.

Cost and Value
This is one of, if not the, cheapest wagons on our list. It doesn't have any frills nor does it do anything fancy. However; don't let that dissuade you from getting it. If you are looking for a lightweight wagon to help you haul things around, no matter where you are, then this is absolutely a great buy. You don't need anything fancy for that job and would be wasting your money on features you don't need otherwise. This is the perfect wagon for simple hauling tasks.

High strength 600D polyester fabric

Weighs in at about 10 pounds

Will hold up to 150 pounds

No assembly required
Handle is very short

Smaller than other wagons
Criteria Used in Choosing the Best Wagons
There are several things to consider when getting a wagon. Every person's need for a wagon may be different and depending on that need the best wagon for you will vary. There are a lot of good wagons out there and you want to make sure you get the right one so make sure you pay attention to the following points below before making your big purchase.
Why do you want a wagon?
There are a lot of good reasons to get a wagon. There is a good chance that your reasoning for wanting one is different than your neighbors. We've listed the best in each option above so you can rest easy knowing that all needs were considered when compiling this list. So what are some of the purposes a wagon can and should be used for?
One of the most popular uses of a wagon is for pulling kids around in. There are not many kids who don't get beyond excited when they see a wagon. It is typically pretty easy to haul multiple kids around and make good distance that you wouldn't be able to otherwise. There is also the storage factor. While a stroller is great for many of these same purposes, you can't match a wagon in storage capacity. Many are even designed with seats and canopies and extra storage bins to ensure that you can get everything in that you need.
Another popular use of a wagon is for beach going. Typically, you want to haul a lot of goods to the beach as you plan on staying there all day. It is a real buzz kill to have to make several trips to and from your car or room – especially if it is a good distance away. Enter beach wagon. The complicated thing with a wagon, or any cart for that matter, on the beach is the sand. It is really hard to find wheels that work well in sand but are also still functional on the road or sidewalk.
The next main purpose a wagon is used for is working around in the yard or garden. It is much easier to fill up your wagon with supplies or plants or whatever you need that day than it is to go back and forth each time you need to grab the next step. A wagon is perfect for this and there are several really good options that will make hauling and dumping your mulch a breeze.
Foldable or not?
A really popular trend in the wagon world is foldable wagons. They fold up nice and compact and are very easy to store. This is really great if you are pressed for space, it is also very helpful if you have a smaller car but still want to be able to take a wagon along with you to the zoo or lake. Folding wagons are limited though, they are typically made of fabric which makes them a little harder to clean than a metal or plastic one that you could just wipe out or hose down. They don't typically have seats or any special dumping or removable side options. However; they really are quite versatile and can fill a lot of needs without filling a lot of space while not in use.
What about a wagon that doesn't fold? The most obvious con here is that they can be huge and take up a ton of space. That can make it hard to pack them in your trunk or make room for them in your garage. This is negated a little by the fact that they are wagons – you can easily put stuff in them to maximize your stuff, though it is a pain to have to pull everything out whenever you want to use it. The big advantages here are that they are really easy to clean. Non-foldable wagons are typically designed with a specific task in mind which means that they are really good at that one task. You'll have enhanced performance if you get a wagon meant specifically for a singular job.
Do you want multipurpose functionality?
It is important to note that while some wagons are very good at serving multiple purposes, some are built specifically for the task mentioned above. You can't really haul kids in an all mesh wagon meant for gardening supplies, nor would you want to. You would also be ill-advised to take a Step2 Wagon to the beach. It would be a fight with those wheels on the sand all day long.
If you want a multipurpose wagon, your best bet is likely a foldable one. They are safe enough to haul children around in for shorter distances but also sturdy enough to bring all your groceries in from your car if you live in a large apartment complex. They can haul gardening supplies and are relatively easy to clean no matter the mess you make in it. Another good option for serving multiple purposes is your standard metal Radio Flyer with wooden sides. It also fits all the above-mentioned points.
There are absolutely some awesome wagons available for single purposes. If all you want to do is haul kids around, they will likely be much more comfortable with seats and shade and a cup holder to put their drink – and yours. You'll know they are safe because they are rated for use with children and include seatbelts to boot. They are also great to haul on longer walks all around your neighborhood or zoo. On the other hand, you'll be much happier with a heavy duty all-terrain wagon that dumps easy and wipes out easy if you only want to use your wagon for landscaping purposes.
In summary, wagons are expensive enough that you don't want to have to buy two if you don't need to, but you do want to be satisfied with your purchase and ensure that it is up to performing the tasks you need it to without just frustrating you.
FAQ
Frequently Asked Questions
Q: Can this wagon carry children?
A: Short answer, yes, a child can technically get into any wagon. A better question is should your child get in the wagon. Most are acceptable on that front, however; do be careful with ones that are built specifically for other purposes. For example, the Sandusky on this list – you likely don't want your child in mesh steel. Also, the Mac BeachComber. You don't want your child in a wagon that has the wheel setup that can potentially tip over easier than it should. They are both awesome wagons but meant for other purposes.
Q: How does this wagon move on the beach in the sand?
A: Most are a real struggle in the sand. The exception(s) are ones built with tires specifically to handle the sand. Our recommendation for this is the Mac BeachComber.
Q: What is the weight limit of this wagon?
A: Most will handle at least 150 pounds, with options going all the way up to 600.
Q: Do the seats have seat belts?
A: Most wagons specifically designed to hold children that have seats to do so will have seatbelts included. That is not the case in a wagon not specifically meant to haul children or wagons without seats.
Q: Is this wagon comfortable for a tall person to drive?
A: Most makers of wagons take into account the fact that it will be a full grown adult pulling the wagon. As such, they are equipped with handles that are either extra long to begin with or telescoping so you can choose how long you want it to be.
Q: What is the best wagon for a beach?
A: The heavy duty Mac BeachComber wagon.
Q: What is the best wagon for a toddler?
A: The Radio Flyer Ultimate Comfort wagon with a canopy.
Sources
Wagon World, Beach Wagon or Beach Cart – which one do you need?
Wikipedia, Radio Flyer