Best Surge Protectors Reviewed & Rated for Quality
In a Hurry? Editors choice: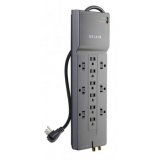 Test Winner: Belkin BE112230-08

We've all been there – you've
treated yourself to some new tech
and all you need to do is plug in and off you go right? Then the realization that you've run out of sockets finds you either completely deflated or with a dilemma on your hands; do you have to decide what else you can do without in order to make room? Then; the convenience of the surge protector comes into its own; not only will it provide you with the
extra power supplies
you need but it will also be safe right? First off, not every power supply extender is a surge protector. There are fundamental differences between power strips and surge protectors and the safety aspect is the most important. The full ten best surge protectors all come with their own individual beneficial features and have been chosen for a variety of reasons.
Standout Picks
Criteria Used for Evaluation
Use
One of the first things you need to think about is what you actually want to protect from the debilitating power surge, more sensitive equipment will ideally have a protector with a lower voltage than the kit itself. So; you need to check the voltage of your kit before you buy a protector, if the voltage is too high then it will be of little or no use.
Another way to think about it is regarding the kit you will be plugging in, for instance, your computer or smart devices will need better protection than your bedside alarm clock or radio. It's always better to double-check this, but if you aren't sure or can't find the information listed in sources below; you are advised to get the advice and opinion of a local tradesperson who is fully trained in the field.
Safety Hazards
You need to think about how many ports you are requiring in your new surge protector, this can save you time and money in the long run. Do you need a two, four, six, eight or twelve port-protector? If you buy sufficient for your needs; then there will be less temptation at a later date for adding to your ports with another set of ports. The system often referred to as daisy-chaining is when more units are added to the first protector, this can cause overheating and potential fire hazards as well so it's best to get it right from the off.
Responsiveness
Ideally, another thing you are advised to check for is the surge protector's absorption level, this is basically what power it can soak up safely before any potential damage is done. This is measured in terms of joules and is rated in numbers that reflect absorption as being greater the higher number of joules.
As a rough idea, for high-value equipment like home movie setups – then look for two thousand joules plus, for printers, copiers, routers, and your DIY kit, it is recommended you look for a joule rating between one and two thousand. For regular smaller items like your electric toothbrush, hairdryer and lamps then a rating of up to one thousand joules is more than adequate.
Value
So; are you better off buying a thirty-dollar protector or splashing out on a three-hundred-dollar unit? Price can indicate a better surge protector but the main thing you should be looking for is the clamping voltage and the joules rating. Most should offer insurance related to the purchase so that should your gear get frazzled in a spike – you will at least be able to replace it. (As with most insurance claims, as long as you have all your original receipts you should be ok.)
There are a few things for you to think about here, the list isn't exhaustive and you may have other thoughts yourself, but as a general rule of thumb – a little forethought can save you both time, and money in the long run. Buying a standard power strip may not be appealing to you now, but as one last thought – if you do find a power strip, check it carefully because some actually surge protectors. They should be marked clearly so you know exactly what you're paying for and you know your gear will be safe in the event of a power surge.
Remember you don't have to have a really expensive unit for it to do a good job, and always check the insurance value when you're shopping because if your kit does get damaged, without it you will be stuck for replacements.
10 Best Surge Protectors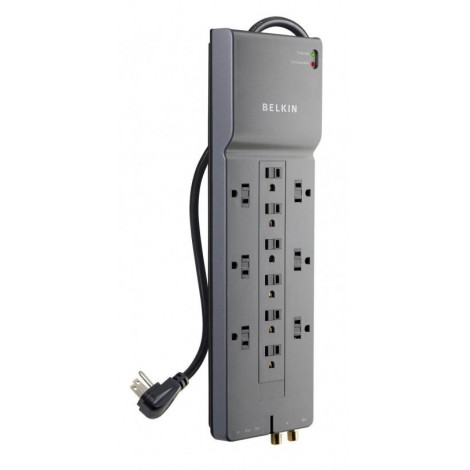 This surge protector is available in three port sizes, a twelve port, an eight-port and a seven-port strip with a substantial eight-foot long cable for improved convenience in use. It comes complete with a lifetime warranty and a good 300,000 equipment cover for all devices that are connected to it. The surge protector cable has a tidy grip for a safety bonus and the plug style is an easy to use right angles set and to add to the safety aspect – it also offers sliding outlet covers. It benefits from adding protection for phone lines and ensures the line is constantly open and available should a surge or power spike occur.
Joule Rated
An important aspect of the Belkin BE11 2230-08 surge protector is the three-thousand nine-hundred and forty-joule rating, this is more than adequate to protect most electrical items within the home or even a smaller office or workspace.
Clamping Protection
The vital clamping voltage is set at L-N: 400V, L-G; 500V and N-G: 500V, which, when combined with the joules rating – gives proper cover for even the more robust and heavy-duty devices that are plugged into it.
Cost and Value
The relatively low cost of this Belkin BE11 2230-08 surge protector far outweighs the overall value that this unit provides, the more than adequate and substantial protection it offers, combined with the warranty ensures that this unit is a very good value for money.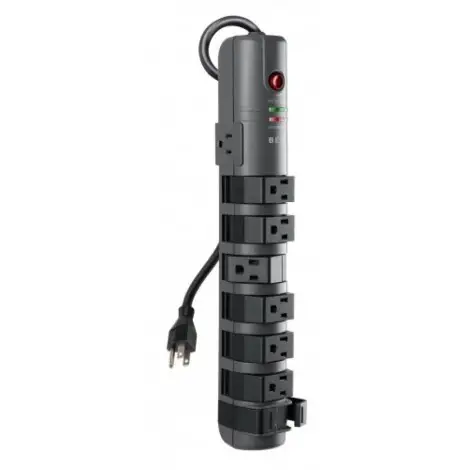 Belkin offers this surge protector in a choice of three outlet sizes; 6 outlets, 8 outlets and twelve outlets, and it also has the option of being a standard surge protector, or a different choice that offers phone protection as well for even better convenience and safety all through-out the home or office. It has a unique tubular style design that allows the placement of the plugs to be turned in order that different shapes and sizes of plugs can be used at any one time. It has an adequate cable with a length of six-feet for added versatility in its placement.
Practical Features
The Belkin surge protector is designed to be a tidy slimline un-obtrusive addition to any workstation or home set up. It benefits from being tough in design to last over time even with prolonged usage. It offers a quiet service and has a handy cable tidy clip to keep things neat.
Safety Extras
The protector benefits from a substantial joule surge suppressor of 1080 and boasts being practical and versatile for even the meaty office and professional kit that costs more, use more, and therefore also needs more efficient surge protection.
Cost and Value
When considering the balance between both cost and value, both are well and equally represented in this surge protector, and the added features including the neat and tidy design and the pivoting outlet spaces – make this not only practical but a worthy purchase.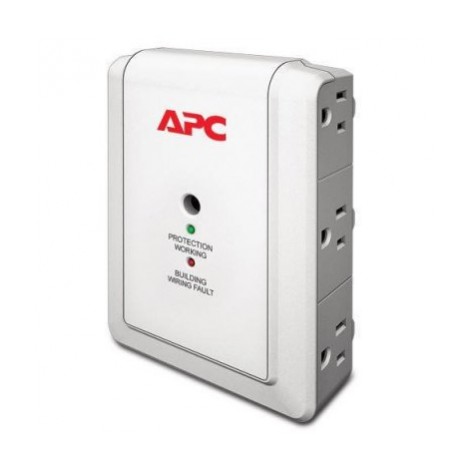 This AC outlet surge protector is available in two different design options; the first being AC with two USB charging ports, and AC with a telephone port for individual preference and versatility. Its functionality is further improved by the wall mounting capability and its unique, tidy side facing wall outlet. It is offered with a lifetime warranty with a cover value of up to fifty-thousand dollars, which includes all connected equipment should it be presented with a damaging power surge.
Useful Features
The APC surge protector has a program feature; so it can be set at functioning during specific times in the day, and it is a straight set up and simply plugs directly into the outlet. Fully UL compliant this neat protection is perfectly safe to use.
Joule Rating
The rating set at 1080 joules is more than adequate to provide enough protection to ensure all equipment plugged into it will be spared in the case of a power surge, and as a bonus, it also has surge arrest for optimum protection.
Cost and Value
This APC surge protector is priced in accordance with and balances well with the value. The practical and tidy design is ready to use immediately and even offers six program times to ensure it is enabled only when it is required.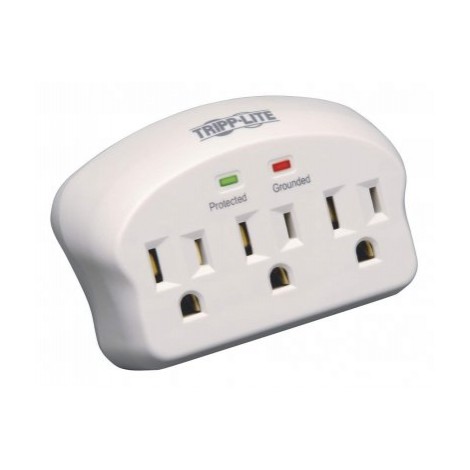 The Tripp Lite surge protector is offered in a wide choice of different options; so the purchase can be tailored to individual needs and requirements. It benefits three NEMA 5 15R outlets that offer full protection for all electricals that require substantial protection from power surges and spikes that can cause expensive and long-term damage. Offered with a limited lifetime warranty of up to fifty thousand dollars, it is also compact and tidy enough to be portable and taken on trips for reassurance when on holiday.
UL Certified
The surge protector is fully UL certified and has a joule rating of sixty-six hundred that will provide more than adequate protection for most electricals. It is simple to get started and simply plugs into the outlet for superior convenience and functionality.
LED Diagnostics
The protector has two LED lights enabled on it, both grounded and protected show for easy recognition and warning if either fails to work and gives time to save any unprotected gear through solving any issues before they can be potentially damaging.
Cost and Value
When considering the full benefits offered with this fully portable and certified surge protector, and combine them with the excellent joule rating and LED advance warning system – it is ensured this unit is a very good value for money.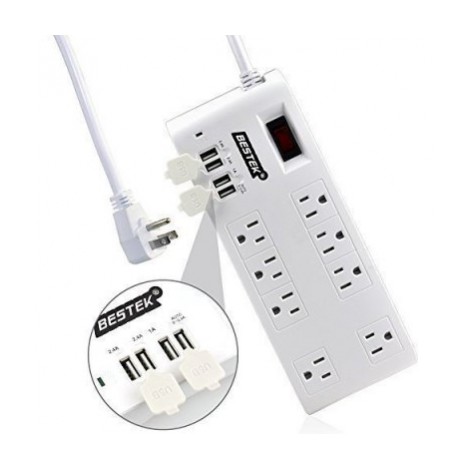 This surge protector is available with eight outlets and four USB ports for convenience and versatility, it also comes with a choice of two different length cables of six feet, ten feet and twelve feet long for personal preference. It comes with an eighteen-month warranty and benefits full FCC certification and UL certified cable for greater peace of mind plugging inexpensive and heavy-duty electricals that are prone to damage in power surges and spikes. The versatility it offers is unique and allows safe plugging for gear and to be a charger for up to four tech devices at any one time with the integrated USB ports.
Practicality and Functionality
BESTEK offer this protector with a six-hundred-joule rating and has lit on/off switch for easy to see functioning. The design benefits from a right-angled plug entry for tidy and neat spacing next to the wall and the outlets are conveniently widely spaced for different sizes of the plug.
Versatile and Useful
The USB ports offer a fast-charging system with a maximum charge of up to five-point amps, and the overall unit has handy holes; so it can be conveniently fixed in one place for added security with less risk of damage from being on the floor.
Cost and Value
The relative medium range price this surge protector falls into is comparative to the features that are reflected well when consideration is taken into account the overall functionality and versatility of the unit.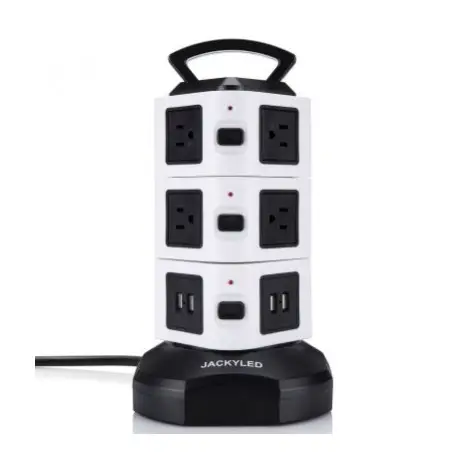 This unit doubles as a surge protector and a 3000w charging station, it is suitable for ten pieces of electrical equipment that includes four USB ports for ultra convenience and versatility. It benefits from a substantial six-foot cable and is able to support one-hundred and ten volts to two-hundred and fifty volts. The joule rating is seventy-eight hundred at thirteen amps and is protected against lightning and possible overloading which increases peace of mind concerning the overall safety aspect of the unit.
Functional Unit
The whole Power Strip JACKYLED has a rotating tower for ultra convenience and sports a functional, comfortable handle. It benefits from being operated with only one independent switch, and the cable is fully adjustable for greater practical use.
Space-saving and Practical
The tower designed surge protector saves space with its neat and tidy style, and as a benefit, it is offered with a full money-back guarantee that is valid for sixty days from purchase, it offers an automatic cut off as an extra safety feature.
Cost and Value
The balance between both cost and value is on level pegging, and especially when taken into consideration the features it offers including the multi-use functionality and cable adjustability, it is a good value unit for the price.

7

. Globe Electric 6 Outlet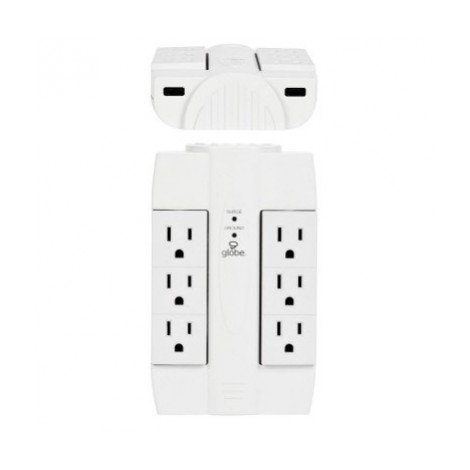 This surge protector unit is offered in a swivel design that is versatile in a variety of settings and is available in a choice of either black or white. It is also with a choice of designs which are; a simple six-outlet unit or a six-outlet unit with two USB ports. It boasts compatibility with most Apple products and Android devices for increased versatility and functionality. The protector comes complete with a two-year warranty that covers up to three-hundred thousand dollars relating to connected devices should they become damaged during power surges and spikes.
Joule Rating
The Globe Electric surge protector unit has a joule rating of twenty-one hundred for optimum performance when it is needed, and it boasts being able to fast charge with a speedy two-point-one amp for better practicality.
Light Warnings
The unit has two lights to show proper and current power status and also shows expected ongoing surge protection which gives greater peace of mind because it enables visual checking of it to ensure it is fully functional when it is needed most.
Cost and Value
The balance between cost and value is well reflected and represented in the products overall specification, and the tidy tower space-saving design adds to its appeal. The light indicators give value concerning the safety of electricals when it is required.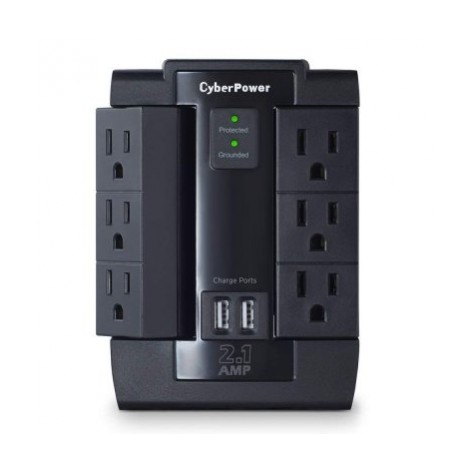 This surge protector is offered with one-thousand two-hundred-joule protection that is more than adequate for heavy-duty electricals within the home or the office. The six-point outlets are combined with two USB ports at two-point-one amp charging capacity. It benefits from a simple direct plug-in application that has three rotating outlets on two sides for optimum plugging versatility. It has a limited lifetime warranty with up to seventy-five thousand dollars that covers any electrical connected correctly.
Noise Filtering
The Cyber Power CSP 600 has new technology filtering that reduces noise when in use, this boasts EMI/RFI line filtering for a better-quality product. It also boasts green LED lights that indicate both grounded and protected functions for peace of mind.
Practical Features
The protector features a wall type NEMA 5 1SP and is one-hundred twenty-five volts. The wall tap design is both practical and useful in both the home setting and any workplace where protection and style blend together nicely.
Cost and Value
This technologically improved surge protector from Cyber Power is balanced well when considering both cost and value and the features it benefits from including the wall tap and joule rating, ensure that it is a good buy for the price.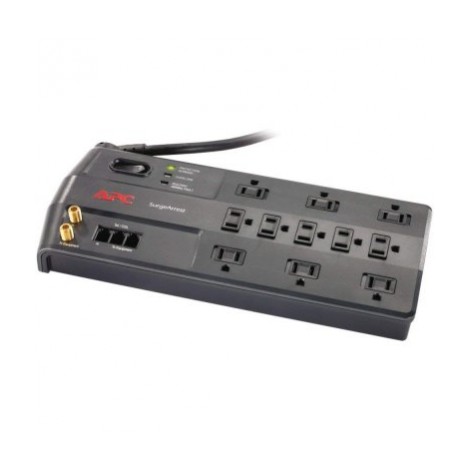 This highly versatile and functional surge protector is offered with the added bonus of optional TV and coaxial connectivity. Its overall practicality is improved further with six larger block outlets for a variety of different shaped plugs and adapters. The extra protection offered for TV and coax connections increases the appeal further and gives more protection for more electricals, it has a lifetime warranty and covers up to one-hundred thousand dollars of any connected electricals.
Practical Features
The APC surge protector has an eight-foot cable and benefits from being rotational to one-hundred and eighty degrees and also offers a right-angled plug for easy use and tidy application in the home or in the office.
Joule Rating
The surge protector offers a joule rating of three-thousand and twenty, this ensures a greater level of protection for heavy-duty gear and as a bonus; the outlets all have sliding safety shutters.
Cost and Value
The universal protection offered by this APC surge unit is boosted with the TV and coax connectivity, and the practical features including the DSL protection ensure a balance between both cost and value and provide great value for money.

10

. Progressive Industries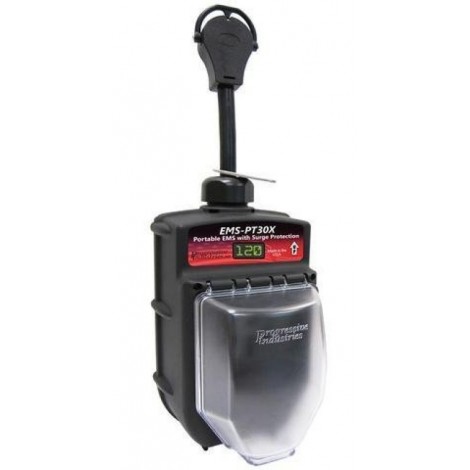 This portable RV surge protector offers versatility and is available in a large choice of styles and types for improved individual preference. It boasts three-mode/ 1,790J/11,000a and has ratings of 30A, 120V and 3,600 W. It also benefits from being practical enough to use in temperatures ranging from minus forty degrees centigrade to one-hundred and five degrees centigrade. The design is functional and is specifically made for outdoor use and is fully weather resistant.
Functional Features
The RV surge protector has microprocessors built into it, and it boasts a simplistic but functional plug and play design for optimum performance when out on the road. It has useful LED indicators to show performance and cover.
Practical Protection
The Progressive Industries surge protector has a practical electrical management system that reduces the risk of potentially damaging voltage fluctuations and it benefits from a pull handle and a secure locking bracket.
Cost and Value
Overall, this RV portable surge protection unit offers unique features and weather resistance that gives it a real edge when traveling, the cost is represented equally when considering the full functionality offered by this protector.

Subscribe to our Newsletter