Bluefin SUP Boards – Full iSUP Lineup and Review
Bluefin Inflatable SUP Lineup Overview
Bluefin offers four lines of inflatable paddle boards, all of which come as a package deal, including a pump, bag, ankle leash, paddle, smartphone case, and kayak conversion kit*.
- The
Cruise iSUP
Line
- The
Cruise Carbon iSUP
Line
- The
Sprint iSUP
Line
- The
Activity iSUP
Line
* - Kayak conversion kit not available for Sprint and Activity inflatable SUP lines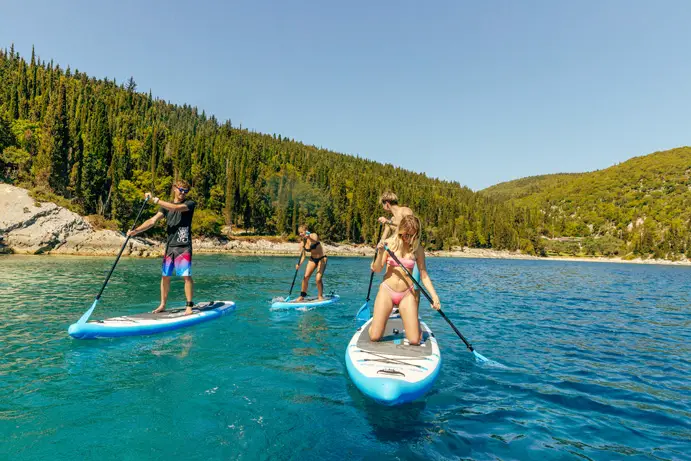 Technology and Innovation
Before diving into the inflatable paddle boards themselves, let's first understand what sets Bluefin apart. One of Bluefin SUP's flagship selling points is the innovative technology that goes into their boards. We'll provide a summary of each innovation element below.

Exo Surface Laminate Technology
Each of Bluefin's inflatable SUP board undergoes a proprietary lamination process which binds the materials together for an ultra-firm bond to ensure longevity and durability. On top of that, they add an HQ coating which offers maximum UV resistance on the board's surface. Bottom line: Bluefin SUP boards will never fall apart on you.

Dropstitch Density
Every inflatable SUP board has internal drop stitching between the top and bottom surfaces of the board. These work in tandem with the air pumped inside to create and enforce a board's rigidity. Bluefin utilizes a dropstitch rate of 11,200 stitches per 500 denier for a crazy dropstitch density and can withstand up to 28 PSI for best-in-class rigidity.

To understand denier, it's simply a fancy word used to measure the density of measured material. Winter pants/tights are ~200 denier, carpet fibers can range from 10-20 denier, and so on.

Dual Air Chambers
The Carbon line features dual air chambers -- AirDuo -- which are inflated separately and independently of one another. The design of these separate chambers (one under the footbed and one around the outside) is optimized for performance, durability, and air volume.

Flex Reduction System
The Carbon line of iSUP boards include a robust set of carbon fibers woven in a diagonal twill pattern to produce a 3k carbon fiber exterior rail layer. The carbon layer is then literally baked between the inner and outer edge rails (i.e. heat-welded) to create boards with unrivaled stability and rigidity.

Thermosealed Deck Pad
Every EVA footbed on a Bluefin inflatable SUP board undergoes a thermosealing process. This process ensures the optimum combination of density, durability, and traction. Also worth noting: all Bluefin deck pads include a raised kick pad at the tail for that extra grip and maneuverability.


The Bluefin Cruise iSUP Line
The
Bluefin Cruise
is the ideal paddleboard choice for versatile use & beginners. The Cruise range is Bluefin's best-selling inflatable SUP. The Cruise offers optimal balance & tracking, making it ideal for recreational paddling in lakes, rivers, or the ocean. The Cruise range is comprised of four sizes - the 8' Cruise Jr., the 10'8" Cruise, the 12' Cruise, and the 15' Tandem Cruise. All Cruise models have a recommended PSI of 15-18 (beating most iSUP models which max out at 15 PSI), and are rated to withstand up to 28 PSI.
Whoa.
Also, if you like documenting your paddle board travels, all Cruise models (standard and Carbon) include GoPro camera action mounts.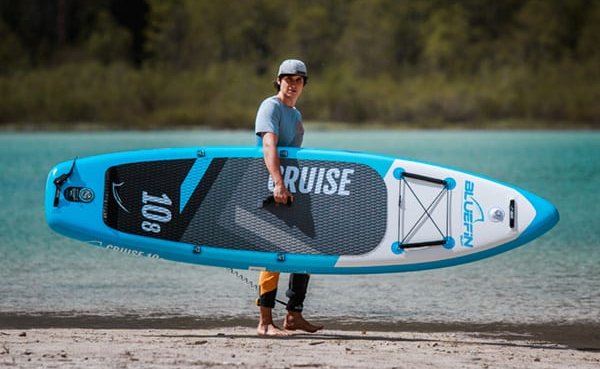 Cruise Jr.
This iSUP is for young paddlers, who want a versatile, high-quality iSUP that they won't outgrow. It is specifically designed for paddlers 5'3" and under who want a board that travels light & provides rigid stability and durability for every single adventure.
Bluefin has truly created a one-of-a-kind youth board by combining more aggressive performance features of touring boards with comfort & stability aspects of all-round leisure boards. Granted, it's on the more expensive end of kids' boards so this won't be for everyone, but for families devoted to inflatable paddle board riding, the Cruise Jr. is a gem.
Cruise 10'8 / 12'
The 10'8 is Bluefin's
most popular iSUP
across its entire product catalog. Its 10'8" length makes it best for riders under 6' tall and 190lbs. All told, it has a max capacity of 330lbs making it plenty able to hold a child or dog up front. Maybe even some fishing gear or a cooler for your cold ones.
The 12' Cruise is basically the same but longer and a better fit for larger riders or people who want the extra board volume for touring or added stability. With a maximum capacity of 390lbs, the 12' Cruise will get you and your gear wherever you want to go!
Cruise 15' Tandem
Rounding out the Cruise line (or "range" for the Brits), is the 15' tandem board. Bluefin has designed this board for couples who enjoy tandem paddling, or for the solo paddler who plans to transport everything but the kitchen sink on his/her touring adventures. The Tandem's max capacity is a whopping 530 lbs, and you will be hard pressed to overwork this board.
As an entry level board, we think the Cruise is probably the best all-around inflatable SUP on the market. At a price point of ~$550, it's a good value when considering all of the features included. Of all the Bluefin technology, everything
except
the carbon side rails and AIR DUO are included in the Cruise lineup. They also include a high-performance
3-piece fiberglass paddle
(which we like much better than most entry-level aluminum paddles) and a full kayak conversion kit to get the absolute most out of your iSUP. We think the Cruise line ranks among the best paddle boards 2021 and is a worthwhile competitor to BOTE, the Explorer by Isle Paddle Board, and the GILI Adventure inflatable SUP board.
The Bluefin Cruise Carbon iSUP Line
Bluefin has included all of the features from the standard Cruise line in the Carbon line, but ratcheted it all up to another level. By adding the AIR DUO system and Flex Reduction System (FRS) - carbon fiber reinforced rails - Bluefin has created quite possibly the perfect and best inflatable paddle board.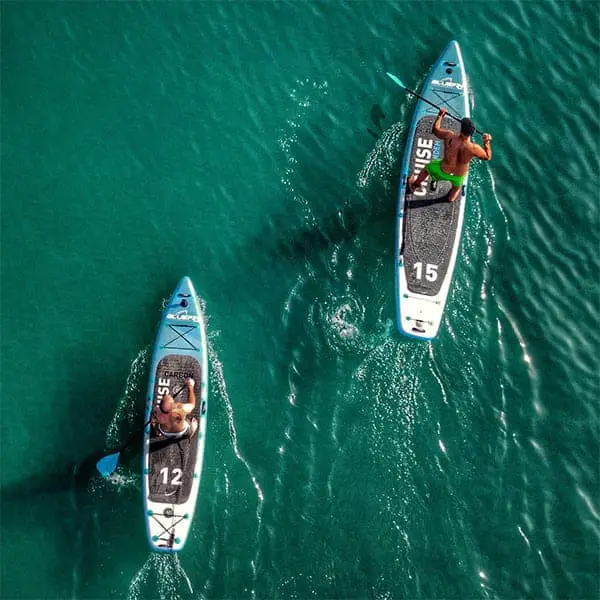 The Carbon Cruise line offers 10'8, 12', and 15' Tandem sizes, just like the standard Cruise (sorry, kiddos! No Carbon Cruise Jr.). Each inflatable SUP has the same weight capacity and general recommended use as its standard Cruise counterpart. In addition to the two tech features mentioned above, the Carbon line differs in a few other categories:
Inflation Pressure
The Carbon line counterintuitively comes with a lower recommended PSI as compared to the standard Cruise line. The Carbon iSUP boards call for 12-15 PSI with a max PSI of 25. You might think this hinders the boards' rigidity...but then you'd be forgetting about the AIR DUO system and carbon rails. Bluefin's addition of the FRS side rail system necessitates a lower PSI, which works in tandem with the air to create a higher rigidity. Additionally, there is less volume per chamber when inflating dual chambers, requiring a lesser PSI to reach optimal rigidity. #science
Paddle
To reflect that you're getting their best, the folks at Bluefin upgrade
the included paddle
to a 3-piece, full carbon-fiber shaft with nylon blade. They've done a great job with this paddle! While it's not a FULL carbon fiber (we really would've liked to have seen a carbon fiber blade), we appreciate Bluefin tagging their premium boards with a near-premium paddle.
The Bluefin Sprint iSUP Line
The Sprint lineup picks up where the Cruise leaves off. The Sprint iSUP boards are specifically designed for racing or long-distance touring, both of which require more advanced paddling. They benefit from a long profile and sharp, angled nose, which can cut through the water with knife-like ease. We found that Sprint inflatable SUP boards cover more distance more quickly than the Cruise all-round boards. This makes them perfect for long-distance expeditions on flat water. However, because they're both narrower and longer than Cruise iSUP, maneuverability & balance can be tricky for beginners. We think that experienced and advanced paddlers will love the Sprint.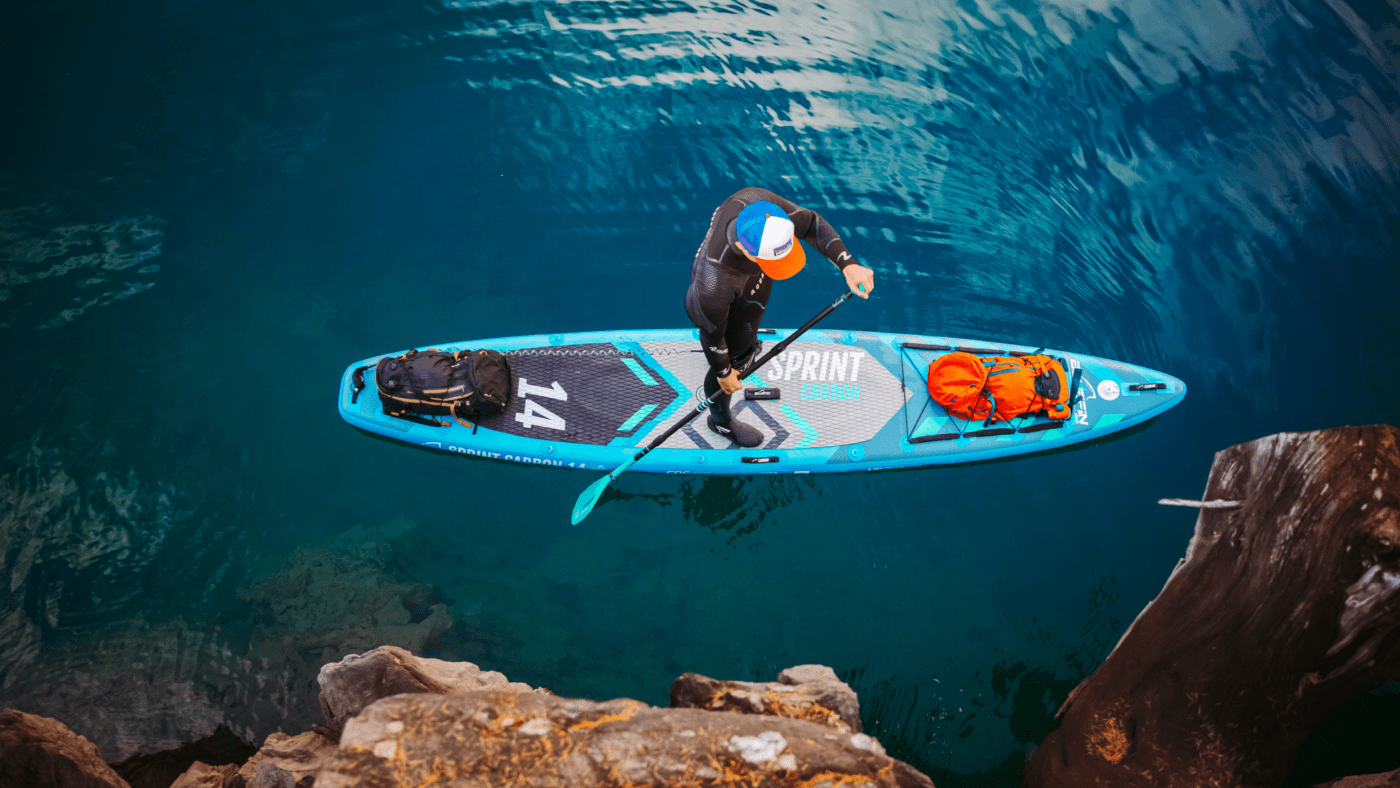 The Sprint has one design shape which Bluefin offers in either the Standard build or Carbon. The Sprint measures 14' long x 30" wide x 6" thick. The PSI recommendations match the Cruise standard & carbon, and the Sprint iSUP offers a max capacity of 420 lbs.
Whether you go with the standard or Carbon Sprint inflatable SUP, this paddle board is FAST. Bluefin even includes a different paddle design with the Sprint - one that's optimized for a typical medium cadence paddling rhythm.
Added to the Sprint's design are additional grab handles for a total of 5, a rear bungee tie-down, and an expanded 8-point front bungee tie-down.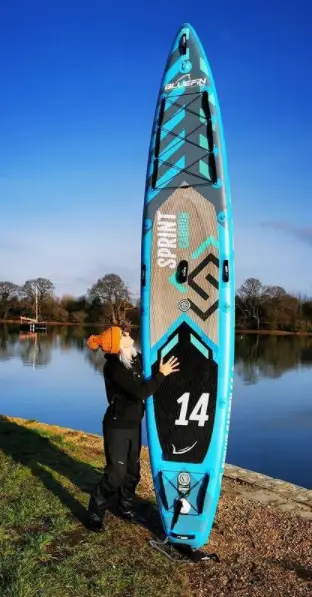 The Bluefin Activity iSUP Line
The Activity line
features three more unique iSUP models, which we think will be sure to please anyone who hasn't found their fill with the Cruise or Sprint lines. Aimed at yoga, fitness, fishing, and high-volume use, we really like these fun and unusual offerings Bluefin has created.
The Aura Fit iSUP

First in the Activity line is the Aura Fit. At first glance, you'll notice the beautiful zen-inspired aesthetic design on this inflatable paddle board. If yoga, pilates, or any aqua-based fitness is your thing, – then the Aura Fit is for you. It boasts all of the standard Bluefin construction elements, making it exceptionally stiff and rigid. What's more, Bluefin has widened the board and designed an extra-large deck pad to give you all the room you need to find your inner water spirit. They've even moved the grab handle and any other potential distraction off to the side of the board to ensure that nothing interrupts your flow. Yeah, man.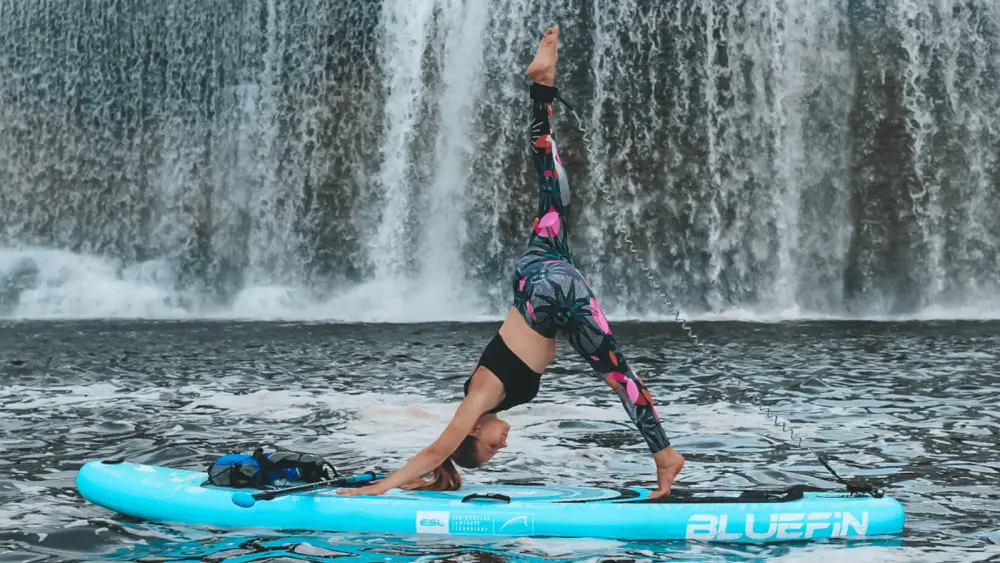 The Aura Fit is also great for all-round paddling – it is a paddle board, after all. Being designed for added balance with its wide shape, rounded nose and tail, the Aura Fit is a great choice if you're new to the world of inflatable SUP boarding.
The Aura Fit measures 10'8" long x 35" wide x 6" thick, has a recommended PSI of 15-18, a max PSI of 28, a maximum capacity of 350 lbs, and includes Bluefin's fiberglass paddle board paddle.
The Voyage iSUP

The Voyage iSUP is the ultimate stability board. Upon first glance, you may wrinkle your nose and cock your head to the side like I did, wondering, "what's going on here?" Bluefin admits that it's a different design that is intended for "riders who prefer loads of extra stability as well as sporty paddlers interested in doing more than stand up paddling with their board."
Bluefin designed the Voyage with an extra-wide 38" deck to give you the most stable platform possible. And at 10'10" long, we appreciate the extra space for yoga, ocean paddling, fishing, running rapids, or literally anything else that might challenge our balance. While the Voyage is extra-wide, Bluefin is at it again with innovation. They took their AIR DUO system a step further and created a one-of-a-kind tri-chamber inflation system to give you the most stable board around. Given its width and heft, the Voyage tracks well for paddle sessions & doubles as an excellent base for all the non-paddling activities you may get into on the water. It boasts a maximum capacity of 400 lbs.
To add incremental value to the Voyage experience, Bluefin includes some premium additional accessories. First, they add a kayak paddle conversion kit for when you want to sit. Second, speaking of sitting, they include a fishing box/cooler which doubles as a seat. This also features a removable backrest. Finally, the iSUP comes equipped with two removable fishing rod holders to keep your line in the water and your hands free.
The Mammoth iSUP

The final entry on this Bluefin iSUP highlight is the Mammoth. This inflatable SUP board is the epitome of "go big or go home." The Mammoth is the ultimate party board and perfect for anyone wanting an iSUP which can double as a raft, ad-hoc dock, sunning platform, or true multi-person inflatable SUP. A true megalodon paddle board, the Mammoth is 18' long, 5' wide, and 6" thick. Bluefin utilizes two separate inflation chambers, each with capacity up to 28 PSI (15-18 recommended) to offer maximum rigidity and a maximum weight capacity of over 1,400 lbs!!! According to Bluefin, that's a max of 10 people.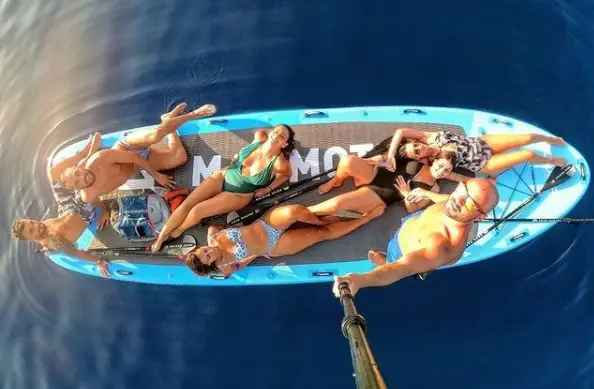 The Mammoth deck is mostly covered with its trademark footbed material and is surrounded on the outside by 13 grab handles. Since this megalodon paddle board weighs nearly 60 lbs, all those handles are quite useful since you'll need a group to haul it around once you're off the water. The underside is set with five fins, and the entire paddle board is treated with Bluefin's Exo surface lamination technology.
Conclusion
We've finally reached the end of our Bluefin full product offering roundup and review. We are continually impressed by their iSUP offerings which stand out due to Bluefin's technology and iSUP innovation. We highly recommend them to anyone looking to make a slightly higher investment into their paddle board experience. For beginners, intermediate riders, experts, and anyone in-between, the Bluefin lineup is a standout and very much worth your consideration. We're not surprised that multiple Bluefin paddle boards ranked in the best paddle boards 2020 awards, and we believe they will continue to rank among the
best paddle boards
this year and into the future.
Subscribe to our Newsletter