Best Zeiss Binoculars Reviewed and Rated for Quality
In a Hurry? Editors choice: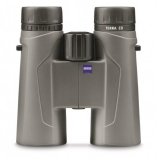 Test Winner: Zeiss Terra ED 10x42

When we think of binoculars, we usually think of bird-watching. How else are we going to be able to zoom in and
magnify species of birds
that are hundreds of feet away from us? Binoculars
allow you to see far away objects in detail
. Which is why they're regularly used in bird-watching. Because you don't want to frighten or scare away the birds, watching from a distance serves a useful purpose. But what other common uses are there for binoculars? They can also be
used for viewing nature
, for marine life, safaris, cruises, and astronomy! There are models for the everyday user, and more high-tech models for very detailed, in-depth viewing. We researched the top ten Zeiss binoculars on the market today, that vary in use, but will most definitely be the best binoculars you can ever buy for your specific need.
Standout Picks
Criteria Used for Evaluation
Effectiveness
You've probably noticed that all the descriptions in the titles of the binoculars have an AxB clarification. This refers to the number of magnification times the lens size, which allows for how much light goes through. For example, if the binocular is described as 10×42, then it shows the object ten times closer than it is. If a bird is 100 meters away, then it will appear as if it is only 10 meters away from the eye lens.
The magnification you choose to get depends on what you will be using them for. Most of the binoculars on this list range from 8-10 magnification. That magnification is an excellent amount for many situations like hunting and bird watching. This also allows for smooth stabilization with the hands. Anything more than a 12-times magnification may require a tripod or stabilization system as your hands may cause shakiness and difficulty in viewing the object at hand.
Size
The lens size follows the AxB description portion of the binoculars, with the B indicating the lens size. The objective lens is the one that is opposite of the eyepiece and determines how much light enters the pair of binoculars. The larger the glass, the more light that enters. You may want to look for a larger lens in conditions that have low levels of light.
If you're planning to go hunting or view scenery during dusk, then you probably want to look for binoculars that allow the maximum level of light to go through. But how do you choose what mm is right for you? The mm should always be around five times the magnification for ideal clarity. There are lenses from 8×25 and 8×40, and the difference would be that the 8×40 would provide a brighter, more vivid image. You may want to get the 8×25 if you don't foresee any circumstances where you would ever be in low light.
Durability
Since you will solely view through the lenses, you want to make sure that they are high-quality lenses. You should be able to see with ease and get clear images without blurring or scratches. The glass should provide 100% natural and real colors instead of distorting or getting chromatic aberration through the lenses. A coated lens is critical because it will limit how much reflection you see through the lens when you are in situations with high lighting.
Just as the sunlight glare can restrict your view of what's on the television screen (if it is not correctly coated), the view can be distorted if it does not have the proper coating. The coating also ensures that there is a real contrast, so you can see the image as if you were standing right in front of it with no color distortion.
Comfort
You also want to consider how long you will be using the pair of binoculars for. If you're using them for short periods and bursts of viewing, then you can probably withstand a more massive model. Do a test and see if using the model causes any strains on your eyes. The average user tends to use them for minutes at a time. Thus may not need a higher quality lens with a protective coating. But an investment in a more top-end pair of binoculars may give you the clarity and comfort you need to use them for hours at a time.
Water Resistance
You may have noticed that all of the Zeiss binoculars are waterproof. You want to look for waterproof binoculars to protect the outer shell to prevent it from damage. Binoculars are usually used outdoors, so they should have a protectant coating, and you should look for "WP" on the description of the binoculars. This ensures they stay free from damage even in cold or warm conditions, and will be protected from condensation and rain. Some higher-end models (like the Zeiss) can remain submerged in water for hours at a time, making them a great scuba diving companion.
10 Best Zeiss Binoculars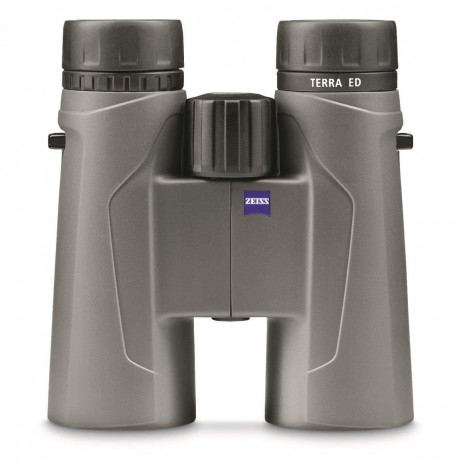 The Terra ED 10x42 binoculars are a great choice. Before we delve into the specifics of this product, the numbers at the end of the description of the binoculars signify the strength of the magnification (how many times close the object is in relation to where you are i.e in this case 10 times close) times the size in the objective lens in millimeters. The Zeiss Terra ED 10x42 is the perfect pair for ten times the magnification, making this perfect for nature lovers.
Compact, Light and Robust
It's amazing how technology can allow a small item to fit in your jacket pocket and allow you to view objects, in great detail, ten times your distance. This set of binoculars is embedded with glass fiber and has a small, compact body, making this the perfect companion for rough conditions, like safaris and wildlife nature exploring.
High Optical Precision
The high optical clarity and hydrophobic multi-coating make this a great tool for viewing in hunting, bird watching, hunting, and nature observation. You are guaranteed clear, brilliant viewing right down to the smallest details.
Cost and Value
Zeiss binoculars are the leading manufacturer in binoculars, and as such, will not come at a cheap price point. This list is dedicated to all Zeiss, so you would have to expect to pay a pretty penny for several of these. Some are less inexpensive than others, and this one falls in the "average" range for what a Zeiss binocular is supposed to be. If you are serious about hunting or bird watching or viewing faraway objects in close, clear detail, a Zeiss binocular will last you a lifetime and give you the top clarity you can get.

2

. Zeiss 10x54 Victory HT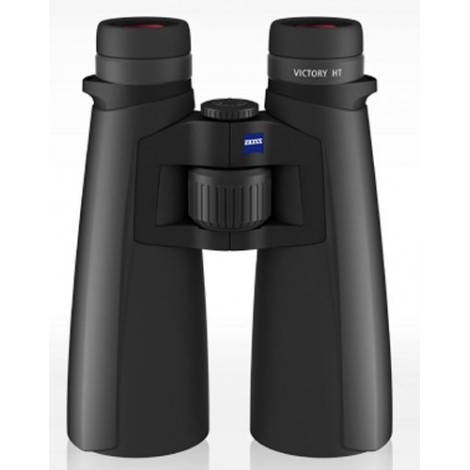 We're going to switch gears a bit here and list one of the most high-tech pair of binoculars that Zeiss has to offer on the market today. The Zeiss Victory HT Binoculars are setting new standards for binoculars with the brightest optics in all of Zeiss's history. This is the pair for you if you are a night hunter or need clear vision in dark conditions.
Revolutionary Light Transmission
This innovative new set can transmit over 95% of light, which makes any object clear as day, even when the surroundings are as dark as night. It provides bright, high contrast images through the lens, which is especially important for hunters who need those extra pair of eyes during the night.
Comfort Focus Concept
This pair also has an innovative comfort focus concept, which enables you to get the most precision in viewing without manually focusing every second. It boasts a larger wheel that gives you the utmost precision you need for your focus.
Cost and Value
This is one of the most innovative and high-tech pair of binoculars offered by Zeiss and comes with a hefty price tag. This isn't meant for the everyday birdwatcher or traveler (unless you plan to be doing this at night). This product is a tool that many hunters may want to invest in.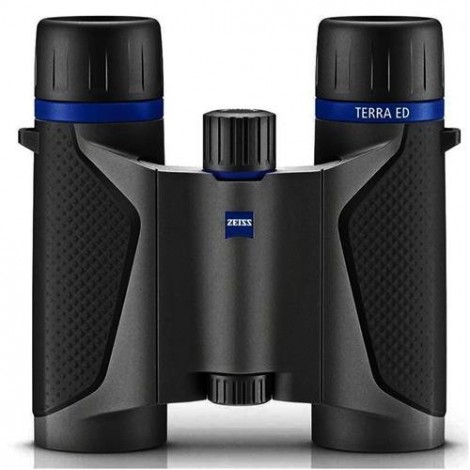 If you want to invest in a pair of Zeiss top-shelf binoculars for yourself without the hefty price tag that some of the other ones do, the Zeiss Terra ED Pocket binoculars are the ones for you. With almost all of the same qualities that the other two above have, this pair can give you the range of vision you need at a lower price point.
Easy to Use
This is ideal for those who do not need all the high-tech extra functions and zooming capabilities but need a no-frills viewing device that can provide eight times the zoom with optimized clarity and light. This has a smooth, exact focusing capability that anyone can use.
Compact
This pair is different than the others in that it is more compact as it can be folded down and fit into your pocket. This makes this model ideal for taking with you anywhere, from bird watching to traveling to viewing nature.
Cost and Value
For a Zeiss product, this comes at a great price point. This is intended for anyone who wants a closer look without carrying around a bulky pair of binoculars, and want a product that is extremely easy to use with just a fingertip.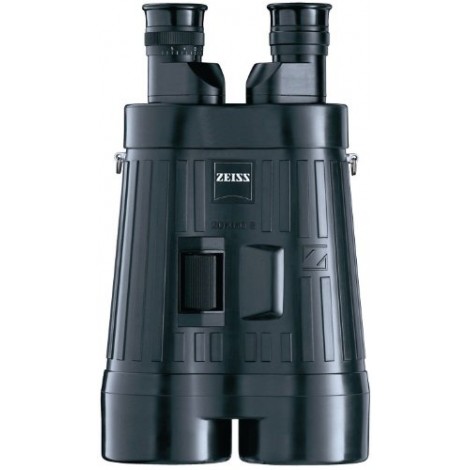 The Zeiss Carl Optical Image Stabilization Binocular is a military-grade, high-performance level pair of binoculars that can view twice the distance as any of the models on this list. This might not be for the average traveler or hunter, but if you need for it, then this is the best product out there.
20 times magnification
This pair of binoculars can provide 20 times the magnification, with crystal clear images. Users have stated they can read clearly airplane names and see shooting stars with this particular model.
Image Stabilization
When you magnify something up close, you may worry that your shaky hands will cause the image to go all over the place. The built-in image stabilization provides clear images without shakiness at all.
Cost and Value
This is the most expensive product on our list at a very high price point. Granted, this is going to be for very specific use for people who need the highest level of viewing and performance, so this would be considered an investment for those purposes.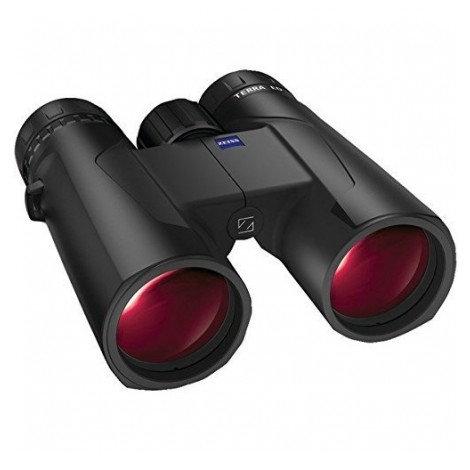 The Zeiss 8x42 Terra ED Binoculars have the same outstanding features as the one above but offer an eight times magnification with a 42mm lens, which allows for more light to enter. This is also a very durable, compact pair of binoculars that are ideal for rough conditions and outdoor situations.
Waterproof Coating
This pair of binoculars is designed to be taken outdoors and has state of the art protective coating that protects your binoculars from adverse conditions, like rain and condensation.
Angled View
This pair has a 7.2 curved degree angle of view, which makes it easy to get a more panoramic view of your surroundings or object at hand without having to move your physical body or adjust the lens too much.
Cost and Value
This is comparable to our first item in price point. The Zeiss binoculars are heavy-duty, meant to last for a lifetime and customers have said that for this top-shelf pair, the price point is reasonable.

6

. Zeiss 10x42 Conquest HD
The Zeiss Conquest is another top of the line pair of binoculars that are designed for clear night viewing, clarity, and long distances. With a solid build, comfortable and intuitive grip, and picture-perfect focus, this is a pair that is sure to last you through the years for all your adventures.
Light Viewing in the Darkness
This HD lens system has a built-in, automatic sensory neutral color reproduction and crystal clear detail provides an enriching visual experience for your outdoor adventures that is unparalleled.
Clarity
The Zeiss Conquest has ten times the magnification, and its lens system ensures the clearest visibility in any weather, fog, or twilight. The lens has a coating which ensures rain and fog roll off and does not obscure your vision.
Cost and Value
Like the Zeiss Victory, the Conquest comes with a hefty price point because of its visibility in the dark capabilities. Customers highly rate this product despite the price tag because of its sheer capability in providing crystal clear visuals.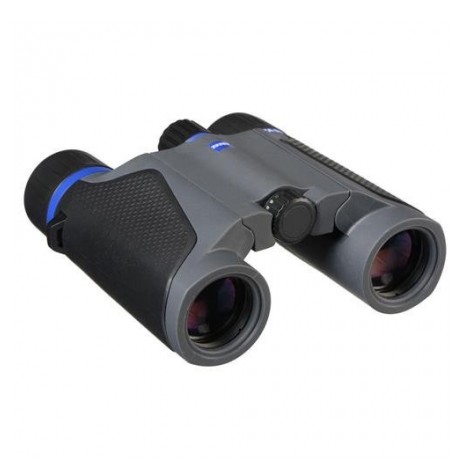 The Zeiss Terra ED 10x25 provide more magnification (10 times) than the other Terra ED compact binoculars on this list. This makes this model perfect for not just traveling and outdoors, but also for nature observation and events.
Sharp Image Quality
The maximum optical precision and 10 times magnification give this pair of binoculars a wide range of versatile use, giving you outstanding clarity and 100% real, natural colors.
Comfortable Fast Focusing
Even beginners can use this pair of binoculars with ease. It has a large and intuitive focus wheel that is easy to use without extra thinking involved.
Cost and Value
This is one of the more affordable products, comparable to the other pocket binoculars. They are intended for versatile use and are well worth the money if you aren't ready to invest in the night vision binoculars yet.

8

. Zeiss 8x32 Terra ED Binocular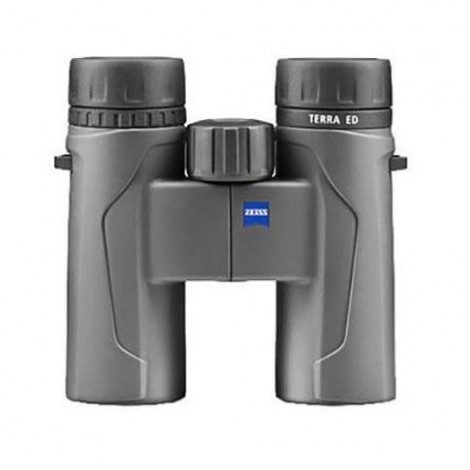 The Zeiss Terra ED provides eight times the magnification with 32mm lens, making this model perfect for hunting, bird watching, nature observing, traveling, and outdoor activities. It is also weatherproof and protected from adverse conditions, providing you with the clearest view possible.
8x Magnification
The Zeiss Terra ED 8x32 provides eight times the magnification to deliver the clearest, sharpest images to make you feel as if you're right there. You also have a wide field of view at 60 degrees.
Weatherproof
You can take this pair of binoculars out in the coldest or warmest of climates, with an operating range between 24 degrees to 140 degrees, making it perfect to view in the outdoors.
Cost and Value
This price is comparable but slightly higher than the other Zeiss Terra ED models, as it offers higher magnification and higher lens focus. Depending on what your needs are for outdoor viewing, this may be worth the slightly higher price point.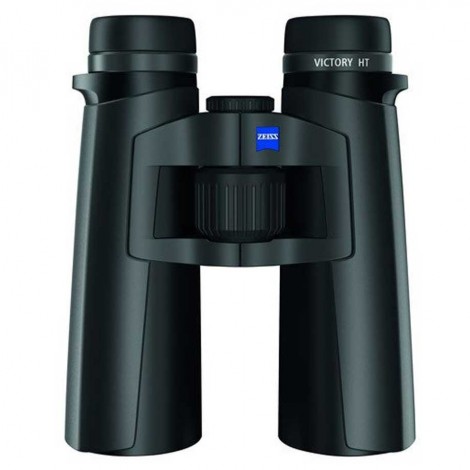 This Zeiss Victory looks top of the line, with its sleek, matte black and modern design. These have optimal viewing and clear, picture-perfect display in the most adverse of conditions. This has all the qualities you need in a quality pair of binoculars that will last you a lifetime.
Ergonomic Form
Zeiss has thought about the form of this model- it has an intuitive grip and is large and comfortable enough to reach in the bridge of the model. Despite its hefty look, it is lightweight and perfect for hunting.
Traditional Design
This design follows the classic design from the original 1962 original Zeiss binoculars, with a modern, elevated, and technological twist with all the improvements needed for adverse conditions.
Cost and Value
This is one of the leading products in the Zeiss line and comes with the heftiest price point to date on this list. If you are an avid traveler or hunter, this may be worth the investment for years to come, to enjoy optimal viewing with your loved ones.

10

. Zeiss 524205-9904 Terra 8x42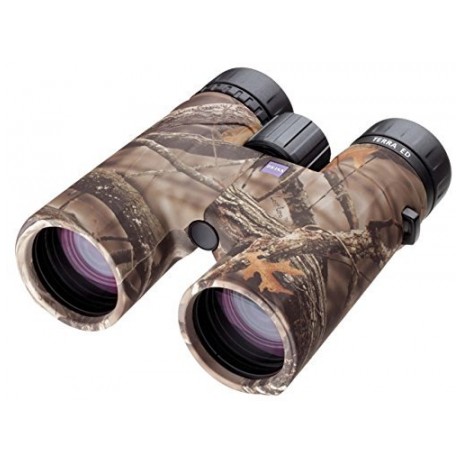 These camo patterned Zeiss binoculars are a hunter's best friend. With a camo print coating, you can easily blend in with your backyard to get a closer look and distance to your object. The camo print is used for hiding, and this pair of binoculars definitely won't be seen.
Large Focus Wheel
The last thing you want to do when focusing on your object and blending in with your surroundings takes your eyes off the lens to see where the focus wheel is at. This is large enough and sits perfectly under your finger where your hand naturally lays, so you can place all your attention to viewing.
Wide Angle View
You don't want to miss a thing when you're hunting- a fraction of a second can make a difference in your next course of action, and the lens provides a wide-angle view, so your eyes are always on the prize.
Cost and Value
This is comparable to other Terra ED models and comes with an eight times magnification and 42 mm lens. The selling point may be its unique design print, which many hunters who want to stay inconspicuous may want to purchase.

Subscribe to our Newsletter