Best Yeti Coolers Reviewed & Compared
last updated
Mar 20, 2019
Many coolers out on the market are designed for simple trips, such as picnics, going to the beach, outings with your friends and family, etc. But when you are really planning on roughing it out, you need something that can withstand harsh weather and environments, while protecting your food and beverages. Since food and water are such vital necessities, the task of protecting them can only be left to the best, Yeti Coolers. The company, founded by the Seiders brother, started in their father's garage in Dripping Springs (Texas), in 2006. A few years later, YETI's fan base and diehard outdoor lovers have grown so much that you find its name pretty much everywhere. Below are the 5 YETI models, (including handheld) reviewed and compared for their durability, insulation, size, style, and value.
In a Hurry? The test winner after 14 hrs of research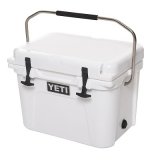 YETI Roadie
Why is it better?
Excellent portability
Durable (a must for a YETI)
Striking ice preservation capacity
Premium Materials
Roto-Molded
In a
Hurry? Editors choice: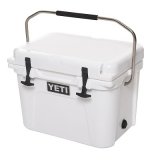 Test Winner: YETI Roadie

12
Researched Sources
9500
Reviews Considered
14
Hours Researching
12
Products Evaluated
Durability
Size
Insulation
Style
Value
By Default
In Depth Review Top 10
YETI Roadie
YETI Hopper
YETI Tundra
YETI Hopper-Flip
YETI Hopper Portable
Table of contents
Criteria Used for Evaluation
Frequently Asked Questions
Sources
Top 10 Picks
Excellent portability
Durable (a must for a YETI)
Striking ice preservation capacity
Premium Materials
Roto-Molded
Pricy
Heavy (with a 7.27kg when empty)
If you're in search of a long-lasting cooler, made with the best materials, then this YETI Roadie is sure to please you. Now part of the Tundra series, the Roadie is a smaller model that still looks pretty imposing and that is perfect for single-person trips – the cooler can still hold up to 14 cans. Because of its metal handle, the Roadie is excellent for its portability capacity, and its durability is impressive in every aspect.
Read more
Insulation System
Are you planning on having a road trip with friends or on going on a fishing journey solo? Perhaps the YETI Roadie is what you need. The InterLock lid system that YETI has put on this cooler creates a shield between the interior of the cooler and the external elements. Not only that, but the T-Rex lid fasteners make sure that the lid is firmly closed to keep your drinks and food cold. To keep the cold temperatures in the cooler for a longer period of time, the YETI Roadie has ColdLock Gasket latches. Cool enough, the Roadie is one of the very few coolers that are compatible with dry ice, meaning that you could extend your ice retention period.
General Built
Like all of the other YETI coolers, the Roadie is roto-molded to improve the general insulation of the interior of the cooler. As it is made from military-grade hardware, this cooler might seem a bit bulky, but this means that it will last you a very long time, even if you man-handle it or scratch it. Thankfully, this model comes in 4 color options. The Roadie has an overhead rust-proof metal handle that is durable and that is meant to last years. If you want to put your cooler on your ATV or motorbike, then you'll be pleased to know that the YETI Roadie comes with Bearfoot (a non-marking rubber that acts as an anti-slip system).
Cost and Value
YETI is renowned for its quality products that can last you years, so the price is to match what you're purchasing. This is still on the medium range-scale, as YETI coolers can go up to $1,000.00 depending on the models. You have to think of this model as a long-term purchase, and the fact that it's guaranteed 5 years with the company might just want to make you change your mind and get it.
HydroLock Zipper
Coldcell Insulation
Great visual appeal
Strong and flexible handles
Premium quality material
Pricy
Some reviewers found it sometimes hard to put and take out items from the Hopper
This soft-sided cooler is sure to please those who want something on the smaller size, but with efficient insulation and excellent longevity. The second version of the Hopper (Hopper 2) comes in a few sizes: 20-liter, 30-liter, and 40-liter, which means that this cooler is sure to please everyone and their diverse needs. Because of its HydroLock Zipper, thick Coldcell insulation, lightweight (when empty…), your food and drinks can stay cold up to 3 or 4 days.
Read more
Insulation
The one negative point there is about soft-sided coolers is their minimal insulation. So why buy the Hopper cooler? Because this isn't just a regular cooler, of course (or it wouldn't be in 2nd place)! The Hopper is puncture-resistant, leakproof and is resilient to mildew. Not only that, but the Coldcell insulation (1.5'' thick!) system in place in this cooler, as well as the HydroLock Zipper (the kind of zipper that you'd put on an hazmat suit) really keep the cold in. The first way air comes out of a soft-sided cooler is by the zipper, so YETI put most of their attention on this tiny, but very important, detail.
Durability and Visual Appeal
YETI's are 'built for the wild', so it's no surprise that this soft-side cooler is one of the toughest of the bunch. They used materials that can literally be found in 'HazMat suits and whitewater rafts' (taken from their description of the Hopper on the Yeti website!). There are two ways that you can carry it: like a satchel, with a padded support, or like women's purses with two handles on each side of the bag. Obviously, when full, the bag can be a little on the heavy side, but not enough to make you stop every 5 minutes to take your breath. The fact that you can vary the way you wear it makes the experience easier on the human body. Although there are no external pouches, the side handles do offer extra latches where you could clip a few things (empty Lifestraw bottle, keys, snacks, etc.).
Cost and Value
Most of YETI's coolers are at the top range of premium coolers price-wise, but as YETI says, their coolers are 'built for the wild'. This really is an investment, and it's probably the last cooler you'll be buying (if you don't thrash it), but some reviewers found that the price of the cooler, for its size, cost a lot.
Resistant to mildew
LipGrip handles
DoubleHaul Handles
Amazing insulation
AnchorPoint tie-down slots
Some reviewers found that there weren't that many additional features (molded cup holders for example)
This is YETI's 'baby' as it's their original model. It comes in numerous sizes (35, 45, 50, 65, 75, 105, 110, 125, 160 and finally 201-quart) and it comes in four color options (white, baby blue, tan and desert tan). Like the rest of its brother coolers, the YETI Tundra is made of plastic, polyester and premium metals to keep the foods and drinks as cool as possible for as long as possible. This model is also roto-molded, with PermaFrost insulation, ColdLock Gasket latches, NeverFail hinges and T-Rex Lid latches, bringing the cool during warm sunny days in the wild.
Read more
Insulation
When buying a cooler, insulation is probably the top priority a buyer has on its list. The PermaFrost insulation is made of polyurethane foam and is inserted in the cooler's walls to expand and fill every inch of the space. This explains the 2'' insulation walls that lead to the ice-retention that YETI is renowned for. Not only that, but the ColdLock Gasket latches in the lid keep the warmer temperature from entering the cooler.
Build Quality
The YETI Tundra has so many qualities to it that I just had to put them all in one place for you to gaze upon. The T-Rex lid latches are made of heavy-duty rubber so that you'll never have to experience the disappointment from another kaput latch. The DoubleHaul handles are made from military-grade polyester, adding to their durability. You want to bring your Tundra on your boat, trailer or truck bed? No problem! The AnchorPoint tie-down slots will do the job perfectly without any 'ugh' and 'argh' coming out of your mouth. If you're in a hurry and need to empty the cooler, simply use the Vortex drain system – leakproof and rugged – to facilitate everything. If you're like me, and you're rather on the short side, and if you happen to be alone to carry this cooler, then the DoubleHaul handles might end up being too high for you (you don't want the cooler to knock your knees every step of the way). Yeti came out with LipGrip handles so that your foods, drinks or catches become less of a burden and more of a conquest.
Cost and Value
The YETI Tundra is probably the most expensive cooler the company sells, but as I've said previously, these coolers are made to tough a lifetime. This really becomes an investment. You could end up spending more money buying much cheaper (price and build) coolers over a lifetime. So if you want something that has excellent insulation and closes to perfect durability, and if you don't mind spending more than a few bucks, then you should consider this model, especially with all of its sizes and color options.
Leak Proof
Shoulder and side straps
HydroLock Zipper
TPU-Laminated nylon
The lid, once pulled back, does not stay in place – it shuts back down
The YETI Hopper Flip is the cousin of the YETI Hopper. As its other Hopper model, the Flip is a hermetic (remember that HydroLock Zipper? It's back) zip-shut cooler with a leak-proof foundation and can keep ice for days. Made of the same material as the Hopper (TPU-laminated nylon) and can pretty much do the same thing as the Hopper: keep your foods and drinks cold for days.
Read more
Leak Proof
Don't you hate it when you put something in a soft-side cooler with some ice, and then, in the middle of the day, when your cooler is on its side, all of the melted ice pours out? Imagine it being in the back seat of your car. No. You hate that. I hate that too. That's why I fell in love with their leak-proof system: The Hopper Flip has no stitches to keep the parts together. Instead, YETI used Radio-Frequency welded seams to hold the cooler together. I did my share of research and reading to find out what RF-welding was. Here goes: it's the process of using electromagnetic energy; two electrodes create an oscillating electric field that changes the basic polar molecules in order to move them according to the electromagnetic field (thanks, www.ufpt.com, for your amazing knowledge!). Basically, if you're not a science person, invisible waves force the particles together to create something. Here, the subject would be the Hopper Flip. This method melds the portions of the cooler together, helping with its durability and much loved and appreciated leak-proof characteristics.
Mobility - Carrying
You need a shoulder strap when you get a soft-side cooler. But you don't want an excellent material-built cooler with a cheaply made strap; because we all know that the strap (and your shoulder/back) carries the whole weight. So you want a strap that's durable, flexible and comfortable. Thank the Cooler God because this Texas-based company thought of it (I told you they paid very good attention to detail, didn't I?). Each side of the Hopper Flip offers you a side-grab handle and an attachment point if ever you want to use the shoulder strap (included when you purchase the Hopper Flip). So if you're in a hurry, you can just grab the cooler by the side handles and go. If you have a long walk to make to your final destination, then the shoulder strap is definitively a go-to. The outside of the strap is built from the same material as the cooler, the Dryhide Shell, to give the strap its durability, whiles the inside offers a more comfortable neoprene fabric.
Cost and Value
If you're looking to buy a YETI cooler but your budget is limited, I'd tell you to consider this model. While it's not a hard-shell cooler, the fact that it can do almost the same things as its brothers for a lower price is pretty amazing.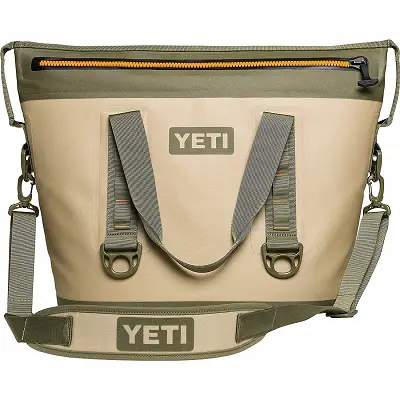 Can hold up to 24 cans
100% leak-proof
Features hydro lock sippers that stay closed
Can keep ice for several days
Some found the zipper to stick
Is a bit pricey
When it comes to choosing a new Yeti cooler, this one is definitely an option to be taken into consideration. Being the first 100% leakproof cooler with HydroLok Zipper, it is designed to keep ice for days. This makes it a good option when going on an adventure. The YETI Hopper 30 Portable is resistant and easy to carry, so you can store whatever you need in it. Furthermore, it is made for long term use thanks to its resistant shell.
Read more
DryHide Shell
One of the things which really stand out about this product is the DryHide Shell. This material makes it resistant enough to take with you on the roughest terrain without the worry of ripping on you.
Leakproof Zipper
Another appealing feature of YETI Hopper Portable is the leak-proof zipper. Even when you decide to use this cooler for a longer than expected period of time the melted ice won't leak out of the bag.
Cost and Value
This Yeti cooler is a good option for those who are willing to spend a little more for a high-quality product. Despite being pricey, the investment it's worth it. It is very portable and built for heavy-duty use.
Criteria Used for Evaluation


Durability
If you're getting a Yeti cooler, that means you are looking for the best on the market. These were meant for the real outdoor enthusiasts and hunters that really like to rough it out. Yeti uses the best materials available and always tests their products for durability. It was hard to rate these coolers in this category since they produce some of the toughest coolers available. We looked at customer reviews and overall quality of material when rating each item. We also looked at how well it can withstand the environment as some were designed better than others.


Size
Yeti Large Coolers
These larger capacity coolers are practical for taking on the long road trip or holiday when you may be living with basic amenities. The offer of having coolers when you go on that hunting trip, or fishing trip and the quality required to ensure your kit can withstand the surroundings in which you will be using it in – is a bonus because it gives you longer freedom outdoors and makes it far more enjoyable with a cool drink. Yeti has worked hard to make the kit they produce be up to any job you want to use it in, and in a number of different guises.
Small Yeti Coolers
Of course, you may not have the need for a full sized cooler, you may not have the requirement to keep food and drink for a long period. If you are simply going out for a shorter while, or know you will have the amenities to re-stock and cool, a smaller, more practical cooler will be best suited to you. Yeti makes a good selection of handheld coolers which have different qualities and are tough enough and durably designed to be used in demanding activities.


Insulation
Insulation is important of course because it's what ensures that the contents of the cooler stay cold. Poor insulation will lead to poor temperature control and your ice will melt quicker. It can also lead to your food spoiling, which can be a bad deal if that's all you have when outdoors. Yeti uses a state-of-the-art process to provide incredible insulation that will keep temp for longer than most cooler on the market. However, due to some design differences, there were some models that did provide better insulation than others. We rated on how long each item was able to keep ice frozen and how quickly it was able to get the temperature down to an acceptable degree.


Style
When you've decided you are going out on a trip when you will need cool drinks and food, you need to best decide where you are going, for how long and what types of cooler you will need. There are varying types and sizes of coolers, and sometimes a large and heavy cooler is just not portable enough to take on your day trip within your trip. Of course, practicality will define your choice of in coolers, and often a handheld cooler will be more useful to you. A larger cooler is, of course, ideal for the long trip, and for providing cool foodstuffs and drink for greater numbers.
There are many Yeti Coolers on the market and they vary in many aspects, from the outward design to the interior design, to the size and ways of cooling. Hard-sided coolers are specifically designed to hold larger capacities to take on road trips and camping holidays where there are limited amenities. These come by design, and one such cooler is the Tundra, Tank and Roadie Ranges, these are hard-sided coolers and come in a variety of sizes so you are sure to be able to find one that best suits your individual needs. The Roadie is roto-molded and offers a no sweat interior, the Tank and Tundra range offer a great variety in of capacity. Sizes start from a 21 can capacity right up to a whopping 259 can capacity.
The range doesn't stop there, and Yeti also offers a soft-sided option in the Hopper. This cooler is designed to be fully practical for providing the much-needed cooling capability you want when you're on a hike or a boat trip. They are available in varying capacities ranging from an 8 can size up to a 34 can. They are portable, have a versatile carrying strap system and a backpack strap system so you can free up your hands and still take your cooler with you any journey.
For a totally portable experience on your trip and for that well-earned downtime, is the Rambler range of cooler drink-ware. The cooling you need is available in handy sizes that are able to keep your individual drinks either cool or warm whatever your choice of refreshment is. The versatility of these makes them doubly useful and practical on your trips because you can use them for keeping drinks cold – and for keeping drinks warm.


Value
The cooler you choose should be reflective of where you are going, how you will maintain the cooler, and of course the standard of cooling and the quality of the cooler itself. Yeti has been making coolers since 2006 and the products they offer, are tested, tried and come highly recommended. They provide larger coolers for the main storage of your food and drinks, all with different qualities, and they also offer a great range of handheld coolers for those in-between trips. They are also extremely practical for taking on outdoor activities to help you remain cool and hydrated, for instance when you're off on a run, or another exerting exercise when you need cooling refreshment.
I have to say that YETI is one of the premium brands out there (I'd even go forward and say that, in my opinion, these coolers are the best on the market). Whether you want a soft-side cooler – that can still hold ice for more than an hour or two – or a hard-shell cooler with an ice-retention that can last for days, or a lighter handheld cooler, YETI has them all. You just have to expect to pay a little more than what you'd see for lower-range coolers, but this is a long-term investment, and with their 5-year warranty, then you know that you're in for a long time!
Expert Interviews & Opinions
Most Important Criteria
(According to our experts opinion)
Experts Opinion
Editors Opinion
Users Opinion
By Default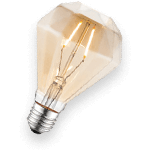 Why Yeti?
What sets this brand of coolers apart from all of the other ones? Everything. YETI's shells are roto-molded (kind of like a kayak, it's molded in one piece), which means that its insulation is more performing than the regular coolers (and the not-so-regular). Not only are they durable and impact-resistant, but YETI didn't forget about those small details that can turn-off buyers (like hinges and handles falling off after a few uses).
Stay Organized And Clean!
Of course, with different food, it will be safer if packed in either separate containers or individual food bags. This is an essential part of planning your supplies because it prevents any possibility of cross-contamination and reduces the risk of potential stomach upsets. And it's a positive idea to keep the cooler clean and aerated when not in use to stop any odor build up and reduce mold. For the handheld coolers, cleanliness is just as important to keep your future use as fresh as the first.
Frequently Asked Questions
q:

I'm planning a long road trip, what's the best cooler to take?

a:

If you're intending a longer trip and you have access to a vehicle, then a larger capacity heavier cooler will be best. The bigger coolers do not lose the cooling capabilities because they are designed to last for days on end; keeping your food and drinks at a healthy temperature and give you more reasons to be out for longer.
q:

How do I prepare my cooler to get the best results?

a:

When you first buy your cooler it can be a good idea to wipe it down with a soft cloth and mild detergent and then air it to ensure it is dry. If you have enough space and provision it can be beneficial to pre-cool the cooler before you pack it, and with any food and drink you are planning to store within it.
q:

Does my drink cooler need ice to keep it cold?

a:

For handheld single coolers there is no need to add ice because the insulating properties will retain the cold. However, it is advised to use a pre-cooled can as this will be better for the insulation and help to keep the drink cooler for longer.
q:

Is a hard sided cooler better than a soft sided version?

a:

That depends entirely on what you want to use it for and in what circumstances if you are using it in a vehicle – then a hard-sided cooler would probably be more practical. And if you need a little less weight to carry, a soft-sided cooler would be more suited. This type will give you more freedom of movement for the trekking over uneven terrain.
q:

How do I get the longest cooling when I'm my trip?

a:

There are a few ways to optimize the cooling properties of your cooler, first up is the pre-cooling. It is best to pre-cool your cooler if that's possible, and preferably pre-cool any food or drinks you are taking with you.
q:

What ratio of ice does my cooler need for optimum performance?

a:

Yeti recommends a ratio of 2-1 per can for the best results.
q:

How do I keep my cooler clean?

a:

It's best to give your cooler (any type or size), aired whilst not in use; this stops trapping air and allowing any odors to linger and to avoid any bacterial build up. You are best to wash with a soft cloth and mild detergent to reduce any risk of scouring the skin, and always remove any residue and food particles after use.