Best Igloo Coolers Reviewed & Rated for Quality
In a Hurry? Editors choice:
Test Winner: Igloo Marine Ultra Cooler

Coolers
are useful for a wide range of situations. You can use them for a camping trip, a day at the beach, or at sporting events...and so much more. You might want to keep your
food
cold until you are ready to cook at the campground or to keep the athletes in the family hydrated while playing sports. Or just maybe you need a cold drink yourself at a
football
game! The coolers listed below fit a wide variety of needs.
Standout Picks
Criteria Used for Evaluation
Brand
Igloo has an interesting history, first founded as a metal workshop in 1947; and started out by bringing clean water to previously inaccessible workplaces. As technology moved on and lifestyles began to change, Igloo saw a place for a new kind of product. We began to venture outdoors and warm drinks and food were a common occurrence; Igloo started to fill the gap for user-friendly coolers in a variety of shapes, and has grown from strength to strength with innovative new ideas and use of technology.
With over 500 products on the worldwide market; the Texas-based company has prided itself on helping us all to enjoy our free time a bit more. The last thing we want when we go out on a trip - is warm food and drinks; the wide range of coolers now available mean there will be a suitable cooler for you for whatever your specification.
Size
Obviously, ice has to be an immediate consideration when producing a cooler, the size and shape of the cooler will define the overall construction of it. For a hard-sided larger, cooler, for instance, it would be of little practical use to pop an ice pack inside and hope it retains the cold. As ineffective would be a bag of ice in a lunch box cool; practical differences have to be taken into consideration when choosing the most efficient and long-lasting system for cooling.
The smaller ice packs are obviously well suited for the lunch box sixes, and these packs increase in size so you can use them for bigger bags and boxes. If you know you are off for a good day out or picnic at an attraction - taking a cooler to manage higher volumes of food and drinks will be a priority. Coolers come in a range of sizes, and some are even on wheels, some are connectable to power and there are even disposable coolers for one-off trips.
Style
One type of cooler is the thermoelectric design, these are easily plugged into a car's cigarette lighter socket. The system is known as the Peltier effect; it uses an external fan to draw the heat away and creates the cooler working. A downside is the power can drain a non-running engines' battery, but modern coolers have a shut off to prevent this. The thermal insulation in this type of cooler is efficient and can cool to around 22°C below ambient temperatures.
A rotationally molded cooler is produced in one manufacturing process, a layer of insulation is covered by a rotating heated and softened material so it becomes thick and only comprises one piece. This is a practical way of ensuring an air-tight container to retain cooler temperatures; this also produces a tougher, more substantial layer over the insulation and increases its overall longevity. Disposable coolers are made from polystyrene foam that is usually between 2cm and 1" thick and is suitable for one-off uses.
Materials
Different materials have varying properties when it comes to manufacturing coolers, styrofoam is particularly good because it doesn't do a great job of conducting heat. It is composed of countless tiny air bubbles that act as a shield and they slow down any heat progression. For this reason, it is a good insulator but is best used with ice packs for optimum performance. It is more commonplace today to find just polystyrene fillers that are used as the insulation in a foam cooler. Rubber is generally a part of a good cooler as well because it provides a great seal and helps to keep the cold in and the warm out.
If you don't mind buying plastic, a heavy duty more substantial cooler is probably the one to go for. The plastic makes coolers hard sided, tough, waterproof and it is naturally insulating. If you go for the rotomolded as we saw earlier - you know your cooler is made from one piece and will be stronger as a result. You can also buy coolers with hinges but be sure to check if the hinges are strongly produced as well, cheaper plastic can become brittle when used repeatedly.
Less frequently there are metal walled coolers, however, metal dressings are found in more expensive models in places such as hinges, catches, handles and hard wear. These are less common due to the fact that the metal is invariably more expensive than plastic. There are also fabric coolers on the market, and like a lot of things today - you will get what you pay for, so it's probably best to spend a bit more if you want a cooler to last.
15 Best Igloo Coolers
1

. Igloo Marine Ultra Cooler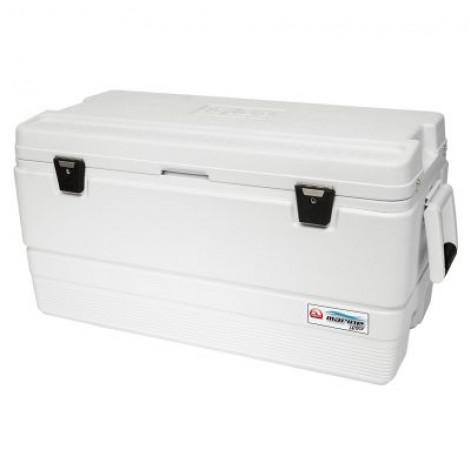 The Igloo Marine Ultra cooler is the standard rectangular shape cooler that most people picture when asked about a cooler. This is an excellent choice of cooler for all sorts of activities. The cooler is sold in sizes ranging from 28 quarts all the way to 128 quarts making it the perfect cooler for stocking beverages for parties.
Users can expect this cooler to stay looking and smelling new thanks to the stain and odor resistant liner. As long as the cooler is washed on a regular basis, the inside of it should stay bright white and there should be no need to worry about unpleasant smells.
The cooler's handles are reinforced for extra durability, but they also provide a grip to prevent slipping. Anyone who enjoys fishing will certainly find the ruler useful because it makes it easy to determine if you have a legal catch.
The cost of this cooler is highly variable because of its determined based on the size of the cooler. For example, the 28-quart model is low cost while the 128-quart model has a much higher cost.

2

. Igloo Island Breeze Roller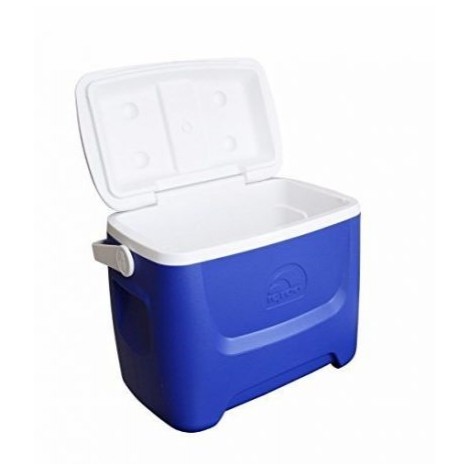 The Igloo Island Breeze Roller Cooler is the perfect cooler to use when you don't want to carry a cooler. It comes with an extendable handle and wheels so that you can easily pull it behind you. This makes it an ideal cooler for sports games, camping, or spending a day at the park. It's 29-quart design allows you put up to 37 12 oz. cans in it.
This cooler has an extendable handle and wheels, which make it easy to pull behind you. It still comes with regular handles on the side in case you have to carry it.
The design of the cooler minimizes contact with the ground. That means that hot blacktop won't warm your beverages or food prematurely. It also helps to improve the cooling performance of the cooler.
The cooler is priced on the lower end of coolers shown on the list, which makes it an excellent value for its price. When compared to other roller coolers, it's an excellent buy thanks to its price point.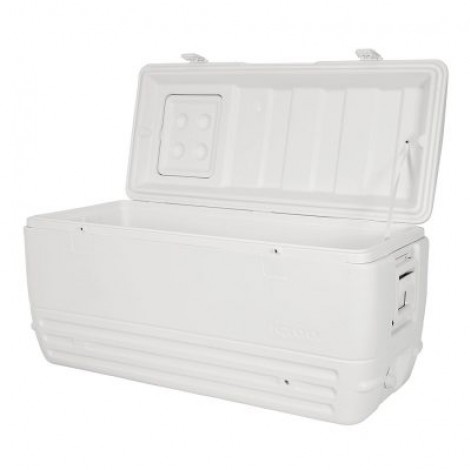 Anyone who spends time in hot weather will appreciate this cooler's ability to keep ice frozen for seven days in 90℉ weather. The cool comes in both 100 and 150-quart sizes and offers a secure hatch and tie-down loops to help prevent spillage. There is also a quick access hatch which allows for accessing items without losing cold air.
The ultratherm insulated by is able to keep ice for up to seven days at 90℉. The ability to stay cool for so long makes this the perfect cooler to store food and beverages for long camping trips or even a full day outdoors in the hot sun.
The lid has a quick access port that makes it easy to grab small items without opening up the entire lid. This helps prevent cold air from escaping and helps improve the cooler's performance.
The price of the cooler depends on its size, but you can expect this to be an above average price. Its value comes from its ability to keep food and beverages cold for a very long time in, especially hot weather.

4

. Igloo 5 Gallon Seat Top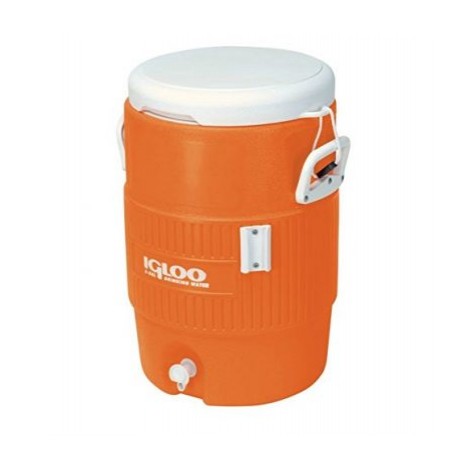 The Igloo 5 Gallon Seat Top Beverage Jug with Spigot is ideal for sporting games. This cooler is meant to hold up to five gallons of liquid such as cold water, sports drinks, or any other choice of cold refreshing liquids. It offers a spigot on the bottom so that people can easily fill cups or water bottles without spilling.
The UltraTherm insulation is used throughout the cooler's body to help keep beverages ice cold. This is ideal for especially hot days where people need to stay hydrated.
A gallon of water weighs about 8.5 lbs on average, so five gallons of water weighs over 40 lbs. This cooler comes with strong handles on the side that prevent breakages when the cooler is filled to capacity.
This cooler has an average price point. Its value comes from the fact that it's an excellent choice of cooler for situations when you need to keep a large value of liquid cool. Ideal use cases are sports teams, golf courses, marathons, etc.

5

. Igloo 14.8 Quart Playmate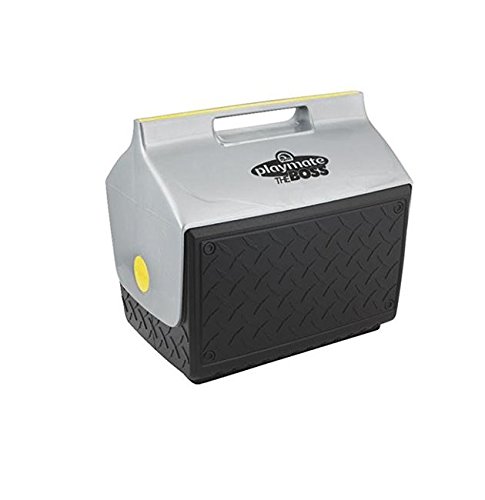 The Playmate cooler is an ideal lunch cooler and is a best seller in its category. It is a traditional tent shaped lunch cooler, which has a heavy duty lid and a 14.8-quart capacity. The lid swings to either side of the cooler for easy access to the items stored in the cooler. Finally, the grip is molded to help make the cooler easy to carry.
The lid is tent shaped and locks to prevent cooler spills. The handle is built into the tent lid and offers a molded handle to make the cooler more comfortable to carry.
The exterior is diamond-plate molded which helps the cooler sustain impacts and prevent scratching. The plastic is also impact resistant so the cooler is less likely to break when dropped.
The cooler has a below average cost. Since it only has a 14.8-quart capacity, it's a less expensive cooler to manufacture. It offers an excellent value when used as a lunch cooler due to its size and durable construction.

6

. Igloo Ice Cube Roller Cooler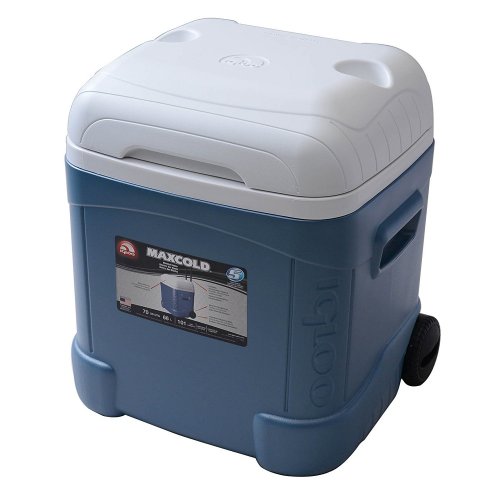 The Igloo Ice Cube Roller Cooler is yet another roller cooler that features a 60-quart capacity. It's a high-quality cooler that offers high-end features such as cup holders in the lid and recessed wheels. It's advertised as a five-day cooler, meaning that ice should stay cold for up to five days when using this cooler.
Rather than using an air space, this cooler uses foam to insulate items. That helps increase the overall cooler performance and keeps food and beverages cold for longer than a non-foam insulated cooler.
The drain plug is recessed to help keep it from breaking off. It makes it really easy to drain water from the cooler that was created by melting ice.
This is a high priced cooler, but it offers a lot of features for its price. For example, wheels and drain plug are recessed and the lid has cup holders. The cooler itself is foam insulated rather than air insulated so you can expect better cooling performance.

7

. Igloo Maxcold Gripper 16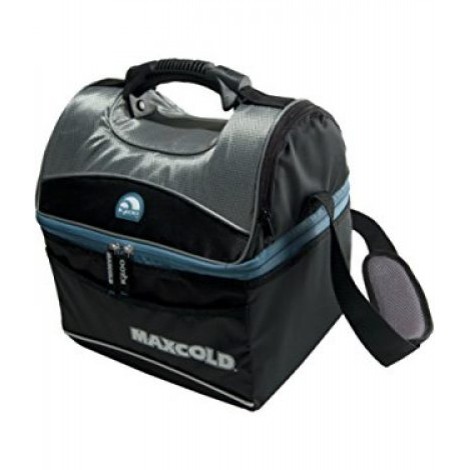 This is a high-end lunch cooler that offers two insulated storage compartments and is made with MaxCold insulation for a long-lasting cooling effect. It has both front and back pockets on the exterior and comes with a carrying strap for easy carrying. Users can expect it to stay fresh with antimicrobial liner.
There is a storage zone located in the main body of the cooler but you can also find a storage zone in the tent of the cooler also. This maximizes the amount of cooling capacity.
The cooler comes with exterior pockets, which allows you to pack items that need not to be chilled in the cooler also. For example, you may place your food in the cooler but plastic cutlery in the pockets.
This is average priced cooler for its size. Its value comes from it being an excellent lunch bag because it has two storage compartments, pockets, and a shoulder strap for carrying the cooler.

8

. Igloo 3-Piece Camping Combo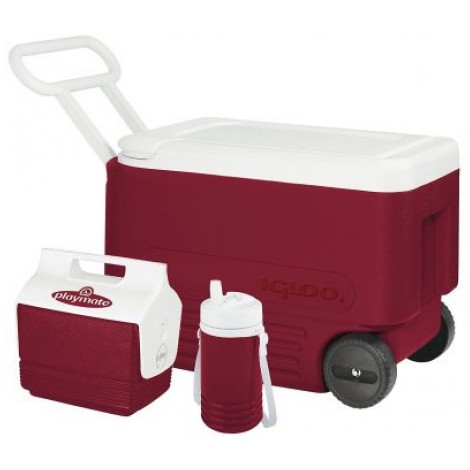 This is actually three coolers. You get a large roller cooler, followed by a a smaller tent-shaped lunch cooler, and an insulated water jug. It's ideal for camping or spending a day at the beach because you can store beverages in the large cooler, lunch in the lunch cooler, and cold water in the water jug. This combination is a perfect match for anyway who wants to spend a day with the family in the summer outdoors.
You actually get three coolers in this combo package, which makes it an excellent value. There is a large roller cooler, a tent-shaped lunch cooler, and a water jug.
The liners are odor resistant, which makes it easy to clean. It's also helpful to know that the cooler's liner is also odor-resistant, so you shouldn't have to worry about unpleasant smells.
Since you are getting three coolers for the price of one, you get a lot of value in this combination package. The package is priced the same as an average priced roller cooler, but you get the additional lunch cooler and water jug also.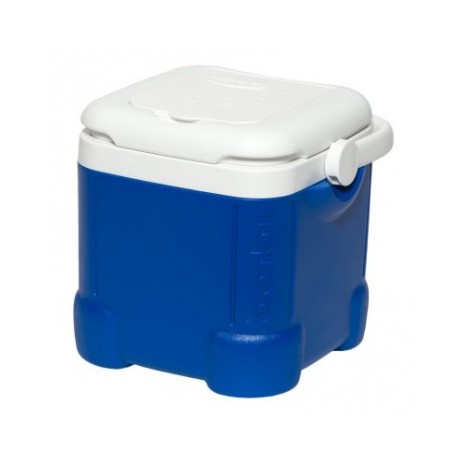 This is a small cooler that is shaped in a cube to help enhance cold retention. It's ideal for situations where a large cooler isn't necessary such as packing a lunch for work at a construction site or fishing for a few hours. The cooler's shape makes it easy to pack and store but still allows it to hold up to 14 12oz. cans.
The cooler features a cube shape which helps it retain cold air. The shape also helps maintain stability so that the cooler doesn't fall over and spill. Users can also expect it's curved back to fit comfortably against their body when carrying the cooler.
The dry lid storage compartment makes this is an ideal cooler for storing food and personal accessories. It has a 14 can capacity making it ideal as a lunch cooler.
The Igloo Ice Cube Cooler has a below average cost due to its size. Its value comes from the fact that it's very fairly priced for the size of cooler.

10

. Igloo Marine Breeze Roller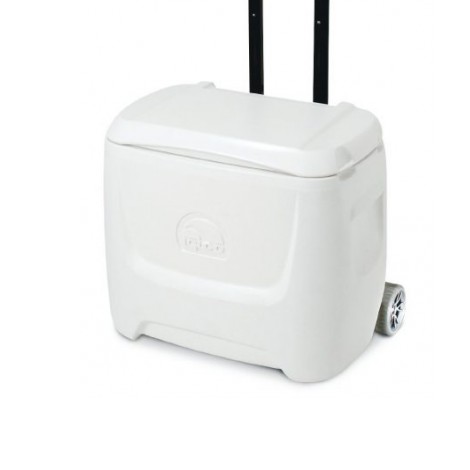 This is another roller cooler that is useful in situations where you don't wish to carry a cooler. It has a telescoping handle and wheels which allow you to pull the cooler behind you when needed. The Igloo Marine Breeze Roller Cooler is available in both a 28-quart and 60-quart model. Many users find this useful for days at the park or ball-game.
Some roller coolers leave black marks as they are pulled around. The non-marking wheels found on this cooler should help prevent such problems because they are made from softer material.
Rather than sitting directly on the ground, this cooler has a cool rise technology that helps keep it from direct contact with ground surfaces. That means hot ground surfaces such as hot beach sand won't impact the cooler's performance.
The cost of the cooler varies depending on the size, but you should expect an above average cost when compared to other coolers. This value of this cooler comes from features such as non-marking wheels and its larger capacity.

11

. Igloo Iceless Thermoelectric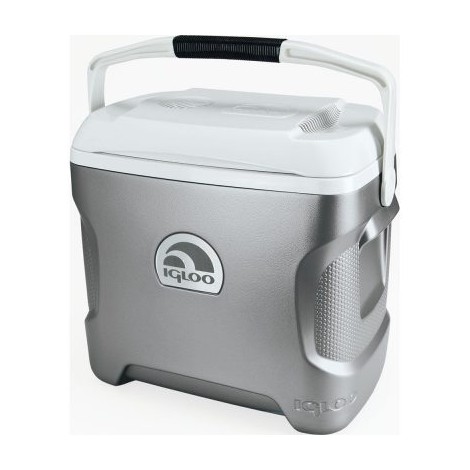 The Igloo Iceless Thermoelectric Cooler boasts being a tidy, quiet unit that is totally ice free. This cleverly designed cooler gives more inside to pack food and drinks because ice doesn't take up valuable space. The smart exterior is silver and white and it has a substantial handle to reduce uncomfortable gripping when carrying. The quiet thermoelectric cooler noise is non-invasive and won't disturb rest, and the heat it gives off will not overheat space within a camper or RV. It can be used with an adaptor to enable plug ins to wired power sources for overnight cooling and reduces the drain on the vehicle battery.
The back of this cooler is cleverly designed to hug the side of the carrier so as not to cause uncomfortable travelings when travelling. It also boasts a comfortable molded carrying handle to further improve the comfort of the user.
The Igloo Iceless Thermoelectric Cooler comes with an eight foot long power cord that plugs into a cigarette lighter (or any other 12V DC power point), this gives it great versatility and means it can be stored conveniently and improves its portable capabilities.
The cost and value of this unit is so versatile, and it gives extra internal storage space. The design and overall convenience of use make this a well balanced, well designed cooler that is excellent value for money and ensures a good, long life.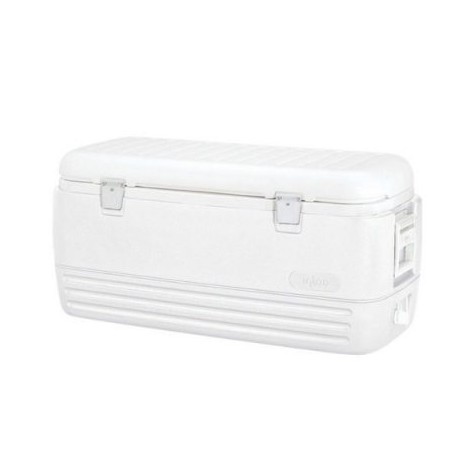 The ultratherm insulated body and lid boast being able to keep the interior cool for up to five days at a regulated temperature of 90 degrees fahrenheit. It can hold 188 cans or a substantial amount of food when packed to full capacity. It benefits a useful dual-snap latch system that provides a secure lid closure which serves to keep cool in and warm out for longer periods. The Igloo Polar Cooler can be purchased in various size plans, ranging from one through to four - this is really useful because it can provide more cooling power for longer trips.
The cooler benefits from reinforced swing-up handles which make carrying easier and comfortable to use, they also come with a tie-down loop feature. This keeps them tightly compact and reduces the risk of them catching and snapping off.
The ultratherm insulated body is complimented with a lid that has UV inhibitors that help to protect it from sun damage, so if the shade is minimal, it's not so damaging for the unit. The ease of the snap-close lid capability doubles the retention of the interior cooling.
The practicalities of the insulation in the body and the UV inhibitors make this ideal for storage both indoors and outdoors, the cooler can also be used a seat which can only improve it. Overall this unit is great value for money with the added practicalities included in the smart design.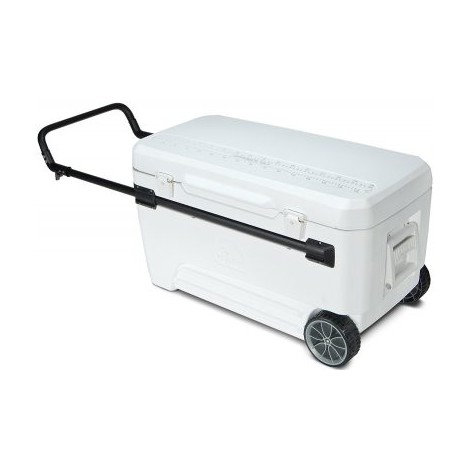 This wheeled roller cooler has two substantial oversized sport rally wheels and a slide and lock telescopic handle for easy storage, and gives maximum leverage when in use. The design allows freedom of movement and puts less stress and tension specifically on the back because the pulling action provides a more balanced way to move the weight. The cooler boasts being able to keep food for up to five days at a cool 90 degree fahrenheit temperature with its ultratherm insulated body.
The hinges benefit from being produced with zinc plating, which boasts being 'virtually indestructible'. This is particularly useful because the hinges have a major role in ensuring the ease of opening and closing the unit, which in turn can improve the functionality of the
cooler.
The retractable telescopic handle is a benefit for easy pulling, and the tidy flush design is a real boost when it comes to storage and travelling. The chunky robust wheels are more than capable of any demands on a trip and the ease of draining with the screw on cap is a bonus.
The cost of this cooler is easily on a par with the overall value - if not exceeding it. The ease of use and practical functionality of the cooler means it can be used for a variety of activities that allow inner protection from both heat and freezing temperatures.

14

. Igloo Super Tough STX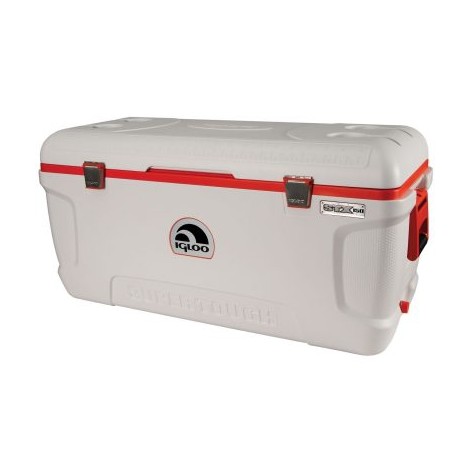 The Igloo Super Tough STX Cooler has a unique fully foamed lid for superior cold retention. It boasts being able to maintain a 90 degree fahrenheit temperature for up to seven days. It has a handy design which enables four cups to sit snugly on the lid - these holders are molded into the form and are practical on uneven surfaces. The cooler benefits dual lid straps that are stainless steel, helping them to be more functional in damper conditions - useful in inclement climates as they help to reduce the risk of rusting.
This cooler has a pair of comfort side grip handles that are combined duty gasket back up plates, these offer greater confidence when loads are heavy and gives more freedom to load the cooler with even the heaviest of contents.
The unit has a threaded drain plug that is fully compatible with regular hose threads and this makes it easy and quick to drain the unit and to keep it clean, the cap is also tethered by a stainless steel retainer to avoid losses when out on the trail.
The overall cost and value of this cooler is equally balanced, the stainless steel features and the strength reinforcements make it a versatile, practical and fully functional unit. The longer life latches help to make it exceptional value for the money.

15

. Igloo 58991 Cool Fusion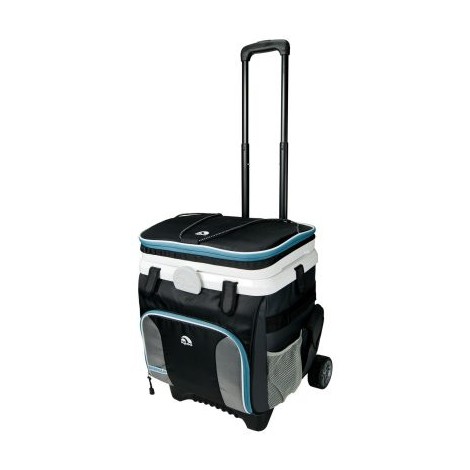 This Igloo cooler benefits from a 25% increase in foam to provide better cooling for longer periods. It has a fully locking telescopic handle that increases its versatility because it enables easy storage and reduces the risks of it being knocked over when in use. The four wheeled design enables a greater capacity for the longer trips and their rubber exterior makes pulling a breeze. The hard sided interior is hard-wearing, durable, its surface ensures a fast easy clean and reduces the risks of bacterial build up.
The overall functionality and size of this cooler gives it an edge because it is small and compact enough to store and large enough to be practical. The quality of the wheels means no terrain is too much for it to be used, the comfortable handle increases this coolers versatility.
The Igloo 58991 Cool Fusion 36 Can MaxCold Cooler has the added bonus of extra storage pockets all around the exterior. This is really useful for storing maps, personal items and frees up backpack space for carrying lighter items, the lid is also a zipped compartment and this adds to the storage capability.
This cooler has an abundance of useful and innovative storage options, the ease of packing and pulling adds to the overall value. The useful telescopic handle is a bonus and the four wheeled design makes easy work and only increases its value relative to the cost.

Subscribe to our Newsletter