Best Window Fans Reviewed & Rated for Quality
In a Hurry? Editors choice: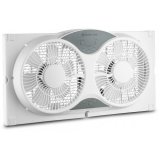 Test Winner: BOVADO USA Twin

It's no stretch to say that when the summer heat rolls around, everyone becomes a big fan of anything icy and cool. From indoor pools to melting ice cream, there's a variety of ways to beat the heat.

Window fans are helpful for air circulation, keeping dust out of the air, and for getting air movement into a place that doesn't get a whole lot of breezes. Window fans aren't just made for sucking air in; many of them can be used to suck air out of a place too, which can be helpful for ventilation and increasing air quality.

But which is best? That's a question that only you can answer, based on your home life, climate, and other preferences. We've compiled 10 versatile fans in an effort to find the best of the best. Take a look and see which one will help you beat that summer heat!
Standout Picks
Criteria Used for Evaluation
Adjustability
Believe it or not, adjustability is the number one criteria that people look for in a window fan. In order to understand why this is, we need to look at what a window fan actually is. The basic idea of a window fan is any fan that sits inside a window frame and offers some air movement. Regardless of if it's bringing air in or taking air out, or just offering general circulation, a window fan is meant to be a quick and easy alternative to a full AC unit.
So, why think about the adjustability? Why does that matter? Anyone who's moved a million times will know that adjustability can be the difference between purchasing a quality product that they cart around with them from place to place, or purchasing a dinky little throw away. Not only does adjustability mean we're able to fit the fans into a variety of windows, it's ultimately better for the environment. Being able to adjust the size and the installation method of the window fan makes it so we're able to use it from place to place. No matter where we go, the window fan can come too.
Before purchasing any window fan it's important to measure the window you're planning on installing it into. From there, consider whether or not that window is the average, or an irregular size. It's important to keep in mind, but we don't have access to that kind of information when we're writing these things. That's why we looked at adjustability as one of the main criteria points; we're more able to get a better fit for your windows, without knowing the size. Not to mention the longevity aspect!
Features
There are so many different features in the world of technology, but none seem to be as varied as that of the the window fan world. Surprise, surprise, these things have more bells and whistles than the latest iPhone. From temperature controls, thermostats, remotes, and industrial power motors, there's always something new and shiny attached to window fans; it's just a matter of figuring out which ones we personally need the most.
Due to the individual air ventilation needs of each person out there, we thought features would be a great criteria to base our picks off of. The features range from fairly pedestrian to totally weird, but we're not ones to judge. We love the fact that there's so much variety to choose from, and we expect consumers will too. Due to those individual needs that we mentioned, everyone is going to require something different when it comes to features. The person who wants to keep bugs out will need different features from the person who wants their bedroom at a specific temperature. This is why the features are so important.
We found a variety of features, as well as a few window fans that had nothing specially added to them at all. The features and the lackthereof are both necessary when it comes to crafting a well-rounded list. Features help to make the product more personalized for buyers, and we want to help make that experience happen.
Value
The value of any product is simply the way we look at its inherent usefulness up against the current price of the product. This comparison makes for a cost/value analysis, but it also gives us an idea of what the product is actually worth. This is why we tend to include not only the criteria section at the end of these guides, but also the cost and value section after each of the products. Comparisons of the product against other products as well as the product against itself are very, very important when it comes to finding the value.
When it comes to window fans, value is pretty obvious. Not only do we find the value cost-wise right away, but we also find the value in the relief it brings. Window fans are not a luxury; anyone who says that you shouldn't spend you money on a frivolous thing like a fan is just plain wrong. Window fans tend to use less energy than home AC units, and work almost as well (especially in the evenings). We're big fans of window fans, and know that there's only so much we can do when it comes to convincing someone of their inherent value. All we can ask is that you picutre yourself sweltering in the summer heat, and then picture yourself sitting in front of a remote controlled window fan. Now that's cool.
The value is inherent in window fans, but it still an important criteria we used when deciding which to put on our list. We found out their longevity as well as their power settings, to ensure that you were getting an effective fan. That's how value works; it's the effectiveness, the need, and worthiness of the cost.
Top 10 Picks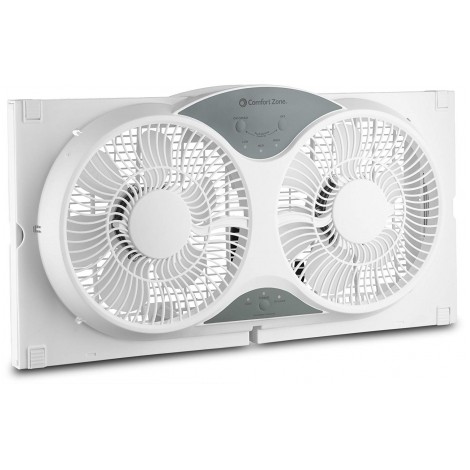 The first spot on our list is usually reserved for the most versatile, high-quality product. Not necessarily the cheapest product, but always the one that has the best value for its cost, it's no surprise that these qualities lead us to the BOVADO Twin Window Cooling Fan. The features on this fan are endless, and the amount of extras we get with it is awesome. This is perfect for a variety of windows, as well as a variety of climates and homes!
Bug Net
It's time to say goodbye to flies and bugs getting into our apartments every time we open a window. Those of us who live in lower-quality housing likely won't have any screens on our windows or sliding balcony doors. Even those of us who do have screens on our windows will likely have to pop them out in order to fit this fan in. That's no reason to accept flying friends into our home, though, which is why the bug net is a great addition. Fully covering, this net will keep any creepy crawlies from getting in.
Remote
Nobody wants to get off the couch, which is why we're very grateful that many (if not all) electronics come with remotes. The remote is a glorious invention and one that will be even more appreciated with this fan. No need to get away from the stove or the refrigerator. Now we can change the fan's settings anyway we want, with only a touch of a button.
Cost and Value
Priced at a very reasonable cost, we think that this is a must for anyone who lives in a house that doesn't get much in the way of air circulation. Not only does it have some excellent air cooling features, but the amount of extras you get with the product makes for a great value for the cost. The fact that we'll be using this often throughout the warmer months means it's far going to pay for itself soon.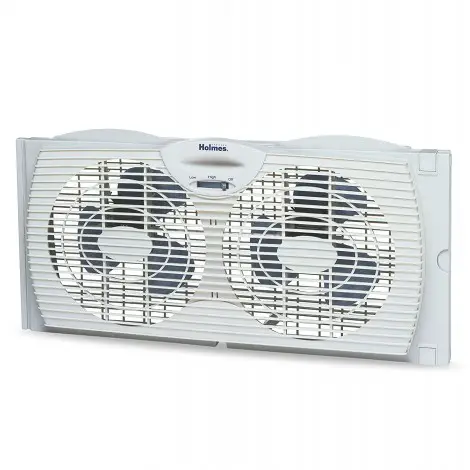 This dual fan is the budget answer to our first place spot, and we're very excited by it. While it might not be as high tech and fancy as some of the other fans on our list, it's still a solid purchase that will help those of us who need a little cooling off. The dual blades are powerful. They might not have a big variety of settings, but they certainly are effective.
Water Safe
Summer storms are a given in certain places around the world, which is why we need this fan. Protected from any and all rain, the controls on this fan are water safe, which means that even damp hands won't be an issue when it comes to turning it on. The jury's out on whether you'll get rain sucked into your apartment, though. Water safe doesn't necessarily mean "waterproof".
Large Flow
One of the things that we need to be careful of when purchasing a window fan is noticing how powerful their breeze is. Bigger apartments need a much different kind of breeziness than a single small bedroom. Some fans need to be able to fill a couple hundred square feet, which is what this fan gives us. The product description says it's perfect for 500 square feet, or thereabouts.
Cost and Value
At half the cost of our first fan, we can't help but come away very impressed with the value of this fan. While it might not have as many features or settings as our top spot does, it's definitely a solid quality for the price. Not to mention the fact that it's built well in terms of air flow. Larger space dwellers will appreciate this fan and will love the cost.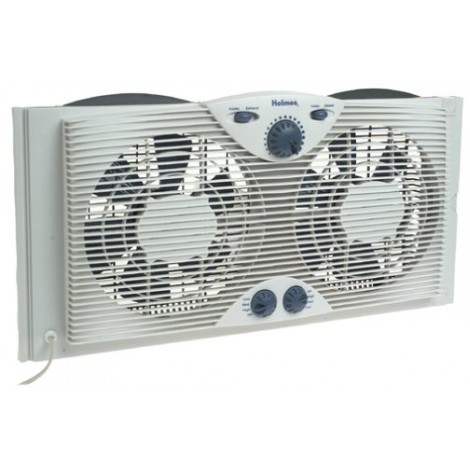 The first, but not the last, time that Holmes appears on our list, this twin window fan has some very special features that set it head and shoulders above its cheaper counterparts. Holmes has been a big name in fan brands for a while now, which means we know we're getting quality when we purchase this brand.
Comfort Control Thermostat
It sounds impressive, doesn't it? We're very pleased with the amount of support that we get from this fan. Normally when we purchase a window fan we expect it to be a simple matter of turning off and on a button. There might be some higher and lower speed settings, but generally, we're looking at a product that does the thing that's asked of it. This can help us stay cool without having to constantly be aware of turning the fan's power up and down.
Extendo-Panel
Go go gadet extendo-arms? More like extendo-panel, thanks to this set! The Holmes fan already has extendable sides to the fan, as many of the others on our list do. It's a shock, however, to find that there's another extra panel included in the box. This makes it fit into even more windows, and allows us to cover any unwelcome gaps that might have been found beside the fan.
Cost and Value
On par with our average price point, this is a fan that's got a few less bells and whistles than other options on our list. The features it does have are more unique, which is part of the reason we're still willing to feature it so highly on the list. Very few other fans include an extra panel, and even fewer include a thermostat. This makes for a highly coveted fan.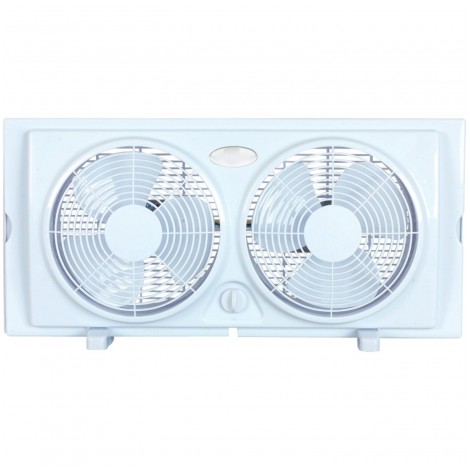 It's possible that there's a better fan out there, but personally, we're into this window option from Optimus. A little bit smaller than some of the larger ones we've seen, this compact fan is perfect for the folks who might have a smaller space that they want to ventilate and/or cool. The jury is in, and they're impressed: this fan is a total winner.
Rain-Resistant Motor
This option from Optimus is equipped with a rain-resistant motor that can withstand even the heaviest of downpours. This is a fantastic feature to have as it can be used even in the wettest of climates (we're looking at you West Coast).
Reversible Fan
Another great feature of this product from Optimus is that you can manually reverse the fan to switch between pulling cool air in to your home or to push the stale air out. You can control the speed of the fans from both sides.
Cost and Value
An average price for an above average fan? Yes please. This is definitely one of our personal favorites on this list, and we're happy to see that it really is worth the cost. The quality is good. It's not the sturdiest fan on the market, but it will do the job and last a while. The extras are all a good touch too and make for a great holistic product. Generally, those that are looking for a smaller fan will be pleased with this piece of equipment and all of its extra goodies.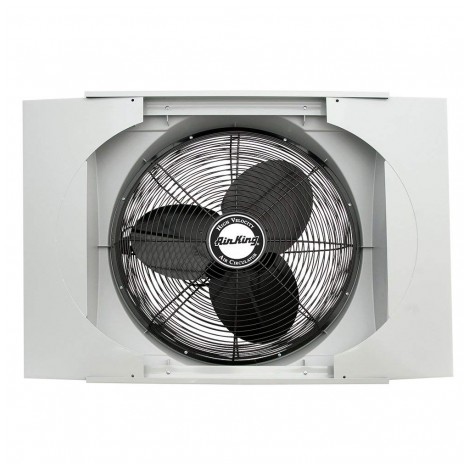 This high tech fan is the first on our list to cost much, much more than average. Guess what, though? It's worth it. This is built for those of us who have larger homes and are looking for a way to cool them. It shouldn't come as a surprise that this heavy duty fan comes from the Air King brand. They're considered fan royalty for a reason!
Solid Steel, Baby
The biggest benefit that this fan has over some of our other picks is the material. Build material and quality is of the utmost importance. It's no surprise that we're always talking about it in our qualities and features section. Good material means a good, long lasting product. These blade and grill parts are made of the finest steel. They're perfect for lasting you season after season and won't end up snapping, discoloring, or breaking against the strain of time.
Industrial Motor
If it's good enough for industry workers, it's good enough for your home or apartment. That's the stance that we're taking regarding this motor-driven window fan. Touted as being great for offices, stores, and even restaurants, the industrial motor offers high-speed circulation with little to no adverse effects or impacts on the longevity of the motor. No upkeep, and the best quality? Uh, yes, please!
Cost and Value
We far and away from the average price with this, but we can't help but feel that it's worth it. We would worry if they priced this at any less than what they have, as it might make us think that the quality has been compromised. Luckily for us, this cost is equal to the value. We're very secure in the knowledge that this fan's quality is high, and will provide great longevity.

6

. Bionaire BWF0910AR-WCU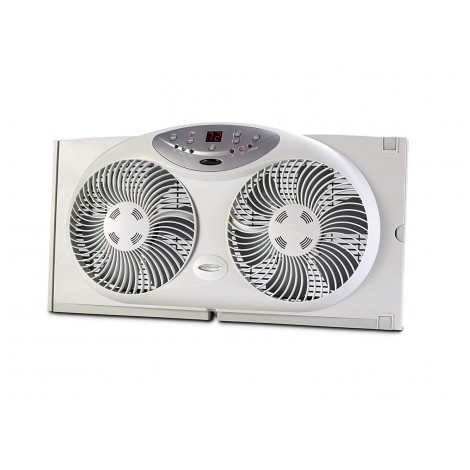 This remote controlled window fan from Bionaire is the first spot that ushers in the latter half of our list. The remote control gives us an excellent amount of luxury when it comes to comfort. Bionaire knows that we don't want to get up off of the couch just to turn the air circulation on. With this fan, we never need to get up again! Thanks, Bionaire!
Springy
While many of these fans feature sliding, hooking, or fold-out panels, this fan features something very special. Rather than having panels that slide, pin, or have to be wiggled around to fit in the window, they have spring-loaded panels. We're very excited about this fact, as it means a more secure fit for you with much less finagling.
Two ways
It's not just "my way or the highway" anymore when it comes to window fans. This window fan is made to fit either vertically or horizontally, which means you've all of a sudden got many more options for where you can place this fan. Those of us with sliding balcony doors should be rejoicing, as it means we theoretically can set up the fan between the door and the frame.
Cost and Value
Sometimes people calculate the price of a product independent from the value. How many features does it have? Does it have any extras? How often will I use this? While that works great for some products, we don't believe that that's the best way to purchase a fan. Look first and foremost for the quality of the fan, and then look at all the funky extras. In this case, we believe that the quality of this fan is well worth the cost. It's a great product and will hold up well, year after year. Isn't that worth the slightly higher price tag?



This might be listed with a slightly lower star count that some of our other options, but we don't believe that that's indicative of just how great this fan is. Of course, the buyers know best; but Holmes is a brand that has a long history of success and consumer satisfaction. When you're purchasing a product you're also purchasing the brand, and this is one that's worth it.
Indie Fans
Not just the hipsters hanging out at underground rock shows, these indie fans are actually of a different variety. Each fan on this window insert features a separate motor. The separate motor makes it possible to run both blades independently. This means that one fan can be taking in air, while the other fan is cycling old air out. It's the most efficient cool-down method out there for sure.
Energy Efficient
It's been a while since we had to take this into consideration, right? It seems like most new products are automatically considered energy efficient now, just by the way manufacturing has gone. This fan boasts about its energy-saving properties, revealing in the product description that it uses 60% less energy than traditional air conditioning/room cooling products.
Cost and Value
Priced slightly lower than average, this is the option we would recommend for those that are just looking for a guaranteed plug-and-play window fan. This fan is said to fit any size of window, and we're willing to believe that that's true. While it doesn't have many fun features, you're not paying for them either. At the end of the day, this is just a fan that works. Period.

8

. Genesis Twin 9 Inch Blades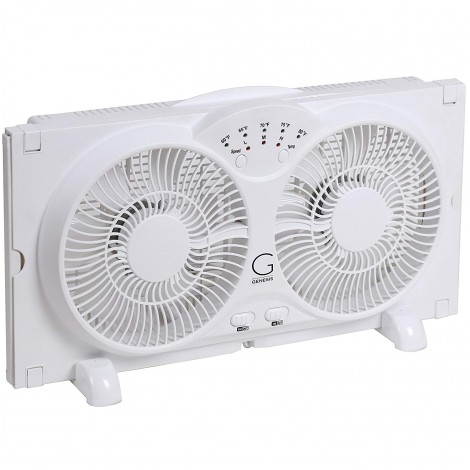 Coming up to the end of our list, Genesis is providing us with a very high tech window fan that well deserves a spot. Not only does it feature many qualities that have previously been seen spread out over a few different fans on this list, but it also has some unique things left to itself. This window fan will certainly cool down whatever space it's slid into and can do a bunch of other cool things too. That's definitely worth the price, isn't it?
Visual Tracking
Some fans that we've looked at which include thermostats are built in such a way that we have to go over to the thermostat to read the temperature. Luckily for us, that all stops here. The Genesis window fan's thermostat has lights that indicate what temperature range you're sitting at. This makes it easy to know at a glance how cool your life is.
The Elusive Third
This might seem like a silly thing to point out, but in the world of window fans, it's kind of a big deal. The elusive third setting is often overlooked on window fans. Typically they're stuck at low and high speed options. This fan, however, features a medium option, making it the "just right" porridge of the window fan world.
Cost and Value
Floating at around our average price point as well, this window fan is a great addition to anyone's kitchen, bedroom, living room, or studio apartment. While it might not be as powerful as some of the others on our list, it's a good, solid fan. The light up features and medium speed setting offer more options and individualization for the fan, which we're pretty excited by. All in all, we'll say that yes, the value is worth the cost.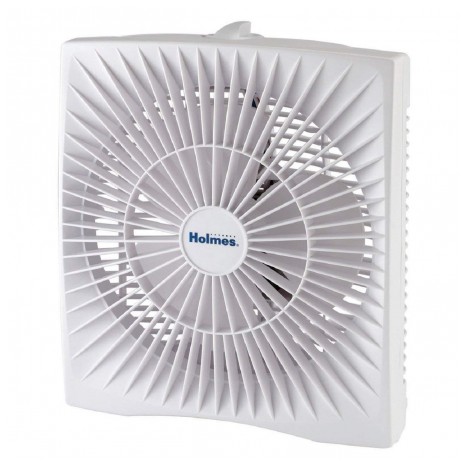 The second to last spot on our list has been awarded to the Holmes 10-Inch Personal Size Box Fan, which is the answer to any office worker's prayers. Holmes sells a variety of fan sizes, including standalone ones. This 10-Inch fan works in a variety of windows, and the small size means less noise. Overall the qualities of this fan are great, and will definitely give you some cool air results.
Less Noise
One of the biggest benefits that we've read about for this fan is the fact that it tends to be a little quieter. The product itself is a smaller box, which means there's less of a chance for large, noisy air gusts or motors. There's also less loose plastic to rattle around, as the side panels and the buttons are limited. While it's not a no-noise fan, it's certainly quiet.
Light and Breezy
The lightness of this fan is second only to the fact that it's oh-so-breezy. It's easy to send fresh air across a moderate-sized space, and the boxiness of the fan means it's easy to pick up and pack away in a box, shelf, suitcase, or drawer. This is a great option for anyone with limited upper body strength who still wants a powerful fan.
Cost and Value
This personal fan is listed as being incredibly cheap right now, making it one of our personal favorites on this list. For those that live alone, this is a great option. The compact design makes it perfect for a bedroom, studio apartment, or office. The noise is limited, and can be soothing enough to run even at night. The value is huge, and we're very happy about it.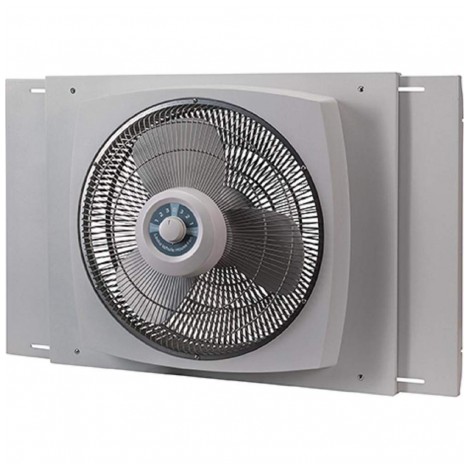 The last entry on our list features none other than this classic Lasko Window Fan. The white color is sure to fit into any interior design plan, while the power is second to none. Function and form collides in this piece of technology that we're really, really big "fans" of. C'mon, you didn't think we'd go the whole list without making that joke, did you?
Stormguard
This is a phrase taken directly from the product description, and we couldn't be more relieved by it. Living in a place that gets a lot of storms, it can be worrying to try and take a window fan out in the middle of a storm. Alternatively, it can also cause a lot of stress knowing that the fan is still in the window at home when you're out and about and get caught in a storm. The Stormguard on this fan means that it's safe to stay in the window even in a storm. The window can close behind the fan, without having to remove it from the pane. This protects your home, and means we never need to worry about taking the fan in and out.
Protection Plan
Believe it or not, fans are a product that you'll want to protect. Sure, it might work perfectly for one summer. We pack it away, reassured that it's going to last at least another few years. Sure enough, for whatever reason the fan stops working the next hot day we go to use it. The 3 year protection plan offered with this fan is a great way to ensure that you're going to get cool air year after year.
Cost and Value
Of course we had to close our list on one of the most premium options out there. This fan is more expensive than some of our other options, but it's certainly worth the cost. We love the fact that this is a machine that can fulfill a whole house. Not to mention some of the other features, like the Stormguard closability. It might not be everyone's first choice, but it's definitely worth the cost.

Subscribe to our Newsletter