Best Wetsuits Reviewed & Rated for Quality
In a Hurry? Editors choice: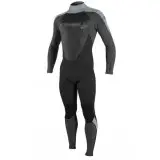 Test Winner: O'Neil's Reactor

So, you want to get into
scuba diving
. Or at least, you'd like to, but the prospect of going several miles under the freezing cold water with little to no protection doesn't appeal itself to you. Plus, you just saw a picture of an Ogre Shark, and you understandably want to stay as far away from that as possible. While we can't save you from the Ogre Sharks (no one can), we can solve your problems with the act of scuba diving itself. For you see, the solution is staring you in the face: wetsuits! A scuba wetsuit has a very simple task; keep you warm at the bottom of the ocean. It should be noted that simple and easy are two different concepts. They also protect you from cuts, scrapes, bruises, and the sun. However, retaining your body heat is the top priority.
Standout Picks
Criteria Used for Evaluation
Features
While we're listing these in no particular order, it cannot be denied that this is the most important factor to consider when choosing these wetsuits. There's a place for every wetsuit of every thickness on the market, but we mostly looked for the thickness that could withstand any kind of waters, no matter how hot or how cold. As you can no doubt imagine, this wasn't an exact science. Thickness is generally separated into a few different millimeters: 2mm, 3mm, 5mm, and 7mm.
The lowest of this spectrum can handle heat up to 85 degrees, and the highest can withstand colds as low as 50. All the while keeping you completely warm as it retains your body heat. We generally looked for wetsuits that walked the line between 3-5mm since that's a good in-between. However, there are more specialized entries on this list because when you do one side completely right, then you deserve recognition.
Style
If there's one universal truth of clothing, it's this: no one is happy with just one style of doing things, especially not with wetsuits. There are several different types of wetsuits under the sun. Three of those styles are as follows:
Full
The most common type of wetsuit, this is pretty much exactly what it says on the tin. It's a full wetsuit that stretches all the way to the ankles and wrists of your body. This provides more protection and is thus the type you're most recommended to use when diving in particularly deep waters.
Shorty
This is essentially just a full wetsuit that has short sleeves and is cut above the knee. For obvious reasons, these are recommended strictly for warm waters. Unless, of course, you like jumping into freezing cold lakes with your forearms and legs completely exposed to the elements. One thing these suits tend to add is an acute warmness to your dive, which has made this a favorite among pro swimmers and even surfers.
Farmer John/Jane
This comes in two different pieces. First, you have one that's essentially an overall that stretches to your ankles while leaving your arms practically sleeveless. And the other piece is a jacket you wear instead of sleeves in order to stay warm. Most folks don't really consider this a very good type of wetsuit, and it isn't hard to see why.
Materials
There are several different kinds of materials that are used to make wetsuits. Too many to count. So, we just found which ones were considered to be the best ones and stuck with them for this list. Whether used individually or combined into one, the following are considered top tier in wetsuit materials.
Open/closed-cell neoprene
Open and closed cell neoprene are both high-quality materials, but with a notable difference between them. On the one hand, you have open-cell neoprene, which is easily the highest quality material on the market in terms of wetsuit construction. For one, it's super soft, but flexible as well. Neoprene in general already molds perfectly to the shape of your body, no matter how subtle the incline or detail. But open-cell neoprene provides a superior level of insulation, keeping you warmer at colder temperatures.
Meanwhile, closed-cell neoprene is the most commonly used material to make wetsuits. Like open cell neoprene, it's incredibly durable and flexible. However, it isn't quite as effective at trapping heat. While it does enough to get the job done properly, it could definitely be better at it. The tradeoff is that it's far cheaper and more cost-effective to implement.
Lycra
Lycra, despite being a very high-quality material in its own right, is most often found strictly on lightweight materials. Lycra is considered best for resistance against warmer waters. Being very lightweight a material, it's ill-suited to take on colder climates but very good at keeping heat from penetrating. It isn't meant to insulate you, but rather to keep the sun's harmful rays from cooking you like a Thanksgiving turkey.
Value
It should come as no surprise that a wetsuit, whether scuba or otherwise, is not cheap, not by a longshot. At least, you'll find yourself having to spend around $100. At most, you'll find yourself over $500 poorer. This is not simply a purchase, you are making an investment when you buy a wetsuit. So, make sure that when you buy a wetsuit, that you know in your heart of hearts that you're buying the one you want. Because it may be quite some time before you get your second chance.
10 Best Wetsuits
1

. Dark Lightning Thermal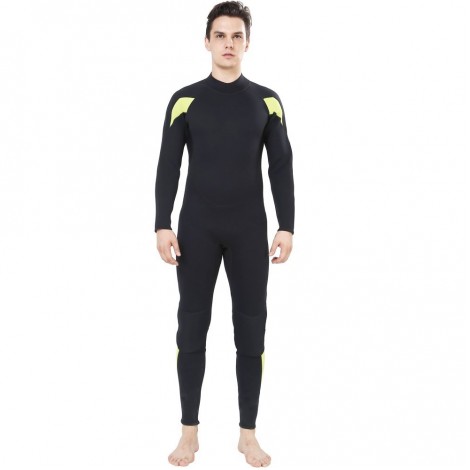 Kicking off our list, we have the Dark lightning Thermal Wetsuit. In terms of wetsuits, this is about as excellent as these things tend to get. Dark Lightning isn't quite as well-known as other brands, but as you'll see with this wetsuit, they know how to get the job done right.
Neoprene
This wetsuit, as well as most of the other high-quality wetsuits on this list, are all made from neoprene. This material is ideal for making wetsuits, especially when mixed with lycra like this one is. It's lightweight, yet keeps your body buoyant, but most importantly, it retains heat like nobody's business, meaning you stay warm for much longer than most other types of wetsuits.
Full sun protection
When scuba diving, you'd think that your worst enemy would be the water or the things swimming around in it. But nope, it's the sun. All that water on you and around you is basically acting like a giant magnifying glass, and you're the ant getting roasted alive. Which is why this wetsuit provides UPF 50+ of sun protection. When you're not peeling your dead, bubbling skin off of your body, you'll thank us for the suggestion.
Cost and Value
Like with any piece of clothing, this wetsuit, and the others on this list, come in a set of sizes, all of which have their own price. The price range for this one is rather generous, only separated by about $10-20 at most, which isn't bad all things considered.



Coming in at #2, we have the O'Neill Reactor Wetsuit. When it comes to wetsuits, few do it quite as well as O'Neill, and the Reactor is definitive proof of that. Whether you want to go scuba diving, paddle boarding, or just classic surfing, this is one of the best wetsuits on the market.
Superseal neck
When dealing with a wetsuit, the part that you have to worry the most when it comes to accidentally letting in water is the neck. The wrists and ankles are usually safe, but the neck has to let your neck breathe so it can't be as tight. Enter the super seal neck, a unique design that keeps the neck portion of this wetsuit snugly fitted to your neck without being in any way uncomfortable.
3/2-millimeter rating
Now, what does this rating mean? Well, with some other types of wetsuits, there's a limit to what kinds of waters you can go into. If you aren't wearing the right kind of wetsuit, then it doesn't matter if you're wearing one or not, your body just won't be comfortable in those waters. But a 3/2 wetsuit, on the other hand, will help your body deal with those waters more naturally. This is a definite boon if you're a marine biologist who needs to go into those waters for your job.
Cost and Value
The price range on this wetsuit is a bit more brutal, going up well into the triple-digit price range. Understandable for a wetsuit of this high quality, but nonetheless, it's very expensive.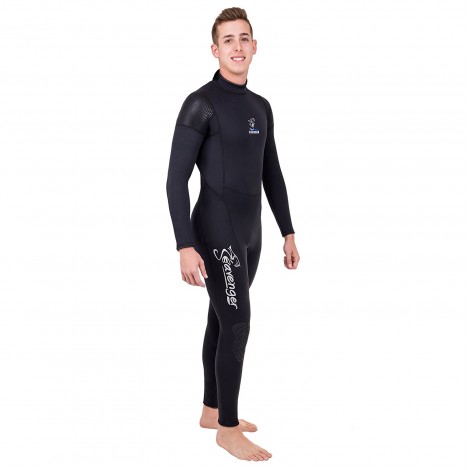 Finishing up our top 3, we have the Seavenger Odyssey. Seavenger has been at this for quite some time, but in our humble opinion, their Odyssey model is their best work, and definitely their most affordable. So, what makes it their best?
Extra durability
Instead of thickening the entire hide of the wetsuit, thus running the risk of trading off the buoyancy, this wetsuit instead went for a cleverer approach. This wetsuit instead has strategically placed anti-abrasion surfaces, applied to the shoulders and knee pads, designed to make the suit stronger as a result.
No chafing
Some of you may be bristling at the very thought of putting on such a tight-fitting outfit since all you can see is an invitation to chafe-city. Fortunately, you won't have to worry about that with the Odyssey, as it uses flatlock stitching. This style of stitching is very comfortable, especially on skin-tight apparel, meaning you can wear this wetsuit for even longer than you otherwise would.
Cost and Value
Across all sizes and most retailers, you'll find this wetsuit priced rather fairly, all things considered. While not the most affordable thing on the planet, you could do a lot worse, as we saw with the previous entry.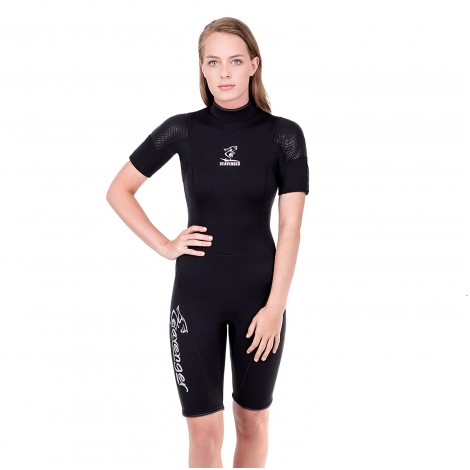 In our #4 spot, staying with our friends at Seavenger for a bit more, we have the Seavenger Odyssey. Once again, we have a brilliant product from a company that truly knows their stuff when it comes to this kind of thing. So, what makes the Navigator so great but not quite as great as the Odyssey? Let's find out.
Easy donning
Putting on a wetsuit can sometimes be a pain in the behind. But then, any piece of clothing with a zipper up the back is going to be at least a little painful to deal with. Luckily, Seavenger has long since developed a solution for this. Their wetsuits, the Navigator included, all use an extra-long leash and a highly durable zipper to make zipping up your wetsuit a breeze.
Super tight
There's tight, and then there's the Navigator, which molds itself perfectly to your skin like a second layer of skin. This is all thanks to the Nylon II Neoprene material that makes up this wetsuit's material.
Cost and Value
Thankfully, this wetsuit continues the trend of Seavenger products being much cheaper than other brands on the market, sporting a very forgiving price range that balances out some of the flaws. Such as, for instance, the fact that it's a shorty wetsuit, and thus limited in what kinds of waters it can go into.

5

. Phantom Aquatics Shorty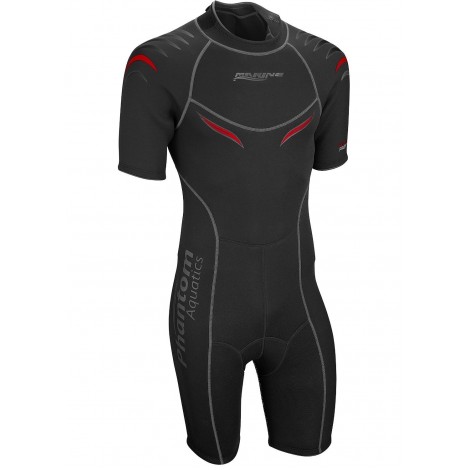 In the #5 spot, we have the Phantom Aquatics Shorty Wetsuit. Phantom Aquatics is another wetsuit company that's been at this for a while and has thus developed a certain set of features that they are best known for, with this wetsuit being an amalgamation of them. What are those features? Well, let's see.
Velcro fastened neck
The vast majority of wetsuit manufacturers are fully aware of the problems with the neck of the wetsuit, and thus have several different ideas on how to fix it, all ranging in terms of effectiveness. Phantom actually has a pretty ingenious idea, if nothing else than for its simplicity. The neck of the wetsuit has a Velcro fastener that you can tighten at will. You can't tighten it once in the water, of course, but you should take care of that before you hit the water.
3D anatomical sculpting
This is one of the most form-fitting wetsuits on the market, and a lot of that has to do with the unique way in which it was made. They essentially 3D sculpted it from the body of an average male/female (depending on the type of wetsuit you bought) that will help it to mold itself to the shape of your body. Making this wetsuit much better fitting and much more comfortable to wear.
Cost and Value
The price range of this wetsuit is a bit forgiving but can get pretty pricey as you climb sizes. Still, though, it's nowhere near as high as the price range for #2.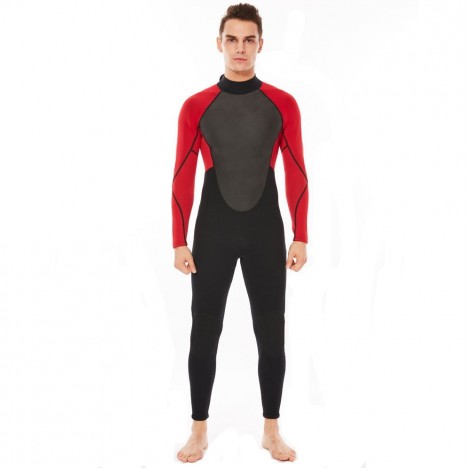 In our #6 slot goes the Realon Wetsuit. If Realon is good at anything, it's making no muss, no fuss, simple and functional wetsuits for affordable prices. This is the wetsuit you go for if you're a diver on a budget. So what else does it actually have to offer you?
Heavy-duty zipper
The zipper breaking off or getting caught/stuck is one of the most irritating things that can happen to you while scuba diving. It essentially means you have to throw away all the money you spent on this wetsuit because now you have to cut yourself out of it. Which is why Realon went with a heavy-duty 10V back zipper, which will power through almost any jam and will put up with almost any physical scrutiny.
Durable flatlock stitching
If your wetsuit breaks while you're in the water, then you have a whole mess of problems. And those problems will only stack further and further up the further underwater you are. Thankfully, Realon has you covered with its specialized flatlock stitching. A rather common stitch, known for its flexibility and durability when wet, but Realon has modified it to be twice as durable as normal.
Cost and Value
The price range of this wetsuit is very forgiving, with its base price likely being one of the cheapest on the list so far, and likely one of the cheapest on the list in its entirety.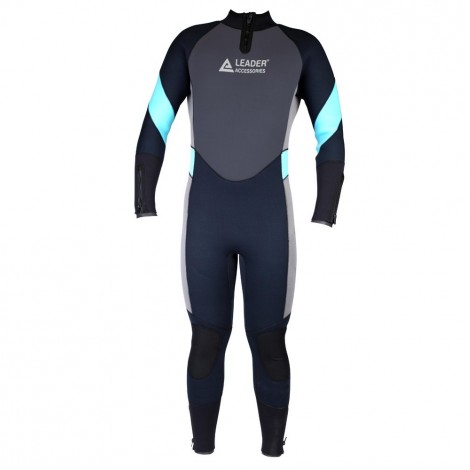 In our #7 slot, we have the Leader Accessories Full Wetsuit. Leader Accessories have been doing this for quite some time, much like other entries on this list. And like those entries, this wetsuit is true excellence that any diver would be proud to have as part of their wardrobe.
Wind resistant chest
The chest area of this wetsuit is incredibly smooth and wind-resistant. Any strong breezes just tend to pass you by when they come into contact with the material used to make the chest area of this suit. This makes it easier to move, both on land and in the water.
Nylon laminated Neoprene
The material of this, of course, made mostly out of neoprene. However, that neoprene was then laminated in nylon, which adds a tremendous amount of durability to the material. This makes it easier to use when in those particularly harsh and cold waters, that would easily get through a lesser wetsuit.
Cost and Value
Like one of our previous entries, this one has a pretty consistent size across retailers and sizes. Only this price is much cheaper than that previous entry. Which is particularly good because the seams have been reported to sometimes come loose, so it's good that you won't have to spend much in the case that happens to you.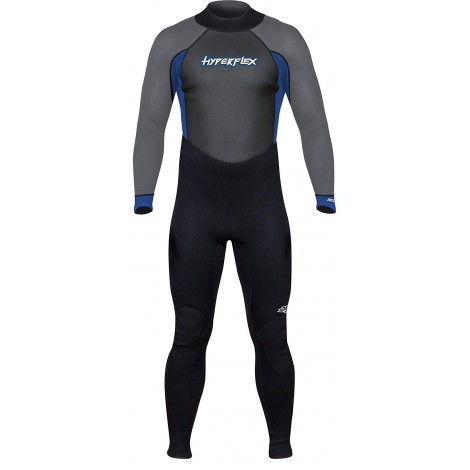 Kicking off our final 3 entries, we have the Hyperflex Access Wetsuit. Hyperflex typically specializes in other areas, but that actually gives them an edge over other wetsuit companies, as that experience lets them explore other avenues for material and design. Speaking of which.
High-quality materials
This suit has some of the best construction on this entire list. Made from high grade, 3mm premium ultra-supple neoprene, this suit will keep you warm and toasty even several feet undersea, while still retaining not only its durability but also its focus on function and style.
Low profile flatlock seams
We all know by now about how flatlock seams are the ideal seams for a wetsuit because of their durability and flexibility. But added to these seams are what's known as low profile seams. When added, these seams help prevent irritation when worn for extended periods of time.
Cost and Value
This is one of the more staggering price ranges on this list. At the base level, it's actually very affordable. But due to the many different sizes, this wetsuit can come in, the price can get staggeringly high at some points, going deep into the triple-digit price range.

9

. Neosport Premium Neoprene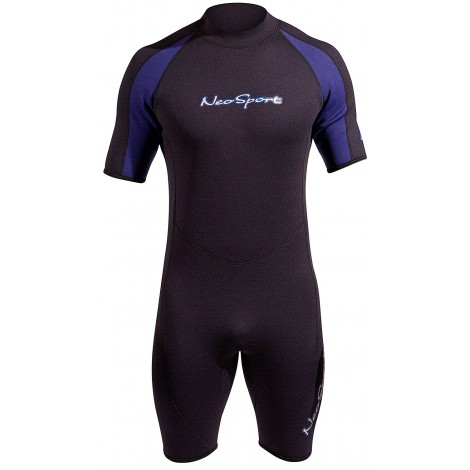 In our second to the final entry, we have the Neosport Premium Neoprene Wetsuit. Despite its low placement, this wetsuit is still warm, durable, and most of all, comfy to wear. And while it's far from the cheapest entry on this list (but we'll get to that), it's the wetsuit to get if you're looking for the most comfortable wetsuit you can get your hands on.
Adjustable collar
Just because these things are meant to be tight, doesn't mean you have to put up with them choking the life out of you. The collar of this wetsuit is completely adjustable. Not by far, mind you, as you still need it to be pretty tight, but at least you can make it so that it won't actively suffocate you.
Suitable for warm and cool waters
Some wetsuits are meant only for warm waters, and some are meant only for colder seas. However, because of the 5mm neoprene that makes up this suit, this wetsuit isn't just supremely comfortable and durable, but it's also suitable for use in either extremely cold or extremely warm waters.
Cost and Value
This is, without question, the most expensive entry on this list. Unlike every other entry before it, this price range is set in the triple digits, no matter how small you go. Fortunately, we can say without question that it is more than worth the price. However, that means little when you see just how high this price can go.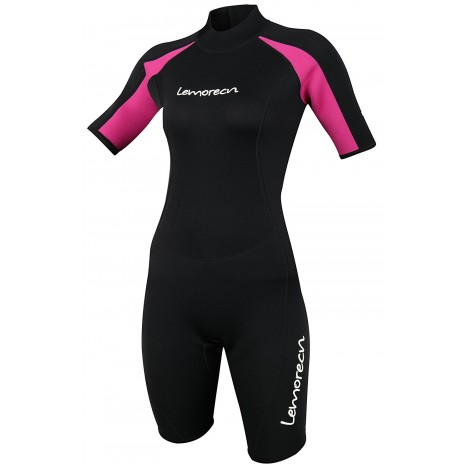 Finishing our list, our final entry sees the Lemorecn Neoprene Wetsuit take the #10 spot. Lemorecn, despite being nigh impossible to pronounce, is actually a very high-quality wetsuit manufacturer, who have been around for some time. So, what got these guys on the list? Well, for starters.
Adjusts for body measurements
One main difference is that these are strictly bought online and delivered to your home. Because of that, they actually require you to put in your exact body measurements. They then make and modify the wetsuit to your specifications, delivering it to your home the way you need to wear it. And this may up the price somewhat, but if you're looking for the best fitting wetsuit, you can possibly get, this is where and how you get it.
Designed for multiple sports
Who said that wetsuits could only be used for diving? We never said that. In fact, it's astounding how many things a wetsuit can help you do, from kayaking to water sports, and much more. All you need is a wetsuit specially designed for those things. Enter Lemorecn's wetsuit.
Cost and Value
The best part about this wetsuit is the price. If you order it off of a normal online retailer instead of going to the source, you'll be amazed at how cheap it actually is. These high-quality wetsuits and be yours for half the price of the previous entry.

Subscribe to our Newsletter