Best Adidas Socks Reviewed & Rated for Comfort
In a Hurry? Editors choice: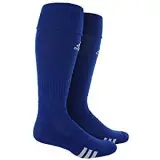 Test Winner: Rivalry Soccer OTC Sock

A good pair of socks can save any athlete from a world of misery. And Adidas is the second largest producer of sporting gear in the world, after Nike. This includes socks, and choosing the right pair of socks can make your run. While some provide increased leg circulation, others are designed to allow a free flow of movement to athletes in action. Here's our list of the ten best.
Standout Picks
Criteria Used for Evaluation
Comfort
Believe it or not, this may not be the primary requirement of people who are looking for their best Adidas sock, they may be looking for how high they ride up the leg or they may be looking for socks that wick away the most water from sweaty feet, but the fact of the matter is that those other requirements aren't worth much if the socks aren't comfortable on the foot. Now a lot of factors go into providing comfort so we're looking for socks that at the very least are comfortable and then you can add other elements and features that will allow you to create the sock that works best for you.
Breathability
The sweaty footed runner is one of the most common of the subgroup of the unique runner species. These are the runners that have to doff their socks immediately after a run or risk foot rot and smelly shoes. The solution of course is really wicky socks as well as breathable material that lets air in and water out. So almost all of our sock brands, even if they're cotton have some element of breathability to them, because we're looking out for you.
Fit
If it don't fit, it don't work!
Socks mold to your foot, that's what they do, so looking for fit is a bit of a moving target. So, when we went in search of our favorite Adidas socks we looked for socks that have high elasticity that will hug your foot but also maintain their shape over time and not migrate down as the elastic breaks down or roll down onto your heel as your move through the miles. There's so much to choose from here we're sure you'll find the sock that'll fit you perfectly.
Materials
That's really what we're talking about here, isn't it? Cotton is highly absorbent and a wonderful material but at the end of the day it holds water so the running world has filled the sock world with all kinds of synthetic materials and Merino Wool. Merino wool is a fantastic product, highly breathable and wicky, but wool just doesn't work for some people so again we're back to synthetics. Acrylic, Nylon, Spandex, whatever your poison we've got all of your materials here in our list and they all provide unique qualities that will maximize wickabilty and breathability in a way that will make your run smooth.
Shock Absorption
bad Peter Gabriel song puns aside, shock absorption in your running socks are a thing. We have looked for products that are going to help tame the beating that running gives to your system. After all, we're of the opinion that Pheidippides died after his 25 mile run from Marathon to Athens in 490 BC simply because he didn't have a good pair of shoes and socks. So when running is concerned we're always looking for ways to maximize comfort and minimize strain on your legs, knees ankles and bodies in general so you can keep moving.
10 Best Adidas Socks
1

. Team Speed Soccer Socks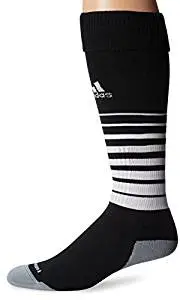 Every player prefers a particular type of sock to play at the highest level. No advantage is too small. The Team Speed Socks have compression and ribbed legs throughout for stability and secure fit.
Comfort
Adidas technology suits the comfort needs of every player in a pair of cleats. These socks are for the players who like a snug and light feel. The Team Speed Sock System has two parts: the calf sleeve and the sock. The theory behind the technology is ultimate comfort and compression for the feet and legs.
Three cushion levels are available. They are Light, Medium, and Maximum. The socks are light and comfortable. There is little difference in the cushion level between Medium and Maximum. Players who pride themselves on the barefoot sensation are best suited for the thin option.
Sleeve
The mid-calf part of the system can be used without the sock. It is tighter than regular socks. The sleeve offers the ultimate in compression for muscle relaxation and blood circulation. The shin guard is held in place which eliminates the need of wearing an extra sleeve under the sock.
Sleeves can be slipped off and on. Players are free to wear training sock alone until it's time for the game. Socks do not have to be switched. The sleeve can be worn with other socks.
Cost and Value
The high-end socks are available in a wide variety of colors. FORMATION fit has a natural feel. It follows the movement of the sport for greater comfort in motion. The socks are anatomically shaped for the right and left feet.
ClimaLite wicks away moisture. Targeted footbed cushioning absorbs shock. They provide comfort that is 90 minutes strong. The Climacool ventilation is 360° which is added goal-making support. It cools the entire foot.

2

. Rivalry Soccer OTC Sock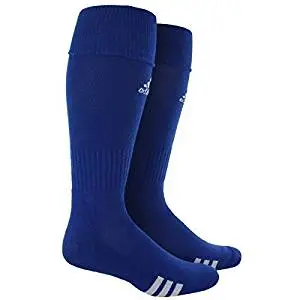 These socks are listed as soccer socks but are great for any athlete. The featured climalite construction helps wick moisture that keeps feet comfortable. A targeted cushioned footbed absorbs shock, and ankle and arch compression add stability.
Versatile
Rivalry Soccer OTC Socks are meant for men, women, and youth. The socks come in four sizes. X-small is for adolescent sizes 9C to 1Y. Small fits adolescent sizes 13C to 4Y. Medium socks are for men's sizes five to eight, girls' sizes five to nine, and adolescent sizes 4Y to six. The size coined as massive is for male shoe sizes nine to 13 and girls' shoe sizes ten to 12.
Runners like the socks because the compression helps legs from getting tired. Those who are not athletes like the socks for winter with casual boots. Doctors have recommended these socks for people with poor circulation in the feet and calves.
Well-Made
The over-the-calf socks are made of 93 percent polyester, four percent spandex, and three percent nylon. The socks are stretchier than most. They are more comfortable and softer than other soccer socks.
The socks are also thicker. The compression makes them fit snugly but not overly so. They stay up all day. They do not slide down when playing. Legs do not feel cramped over the shin guard. The socks hold up well when laundered. They are colorfast and do not bleed or fade in the wash.
Cost and Value
Customer reviews tell a lot about a product. Remarks such as wear exceptionally well, fit great, well-made, and amazing can be found in the reviews for these affordable socks. After being washed, there are no signs of quality deterioration.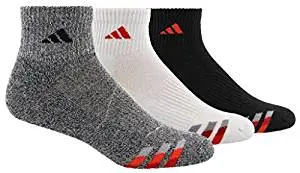 Quarter socks are a nice mid-point between no-show and crew socks. They rise up slightly out of the shoe, but not nearly as far up the ankle as a crew-style sock does. These Quarter compression socks are built specifically with the athlete in mind, with additional support in the heel, extra compression in the arch for greater stability when standing or running, and an overall design that is heaver on padding than other comparable socks.
Variety
While other socks on this list limit users to one color, these compression socks come in a variety of eye-catching designs, all capped by that iconic Adidas logo. These are aesthetically pleasing socks that will allow an athlete to take the field with confidence.
Snug Fit
When participating in any athletic activity involving a lot of running and movement, you want a sock that won't slip. These are specifically designed for those with an athletic lifestyle. The fit is a bit more snug and tight than other socks, ensuring that they won't slip or create blisters during use.
Cost and Value
The Quarter Compression Sock is a bit thicker and more durable than others. It comes in a pack of 3 as opposed to 6, so overall its a slightly more expensive product. This might make it slightly less attractive to those without a high-energy lifestyle. They are perfect for athletes, however.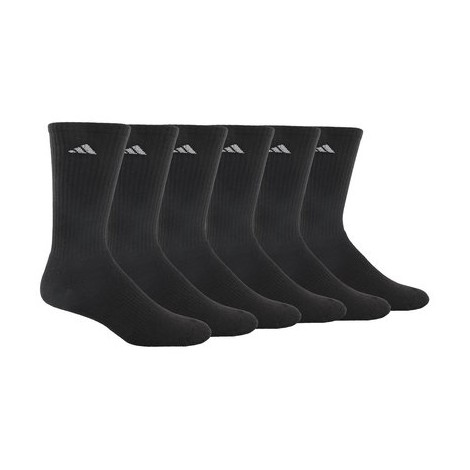 Looking for a bit more protection against the cold? Crew socks might be right for you. These athletic crews rise about six inches up the ankle with a snug, stretchy fit thanks to a blend of polyester and spandex. The sock is designed to provide greater padding in the foot area with increased thickness before thinning out as it moves up the ankle so you won't sweat excessively when wearing these socks.
Stay Warm
Unlike cotton socks, these crews are over 90% Polyester. While synthetic fabrics like Polyester might not be as breathable, they insulate far better than cotton and wick away moisture when you do sweat, making them a solid choice for the outdoor active user.
Extra Padding
The main downside of crew socks is excessive heat. This is mitigated here with carefully deployed padding on the bottom and heel of the sock, with a more sheer thickness across the top of the foot so feet won't overheat even during strenuous use.
Cost and Value
Given the greater amount of material involved, Crew socks are a tad more expensive than no show socks. that said, they're a must for business casual attire or colder climates. These crews are cost effective and provide a great balance of comfort and warmth.

5

. Women's Cushioned Low Cut Socks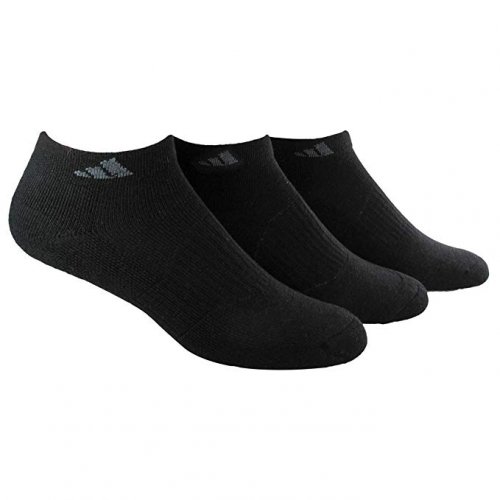 These Cushioned Low Cut Socks have thick material that provides ultimate comfort throughout the footbed of the socks. Even though the socks are made of thick material, the moisture-wicking keeps the feet dry, and the arch supports hold the socks in place.
Features
They are made of 71 percent acrylic, 24 percent polyester, three percent spandex, and two percent natural latex rubber. The blend of polyester and acrylic works well to wick moisture from the skin. This Climalite moisture-wicking keeps feet dry from sweat.
Throughout the sole, thick fabric adds padding. Also featured is 360° arch compression that provides a snug and secure fit. These comfortable, thick socks do not allow the feet to breathe through the upper like the Superlite socks. The compression that surrounds the arch holds them in place and provides some support.
Durable
Some people wear the socks for hiking and running because of the arch support compression and the excellent cushioning. People with high arches find them very comforting. They improve performance and aid in avoiding injury.
The socks do not bunch up or fall into the shoes and slide around when they are worn. Quality socks are nearly as important as good shoes especially if you spend a lot of time on your feet. Nurses working 12+ hours shifts have purchased these socks.
Cost and Value
They are a value for people who are looking for a comfortable sock but not necessarily highly functional activewear. They last much longer than more expensive socks. The full-footbed feels more plush and thicker than the Superlite socks. The compression that surrounds the arch holds them in place and provides some support.
The socks are available in white with colorful stripes, gray, black, and plain white. The striped versions stripes wrap around need the balls of the feet. The cushioned socks come in a pack of three. They are a great value, everyday sock.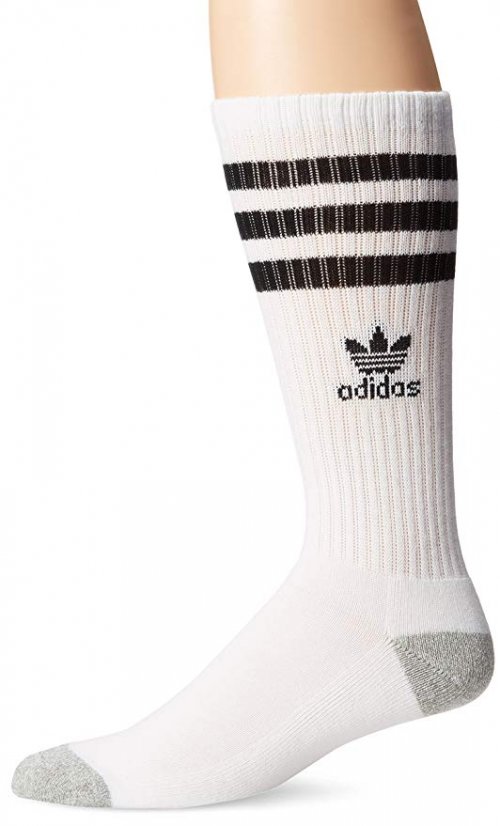 These original crew socks provide unbeatable comfort to athletes looking to rock a classic look. Acrylic yarn provides a soft, stretchy fit and three thick stripes off-set by the vintage Adidas trefoil logo caps it all off with a vintage sporty look. Extra padding in the foot completes this definitely old school pair of socks. The fit is nice and relaxed for those looking for something looser than compression socks.
The Look
This is a classic pair of crew socks any way you slice it. The three stripes can be a nice accent to different outfits and the sock itself comes in a variety of colors so buyers have the freedom to choose a look that best fits them.
Synthetic Fit
The Acrylic yarn helps to keep feet dry no matter how hard you work in them. At the same time, it maximizes durability and stretches, so that no matter how big or small your calves are, they fit like a dream.
Cost and Value
These socks come in a single pack. Additionally, they're a bit larger than some of the other socks listed. If you love the look they're a perfect addition to your wardrobe.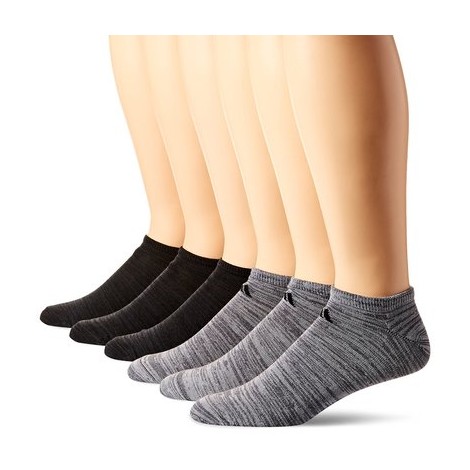 For those looking to spend a bit more for a specialized athletic sock, the Superlite Low Cut fits the bill. The unobtrusive Low Cut design is more fashionable, while the mesh design and odor-eliminating finish keep you dry while avoiding excessive sweat and the unpleasant odor that can result. What's more, extra cushioning on the ball of the feet as well as heel and toe gives athletes the protection they need.
Ultra Thin
Want to take breathability to the next level? The Superlite Low Cut has an ultra-thin mesh design across the top of the foot, so it almost feels as if you aren't wearing socks at all. Body heat easily ventilates providing unbeatable comfort.
Odor Resistant
In addition to creating an ultra-comfortable 'barely there' wearing experience, these socks are treated with an odor-resistant final layer, which repels the unpleasant smells that can build up after repeated, heavy use. Even after your heaviest workout sessions, you'll emerge fresh and ready for the day.
Cost and Value
As the old adage goes: "You get what you pay for". With all the little extras in the Ultralite's design, costs run higher on this model. If you're looking for longevity and a sock that works as hard as you do, this one fits the bill.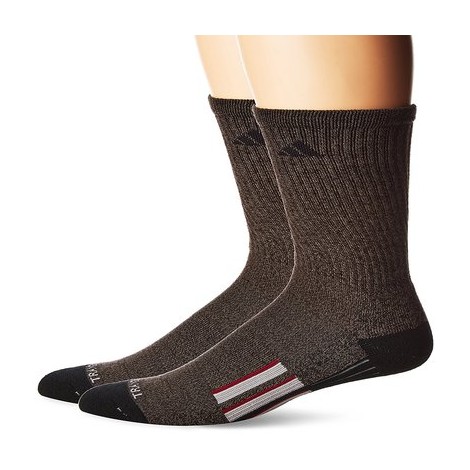 For those looking for something a bit more high-end, the Climalite Crew Sock is made from a high tech blend of several synthetic fibers including micro-acrylic thread, polyester, and latex. In addition to its odor-fighting properties, the Climalite has a specially formulated 'Traxion' footbed which is gently ribbed to provide the absolute most protection against the friction of any sock on this list.
Material
The blend of microfibers, latex, Polyester, and nylon is quite a complex stew compared to many of the more straightforward socks on the list, but it really pays off in terms of comfort. These socks provide a comfortable fit while holding up beautifully after numerous trips through the washer
Traction
The Climalite Crew sock gives the wearer a leg-up when it comes to reducing friction. While the feel remains padded and comfortable, the very bottom is slightly ribbed to create more of a hold than other socks. This reduces the likelihood of developing blisters
Cost and Value
These are far and away the most expensive socks on the list. For two pairs you pay the equivalent of a 6 pack of a lower cost sock. The extra money buys you high-quality material, top-notch comfort, and a look that can go with everything from athletic gear to business casual attire.

9

. Men's Climacool Superlite No Show


These training socks will keep you cool during a workout. The Climacool Superlite, No Show Socks feature a mesh top that allows air to circulate and keep feet dry and cool in warm weather.
Comfort and Fit
Targeted cushioned zones in the toe and heel provide long-lasting comfort and durability. The competitively priced socks are light and comfy. There is extra cushion at the heels. They come up to cover the back of the ankle without showing in shoes.
They are great for hot days when extra thickness is unwanted. The socks form to the feet. They have the ideal height and arch. They are a close second for people who do not like to wear socks.
Design
Along with a reinforced heel, the comfortable socks have a sharp looking design. The socks have three stripes on the side, and the Adidas Badge of Sport is on the front. People who have problems with sweaty feet like these socks.
The mesh tops are great for intense workouts. People who bought them used them for running, cycling, and the gym. They are odor resistant. The socks wick moisture well. Shoes stay odor-free.
Cost and Value
When 376 people give a review of a product, you will find a range of comments as to the quality, fit, and washability of the socks. Over half of the reviews for this sock were five-star reviews. Those reviews praise how comfortable the socks are, what a great fit they provide, and how well they withstand being washed. Those who like the socks feel they are worth the money.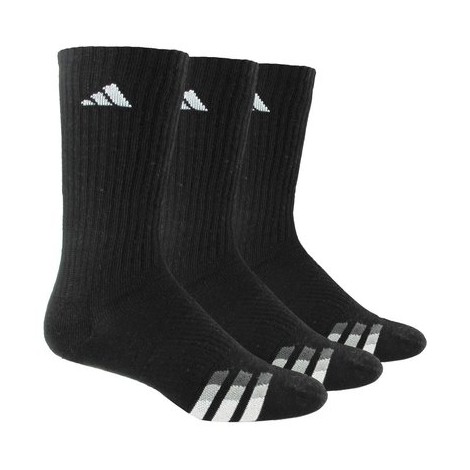 These crew socks are predominantly acrylic in design for superior moisture wicking and insulation. They are also odor resistant with the same arch compression and additional padding of Adidas' other athletic socks. They have a sleek design featuring the Adidas signature stripes both on the ankle cuff and across the arch of the foot. All in all a superior athletic sock with the addition of a bit more insulation against cold temperatures.
Compression
In addition to being a solid pair of crews, these also double as compression socks. By providing a tight seal around the lower legs, these socks improve circulation back to the heart which is helpful in conditions involving swelling, such as minor sports injuries.
Synthetic Protection
The Acrylic construction on the Cushioned Crew sock helps to wick moisture away during heavy use. The sock won't become sodden and saturated like comparable products made from the cotton twill. Additionally, they're slightly more resistant to stretch and strain than polyester.
Cost and Value
This is another specialized three pack with the extra padding, moisture wicking technology, and odor-fighting elements of other Adidas Athletic wear. Though a bit more expensive, it is ideal for users who need a compression sock but want the look of an athletic crew.

Subscribe to our Newsletter