Best Adidas Socks Reviewed & Rated for Comfort
Adidas is the second largest producer of sporting gear in the world, after Nike. For more than eighty years the company has been synonymous with high-quality sneakers emblazoned with the instantly recognizable 'three stripes' logo. In that time Adidas has expanded far beyond athletic shoes to become a major manufacturer of an arguably even more important product: Socks.
Featured Recommendations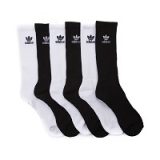 Adidas Trefoil Crew

Our rating
Options
Price:

See Here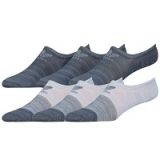 Original Blocked Space Dye

Our rating
Barely There
Price:

See Here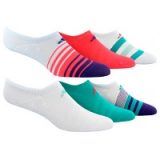 Superlite No Show

Our rating
Thin
Price:

See Here

A good pair of socks can save any athlete from a world of misery. They cushion, protect against blisters and fungal infections, and can even safeguard against more serious issues that can develop over time from physical strain. Even if you aren't involved in sports at all, choosing the right pair of socks can help out with everyday comfort and maintaining good circulation.
With a close eye on the vast product catalog of Adidas, one of the foremost manufacturers in the field, we will take a look at some of the very best socks available for athletes and non-athletes alike. While some provide a tighter fit for increased leg circulation, others are designed to be as unobtrusive as possible to allow a free flow of movement to athletes in action. All come with the expert craftsmanship of one of the world's top producers of sporting gear for nearly a century
10 Best Adidas Socks
1. Trefoil Crew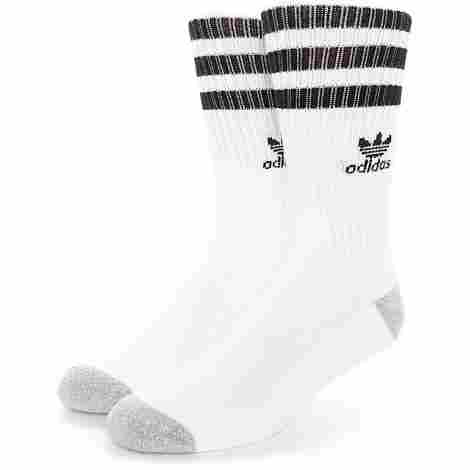 These Youth Crews provide the same comfort and durability of Adidas' adult socks to the youth set. Specially designed for growing feet, the Youth Crew Trefoil sock comes in a 6 pack of black and grey, with a vintage Adidas logo knit on the side of each. Polyester and Latex wicks away moisture without absorbing it, while extra padding on the footbed gives kids the protection they need.
Expand to see more
Options
The Trefoil Crew comes in a 6 pack in two different colors, so users aren't limited to a single look. Both have the vintage Adidas Trefoil logo knitted onto the side for a cool, vintage look.

Built to Last
We all know that kids' clothing routinely takes a beating. This is especially true if the kid in question is athletically minded. Luckily, the durable Polyester and Spandex design of these socks ensure that they're more than up to the task.

Cost and Value
With six pairs and two colors to each pack, these socks are a deal. Kids get the protection of a higher-priced athletic sock while adults won't hurt their pocketbooks. A solid choice all around.
Moisture wicking technology
Cost effective
2 different color options
Extra padding in foot
Vintage Adidas trefoil logo
Only available in Black and Grey
More visible than a white crew or no show sock when worn with shorts
2. Original Blocked Space Dye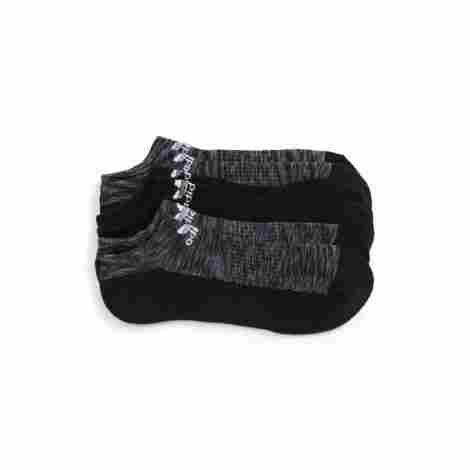 Adidas' Blocked Dye No Show Socks for women are an ultra light-weight way to stay dry and comfortable during grueling workout sessions. The predominantly polyester sock keeps feet dry without absorbing sweat. Meanwhile, the low cut design won't draw attention to itself, so you can wear
this sock
with any outfit. Perhaps most importantly, the signature 'blocked space dye' design comes in a variety of colors and styles. These socks are also a bargain at 6 pairs to a package.
Expand to see more
Barely There
This sock is designed to be as unobtrusive as possible. Not only does the no-show design prevent fabric bunching, but the toe seam is an annoying feature in some socks but is nicely blended with the rest of this sock so that it feels completely nonexistent.

Simplicity
Some of the athletic socks on this list are loaded with specialized features from slightly ribbed arches to microfiber and mesh construction. All of that translates to a large investment in what are really just...socks. These aren't fancy, but they provide a solidly made product for a good price.

Cost and Value
As stated above, these are a great value pick for women who just want something simple that gets the job done. No overly fancy designs or logos. No extra bells and whistles. Just a comfortable, well fitting sock.
Barely there
Built tough
No show
No seam
3. Superlite No Show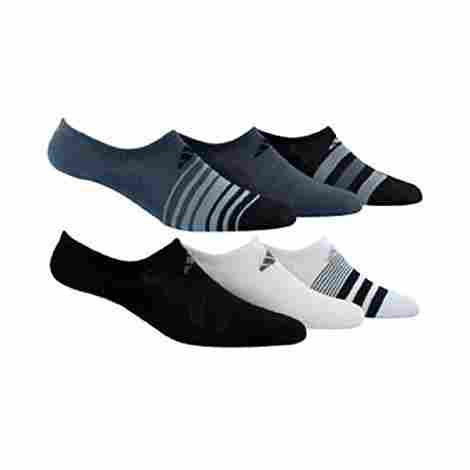 Superlite indeed. These ultra-thin athletic socks bring 'barely there' to a whole new level. Perfect for warm weather workouts, these low cut, no show socks are made from a blend of polyester, nylon, and spandex. As part of the Adidas 'Superlite' line of products, they are designed to wick away sweat. These no-show socks are cost-effective too, coming in packs of six for users who simply want a solid, lightweight sock for strenuous activity.
Expand to see more
Thin
For some, tightly fitted socks simply won't do. These are the ideal solution. The low cut and thin fabric of the Ultralite Low Cut socks keep feet from feeling constricted.

Dryness
Along with being lightweight, the socks are also terrific at ventilating body heat. Sweaty feet can ruin a favorite pair of shoes over time in addition to being a truly unpleasant side effect of an active lifestyle. Luckily, the Superlite blend of fabrics cuts down on sweating without sacrificing comfort.

Cost and Value
With 6 pairs to a pack, these are a terrific value. Their versatility makes them a perfect addition to any outfit. Additionally, they're a great part of any warm weather outdoor activity.
Durable blend of nylon and polyester
No Show design lends itself to any look
Available in a variety of patterns
Good value at six pairs per package
Fits a range of shoe sizes from 6 ot 12
Lacks the cushioning of other socks
Not suitable for cold weather
4. Climalite X II Crew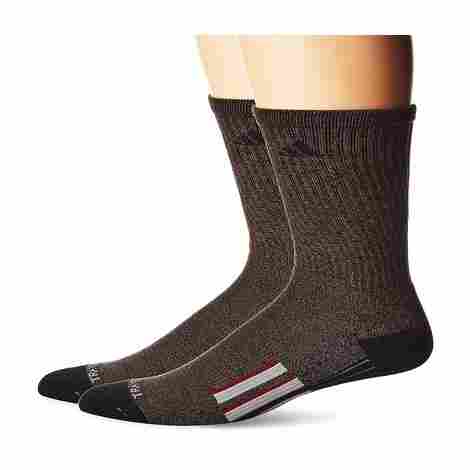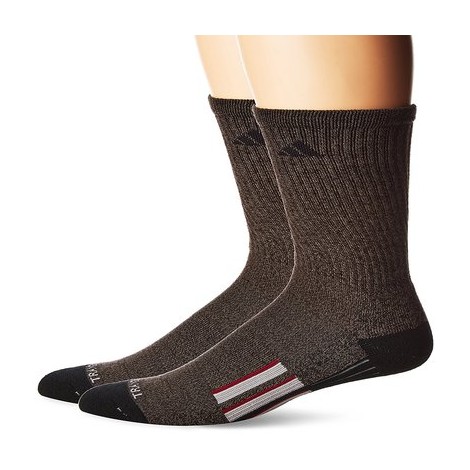 For those looking for something a bit more high-end, the Climalite Crew Sock is made from a high tech blend of several synthetic fibers including micro-acrylic thread, polyester, and latex. In addition to its odor-fighting properties, the Climalite has a specially formulated 'Traxion' footbed which is gently ribbed to provide the absolute most protection against the friction of any sock on this list.
Expand to see more
Material
The blend of microfibers, latex, Polyester, and nylon is quite a complex stew compared to many of the more straightforward socks on the list, but it really pays off in terms of comfort. These socks provide a comfortable fit while holding up beautifully after numerous trips through the washer

Traction
The Climalite Crew sock gives the wearer a leg-up when it comes to reducing friction. While the feel remains padded and comfortable, the very bottom is slightly ribbed to create more of a hold than other socks. This reduces the likelihood of developing blisters

Cost and Value
These are far and away the most expensive socks on the list. For two pairs you pay the equivalent of a 6 pack of a lower cost sock. The extra money buys you high-quality material, top-notch comfort, and a look that can go with everything from athletic gear to business casual attire.


Superior blend of synthetic microfibers for durability and comfort
Available in several colors
Traxion footbed keeps socks from slipping
fabric less likely to 'pill up' after washing
Arch compression for better stability
Patterned exterior is not subtle
Heel can wear out quickly
5. Originals Crew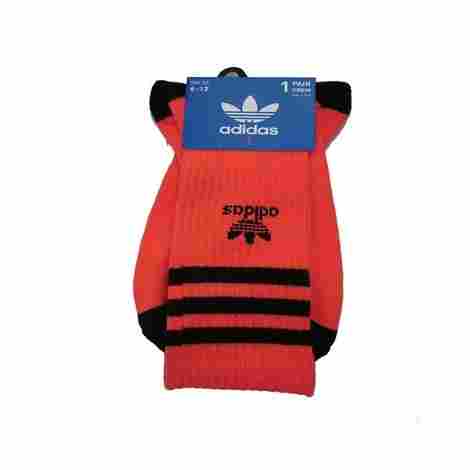 These original crew socks provide unbeatable comfort to athletes looking to rock a classic look. Acrylic yarn provides a soft, stretchy fit and three thick stripes off-set by the vintage Adidas trefoil logo caps it all off with a vintage sporty look. Extra padding in the foot completes this definitely old school pair of socks. The fit is nice and relaxed for those looking for something looser than compression socks.
Expand to see more
The Look
This is a classic pair of crew socks any way you slice it. The three stripes can be a nice accent to different outfits and the sock itself comes in a variety of colors so buyers have the freedom to choose a look that best fits them.

Synthetic Fit
The Acrylic yarn helps to keep feet dry no matter how hard you work in them. At the same time, it maximizes durability and stretches, so that no matter how big or small your calves are, they fit like a dream.

Cost and Value
These socks come in a single pack. Additionally, they're a bit larger than some of the other socks listed. If you love the look they're a perfect addition to your wardrobe.

Old school trefoil logo and stripes
Great cushioning in heel and arch
Acrylic fabric for insulation and sweat protection
Variety of colors and styles
Fit is tight but not too tight
Socks are large and draw attention to themselves
Not as breathable as a cotton sock
6. Cushioned Crew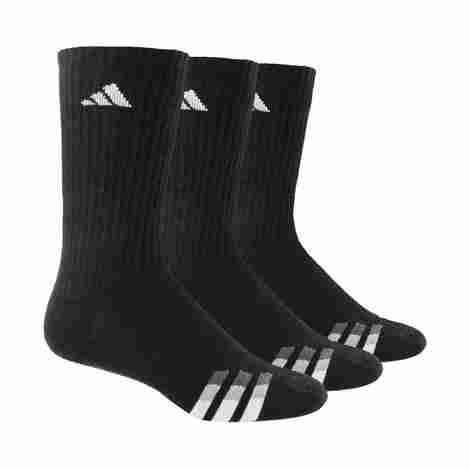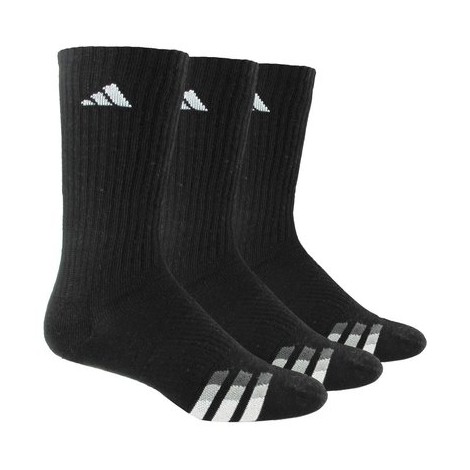 These crew socks are predominantly acrylic in design for superior moisture wicking and insulation. They are also odor resistant with the same arch compression and additional padding of Adidas' other athletic socks. They have a sleek design featuring the Adidas signature stripes both on the ankle cuff and across the arch of the foot. All in all a superior athletic sock with the addition of a bit more insulation against cold temperatures.
Expand to see more
Compression
In addition to being a solid pair of crews, these also double as compression socks. By providing a tight seal around the lower legs, these socks improve circulation back to the heart which is helpful in conditions involving swelling, such as minor sports injuries.

Synthetic Protection
The Acrylic construction on the Cushioned Crew sock helps to wick moisture away during heavy use. The sock won't become sodden and saturated like comparable products made from the cotton twill. Additionally, they're slightly more resistant to stretch and strain than polyester.

Cost and Value
This is another specialized three pack with the extra padding, moisture wicking technology, and odor-fighting elements of other Adidas Athletic wear. Though a bit more expensive, it is ideal for users who need a compression sock but want the look of an athletic crew.
Acrylic, moisture wicking design
Stylishly designed with logo on foot and cuff
Odor fighting technology
Doubles as a compression sock
Extra padding and arch support
Comes in a pack of three; Comparable Crews come in packs of six
Extra tight fit may be uncomfortable for some
7. Superlite Low Cut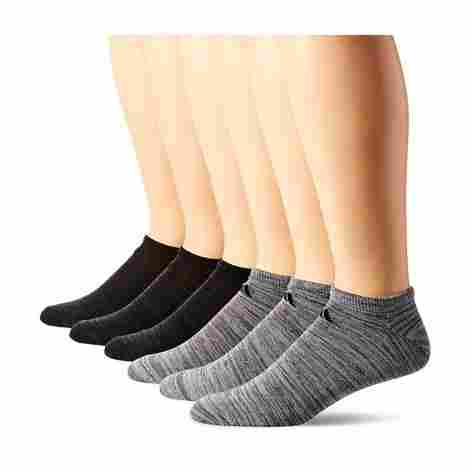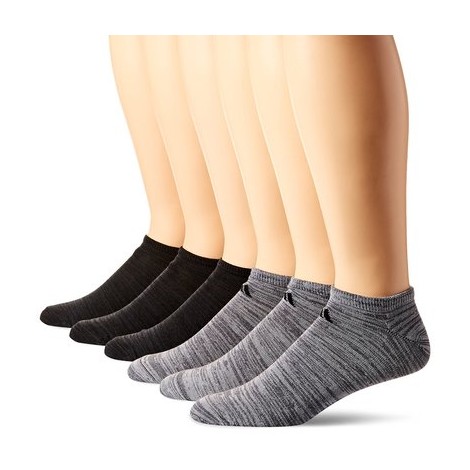 For those looking to spend a bit more for a specialized athletic sock, the Superlite Low Cut fits the bill. The unobtrusive Low Cut design is more fashionable, while the mesh design and odor-eliminating finish keep you dry while avoiding excessive sweat and the unpleasant odor that can result. What's more, extra cushioning on the ball of the feet as well as heel and toe gives athletes the protection they need.
Expand to see more
Ultra Thin
Want to
take breathability
to the next level? The Superlite Low Cut has an ultra-thin mesh design across the top of the foot, so it almost feels as if you aren't wearing socks at all. Body heat easily ventilates providing unbeatable comfort.
Odor Resistant
In addition to creating an ultra-comfortable 'barely there' wearing experience, these socks are treated with an odor-resistant final layer, which repels the unpleasant smells that can build up after repeated, heavy use. Even after your heaviest workout sessions, you'll emerge fresh and ready for the day.
Cost and Value
As the old adage goes: "You get what you pay for". With all the little extras in the Ultralite's design, costs run higher on this model. If you're looking for longevity and a sock that works as hard as you do, this one fits the bill.
Sheer mesh across top of foot for increased ventilation
Odor-repelling finish
No seam across toe area for greater comfort
Extra padding in heel, ball of foot and toe
Available in a variety of designs
Less cost-effective than other socks
Heavier weight
8. Cushioned Compression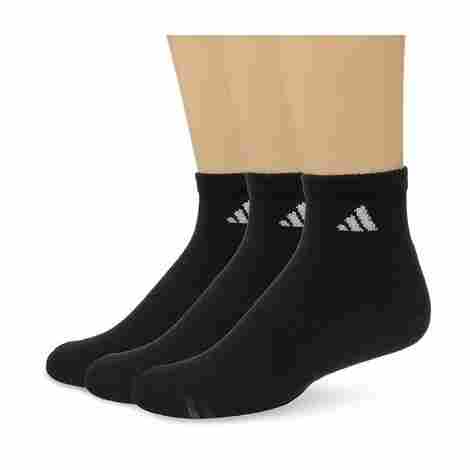 Quarter socks are a nice mid-point between no-show and crew socks. They rise up slightly out of the shoe, but not nearly as far up the ankle as a crew-style sock does. These Quarter compression socks are built specifically with the athlete in mind, with additional support in the heel, extra compression in the arch for greater stability when standing or running, and an overall design that is heaver on padding than other comparable socks.
Expand to see more
Variety
While other socks on this list limit users to one color, these compression socks come in a variety of eye-catching designs, all capped by that iconic Adidas logo. These are aesthetically pleasing socks that will allow an athlete to take the field with confidence.

Snug Fit
When participating in any athletic activity involving a lot of running and movement, you want a sock that won't slip. These are specifically designed for those with an athletic lifestyle. The fit is a bit more snug and tight than other socks, ensuring that they won't slip or create blisters during use.

Cost and Value
The Quarter Compression Sock is a bit thicker and more durable than others. It comes in a pack of 3 as opposed to 6, so overall its a slightly more expensive product. This might make it slightly less attractive to those without a high-energy lifestyle. They are perfect for athletes, however.
Climalite technology wicks away moisture instead of absorbing it
Tight fit ensures sock won't slip
Comes in a variety of colors with Adidas logo
Extensive padding and protection in heel
Compression in foot arch keeps posture and stability strong during use
Fit may be too tight for the casual user
Thicker material may cause sweating
9. Athletic Crew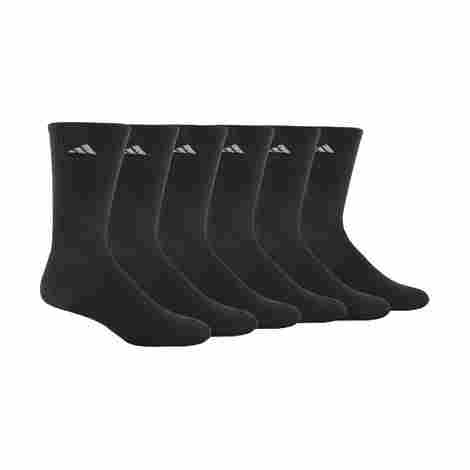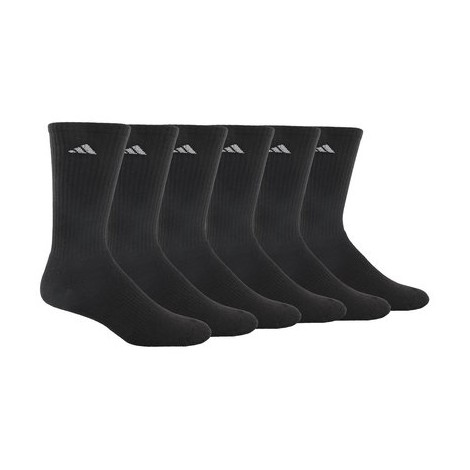 Looking for a bit more protection against the cold? Crew socks might be right for you. These athletic crews rise about six inches up the ankle with a snug, stretchy fit thanks to a blend of polyester and spandex. The sock is designed to provide greater padding in the foot area with increased thickness before thinning out as it moves up the ankle so you won't sweat excessively when wearing these socks.
Expand to see more
Stay Warm
Unlike cotton socks, these crews are over 90% Polyester. While synthetic fabrics like Polyester might not be as breathable, they insulate far better than cotton and wick away moisture when you do sweat, making them a solid choice for the outdoor active user.

Extra Padding
The main downside of crew socks is excessive heat. This is mitigated here with carefully deployed padding on the bottom and heel of the sock, with a more sheer thickness across the top of the foot so feet won't overheat even during strenuous use.

Cost and Value
Given the greater amount of material involved, Crew socks are a tad more expensive than no show socks. that said, they're a must for business casual attire or colder climates. These crews are cost effective and provide a great balance of comfort and warmth.
Polyester for greater insulation
Extra padding in arch and heel
Thinner material on top for less sweating
Comfortable fit is tight around ankle but not compressing
Ribbed cuffs for greater comfort
Polyester not as breathable as cotton
Crew Socks are less style-conscious at the moment
10. Athletic No Show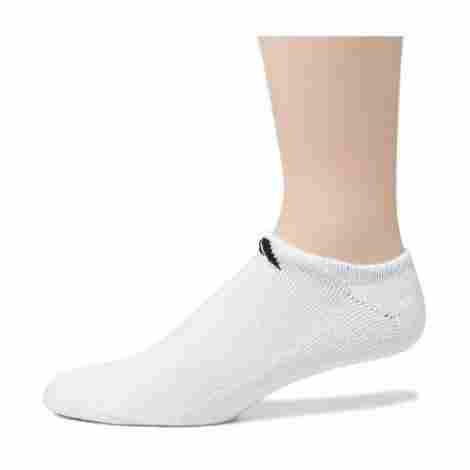 These athletic socks are designed to
sit low on the ankle
without slipping down. They provide great cushioning in the heel and arch and are surprisingly durable given their small size. Your toes won't bore holes in them after heavy use. The black coloring should stay on the sock and not between your toes after a run through the washer. They ship in packs of 6 and provide a great value for the money.
Expand to see more
Comfortable Fit
Unlike other 100% cotton socks, these athletic socks are a mix of cotton and polyester along with small amounts of rubber and spandex. This provides far greater durability and stretch. The sock fits the contours of the wearer's feet while standing up to repeated shock.

Stay Cool
The cheap benefit of 'no show' socks, aside from the aesthetics of not having big crimped tube socks peeking out of your shoes, is the cleanliness factor. With less of your ankle covered up, you sweat less. This mitigates the unpleasant odor and discomfort of sweaty feet. These ultrathin socks are also breathable, offering superior comfort for an active lifestyle.

Cost and Benefit
The price is right, with a 6 pack running a reasonably cheap price point. Compared to a generic brand which might give you more pairs, but will wear out seemingly overnight, these no-show athletic socks are a great deal.
No Show design cuts down on sweat
Spandex for increased durability
Extra cushioning in the arch
Cost effective
Snug fit around ankle
Black coloring can rub off onto feet
Fit can feel a bit tight initially
Choosing the right socks might seem like a minor decision, but even if you're an average joe just looking to get through the workday, the right footwear can save you from a surprising amount of misery. Often neglected to the point that they wear down to hole-filled rags (You know if this applies to you) a good pair of socks keep your feet warm, cushioned, and well preserved from the trauma of the day.
As we have seen, a vast array of choices are available to help you choose the right sock for you. If aesthetics are your main concern, a no-show athletic sock provides a great counterpart to Summer wear. Conversely, higher cut crew socks provide increased warmth during colder times. Whichever proves best for your needs, consider your lifestyle and hobbies before choosing the footwear that is right for you. Chances are, no matter where you are or what you do, one of these Adidas socks that are perfect for your needs.