Best Mini Basketball Hoops Reviewed & Rated for Quality
In a Hurry? Editors choice: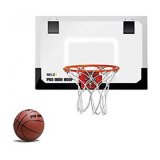 Test Winner: SKLZ Pro Mini XL

If you are a genuine fan of the sport it is a great way to spice up the whole apartment, and while not all of your friends may be interested in who is playing or who won, you might find yourself surprised at just how many will look for things to toss at the
hoop
to try and make that 'point' in their head. In no time flat, everyone is exercising just that little bit whether they meant to or not. Shooting for the goal is fun for all ages, so why not scroll down the top ten list below and pick up the one (or maybe multiples) of that perfect place to aim for in everyday life? We bring you the best of the mini versions that we found so you can enjoy yourself and challenge family and friends anywhere you want. Score-win for you!
Standout Picks
Criteria Used for Evaluation
Durability
We always try to bring you the best of the products we are looking at in our lists and one of the most important qualities when looking at anything is just how durable it is. Knowing that the product will last when used as intended is the first and foremost thing on our minds because if it doesn't last it is just a way to spend money uselessly. With basketball hoops of any kind, this includes the net and how the rim is set. Can it handle consistent use of the ball or other objects it is made to play with?
Of course, if you are trying to shoot hoops with something other than what it was intended to be played with the hoop may not work or last through too many 'games'. Tossing toys through may be fun, but kids are rough, and they do not always consider that action figures and cars are not exactly what it was designed to catch. That being said, each of these little circles of joy meets the durability expectations and/or have a company behind them that is willing to work with repairing wear when used properly.
Value
The value of an object is what really decides if it is costing you a lot. Something that can't take what it was designed for costs more than the cheaper versions that fall apart and have no way of fixing them. Any parent or true sports fan will tell you that if it costs a dollar it is probably worth only about a dollar and you may end up spending more than you would if you just bought the one that cost more, to begin with. If you want a product that lasts and that you can enjoy you look for the value of your dollar to be more than the cost, and that is what we do with each and everything we look at. How well does the net work? Does the rim bend or snap with little to no proper use? Can you replace something if it doesn't work as it should when used properly, or does the company offer no aide for mistakes made when designing their toy? All of this goes into consideration. If we feel that it does serve the purpose and does so well then we look at it in comparison to the rest of our list and pick the very best out of all the products.
Size
Not everyone has room for bigger hoops, but not everyone can play and have fun with a hoop the size of a cup like you might find at a dollar store. So, when building our list we tried to make sure we varied between sizes to give everyone the best of all sizes of mini-hoops. Some of them are more appropriate for an outdoor game, while others are best for a good-sized playroom or bedroom. When choosing your hoop consider the location you want it in and if you have what you need there to set up the one you are looking for. Picking something too small for someone to enjoy, or too large to fit over the rim of where you hook it up can end play fast. We want you to not just have a long-lasting toy because it can handle play, but also because you truly get to enjoy using it.
Accuracy
While many will look at how well the rim is built, we also wanted to make sure what you were throwing at it was also going to make the cut. While many come with inflatable balls, and some even with the pump, a few came with the throwing object being other than your typical ball. When they come with something other than the orange bouncing toy we are all used to, we checked to see the intended audience and with a couple, we were pleased to see that the softer balls were used. For both children's safety and parent's peace, while they play, these tended to be made to make less noise while still letting a little one safely play with balls that were not so easy to break. When the hoop was made for older players we took that into consideration as well- after all, if you're an adult, I doubt you want a foam ball! Some of the companies here used brand name mini-versions of the sports equipment we are used to seeing, and they are quality just like the real thing!
10 Best Mini Basketball Hoops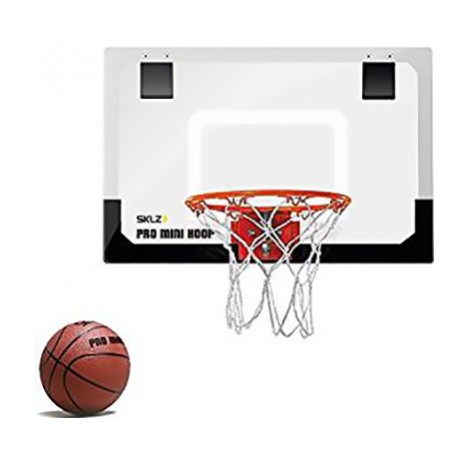 There is nothing so satisfying as running up to a basketball net and making a slam dunk. That said most of us are too short to accomplish the task, so we were quite happy to find this little basket of joy to help us find our inner basketball legend.
Nice hooks
We found that the hook in this particular set worked very well on most doors. They set evenly and don't damage the door frame in the process. Your lay-up shots have never been so smooth.
Foam Backing
There is a black foam back around the rim of the backboard that helps to keep it from damaging the door. The soft backing on the frame means that even after hours of making your favorite across room shots the door will remain intact.
Coat and Value
This seems like a nice set that includes all the needed features to make it a hit with kids and adults alike. The ball seems to be a tad heavy for the kiddies but as long as they don't mind your good. The well-sized net means you can use the included ball or another of your choice and have all the fun you wish. Use as needed to live your three-point shots.

2

. LT Little Tykes EasyScore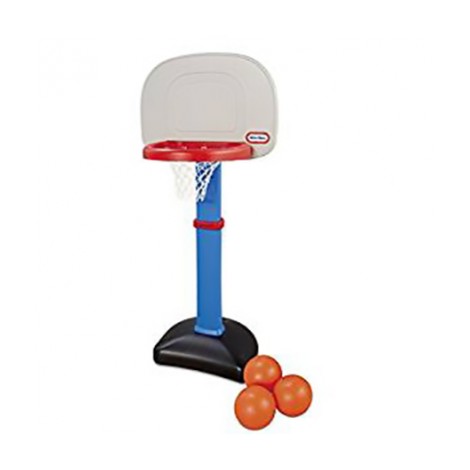 We just couldn't not include something for the mini basketball pros in the making. Little Tykes is a brand that we recognize easily, and sure enough, came through with another great set for your own Michael Jordan or Sheryl Swoops in the making.
Inside or Outside
A lot of times a set like this will really only work outside, however, Little Tykes manages to get the base just right. You have the choice of using either sand or water to keep your base solid. Also with the majority of this system being plastic, there is less fear of damaging something in the house.
Adjustable
We found a nice little addition to this was the ability to adjust the height to grow with your little one. Now keeping in mind this is for the younger kids so it only goes up to four feet. That said we think your little one would have a blast playing with this as they grow.
Cost and Value
Light but durable, and adjustable so it can grow with your little one. We feel this is a great combination to have in something like this hoop set. Cost wise it is on par or lower than the average and we could find very few flaws. The little ones seem to love it and even some of the parents got in on a game or two. Overall this mini hoop set had us flying like an eagle with glee.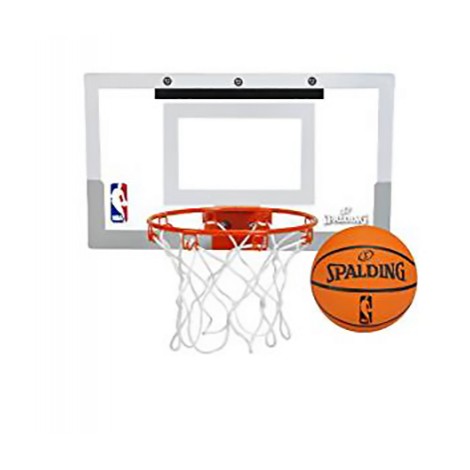 Even now we get a little chuckle thinking about the adult tryouts on this set. We are always looking for a good time and the Spalding NBA Jam was able to provide. The only problem you might have is hearing your husband from the other room shouting, "He shoots he scores", over and over.
Fits Most Doors
We found there was a very little issue getting this over the top of most standard room doors. The set once hung is nice and sturdy and isn't constantly getting shifted. It has ample padding to keep from scratching your door and as long as you don't mind the joyful sound of slam dunks and 3 point shots, you should be good to go.
Hoop is on a spring
Ever watched the guys dunk in a basketball game and see that hoop just bend from the pressure? Well, we saw it and we also noticed that with the Spalding NBA Jam that has been taken care of. At the base of your hoop connection is a spring. This allows your kids to get in those dunk shots without shattering the backboard but still making them feel like a pro.
Cost and Value
We found this set to be a great purchase. Everything included seems to be top quality material and help up well to all the abuse we could aim at it. The bendable rim got us at first but once we figured out it was to make the slam dunks easier we really got into it. Overall everyone had a great time with this set, young and old alike.

4

. 16" Magic shot Mini by Liberty Imports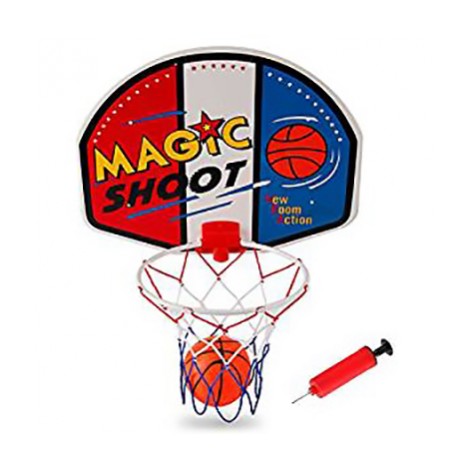 Liberty Imports has come out with this nifty set. Looking to make some hoops while working? This may be the perfect set for you. Whether you are throwing out that repeated memo or making that midcourt shot with your little one this set has something for everyone.
Mounts
Most of the sets we found for our list were strictly for over the door but this one also has the option to mount it to the wall. This is a great feature especially if you want to put this in a room with more space so it is easier to keep an eye on. Plus, if it is on the wall you don't have to worry about opening the door and accidentally denting a wall that is too close.
Lightweight
We found this particular set up to be nice and lightweight. It is obviously not meant to beat up on by adults actually playing basketball, however, if you hang it just out of reach the kiddies will have a blast with it.
Cost and Value
You really can't beat the cost of this set. You get all the components needed to have fun and with the mounting options, you're not stuck leaving this on a bedroom door. If you are comfortable with it being in the house the door mounts will work well, but it was nice to have the option. The kids really seem to enjoy this which is the main reason we checked it out. This wouldn't work well for older rougher kids but for the little ones or for the office this seems a good purchase.

5

. Stumptown W/breakaway Rim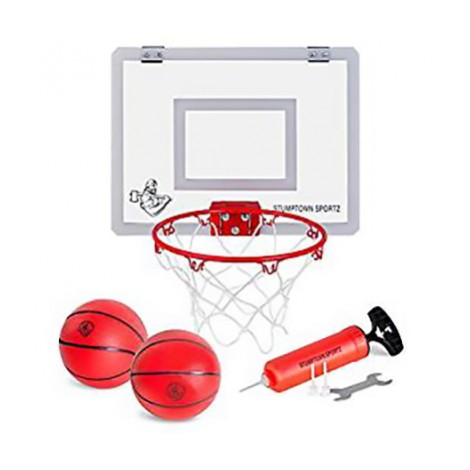 Coming in at number 6 on our list the Stumptown Mini hoop is a nice fixture. It can be used in multiple places with the over to door hook, and we like the spring based hoop making it easier to get those shots in. Check out what we had to say below to get our full review.
Sturdiness
While not made to be used for the hardcore dunking a full-sized hoop would take on the court, this mini hoop will more than get the job done in every other aspect. A sturdy backboard and metal hoop mean it is less likely to give out on you if your indoor game gets a tad intense.
Flex Rim
The rim of this hoop is metal but connected by a small spring, meaning it can tilt down slightly if it takes a harder hit as you play. Keep in mind this does not mean you can go full Michael Jordan on it, but your 3-year-old probably can.
Cost and Value
We say again this set up is not meant for an adult or even an older child to have a Space Jam moment and hang off the rim. That said there is nothing here stopping you from having fun. It includes multiple balls allowing you to easily take turns in a game of spelling or whatever else you can come up with. The backboard my make some noise when the ball bounces off of it but simple adjustment can compensate for that.

6

. RAMgoal Durable Adjustable Indoor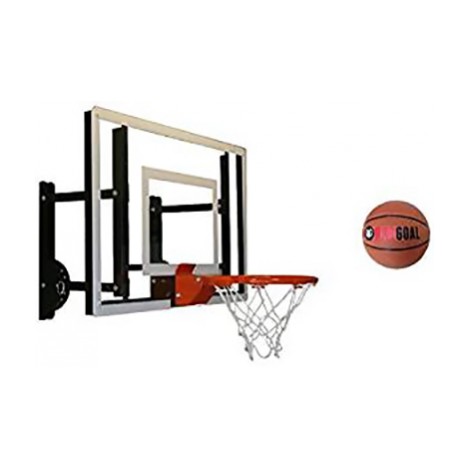 The Ramgoal Mini Basketball Hoop is one we loved right away. It mounts to the studs in your wall giving it a sturdy feel, much like a real court hoop. It managed to take on several adults with no problem and a few of us are ready for a rematch.
Stud Mounted
The way the mount to this is set up allows the adults to be more fully involved. It can take abuse from a full sized adult but without the hollow banging that tends to follow the door mounted models. You still shouldn't go full out, after all this is an indoor activity but not having to worry about accidentally opening it into your walls does improve your mood.
Includes its own Ball
This may seem like something you would expect but we found some of the other makers out there do not include a ball with the set. The one included here is synthetic leather, meaning it should do fine in the house as far as not marking things up.
Cost and Value
We realize this may be a bit more than your willing to spend for your five-year-old to play in the house and we would agree. However, if you are looking for something that can take a bit more use and abuse from say your husband or teenager this is what you are looking for. While this can be used by smaller children depending on where it is placed it is not meant solely for them. Ramgoal seems to have made this to be enjoyed by the whole family team and we think they succeeded.

7

. Pro 1.0 by JustinTymeSports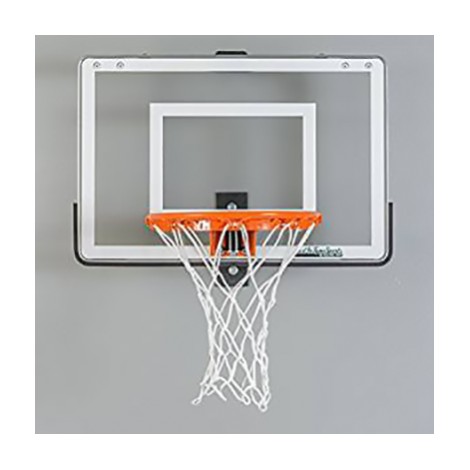 Coming in at number seven on our list is the Mini Pro 1.0 by JustinTymeSports. This lovely circlet allowed hours of fun with no show of the abuse we gave it. If you are looking for something that can take a beating and tough through this set is worth a look.
Single Stud Mount
This set had a unique mounting system requiring only one stud to set it in place. This keeps it perfectly stable and is much easier than some others since you don't have to worry about the stud spacing.
Rubber Ball
The five-inch mini rubber basketball that comes with this is nice and bouncy. Lightweight it is easy to throw it around and it rebounds nicely. That said a rubber ball can be a bit noisy till you get used to it, but you can always get something else if the idea tickles your fancy.
Cost and Value
Keeping in mind that there are more and less expensive versions out there we feel this one is a nice middle of the road choice. It seems very sturdy, able to withstand more abuse than most. The awesome customer service certainly helps its standing with us though and we love the fact that you can really slam dunk on this. We feel that as long as you keep the kids from attempting that infamous hoop hang you should have nothing but good experiences with this product.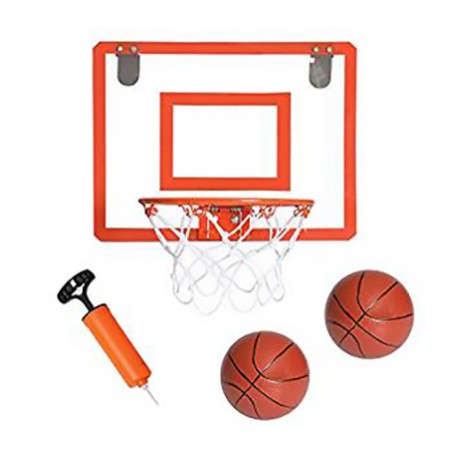 Once again we come to a lovely little novelty item that can bring joy to everyone. Play platoon seems to have made a great kit ready and willing to take your basketball lover to new heights of satisfaction.
Warranty
This set comes with an automatic one year warranty and if you register online that upgrades to a free lifetime warranty. If that doesn't just make you want to invest in this we don't know what will.
Breakaway Rim
We discovered that a breakaway rim is actually a good thing. It means that it bounces back into place when you attempt that slam dunk you've been dreaming of. We don't suggest hanging from the hoop but a nice safe slam dunk is right up our alley.
Cost and Value
We found this set to be one of the nicer over the door setups. It has fewer complaints as far as noise from the bouncing backboard. It seems able to be used by adult and older kids equally well and we feel the little ones would enjoy it too depending on where you hang it. Overall a decent product and a nice midrange price.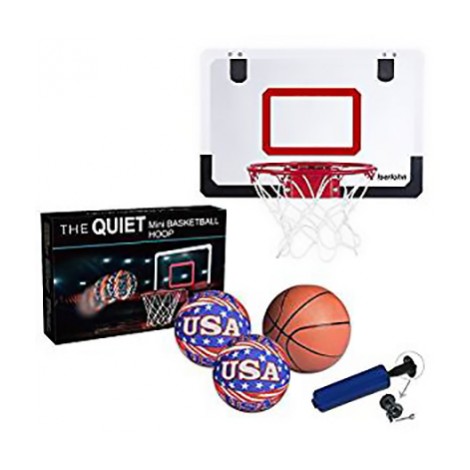 At number nine on our list, Iserlohn has come up with this mini basketball hoop set. It has some items included that were unique and we think you will appreciate. You don't have to take our word for it, read below for all the juicy details.
Silent Balls
Yes, you read that correctly. This hoop kit comes with 2 bonus balls made from a soft cotton blend so you can make your shots more quietly while inside and have less chance to break things. They do not bounce like the other included ball which is rubber and, although that is the one to use if you want to dribble and bounce its sure to make more noise.
Money-Back Guarantee
Iserlohn wants you to really enjoy this product. To prove that they have included a 100% satisfaction guarantee. If you do not like the set for any reason they will provide an entirely new set free of charge or a full refund. The choice is yours.
Cost and Value
This is a nice package. We especially appreciated the quieter option with the cotton blended balls, and we are sure the people in the other room did too. The sturdy build and guarantee take it from a novelty to a worthy investment in our book. Yes, there are other options that are less money but we think you will find this one to be a great choice.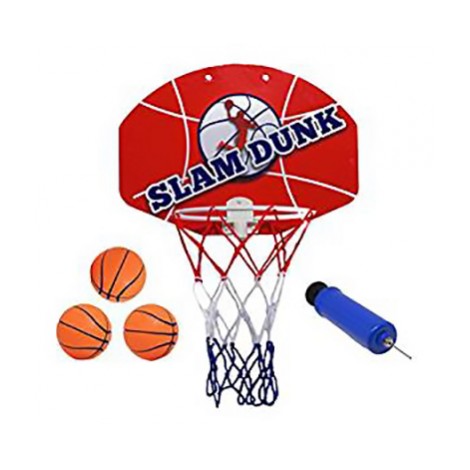 Last but not least on our list is the Kipi Toys Slam Dunk. Another mini hoop set meant to help everyone curb their need to run out and join a gym to get the experience of making that shot with nothing but net.
Hand-Eye coordination
We know it sounds odd but this game really can help with hand-eye coordination. We found with younger kids it can be hard to do things like this, they just lack the fine motor control. Playing this game can help them do it in such a way that they don't even realize they are learning something.
30 day Refund
We were pleasantly surprised to find that this was another company that offered this kind of thing. Vary often toy companies know that items are going to break so due to how they are made and the rough treatment they can get from kids. Kipi is willing to take the chance however ready to offer a full refund within 30 days.
Cost and Value
We found people to like this product overall. The three included balls allow for a fun rotation, in a game with adults or kids. The colorful design seemed to be popular with the children and the 30 return option is good for making mom and dad happy. At number ten on our list we count the Kipi Toys Slam Dunk as winner from any angle.

Subscribe to our Newsletter