Best Tennis Shoes Reviewed & Rated for Quality
In a Hurry? Editors choice: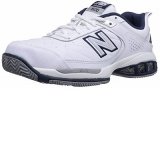 Test Winner: New Balance MC806

Whether you're a tennis fanatic who dreams of going pro, or if this is your equivalent of the batting cage, something to give you something to do to blow off steam after work, tennis is for everyone. And if you're going to play tennis, then you need a good pair of tennis shoes. Tennis is the kind of sport where you need the freedom to be able to make quick steps and basically hop from place to place, zipping all around the court. A pair of tennis shoes need to be spacious, but still snugly fit onto the foot, while providing the support you need to keep doing that for hours on end. And we're counting down the top 10 best tennis shoes today! So, we hope you came prepared to run because these are the top ten models in the market!
Standout Picks
Criteria Used for Evaluation
Versatility
Nothing beats the feel of a good pair of tennis shoes. So much so that a lot of people don't even wear them on the court. These kinds of shoes are so popular that they've become people's default brand of shoe, and it isn't hard to see why. They offer durability and stability, while also offering comfort and breathability. You can wear these things anywhere you want, as long as they're clean, and that's really the big draw to a pair of tennis shoes. Not only can you wear them to the game, but you can wear them to the bleachers where you sit to watch the game. You can take them jogging, or to work, or to school if you have to be in the spelling bee which involves a lot of standing up. The point is that, if what you're doing involves a lot of standing up or walking/running around, you need to bring your tennis shoes. And if you don't have a pair yet, any of the preceding ten will do you nicely. Each of them embodies all the different ways that a pair of tennis shoes can be awesome. So, pick a pair, go out and buy them, then start running.
Outsole
If you're getting into tennis for real, then you don't need us to tell you that it's a sport all about thinking on your feet and then moving twice that speed. You need to be able to move in one direction at top speed, then immediately shift gears into another direction, without losing steam even a little bit. And while a lot of this will come down to raw talent and skill, an equal measure of it will come down to whether or not you have an outsole that really clamps down on the dirt below your feet. And more than that, it'll be your outsoles that will stand between you and a sprained ankle or worse a sprained Achilles tendon. So more than anything, when judging the quality of a tennis shoe, we looked at the outsole and judged whether it could hold up to expectations.
One thing you can always expect from an outsole is for it to be hard and wide. It needs to be, after all, in order for it to properly get a grip on the ground. And then comes the tread pattern, which will determine the traction you gain when you step onto the field. In most instances, the pattern of the tread will be what's known as a herringbone pattern. This is because the herringbone pattern performs admirably well on pretty much every surface material used to make tennis courts.
Durability
This actually isn't in full reference to being damaged, but rather deterioration. Some parts of the tennis shoe deteriorate faster than other parts, and so the smart manufacturers will put more reinforcement on them than the other parts of the shoe. After all, they're going to last way longer, so why not focus your energies on the parts of the shoe that need it most? One such feature is toe guards, padding inserted into the toes of the shoes to both protect the toes when the shoe collides with something, as well as to prevent uneven wear on the shoe, which happens when players are constantly dragging their feet on the ground while running.
Midsole
The midsole is particularly important, as it is the part of the shoe that directly affects the stability, support, and cushioning that may just stand between you and total victory over the entire game. When judging the midsole and cushioning of your tennis shoe, you need to look for a few things:
Shock Absorption
This is when the force of the impact is directed away from your foot by the material that stands between it and the source of the impact. You'll most likely find the best shock absorption with EVA foam midsoles. It's lightweight, amazing at shock absorption, and is already used as default in most brands of athletic footwear.
Comfort
There are certain parts of your feet that may need more protection than others. In this case, there are plenty of tennis shoes out there that add protection to your feet. Most go for Asics' gel cushions since they're far better at cushioning the feet in a comfortable manner than other types of cushions.
Upper
The upper material of a tennis shoe is by far the one with the most plates to balance at once. It has to be supportive, flexible, durable, and breathe all at the same time. And if you can't find one that does all of that at the same time, then you need to find one that's at least competent in as many of them as you can. The point of these is to be durable, but still let your foot slide around while moving, but not so much that the bottom of your shoe ends up facing directly upwards. And they need to breathe since your feet are going to be sweating up a storm otherwise, what with all the physical stress you're going to be putting both yourself and your feet through.
BEST TENNIS SHOES REVIEWED & RATED FOR QUALITY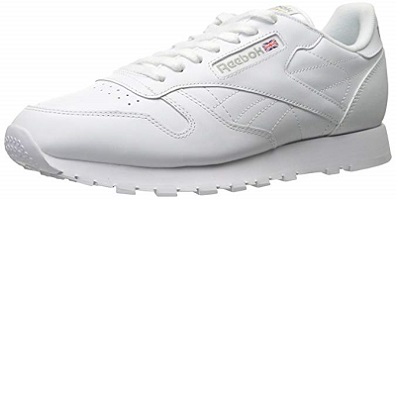 Starting off our list right, we have the Reebok Classic, an athletic shoe focused on giving the wearer as much comfort as possible while also giving improved durability. You wear this shoe to the court, or just on the street, and everyone will know you're a man or woman with style who has come to play for real. So, what does this shoe actually have going for it?
Superior shock absorption
Using a combination of an EVA midsole for extra cushioning, a padded foam sock liner, and a high abrasion rubber outsole, this shoe is the grandmaster of shock absorption. You'll glide across the field hitting the ball, not even noticing how long you've been doing this until you get hungry and realize that you've been keeping up this pace for 3 hours straight.
Durability
You obviously want to make sure that your shoe can actually stand up to physical scrutiny when you're out there on the field. Well, the great thing about the stuff we listed above is that it not only makes your shock absorption insane, but it also adds to the durability of the shoe. Add onto that a perforated leather upper, and you have a shoe that can take on even the most stressful tennis match
Cost and Value
Depending on the size you buy these shoes in, they can either be really affordable for shoes of this quality, or they can be some of the most expensive shoes you buy in your life.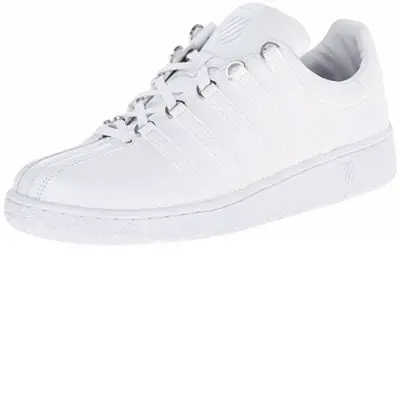 If you need the American dream reinvigorated for you, look no further than K-Swiss, a shoe company started a while back by two Swiss immigrant brothers. Years later they're now one of the biggest names in shoemaking. And their K-Swiss Classic is one of the best products they've ever put out.
Soft, comfy fit
There's nothing quite like slipping into a pair of shoes that fit just right and feel absolutely divine. Which is why these shoes are specially designed to be as comfy on the feet as humanly possible, giving you maximum breathing room while still being nice and snug on your feet with its comfortable interior.
D-ring lacing system
Ask anyone who has to deal with them every day, and they will tell you the same: shoelaces are some of the worst part of owning a shoe. Unless you have a very particular way of tying them, they will always come untied without fail. So fortunate, then, that this shoe comes with a D-ring lacing system, which is much easier to manage than an average shoelace system.
Cost and Value
The price range for this pair of shoes, depending on the price, is actually far more forgiving than the previous entry. While not cheap in larger sizes, it's certainly less expensive than the Reebok classic is asking of you.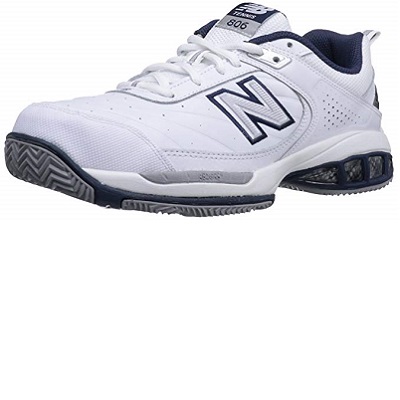 Coming in to finish our top 3 section, our #3 pick, the New Balance MC806. Just rolls off the tongue, doesn't it? Well, rest assured, the lack of flair is very deliberate. New Balance lives by a very simple credo: Don't make shoes to fit an image, make them fit. These shoes are utilitarian, no frills, no nothing, just good shoes doing good work.
Great midsole
The Ndurance rubber outsole of this shoe is excellent in its own right, but having an EVA foam C-CAP midsole added into the mix? That takes a good shoe straight into being a great one. Having a good midsole determines everything from how comfy the shoe actually is, to how fast you can go from standing still to running at top speed. So, having a good midsole is important for a sport that has you moving around as much as tennis does.
Rollbar
How and when you move your heel can decide so much about your movements. They can decide when and where you move and how fast you get there. Which is why you need your heels to stay locked still until the last possible second. Which is why this shoe has what's known as the rollbar system, a posting system placed at the back of the shoes, minimizing the movement of your heels, and maximizing control.
Cost and Value
The big downside to these shoes is the price. While not an unreasonable price range, and you are getting what you pay for, it's still a lot of money for a pair of shoes. Especially in larger sizes.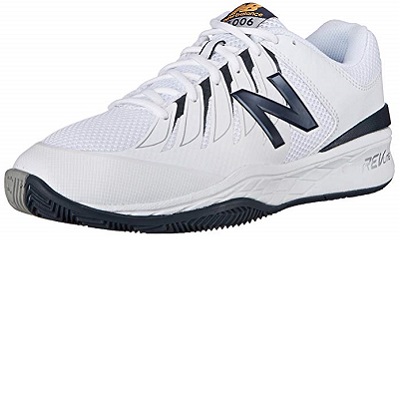 Staying with New Balance just a little bit longer, we have the New Balance MC1006v1. These shoes are for the tennis player who lives for intense, vigorous playtimes. Completely synthetic with a mesh upper, this pair of shoes is what you need when you need a pair that supports you but also breathes wonderfully.
Great breathing
All that mesh on the upper of the shoe is not just for show. It's there because the mesh lets more air into the shoe without weakening the overall structure of the shoe itself. This means that the shoe breathes fantastically, with the structure of the shoe left completely uncompromised.
Roomy nature
If you have big wide feet, then the roomy nature of these shoes will feel like a godsend. And not only that, but they're more comfortable and supporting than most other shoes even in the rest of the New Balance lineup. You can play for hours wearing these shoes, even if it's the most insane, intense string of games in your life, without feeling so much as an ache.
Cost and Value
Of course, with shoes this good, the drawback is going to be the price. Although in fairness, the price is reasonable, all things considered, and you are more than getting your money's worth.

5

. Asics Gel-Solution Speed 3


In our #5 slot, we have Asics Gel-Solution Speed 3. This performance oriented line of tennis shoes has been a regular favorite of athletes, both advanced and professional. And the Speed 3 has only served to increase the brand's popularity with the professional crowd. What is it that makes it so famous with such high prestige? Let's find out.
Gel Cushioning
You want the inside of your shoe to be as cushioned as possible, especially with shoes you're using to play foot heavy sports like tennis. Which is why the Speed 3's have special gel-cushioning inside the shoe that keeps your feet nice and cushioned, even when you're moving around at high speeds and your feet are hitting the ground hard several times a minute.
High abrasion rubber outsole
But it's one thing to keep the inside safe, what about the outside, the part actually hitting the pavement? For that, the Speed 3 has another solution; a high abrasion rubber outsole with a herringbone pattern for the tread to add some much-needed traction regardless of the court you're running on.
Cost and Value
Depending on the size of shoe you choose to go with, this shoe can either be pretty affordable for a shoe of this quality, or it can be one of the most expensive pairs of shoes on this list. But if you want professional grade equipment for your feet, then no price is too high for these shoes.

6

. Adidas Performance Barricade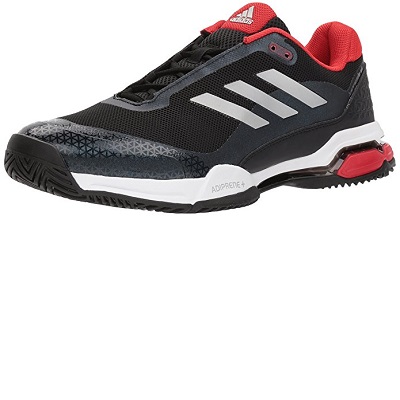 In our #6 spot, a classic among footwear; Adidas, today represented by the Adidas Performance Barricade. Adidas is already considered footwear royalty, but the Performance Barricade is considered royalty among its own brand. You'll see these shoes in some way shape or form wherever you go. Utterly performance driven and beat used for aggressive play, this shoe will help you through any hectic game of tennis.
Barricade mesh
So, where does the moniker Barricade come from? Why, from their patented barricade mesh, of course. This mesh may not do much for upper durability, but you'd be hard pressed to find a tennis shoe that breathes as well as this one does. It just feels so good to use these shoes. So as long as you don't let it get too damaged, you should be fine.
Forefoot and heel cushioning
There are plenty of tennis shoes that cushion the heel, but where's the love for the forefoot? That's the part that has the toes attached, and they need some support too. Fortunately, this shoe comes with what's known as Adiprene+ cushioning, which is located in both the heel and forefoot. Even on forceful landings, you'll find your foot feeling as good as ever.
Cost and Value
For a high-quality pair of Adidas tennis shoes, these come at a surprisingly average price. Not too cheap, but not too expensive either.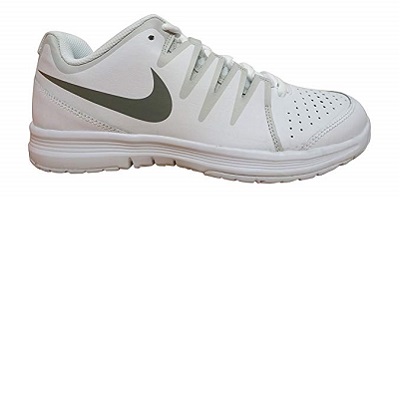 In our #7 spot, it's just not an article about shoes without a little Nike. In this case, we're showing off the Nike Vapor Court. This here is a shoe that was specially built for the lightweight player, the kind that prefers natural, smooth motion. This shoe, redesigned off of the blueprints of the Vapor 9 Tour, will provide a comfortable fit, and a lightweight, almost floaty feel to using it.
Split leather upper
The upper of this shoe is a split, perforated leather that lets your foot breath with the smoothness of a mesh upper, but without the dent in the shoe's durability that always comes as a tradeoff with those sorts of uppers. This makes the upper of this shoe very durable, while also making sure that your foot breathes as much as it needs to when you're out on the field.
Great midsole support
You can't get much better support than that offered by the midsole of this shoe. The midsole of this shoe has been specifically crafted according to the natural movement principles of the human foot, meaning that no matter where you move while wearing this shoe, you are guaranteed maximum support.
Cost and Value
Unlike other shoes on this list, this one actually has a firmly set price with most retailers you consult. And the asking price will typically be pretty affordable, all things considered.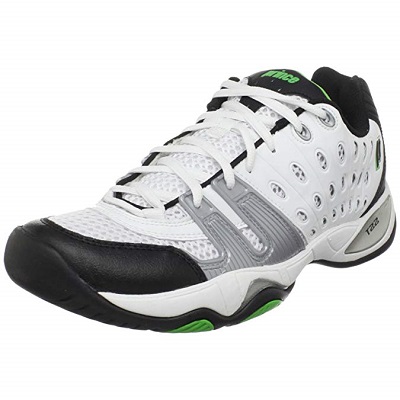 Kicking off our final 3 entries, we have the Prince T22 Tennis Shoe in the #8 spot. This pair of court shoes have been around for a while, and have garnered the kind of cult following typically reserved for terrible movies from the 1980's. Even if you've never heard of this kind of shoe, there is a very faithful following for them. So, what makes this following so loyal? Well, actually, genuine quality.
Wishbone shank
Not having good support for your wishbone in your foot can be the source of a lot of discomfort when walking in tennis shoes. Which is why this pair comes built with a wishbone shank that supports that part of your foot, thus ensuring midfoot stability.
Synthetic and mesh upper
The upper of this shoe is made of a mix of synthetic leather and mesh, meaning that it isn't just one of the other up there. So that means that the durability of your shoes upper basically remains the same, while still letting your foot naturally breathe.
Cost and Value
The best part about this pair of shoes is the price range, which is actually very reasonable for what's being offered. Especially considering the number of sizes you can get this shoe in, the fact that there's, if anything, a $10 difference at best with most retailers is really something.

9

. Asics Gel-Resolution 7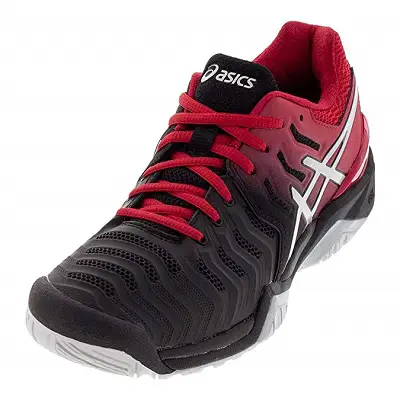 In our second to the last spot, we have the Asics Gel-Resolution 7. Standing as a successor to the already world famous Resolution 6, this shoe had some massive shoes to fill (pun shamelessly intended). Fortunately, as all the athletes who have since enthusiastically worn these shoes will tell you, it more than surpassed expectations.
Gender specific interior cushions
If there's anything that sets Asics apart from its peers is that they specifically mold their footwear to the gender of the person wearing it, so the distinction of a pair of shoes being "men's" or "women's" actually means something beyond pure arbitration. Add onto this a SOLYTE midsole which isn't just lighter than SpEVA or EVA midsoles, but remains just as supportive, putting it ahead of those two's competition.
Flexion fit upper
A lot of uppers work great, but depending on the shape of your foot, they can feel a bit cramped and not really work well for you. Which is why this pair has an upper made from flexion fit, which trades in breathability for flexibility. And while it doesn't breathe as much as it should, it makes up for it by being much easier to put on and use.
Cost and Value
This pair stands at a pretty reasonable, downright average price range, all things considered. It isn't the cheapest in the world, but for what it's giving you, you're actually walking away with a good deal when you buy a pair of these.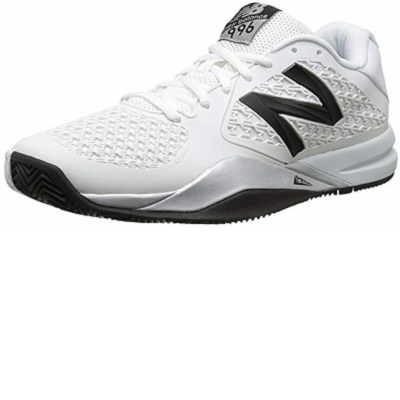 In our final entry, it's back to New Balance with the MC996 Lightweight. Updating shoes is always an uphill battle for a manufacturer, there are so many variables that could go wrong, and now you've just ruined what otherwise could've been an interesting line of shoes. Good thing then, that the MC996 didn't do that at all, and instead turned in another success for the company.
Softer feel
The main area that this shoe improved on from its predecessor is in the texture and feel of the shoe. Unlike the MC851, the MC996 contours to your feet with soft, flexible synthetic material, that doesn't blister your feet in the slightest over time. This is mostly due to how snugly the shoe fits onto your foot, preventing any sort of excessive rubbing that would otherwise cause your foot to start blistering.
Plenty of mesh
It may negatively impact the durability of the shoe, but you can't say this shoe doesn't breathe. Ventilation will never be a problem with this shoe, as the uppers have been covered in mesh, which itself is covered with a rubber cage, which gives your foot plenty of room to move around in. So not only do you have all the room in the world to move around in, but it breathes naturally as well.
Cost and Value
Once again, this excellent pair of shoes is priced rather reasonably for what's being offered, so if you like your tennis shoes soft, breathable, and don't mind it being a little less durable than others, then these are the tennis shoes for you.

Subscribe to our Newsletter