Best Water Purifiers Reviewed & Rated for Quality
In a Hurry? Editors choice: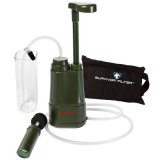 Test Winner: Survivor PRO

Water, water everywhere as the old saying goes, but not a drop to drink. It's not just about the desert anymore, these days it can be hard to fully trust the water coming out of your tap. And if you think it's going to get better, think again. We're in for some serious water woes in the future because there's less and less of the stuff to go around. And while we're not preppers here at GH, we're certainly like to be prepared for anything. that's why we're huge fans of water purifying systems, for your home, for the outdoors, just get one!. The main reason being: humans can go weeks without food, but only a few days without
water
. So when things really, truly go south, keep one of our water purifiers handy.
Standout Picks
Criteria Used for Evaluation
Portability
Most of our systems are going to be ones that you can take with you because we're outdoorsy that way. Also, when you're away from home and away from civilization access to clean water is likely to be your biggest problem if you get into trouble. So, we're looking for systems that travel easy and work well in all kinds of environments.
Ease of Use
We're looking for systems that can be ready to go quickly, the work easily and give great results. After all, as we see it, needing water isn't something you're going to be blase' about, it's going to be something that is suddenly a big, big problem. So we're looking for systems that not only travel easily but are user-friendly and give results without too much headache. The concern here is you get stuck with a complicated purifier, and one that doesn't work for the user. The final result could be water that's not really fit to drink. So when we started testing we leaned towards products that are simple, and effective, and fool-proof.
Effectiveness
Now you know you want your water purified - the next step is to choose how you want to achieve this in your home or workplace. There are complete purification systems that can be plumbed into your supply, so you have purified water on tap - however; this is expensive and may not be the best option for you.
Water purifiers are often used in conjunction with extra filtration systems in-home units and are usually available over the counter. They remove the unwanted chemical components found in water, and the purifier is exceptionally effective at reducing bacteria and viruses. Types can vary in a few ways - Countertop purifiers are quick and easy to fit and use, you place it where you want it and attach it to your tap. The water then travels through the tube and the filtration unit and is dispensed through a further faucet on the unit itself. These types depend on a water supply so are not recommended for traveling.
Another common type of purifier is a gravity type, these stand-alone units need no plumbing and can even work without a municipal supply of water. They work by using gravity to push the water through a purifier system that is capable of removing impurities, they are useful for purification purposes when you're out on trips and even in emergency situations where your municipal supply is problematic. A super-portable way to get your purified water when you're out and on the go is to get a purification bottle - these work well although they cannot clean larger capacities at any one time.
Also, there are also pitcher purifiers; these easy to use jugs clean the water through cartridges that work with granulated activated charcoal. They can be hindered because they need refilling, need time for the water to run through, and the cartridges may need frequent changing depending on your use.
Another excellent and easy type running along the same lines - is charcoal stick systems. These are reusable and can last for months, they are however not so practical for larger families, but the simplicity of their use makes them ideal for camping trips and other outdoor activities.
Product Purity
Though both distilled water and purified water are by far two of the purest on the market, they are both produced in different ways. Distilled water is achieved by boiling water, trapping the steam and then condensing it back into the water. Although it is generally thought of as suitable to use in your car, your clothes iron, etc.; it is just as pure as purified water. However, because the overall cost of distillation is high - the price of distilled water is often more expensive than purified water. Purified water goes through a process of filtration that serves to remove all the impurities and is less expensive to produce than distilled. The method can make it vastly more accessible to us all and in general terms - it is as good and pure as distilled water. Inherent in both distilled and purified water is the safety and health bonuses, because they are both free from bacteria and a lot of impurities that can cause illness.
The main differences between the two are primarily the first process water goes through to achieve pure status, and the cost to us - the buyers. The main reason for many of us looking for purer water to drink is the result of manufacturers' claims that this type of water is better for us than any we can get from a municipal supply. The tap water we drink is safe to drink and is regulated to ensure we are being provided with a good product that won't cause us any health problems. That is not to say of course, that we all like the water we get from this source, for some the taste is unpleasant. And occasionally there are slight variations in the water due to pipe problems, and possible contaminants from other outside sources.
Safety Hazards
One of our biggest concerns when it comes to purified water are the safety hazards that come with trying to drink water you find in the wild. Forget the parasites and water-borne illnesses that tend to exist out of doors, but sadly these days we're also worried about sewage and chemical contamination in every spot of water we find in the wild. For that reason, we're leaning towards purifier systems that are idiot-proof, and that also protects against a wide range of things biological and chemical that could get you sick or even kill you.
10 Best Water Purifiers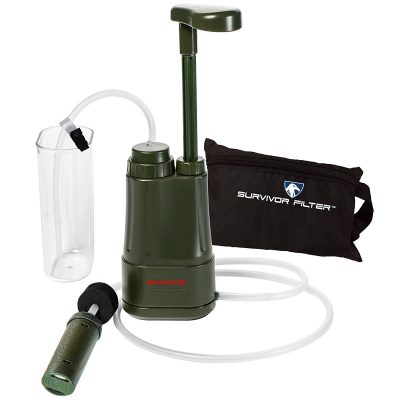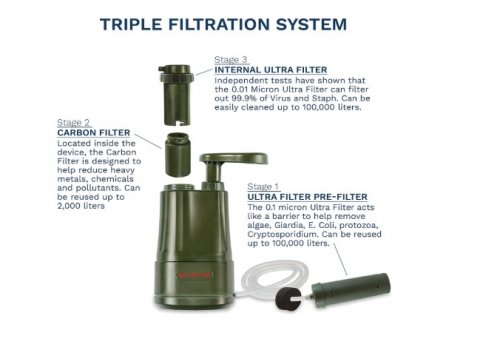 Believe it or not, the Survivor PRO is similar in size to the other Survivor outlined, while offering the ability to purify water for multiple people. At a flow rate of 17 ounces per minute, and a lifespan of 100,000 liters for pre-filters and 2,000 liters for the carbon cartridge, this works great for backpacking, group camping, etc. The PRO also boasts the ability to reduce heavy metals by 95%, in addition to viruses, staph, and bacteria.
0.01 Micron Filtration
This system is no joke, purifying down to 0.01 microns due to TWO UF Membrane filters and a carbon cartridge. The dirtiest of water comes out clear, tasty and safe to drink in a time-efficient manner.
Three Ways to Use
Either put the tube straight into the water source to drink, pump into the provided cup, or pump into any water bottle or hydration pack for portability.
Cost and Value
Compared to the other pump purifiers outlined, the Survivor PRO is on the low end for both price and weight, making it a good option for solo or group usage without breaking the bank.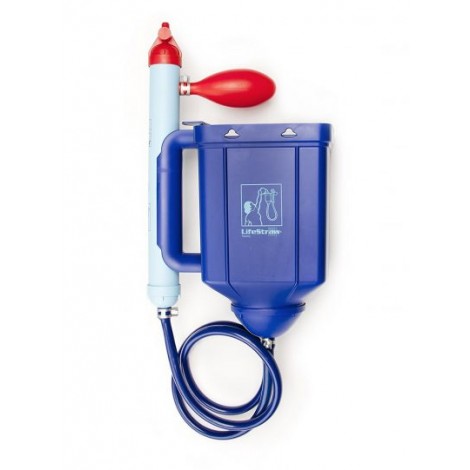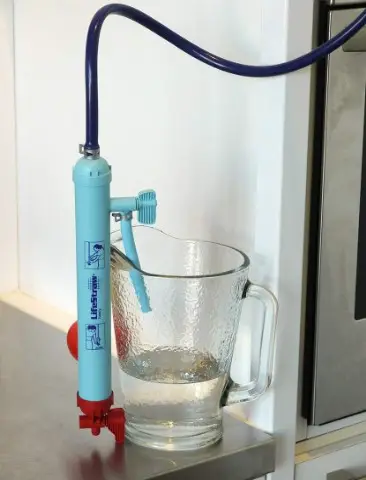 Lifestraw has gained a strong reputation in the water filtration business throughout the years. Unlike most popular single-user straw, the Family removes bacteria, protozoa, AND viruses, making it an all-star purification system for even the sketchiest water sources. This gravity system is great for group backpacking, long-term camping, or at home as an emergency backup.
4,750 Gallons
With a long-lived filter, the Lifestraw Family boasts the ability to serve a family of 4 for 3 years on just one cartridge. The included cartridges are also easy to remove and clean.
Removes up to 0.02 Microns
This surpasses the EPA standards for water purification, which is why this is a popular choice for families in third world countries or areas with contaminated water sources.
Cost and Value
For a gravity system, the Lifestraw Family surpasses the competition with being an affordable option for larger groups and long-term use, or as a lost-cost option to store in case of emergency.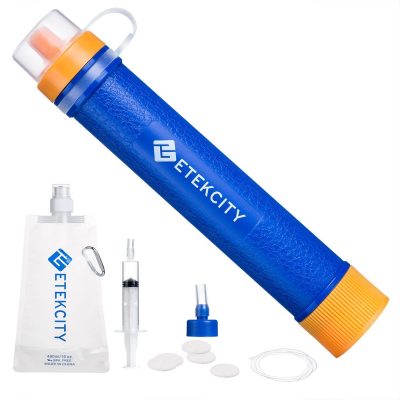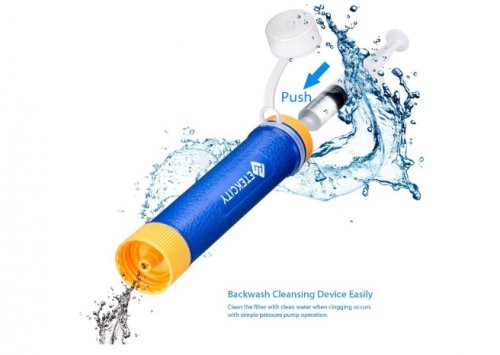 Etekcity makes the top ten due to its compact design being able to catch down to 0.1 microns, something most larger purifiers cannot claim. It can produce up to 1500 liters and come with a plunging system to backwash and clean. The flow rate may be too slow for producing large quantities at once, but this works good for solo hikers, day trips hunting or fishing, or in an emergency kit.
0.01 Micron Filtration
For the compact design of the Etekcity, the ability to remove 0.01 microns is amazing. While it will clog up faster the dirtier the water is, the filtration will give you peace of mind that you get only the best water in your mouth.
Many Accessories
In addition to the straw itself, included is a small bag for water storage, a hose for pumping out of the water source, a cleaning syringe, and a long straw for easier drinking.
Cost and Value
As the second cheapest option outlined, the Etekcity works best as a single-user survival purifier, or as a day-use water purifier to cut down on water weight in your pack.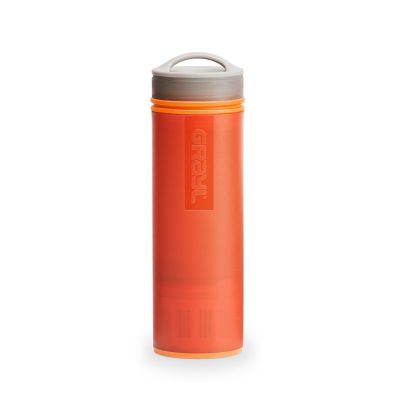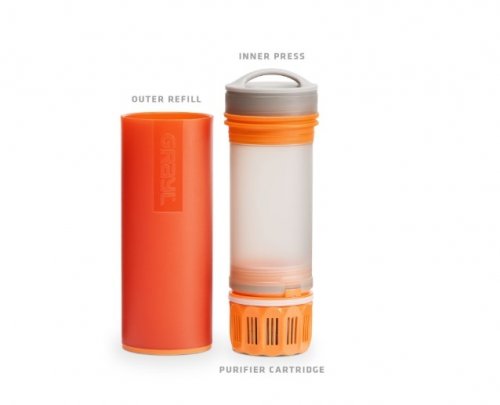 These days, people are looking for tools that serve a dual purpose to help save space. The Grayl purification system does just that. Hidden within a seemingly normal water bottle, the Grayl takes up no additional space. Perfect for hikers, hunters, and travelers alike, the purifier cartridges are good for about 40 gallons; that's enough to last a few months on average.
Three Purification Technologies
Two-layers of ceramic fiber to provide a strong base, a mesh filled with positively charged ions to magnetically attract impurities out of the water, and activated carbon to absorb gross tastes and heavy metals, leaving you with pure water.
Self-Contained
The big draw for the Grayl system is that your bottle can serve as your full purification system. There is no more searching around in your bag or carrying some extra in your pocket to get clean water. All you do is fill your cup and press the button.
Cost and Value
On the lower end of the price range, this purification water bottle is cheap enough to buy for the whole family or multiple for yourself. With a few different color schemes to choose from, the Grayl is a sure thing for clean, tasty water.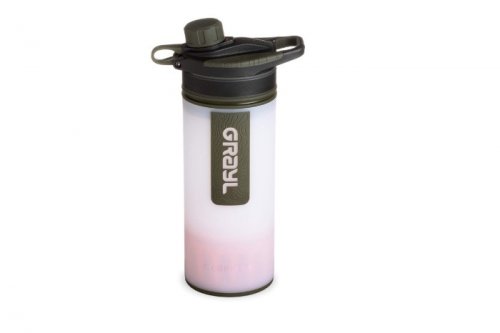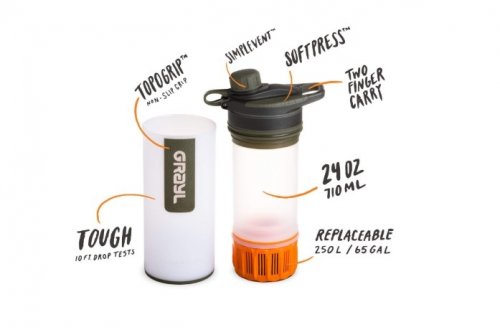 Whether you are camping, hunting, away from home or simply adventuring through unknown grounds, things happen and sometimes we get so caught up we forget about water. However, getting your hands on safe clean water isn't as easy as you might think, which is why considering a water filter is the way to go. The GRAYL Geopress enables you to take the sketchiest waters around and make it pure and clean once again.
Removes Pathogens
What many might not know is that water contains several pathogens in it, especially if you are using water from a natural source. To help you get the freshest water this water purifier helps completely remove any traces of bacteria, viruses, and protozoa to name a few. It's designed to give you clean water in seconds. Furthermore, it filters chemicals, heavy metals, and even plastic so your water is not only drinkable but it tastes better.
Works in seconds
As previously stated this water bottle works in seconds. With its capacity to purify 24oz of water in about 8 seconds without requiring any setup, pumps, straws or added items, this product is quite convenient. Particularly when you are traveling. It's one of the best items you can purchase if you hunt or fish often and want to have clear water on hand at any given moment. Using it is as simple as filling it up pressing the cap and drinking. You have everything you need right on hand.
Cost and Value
Before diving into the cost and value of this product its important to take note that this item is extremely convenient and comes prepared to be travel immediately. Furthermore, the cost is a bit on the higher end but the features are priceless so in theory, you aren't paying too much money. And in the long run, you will be saving quite a bit as there will no longer be the need to purchase water bottles.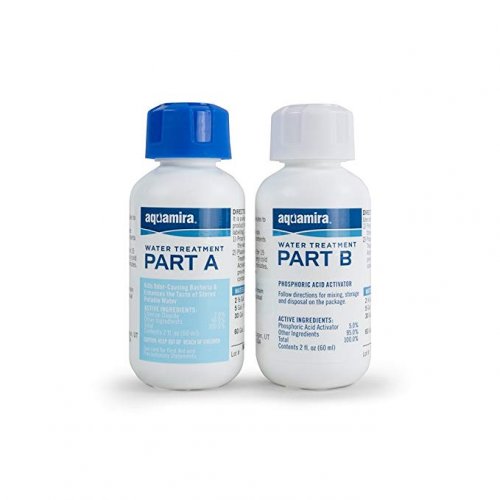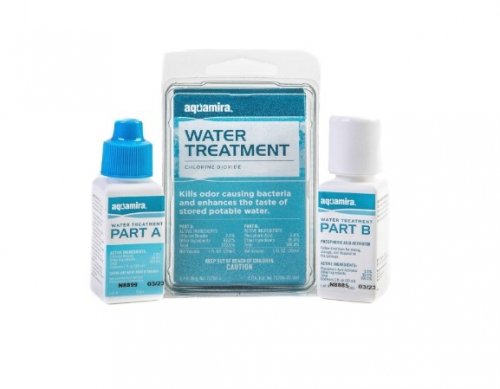 Aquamira has quickly moved up past its competitors to become one of the most trusted treatment drop systems on the market. Now, they have become a favorite among long-distance backpackers, international travelers, and those who want a backup system or complement to other filtration devices. While drops do not remove particles, these drops do neutralize odors and taste, and can hardly be counted as extra weight in your pack.
Four Year Shelf Life
This, in combination with the ability to purify up to 30 gallons per treatment kit, makes a great option for either a sole source of purification or as a backup system in case of failure with your purifying system.
Enhances Taste
While treatment drops do not remove particles in the water, the chlorine dioxide actually works to neutralize the tastes and odors of water.
Cost and Value
Aquamira ranks as Best Value while holding its own against other competing water treatment drops due to neutralizing bad taste, holding a long shelf life, and being more reliable than systems with many different parts.

7

. Steripen Adventurer Opti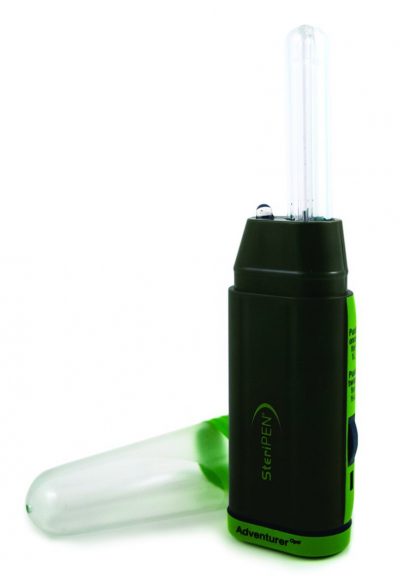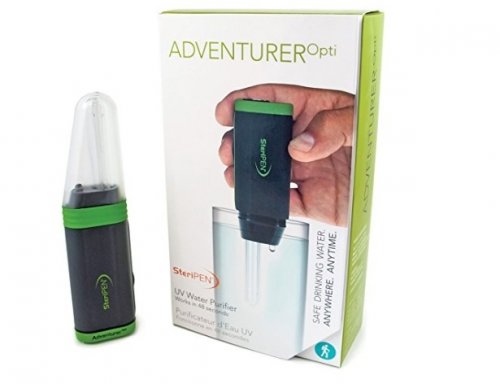 The Steripen Adventurer Opti has been created with the true adventurer in mind. Meant to be used with a wide-mouthed water bottle, UV technology kills everything in your water as you stir the stick around for 90 seconds. Using batteries you can get at almost any store, it requires very little maintenance to use and store. The LED light serves as both a "ready" indicator for your water and a flashlight. It also comes with a carry case that can be attached to your belt or outside your pack for easy reach.
Runs off of Batteries
This really comes down to personal preference. For those who would rather go to the store and purchase the proper batteries instead of ordering expensive replacements online and having to wait for them to arrive, this is a convenient alternative. You can use rechargeable batteries as well.
Kills Everything Fast
Unlike water treatment tablets, which can take hours to kill viruses, the Steripen kills everything within 90 seconds, giving less wait time between you and your water. The LED light informs you when your water is safe to drink.
Cost and Value
As the only competitive water purifier of its kind, Steripen has managed to keep costs low for this device. Many travelers have chosen Steripen for the simple setup and practically no maintenance.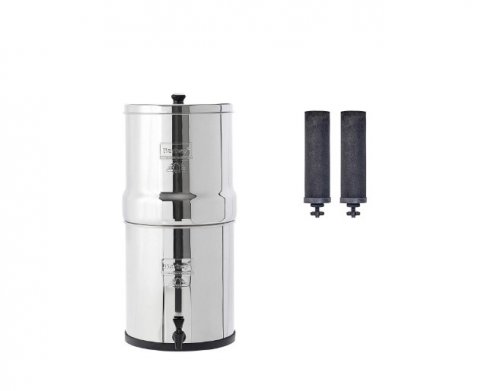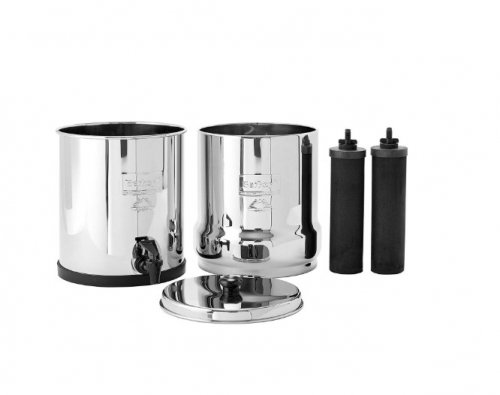 If you are looking for a water filter that is suitable for the entire family whether you are home, traveling, or even hiking, the Big Berkey Gravity-Fed Water Filter with 2 Black Berkey Purification Elements, should be considered an option. Measuring 19.25" inches tall and 8.5" inches in diameter, this portable system can filter water for up to 6 people daily without having the filter be changed constantly. Not only is this convenient but its money-saving as well.
Powerful
When you are seeking a purification system that will help bring water to your entire family, it is extremely important to note just how powerful it is. Though most systems will claim a lot, many will disappoint along the way, this one, on the other hand, does exactly what it promises. Featuring Black Berkey Purification Elements this product not only filters the better but it makes it better. With its ability to remove over 99.999% of viruses and more than 99.9999% of pathogenic bacteria, along with heavy metals, and any pharmaceutic drug that might be looming in your water.
Economical
As stated above, this product is not only useful but it will save you hundreds of money. Not only will you be drinking healthier, fresh, clean water but this product can filter over 6,000 gallons of water before needing any replacement. Having this saves you money as you no longer have to purchase other filters constantly, but you also don't have to buy water bottles either. It saves you money and ensures you feel healthier along the way.
Cost and Value
The cost and value of this product will depend on how big you need this water purifier to be. The larger it is the more expensive it will be. Furthermore, the size will ultimately depend on how many people will be using it regularly. Its a win-win for all while still be sleek and minimal.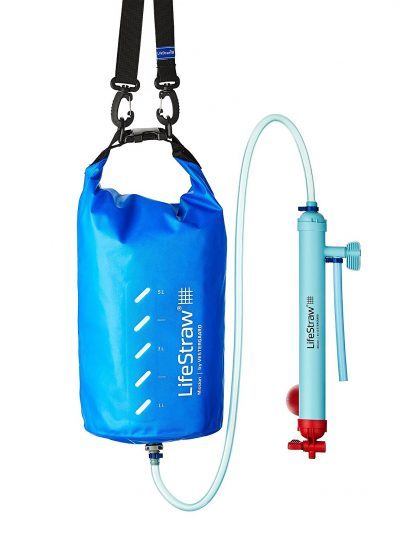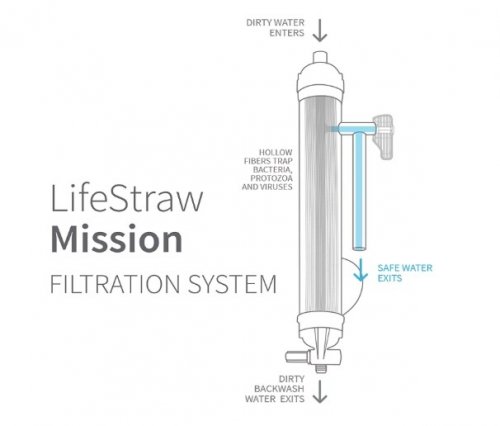 As the second Lifestraw product outlined, both being gravity-fed purifiers, the Mission is a flexible, durable plastic purifier coming in either a 5 or 12-liter size. Similar to the Lifestraw Family, the Mission removes down to 0.02 microns and lasts for 18,000 liters. Best for use at base camps and for emergency situations.
5 or 12 Liter Options
While this is probably too slow for on-the-go water fill, it is a good option to keep at base camp for large groups. A lifespan of 18,000 liters (4,755 gallons) is good enough to last for years.
Gravity Fed
Gravity-fed purification systems are a favorite among large groups due to the ability to fill up the bag, open the valve, and leave to do other camp chores while allowing the water to filter down into a clean container.
Cost and Value
While the Mission is more expensive than it's sister product, the Lifestraw Family, it has two different storage capacity sizes and packs down smaller for group backpacking trips. The additional price is worth it for those who want a compact gravity filter.

10

. Express Water Reverse Osmosis System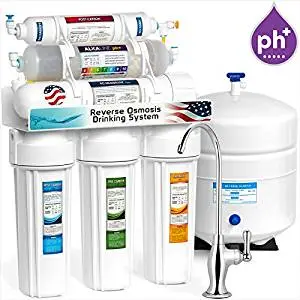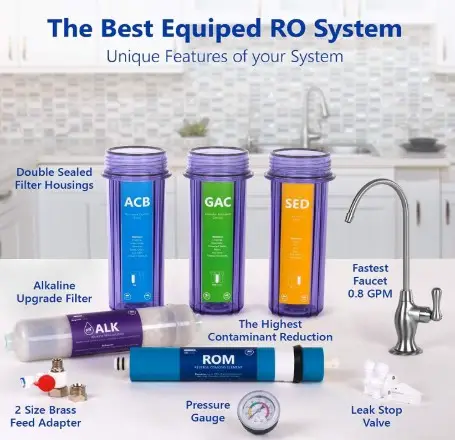 The Express Water Reverse Osmosis System produces great tasting water for a price that is about half of its competitors. This is a five-stage filtration system that effectively removes as much as 99 percent of contaminants.
Huge Capacity
The 50 gallons per day capacity is suitable for an average size family. Housing and connections are color coordinated which makes installation and replacing cartridges a snap. It has a flow rate of 0.8 gallons per minute. You can fill a spaghetti pot in no time. Flooding accidents are not a problem. A leak stopper is included. The Express Water Reverse Osmosis System has a five-stage cleaning process made up of an RO membrane and carbon cartridges. The components ensure the water has a Parts Per Million (PPM) of ten or below. Those are excellent results and assure the consumer the system is doing what an RO system is meant to do, purify and clean water.
Reserve Osmosis Filtration
Reverse osmosis works by the water pressure in the plumbing system. No electricity is involved. The entire system and storage tank installation is under the sink. Water goes through a three-prefilter series before it is forced through the reverse osmosis membrane. Clean water molecules are allowed to pass through the system while it blocks contaminants and sends them down the drain. cleaned water goes into the storage tank until the faucet is turned on.
Cost and Value
The RO system is affordable and receives high ratings from consumers who have purchased the system. An extra set of cartridges come with the package. That aspect is value for the money. It is a unique selling point. The device gets a nod of approval because of the customer service provided. Special requests and installation advice are offered. Express Water is an extremely valuable reverse osmosis system for the price.

Subscribe to our Newsletter