Best Emergency Blankets Reviewed and Rated for Quality
In a Hurry? Editors choice: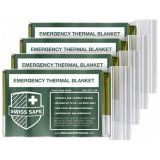 Test Winner: Swiss Safe

Preparing for any sort of emergency or natural disaster is important. Not only will it help in the event of that emergency or natural disaster, but it will also give you and your family some peace of mind whenever there's talk of
natural disasters
. Creating a preparedness kit is a necessary part of a survival strategy. And at the center of that kit? Emergency blankets. Emergency blankets are perfect for saving you in the event of being stuck without shelter. They're designed to keep your body heat in and the moisture out. Rain, sleet, hail, and snow are no match for a good emergency blanket. They also can keep the heat out, making it essential when stuck on a hot desert island.
Emergency
blankets are perfect protectors, and it's a good idea to keep a stack of them in your car. Some people even have their
kids
carry one around in their backpack, just in case of emergencies.
Standout Picks
Criteria Used for Evaluation
Durability
Durability is one of the biggest things we have to look at when it comes to emergency blankets. Not only is this a product that could help save a life, it also has to be able to hold up to extreme conditions. Durability in an emergency blanket is incredibly important. The more a blanket can hold up to rips and tears the better suited it is for life in an emergency pack.
You need to be able to rely on your emergency blanket in a time of extreme need. An emergency blanket isn't going to keep you from anything if it's not a good one. Emergency blankets with holes in them are also not incredibly effective, as the blanket itself isn't going to be able to do its job. Emergency blankets are meant to protect from the elements, as well as providing the desired effect on heat; whether it's to keep it in or to keep it out. A blanket full of tears and holes is as good as ice in a snowstorm!
The more durable the blanket is, the more you can rest assured that it can be used effectively for a variety of uses. Weak blankets aren't able to act as protective covers or ground covers, as they pierce and tear too easily. Strong blankets will stand up to anything you ask them too. While the sheets might be the thing, they really are meant to be versatile and durable. That's the key to survival!
Value
We're not suggesting that cheap emergency blankets are better than more expensive emergency blankets; it just so happens that most of these emergency blanket packs are labeled with a low price. This price isn't at all a reflection on the quality of the product. Emergency blankets are just cheap things to make. While there's certainly a difference in the kinds you can buy, on the whole the materials are comparable to one another. We want to show everyone that a big price tag shouldn't deter you from putting together an emergency kit. With the low prices of these blankets, anyone can afford to set up the beginnings of an emergency pack.  
Due to comparable materials, there's not a huge discrepancy in price. We believe that these emergency blankets are the most reasonably priced options out there, and will still be of an incredibly high quality. When it comes to emergency materials, we don't want to skip out on any important steps in processing. This means that every emergency blanket is going to have about the similar amount of work put into it as another emergency blanket. This means the price is going to be comparable between brands.
When we get right down to it, price isn't a great indicator of whether an emergency blanket is good or not. The price is simply the amount that you wish to spend on a pack. Some come with 4 blankets, while some come with 10. Some are single-use blankets and some can withstand a little more usage. The differences are slight, but they're certainly there. We want to show everyone that price should be a non-issue when it comes to emergency preparedness.
10 Best Emergency Blankets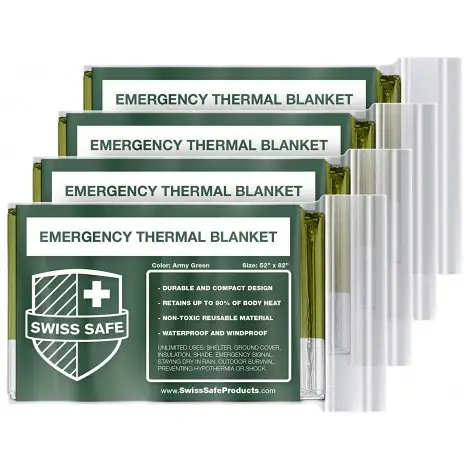 The Swiss Safe brand emergency blankets are about as perfect as we can get. Not only do they have everything one would want in an emergency blanket, but they also come in a 4 pack (with a bonus blanket as well). These are designed to be slim and small, perfect for sliding into a hiking pack and taking with you on the road. If you're ever worried about going hiking alone, bringing one of these with you might give you a little more peace of mind. They also might save you in the event of an emergency.
Bonus Blanket
You knew that was going to be our first choice, didn't you? Getting bonus anything with a product always feels good. It also often makes us more inclined to choose that product over another one. We love the gold bonus blanket that comes with this product simply because it feels nice to get something for free. Plus, imagine finishing a marathon and wrapping yourself up in a golden blanket. Nothing could feel more special!
Tear Resistance
Durability is a must in the world of emergency blankets, but it's an aspect that can get overlooked when all we're focused on is saving money. Tear resistance (which this blanket has) means the blanket is made of a durable material. This material might vary, but the aluminized mylar used in this product is certainly a top of the line choice. While it is possible to cut up these blankets, tearing them on a branch, rock, or cliff face is much, much harder. That's exactly what we need in an emergency blanket.
Cost and Value
There's no better value than this set of emergency blankets. Not only do they have 4 in a pack, but they also come with a bonus gold foil blanket too. While this might not seem like a big deal, the money it costs is well worth the amount you're getting. While there certainly are some cheaper packs out there, the quality of this material is unparalleled. We definitely recommend grabbing this set today.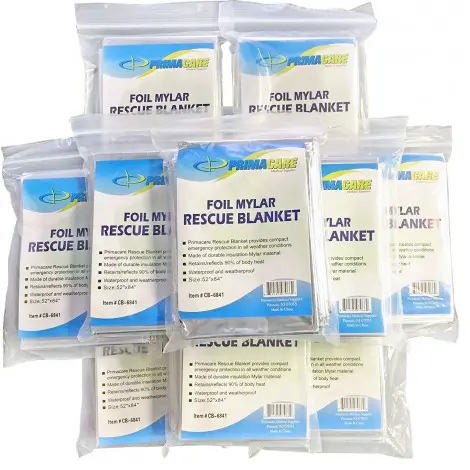 Sliding into the second spot on this list is Primacare's Emergency Foil Mylar Thermal Blanket. Why is it in number 2? Honestly, it's not a comment on the manufacturing. The only reason it didn't come in first place is because these blankets are ever so slightly smaller. They do come in a 10 pack, which is great for those accident-prone folks who go hiking. Or, you know, for your family's emergency kit. Either way, the amount of emergency blankets can't be beat.
Many Blankets
We mentioned it in the opening paragraph how this product comes with 10 emergency blankets. That wasn't any sort of exaggeration. This product actually comes with 10 blankets. This is huge in the world of emergency preparedness. Having more than you need is a good thing, especially when it comes to emergency blankets. Who knows when you'll need to take in the neighbor's family during an emergency?
Compact Packaging
It should go without saying that the emergency blankets are packed in a compact way, but we need to mention it as a positive anyway. Oftentimes the way that these blankets are packed is in a rip-open-and-use package. It's essentially foil wrapped in foil. These blankets come in a ziplock package, which could even be reused. While you'll have a heck of a time trying to cram the blanket back into the packaging, it could be done. Steady hands and patience could be the difference between a one-use blanket and keeping yourself warm for many nights in a row.
Cost and Value
This is one of the cheaper options on this list, especially for the amount of emergency blankets you get. Ten is nothing to scoff at, and at the price they're listed at, that makes them less than a cup of coffee per blanket. While we couldn't find much regarding the longevity or material quality on this brand of blankets, we certainly like the packaging of them (and are willing to bet that the quality is as good as any other emergency blanket on this list).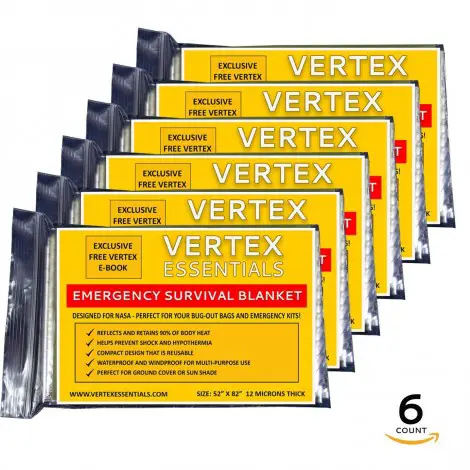 We've come to the last option on our list, which might just be the most all-around standard choice. This emergency blanket package is a great purchase for those looking to start their own emergency kit or backpacking survival package. The blankets themselves are average; they're an average size, they have an average weight, and they're about averagely priced too. While there's nothing outstanding about these blankets, that's arguably a good thing when it comes to an emergency situation. You don't want to be fussing with some weird packaging or "innovative design" when what you really need is a life-saving emergency blanket.
Easy Access
The basics might be better in this case, which is true when thinking of survival gear in general. Getting overburdened with a huge amount of stuff isn't a great start to any sort of hike or adventure. Carrying exactly what you need (while still being prepared for the extremes) is the best way to adventure. These blankets are totally easy access. All you need to do is rip open the package and pull it out; it's dead simple, even with a broken arm.
Free E-Book
We couldn't find much information on Titan's free ebooks, which had us disappointed. Luckily these Vertex blankets also came with a free ebook, and featured a little write up. If you're someone who's thinking about using emergency blankets in a plethora of ways other than as a blanket, you need to pick up this free book. The description is essentially talking about how the book is a how to guide of all the different uses for your emergency blanket. Brainstorming might be fun, but knowing how to best utilize your blanket is even better. This book is a great compliment to the 6 pack of blankets, and probably our biggest reason for including it on this list.
Cost and Value
The price of this pack is lower than average and includes extras that even more expensive packs don't include. We think Vertex Essentials is a great brand, and we would be proud to own something manufactured by them. The choice is clear when it comes to survival gear: this 6 pack of blankets is easy to use, no-frills survival stuff, and won't put you out much moolah at all.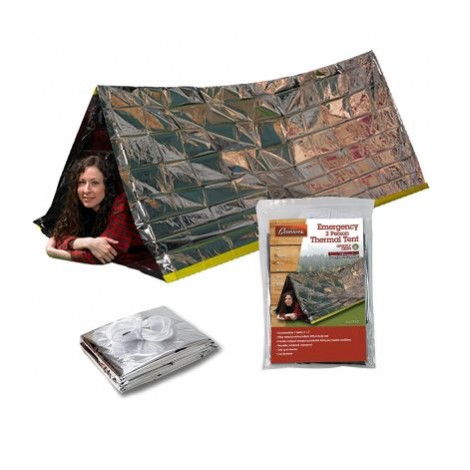 We admit, this isn't a blanket, but it's the same sort of idea. The materials that this tent is made of is almost identical to the materials that the emergency blankets themselves are made out of. Grizzly Gear really put a twist on the classic by turning this into a tent, though. Blanket forts get a whole new meaning with this product. The protective aspect of this tent is huge, and it's a must-have if you and your partner are planning a camping trip anytime soon.
Two Person
Emergency blankets might typically be quite big, but they're almost never big enough to cover two people. This tent was specifically crafted to handle more than one person, though. This makes it much more effective at keeping in both of your body heats. Throw a sleeping bag in there and you two will be toasty warm all night long.
It's a tent
Yes, this is an obvious one. You know it's a tent, we know it's a tent, it says tent on the package. It's still a huge benefit though, which most people probably don't realize. Emergency blankets are so versatile that people have used them for all different purposes, from covering windows to MacGyver-ing rain gear. One of the more common uses of an emergency blanket is actually turning it into a tent, or putting it over a tent to protect from rain. Now you don't need to worry about tearing the blanket when trying to turn it into an emergency shelter for the night. It's pre-made into a tent, which means you just have to put it up.
Cost and Value
This product might seem expensive compared to some of the other emergency blankets on this list, but we guarantee that it's actually not as bad as you might be thinking. The product itself is actually meant for two people, and could be the difference between no shelter and staying safe in a snowstorm. The bigger the emergency blanket, the more willing we are to spend some proper money on it.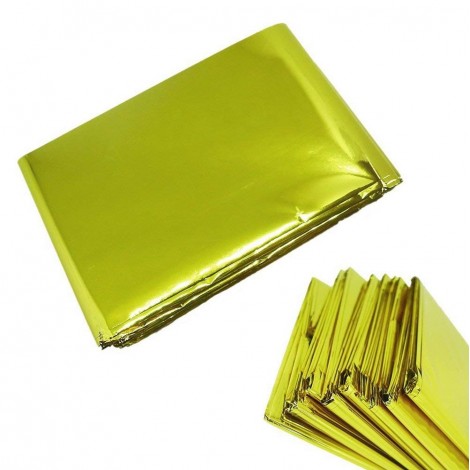 NYKKOLA has raised the bar with these emergency blankets. The title calls it an "essential" for many outdoor activities, and we're inclined to agree. Emergency blankets have a lot of uses and are handy to keep around. When the packaging is as cute as this brand's, emergency situations are almost… Fun. Okay, maybe not. But the bright gold color does make it easy to find in a backpack, purse, or car trunk.
Bright
We discussed high visibility orange in one of our other product write-ups, but this gold is a different kind of visibility. You need to be able to find the emergency blanket right away when you're scrambling in an emergency situation. Now you can find the blanket easily by looking for the one bright gold thing that'll be in your bag.
Might Keep Your Food Fresh
Believe it or not, these blankets might just help to keep your food fresh. When reading through the reviews one person said that they used these blankets to wrap up and store some fruit, nuts, avocados, and tomatoes. According to this the reviewer, all the food was still good a week later, even after sitting in a hot car for days! While we won't be trying this ourselves, it's a good and creative usage to note.
Cost and Value
This price is about average, though we know of a couple bundles that are cheaper. When you're looking for bang for your buck, emergency blankets are the kind of thing that comes to mind. Oftentimes we're able to get many of them for a cheap price, not worrying about the quality. This specific brand of blankets is a little more expensive than some of the others on this list, just because it's only a four pack. Some of the 10 packs are cheaper. However, the gold color is a nice touch, and the quality is just as good as all the others. Ultimately, the choice is up to you.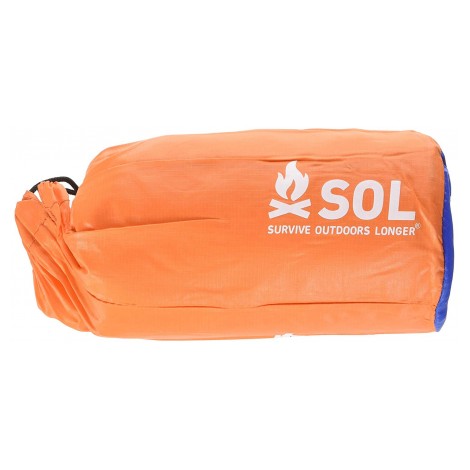 This is a slightly different kind of emergency blanket, but we had to put it on the list. It's unique, but also incredibly useful. Sometimes unique products are more of a niche item than an actually useful one, but that's not the case with this little emergency blanket bag. The product itself is big enough for two people, and could even be repacked with enough patience. If anyone is looking for a partner blanket, this is far and away the best option out there.
Sealed Seams
If you're trying to stay warm in the middle of a snowstorm, the last thing you want is ice creeping in. An open blanket is great for one person to huddle in, but it can be less effective when there's two bodies trying to stay warm. The sealed seams on this blanket make it possible for two people to cuddle inside without any worries of cracks, gaps, or wetness sneaking in.
Repackable
Yes, this blanket can be repacked. The bag it comes in is slightly larger than other emergency blanket sizes, but the re-usability of it is great. The drawstring closure makes for easy opening and closing, while the waterproof cover (on this waterproof cover) makes is possible to attach it on the outside of your hiking pack for easy reach. If you and your partner get stuck for multiple nights in a row, this is the blanket you need. Carefully fold it back up as small as you can get it and squeeze it back into the drawstring bag. The polyethylene material is less easily ripped than mylar, making it possible to stuff and re-stuff at least a couple times.
Cost and Value
This might just be the most expensive item we have on this list, and for good reason. The re-usability of this bivvy is a huge benefit, as well as the fact that it's built for two people. This is a great option for those that like to hike in inclement weather, as well as for couples who go on road trips often. If we were measuring in Starbucks drinks, it's only a little more than the cost of two large fancy frappuccinos. You can skip two frappuccinos in order to stay same, can't you?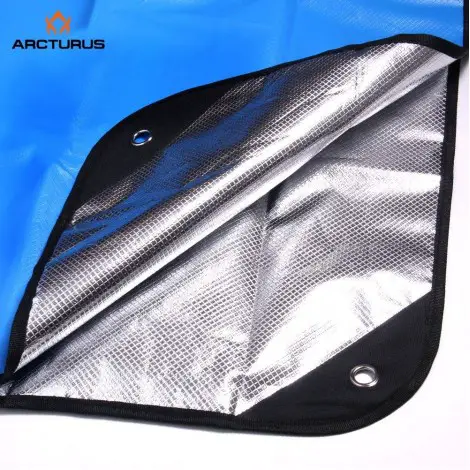 Maybe we spoke too soon when we mentioned how the last product is one of the most expensive ones on the list. This blanket tips the scale just a little higher, but when we start going into the details of this thing you'll see that it's well worth it. "All purpose" is really a true statement in this case, as the blanket itself is able to be used in all sorts of weather conditions. Plus, the blanket comes in three different colors, making it easy to differentiate between the kids' blankets and yours.
Re-usable
One of the biggest annoyances about emergency blankets is how they're typically a one-use-only product. Buying 10 seems like more than enough until you realize that that could only be ten nights worth. The ones that are made of polyethylene sound a little more durable, but even those are hard to repack and save for the next night. Cue Arcturus's all-weather survival blanket. This is a fully reusable blanket that isn't mylar or polyethylene. It's made of nylon and aluminum, making it just as effective against cold, heat, and rain, but able to be used time and time again.
Versatile Size
While some emergency blankets are too small and some are too large, this emergency blanket is just right. At a 5'7" size, this blanket is the perfect average. It's able to be used as a ground cover to keep the coldness of the dirt at bay, as well as a reflective surface on the outside of your tent to keep the summer's morning heat out. The size is also effective as a blanket for those more average-sized people. All in all, the blanket is very versatile.
Cost and Value
So it's not as cheap as the other blankets on this list; so what? You're getting something with this blanket that no other blankets feature: re-usability. Being able to reuse this blanket is a huge benefit any environmentally-conscious hiker will mention. While this blanket won't be the best for post-marathon recovery, it is great for extreme weather conditions. Waterproof, durable, and reusable… We definitely would call it worth the cost.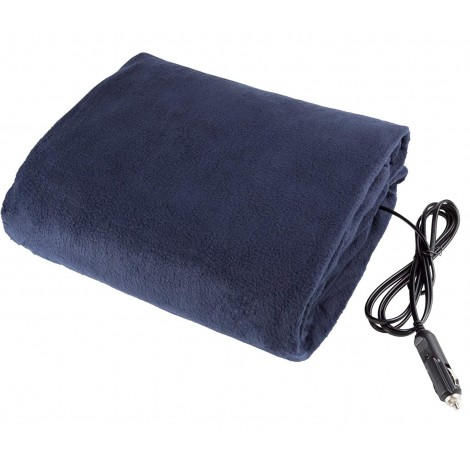 Remember that fake situation we talked about in the intro? That beginning-of-a-horror-movie style story where you and your family are trapped on the side of a highway? This is the perfect blanket for dealing with that scenario. Sure, regular emergency blankets are fine, and great to have tucked into the glove compartment. This electric car blanket, however, is the toasty option that we know you'll want to have on those long trips through the mountains.
Electric
This blanket is a little different from the other emergency blankets on this list due to the fact that it's actually more of an electric blanket. The blanket plugs into the car's cigarette lighter with its long cord, making it instantly accessible to anyone in the front seat or back. Passengers, drivers, or sleepy kids will love how quickly this blanket warms up.
Cozy
It's definitely a real positive, and we're going to treat it as such. The coziness of the blanket is a wonderful benefit. While it might not be the most emergency oriented blanket, it will definitely help make any nights spent on the side of the highway a little better. The polyester is easy to spot clean as well, though we don't recommend throwing it into the washer.
Cost and Value
This blanket is about the same cost as the last emergency blanket we looked at, making it a reasonably priced addition to your car's emergency kit. While it's not going to help you when you're out camping, it will help in a car-related emergency. It's also going to make those long winter rides a little nicer, as the blanket can easily be plugged in and curled up with in the middle of a drive. While it's not the most versatile product, we believe that it does sound like it will help in the event of an emergency.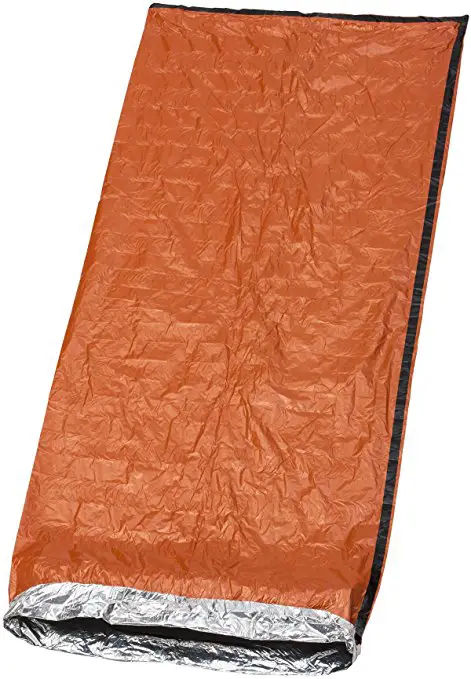 Unlike the first emergency blankets we put on our list, this product is an individually-sold. Some emergency blankets come in multipacks, but this product from S.O.L is perfect for those of us who are looking for something a little more… Lonely. This is a heavy duty blanket designed for someone who's really rough and tumble in their adventuring.
It's Not Mylar
We know what you're thinking: "If it's not mylar, what the heck is it?" That's a great question. The product description lists it as being "a vacuum-metalized polyethylene heatsheet". If anyone knows a layman's term for that, please tell us. Our basic understanding is that whatever it's made out of, it doesn't rip or tear like mylar does. Mylar has a tendency to puncture easily, which is why so many emergency blankets are listed as single use. This blanket is a little more durable and is easily able to hold up to more vigorous situations
Bright Orange
High visibility is a priority in an emergency. If you're lost under some rubble or tree branches, the last thing you want is a grey or camouflage colored emergency blanket. You want something that's going to scream "look, paramedics, here I am". Orange is the color that will do just that. Everyone knows that orange is one of the most highly visible colors. Crossing guards wear it, construction workers wear it, and sometimes cyclists wear it. Anyone who needs to announce that they need to be seen can be found wearing it. It just makes sense that S.O.L. decided to use this color on their blanket.
Cost and Value
The cost of one Starbucks beverage is all it takes to be able to add this incredibly durable emergency blanket into your survival kit. While many people don't understand why this blanket is so expensive, we can assure you that it's justified. If you don't do a whole lot of rough-and-tumble hiking or adventuring, you're probably better off purchasing emergency blankets based on quantity rather than quality. If you're looking for something sturdy, this is the blanket for you.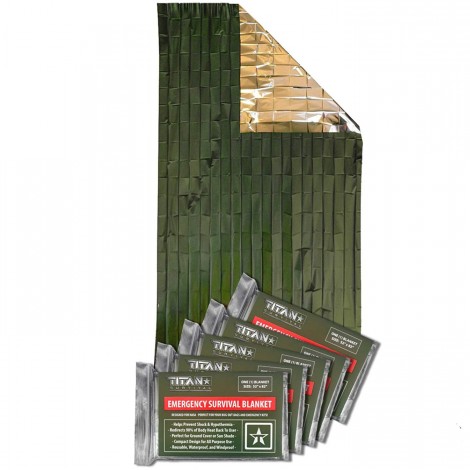 TITAN is one of the biggest and best names in outdoor survival tech. They've got a plethora of products that hold up well in emergency situations, including these survival blankets. While they might have been designed for NASA, there's no reason we can't use them too. In fact, they might just help us stay safe when the going gets too rough.
The Guarantee
While they can't guarantee your personal, individual safety on a hike or a run (unfortunately that's still up to us as autonomous people), they can offer you a lifetime guarantee as a type of warranty on this product. If you're not happy with the product, or you don't feel it's doing the job it promises to do, they're adamant that you can let them know you're unhappy. Their product description says that their policy is to refund you, no questions asked, which can make a bad situation turn around fast. We think that that's some great customer service, and love to support a company that embraces that.
Two Sides
Like most emergency blankets, this one has a two sides to it. One side is reflective, while the other side is a color. Their products feature both bright colors and camouflage colors, depending on what purposes you're using these blankets for. The reflective side is incredibly bright, ensuring that it's keeping your body heat in (and any unwanted cold air out).
Cost and Value
Yes, this is a 5 pack of individually wrapped blankets. The fact that we get more than one blanket is great. Is it worth the amount of money they're selling it for, though? Depends. If you really want those free ebooks (which we actually couldn't find any descriptions of) you're probably off spending a little less and picking up a bigger package. Really, you're paying for the warranty with this product. Is it the best value for the cost? Not exactly. But is it worth it? We'll leave that up to you.

Subscribe to our Newsletter