Best Vitamins For Kids Reviewed & Rated for Quality
In a
Hurry? Editors choice: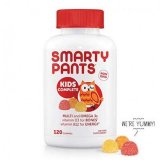 Test Winner: SmartyPants

Everyone knows about vitamins, but how much they know can depend. We've all seen various commercials on different platforms that
promote body health
through the use of vitamins. But, how many of us have actually taken that into consideration and made sure that they and their children are getting the necessary vitamins daily?
As parents, there's no doubt that you're looking to do the best and find the best products that are safe for your child. You, undoubtedly, are also looking for the easiest way to get your child vitamins without them pitching a fit.
So, we've compiled a list of the best kids vitamins to ensure that your child is getting the best nutrients and vitamins possible. Keep on reading for our top ten vitamins for kids and a buying guide to follow.
Standout Picks
Criteria Used for Evaluation
Brand
Many might argue that you should only use bigger, well-known brands for vitamins. Though true, there are a lot of smaller companies that make great vitamins. Some of those are even better than their bigger company counterparts. However, the big detail to notice and pick out are the reviews left by other buyers.
If the product is from a larger company, but still has a very low rating or a bad rating ratio, then it won't be something that you want to spend your hard-earned money on. Plus, you don't want your child to have vitamins that either don't do anything or are bad for them.
Learn from others mistakes. The comment and review sections can give great insight into how a product is perceived by the target market. So, we'd place the reviews and comments with more importance than just the brand name itself.
Effectiveness
Vitamins are often packaged and marketed as 'chalky chewables' or 'juicy gummies', therefore instilling the idea that supplements and multivitamins are just for you to enjoy. It can be hard to reimagine them as something that is very potent and should only be used as it is directed. It is also preferable that the use is with the guidance of a healthcare professional.
In order for the vitamins to be effective for your child, they should avoid the following three major supplement pitfalls.
Stacked Supplements
Candy-Like Commercialized Products
Excessive Fat-Soluble Vitamins
Stacked Supplements
The absolute worst vitamin that you can give to your child is one that they don't need and/or one that they are already taking. If you are self-educating about vitamins for your child and learning about nutrients that your child might need due to certain concerns, be aware that you don't need to overload your child with vitamins.
By simply remembering that fortified foods can also act as supplements, you can adjust the sources of vitamin intake. Before adding an additional intake with high levels of nutrients, you should consider carefully about your child's current diet and intake.
It is advised that young children should not be taking high levels of zinc and Vitamin A. Thus, before choosing a supplement or vitamin, it's important to know what your child needs and what they are already getting. Knowing that information, you should look for the food-based, high-quality versions and avoid any unwanted additives and overuse.
Candy-Like Commercialized Products
This, by no means, does it mean that you should only find obscure manufacturers. In fact, it's actually recommended that you aim to be familiar with the manufacturer of your choosing. This makes it easier to know their quality and trustworthiness as a company. If they are marketing a vitamin as a 'candy' of some sorts, then it's probably not even worth having or buying.
You should endeavor to check through the ingredients label vigorously for any artificial sweeteners, dyes, synthetic ingredients, and additives. Though it makes sense to have a vitamin that tastes good and is easy for your child to swallow, nutrients do not pair well with potentially dangerous and unnecessary additives.
Children learn from a young age that nutrients come from food. They know that the plant kingdom and science provide remedies, medicine, and abilities to protect our wellness and health. They know how strong these can be, therefore they should be treated with respect.
Excessive Fat-Soluble Vitamins
Fat-soluble vitamins are those that are processed and then they are stored in your body. Where other nutrients, minerals, and vitamins typically circulate your blood and then they are either eliminated or utilized, fat-soluble vitamins stick around for a while.
As the body is all about balance, there is a maximum limit for vitamins. With supplements not being our only source, it can be hard to keep track of all the nutrients you're taking. Many foods, especially those that are fortified with extra nutrients, give us plenty of nutrients and vitamins.
Portability
Many, if not all, vitamins come in portable packages, including the gummies, drops, and dissolvable ones. So, regardless of the type that you pick, it won't be hard for you to travel with. The amount varies from brand to brand. Some have fifty gummies while others have 120 gummies.
We mentioned the price per serving in a number of the product reviews above, so keep that in mind when looking for the ideal product. The lower the price per serving, the better the deal you'll be getting. Aside from the products listed above, you should be careful with products that are listed 'too' low, because it might speak for the quality inside as well.
Product Purity
It's of the utmost importance to find products that have the purest and freshest products within the ingredients. Due to companies and manufacturers focusing on the taste of the vitamin rather than the purity of it, it can be hard for parents to see which ones are best for their child.
Below are a few ingredients you should avoid in the vitamins for your child.
Preservatives
Preservatives are not something that you want in your child's diet. It causes problems with their growing systems and can even lead to real health consequences. Good quality vitamins do not need to have preservatives included to create a solid shelf life.
Artificial Ingredients
Many health experts suggest that if you can read it, don't eat it, referring to many ingredients found on the ingredient label of almost all foods. Many artificial ingredients are simply chemicals that have hard-to-pronounce, complicated names. If these are skipped, then it's easier to stay away from potentially dangerous items. So, try to find and stay away from products with artificial preservatives, additives, flavors, and colors.
Gluten
Quickly rising to appear on many individuals 'do not eat' list, gluten has become somewhat of a trend to avoid. Though it isn't necessary to completely cut it out of your diet, you do not need to have it in everything you consume.
Soy
Soy is another top food allergy among people today, especially younger individuals; though children are likely to outgrow the allergy as they grow. With the commonness of this allergy, it's surprising how many vitamin products continue to have soy in them. If your child is allergic, keep an eye out for this. If they aren't, it might still be worthwhile to skip it.
Dairy
Another common food allergy, dairy, can be the cause of symptoms ranging from itching and hives to severe anaphylaxis. Multivitamins do not need to have dairy as it does not offer any health benefits. So, if you come across one that does have it, you should give it a pass.
Value
As mentioned before, the price range for vitamins can range greatly across different brands. On our list, we cover everything from the low price range to mid price range to high price range. So, whatever your budget, you'll find vitamins for your child on our list.
The average cost of a vitamin can be nearly $20, but that of course also depends on the number of vitamins in the packet. On our list, the average price per serving (as of when this was written) came out to be around $0.48 per serving. This can be viewed as the average price. So if the product you are looking at is higher than that, then it might not be the best priced one.
Vitamins nowadays can range anywhere from $10 to upwards of $80, depending on the size, brand, and quality of product that you are looking at.
10 Best Vitamins For Kids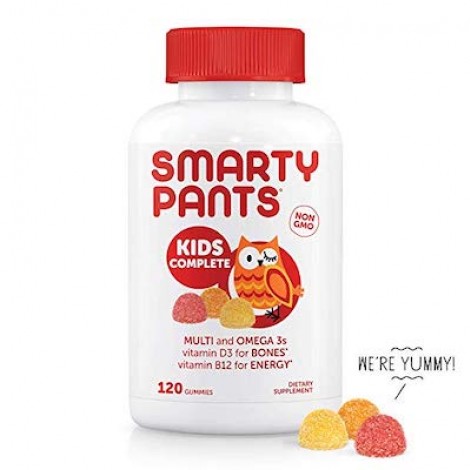 If you're in the market for a complete multivitamin for your child, then the SmartyPants Kids Complete Daily Gummy Vitamins will be the ideal choice. The gummies contain all the minerals and vitamins that your child needs, along with the added Omega-3 fatty acids that help to facilitate brain development.
Carefully Balanced
These gummies come in servings of four gummies, ensuring that they are carefully balanced by offer water-soluble vitamins in high doses and fat-soluble vitamins in moderate servings to ensure that they do not build up.
Composition
The SmartyPants Kids Complete Daily Vitamins great balance helps to make them the ideal supplement for a well-balanced diet. In addition to that, they also are great as aids for ADHD and other similar focus problems.
Cost and Value
The SmartyPants Kids Complete Daily Gummy Vitamins might be on the pricier side in terms of their price per serving, but with the complete nutritional value that they provide, they are well worth its price. In terms of the other items on the list, this product is in the middle price range. Thus meaning that it's not too expensive and not too cheap either.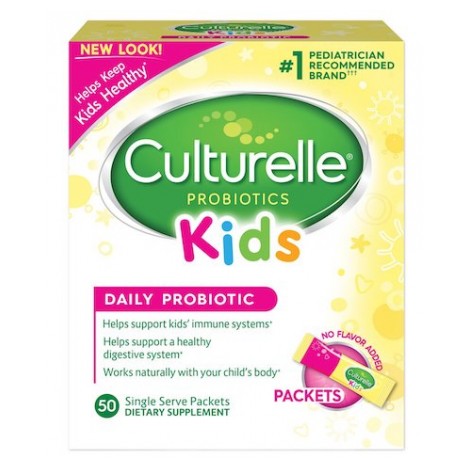 The Culturelle Kids Daily Probiotic Packets Dietary Supplements contains Lactobacillus GG, that is great for working naturally with the body to help support digestive and immune health. The mix of vitamins and supplements help to restore the natural balance of good bacteria within their digestive tract that helps to support a more healthy digestive system.
Free of Gluten, Sugar, and Dairy
This dietary kids supplement is completely gluten-free, sugar-free, and dairy free. This also helps to have a longer shelf life. So, until your product receives its expiration date, the potency should remain the same as when you bought it.
Helps With Digestive Issues
The Lactobacillus GG in the Culturelle Daily Probiotics Supplements helps to reduce the occasional tummy problems, such as the occasional digestive upset or diarrhea. This is clinically proven to offer parents peace of mind.
Cost and Value
The Culturelle Kids Daily Probiotic Packets Dietary Supplements is one of the higher priced items on our list. But, as there are fifty servings in the box, the price per serving is in the lower range from the products on our list. With the quality of ingredients and the brand name, this is quite worth its price.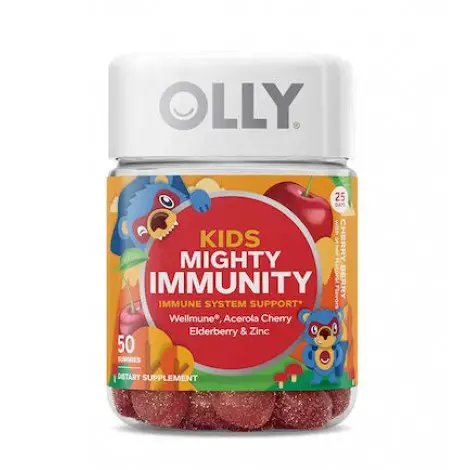 These Olly Kids Mighty Immunity Gummy Supplements might be small, but they sure are mighty. It's packed with scientifically backed ingredients that help to keep your child's immune system in tiptop condition, including Wellmune, Acerola Cherry, Elderberry, and Zinc. The formula helps to ensure that your house remains cold-free in the winter months and well-balanced year round.
Wellmune and Zinc
Wellmune is a beta-glucan that helps to support the health of your child's immune system through promoting the defense mechanisms already in the cells. Zinc is an essential mineral that helps keep the immune cells in the best shape possible.
Acerola Cherry and Elderberry
With Acerola Cherry being one of the richest natural sources of Vitamin C and elderberry being a superfood - together combined make an unstoppable pair to continually support the immune system.
Cost and Value
The Olly Kids Mighty Immunity Gummy Supplements are great for children from the age of two to four and five+-year-olds, though they do have different serving sizes. With the different serving sizes, this has great value for use with two to four-year-olds, but it's more expensive if being used for those ages five and above.

4

. BioGaia Probiotics Drops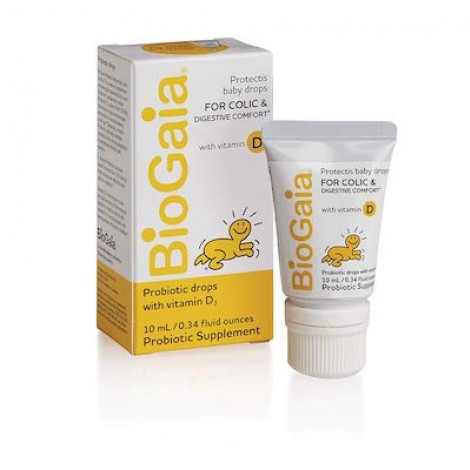 The BioGaia Probiotics Drops With Vitamin D is claimed to be one of the most clinically studied probiotic for kids. These drops have been clinically tested to offer various benefits with daily use. Its main ingredient is the Lactobacillus Reuteri, a patented lactic acid bacterium, along with Vitamin D3.
High Purity Product
One dose containing 10 mg Vitamin D3 and 100 million live Lactobacillus Reuteri Protectis. This product is also great to reduce fussing and crying while getting your child to take their vitamins. It's recommended by pediatricians as a solution for colicky babies.
Health Benefits
The BioGaia Probiotic Drops also help to ease occasional diarrhea, constipation, regurgitation, and colic. Along with also giving your child digestive and colic comfort.
Cost and Value
The BioGaia Probiotics Drops With Vitamin D is the second most expensive item on our listen, which also means that the price per serving is also higher than the average on our list. As the serving size is five drops per day, for a 10ml bottle, you'll get fifty servings (fifty days worth), which isn't too bad for all the good that it gives your child.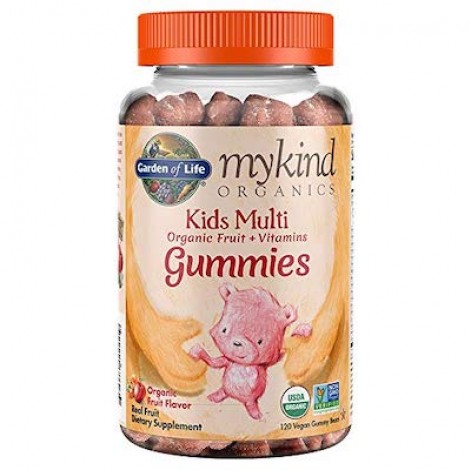 Garden Of Life MyKind Organics Kids Gummy Vitamins is Non-GMO and Certified USDA Organic. It's made without any synthetic vitamins and there are nine organic whole fruits in every single bottle. It comes in two flavors, those being Fruit flavored and Cherry flavored. They have all the essential antioxidants and nutrients to support the health of your kids.
No Candy Ingredients
Using Garden of Life's clean gummy technology, there are no 'candy' ingredients, which means there isn't any corn starch and pig gelatin.
No Artificial-ness
There is nothing artificial about Garden of Life's Gummy Vitamins. They do not contain any artificial flavorings and coloring, processed syrups and sugars, GMOs, and animal products
Cost and Value
The Garden Of Life is in the mid-high price range from the products on our list. It also has a quite high price per serving with only thirty servings in a 120 gummy bottle. Regardless, with the high-quality ingredients and no-candy ingredients, it's well worth the extra bit of money spent.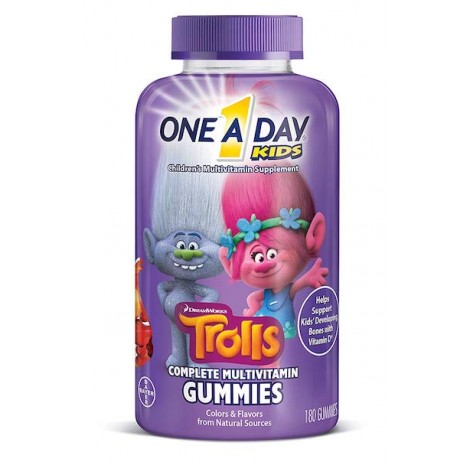 If you're looking for a complete multivitamin for your children and their favorite character in one, then the One A Day is the ideal choice. It contains all the necessary nutrients and vitamins that your child needs to remain healthy. It's suitable for children between the ages of two to three and those that over four years old.
Key Nutrients
The formula includes all the necessary nutrients, including Zinc, Folic Acid, Biotin, along with Vitamins A, B6, B12, C, D, and E - ensuring that your child gets all the key nutrients from one serving.
Supporting Health
The Complete Multivitamin Gummies are formulated to support eye health, immune health, and bone health. Through their copious vitamins included, they are able to keep your child as healthy as possible.
Cost and Value
The One A Day are the cheapest item on our list, with an even lower price per serving, making this product a great steal. With all the nutrients included within the formula, you're getting the best product for a low price.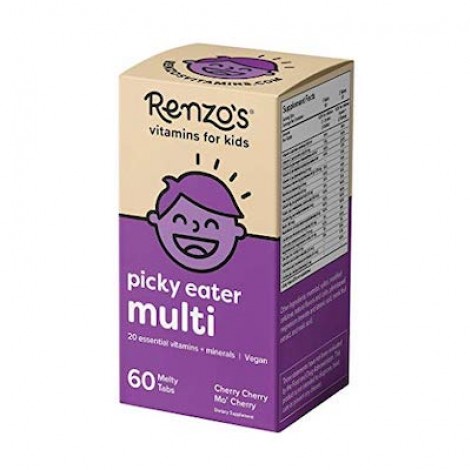 The Picky Eater Multi Dissolvable Vegan Vitamins For Kids by Renzo is specially designed for picky eaters over the age of four, but children ages two to three can also eat these. The nutrition in one of their 'melty tabs' is equal to three (or more) gummies. They also have twenty essential minerals and vitamins in one melty tab.
Vegan-Friendly
These dissolvable 'tabs' are one of the only vegan options on our list and on the market in general. They are made with all the good stuff and without all the bad things meaning they are without sugar, gluten-free, vegan, and non-GMO.
Natural
The Picky Eater Vitamins For Kids only feature natural sweeteners and flavors. The zero added sugar also means that you get to save on additional dentist trips that can get very costly.
Cost and Value
The Renzo's Picky Eater Multi Dissolvable Vegan Vitamins For Kids is on the higher end of the price scale between the items on our list. Due to the different servings sizes, if you're buying this for children between 2 years and 3 years of age, then it's actually quite well priced per serving, but with children aged four, it is on the higher end.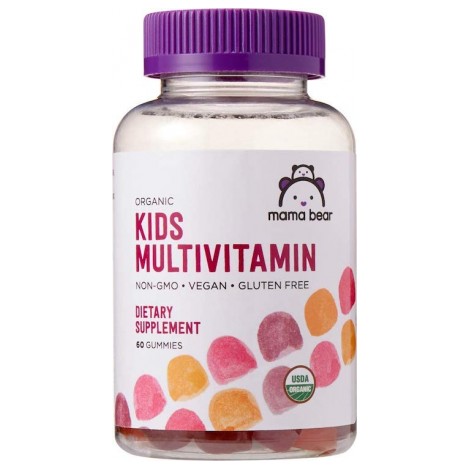 The Mama Bear Organics Kids Multivitamin Gummies help to give your child all the daily nutrients they need to grow healthy. They come in various flavors, including orange, cherry, berry, and other natural flavors. One 60-multivitamin bottle will last you one month, with two gummies per serving.
Organic Formula
The formula of the Kids Multivitamin Gummies is completely organic, gluten-free, vegan, and non-GMO to give families the best possible product at an affordable price.
Also worth reading freeze dried food reviews
Vitamins and Minerals
As the name suggests, the multivitamin gummies feature a range of vitamins and minerals, including Vitamin A, C, D, E, B6, B12, Folate, Biotin, Iodine, and Zinc.
Cost and Value
The Mama Bear Organics Kids Multivitamin Gummies is the second cheapest item on our list. They are also an Amazon brand, so you know it'll be of good quality and if you don't like them, you can get a full refund. The lower price per serving also suggests this to be a good product to buy.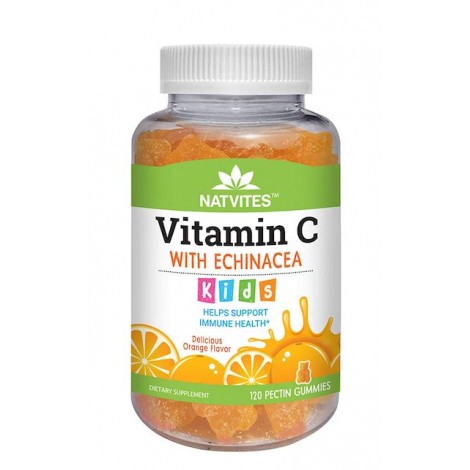 The Natvites Vitamin C With Echinacea Pectin Gummies For Kids is designed to help your child be as healthy as possible. The Echinacea included helps to boost your child's immune system. Along with Soft Chew Technology, Natvites is designed to make it easier for your child to want to take their vitamins.
Soft Chew Technology
This brand's pectin gummies are made through their Soft Chew Technology that helps them to be easier to chew and swallow than others. This simply makes it easier to get your child to take their vitamins.
Natural Only
The Natvites Pectin Gummies only contain natural flavors and colors. They also are void of any shellfish, fish, soy, tree nuts, peanuts, milk, wheat (gluten), or eggs - making them suitable for most people.
Cost and Value
The Natvites Vitamin C With Echinacea Pectin Gummies For Kids is placed in the lower price range from the products on our list. It also has a low price per serving, therefore making them well worth their price range. You're sure to get a long of bang for your buck with this Natvites product.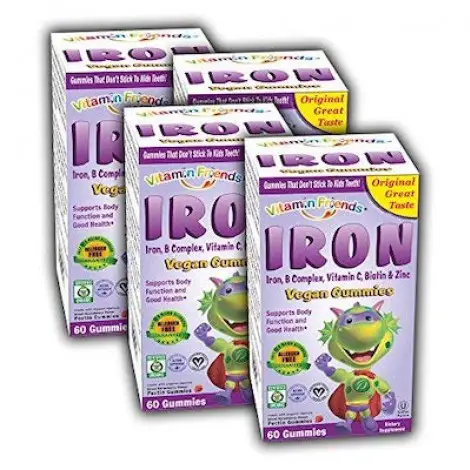 The Vitamin Friends product is made in the USA and is suitable for most children. They are gentle on the stomach, while also being a flavor that children love. As gelatin doesn't digest well, Vitamin Friends Gummies are made completely without gelatin to make it easier for your child's body to digest the vitamins.
Suitable For Many
These gummies are allergen free, organic, vegan, and kosher, which means that more people than not can easily take these. Along with that, they are also made in the USA, therefore will be held up to stricter laws and regulations. They are also autism approved and vegetarian.
Supports Good Health
The Vitamin Friends gummies help to support good health and body function. The iron in the gummies helps to promote muscle health, proper body function, and red blood cell formulation.
Cost and Value
The Vitamin Friends Kids Vegan and Organic Iron Gummies is the most expensive item on our list, it also has an expensive price per serving. However, if the price is not an issue, then this product is great. It's also one of the few that focuses heavily on supplying the body of your child with iron.

Subscribe to our Newsletter