Best Immune System Supplements Reviewed & Rated
In a
Hurry? Editors choice: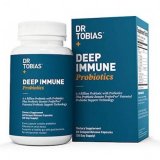 Test Winner: Dr Tobias Probiotic

Please pardon the pun, but no one is immune to needing immune system supplements. No matter your age,
how healthy your diet is
, how often you wash your hands, and how careful you are to maintain your health in general, no one's immune system is invincible. In fact, in some situations, catching a cold (or worse) is almost inevitable, such as taking a flight on a crowded plane, packed with coughing passengers coughing throughout the cabin. Or, if you happen to be the parent of a young child, you know that when he or she goes to school or daycare, it's like spending a day in one big petri dish, and that plethora of unhealthy germs follows your little one home.
Standout Picks
Criteria Used for Evaluation
Effectiveness
How well an immune boosting supplement works is, without a doubt, the most important consideration. That said, the efficacy of immune supplements is still being explored. Many people view it as a holistic approach, or an alternative to traditional medicine. Some argue that natural products are safer than the drugs manufactured by the pharmaceutical industry. Since the vast majority of supplements are not regulated by the FDA, it can be hard to determine how effective they are.
For this reason, it can be extremely helpful to do your research before purchasing a supplement and reading the customer reviews, both positive and negative. Some people swear by the power of supplements; others remain skeptical. Additionally, some supplements are more controversial than others. Vitamin C tablets, for example, when taken as directed, present less of a risk than a mycological supplement that contains several types of fungi.
Potency
As discussed above, how well an immune boosting supplement works is the most important consideration to review. Ideally, if you are suffering from an illness, you want to find a supplement that is highly potent so that it can knock out the infection and get you feeling better quickly. The potency of a supplement is also tied to its restorative properties.
A supplement should also be potent in the sense that it acts as a shield or a suit of armor, protecting you from future infections. If you know you are going to be in an area or situation where you will be exposed to a lot of germs, such as on an airplane, you will want to take some preventative measures to avoid getting sick. A potent supplement is your first line of defense.
Product Purity
Since supplements are not regulated by the FDA, there is an inherent risk in taking them. That is not to say that supplements are necessarily all dangerous, but some dangerous supplements do exist that could be detrimental, rather than beneficial, to your health.
Look for supplements that are all natural and organic. Check to see if the supplements are free of additives and preservatives. A careful review of the ingredients should help guide you to determine the purity and safety of the supplement you are considering.
Value
It's no secret that healthcare is incredibly expensive, with or without insurance. For many of us, preventative steps are key. If we are able to avoid getting sick, we can avoid the expenses associated with going to the doctor and filling prescriptions.
That said, supplements cost money. Fortunately, as illustrated above, there are several highly effective supplements available on the market that are budget-friendly. A small investment in purchasing immune boosting supplements can have a huge return; avoiding sick days, visits to the doctor and trips to the hospital are huge expenses, not to mention the toll it takes on your health when you come down with a serious infection. Therefore, the value of effective immune boosting supplements cannot be emphasized enough.
Side Effects
Virtually all of the supplements reviewed here have some side effects reported in the customer reviews section. That said, some of the side effects are much more severe and detrimental than others. The supplements that have the fewest side effects (and less severe effects) are rated higher in this article.
From heartburn to cognitive impairment, side effects are important considerations. It is of the utmost importance that you do your research before trying a supplement, especially if you are prone to any of the known side effects.
10 Best Immune System Supplements
Subscribe to our Newsletter