Best Immune System Supplements Reviewed & Rated
In a Hurry? Editors choice: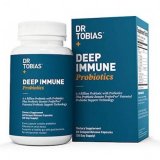 Test Winner: Dr Tobias Probiotic

Please pardon the pun, but no one is immune to needing immune system supplements. No matter your age,
how healthy your diet is
, how often you wash your hands, and how careful you are to maintain your health in general, no one's immune system is invincible. In fact, in some situations, catching a cold (or worse) is almost inevitable, such as taking a flight on a crowded plane, packed with coughing passengers coughing throughout the cabin. Or, if you happen to be the parent of a young child, you know that when he or she goes to school or daycare, it's like spending a day in one big petri dish, and that plethora of unhealthy germs follows your little one home.
Standout Picks
Criteria Used for Evaluation
Effectiveness
How well an immune boosting supplement works is, without a doubt, the most important consideration. That said, the efficacy of immune supplements is still being explored. Many people view it as a holistic approach, or an alternative to traditional medicine. Some argue that natural products are safer than the drugs manufactured by the pharmaceutical industry. Since the vast majority of supplements are not regulated by the FDA, it can be hard to determine how effective they are.
For this reason, it can be extremely helpful to do your research before purchasing a supplement and reading the customer reviews, both positive and negative. Some people swear by the power of supplements; others remain skeptical. Additionally, some supplements are more controversial than others. Vitamin C tablets, for example, when taken as directed, present less of a risk than a mycological supplement that contains several types of fungi.
Potency
As discussed above, how well an immune boosting supplement works is the most important consideration to review. Ideally, if you are suffering from an illness, you want to find a supplement that is highly potent so that it can knock out the infection and get you feeling better quickly. The potency of a supplement is also tied to its restorative properties.
A supplement should also be potent in the sense that it acts as a shield or a suit of armor, protecting you from future infections. If you know you are going to be in an area or situation where you will be exposed to a lot of germs, such as on an airplane, you will want to take some preventative measures to avoid getting sick. A potent supplement is your first line of defense.
Product Purity
Since supplements are not regulated by the FDA, there is an inherent risk in taking them. That is not to say that supplements are necessarily all dangerous, but some dangerous supplements do exist that could be detrimental, rather than beneficial, to your health.
Look for supplements that are all natural and organic. Check to see if the supplements are free of additives and preservatives. A careful review of the ingredients should help guide you to determine the purity and safety of the supplement you are considering.
Value
It's no secret that healthcare is incredibly expensive, with or without insurance. For many of us, preventative steps are key. If we are able to avoid getting sick, we can avoid the expenses associated with going to the doctor and filling prescriptions.
That said, supplements cost money. Fortunately, as illustrated above, there are several highly effective supplements available on the market that are budget-friendly. A small investment in purchasing immune boosting supplements can have a huge return; avoiding sick days, visits to the doctor and trips to the hospital are huge expenses, not to mention the toll it takes on your health when you come down with a serious infection. Therefore, the value of effective immune boosting supplements cannot be emphasized enough.
Side Effects
Virtually all of the supplements reviewed here have some side effects reported in the customer reviews section. That said, some of the side effects are much more severe and detrimental than others. The supplements that have the fewest side effects (and less severe effects) are rated higher in this article.
From heartburn to cognitive impairment, side effects are important considerations. It is of the utmost importance that you do your research before trying a supplement, especially if you are prone to any of the known side effects.
10 Best Immune System Supplements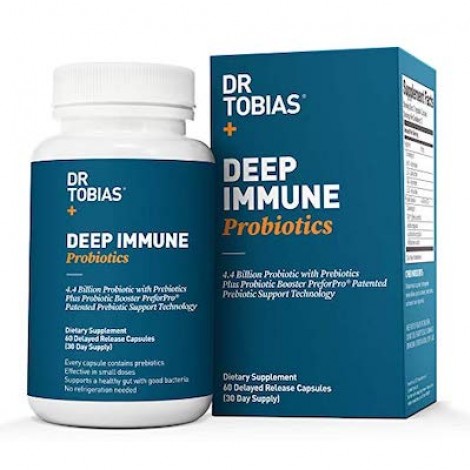 Dr. Tobias is considered to be the gold standard when it comes to probiotics that aid in digestion. It's no secret that digestive problems slow everyone down, including the extremely athletic to the predominantly sedentary and everyone in between. From improving regularity to increasing the absorption of nutrients, this probiotic, with over 5000 positive reviews, appears to make a huge difference. Each serving (two capsules) contains over 4.4 billion colony forming units of good bacteria that help you to digest food in a healthy way. These bacterial colonies are able to withstand the acidity of the digestive system, allowing them to break down food and function properly.
4.4 Billion CFU
Each easy to swallow serving of two capsules contains 4.4 billion CFU, or colony forming units. These units are comprised of the good bacteria that aids in healthy digestion, and excludes all harmful bacteria. The colonies are able to withstand the acidity of the digestive system, a common hurdle that often prevents regularity and healthy digestion. They are essentially super bacteria; ultra-helpful and extremely strong and resilient.
Absorption
Another important aspect of Dr. Tobias' supplements is that they aid in the absorption of nutrients. These nutrients are critical in order for cell repair, energy, growth and so forth. These processes are vital to sustaining life. Inadequate absorption of nutrients can lead to weakness, illness, malnourishment and other serious conditions including organ damage. The capsules facilitate natural absorption and help to prevent the development of such conditions.
Cost and Value
Dr. Tobias' probiotic supplements are an excellent value. They come strongly and enthusiastically recommended, even described as being life-changing in several reviews. They are moderately and competitively priced and seem to have truly made a huge difference for customers who have suffered from digestive complications in the past.

2

. Sports Research Vitamin D3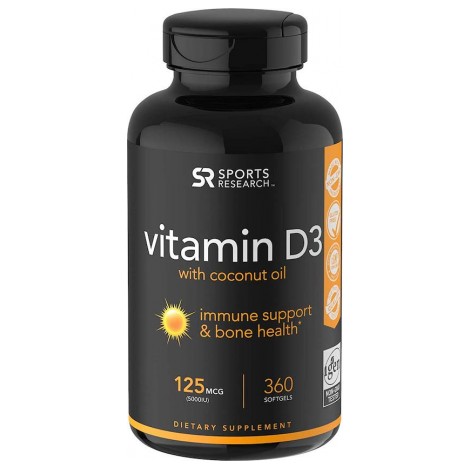 The majority of Americans do not get enough Vitamin D in their system. Vitamin D is important to our health; specifically, our immune systems, joint and bone support, just to name a few areas where adequate Vitamin D is critical. Additionally, there are multiple studies that have linked low Vitamin D levels to everything from depression to early onset dementia. These softgels are a quick and easy way to boost your immune system and stave away potential problems down the line.
Coconut Oil
Vitamin D3 is fat soluble, which makes it difficult for the human body t absorb. That is, unless it is ingested along with another fat. The soft gels contain coconut oil, which allows for gentle, natural absorption. Coconut oil contains natural fatty acids which act as carriers, delivering the Vitamin D to your bloodstream to be distributed throughout your body.
As Potent as Sunlight
Vitamin D can be absorbed by our bodies by adequate exposure to sunlight. However, for people who work long hours at demanding jobs, spending even five minutes outside can sometimes be out of the question. Other people are very susceptible to skin cancer and simply cannot risk direct sun exposure. The soft gels offer a safe and effective alternative to direct sunlight when it simply isn't feasible or healthy to sit in the sun.
Cost and Value
The soft gels are a wonderful, high-value item. They are reasonably priced, effective, safe, and have earned nearly 4,000 positive reviews. For a fair price, you will receive a large quantity of immune-boosting soft gels that will not only boost your ability to fight infection but also make you feel good as if sitting in the sun.

3

. Source Naturals Wellness Multivitamin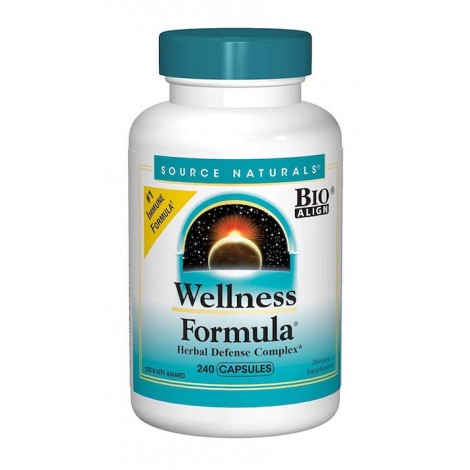 The Wellness multivitamin is a kind of jack-of-all-trades when it comes to boosting your immune system. From fighting off colds to seasonal affective disorder, this supplement, which contains vitamins, minerals, herbs and other all-natural ingredients seems to be a cure-all for what ails you. The multivitamin is said to restore cellular imbalances at the first signs of trouble, thus restoring your well-being.
The Herbal Defense Complex
The Wellness formula is sensitive and reacts immediately to changes in your homeostasis. For example, when you are under physical stress, a biological response is triggered. The formula, which includes minerals, vitamins, herbs, and antioxidants work together to fight the effects that negative stress could have on your body and keep you feeling good, both mentally and physically, without being dragged down by stress.
Multiple System Support
The Wellness multivitamin focuses on not just one, but several of your body's systems. Specifically, the respiratory system, immune system, and stress response mechanisms are boosted thanks to a long list of helpful ingredients including beta carotene, echinacea, propolis, zinc, vitamins C and A, copper, garlic, selenium, polygonatum, astragalus and more.
Cost and Value
The Wellness multivitamins are on the more expensive side of the spectrum. That said, if the claims as advertised are true, then the vitamins are well worth the cost. The vitamins have earned over 1,450 positive reviews and come highly recommended. The majority of customers who submitted reviews swear by the vitamins, stating that the vitamins have greatly improved their quality of life. In sum, the multivitamins are a very good value.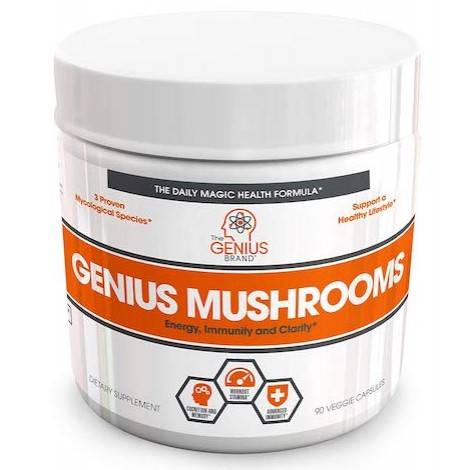 The Genius Mushroom is a mycological supplement; mycology being the study of fungi. It is particularly effective for boosting energy and memory. It is an ideal option for students who need assistance staying focused while studying. Additionally, it is helpful for people with impaired memories who want to maintain, if not improve, their cognitive functions. The Genius Mushroom also serves as a natural energy booster without any harmful additives such as caffeine which can be detrimental to a person's health.
Mycological
Mycology, the study of fungi, is anything but new to the field of medicine. Some cultures have used different types of fungi to treat ailments since ancient times. Whether ground into a powder or served as a tea, fungi are powerful tools used in the pursuit of wellness. This includes modern American culture; after all, penicillin is derived from a fungus. Mycology is still being explored; its various healing properties are being tested and established, and its many applications are largely unknown. Mycology should not be overlooked or viewed as a sort of "snake oil" solution; factual medical research is constantly being conducted to prove the benefits, safety, and capabilities of a multitude of mycological substances, including Lion's Mane, the powerful, predominant ingredient contained in Genius Mushroom supplements.
Detoxifying
The supplements contain Reishi, another fungus. Reishi is, admittedly, a controversial mushroom. While it has detoxifying capabilities, some studies have indicated that when taken in large quantities, Reishi can have damaging effects on the liver. However, when taken as directed, in small, controlled doses, it is believed that Reishi provides potent liver support and helps to remove toxins from the body. The benefits and risks of Reishi are yet to be definitively established; with this in mind, anyone with compromised liver function might be safer seeking out a Reishi-free supplement.
Cost and Value
The supplements are sold at a very fair price and have earned over 1000 positive reviews. The vast majority of reviews are enthusiastic, with customers extolling the virtues of the supplements; everything from increased energy, improved sleep, reduced anxiety and a general mood improvement are all mentioned frequently. Overall, the supplements are a good value, bearing in mind the potential risks of Reishi. Thorough research should be done before taking any supplement, with the Genius Mushroom being no exception. Assuming that the supplement poses no health risks to the consumer, it is an excellent alternative to pharmaceuticals and/or substances with high caffeine levels, and it is available at an affordable price.

5

. Host Defense - MyCommunity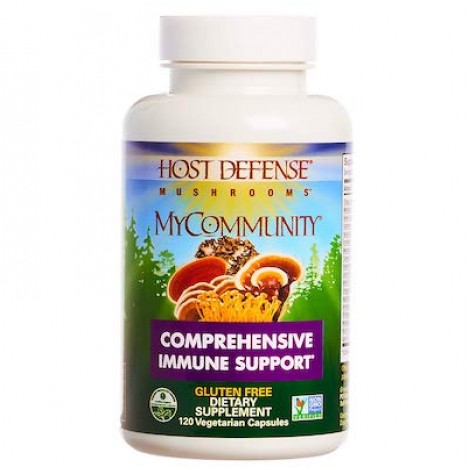 Host Defense sells supplements touted as being powerful immune system boosters. Specifically, the supplements are a blend of 17 different mushrooms (which are sustainably grown), along with prebiotics, antioxidants and enzymes. The supplements are geared toward individuals with highly compromised immune systems. Like the vast majority of supplements, Host Defense's products have not been approved by the FDA; however, there are over 660 positive reviews, many of which claim that the supplements are a "miracle drug," helping to treat (treat, not cure) and alleviate the symptoms of everything from severe insomnia to autism.
17 Mushroom Blend
Host Defense is a frontrunner in the field of mycology. The supplements contain 17 potent mushrooms, including lion's mane, turkey tails, reishi, maitake, and others. All of the fungi contained within the capsules are organically grown on a sustainable farm. The wide variety of fungi in each capsule serve to boost the immune system, increase energy, decrease stress, improve cognitive function, reduce pain and manage anxiety.
Antioxidants
The capsules contain large quantities of naturally occurring antioxidants. The antioxidants fight free radicals and other potentially carcinogenic elements. There are several ingredients in the supplements, including reishi, which help to detoxify the body, assisting the liver. The antioxidants aid in longevity and general well-being, helping your body to stay clean and stave off bacteria, viruses and other pathogens.
Cost and Value
Host Defense's supplements are considerably more expensive than the majority of supplements reviewed here. While the reviews of the supplements are good to excellent, there appears to be nothing, including quantity, that justifies the steep price increase. As such, the supplements are a respectable product sold at an overpriced cost, resulting in mediocre value.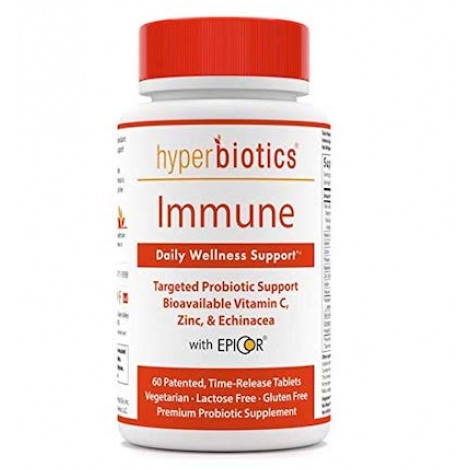 Hyperbiotics has produced an immune supplement that is intended to give you a daily boost of wellness, energy, zest and well-being. It is sold as a "supercharger" packed with vitamins, minerals and other helpful ingredients that work in conjunction with each other to act as your personal set of protective armor against illness and infection, while helping you to think clearly, live with more energy, enjoy uninterrupted sleep, focus more easily, and manage stress and anxiety.
Super Vitamin C
The supplements are packed with the vitamins, minerals, and ingredients that we all need, but most of us do not consume enough of. This includes a large dose of Vitamin C. Vitamin C does everything from improving immunity to acting as an antioxidant. Vitamin C can help to manage high blood pressure, lower the risk of heart disease, prevent gout, reduce blood uric acid, increase the absorption of iron, bolster white blood cells, and improve memory function.
Active Probiotics
The capsules contain active probiotics which aid in digestion. By replacing the good bacteria in your gut, the probiotics aid in regularity as well. Additionally, the supplements aid in the absorption of nutrients critical to maintaining good health. Without proper absorption, despite the intake of food, your body can still suffer from a severe lack of the essential items it needs to function correctly. This impacts everything from the immune system to the metabolism.
Cost and Value
Hyperbiotics' supplements are very fairly priced. They are a potent immune booster, aiding both the body and mind. Over 600 customers submitted positive reviews of the supplements, stating that they have experienced improvements in a plethora of areas, including chronic pain, sleep apnea, restless leg syndrome and many more. All in all, the supplements are an excellent product sold at a fair price, resulting in a superb value.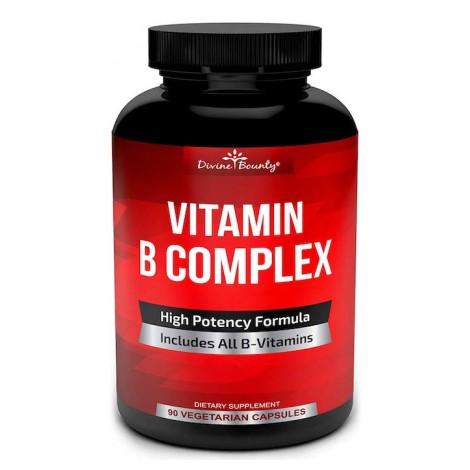 As the name suggests, this supplement provides a mega-dose of Vitamin B. Vitamin B is essential to our health, and many of us do not ingest enough of it, whether through our diets or in our daily multivitamins. Taking Vitamin B can increase your energy level, cell metabolism and even brain function. It also promotes the growth of red blood cells and cell health. It also can help to prevent infection, thus boosting the immune system.
B-Complex Vitamins
There are multiple types of Vitamin B known as complexes which serve various purposes. This particular complex is designed to deliver the strongest, most potent results possible. All of the essential B vitamins are contained within a single capsule, thus eliminating the need to take multiple vitamins. Together, the B vitamins provide a healthier immune system, decreased stress and more energy.
No Additives
The capsules are completely free of artificial additives. They are non-GMO, gluten-free and vegetarian. They are free of soy, silicon dioxide and other common additives that can be detrimental to one's health. Free of preservatives, the capsules are water soluble, all-natural, gentle and safe. They are also easy on even the most sensitive of digestive systems.
Cost and Value
Divine Bounty has done an excellent job of developing a superb product available at an excellent price. Each bottle is a 90-day supply of the powerful Vitamin B complex. The price is right and the product is fantastic; highly effective and manufactured by a highly reputable seller. All in all, the vitamins are a great value.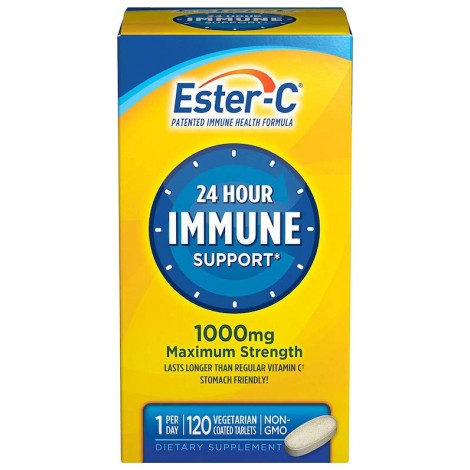 One Ester-C coated tablet gives your immune system a charge that lasts for 24 hours. Unlike many supplements containing Vitamin C, Ester-C is easy on the stomach, largely due to its non-acidic formula. It helps with the retention of adequate levels of Vitamin C in your body, strengthening your immune system against infection.
C-Sorb
The supplements contain C-Sorb. C-Sorb is a citrus bioflavonoid complex. The complex works in conjunction with your body's natural metabolites. This synergy helps to maintain Vitamin C. As a result, your immune system retains Vitamin C longer, giving your immune system the help it needs to fight off infection.
Non-Acidic
A common reason why people avoid taking Vitamin C supplements is that they can be quite rough on the digestive system, causing everything from cramps to diarrhea; symptoms which are bad enough on their own, let alone when you are attempting to fight off an infection. However, Ester-C is designed to be gentle on the stomach. It is manufactured without any chemicals to neutralize pH. Unlike other, highly acidic supplements, Ester-C is gentle and will not induce any gastric discomfort.
Cost and Value
Ester-C is the least expensive supplement reviewed in this article, and that is in no way indicative of its quality. In fact, Ester-C has an excellent rating and the vast majority of customer reviews are overwhelmingly positive. It is an incredibly strong source of Vitamin C that works without causing an upset stomach. Overall, it is a fantastic value and a smart purchase.

9

. Zarbee's Adult Elderberry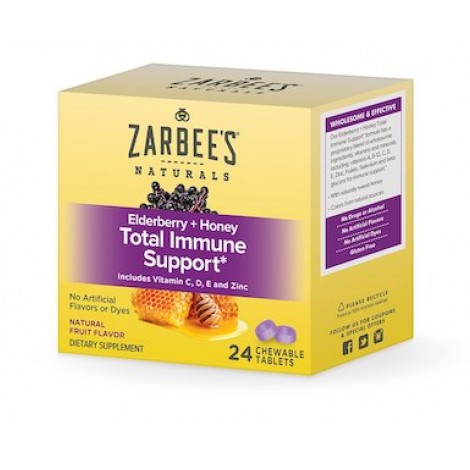 Zarbee's chewable vitamins are a great choice for adults who want a multivitamin that bolsters and strengthens multiple body systems at once. Many people have difficulty swallowing capsules and tablets. Zarbee's are a nice alternative; they are chewable, with a pleasant taste, and solve the issue of problematic swallowing.
Essential Support
The chewable tablets provide the immune system support that adults need to thrive. This includes a blend of minerals, vitamins, honey and elderberry. The tablets are made without any drugs, artificial flavoring or sweeteners, gluten or gelatin. The ingredients are wholesome, pure and healthy.
Total Immune Support
The ingredients contained within Zarbee's provide a natural boost that supports our body's immune functions. This includes Vitamins A, B-12, C, D and E. Also included are beta glucans, zinc, selenium and folate. Elderberry and honey add natural flavoring for a pleasant taste.
Cost and Value
The chewable tablets are a good value. They are sold at a fairly low price, but only 24 tablets are included per box, which is a relatively low quantity compared to other supplements reviewed here. That said, the tablets are well-received, have a high rating and customer satisfaction is well above average. Were it not for the small quantity of tablets, this would be an excellent value.

10

. Nature's Way SystemWell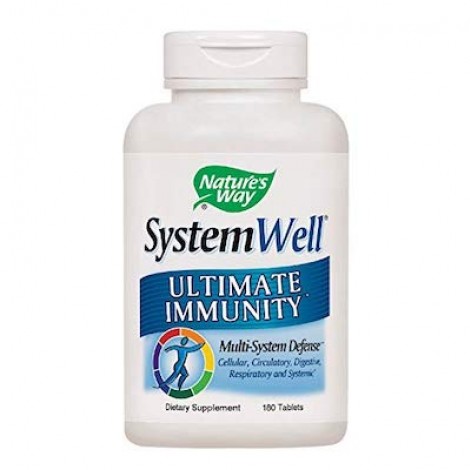 Nature's Way Ultimate Immunity Supplements do a good job of covering all the bases that an immune boosting supplement should. Multiple body systems are targeted, instead of just one. The supplements are affordable, effective, and powerful. They are extremely effective at fighting off infections and boosting energy, allowing you to function at 100% at all times. Efficiency and strength are the pillars that support this supplement.
Five Essential Aspects
Five essential aspects of health lay down the groundwork for these supplements. Five body systems are strengthened with each dose. Specifically, the systemic, digestive, respiratory, circulatory and cellular systems are targeted. Weaknesses in the systems are repaired, leaving you stronger than ever before, and more capable of fighting off infections.
Pure and Simple
The tablets are made entirely of all-natural ingredients. This means they are free of all artificial additives and chemicals. No preservatives are added, and they are made without sugar, soy, yeast, dairy and artificial colors. The tablets contain naturally-occuring, pure ingredients that are safe for the body to break down.
Cost and Value
The supplements are sold at a very reasonable price. Customer reviews are quite positive and enthusiastic. Given the overwhelmingly positive response to the supplements paired with the affordable price, this is yet another fantastic value that offers a healthy, effective supplement without a high pricetag.

Subscribe to our Newsletter