Best Thermal Binoculars Reviewed
In a Hurry? Editors choice: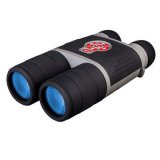 Test Winner: ATN BinoX-HD

The thing about thermal binoculars is that they're expensive but as with most things at this level, you're going to have to shell out some dough to get a really high-quality product that is going to perform to the level you're looking for. And what you're looking for here is a commercial product that is going to
get you to nearly military-grade
thermal imaging. And the closer you get to that level of
precision and imaging
than the price is going to jump pretty quickly and you'll find yourself in the 'conspicuous consumption' range of buying. So, we're going to offer our list here, and if you got the money honey, we got the lenses.
Standout Picks
Criteria Used for Evaluation
Visibility
The main thing we looked at was how well the core features of Gen 1 and Gen 2 models were implemented. For Gen 1 we looked for simplicity and image resolution since the latter was something that would be lacking on bad models. Gen 1 devices passed the test if they also included a lot of updated mechanics like foldable design, good zoom, and accessory compatibility. For Gen 2 we focused on the brightness of images in the dark and max zoom. Think of the Gen 2 criteria as a power test, and a great way to weed out weaker thermal binoculars models.
After tests were done with both generations, we moved on to the next, which was the smoothness of the zoom. Zooming in should be seamless, without any type of stutter or hitch. When using these at night, a hitch in the zooming feature can make you lose the target. Although not as noticeable in the daytime, at night it can make all the difference in the world.
So our preference for the zoom smoothness was based solely on night usage since it would be the most affected by inferior design. There were a lot of strong winners in this category that moved on, but there were also a lot of good binoculars that didn't make the cut. This includes some well-known branded models that were known to have slight stutters when zooming in and out.
Sticking with zoom, we looked at which ones had the highest zoom. While power was king for this criteria, it is important to point out that powerful zoom doesn't always equal great performance. Some of the models would lose a lot of their image quality at max zoom, while the ones we placed higher on the list would have consistency and sharpness at max levels. This qualifies for both the daytime and night, where zoom levels had varying degrees of quality. In order to stay on the list, they had to excel in both categories.
Durability
Up next was durability and resistance against outside elements. Thermal binoculars are not something that customers are going to use indoors only, so they can expect a lot of travel. And with their use at night, there is a good chance they'll be introduced to a lot of damaging elements. Straight to the top went any model that had water resistance, just off of pure principle.
These were the models that would last the longest out of the box, and it made sense to put them at the top since they will primarily be used outdoors. Durability is also rated on how well the paint, buttons, and housing holds up against damage. Some of the choices on the list already had a reputation for being strong against drops. All of the models left on the list that weren't suitable for everyday use were removed in favor of the stronger choices.
Battery Life
Power consumption was something we had to look into, mainly due to the variety of batteries that different models used on the list. There are some significant jumps in how long certain models last, which changed the top of the list immediately. This isn't entirely based on the batteries used since the built-in power-saving features weren't always available on the listed models.
Some do fine without any power-saving features and can last for over a year. But the ones that included power-saving features and used better batteries moved to the top of the list immediately. This criteria caused the biggest gap in the top ten but didn't knock any of the current favorites out of the running.
Value
Something that caught us by surprise was the relevancy of ranking the cost of batteries. With night vision binoculars and scopes, the batteries were standard across the board so were mostly cheap. They were also easy to find, whether online or in a local store. With the battery types being all over the place, we factored in replacement frequency with the actual cost.
So with each change of the batteries, we looked at how much of a pain it was for the user and whether it was cost-effective. Since only name brand batteries should be used regardless of type, this made things easier to tally. Our rankings based on the cost of the batteries helped out a few binoculars that were idling lower on the list and kept some from being completely dropped off.
The last thing we looked at was customer service and warranties, which largely left the list unchanged. But the good news on that front is that all ten products on the list have excellent warranty and customer service programs. This was one of the few lists where there was universal praise for all warranties, even from the lesser-known brands. Consider it a great sign that the thermal binocular market is becoming more consumer-friendly.
Style
There is a difference between thermal optics and night vision. They are commonly interchanged, however, they function differently. Each has its pros and cons. Both are wonderful tools to use when hunting or dealing with wildlife outdoors, so it will benefit you to understand the pros and cons of each before making your investment. Consider the following for whether thermal optics or night vision are what you need.
The first thing to note is that thermal optics are not cameras, they are images. What does this mean? Thermal optics detect radiation, so the higher the temperature the more radiation something is giving off. Once something steps into range and emits heat, the radiation shows as an image of the subject. Thermal optics do not require visible light to produce an image because they function from your target's radiation.
One drawback is that since you are viewing a thermal image, the image will not be super detailed. It can take a lot of practice to look at a thermal image and determine your proper shot placement. Thermal scopes are also heavier than night vision scopes.
Where night vision differs is that it does require a light source in order to provide an image. Often, the stars and moon will provide enough light to produce the image that you need. Shadows can make images hard to see, though. A lot of modern night vision comes with an IR Illuminator which can help you out a lot. The IR Illuminator acts a lot like a flashlight, essentially that is what it is.
Different than thermal optics, night vision tends to produce a more detailed and natural image. However, night vision scopes can only be used at night, as the name implies. Thermal optics can technically be used during the daytime if you need to use it.
Night vision scopes absorb more recoil and tend to be more rugged. One drawback, however, is that the IR Illuminator designed scopes have tubes that can be easily damaged if they are exposed to too intense of external light. Aside from being unhelpful during daylight, that is another reason why they cannot be used during the day.
10 BEST THERMAL BINOCULARS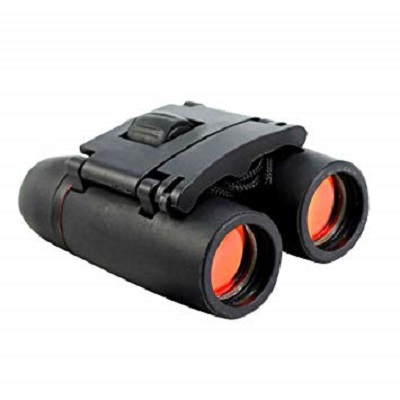 Seeing this Sminiker product so high up on the list might surprise some. But they have proven through great sales and customer service that their product is more than ready to take the top spot.
Compact But Powerful
There are plenty of compact models in the industry, but very few that don't sacrifice power for size. Even in its small frame, this model manages to squeeze out more quality optics than products twice its size.
Features and Specifications
It features a 90mm objective lens distance that allows you to see clearly for long distances. The metal construction frame is covered in flexible rubber to protect from falls and bumps.
Cost and Value
This product just missed out on being the lowest priced on the list, so it is definitely a top-tier buy. Even as a gift it holds really good value with its compact design. A product this small with such great visual quality deserves the top spot on the list. And with such a low price, it's a bargain even if you already have a set.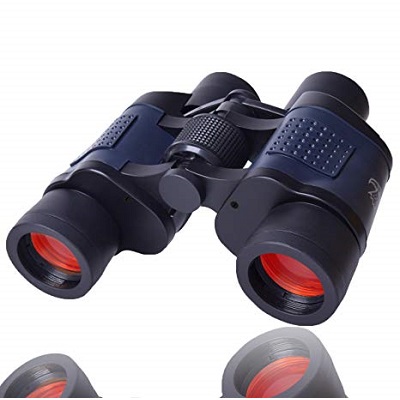 Nabbing the #2 spot on the list is a Feihe model, one that has proven to be pretty strong on a couple of other lists since it came out. Besides being a great pair of, they are about as powerful as you can get without added electronic components.
Great Magnification
With up to 10x magnification, you can see further out without compromising the quality of the image. They built these binoculars so that the magnification mechanism is better powered for long distances, and it shows.
Features and Specifications
The BaK-4 prisms and multi-coated optics that are built into these provides you with amazing clarity. It also comes with built-in tripod support that provides amazing stability.
Cost and Value
Sitting at the low-mid-price point, this serves as a suitable all-purpose binocular set as well as a thermal binocular set. Buyers will get double the value if this is what they're looking for. With great magnification and a lot of customizations, Feihe created a very likable product. It goes beyond what you would normally need and saves you money on repeat purchases.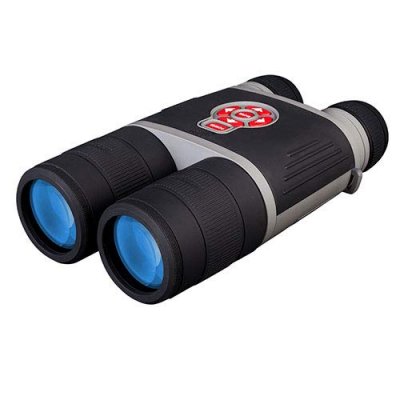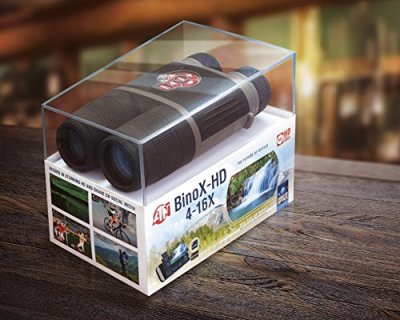 This is a nice set for anyone who wants a reasonably priced set. They work in the day or the night, they have nice magnification and a gyroscope and they can talk to your ios or android devices via installed Bluetooth. They also have a nice built-in range finder that will let you know the exact distance from you to your subject.
Smart Rangefinder
This is a nice little feature that lets you hone in your target without carrying any extra range finding equipment. And the distance to your object will show up right in the viewer so you can get an idea exactly how far you are from what you're looking at.
Gyroscope and Compass
This is pretty cool stuff and it's important because the built-in gyroscope is going to do a lot to keep your image steady in the scope. And the compass is going to make sure you don't get locationally disoriented when you're trying to keep an eye on a moving target. The compass will swing with the viewer so you know exactly the direction you're looking.
Cost And Value
Not a bad price as thermal imaging binoculars go. Three figures sure but not nearly as much as some of the other entries on this list. As a matter of fact, despite the numbers on these binoculars, they're downright cheap when compared to some of our other products. So if you're looking for a cheap but effective entry into the thermal imaging world these might just be the binoculars for you.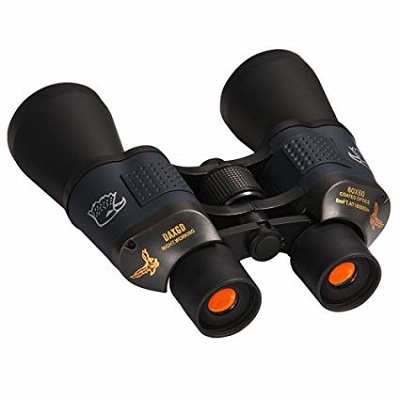 With the BF6060 customers can have a quality experience with one of the more superior options in the industry. They're easy to use and come with the friendliest directions no matter what level you are as a user.
Improved Wide Field Of View
The ultra-wide FOV feature with this model is an improved version of the normal feature available from other brands. The 50mm lens diameter is fully utilized in this setup and gives you the most when trying to make the most of your visuals.
Features and Specifications
With rapid focusing on easy adjustment, this is a great model for beginners and experienced outdoorsmen alike. It features coated optics with a wide-angle view to give you the best visibility possible.
Cost and Value
For a low price, customers can get their hands on a really good pair. The value to the individual customer will come down to how often they use the scaled grid that can't be removed. There are a couple of extra features included with this model that may change how you feel about the overall purchase. But if the extras line up with your interests, then you'll be getting a really good deal.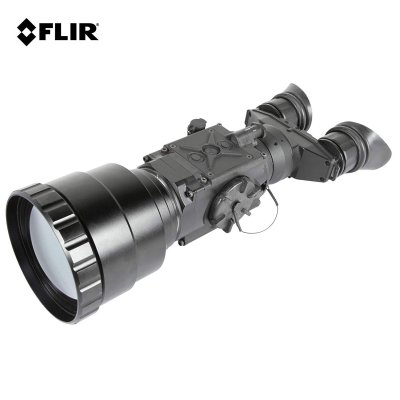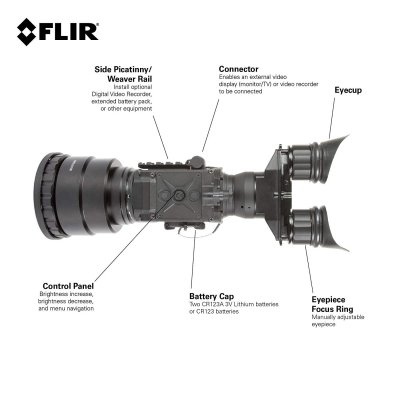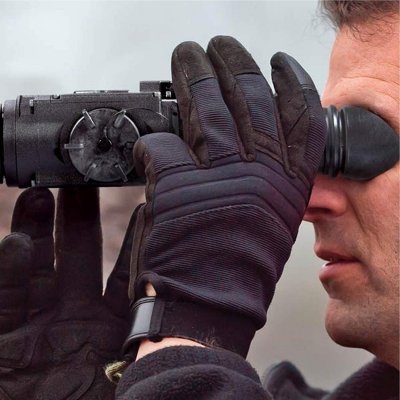 Okay, now we're getting into the rarified air of military-grade thermal binoculars. This single lens double eyepiece thermal imager has an incredible changeable magnification performance. These things are so powerful they are subject to some export regulations so if you're looking military-grade thermal then this is going to be pretty close to the best. These things will cut through bad weather to give you a constant clear sharp picture.
Optical Lens Options
50mm, 75mm, and 100mm lens options let you change your view of any subject quickly and accurately from a broad view of a wider range to close up shots from far, far away. There's also an onboard digital zoom that's going to let you get an even closer up look.
24/7 Vision
The great thing about these binoculars is that they'll operate without the need for any outside light input. They'll cut through the weather and they'll cut through any kind of smoke or whatever else might get in the way of you seeing what's out there.
Cost and Value
Expensive! Really, really expensive, we won't kid you. But like we said when it comes to thermal gear if you're a tech-head you're going to have to pay the price to play. And it's high. Still, if you want military-style tech and you're a civvie this is going to be about as close as you can get.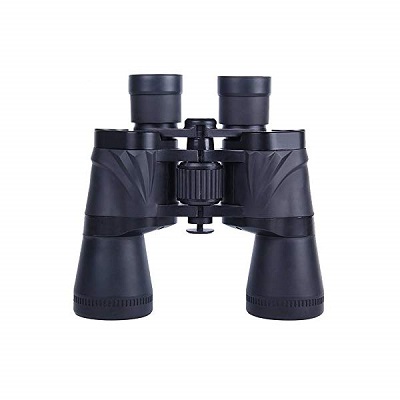 This Yishu model follows the traditional binocular look and crams it full of all kinds of goodies. There is a surprising amount of good things that come from this model, and all without making the product bulky.
Coated Optics Make A Difference
The best images come from products that have coated optics, and this one is no different. Everything comes out crisp and colorful, even when viewing from long distances.
Features and Specifications
It provides the user with amazing viewing distance at 7x magnification with a 50mm objective lens that makes it clear and focused.
Cost and Value
These are priced very well in the mid-range area and comes with the usual assortment of extras. Customers that want superior long-range viewing will be very satisfied with this value. Long-range viewing combined with great optics will always be a good reason to purchase these. This high powered model from Yishu will more than do the work required to warrant a purchase.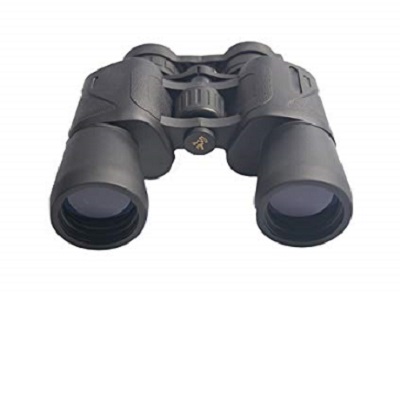 Old and reliable would be the best way to describe these. High performance and used by many worldwide, the price that this model is offered at is unbeatable.
Balanced Vision During Day And Night
These are true day/night style, with one mode no better than the other. That balance is furthered through the use of the K9 Porro Prism Design and LLL night vision.
Features and Specifications
This features a bright index of 30.25, which allows you to see clearly in conditions where the light is not very good. The insta-focus system makes this a great model for those who are not as experienced as others.
Cost and Value
This is the first thermal binocular on the list to hit the mid-range area in price, so maybe a good sweet spot for some. Buyers that want a powerful product but don't want to pay the Firefield Tracker price will love this model. These binoculars meet a lot of the expectations one would expect from a top-tier model. And with the current price, it handles it without hurting your wallet.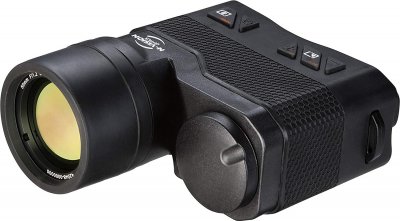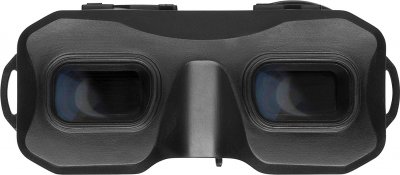 This is an elegant little piece of technology. Two eyepieces and one large optic lens makes takes away the need to bring the images together and brings all kinds of images to life even in total darkness.
Long Detection Range
These glasses boast of a detection range in the miles category, Specifically, these glasses should be able to focus up to 1.25 miles away. That's a fur piece as we used to say back home.
No-Slip Coating
We like the way that these are designed to stay in your hands. They're built to last and they're built to mold into your hand easily.
Cost and Value
Another incredibly expensive pair but also more proof that this tech at this level is going to cost you. Still, if you're looking for the best of the best well you've found it right here.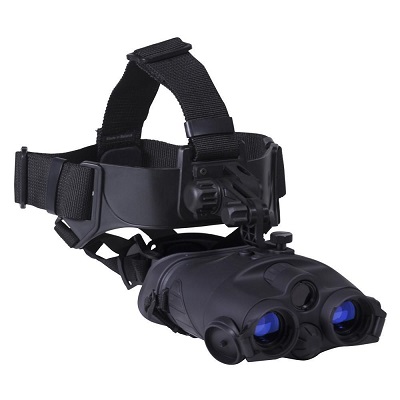 This is going to be the outlier on the list, with Firefield throwing in everything but the kitchen sink with this model. Other than the price, this is about as good a pair that you can get.
Gen 1 Image Resolution
Not only does it look cool, but the optics on the Firefield Tracker are amazing. For nighttime tracking, there are few that can match it head to head.
Features and Specifications
This model has the option of being handheld or head-mountable, which allows for easier mobility. The built-in infrared illumination gives you amazing visuals even in the darkest surroundings.
Cost and Value
This is going to be a hard sell for anyone looking for average everyday equipment. As the most expensive model on the list, the value comes from users that want a high-end product. If you have the money to purchase this model, then you'll be getting an incredibly valuable night accessory. The price is high, but the product is well worth every penny.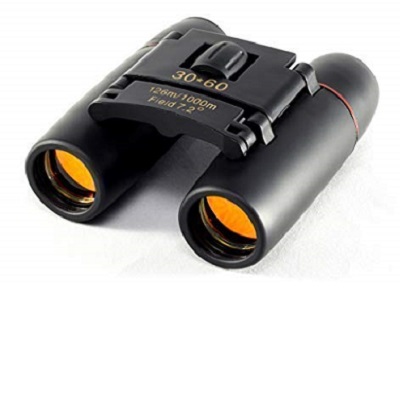 33 Degrees South is a top-rated brand and a great choice for anyone looking at optical technology. This compact model works for both hobbyist and professional users looking for something dependable.
Ready To Travel
While these binoculars are small enough to fit in your pocket, they still come with a black carrying bag. It's a nice touch to keep things neat, and there is even room in there for a cleaning cloth.
Features and Specifications
The Insta-focus rapid focusing feature is great for when you're quickly trying to catch an animal before it runs away. The red Membrane 30×60 gives you great focus and zoom for the size.
Cost and Value
The price is the usual low average, which is something you'll see a lot. Buyers that travel a lot will get the most value out of these. They work well as your main pair or as a backup and should come in handy during a day/night activity. 33 Degrees South made a dependable set with some good features.

Subscribe to our Newsletter