Best Night Vision Scopes Reviewed & Rated For Quality
In a Hurry? Editors choice: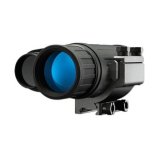 Test Winner: Bushnell Equinox Z

There are a million reasons why you might need a night vision scope. Some of them are practical, you're a hunter, or you do work outside at night and don't want to use a bright light. Then there are other reasons, that we don't necessarily feel like we need to get into, but hey whatever the reason, if you feel like you need one than by gosh you deserve one. But not all these scopes are built the same. There is a surprising variation out there on this simple tool, but they all do the same thing, they let you see in the dark without a flashlight. So we're about to list some of our favorites. They come in all shapes and sizes, some are handheld some are mountable but all of them will let you see what's out there.
Standout Picks
Criteria Used for Evaluation
Effectiveness
You can judge one of these scopes by the quality of the lens the company uses. Just like a regular scope, focusing on this part is key to finding the right model. We only included the best in the industry, so the line was blurred a bit when trying to decide which was better. When looking to optimize the list so that the best glass was at the top, we started by placing one that had a large objective lens.
Larger lens means better light gathering techniques, and more often than not also meant a wider field of view. These two things are key for any type of user, along with how well the hardware works with the glass. Even if the lens was superior, it still had to pass the magnification test. We look at how well individual models zoom in during different light situations, and how clearly they show objects on the move.
A small trick to finding out the best glass on one of these products is seeing how well it performs while in motion. Any scope can look good when looking at a stationary object, so the real test is seeing how bad the blur is when scoping out a target. That means zooming in and out while focusing on a moving object, and in some cases finding out just how much of the image is cropped when zooming to the max.
Max zoom on some models created some interesting results in low light and disqualified some items completely since they couldn't make out an object. Users that are stationary when tracking will approve of how the list is ordered, with slight favoritism going to any lens that had less than a 30% image reduction when at the max magnification.
Versatility
Not all of these are used for hunting, so we had to order the list in a way that showed a balance for hunters, recreational users, professionals, hobbyists, and even collectors. When facing a situation where there was a tie, then we leaned towards hunters, since that is a larger part of the market.
No matter a customer's level, these should not require a high learning curve, even for users that have never owned a regular scope. Some variables were inconsistent with this since we couldn't account for the difference in skill levels of all users. Even for an experienced user, there might be a high learning curve with some products, and lower with others. With that in mind, we looked at how the product was prepared for the everyday consumer.
Ease of Use
Scopes that were easy to use based on their included instructions, online support, and overall online presence gained a significant advantage. The ones that had little or no online presence were pushed further down the list, and for good reason. Customers that opt to look online for more information about their product would get discouraged if they couldn't find any support forums, videos or even comments based on the model they just purchased. This is a common occurrence when the manual doesn't cover a specific question that you have. It's all about making things easier for the customer, and the top five products on the list reflect that attitude.
Professionals don't like headaches just like normal users, so ease of use is important. Both Picatinny and Weaver have their pros and cons, but either one installs with no issues. It's the most foolproof installation you'll deal with concerning scopes and guns, and everyone has their own preference. Rail types ended up being one of the better parts of this category and were the easiest to call.
Size
On the lighter side of ordering the list, we looked at weight and size. Not lens size, but the overall size of the entire scope and whether it affected performance. Bulky models were pushed further down the list, even if they scored high in other areas. And items that were heavier than usual were pushed really far down, with some of the heavier variants left off of the list entirely.
We weren't too harsh in this area, even if some of the bulkier items didn't get the attention they deserved. Without compromising key features, the slimmer items were pushed to the top since they conformed more to current industry standards. No one wants to lug around extra weight on their gun if they don't have to, especially when better options are available at a lower weight. Bulky items can also be a pain to store in cases and bags, leading users to take them apart when traveling. Avoiding the disassembly part completely saves you time so that you can get into position faster.
Durability
Durability was the last thing on our list, with weather-resistant models getting an extra point. All of the available products are shockproof, so including that as a criterion was unnecessary. Durability was rated on a company's reputation, previous models in the series (if any) and any in-house features like the ones provided by Bushnell. The tubing had to be on par with the lens quality so that it could take a couple of drops to the non-fragile areas.
10 Best Night Vision Scopes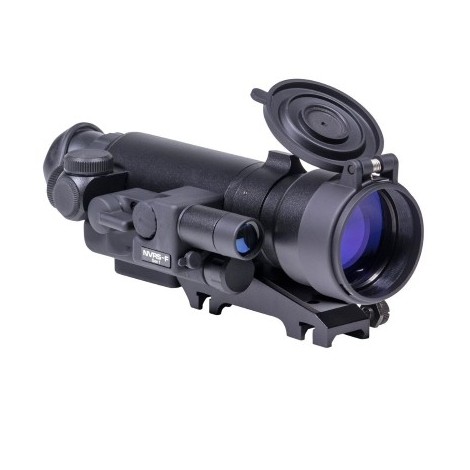 This Firefield model manages to have just the right mix of technology and traditional features to attract all kinds of hunters. It has been faithfully used for years in both day and night hunts, with great results. There are some nice touches of greatness with its housing, with the greatest strength being its adaptability.
Best of Both Worlds
Firefield created a night vision scope that doesn't beat its users over the head with innovation but still eases in a lot of groundbreaking features. Compatibility also plays a good role in the making of this model, and it's even suitable for bolt action rifles.
Lens Protection
Anyone that has used optical equipment of any kind knows that the lens is the most important and delicate part. The lens on this model is triple coated for scratch protection. It also includes an easy on and off cover for the lens as an added measure of protection.
Cost And Value
As the top model on the list, the price is supposed to be a bit high- that's forgivable. The Firefield is the best value that you can get. Not only is it the most compatible, but it holds up well over the years.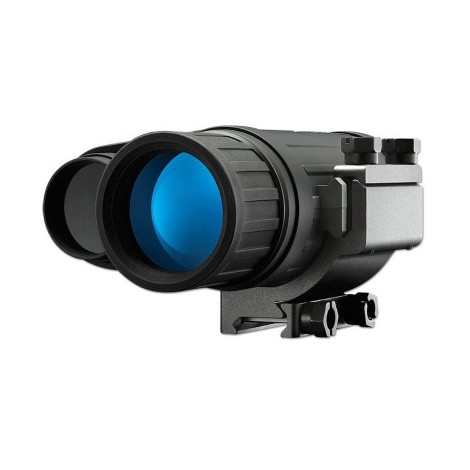 Of course in the #2 spot would be one of the bigger brands with Bushnell, with the Equinox Z coming with a range of respectable features. The biggest of them all is how it manages to be one of the lowest priced on the list while still having a lot of great night vision abilities.
Pricing
This is a high-quality scope that is also one of the lowest priced in the industry. You get an incredible bargain from top to bottom, and you get the backing of one of the biggest brand names in the industry.
Water-Resistant
The outer casing to the scope offers the equipment some water-resistance. Which leads to the longevity of the scope. It prevents moisture from seeping inside causing the lens to fog. Plus you don't have to worry so much about getting caught in the rain.
Cost And Value
You really can't beat the price of this model, so the value is a given. There really are no big downsides to the Equinox Z that would make it a bad buy.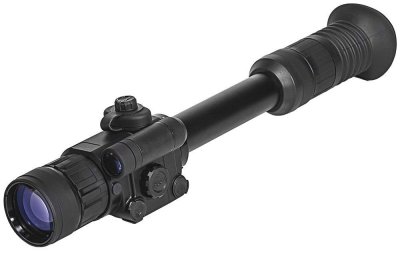 This is a wonderful little tool. It's lightweight can be held in one hand but delivers significant magnification as well as long battery life and high resolution at medium range. If you're looking for a great simple to operate night scope than this is going to be the one for you. Not only can you hold it in your hand but you can also mount it easily on your gun if you're doing some night hunting.
More of Everything
This site offers more of what you need in a scope. 30 percent longer battery life, 30 percent longer range, and 30 percent less weight. What that means for you is that you're paying less for more of what you need in a night scope.
Easy Mounting Sight
It doesn't matter whether you have a rifle or a bow this sight is going to mount easily on either. It's easy to manipulate once set and the wide eyepiece means it's easy to get a view from whatever tool you've attached to your weapon of choice.
Cost And Value
Fairly Pricey as sights go but you're getting a whole lot for not that much money with this sight. Between the increased range, decreased weight, use of red and green reticles, and the longer battery life it's easy to justify spending a bit more cast for this sight.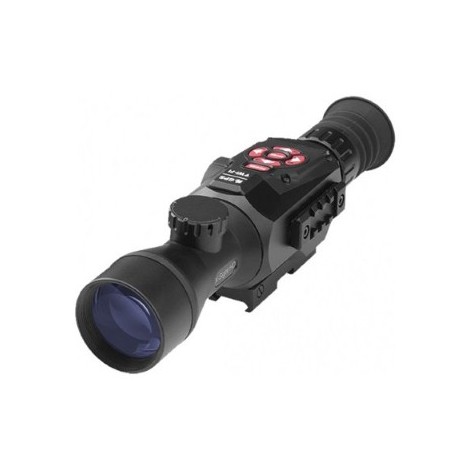 Now, this is where things start to reach futuristic levels! The ATN X-Sight II is from the newest batch and has everything right down to advanced tracking and supreme magnification. There is nothing that this model can't do, and it's one of the more favored selections when customers are shopping.
Guaranteed
A good warranty is hard to find, especially with products that have electrical components. The included 2-year warranty for this model is a breath of fresh air that will make a lot of customers comfortable with the purchase.
Fully Wired
Wi-Fi streaming
Full GPS functions for location and geotagging
Bluetooth version 4.1 support
Micro USB and Micro SD
1080p Recording
Cost And Value
The price is high, but considering all that comes with this night vision scope it is hard to pass up. You're basically getting a trail hunting camera and night vision scope all in one. And with the addition of automatic recording on a kill shot, it is a must for catching that magical moment.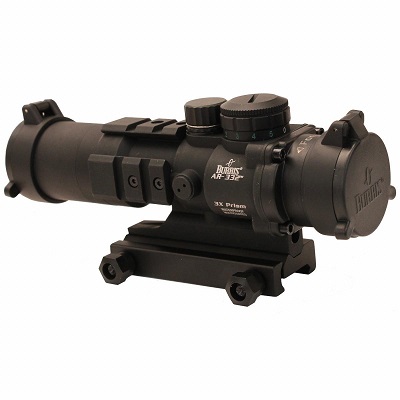 If you like to get down and dirty while hunting, then this is perfect for you. This is part of the tactical series and is not only compact and lightweight but it has a waterproof and durable construction. The integrated lens covers also ensures that the right parts stay clean.
Adaptability
We all know how unpredictable the weather can be. To help you adapt to the situation Burris uses a special ballistic/CQ lighted reticle that allows you to adjust the device to match the current lighting conditions, whether it is day or night.
Sturdily Built
Comes with integrated lens covers, with Waterproof construction, multicoated lenses, and a Picatinny mounting bracket.
Cost And Value
This comes in the lower price range on the list but has the same strong build you would find on the higher end items. Although it only magnifies three times, if you are not planning on doing any long-distance shooting, it gets the job done.

6

. Night Owl Optics NightShot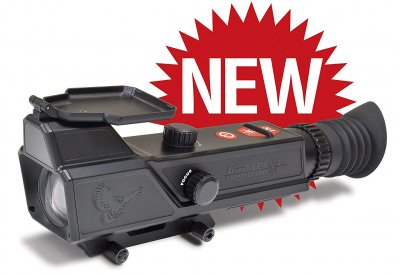 This boxy but cool looking scope offers high resolution as well as long distances and can be used with rifles of to .30 caliber so it should meet most of your needs. It's weatherproof and has a built-in illuminator to make it easier to operate than your normal scope. Plus one added bonus you can use this during the day and not damage the optics.
Long Range
Typically this scope will illuminate up to 200 yards in reasonable conditions. Of course, this depends on the amount of ambient light and as anyone who uses a night scope often all kinds of environmental factors can get in the way, but in good conditions, this is going to let you see a long, long way.
Reticle Selection
This allows you to choose your reticle selection and customize it to your comfort. Choose your display in black or white and for easiest viewing no matter the environment so you can get the best view of what's out there in the dark.
Cost and Value
A bit pricey but again as with all of these scopes you're getting a lot for your money. With this particular scope you've got the ability to mount it to any rifle, it can double as a day-use scope and you can customize for the view to get the best picture of whatever it is you're looking for.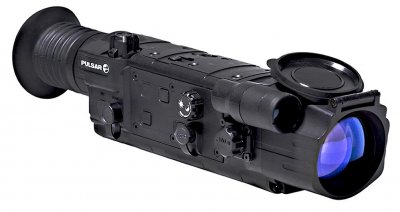 This unique scope uses the passive light gathering to maximize your ability to see in the darkness without having to engage the infra-red capability. It also has an incredibly cool picture in picture mode as well as a separate IR illuminator and the ability to send what you're seeing to your smartphone. This is really an amazing scope.
Long Range IR Illuminator
This detachable IR Illuminator allows you to really get a great look at what you need to when there's just not enough ambient and passive light to power this scope. It allows for long-range illumination and adjustable levels to get the best picture.
Smart Phone Compatible
This scope can talk to your phone via the Steam Vision App. Simply hook up the app to your phone, get your scope and your phone talking, and then easily send whatever you're seeing to your phone. With this app, you can record what you're seeing or just allow yourself to take your eye out of the scope for a while.
Cost and Value
Okay, you get what you pay for and this scope comes with so much stuff you're going to find yourself paying a bit of a premium. But if you're looking for a scope that simply does everything then this one is hard to pass up.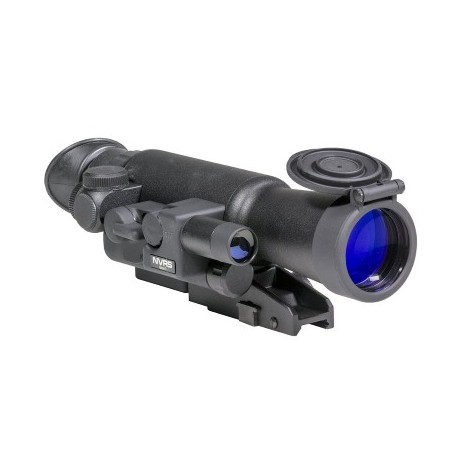 The NVRS is not as high tech looking as some of the others on the list, but still provides an incredible laundry list of features. It can mount on a compatible rifle within seconds and is considered a great entry model for hunters that have never had a night vision scope before.
Compatibility
There is no learning curve for attaching or detaching this night vision scope. The easy to use weaver mount is the best thing about this model, with a quick detaching feature that works without any struggle. Handling this during the night won't be a problem at all.
Sturdy Build and Lots of Features
Made from a titanium grade that gives the body a sufficient amount of durability. Making it perfect for using while out in the field. Another great quality is the fact that an object will be magnified to 3x the original size.
Cost And Value
At around the mid to high price point, the NVRS is a good buy for anyone looking for a solid night vision scope. The ease of use is what makes it a valuable buy, and should be more than enough to keep the majority of buyers happy after purchase.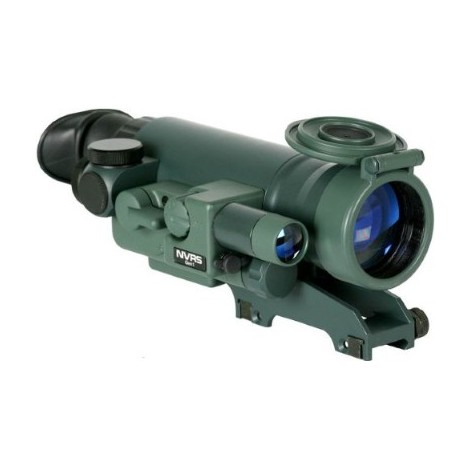 At this point in the list, the Yukon NVRS Titanium may come as a surprise. It is an older version from the company, with the updated model still being no comparison to this one. As a powerful night vision scope, it is still unmatched within the company, with only a select few being able to challenge the flagship product.
Light as a Feather
The Titanium only weighs 30 ounces, which is like a quarter of what the other night vision rifles weigh. Even still, it has a tough body that can take years of abuse and changes.
High Magnification
This scope comes with a high 5x Magnification and superb clarity 200 yard detection distance.
Cost and Value
The price settles in at around the midrange, which is good since this is considered a high-end product. This is probably a top 3 compact night vision scope, so taking that into account makes the purchase worth it.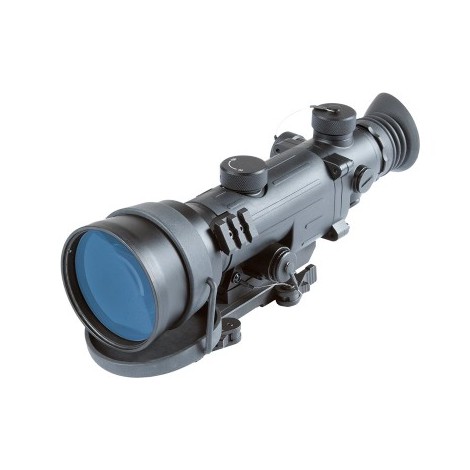 This one is an old favorite of many hunters, with a name that suits its purpose. The Armasight Vampire is a premiere night vision scope that is basic in its design and function, yet superior in what it does. A lot of great scopes have been designed based on this particular model.
Internals
This was probably the last great scope that made full use of CORE (Ceramic Optical Ruggedized Engine) technology. It takes full advantage of the optics to deliver an unmatched resolution that is crisp in either day or night.
Easy to Mount
This one is easy to mount to a firearm. The directions given are clear and precise. It comes with a quick-release feature that allows you to remove the scope when or if necessary.
Cost and Value
The Vampire is one of the highest-priced night vision scopes on the list but is also one of the most in-demand. If you want precise and finely tuned technology, it is going to cost a bit. Since the Vampire has been vetted by so many professionals at this point, it's worth the price.

Subscribe to our Newsletter