Best Night Vision Scopes Reviewed & Rated For Quality
Once a technology that was only used in the military, night vision has since crossed over to civilian use and has really become a useful tool for hunters, campers, survivalist, and outdoor enthusiasts. Many modern rifle scopes come equip with night vision, which is great for hunting wild boar and other critters during the night. But with so many models featuring varies features on the market, how do you know which one is right for you?
Technology has transformed rifle scopes from a simple magnifying tool into an advanced hunting device that can be connected to the internet to provide you with amazing features. For the most part, the more advanced the instrument, the higher the price. But before you go out and spend all of your money, are you really ever going to use some of those extra features? If you are a serious hunter, then the answer may be yes. But if it's more of a recreational activity for you, then perhaps you may want to think twice. To help you decide on the right device for you, we've reviewed and rated the best scopes on the market and discussed some of their features. This list will help you save money and time!
Featured Recommendations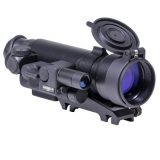 Firefield FF26014T

Our rating
3 Pounds
Price:

See Here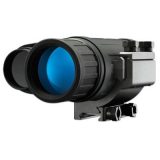 Bushnell Equinox Z

Our rating
Tripod Ready
Price:

See Here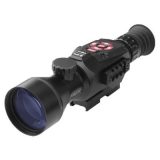 ATN X-Sight II

Our rating
7 Reticle Options
Price:

See Here

Night vision scopes have the great honor of not having a dominant brand. Although names like ATN, Orion and Bushnell are well known, when it comes to scopes they are one of many. Advances in technology have made it easier for other companies to innovate, with products that are always a step ahead of the rest.
10 Best Night Vision Scopes
1. Firefield FF26014T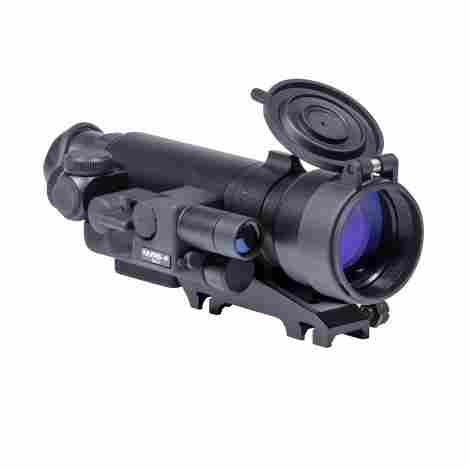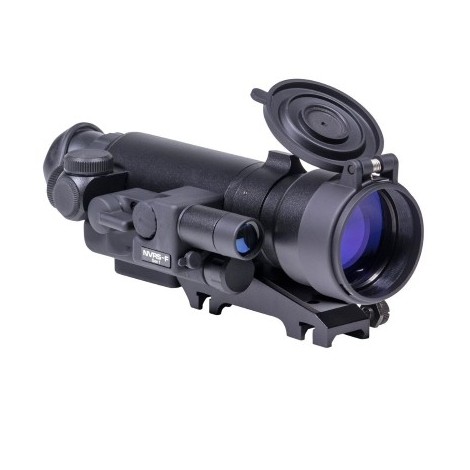 This Firefield model manages to have just the right mix of technology and traditional features to attract all kinds of hunters. It has been faithfully used for years in both day and night hunts, with great results. There are some nice touches of greatness with its housing, with the greatest strength being its adaptability.


Expand to see more
Best of Both Worlds

Firefield created a night vision scope that doesn't beat its users over the head with innovation but still eases in a lot of groundbreaking features. Compatibility also plays a good role in the making of this model, and it's even suitable for bolt action rifles.

Features and Specifications

Titanium alloy housing
Weighs 3 pounds
Dimensions are 13.9x5x4.7 inches
Extended weaver mount
Internal focusing ability
Flip up lens covers and multi coated optics
Pulse infrared illuminator

Price/Value

As the top model on the list, the price is supposed to be a bit high- that's forgivable. The FF26014T is the best night vision scope value that you can get. Not only is it the most compatible, but it holds up well over the years.

Decision Time

Picking between #1 and #2 on the list is a toss-up for many people, so if the price is right for either item, make a choice based on that. Firefield put a lot into the features of this night vision scope and it earns the #1 spot.
Lightweight
Compatible with several types of guns
Internal focusing provides comfort during heavy shooting
Increases range in the darkness
2. Bushnell Equinox Z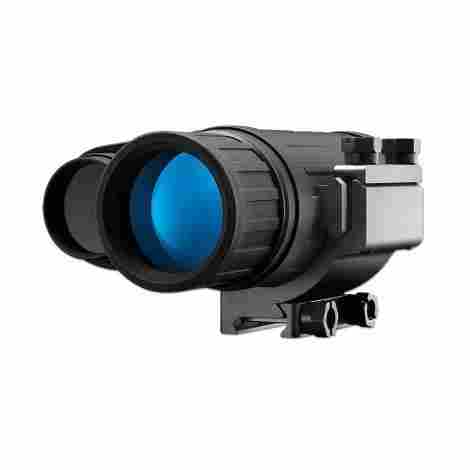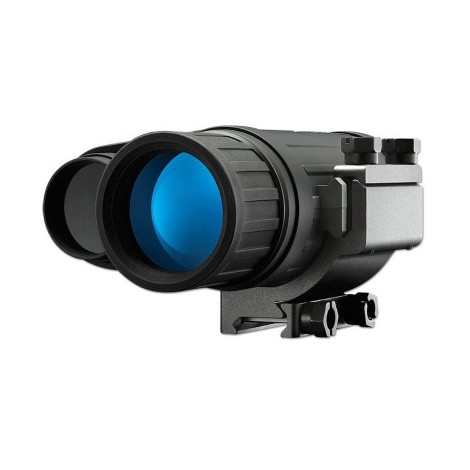 Of course in the #2 spot would be one of the bigger brands with Bushnell, with the Equinox Z coming with a range of respectable features. The biggest of them all is how it manages to be one of the lowest priced on the list while still having a lot of great night vision abilities.


Expand to see more
Pricing

This is a high quality night vision scope that is also one of the lowest priced in the industry. You get an incredible bargain from top to bottom, and you get the backing of one of the biggest brand names in the industry.

Features and Specifications

Infrared illumination day/night cycles
Image capture and Video recording capabilities
Tripod ready
Water resistant housing
1-3x zoom
Mount with removable rail

Price/Value

You really can't beat the price of this model, so the value is a given. There really are no big downsides to the Equinox Z that would make it a bad buy.

Decision Time

If it had a few more bells and whistles then the Equinox Z could have easily taken the top spot. As it stands, being second on the list isn't bad at all. This is a highly recommended by for all users that want a long lasting night vision scope.
Uses AA batteries
Weighs only 2.6 pounds
TV out cable is included
Superior visuals during day or night
Only 2 adjustment levels for the LCD screen
3. ATN X-Sight II 5-20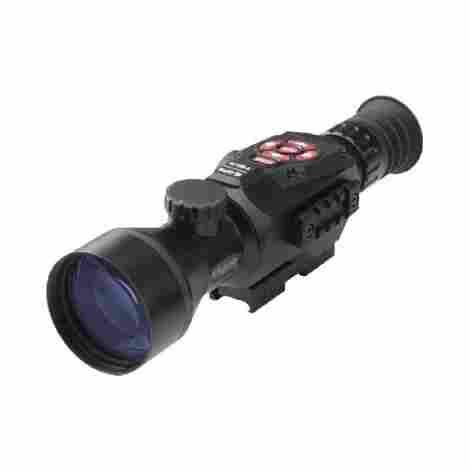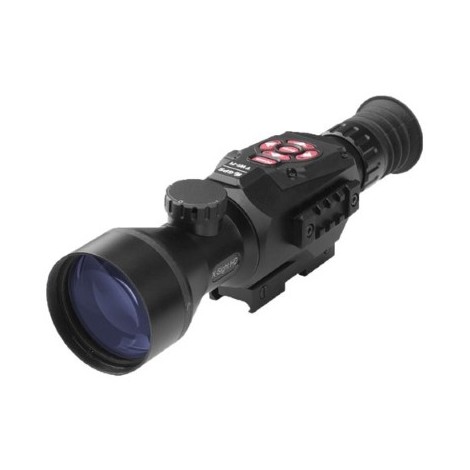 Now into the top three, the ATN X-Sight II 5-20 Smart Riflescope is a high tech masterpiece with an endless set of features. A good amount of buyers are still figuring out the more advanced features, which shows how much this particular model has to offer. This is basically an upgrade of the #4 night vision optic, and it really knocks it out of the park!


Expand to see more
Extreme Magnification

With up to 20x magnification, this night vision scope goes where no other can. The ability to see far off into the distance without compromising quality is a really fun feature, and one that doesn't require a lot of getting used to.

Features and Specifications

Wi-Fi streaming
5-20x magnification
Upgraded Obsidian II Core
160 lp/mm system resolution
Bluetooth 4.1 compatible
Over 7 reticle options

Price/Value

The best way to decide if this is a great value for an individual consumer is to see if they like the #9 night vision scope. If so, compare it to this mode and note the price difference. All of these advanced features won't matter to a consumer unless they plan to use at least half of them.

Decision Time

ATN created an amazing night vision scope, and then improved upon it with this model. Buyers that like a lot of technology in their hunting will swoon over this choice.
New crossbow reticle
7 different reticle colors
Easy firmware upgrades
Can take stunning HD video/photos
iOS and Android apps gives user complete control
Requires technical knowledge
Ends up being 3-4th most expensive model on the list
4. ATN X-Sight II 3-14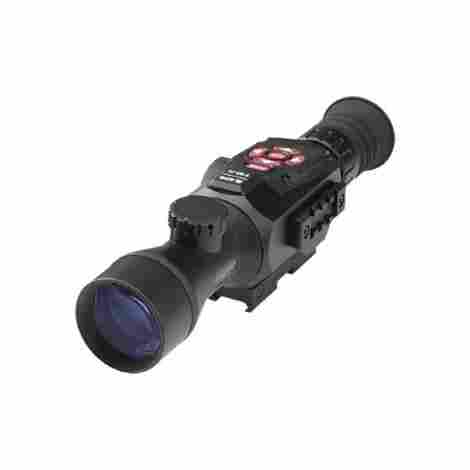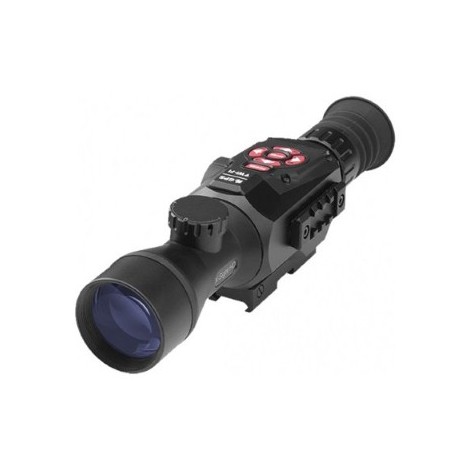 Now this is where things start to reach futuristic levels! The ATN X-Sight II is from the newest batch of night vision scopes, and has everything right down to advanced tracking and supreme magnification. There is nothing that this model can't do, and it's one of the more favored selections when customers are shopping.


Expand to see more
Guaranteed

A good warranty is hard to find, especially with products that have electric components. The included 2 year warranty for this model is a breath of fresh air that will make a lot of customers comfortable with the purchase.

Features and Specifications

Wi-Fi streaming
Full GPS functions for location and geotagging
3-14x magnification
Two year warranty
iOS and Android apps for smartphone control
Bluetooth version 4.1 support
Micro USB and Micro SD
1080p Recording

Price/Value

The price is high, but considering all that comes with this night vision scope it is hard to pass up. You're basically getting a trail hunting camera and night vision scope all in one. And with the addition of automatic recording on a kill shot, it is a must for catching that magical moment.

Decision Time

This is a hard one to pass up, even if the price is a little hefty. With all of the features included, make sure you spend some time getting to know the ins and outs of the device. It will be well worth your time!
Smartphone apps are easy to use
Photos and videos are superior
Night vision mode is powered by Obsidian II Core
Rangerfinder technology is a game changer
Overwhelming for some users
High learning curve
5. Buris 300208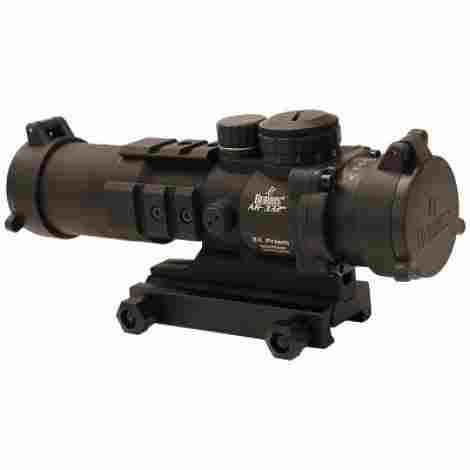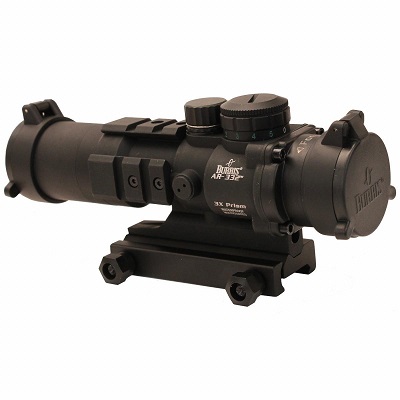 If you like to get down and dirty while hunting, then this is perfect for you. This is part of the tactical series and is not only compact and lightweight, but is has a waterproof and durable construction. The integrated lens covers also ensures that the right parts stay clean.


Expand to see more
Adaptability
We all know how unpredictable the weather can be. To help you adapt to the situation Burris uses a special ballistic/CQ lighted reticle that allows you to adjust the device to match the current lighting conditions, whether it is day or night.

Features and Specifications
Comes with integrated lens covers
Waterproof construction
Multicoated lenses
3 x magnification
Ballistic/CQ illuminated reticle
Picatinny mounting bracket
Weighs 14.2 ounces

Price/Value
This comes in the lower price range on the list but has the same strong build you would find on the higher end items. Although it only magnifies three times, if you are not planning on doing any long distance shooting, it gets the job done.

Decision Time
This is one of the most popular scopes on the list, and for good reason. The price is comparatively low and can be mounted on almost all rifles. If you like hunting, day, night, rain, or shine, this works great in any condition.

It's compact and lightweight
Lenses provide a brighter image and reduced glare
Can be mounted on a carry handle
Adjusts to any lighting situation
The sights are very small
Some reviewers found the optics odd
6. Pinty AR15 Rifle Scope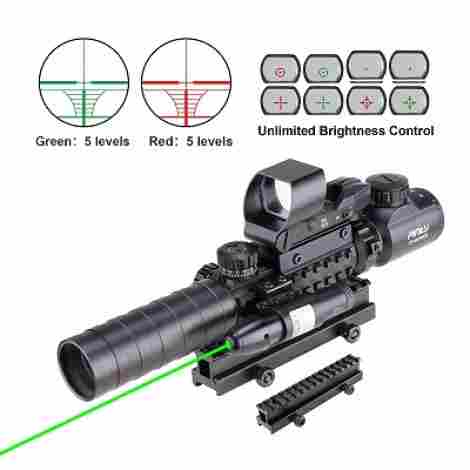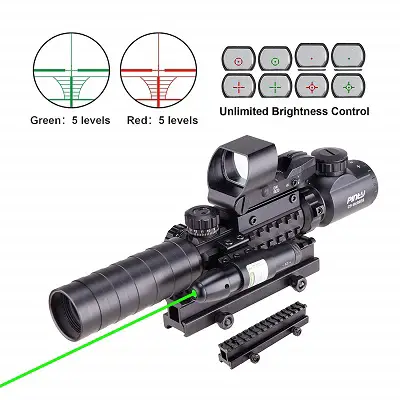 Pinty has developed an affordable product that has everything you will ever need. The four in one device includes riflescope, a green/red dot sight, a rangefinder, and a green laser sight. It works in any condition and features O-ring sealing that holds nitrogen to provide users with a 100% fog, water, and shock-proof item.

Expand to see more
Green/Red Dot Reflex Sight
The HD 119 green/red reflex sight has a bottom switch for easy accessibility and provides users a high resolution image for a fraction of the cost. It is extremely accurate, has a wide field of view, features four different reticle patterns and provides you unlimited eye relief.

Features and Specifications
Compact high riser
4 reticle green/red dot reflex sight
Green laser sight
3 to 9 times magnification
Multicoated optics
O-ring sealing
Water, fog, and shock proof
5 brightness adjustments

Price/Value
So, how does an item with so many great features cost so little? Pinty gives you everything you need and avoids all the little extras that you don't. It also includes a built-in rangefinder, laser sight, and red/green reflex sight, saving you space and money.

Decision Time
This is a great item for beginners. It is easy to use and doesn't have all those complicated, extra features that require days of studying to learn. It also has extras, like range finder and laser sight, to help you get used to shooting at longer distances.

Provides unlimited eye relief
Includes rangefinder, laser sight, and red/green dot reflex sight
Can be mounted to all 22/11mm rails
Nitrogen filling ensures fog and water resistance
Some reviewers had problems with the mounting
Complaints about the laser not holding on zero
7. Sightmark Photon XT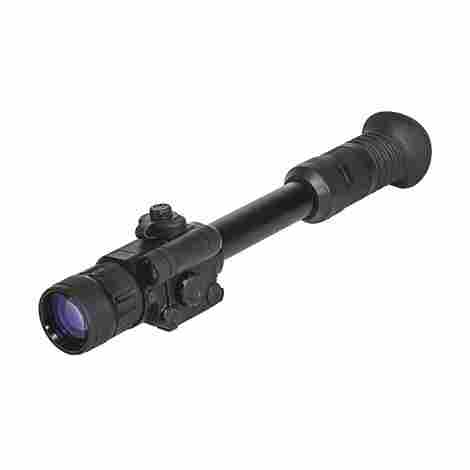 Going from the ATN X-Sight II to the more traditional Photon XT is like two different worlds. With this particular night vision scope, there is less to learn by more to master. It's one of the most versatile offerings on the market and really makes night hunting a fun task.


Expand to see more
Battery Life

The supreme battery life of the ATN X-Sight II allows for 33% more use than other leading night vision scopes. With less bells and whistles, they are able to strip the device down to its bare necessities. This keeps it from burning through precious battery when it doesn't need to.

Features and Specifications

30% lighter than other night vision scopes
Six red/green/white digital reticle options
810nm LED IR Illuminator
Weatherproof and Shockproof
Optional video output for recording

Price/Value

The price is a bit high for what is offered, but this is a night scope that pays for itself over time. Battery consumption is a lot less than with other tech heavy models. The build quality also seems improved, both inside and out.

Decision Time

Without all the bells and whistles, the Sightmark Photon XT delivers a pretty solid experience. Don't let the high price turn you away, as this night scope is one of the better ones available.
Additional weaver included
Carrying Case and cleaning cloth included
Handles bright light well
Display is high resolution
Excels at medium range
Video output option can add unnecessary bulk
Is a bit pricey for a traditional model
8. Firefield FF16001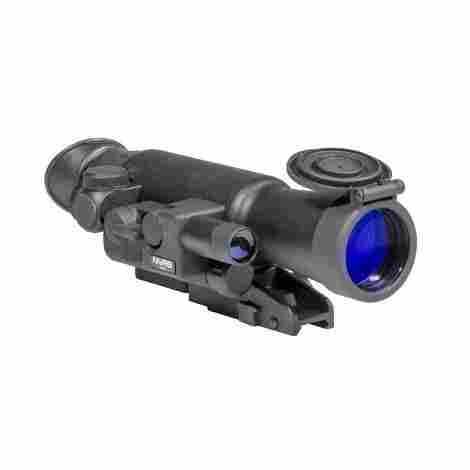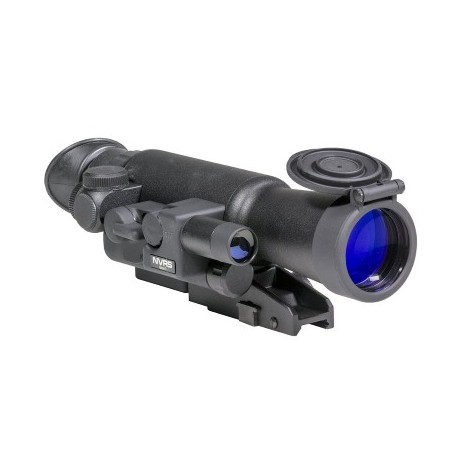 The FF16001 NVRS is not as high tech looking as some of the others on the list, but still provides an incredible laundry list of features. It can mount on a compatible rifle within seconds and is considered a great entry model for hunters that have never had a night vision scope before.


Expand to see more
Compatibility

There is no learning curve for attaching or detaching this night vision scope. The easy to use weaver mount is the best thing about this model, with a quick detaching feature that works without any struggle. Handling this during the night won't be a problem at all.

Features and Specifications

Up to 3x magnification
Built in IR system
Body is made of grade A Titanium
Weaver mount with quick detach
Weighs 1.8 pounds
Dimensions of 9×3.2×3.4

Price/Value

At around the mid to high price point, the FF16001 NVRS is a good buy for anyone looking for a solid night vision scope. The ease of use is what makes it a valuable buy, and should be more than enough to keep the majority of buyers happy after purchase.

Decision Time

There are a lot of great night vision scopes available, yet sometimes it's the ones that don't go overboard with the extras that seem the most inviting. This is a good choice even if you're a professional hunter, and will be in your arsenal for years to come.
Even at 3x magnification the image is crisp
Images overall are detailed and the resolution is sharp
Strong body while still being lightweight
Isn't as bulky as other models
Built-in IR is not intuitive
Not as powerful as other night vision scopes
9. Yukon NVRS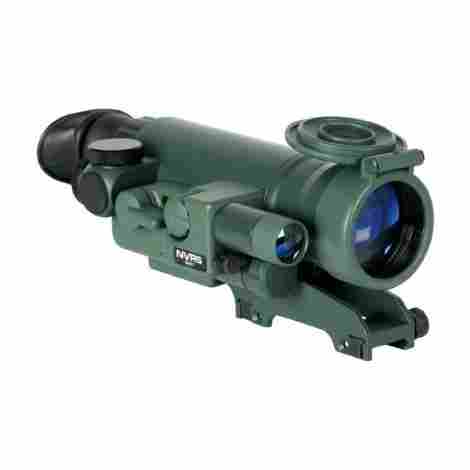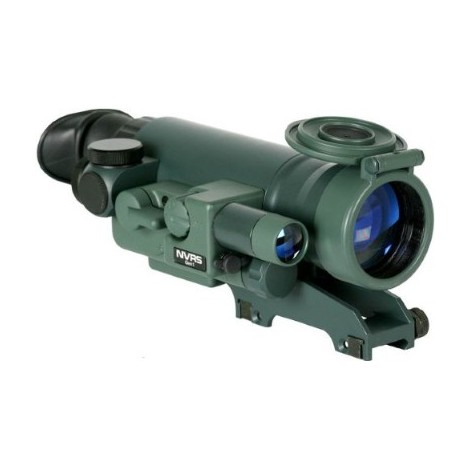 At this point in the list, the Yukon NVRS Titanium may come as a surprise. It is an older version from the company, with the updated model still being no comparison to this one. As a powerful night vision scope, it is still unmatched within the company, with only a select few being able to challenge the flagship product.


Expand to see more
Light as a Feather

The Titanium only weighs 30 ounces, which is like a quarter of what the other night vision rifles weigh. Even still, it has a tough body that can take years of abuse and changes.

Features and Specifications

5x Magnification
200 yard detection distance
½ MOA per click
100 yard infrared illuminator distance
45 millimeter eye relief

Price/Value

The price settles in at around the midrange, which is good since this is considered a high end product. This is probably a top 3 compact night vision scope, so taking that into account makes the purchase worth it.

Decision Time

It isn't uncommon for older models to outshine some of their newer iterations. The Titanium is an incredible value that provides traditional night vision scope capabilities with an affordable price. Don't miss out on this purchase if you want something that works out of the box.
Lasts up to 50 hours on 2 AA batteries
Diopeter adjustment is easy to manage
Flip up lens cover
Remote switch for on/off
IPX5 water intrusion protection
Magnification level is a bit low
Lacks recording and video features
10. Armasight Vampire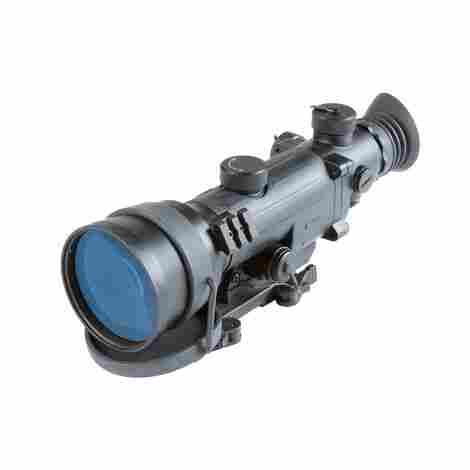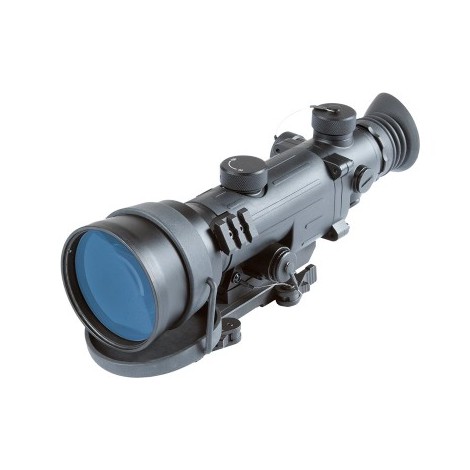 This one is an old favorite of many hunters, with a name that suits it purpose. The Armasight Vampire is a premiere night vision scope that is basic in its design and function, yet superior in what it does. A lot of great scopes have been designed based on this particular model.


Expand to see more
Internals

This was probably the last great scope that made full use of CORE (Ceramic Optical Ruggedized Engine) technology. It takes full advantage of the optics to deliver an unmatched resolution that is crisp in either day or night.

Features and Specifications

Quick release mount (weaver)
Low battery indicator
Illuminated reticle with brightness customization
All-glass IR transmission multicoated optics
Fog and water resistant
2 year warranty

Price/Value

The Vampire is one of the highest priced night vision scopes on the list, but is also one of the most in demand. If you want precise and finely tuned technology, it is going to cost a bit. Since the Vampire has been vetted by so many professionals at this point, it's worth the price.

Decision Time

Buyers that have a little professional know how will fall in love with the Vampire. It's one of Armasight's best, and continues to be a high profile product.
Infrared illuminator is detachable
CORE technology provides stunning resolution
Solid aluminum body
Comes with standard tactical rails
Price
Requires a bit of experience with parts
Maintenance and Cleaning Tips
Keeping small particles like dirt, dust and sand out of the lens will keep it in top shape. These cleanings should take place after hunting, or at the very latest the day after. This will allow you to take a microfiber cloth and carefully get rid of any buildup without scratching the lens. And if the cleaning needs to take place out in the field, then water with an approved cloth is the best way to handle it. Just don't apply any pressure!
How to make the best decision when choosing a the right product
Deciding between an advanced model that uses wifi and a traditional model that uses advanced tubing technologies can be hard. Having a better idea of what you want to do with a your choice will help sway the decision, so here are the two categories in depth.
Traditional
Better at gathering light, lighter, and more compatibility with a range of weapons. But you'll miss out on many things, including integration with other high-tech hunting items. Going traditional, while the rest of your hunting materials are high tech makes no sense and causes trouble down the line.
Advanced models
You'll usually get smartphone integration with apps, Bluetooth connectivity, better software zooming and firmware updates that improve older features. The tradeoff is price since you'll be spending a lot more for features that you may never use
Criteria Used to Evaluate the Best Night Vision Scopes
Like any other list that was based on scopes, we based our scoring on the lens first and foremost. A lot of the items on the list were even across the board, even when taking their glass into consideration. So we added in weight/size, ease of use, available accessories and lasting durability. At no point was the list majorly swayed by what generation the product was, and we instead focused more on the meat and potatoes of the features. This allowed for a very unbiased look at what hunters and regular consumers would look for in their quest for the perfect product.
Lens Quality
You can judge one of these products by the quality of the lens the company uses. Just like a regular scope, focusing on this part is key to finding the right model. We only included the best in the industry, so the line was blurred a bit when trying to decide which was better. When looking to optimize the list so that the best glass was at the top, we started by placing one that had a large objective lens. Larger lens means better light gathering techniques, and more often than not also meant a wider field of view. These two things are key for any type of user, along with how well the hardware works with the glass. Even if the lens was superior, it still had to pass the magnification test. We look at how well individual models zoom in during different light situations, and how clearly they show objects on the move. A small trick to finding out the best glass on a one of these products is seeing how well it performs while in motion. Any scope can look good when looking at a stationary object, so the real test is seeing how bad the blur is when scoping out a target. That means zooming in and out while focusing on a moving object, and in some cases finding out just how much of the image is cropped when zooming to the max. Max zoom on some models created some interesting results in low light and disqualified some items completely since they couldn't make out an object. Users that are stationary when tracking will approve of how the list is ordered, with slight favoritism going to any lens that had less than a 30% image reduction when at the max magnification.
Learning Curve
Not all of these are used for hunting, so we had to order the list in a way that showed a balance for hunters, recreational users, professionals, hobbyists and even collectors. When facing a situation where there was a tie, then we leaned towards hunters, since that is a larger part of the market. No matter a customer's level, these should not require a high learning curve, even for users that have never owned a regular scope. Some variables were inconsistent with this since we couldn't account for the difference in skill levels of all users. Even for an experienced user, there might be a high learning curve with some products, and lower with others. With that in mind, we looked at how the product was prepared for the everyday consumer.
Easy to Use
Products that were easy to use based on their included instructions, online support, and overall online presence gained a significant advantage. Products that had little or no online presence were pushed further down the list, and for good reason. Customers that opt to look online for more information about their product would get discouraged if they couldn't find any support forums, videos or even comments based on the model they just purchased. This is a common occurrence when the manual doesn't cover a specific question that you have. It's all about making things easier for the customer, and the top five products on the list reflect that attitude. Professionals don't like headaches just like normal users, so ease of use is important. Both Picatinny and Weaver have their pros and cons, but either one installs with no issues. It's the most foolproof installation you'll deal with concerning scopes and guns, and everyone has their own preference. Rail types ended up being one of the better parts of this category and were the easiest to call.
Weight and Size
On the lighter side of ordering the list, we looked at weight and size. Not lens size, but the overall size of the entire product and whether it affected performance. Bulky models were pushed further down the list, even if they scored high in other areas. And items that were heavier than usual were pushed really far down, with some of the heavier variants left off of the list entirely. We weren't too harsh in this area, even if some of the bulkier items didn't get the attention they deserved. Without compromising key features, the slimmer items were pushed to the top since they conformed more to current industry standards. No one wants to lug around extra weight on their gun if they don't have to, especially when better options are available at a lower weight. Bulky items can also be a pain to store in cases and bags, leading users to take them apart when traveling. Avoiding the disassembly part completely saves you time so that you can get into position faster.
Accessories & Durability
Accessories and durability was the last thing on our list, with weather resistant models getting an extra point. All of the available products are shockproof, so including that as a criterion was unnecessary. Durability was rated on a company's reputation, previous models in the series (if any) and any in-house features like the ones provided by Bushnell. The tubing had to be on par with the lens quality so that it could take a couple of drops to the non-fragile areas. Accessories weren't rated on quantity and were aimed more for swaying the vote towards compatibility with other products. Users will always have a lot of accessories to choose from to outfit their model with. So when we reordered the list based on accessories, the scopes that had the universal options were rewarded with a higher spot.
FAQ
Frequently Asked Questions
Q: Are there dangers?
A: The dangers with items like these are usually associated with misuse rather than intended use. That means modifying the equipment without permission, staring into the intense light with the magnification on the high and improper mounting of the scope. All of these things can be avoided, and most importantly, issues that are caused by modifications can be dangerous and void your warranty. Always follow the instructions when taking the scope out of the box for the first time, and always pay attention to any warnings that are mentioned in the manual.
Q: What is the ideal environment to use it in?
A: A common mistake first-time customers make when purchasing one of these products is not factoring in environment variables. If your sole intent for them is to use them in pitch black darkness, then your results will be less than desired. Likewise, using a one in a lighted area where a regular scope would be more efficient is something else that can be tricky. Always know the environment you plan on using your chosen product in and you won't run into any issue with compatibility. And in the long run it will save you money on upgrades you don't need.
Q: Can these be upgraded?
A: Yes, but it isn't as straightforward as applying a piece or taking it to a professional. Consumers can upgrade their generations from Gen 1 all the way up to the latest Gen 3, for a cost. Compatibility is the first thing that will come to mind and is a major concern that cancels out more than half of the possible upgrades. The majority of the upgrades are not covered under warranty, so if you have a newish product then you'll be taking a risk. Yet the biggest deterrent of upgrading is the cost. Unless you are absolutely tied to your current setup, there is little reason to upgrade your old tech to new tech. The cheaper and more efficient option would be to buy the upgraded equipment which will come with a brand new warranty and its own set of safeguards.
Q: Will the warranty be voided if a professional dissemblers the device?

A: Absolutely, even if it is for a minor repair. Now there is no way for brands to 100% identify if someone tampered with their product, so professional disassembly is more for consumers that want upgrades or modifications. It's also something to consider if you are out of warranty, although purchasing a new product would be preferable. And when the time is of the essence, sometimes a local professional is the best option available. Always check in with the company that made your scope to see if they have a local repairman. This is better than taking it to a professional with no association with the company since it won't void your warranty. There is also the added benefit of knowing it will be in the hands of someone has experience dealing with your particular product.
Q: Is durability tied to brand prestige?
A: Brand recognition is mentioned a lot with any product, so it's not surprising that brand prestige is strongly tied to durability. Products from popular brands are less likely to break down, and usually, have in-house methods to ensure they last for a long time with no issues. And buying from a big brand doesn't always mean that the price will go up, as there are plenty of average priced brands with high durability. In short, the most important thing is going to be the glass that is used with the scope. If that part of the product is solid, then consider that a measuring stick for the rest of the product.
Q: What is the best generation?
A: Generation 3 is without a doubt the best for visual clarity. When looking at it from a consumer's point of view, the latest generation is still playing catch up with prices and overall features. So for the retail side, Generation 2 seems to be the sweet spot. You'll get the most competitive price, and on top of that will also get the latest night vision features that are still being developed. Generation 1 is still ranking high on many lists, so it really depends on the model that you go after. Once you find one that fits your needs, it's hard to go back a generation.
Q: Are these easy to adjust?
A: These differ from goggles in this regard, as the latter is easier to adjust. There is an entire skillset associated with adjusting your product for maximum accuracy and clarity. Buyers that are coming from regular scopes can't just jump in like there isn't a difference. The learning curve is going to be on an individual basis, with some consumers learning in minutes, and others learning in weeks. It shouldn't take long to get used to your new product, even if you're used to a different brand.
Q: What is a good distance to see from?
A: It depends on whether you're talking about detection range or recognition range. When hunting with a night vision scope, recognition range will be much more important if you want to land a clean shot. Detection range won't really help much with accuracy but could be useful for other means. In the buying process, this is where specifications may do more harm than good. No matter what the specs say, it all comes down to the conditions you are using the scope in. Optimal conditions for any night scope will yield you positive results most of the time. Specifications that are listed usually favor these optimal conditions, which aren't real-world situations for hunters. So rather than using the specs as a complete guide, use them instead as a sampling of the products overall feature set.
Q: Is light necessary for night vision to work?
A: Yes. These products don't allow you to see in complete darkness. Instead, they amplify what little light there is to give you a better visual of the area. On some select models, they get around this by using IRI technology. It is hit or misses, but worth a look if buyers need something for complete darkness. One of the many downsides to the technology is that it greatly reduces the viewing area by focusing on an invisible beam of light. You'll get good distance at a cost, in some cases up to 100 yards out.
Q: What accessories are available for the products?
A: There is no shortage of accessories for these items, with the most important being the lens cover. Not all scopes ship with covers, so that should be the first purchase to keep your product from getting damaged. And in case you lose your covers, having backups ready to go is ideal for any hunter. Besides the usual adapters for compatibility and mounts, what's becoming more famous are the eyepieces. Various eyepieces are available that improve the quality of the image you see, and some can even extend zoom functionality. If you want to take a step further, there are video kits available that you can install that won't void the warranty. With these kits, you can take pictures and videos while you are using your product.
Q: How long is the average life?
A: There is no definite lifespan to go by since everyone uses their equipment differently. As an estimate, thousands of hours are available for the life of the product if you turn it off when not in use. Taking good care of the scope also helps with the longevity of it, so for many users, a technology upgrade would be the only reason to purchase a new product. They're really well built from the ground up, providing a level of hardiness that comes from the development of regular scopes. A lot of the cons of regular scopes are not often found with their counterparts.
Q: How effective are generation 1 devices?
A: Try not to think of Generation 1 as inferior, although technically it is. The main things that improve with each generation is image quality. And while the later gens are an improvement on that front, some models may take a step back in other areas like ease of use. For consumer grade, Generation 1 &2 are the most purchased types on the market. A good way to look at the value of Generation 1 is with a German engineered car. The older model runs great, just like the newer models on the road. Where they differ are the improvements made in other areas due to years of research. With these products, the generations just point you in the direction of the technology that has advanced the furthest, but not which one is the best.
Q: How far do they let you see?
A: The technology isn't magic, so the best way to describe how it works is knowing the difference between detection range and recognition range. The former will let you focus on an object while the latter will let you see the details of the object. This is where powered reticles come into play at night, and lets you hunt detected preys even if they are slightly outside of your recognition range.
Q: What is an IR illuminator?
A: It is a device that projects an invisible light that can only be seen with proper equipment. In the correct setting it can help short, medium and long accuracy with your night vision scope.
Q: Does durability increase with traditional options?
A: Yes, since there are less internal components to worry about. Traditional items will also have a longer lifetime guarantee.
Q: How big of a difference are the generations in price?
A: This depends heavily on which generation you're going to. Gen 1 is obviously going to be the cheapest, but Gen 2 and 3 is where the lines start to get blurry. Looking for individual features is a better way to find out the worth of the product you're going after since Gen 1 models can be expensive if they're considered flagship models.
Sources