Best Swing Sets Reviewed & Rated for Quality
In a
Hurry? Editors choice: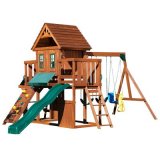 Test Winner: Winchester Wood

It is hard to find a more universally loved child toy or outdoor activity than a swing set. There is a reason that many playgroups meet at the park – and that there are parks with playground equipment within walking or driving distance of a large percentage of homes with small children. Kids love them and parents love that they both help with their child's development and allow them a break from being the entertainer. But what do you do when there isn't a park near your home? That's where the swing set comes into play. Having a swingset in your backyard is a dream-come-true for both parent and child. Little ones love running around them, swinging on monkey bars, and sliding down fun slides. They also become fun pieces of a child's imagination as well as physical exercise.
Standout Picks
Criteria Used for Evaluation
Size
How Much Space Do You Have?
This is the very first question you need to ask before making any purchases. You need to be sure that you have adequate space to support your swing set, but also leave enough room around it so that the kids can truly enjoy playing on it. A good rule of thumb here is to leave at least a 6-foot perimeter around the entire playset. If you need to measure, the best way to do this would be to add 12 feet onto the length and width of the swing set you are looking at and make sure that space fits in your yard.
Age Group
What age are your kids/grandkids/the kids you expect to play on your set? Or, how long do you want this set to last your kids once you do purchase it? This is a very important thing to consider before deciding on a design that you like. You wouldn't want to buy a swing set designed for 7+-year-olds if you have a toddler that you want to entertain right now. They simply don't have the length, strength, or ability, to support themselves on a bigger unit. Likewise, an older child will not want anything to do with a playset meant for a small toddler. The odds are good that they won't even fit on the swing set to begin with much less spend much time there.
However; if you want a set that will last you for many years and multiple children, it is probably best to find some middle ground – which is absolutely available. Many sets have both a rock climb and a ladder option. Some even include a net. This allows multiple groups and abilities the chance to get to the slide. Go into your purchase with an idea of what age you want to buy for and how long you expect them to use the swing set.
Materials
There are three distinct types of material that swing sets are made out of included on this list. There are certainly pros and cons to each, ones that may well influence your ultimate decision.
One of the most popular types is wood. Wooden playsets are beautiful and have a lot of aesthetic appeal. They tend to be big and have a lot of features. They can hold several children at a time and support multiple swings and slides with no problem. They are also difficult to put together and will need a decent amount of regular maintenance. They aren't always weatherproof and can insects may end up calling them home.
A swing set made of metal is also a very popular way to go. They tend to be a little less expensive than their wooden counterparts but can have nearly as many features. They are typically powder coated which helps to prevent them from rusting and retaining heat that could render the unit unusable during hot months. They also tend to be a little too big for the younger crowd and are less forgiving when someone falls. They don't have the same aesthetic appeal and will need to be touched up every once in a while.
The final material included on this list is plastic. Typically, plastic versions are only good for a much younger crowd. Their size is severely limited by the fact that they just can't support as much weight as a wooden or metal one could. Once kids start getting older than 5 or 6, they're just too big to truly enjoy their time on a plastic play set without getting bored. However; these are perfect for the younger group – 18 months to about 6-year-olds. The slides are usually smaller, the stairs built a little more sturdily for little feet to find sure footing on, and the features a little easier to maneuver.
Value
These can be a very big purchases that can cause you to spend a lot of money. It's important to know your price range before going into the purchase. This will allow you to know what you can truly get and prevent you from dreaming away your time on a unit you will likely never own. There are great options in any price range though, even if that price range is very low. Just know that the less you spend, typically the less you'll get. That's not necessarily a bad thing, just is the way it works with swing sets. If you're looking for just a swing, you can get that for a very affordable price. The same goes for simply a slide. When you start combining the two and adding multiples and decks onto it, then you will see the numbers add up fast. Whether you have a strict budget or not, do have an idea of the price you are willing to pay.
10 Best Swing Sets
1

. Gorilla Playsets Outing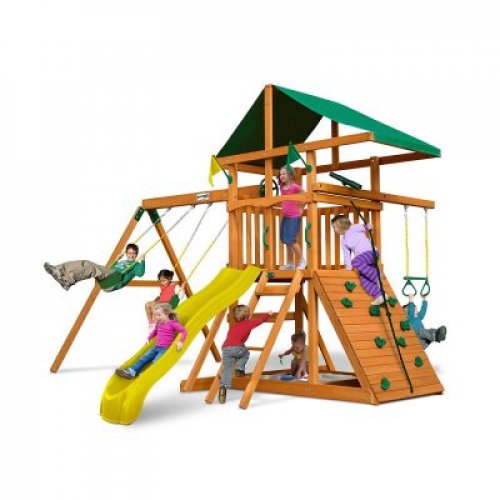 This is a heavy duty, solid wood swing set that meets or exceeds the American Society of Testing Materials Safety Standards for Residential Use. It will hold up to 800 pounds so you know that even if you have multiple kids, they can all play on it at the same time and be safe doing so.
Three Stations
There are three swing stations so you can really customize it to your liking. It comes with two swing belts and a trapeze bar, but can accommodate any standard size swing component if you should choose to mix it up.
Element Resistant
This swing set is made of Cedar which is excellent at naturally resisting rot, decay, and insect damage. This means that you aren't having to seal or mess with it any more than you want to. It also comes a with soft, rubber, grippy plastic coating on the swing chains that helps to prevent them from burning hands on hot days. The coating also helps prevent pinched fingers.
Cost and Value
This swing set is actually very reasonably priced. It comes with multiple swing stations and also includes a slide and little rock climbing wall. Your kids, as well as all the neighborhood kids, will get much entertainment from this swing set. You'll spend significantly less than you would on other sets, but can still rest easy that you are buying a quality, sturdy swing set that your kids can safely enjoy.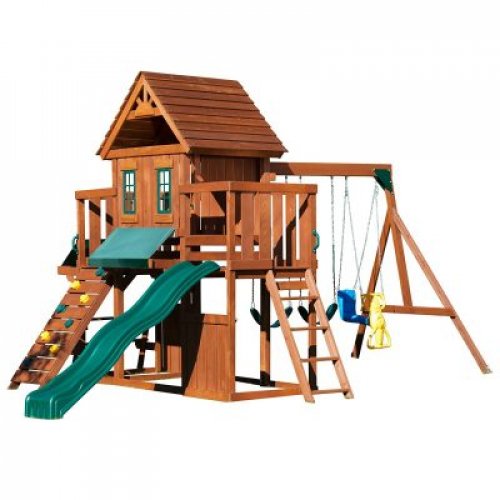 This swing set includes many well thought out features. It has a smooth wave slide (with a lifetime warranty!), a rock wall with 8 hand holds designed for small hands, a picnic table that is shaded, two swing seats with swing hangers, a sing child glider swing, and a wooden roof. The wood features wood guard for long lasting protection.
Playhouse
The playhouse portion of the swing set is built to resemble an actual house. It has green and white striped awnings and two adorable little windows. The deck space totals 32 feet, which is a decent amount of space for a swing set. You can easily access the playhouse by either climbing up the rock wall or the ladder.
Picnic Table
What good is a house without a table? This swing set takes note of all the details and has included a picnic table that is conveniently covered by one of the above-mentioned awnings so it will be shaded much of the time. Your kids can sit at it to perform any number of activities - eating lunch or snack, socializing with their friends, coloring, or simply taking a break from running around.
Cost and Value
This swing set falls mid to low-end price wise on our list. It does include a lot of neat features, so the cost is well worth it. Your kids will get hours of entertainment from a variety of options on this swing set and you will be satisfied with your purchase.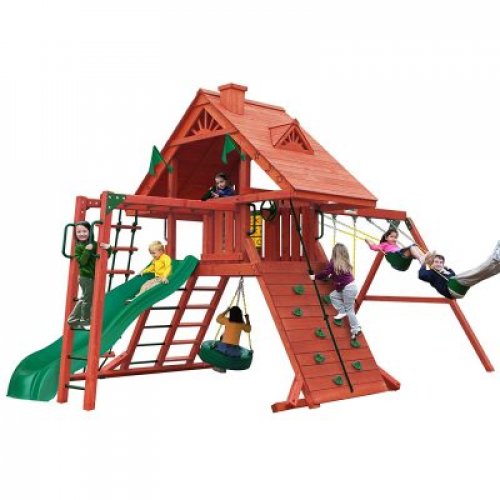 This is perfect for kids who want to get out and play and for parents who demand only the highest safety standards. It has all the cool features that kids love - monkey bars, a wave slide, ladder, rock wall with climbing rope, two belt swings, a trapeze swing, and a tire swing. All of this comes with the comfort of knowing that it meets all of the American Society of Testing Materials Safety Standards.
More Options
This swing set is substantially bigger than many, if not most, of the others on this list. What that means is more options for your kids to play with - and more time for you to relax and simply let them play all in the comfort of your backyard. Along with the above mentioned features, it also includes a steering wheel, telescope, and tic tac toe panel. Nobody will be getting bored here anytime soon.
Solid, Quality Build
You will get a long lasting quality swing set when you purchase this one. It has heavy duty 4x4 wood framing and a 4x6 swing beam that allows it to hold up to 800 lbs. The wood itself is cedar, which makes it naturally resistant to rot, decay, and insect damage. The swing chains have also been given special attention and are coated so that they won't pinch or burn your little's hands.
Cost and Value
This is definitely one of the priciest swing sets that we have listed. It is also, perhaps, one of the coolest ones listed. It is bigger and includes more features than almost any other so it is only reasonable that it costs more. Ultimately, you'll earn yourself a lot of time in which you child can entertain themselves which makes it worth the cost in the long run.

4

. Chesapeake Wood Play Set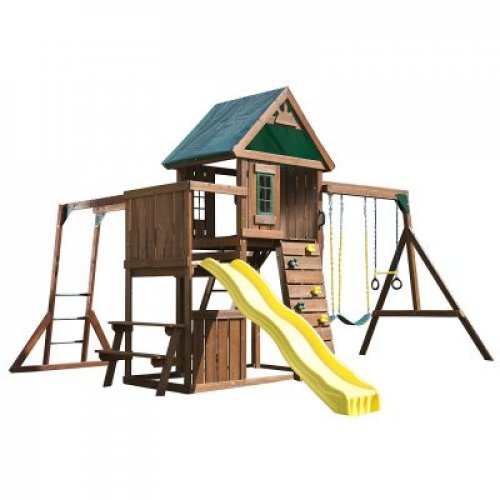 This is one of the most popular swing sets available. It has a lot of features, but also meets all safety standards. Your kids will be able to climb the rock wall, cross the monkey bars, go down the wave slide, and sit at the picnic table all in the comfort of their own backyard.
Rated Heavy
This swing set is a rarity in that each heavy duty swing and swing station is rated to hold up to 250 pounds - even the ring/trapeze swing. This means that all of your kids dreams of you swinging along beside them can come true without compromising anyone's safety. In addition, the slide is also rated to hold up to 250 pounds.
All the Benefits of Play
While almost every swing set available will get your children outside, playing, and moving around more than they would be otherwise, not all of them can boast the ability to get all the benefits of play including climbing, sliding, swinging, and brachiating (which is a fancy way of saying going across the monkey bars). This Chesapeake set has all of those things. You can rest assured that your child will get a decent workout for all aspects of his or her body when playing on this swing set.
Cost and Value
This set finds a happy medium between price and accessories. It has a lot of the accessories kids desire and parents want to get, but doesn't do so at an astronomical price. It falls closer to the mid to low range price point as far as large wooden swing sets go. Your kids will get a lot of use out of this and you will feel like the parent of the year when you buy it. It's a win-win situation for everyone.

5

. Lifetime Adventure Set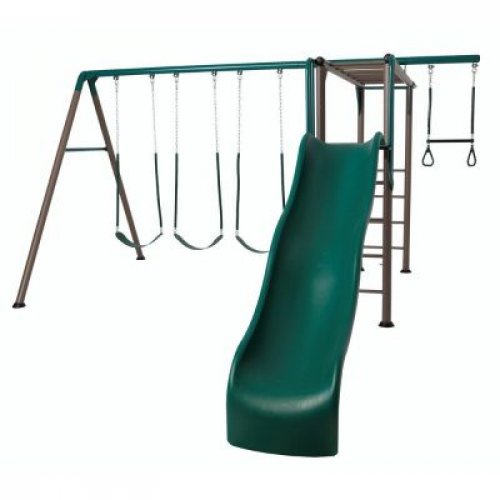 This is a low maintenance swing set that includes all the best features. It has a 9 foot long wavy slide, monkey bars, three swing belts, a trapeze bar with gym rings, and a fireman's pole. It is very safe to use and built to last a long time without any more attention given to it that what is given during play. Set up is reasonable and the company is great to work with.
Quality, Lasting Material
Unlike the swing sets we have talked about previous to now, this one is made out of powder-coated galvanized steel and high density polyethylene. This makes it weather and rust resistant and protects against cracking, chipping, peeling, rotting, and warping. There is no lead to be found in this swing set and there will be no need to re-stain or paint like you would need to do with a wooden swing set.
Designed for Safety
This set was designed with safety in mind. It is meant to be freestanding so you won't need to worry about it tipping over - even without cementing it in. Anything that might pinch or poke is covered. Hard edges are either covered with plastic caps or rounded. Swing chains have soft rubber grips so no fingers get pinched while using them.
Cost and Value
Price wise, this swing set is a great value. It is closer to the bottom of our list there but has stellar reviews that land it near the top ranking wise. It is a no frills swing set - there isn't anything very fancy about it, but it does have the swings, trapeze bar, monkey bars, and slides that you would want. It is sturdy enough and tall enough to hold an adult or two and will easily accommodate several kids. You'll be happy with this purchase.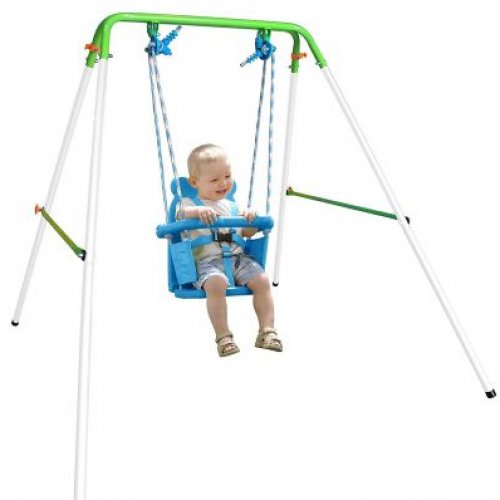 Sometimes you only need to entertain one child and sometimes that child just really loves to rock back and forth. If that is the case in your life, then this is the swing set for you. It simply includes one swing! It is small enough to be used indoors or outdoors and will accommodate children up to 36 months old and 55 pounds.
Quick Assembly
Because there is only one swing, this is very easy to set up. The job is literally done in 10 minutes. It is constructed of powder coated steel so not only is it easy to set up, but you can also rest assured knowing that it is also lightweight, sturdy, and durable.
Safety Harness
There is one single nursery seat for this swing set. It is an actual seat rather than a swing strap like those found on others on this list, and includes a five point harness. It will keep your toddler in place for as long as they want to swing - or as long as you want to push them.
Cost and Value
When you only have one child that would really just like to spend their days being pushed back and forth, sometimes the best bang for your buck comes out of purchasing a single swing. This one is very inexpensive and is a great option if you don't want to spend a ton of money. It is freestanding, yet secure and sturdy. You will spend very little on this product, especially when compared to the prices of most of the others on this list.

7

. Blue Island Tree Swing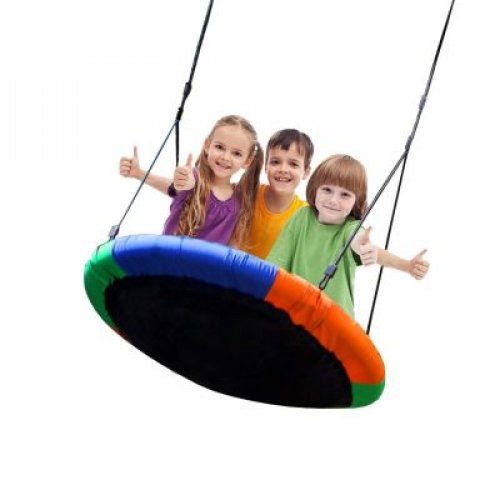 Along the same lines as the last product we discussed, this is simply a swing. Bigger is not always better, quality and getting exactly what you want for how much you want will win the day every time. This can be hung from a tree or existing swing set, can hold multiple children at once, and is guaranteed to be long-lasting.
Large and Durable
This is 40 inches in diameter and has a steel frame. It will hold up to 400 pounds at once, which typically equals more than one child at a time if that is something you're looking for. The fabric is 600D Oxford fabric that goes right along with the strong steel frame in supporting your kids and their friends at the same time.
Easy Set Up
This can easily be set up by one person in very little time. The instructions are clear and easy to follow and there are no crazy parts or hard things to set up. You simply attach the straps (purchased separately!) and you are good to go!
Cost and Value
This is another one that offers great bang for the buck. It is very inexpensive comparatively and will hold almost anyone - even multiple people at once. It is comfortable enough for adults to enjoy, but fun enough for kids to enjoy. Everyone in your family will get a lot of use out of this swing for many years to come. It is definitely worth the money.

8

. Lifetime Adventure Play Set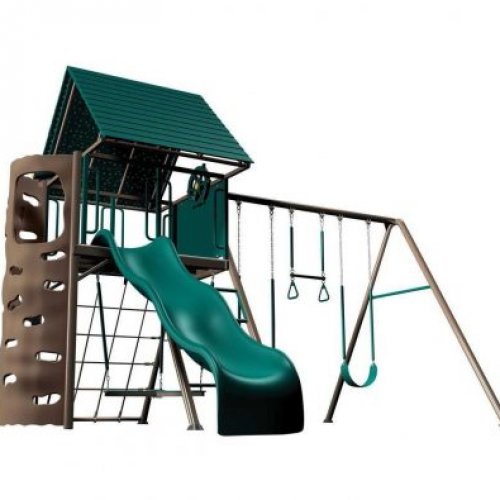 This metal play set has all the features you love in a fancy wooden one but in a low maintenance, freestanding metal form. It has all the bells and whistles your kids could want, plus it passes playground performance and safety standards so you, as the parent, know it's about as safe as a swing set can be.
Weather Resistant
A big perk of getting a play set made out of polyethylene and powder coated steel is that you don't have to deal with any problems caused by spending a lot of time outside like you would with wood. There is no rotting, cracking, warping, or splintering involved. Lifetime has also included coated swing chains to avoid pinching of fingers and the powder coating helps the set to not get too hot when it's spending entire days in the sun.
Hours of Entertainment
There are so many activities you can do on this set that it will take hours for your kids to get bored. These activities include a climbing wall, cargo net, activity chalkboard, playhouse with roof, wavy slide, 2 swings, trapeze bar, binoculars, and a steering wheel. This ensures that your kids are getting outside, playing, and getting active.
Cost and Value
This is one of the more expensive units on our list. The more you add to a swing set, the more it is going to cost so it is only logical. There are many pieces here, and compared to other ones on the list with similar features, it is a little less expensive. It is built to last and will give you a lot of use without a lot of headache as far as set up and maintenance is concerned. Overall, it is a good value for the price you pay.

9

. Step2 Clubhouse Climber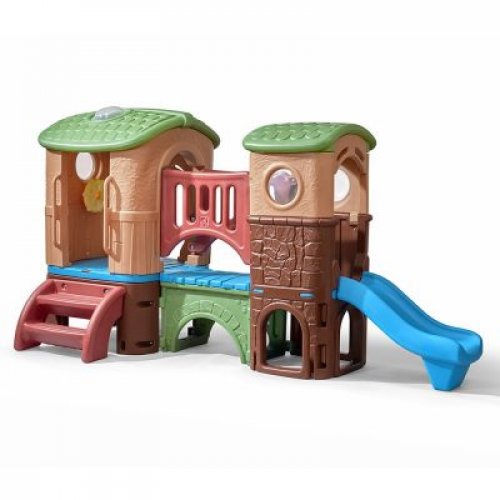 Many of the play sets we talk about on this list are meant for bigger and stronger kids - kids older than 4 or 5. This one is different though and is meant for the younger crowd - 18 months to 6 years or so. It has many little details that make it more appropriate. The slides are shorter, the stairs are safer. However; don't let that fool you into thinking it is less fun. Your toddler will love and play on it all the time.
Little Details
Because this unit is meant for younger and smaller kids, it has items specific to that age group. The stairs are non-slip climber stairs. There are only two of them that are easy for little legs to climb up and have grooves so that little feet don't slip. There is also easy grip handles that they can hold onto to help them get up the stairs and safely into the clubhouse where they can then go down the shorter, age-appropriate slides.
Fun Elements
Step2 has included several elements that will make playing on this playset more fun for your little toddler. There is a rooftop skylight so it doesn't get too dark inside and they are able to see all around. There is also a captains wheel that they can actually turn and pretend like they are driving. In addition, there is a bridge that connects to the lookout tower, a hide out area underneath, and a crawl through tunnel to really help your small child's dreams come true.
Cost and Value
This little unit comes at a significantly smaller price than ones built for older kids. That being said, it still does have a lot of working parts so it does still cost a pretty penny. Your little ones will love it though and it will keep them entertained often and long enough that you won't regret this purchase for even a minute.

10

. Step2 Naturally Playful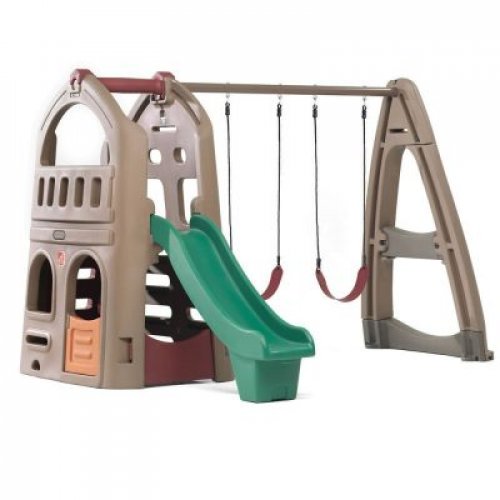 This swing set is a great compromise between pricier units and cheap, non functional ones. It is plastic, but sturdy, and will last for a long time. It includes two swings, a clubhouse with swinging door, a climbing ladder, and a five and a half foot slide. It will allow you to transform your yard into a playground that will provide hours of entertainment.
No Weather Concerns
As this is not made of wood, there are very little concerns about what the weather will do to this unit. It is able to last through all seasons - despite how hot or cold it gets where you live. It won't rot, rust, splinter, or chip. It does need to be anchored down, but comes with the necessary parts to do so.
Gross Motor Skill Development
This play set is perfect to help your children further develop their gross motor skills. It has climbing, sliding, swinging, and playing sections that help in multiple areas. It isn't too tall or difficult to get up so is perfect for the younger crowd to climb around and learn on.
Cost and Value
Step2 does a great job at bridging the gap between big, expensive play sets, and little one piece units. This one combines several of kid's favorite swing set parts without breaking the bank. You'll still spend a pretty penny but considerably less then wooden or metal units. Compared to the other Step2 on this list, it is right about the same cost but does have different features and serves a different crowd.

Subscribe to our Newsletter