Best Kids Baking Kits Reviewed & Rated for Quality
In a Hurry? Editors choice: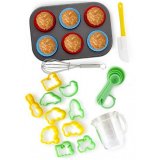 Test Winner: Boxiki Kitchen

If your child approaches you in the kitchen and requests to join you in baking their birthday cake, do not turn them away since they are eager to learn new skills as part of their development process. By buying your kid the
basic baking kit
, they learn baking skills and reduces the risk of danger posed by exploration and curiosity as they try to copy what mommy is doing. A baking kit will make them responsible in the kitchen in an effort to make a cake for their birthday or snack. Kids' involvement in the kitchen is a long-term interest that every parent should nurture. In here, we have compiled a list of ten best baking kits to help you make an informed decision while shopping.
Standout Picks
Criteria Used for Evaluation
Size
Kids usually like copying what their parents are doing and may want to join you in the kitchen. Baking at home is fun since you have a wide range of tools to choose and chances are you already know all the equipment you need. Guided by this, it is essential to pick a package that contains all the tools and accessories matching yours. Some of the equipment are the rolling pin, spatula, spoon, pastry brush and cutting board. They can be customized to suit little hands baking needs such as inscribing their name on the set or where possible have features and shapes appealing to kids. It can be in the form of one of his teddy bears or toys and will make the child realize that whatever she is cooking is a replica of what is baked by adults in the kitchen. Do not leave out any item as it will not complete the kid's picture of what he is practicing to do.
Having said that, has it ever crossed your mind that the size of the baking tools can affect the outcome of your kids baking project? Normally your child would want to make muffins, cakes or cookies for herself, friends and younger siblings. Therefore when picking the kit do not go for extra-large king-size tins but one for small queen cakes and cookies. The larger the size, the heavier it becomes for the kids. Silicone made plans are lighter than the steel made pans; thus they are suitable for use by small children. The cake cups should likewise fit in the cake hollows or holes, and this will go a long way in ensuring your kid has tons of fun in the kitchen.
Durability
The durability of the baking supplies will depend on their quality. Now that you already have a checklist of the important tools for your kids baking set, the next step is to think about their quality. You should seek to know the type material used in their construction and whether it is the best and if it is high quality. The material in consideration should be sturdy and one that does not break easily since a child is still young to differentiate between fragile and sturdiness. Also, a child may not know the importance of proper handling and care, hence it is important to protect them from the risk of injury when handling fragile utensils. Silicone is the best nonstick material and does not easily break. Baking tins should be made of non-stick material such as silicone, or silicone coated stainless steel that is also easy to clean and ensure your cake pops out just fine.
Value
There are tens of kids baking supplies available on the market today; some cheap while others are overpriced and will cost you an arm and a leg. However, you can get a reasonably priced kit that will still guarantee efficiency and quality. While shopping for one, it is essential to plan and do some window shopping or browse several online stores and find out what each product has to offer and if it is a complete set. You will save a lot in terms of money and time by buying a comprehensive set with all the tools and accessories. Imagine a situation where you have to rush to the shop now and then to replenish your essentials. It's a nerve-wracking and costly affair. The most important thing is to pick a set that is complete, high in quality and on top of it all, give you value for money.
Accessories
Before starting to bake, it is essential that all the accessories and tools are available. Children are creative and imaginative, and a curious kid will not wish to have an ordinary cake that is not decorated. Decorating a cake is an art that keeps your child's mind occupied and sharpens his art skills. Every time he beautifies the cake, he explores new ideas and designs that boost their creativity. Ensure the set has decoration nozzles or tips and icing bottles specifically for the kid while noting down their most preferred color. Kids too have preferences, therefore do not pick a specific color for the accessory that will most likely bore your kid and make her lose interest in venturing in this important house chore.
Materials
Materials used in the manufacture of the baking kits should be carefully selected. Imagine giving your kid a glass mixing bowl or a steel mixing bowl? Imagine the screeching sound of the spoon when stirring the mixtures. Also, imagine your child icing in a glass bowl and the risk of it falling and breaking? It would be rather disturbing and may diminish your child interest in baking. It would also expose your child to the danger of handling fragile materials. Always ensure the materials for mixing bowls are of rubber or silicone that cannot break easily and cause injury to the children.
10 Best Kids Baking Kits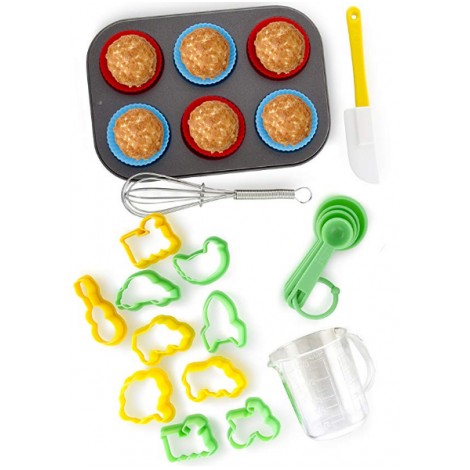 The Boxiki kids baking set is just what your little chef needs to get started and have tons of fun as they begin their cake baking journey. This set will get your kid on the path to culinary greatness; It has all the basic tools your kid will need as they start exploring their cookery and baking skills. It is 24 piece kids bake kit and cup maker kit. It includes basic tools such as the spatula, measuring spoons, whisks, six silicone baking cups, ten cooking cutters funnily shaped, small knife and cupcake pan.
Fun time for the kids
This kit promises tons of fun and action while teaching your kid the fundamental of baking and cooking in general as they indulge in cooking and diet. It also exposes them to the kitchen environment at an early age thus sharpening their culinary skills and preparing them for bigger kitchen roles later in life.
Perfect Size
The tools in the set are small in size and suitable for tiny gentle hands. Also older children and adult can also use them for baking their favorite cakes. The materials are sturdy and durable made to last for long.
Cost and value
Gift your child this kit; they will fall in love with it and have the most fun. Every tool in the set is good quality, and the kit is fairly priced. It will give your children an opportunity to make their favorite treats. It is simply sentimental and cannot be compared to any other. You will love this kit for the price.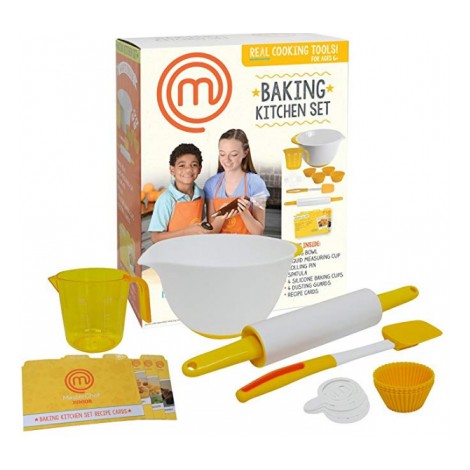 Eventually, junior chefs will graduate to other more complex kitchen duties. If your child loves the idea of baking yummy cupcakes or cookies, the Master Chef kids baking set is our top pick. This set includes an array of tools that will make it easier for your kid to bake their favorite treats. In the collection are basic tools such as rolling pin, mixing bowl, measuring cup, spatula, four silicone cups, and four dusting guards.
Recipe Cards
This set is our top pick due to the three unique recipe cards to get your kid started. Included is one blank recipe card for your kid to write their own recipe. You will be impressed by the friendly recipe cards since they are easy to follow and it's much more fun for your child. It will allow them to come up with more creative ideas and think outside the box.
Easy to use
You will particularly love the small size of the tools that are easier to use because kids hands are small and gentle. The rolling pin is small, and so is every other utensil in the kit. They are easy to clean, and the silicone cups and pan have no stick properties. The bowls, cup, rolling pin, and spatula have silicon grips thus safe to use and suitable for children above the age of six.
Cost and value
The Master Chef kids set is a perfect choice for your kid starting to have their favorite treats such as cookies, bread, and cupcakes. The tools are made from durable material and cost much less than other kits. It is a perfect gift for your kid and worth the price.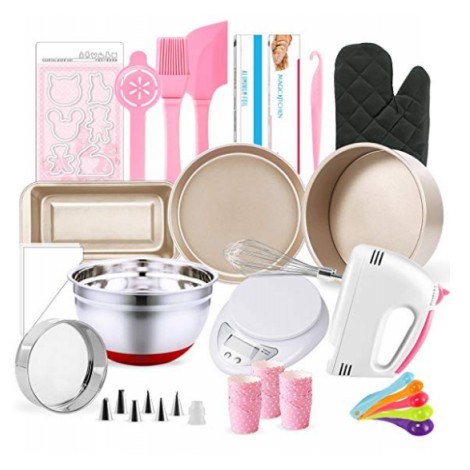 Getting your kid get involved in the kitchen is fun and a perfect way to sharpen their cooking skills. This option from Hotterpower is a personalized set and an encouragement for kids in the kitchen. The tools are pint-sized designed for your kids' small young brains and small hands. The set includes 21 pieces of baking essentials for kids and young adult beginners.
Everything you need
This set from Hotterpower has everything your kids need to ensure a smooth and fun baking session. There are hand mixers, stick pads, mixing bowls, silicone bags, spatulas, and cookie molds, cupcake paper, baking gloves among others. The main advantage of this set is that you can also use it for your baking needs.
High Quality
Every item in the Hotterpower set is made of high quality material such as stainless steel, ABS plastic, and Silicone. FDA approves these tools as safe. Thus you are at peace of mind that your child is safe from exposure to chemicals and other hazardous materials. This set is durable, high quality and reliable.
Cost and value
You don't have to go searching for overpriced baking equipment, this set from Hotterpower has everything you need. It will save you money and time by buying your kids this set to kick start their journey as young bakers. It is a good purchase worth every penny.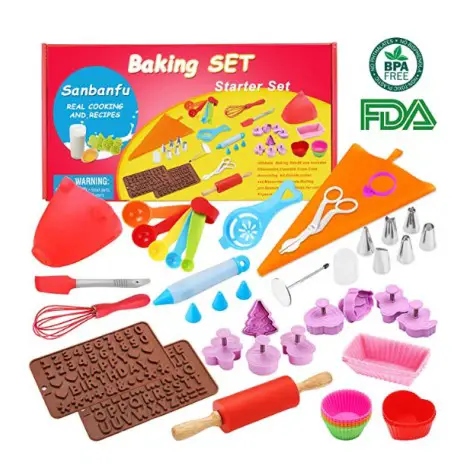 This set from Barley is perfect for kids starting to bake their own cakes and teaches them how to bake delicious recipes. The set is a 15 piece and has all the tools necessary to help your kid bake like a pro chef.
A wide collection of baking essentials
In the set, you will find silicone chocolate molds, cake decorating kit, cupcake cups, cutters, and rolling pin. Your kids will get amused by the silicone molds which has letters and numbers to boost their creativity. The cupcake cups are round, love heart and rectangle are amazing pieces your child will love. You will also find eight tips, five measuring spoons, charismas cookie cutters, spatula, whisk, anti-slip and heat resistant glove.
Ease of use
This set has child-friendly recipes cards; thus your child will experiment with different recipes, and it becomes a fun activity. The chocolate decorating pen makes it easy for your child to fill and remove stuff. The child can decorate their cakes with their favorite patterns. Additionally, it is safe to use with materials made from high quality stainless steel and silicone. The tools are also certified as BPA free and approved by the FDA.
Cost and value
This set is available at an affordable cost, and the utensils have attractive colors that kids will love. The size is ideal, and your kid will find it comfortable. Everything in the set is mini-sized and you can surprise your kids by gifting them this kit. It is fairly priced and everything in the set is durable and reusable.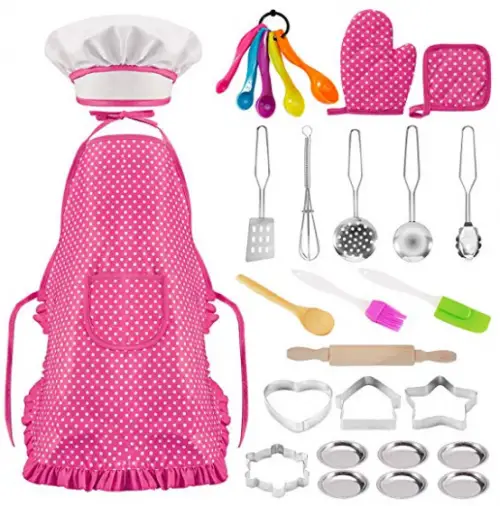 This baking set from Sunky has explicitly been made for smaller hands. Everything in there is best suited to encourage your kid and gets them started to tons of fun and learning in the kitchen. Your child will bake their favorite banquets using some elegantly designed stainless steel turner and the colander, pastry brush and the silicone spatula and serve their friends during birthday using the beautiful tiny plates. This set is recommended for your kids as young as three years old, and the utensils are quite versatile for cooking and baking.
A wide range of accessories
The unique thing about this comprehensive set is that it has more accessories as compared to any other set. It has an apron, hat, mat, and wooden spoon, rolling pin, measuring spoon, hand mixer, cookie mold and many more. This set is made from environment-friendly material that is free of toxins and appropriate size for kids.
Unlimited fun in the kitchen
Your kid will be transformed into a professional junior chef, with the little chef's apron has some 12" straps that your kid can tie around the neck and waist. There is a hat with an adjustable elastic band to fit into their tiny heads. The cookie cutters come in four different shapes, and the kids can play games and have more fun.
Cost and value
Shop for this kids baking set with confidence that it is high quality baking essential with a lifetime guarantee. It is every parent's choice, and the ultimate value is seeing the positive effect it has on kids' early development and improvement on their communication skills while boosting their creativity. It is a good bargain worth every penny.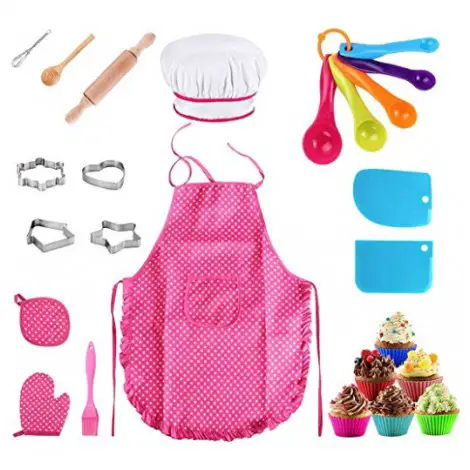 This option from HDYOSZ promises some fun moments in the kitchen with its 25 pieces set that include an adorable apron and a hat to match, oven mitt, wooden spoon, mat, spoon, oil brush, rolling pin, muffin cup, stirrer, scraper, and cookie cutters.
Safe to use
All the accessories in this set are food grade and free of chemicals. They are certified and approved as safe products. They have CE certification; therefore they have passed quality assurance tests. The stainless steel tools are coated to prevent rusting whereas the other items are made of silicone which has nonstick properties.
Perfect for kids training and early development
Allow your kid to join you in the kitchen by gifting them this comprehensive set from HDYOSZ. They can play the role of little chef, and it will be a fun moment bonding with mommy and daddy in the kitchen. Most importantly, it is good for their development as it will also boost their creativity and social communication.
Cost and Value
This set is ideal as it is designed to teach kids about food, cooking and baking and also boost their cookery skills. It has a lot to offer yet at an unbelievably fair price. Gift your child one today and let their journey to be a budding chef begin.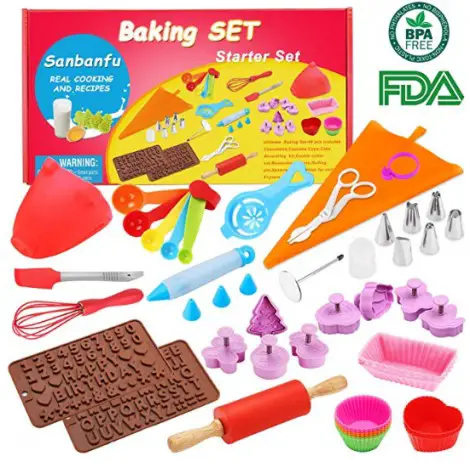 This kit from Cupcake is everything you need for your kid's baking starter kit. It includes cupcake baking set, decorating set, chocolate molds kit, cookie cutters, recipes cards, icing bags, and tips. Also in the set is a spatula, frosting bag, Christmas snowflakes molds, rolling pin, mini mitts and much more.
Easy to use
This set has a recipe card with recipes that will help your kid get started. With time, you can encourage your kid to make their own recipes cards, and this will be good for creativity training and improve communication. The icing bags and tips are easy to use, and your child can decorate their desserts and cakes. The measuring spoon has easy to read numbers, and the frosting bag can easily be folded for storage.
Time to learn and have fun
This kit from Cupcake is good for a child's ability to see, understand and make decisions. It teaches the child the basics of baking and cooking and prepares them for responsibility as they grow up. It is also useful for recreation activities and its fun for kids during their pastime.
Value and cost
Refrain from buying exorbitantly priced baking supplies that do not deliver in terms of quality and durability. The Cupcake set has much to offer with over 40 accessories and tools in one package to help your kid as they start their baking lessons. It is fairly priced and will not cost a fortune. It is a good bargain worth every penny.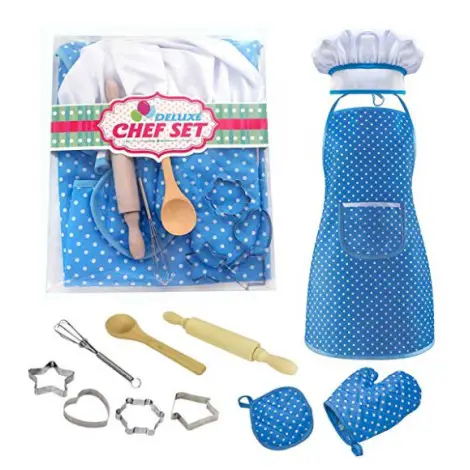 This baking set from JCBABA comes packaged in an all-purpose little chef's baking bag. Inside the package you will find a little chef's apron and hat, glove, oven it, wooden spoon: cookie cutters and rolling pin for your child's baking and cooking. The set is specifically made for little girls, and the apron and hat colors are pink and blue.
Fun moments
The items are real to a child, and naturally, kids love playing the roles of mommy and daddy. The little apron and hat have beautiful colors, and the utensils are functional just like real baking equipment. Your kids will be happy testing their cookery skills and serving their friends with delicacies. Other than fun, it is also a perfect moment to teach them to be responsible early in life.
Safe to use
The tools and accessories are made from high-quality stainless steel and silicone that is also certified and approved by the FDA. The apron has adjustable straps, and the hat has an adjustable elastic band to fit your kid's head, and are machine wash safe. The utensils are easy to clean and dishwasher safe.
Cost and value
We would highly recommend this set since it is adorable, fairly priced and your daughter will love them. They are a perfect gift for every child whose dream is to become a potential chef and start their role in your kitchen. You will get value for your money by picking them.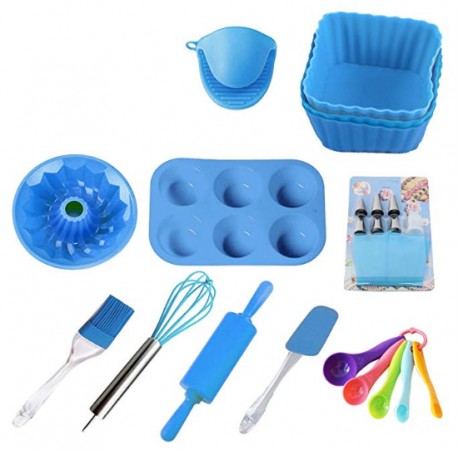 This baking set for GaWin Baking is the best choice for your child as they learn basic cooking and bakery. The package has an assortment of baking tools that your child will love and that which will save you time and energy of buying individual supplies. They are a perfect gift idea to your child as they join you in the kitchen for a fun-filled baking and cooking session. It will also be an opportunity to bond with them in the kitchen as they prepare for more roles in the future.
High quality and durability
When it comes to quality, the GaWin baking set beats all the rest ten out of ten. The tools are durably made from high-quality material. They consist of sturdy silicone tools that are rust resistant, do not bend or crack. They are convenient to use and lightweight, small in size and easy to clean. They are also certified as safe to use; thus no risk of chemicals or toxins.
Everything you need
The GaWin baking kit has everything you need to kick start your child's baking journey. They can bake their favorite treats such as cookies, cakes, and bread. In there you will find silicone gloves, baking cups, ice trays, piping tips, spoon, brush, egg whisk, and spatula.
Cost and value
Your child will fall in love with this adorable baking set and will enjoy her baking projects. It is reasonably priced, yet has simple and easy to use tools. It is worth the price and you get value for money.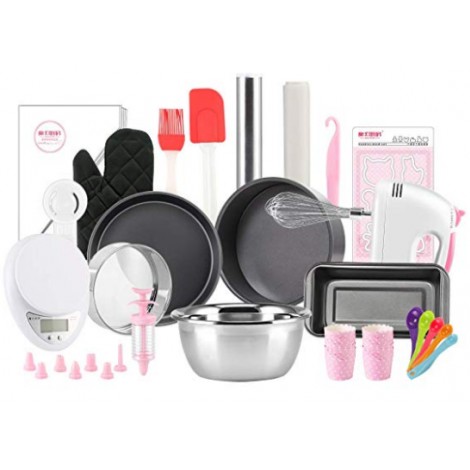 We chose the Magic Kitchen Baking Set since it is a full bakery in your home for your kid to get started. It consists of twenty pieces of baking essentials made from highly durable material. It is a perfect gift set for your child during a birthday party or Christmas. It is everything you need for your child in their development, social communication, creativity and fun activities as they help you in the kitchen prepare delicious treats.
A wide variety of accessories
The set has a wide range of accessories for decoration such as icing tips, cookie cutters and icing bags. Also in the package is a hand mixer, electronic scales, nonstick round pan, bread pan, Mixing bowl, decorating tips, pastry bags, measuring spoons, egg separator, heat resistant gloves, baking paper, and aluminum foil among others. It is thus reliable since you don't have to keep ordering for more supplies from the baking store.
High quality essentials
Silicone baking essentials are the most preferred and the best for all type of baking since they are non-stick and safe to use. This set from Magic kitchen does not disappoint since most of the tools are made from silicone thus ensures the cakes do not stick but pop out just fine. They are also safe to use in the microwave, dishwasher, oven, and freezer.
Cost and value
You don't have to pay top dollar for a kid's baking set since the Magic Kitchen is reasonably affordable and promises more in terms of quality and efficiency. This package is money saving and the best gift for your child.

Subscribe to our Newsletter