Best Teas Reviewed & Rated for Quality & Taste
In a Hurry? Editors choice: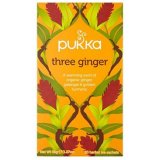 Test Winner: Pukka Herbal

When it comes to warm beverages,
coffee
and hot chocolate are two of the most popular choices. Another great choice is tea. There are many kinds of teas out there. Some are herbal, some are fruity, some are full of caffeine while others are not. Research has shown that tea can
boost your energy
and overall health. Who doesn't want that? But choosing the right flavor profile can be confusing when you haven't a clue what to look for. This guide will show you 10 top brands and choices to go for or at least use as a starting point.
Standout Picks
Criteria Used for Evaluation
Flavors
Teas can come in a variety of flavors. Some are herbal while others are fruity. This does not change the type of tea that it is, however. For example, you can have a citrus green tea while an Earl Grey black tea might also have citrus notes as well. Each of these teas is different but can have similar flavor qualities either naturally or added to them.
In addition, a lot of teas are commonly prepared with a type of cream, sugar and sometimes honey as an additional sweetener. These additives also will change and enhance the flavor of the tea that you are drinking.
Taste
Black Tea
This variety is made by rolling the leaves of the plant and allowing them to fully oxidize. Giving it a robust flavor with a hint of bitterness. When brewed you will see a red tint to the drink and is known for carrying half the amount of caffeine that one cup of coffee has. This makes the black variety the highest as far as the caffeine content is concerned. The most common selections of this variety are Assam which is found in India. Assam will have a potent smell to it along with a dark red tint to it. The flavor profile has been described as having a malted taste.
Another version also deriving from India is Darjeeling. The flavor profile will depend on the season in which it is harvested. In the first harvest period, it is known for its subtle flowery taste. While the second harvesting season results in a flavor that has been described as fruity. That will bring us to our last selection Ceylon. Described as having a more fruity note to the taste.
White Tea
This one was once reserved for royalty in China. It is stated the reasoning for this is the fact that the part of the plant that this derives from is rare to find. Obtaining its name from the small shoots of the plant the flavor is found to be as delicate as they are. This variety is made simply by drying the buds of the plant because it is produced in smaller quantities it is more expensive than the others. The flavor is one of the mildest as well. Although there are some flavored options available there are two main choices. The first is the silver needle, which is known for being sweet with a floral taste that is subtle. Next is the white peony said to have one of the best smells once brewed.
Green Tea
Totally opposite in the way it is prepared, the green variety takes a new approach during the processing portion. Instead of allowing it to be oxidized it is put through a process to prevent oxidation. This is done by exposing the plant to heat either by roasting or steaming the leaves.
When the leaves are roasted you will notice a more mild and sweet-tasting tea. Exposing them to steam will yield an earthy but bitter flavor profile. Many will choose this flavor variety for its health benefits. It is used for a weight loss element as well as accredited for boosting the energy level of many.
Oolong Tea
Here is a varied choice that really isn't as popular but definitely worth mentioning. The oolong variation is meant to fall between the black and green brews for flavor as well as color. This variety is known for boosting the metabolism slightly even with minimal caffeine content. The level of oxidation will control the flavor profile of the brew. Some will be of the nutty variety while others will deliver a flavor reminiscent of fruit. With that being said you can choose from several flavor profiles.
One of which will be Darjeeling, it delivers a fruity note while remaining pale in color. Formosa is oxidized longer than most so it will appear with a darker color in the cup. Some have experienced a fruit essence while others have claimed to get a nutty flavor. The last one we come to is Pouchong, it goes through the least amount of oxidizing. Giving a completely mild flavor that makes this a great base for building other flavor profiles such as jasmine.
At this point, you might be thinking that these are not the types of teas you are seeing in the store. You are partially correct on that point, however, these varieties are the base for which your flavors are built. Many of the brand names out there will use these varieties then add their own twist to them to develop a further flavor profile.
Effectiveness
It can be used as a form of hydration as it is essentially water with some flavor added to it. You might be thinking that coffee can do the same, this is only partially true. There are additives to coffee that can cause you to release water faster than you retain it for hydration purposes. Whether you choose to drink it hot or cold tea is better for hydration.
There are interesting studies being looked into that state that this beverage can reduce the risk of tumors. There is information floating around from research done over five thousand years ago as to the health benefits of this type of beverage. Some variations of this beverage are known for providing higher levels of energy throughout the day. Now there is conflicting information out there as far as the level of caffeine offered by this selection, however, it isn't always about the amount offered. It boils down to how the body can process this energy, it has been proven that in this form it tends to boost energy level for longer periods.
It is easy to brew yourself a cup as all you need to do is add the bag to hot water. Allow the bag to steep for a while and voila you have yourself a freshly brewed cup. Some varieties are loaded with antioxidants which are great for your health. They keep you both looking and feeling great at the same time. Many products of all kinds on the market have antioxidants added to them but with this drink, they come naturally.
With recent studies in place, certain varieties of this beverage have been known to aid in weight loss. The green version of this beverage has been known to boost the metabolism of many. You could also attribute the weight loss factor to the fact that this is a low-calorie beverage option.
Style
This issue has become one of the biggest debates among enthusiasts of this beverage selection. Some will tell you that the loose leaf version offers a much better flavor than that of the bag or sachet variety. The bags are normally filled with the leftover pieces of leaves and dust from the processing stage. Some are wary of the fact that the bags can contain bleaching agents that change the quality of the product. It is well known that the bagged version offers more convenience than the loose variety and is easier for beginners to use.
10 Best Teas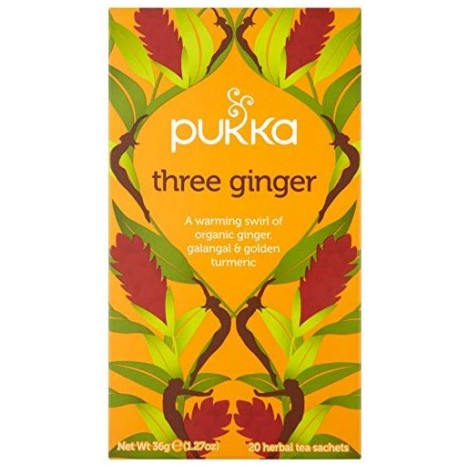 The first selection on the list offers plenty of health benefits to the person choosing to use it. Made to be a more robust flavor profile than some of the other options on the list.
Ginger
Made from three different types of ginger root, you will get a more robust ginger flavor than some of the others on the market. In this variety, they blend it with turmeric to take the flavor to a whole new level.
Health Benefits
In case you weren't aware ginger is an amazing root when it comes to your overall health. It has the potential to ease the turmoil in an upset stomach. Giving you a more relaxed sensation after finishing your cup.
Cost and Value
With the potential health benefits involved with this beverage, it can be valuable to you. It doesn't cost that much so you won't have to worry about blowing your budget.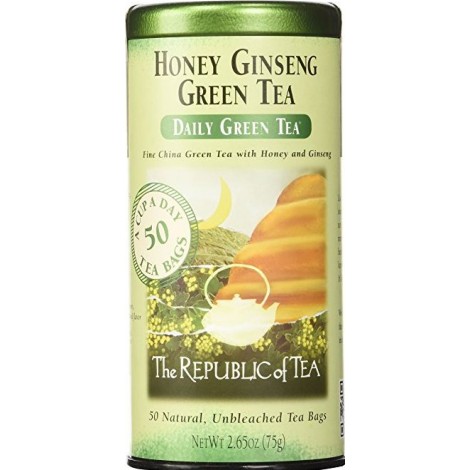 This product offers a different flavor and comes in two different forms. With an option that is so easy to brew, you will be enjoying your next cup in no time at all.
Green
The variety of leaves used for this product are the green ones. This type is known for its potential health benefits as well as the amazing flavor profiles that can be developed with such a mild base.
Easy to Use
Whether you choose this option for convenience with the prebagged version or like the loose leaf form better either one is simple to prepare. Heat the water to just around boiling then steep the leaves for a quick 1-3 minutes and you're ready to drink. When using the loose variety you might want to leave it in for at least 4 minutes.
Cost and Value
The cost for you can vary as there are several quantity options to choose from. Which is great for those who already enjoy this selection and perfect for those looking to try something different.

3

. Tazo Awake English Breakfast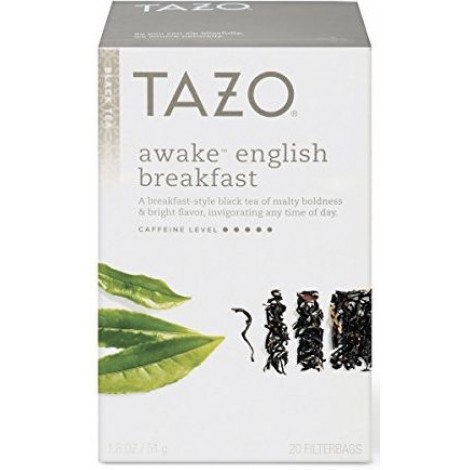 Next up comes another great version of the breakfast blend. Don't let the name fool you this beverage is great at any point throughout your day. When a bold flavor is what you seek this pick has something in store for you.
Black
The leaves of the plant are put through the oxidization process for quite some time to provide you a bolder yet beautiful flavor option. For some strong is better, if this represents you, then a product such as this will fit the bill for you.
Breakfast Blend
Although this is an eye-opener for some, it can be enjoyed all throughout the day. Just because the name states that it is for breakfast doesn't mean that you can't have it later in the day.
Cost and Value
Since this product is offered as a bulk buy it can reduce the amount spent when this is your daily beverage choice. For many the savings, you accrue can be a very valuable asset all on its own.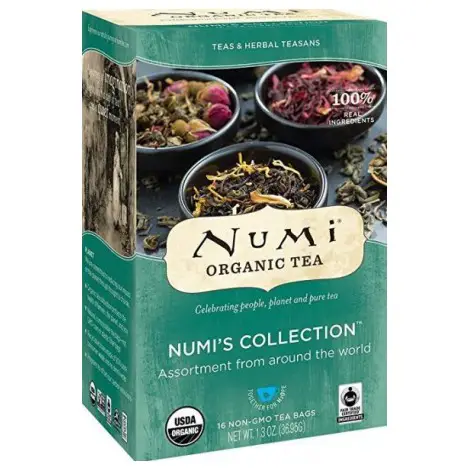 This is another potentially great option for those that prefer the more all-natural approach to life. With this selection, you get the benefits from a blend of natural herbs and plant life to boost the flavors for you.
All Natural
Here is an option you can take pride in, as they use all-natural ingredients to enhance the flavor profiles that you receive. Some of the ingredients they have chosen to use are fruits, flowers, and different spice mixes.
Assortment
This particular package will offer you the benefits that come from an assorted flavor mix. You will have the ability to test these flavors out to see which one or more will be your next favorite selection.
Cost and Value
This package allows you to experiment a little with your flavors. You can do that with this product as the cost for this one won't even put a dent in your pocketbook.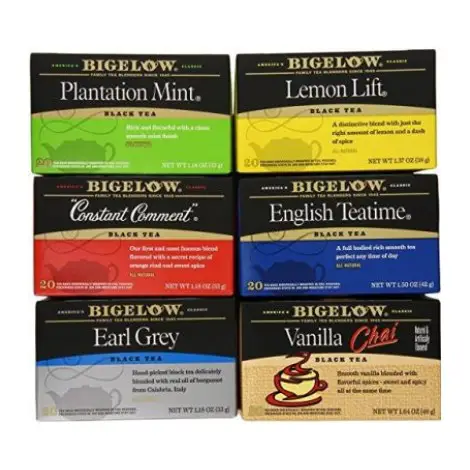 Next on the list is one that will sooth the tastebuds of those who enjoy different versions of the black variety. Selections like this allow those people to spice things up a bit.
Variety
With this purchase, you would obtain different blends of the same type of beverage. These blends will allow you to enjoy your favorite beverage with a little different flavor profile to each.
Protection
This manufacturer wants to ensure that you get the best of the best when it comes to their products. You will notice when you open the box that each of the bags is wrapped in a protective foil wrapper. This foil gives the leaves a defense against soaking up pungent smells. Ensuring that each brew is as fresh as the first.
Cost and Value
Upon purchasing this product you will receive six boxes of beverage selections. Each box will house a different flavor profile. All of this comes as a relatively inexpensive option to try new things.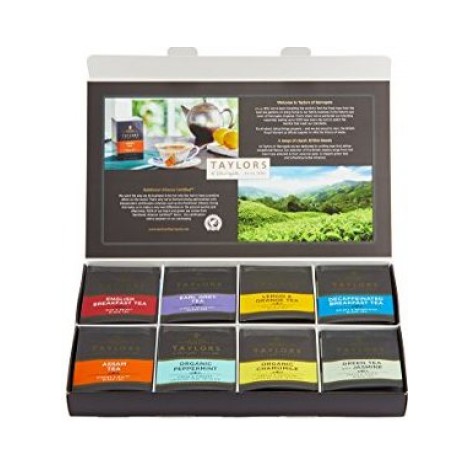 This is the first selection we have stumbled across that promises to have a little something for everyone. In the event, you have a tea lover in your life this is noted as making a perfect little gift for them.
Variety Pack
As we stated previously, this little box has something to offer everyone. Whether you like black or green variations, possibly seeking something new, this one has several options for you to choose from.
Perfect Gift
This comes in its own little box with a huge variety to choose from. Making the perfect gift idea for those that might be hard to buy for. They can use this when company comes or keep the contents all to themselves.
Cost and Value
The cost for this is minor, which makes it the perfect selection for those seeking to try out something new. With this, you get a large variety of flavor profiles to please everyone's pallet.

7

. Traditional Medicinals Organic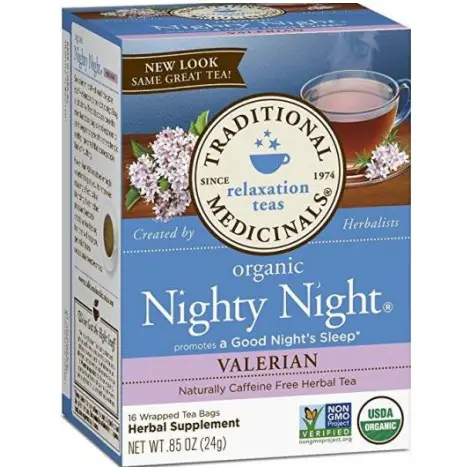 Here is a selection that can be used on those seemingly restless nights. The flavor profile has something to offer those who like to try different things.
Sleep Aid
For some, a restful night a few and far between, but taking a pharmaceutical option for rest can be scary. Why not try a more natural approach to things? This beverage selection uses a combination of natural herbs to promote a restful nights sleep.
Flavor Profile
This beverage takes a different approach to the flavor it has as well. You will see that is slightly more bitter than other varieties. With that comes an essence of mint with a hint of citrus.
Cost and Value
Sleep can be a very valuable event for most. With this option, you gain a natural sleep aid at a relatively low cost to you. Over time you will see a huge improvement to your sleep pattern.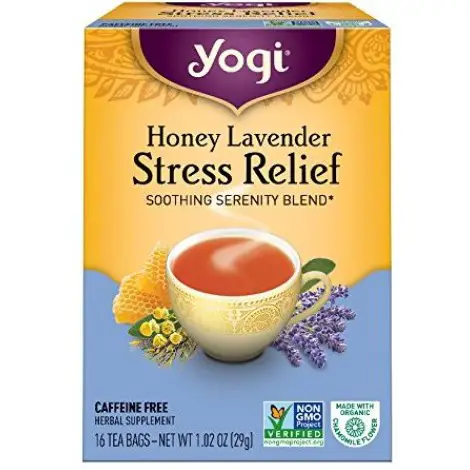 Here is an option that can help you forget all about the stress of the day while relaxing in your favorite chair. It is a proven fact that some herbal elements can reduce the amount of stress one feels by relaxing them.
Stress
The combination of natural ingredients such as chamomile and lavender added to this selection promote relaxation. With that relaxation will come the melting of the stress from the day.
Organic
For those who prefer the all-natural side of things, this beverage option is perfect for you. The manufacturer prides itself on the fact that it uses no artificial ingredients whatsoever.
Cost and Value
After a long and stressful day on the job, you need something powerful to relax you. This beverage selection can be the next valuable asset to your relaxation needs.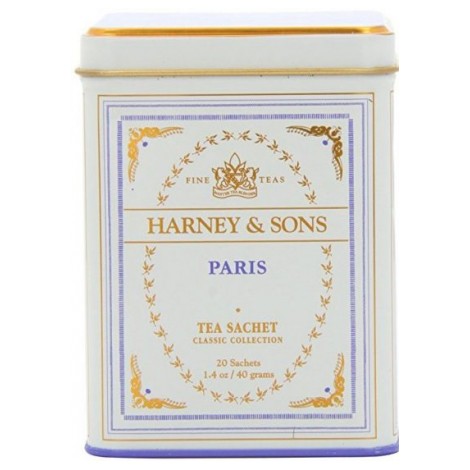 Next up is the same variety as the first with a flavor twist that you won't be expecting. Perfect for those who seek a little twist within their morning brew.
Flavor Profile
This is also of the black variety line but has a slightly different flavor than the first. Added ingredients to the leaves give you a hint of vanilla with an afternote reminiscent of caramel.
Caffeinated
For those who seek a little boost in their beverage, this one has what you are looking for. Within one cup of this is at least 40-60 milligrams of caffeine, providing you with the mid-day boost you are looking for.
Cost and Value
When you enjoy the robust flavor that this variety can offer but are looking for something with a twist. This selection has what you are looking for. With a decent amount of caffeine to each cup, you won't have to worry about that afternoon lag time.

10

. Twinings English Breakfast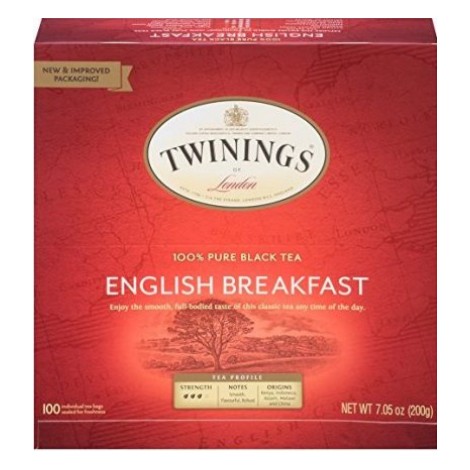 This one offers one of the more robust flavor profiles out there. It is a convenient option for those who enjoy things in life that are in the simplest form.
Black Variety
The robust flavor profile comes from the fact that this beverage is of the black variety. They are oxidized to the fullest to achieve that full-bodied flavor you are looking for.
Bagged
Whether you're rushing out the door or toting your cup out to the patio. Often times we lean toward options that a faster for us. That is what you get with this selection as the leaves are already in the bag for you. You can allow the bag to steep while on the go.
Cost and Value
The cost for this can vary depending on the package you order. There are different options for the quantity available to you. With this beverage option, you get that bold taste you are looking for in a convenient little package.

Subscribe to our Newsletter