Best Supportive Sports Bras Reviewed & Rated for Quality
In a Hurry? Editors choice:
Test Winner: Enell High Impact

A sports bra is an important piece of apparel for women who workout regularly. A good option will offer enough support to prevent bouncing, stretching, and sagging. While low impact styles will be great for lighter activities like yoga, walking, pilates or barre for more high-intensity movements such as jogging, running, CrossFit, or HIIT, you want a more supportive style. Depending on the size of your bust, the amount of support you require will also vary. Then there are all the other factors to consider like price, material, style, cut, comfort. We have read tons of reviews from women putting these garments to the test and compiled this top ten list with the best options for every body type.
Standout Picks
Criteria Used for Evaluation
Comfort
These garments can be uncomfortable to wear, especially for long periods of time. Underwires can dig into your rib cage and breastbone, straps put pressure on your neck and shoulders and the bands can bunch and roll or even worse chafe against your skin. Combine any of these issues with sweaty skin from working out and you have a recipe for disaster. We did our research to pick out not just the most supportive styles available, but the most comfortable as well. After all, you are more likely to put your workout gear on and get your butt moving if you feel comfortable. Another bonus of having comfortable attire is it lets you focus 100% of your power on performing your best, no matter what activity you prefer.
Support
Obviously, in a buying guide about supportive undergarments, one of the main evaluating criteria would, of course, be support. We read thousands of reviews and blogger websites to find the most supportive styles, no matter what your body type, budget, or bust size. Even the most strenuous, high-impact activities can be comfortable and bounce-free with a proper-fitting garment that provides the correct support for your cup size. There are picks on this list that go all the way up to H size cups to accommodate full figure gals.
Style
Lets face it, some women are slaves to fashion and this includes workout gear as well. And why not! With all the great, fashionable styles available these days, why shouldn't you be able to indulge in athletic wear that looks as great as it performs. You will feel more confident in gear that you like wearing and this includes picking the right style. There are a wide range of style options the two most basic being compression or molded cups. After that there are so many fun details to look out for. Keyhole cutout details, convertible straps that can be worn racerback or regular, mesh panels, front closures. The style you pick will depend on your personal preference and what activities you intend to wear your garment for.
Fit
A great fit is key to provide the most support. Adjustable straps are one way to ensure your item will fit correctly as they can be customized to your individual body type. We read hundreds of reviews from women to find the products that fit the best and were true to size, taking all the guesswork out of making a decision for you. Extra large bands and wide straps will help your garment fit great and be comfortable to wear at the same time.
Materials
Just like other items of athletic apparel like yoga pants or running shirts, these garments come in a wide variety of fabrics, many of which have been specially designed for sportswear. These feature moisture-wicking and quick-dry properties which will help you cool and comfortable during workouts. Fabrics with a 4-way stretch will retain their shape longer and provide the best support to prevent bouncing. We also featured products that offer gel in areas that are often prone to discomfort, such as the underwire and straps.
10 Best Supportive Sports Bras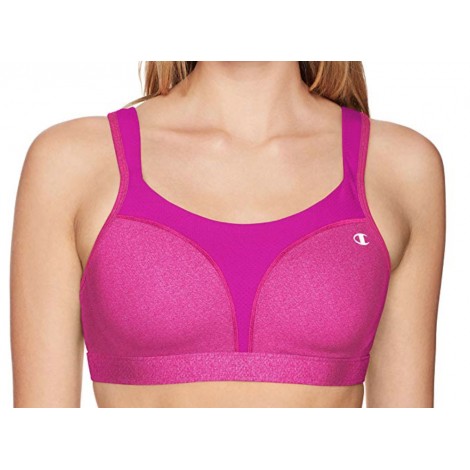 The Champion Spot Comfort Full-Support has thousands of positives reviews so it is easy to see why it came out in the number one spot. The Champion company is owned by Hanes and has been creating affordable sportswear apparel for decades. There are a ton of reasons to love the Spot Comfort, including the budget-friendly price. Read on for the complete low-down of why this product landed first on our list.
Gel-Infused Straps
One of the top complaints of bustier women when it comes to these garments is straps that dig into your shoulders causing discomfort and even pain. Champion has solved that problem with the Spot Comfort. The design features extra-wide straps that are infused with gel to further reduced the stress on your neck and shoulders. Reviewers raved about how comfortable these straps were and many people commented on the convenience of the back hook-and-eye closure as well which was easy to take off in a hurry after workouts.
Molded Cups
One of the main reasons the Spot Comfort can provide so much support, even for larger busted gals, is the molded cups. Instead of creating the 'uniboob' effect that is often seen with these products, the individual cups separate, support, and define even during your highest intensity workouts. There are a ton of fun colors to choose from, everything from basic to bright and the cut of this is modest enough that you could wear it without a shirt and not feel overexposed.
Cost and Value
The Spot Comfort is made from a special blend of fabric that is moisture wicking to keep you comfortable during sweaty workouts. There are mesh inserts for additional breathability which is a detail we also appreciated. This product offers max support all the way up to DDD cups, and reviewers couldn't say enough good things. People stated this performed just as well as much pricier brands and styles, which is another reason to love the Spot Comfort. One woman said this is the only option she will buy, and even girls with extra large girls said this product was worth the price and wouldn't disappoint. We give bonus points for the smooth band that lays flat and won't dig into your ribcage.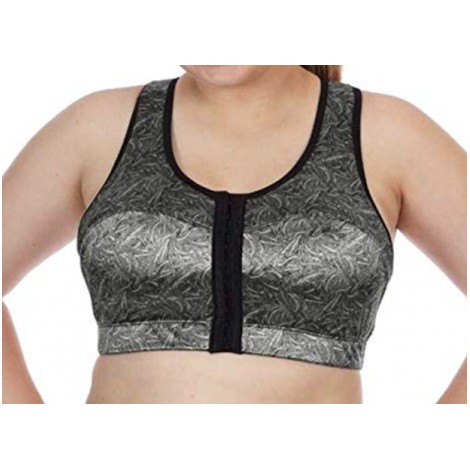 Up next in the second position is a super supportive option that is great women with full figures or extra-large tatas. This product is made by Enell, a company which specializes in supportive and form-fitting products for well-endowed women. The High Impact model has thousands of rave reviews and also made loads of sports and lifestyle bloggers lists as well. This is a great investment for the woman that needs all the support they can get.
Non-Stretch Cups
One reason the Enell High Impact can offer such extreme support is the non-stretch cups. This will retain their shape, even over time and repeated high-intensity activities like aerobics, crossfit or running. The hook and eye closure in the front is easier to take on and off than a pull over style, which you will be thankful for after especially sweaty workouts. There are a fair amount of colors to select from as well so you can add a pop of color to your workout attire or choose to blend in with a neutral color.
Cross-Strap Design
Another way the High Impact supports you is with extra-wide cross-back straps. These evenly distribute weight across your back, and will not dig into your shoulders either. The High Impact is made with a fabric called Naturexx, which is known for its compression and moisture-wicking abilities. This will help keep you cool and odor free during even your most intense workouts.
Cost and Value
The Enell High Impact comes in on the higher end of the price range. It is a top rated model by bloggers and thousands of reviewers alike, so it is certainly worth checking out if you need optimum support. The high neckline provides coverage and helps to eliminate bounce while the extra wide band is designed to lay flat and provide comfort during even intense movements. We give bonus points for the lycra/nylon fabric called Naturexx which offers compression and moisture control. Adding even more value to the High Impact is the extra-wide criss-cross strap design that evenly distributes weight for a supremely comfortable fit.

3

. adidas Don't Rest Alphaskin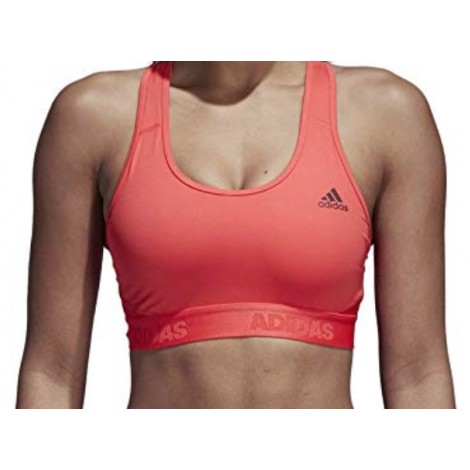 Grabbing the third spot on the list is the Don't Rest Alphaskin from one of the worlds favorite sportswear retailers Adidas! The companies trademark three stripe design is an iconic favorite of workout enthusiasts and fashion junkies alike. Plus, it is hard to argue that Adidas doesn't offer top quality, premium, cutting edge products that also look great.
Perfect for Smaller Busts
The Don't Rest offers a medium level of support, which will be sufficient for most high-intensity activities if you are a B cup or smaller. Women with smaller busts can get away with wearing less supportive styles, even for super intense activities like boot camp or step class. These less restrictive styles offer more freedom of movement and often have cuter more feminine designs.
Locked-Down Fit
The compression fabric of the Don't Rest Alphaskin smooths and separates to create a 'locked down' feel. This is perfect support for medium to high impact activities like running, jogging, kickboxing, plyometrics or tennis. We like the sporty racerback design, as well the extra wide band that is embroidered with the words Adidas. This would also make a great gift for any workout enthusiasts in your life who also appreciate name brands.
Cost to Value
If you are lucky enough to get away with a medium support style for running, sports, or HIIT training than the Don't Rest is a great option to check out. It has the Adidas logo and also features a sporty racerback cut. Reviewers loved how the Don't Rest offered ample support for smaller busts, but still looked and felt great. The compression fabric is also moisture wicking, so you will stay cool and comfortable even during your sweatiest moments. If you aren't fuller figured or well endowed and like workout gear that is stylish as your regular wardrobe, you won't regret adding a Don't Rest Alphaskin to your kit! Bonus points for the price point which is extremely reasonable, especially considering the high street brand name.

4

. Under Armour Warp Knit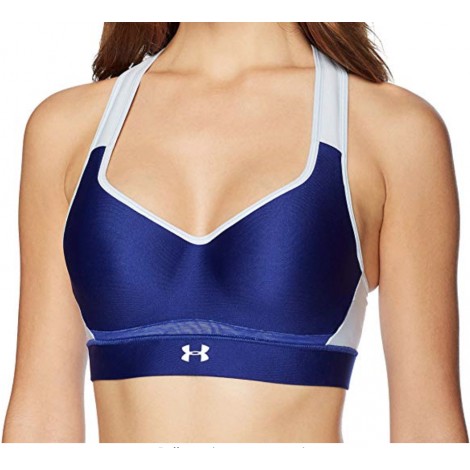 Next up on our list, we have a great pick from another popular sportswear company Under Armour. The Warp Knit is specifically designed for high impact sports but also has a sporty, sleek look to it, so you don't have to sacrifice style for support. If you want great support for court sports, field sports or just to wear at the gym and look great, the Warp Knit is a good product to consider.
Gel-Coated Underwire
One of the main reasons any garment of this type can be uncomfortable or ill-fitting is an underwire that digs into your ribcage or breastbone! Under Armour has solved this issue by using a gel-lining along the underwire to keep you comfortable during even strenuous workouts. There are adjustable straps so you can customize the fit and a keyhole detail in the back. Another reason we like the Warp Knit is the mesh inserts that allow for air flow and breathability.
HeatGear Fabric
The Warp Knit is made with HeatGear Fabric which wicks sweat away from the skin and dries quickly. The 4-way stretch moves with your body and offers additional support. Reviewers liked how the foam-padded cups gave lift as well as separation, so there was no 'uniboob' when wearing this product. The fabric is super smooth and has a sporty look and feel to it, plus there are four colors to choose from all black, bright blue, coral or turquoise.
Cost and Value
The Warp Knit comes in cup sizes from A to DD, so it will suit a wide range of body types, however, may not be large enough for extra well endowed women. Reviewers like that this option offered not just support but lift and definition as well that is sometimes lacking in other styles. The price is pretty reasonable considering this is made by Under Armour, which is a popular name for sportswear. A huge bonus is the padded underwire which won't dig into your ribcage or chafe your skin. If you want support paired with a sporty design, this is a great option to consider.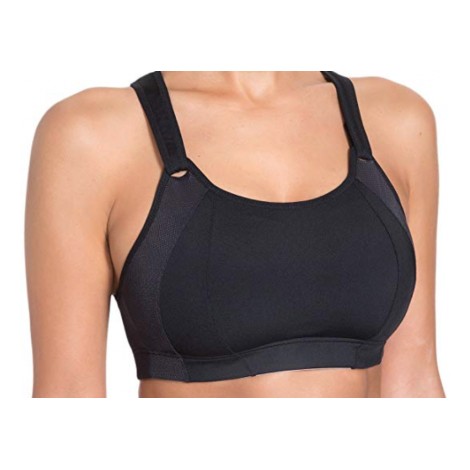 This full-coverage option from SYROKAN has hundreds of great reviews from loads of happy customers. Reviewers loved the great price point and how well this performed versus more expensive options. Many people said that it fit true to size and offered great comfort even while moving. If you are looking for some new gym wear that won't leave your wallet feeling too light, the Racerback High Impact is a good option to look at.
Full Coverage
Many women like full coverage styles because they can be worn underneath shirts or alone, without attracting too much attention if you are at the gym or local community center. There are wide straps that reduce pressure on shoulders and can be adjusted from the front so you don't need to take it off once you've put it on. Ill-fitting straps are one of the main reasons these garments don't fit well so this is always a plus. The band is also extra-wide so it lies flush against your skin and does not roll or bunch.
Mesh Inserts
The racerback style of this SYROKAN is made with mesh inserts. This still offers modest coverage if you want to workout in this alone and also provides extra breathability to help you cool and dry.
Cost and Value
This doesn't look as frumpy or old fashioned as some extra-supportive styles tend to do but still got great reviews about how well it performed. We really like that the racerback offers stability plus its great for high impact sports and movements where you don't want to worry about any straps falling down. The price tag is reasonable and many buyers stated this performed as well other pricier brand named items did. Bonus points for mesh inserts in the back to help keep you cool. You don't have to break the bank to have some fresh new gym apparel with this supportive and fashionable SYROKAN High Impact Racerback.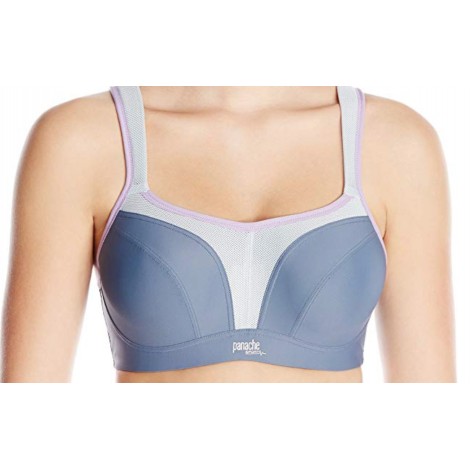 Next on our list for those with extra big tata's that need a whole load of support, we have the Underwire from Panache. Panache specializes in plus-size and curvy women and offers a whole line of swimwear, lingerie, and sport undergarments. Their products look great and are designed to make you feel sexy when wearing them. This product has thousands of positive reviews and is certainly worth considering if you need more support than a regular sportswear brand can offer.
Flat Seams
One big plus about the Panache is all the seams are designed to lay flat against your skin to prevent any rubbing or chaffing. This will also prevent the band from rolling up or bunching. Reviewers stated this held up through every activity they put it through, from spin class to CrossFit and everything in between. There are two fully molded cups with underwire for additional support. The hook and eye closure is easy to put on and take off which you will appreciate when you are drenched in sweat. Another great point of the Panache is the straps can be adjusted to a racerback style. This is a great option for running or sports like tennis, volleyball or soccer where you need more freedom of movement for your arms.
Fun Colors and Patterns
Another reason to love Panache is they make clothes that look as great as they perform. A great way to motivate yourself to get in the gym or stick to your home workout plan is to buy some workout gear that not only supports you but also makes you feel confident wearing it. If you feel confident it boosts your self-esteem and lets your focus 100% of your mind and energy on your workout. There are a ton of great colors and patterns to choose from which is great. Even people who like neutrals and plain clothes in their everyday wardrobe can enjoy spicing things up a bit with a pattern or bright color for their athletic attire.
Cost and Value
This design was launched in 2011 and is one of Panache's most popular and best-selling fits to this day. It reduces bounce by an impressive 83% and uses technology developed in the lab of a university! This is one of the pricier products on our list but well worth the investment for those with a plus-size bust to feel comfortable and supported, especially during higher intensity activities. The sizes go all the way up to 40H, way higher than the average sportswear brand. With so many fun colors and patterns to choose from you can feel great about your workout attire which while inspire you to reach for it more often!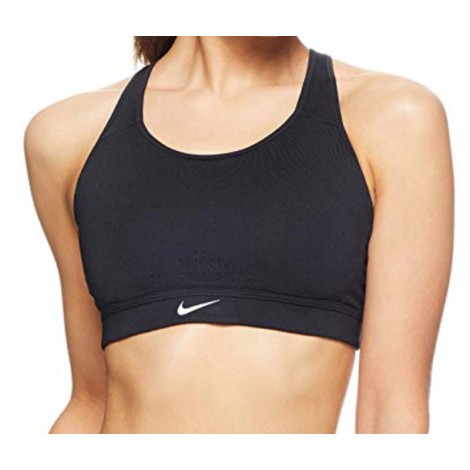 Nike is the number one selling sportswear companies in the world with an estimated net income of over $3.273 billion in 2015! It was founded in 1964 in the Portland, Oregon area and the company still holds true to their roots today with strong ties to the University of Oregon. No top-ten list of sportswear would be complete with a product from their line-up and the Impact is their top-selling supportive undergarment. This is a great pick for regular cup size gals who want something that offers support and sporty good looks.
Dry-FIT Technology
If you are familiar with Nike products you may have heard of Dri-FIT Technology. This is Nike's patented sweat and moisture-wicking fabric that allows dries rapidly to keep you feeling fresh and cool during your workouts. The perforated center allows additional airflow between your breasts, which lets face it, is one area that can get extra-sweaty. You can adjust the straps of the Impact in the back to customize the fit and ensure the proper support.
Strappy Design is Trendy
While it may not be fair that women with smaller breasts get cuter gym attire, alas this is life. The Impact offers compression support which is suitable for regular cup sizes. We love the strappy design in the back which will look great if you want to show it off at the gym, kickboxing, rollerblading, volleyball or any other activity you may enjoy. Investing in gym gear you feel great wearing will help you stay motivated about your fitness goals and also boost your self-confidence!
Cost and Value
This is a Nike item so it comes with a higher price tag than some of the other items on our list. The compression support is good for high-intensity activity for smaller busted gals and the strappy back design will look great showing off your back muscles. This is a great item to splurge on if you are a fan of brand names and would also make a great gift for fitness enthusiasts in your life. Nike makes a whole range of fitness apparel so you always coordinate this with the rest of your outfit as well.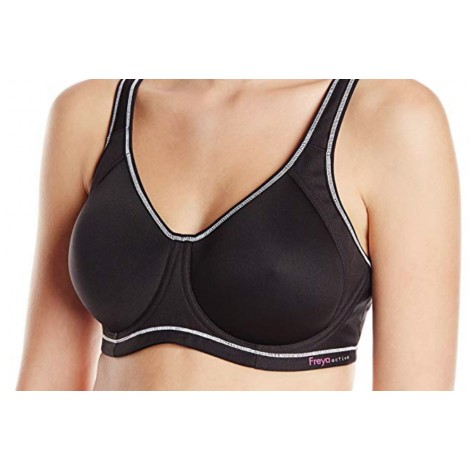 Freya is another company that specializes in supportive sportswear in large cup sizes, offering products in sizes all the way up to a K cup! The Active Underwire Molded is specifically designed with a fuller bust in mind. If you struggle with finding supportive sportswear for your curvy or plus-size figure then you will want to consider this item from Freya as one of your next purchases.
Double Fabric Design
Freya makes their cups with double fabric. This offers extra modesty as well as support. The CoolMax inner lining wicks sweat away from the skin to keep you feeling dry even during sweaty workouts. The molded cups lift, separate and support the breasts rather than compressing them. Many people with fuller busts prefer the additional security and support that molded cup styles offer. The large straps take pressure off your shoulder, can be adjusted into a regular or racerback configuration, and there is a hook and eye closure in the back.
Up to H Cup Size
As we already said, Freya specializes in supportive sportswear in hard-to-find sizes. The Active Underwire Molded comes all the way up to an H cup. Anyone who has ever struggled to find sports under garments to accommodate their fuller figure can breathe a sigh of relief! For larger breasts, support is key to comfort and this product really delivers. Reviewers raved about how well it stayed up and also the high-performance sweat-wicking fabric that kept them cool and dry.
Cost and Value
The Freya has adjustable straps that can be worn regular or racerback plus a sweat-wicking inner lining. The cups are molded with underwires, to encapsulated and support the breasts individually, not just compress them they way other models do. Tons of great reviews stated this middle of the price range product had easily become their favorite workout bra to reach for. If you need the extra support that a specialty sportswear line offers you can't go wrong checking out the Underwire Molded from Freya Active.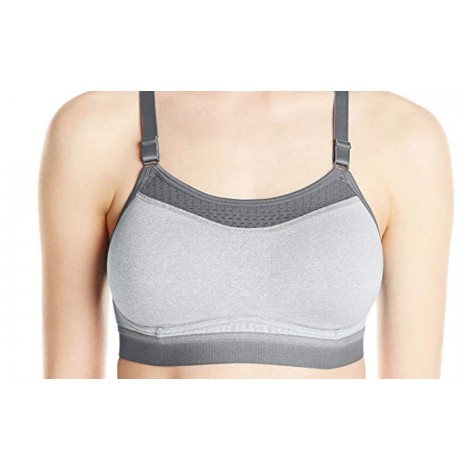 Nearing the end of our list, there is another top pick from Champion. There are hundreds of great reviews about this full-coverage style. One reviewer even stated she loved these so much she bought them for everyday use not just the gym! The price point on Champion sportswear is always very accessible which is another reason to love the Show Off!
Lightly Padded
One reason ladies loved the Show Off was the light padding it has in the cups. This offers a streamlined look and more modesty than unlined versions. The adjustable straps also allow for a customizable fit - you can tighten them for more support during higher impact activities like running or aerobics and loosen them for a more relaxed fit during low-impact days like yoga, pilates or weight lifting.
Machine Washable
A huge plus to the Show Off is that it is fully machine washable. Other styles, especially ones with underwires should be hand-washed, which is time-consuming and also a hassle when your favorite item is dirty and you want to wear it. The racerback style has a hook and eye closure for convenience and also offers a sporty, athletic look to the garment. The Show Off will look good under a shirt or tank or worn alone and enough modest coverage in the front you can feel confident.
Cost and Value
Reviewers loved that the Show Off offered tons of support for women with small frames but large busts. One woman stated 'this is the only option that offers enough support without making me feel like I cannot breathe'. We love that the lightly lined cups have extra hidden concealment for a smooth, streamlined look and bonus points that the Show Off can go in the washing machine. If you wear a regular cup size and want a supportive, underwire-free garment that will look great under a shirt or alone, and won't break the bank,, the Show Off is one pick you don't want to skim over.

10

. adidas Stronger for IT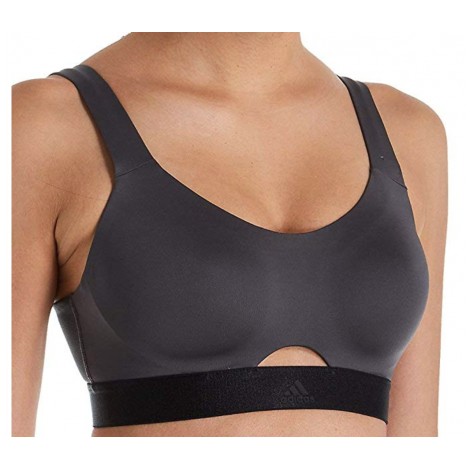 Grabbing the final position on our list, we have another product from the iconic sportswear manufacturer - Adidas. The Stronger For It was specially designed to provide maximum support for fuller-figure busts. Molded cups offer not just support, but lift and definition to avoid the dreaded 'uniboob' effect. This high-performing garment looks great, offers a ton of support for even strenuous activities and is backed by the industry trusted Adidas brand name.
Convertible Straps
Straps that are too loose will slip down your shoulders easily, causing irritation when you have to stop and fix them. If straps are too tight they will cut into your shoulders and neck, causing discomfort and even pain. For the most support and best fit, we love that the Stronger For It has adjustable straps. The cute cut-out detail in the front as well as the branding along the band lend some stylish, fashionable elements to the garment.
Trusted Name
Founded in 1949 in Germany, the Adidas name, as well as the three-stripes logo and styling, have long been synonymous with quality sportswear and apparel. The Stronger For It offers the highest level of support from Adidas's line-up and features molded cups along with ventilated mesh panels.
Cost and Value
The price point on this item is on the higher end of the spectrum, which you would expect from a premium sportswear company such as Adidas. For those in the regular cup-size range this will offer ample support for all high-intensity activities including CrossFit, running, court sports, field sports, kickboxing, and plyometrics. Thanks to the great design and sporty, feminine looks the Soft For It won't look out of place at lower-impact classes like yoga or pilates as well, so you will get a ton of use out of it. If you love Adidas this is a great way to incorporate more into your wardrobe and you don't need to feel guilty about the splurge because your new item will get so much wear and encourage you to stick to your fitness routines.

Subscribe to our Newsletter