The 10 Best Football Shoes Fully Reviewed
In a Hurry? Editors choice: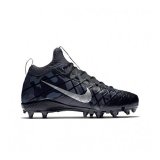 Test Winner: Nike Alpha Field General

Well, would you look at the time? Football season is back upon us, and you know what that means: time to buy new supplies. Obviously, if you play on a team, then a lot of the supplies is already provided for you, such as uniforms, protective gear, the ball and so on. However, certain things need to be personally bought, such as cups and other gear that needs to be specially chosen for your specific size. No two body types are ever quite alike, after all. Which brings us to the subject of today's buying guide: football shoes.
Standout Picks
Criteria Used for Evaluation
Traction
Traction
When you make a list of shoes, all of which are cleated, then the first thing you need to consider is how well those cleats actually do their job. And thankfully, this is a pretty well-established science nowadays. The materials manufacturers use to make cleats are typically very high-quality rubber. Rubber may seem like an odd choice for things meant not to move but ask any physics major, and they'll tell you that just the right amount of slack and give is important when trying to stop something that's moving very fast, or when you're trying to move very fast on the hard ground. If your cleats are too stiff, then there won't be sufficient give when you hit the ground, and that could end up tripping you like if you ran over a branch. Traction is all about knowing when to give slack, and when to push back.
Breathability
Breathability
Even on those cool spring night games, your feet are going to be sweating up a storm due to how much exercise you're putting them through. And while you don't have to worry, of course, about your shoes flying off because of all the perspiration, too much sweat can still distract you from playing at full speed, and thus throw off your concentration just enough for that other player to tackle you to the ground, wretch away the ball, and cost your team the round. However, if you get shoes that breathe properly, then you cut down the amount of hot air that's trapped with your feet by a wide margin. You also drastically reduce the risk of athlete's foot by an equally wide amount because of how little you'll be sweating.
Fit
Fit
Obviously, you want your shoes to fit right when you buy them, especially at the prices a lot of these professional football shoes are asking of you. As long as you buy the right size for your foot, you should be fine in this regard. However, there is another matter. It's one thing for a shoe to fit when you're just casually walking around. It's another thing entirely for that same shoe to still fit when you're running at top speed, constantly changing your trajectory and direction on a dime.
In this case, "fit" refers to how firmly the shoe stays on the foot under extreme conditions, which is vital for the success of a pair of football shoes. When the game really shoots into high gear, you need your shoes to be 100% reliable all the time, there is no good time for them to be otherwise during the game. So, if you're looking for your very first pair of football shoes, then this should be considered your #1 priority in terms of criteria.
Support
Support
No matter if you're looking for a professional level pair of football shoes, or simply a decent pair of jogging shoes, you will always need your shoes to support you. This can mean any number of things, from placing certain amounts of cushioning on vital regions of the foot, to giving the sole an extra springiness to it in order to increase your launching speed. Depending on the physical condition of your toes, you may need specific supports in specific areas. But we didn't really consider that since it's a bit too situational to be an effective criterion. Instead, we measured based on the amount of general support the shoe gave, and how cleverly implemented it was.
Durability
Durability
Like every other piece of equipment, you bring out into that field, not to mention your fragile, squishy body, your football shoes are going to be put through the ringer by the other team and by yourself in trying to outpace them. As such, much more focus is put by manufacturers of football shoes compared to other types of shoes, into making sure that these shoes can take what this sport will inevitably dish out. Nike, of course, has their Nikeskin, a durable material made up of other materials, but others use either authentic or synthetic leather. We judged each entry based on the performance review by the various customers who bought them since that's about as good a source as you can get with this sort of thing.
Value
Price
As you've seen with the list, these shoes do not come cheap. Even the very affordable ones, at their smallest price, still cost quite a bit as far as the double-digit price range goes. They really only seem cheap because you have the latter end of the price spectrum to act as a comparison. But regardless, they are more than worth the price, each offering a wide variety of features that, while adding to the price, also add to the value of the product. Believe it or not, it costs quite a bit of money to make these shoes as good as they are. Considering the conditions, they're building them to be able to withstand, it stands to reason that it would cost quite the pretty penny to make them up to the challenge.
Top 10 Picks
1

. Under Armour Highlight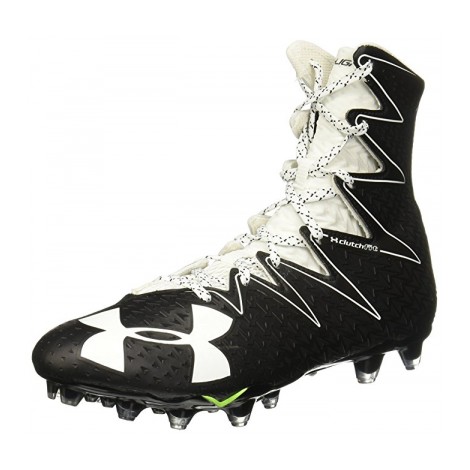 Kicking off our list (pun gleefully intended) we have the Under Armour UA Highlight Cleats. Under Armour are one of the best sportswear companies out there right now, and if you're looking for style, support, and performance all rolled into a single package, then you cannot go wrong with the UA Highlight Cleats. What makes these cleats so amazing? Well, let's take a look and find out.
Clutchfit technology
Under Armour's patented Clutchfit technology is a unique design flourish to the upper of the shoe. Unique in that there are technically two layers to the upper. The interior layer of the upper contours itself perfectly to the shape of your foot, providing you with an amazing feel, an easier experience with breaking in the shoe, and a superior overall performance.
MPZ tongue
The tongue of this shoe is made from 3D molded MPZ. This means that the tongue of this shoe will adapt much faster and much smoother to the shape of your foot when you wear it for the first time. Providing additional protection and making the process of breaking in the shoe faster and easier.
Cost and Value
Like a lot of the shoes on this list, this shoe comes in various different sizes, with a different price for each price, steadily climbing in price. In smaller sizes, the price of this shoe is perfectly reasonable. However, in larger sizes, that's when you find yourself paying the big bucks.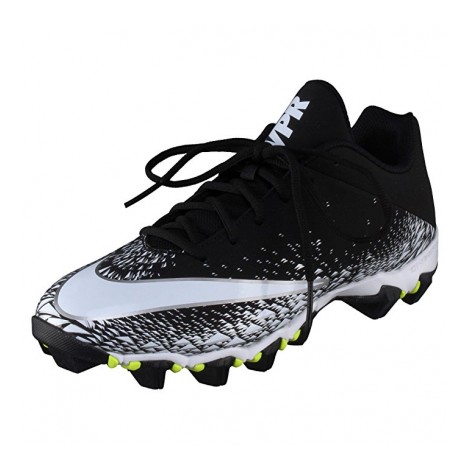 In our second-place spot goes the Nike Vapor Shark 2. If your style of playing is all about staying quick on your feet and being as fast and as agile as you can be, then these are the shoes you need to go for. Expect to see a lot of Nike on this list, because when it comes to making high-quality sportswear, shoes, in particular, they have pretty much everyone else beat when it comes to sheer consistency.
Strategically placed cleats
You can't just put cleats just anywhere on the bottom of a football shoe. One cleat out of place, and you'll end up tripping the poor player who's wearing it, sending them face first into the ground. Which would be hilarious, but not what a manufacturer like Nike wants. So, Nike not only implemented their patented fast flex technology, which alone makes their shoes famous, but they strategically placed their cleats on the shoe to complement that technology.
Phylon midsole
One of the most important parts of a shoe's anatomy is the midsole. It's the source of most of its shock absorption and thus is paramount for a shoe meant to be used to help a football player run at top speed. As such, the midsole of this shoe is made from a flexible material known as Phylon, which offers responsive cushioning to the most sensitive part of your foot.
Cost and Value
Like before, this shoe comes in various sizes, the price increasing with the increase of the size. However, the latter prices for these shoes are far more expensive than the previous entry, which cost this otherwise fantastic shoe the top spot.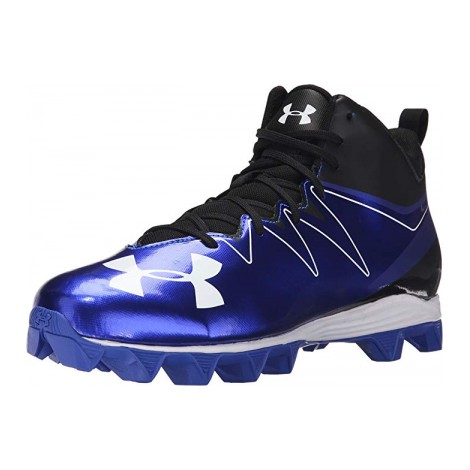 Finishing up our top 3, we have another excellent entry from Under Armour, with the Hammer Mid Rm Football Shoe. This is a shoe you wear when you want to feel stable and in control of your movements, both when you're standing still and when you're moving. Which can be quite the calming thought when you're staring down three men all bigger and yet faster than you, whom you have to outrun when the ball is passed to you.
EVA footbed
If there's any part of the shoe that needs to be perfected if comfort and control are the priority, it needs to be the footbed. This, as you can guess, is where you put down your foot when you put on the shoe. So, when you're making a sneaker or other sports-related shoe, the footbed needs to be as comfortable and shock absorbent as possible. Both of which, as it happens, are particular specialties of EVA foam.
Rubber molded cleats
Some cleats are made from plastic, others are made from rubber. In this case, the cleats of this shoe are made from rubber molds, which are carefully crafted to give the cleats superior traction on pretty much any surface they come across. You'll be legitimately amazed at the grip these shoes can pull off.
Cost and Value
Once more, different sizes equal different prices. However, the price range on this shoe is a lot more reasonable than the previous entries, making it much more desirable as a result.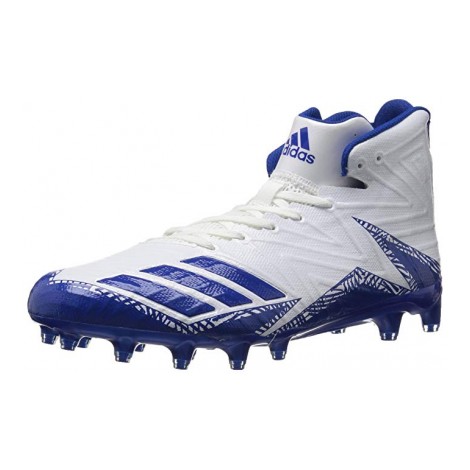 In the #4 spot, we have the Adidas Freak X Carbon Mid Football Shoe. Like Nike, you've more than likely heard of Adidas, as they are one of the most famous shoemakers in America, and possibly the world. Used by everyone from professional athletes, to kids whose sole exercise is simply jogging to school, Adidas has an entry for everyone. And the Freak X is no different.
DuPont Kevlar plate
If you're in any way interested in firearms, then you've likely heard the term Kevlar being thrown around at some point. Kevlar is an incredibly durable, shock absorbent material most famous for its use in bulletproof vests. And the plate of this shoe is made from one of the more durable versions of Kevlar; DuPont Kevlar. Not only giving this shoe superior strength and traction but also keeping it light as a feather in the process.
Soft mesh lining of the upper
The upper of this shoe is incredibly soft and breathable, while still managing to provide the stability and support needed for a shoe like this. The upper sleeve of this shoe is often compared to the feeling of a sock, and it isn't hard to see why, as it mimics that same warmth as it contours to the shape of your foot as you put it on.
Cost and Value
The price range on this shoe is a bit more unforgiving than the previous entry. Though, this time, not because of the prices of the larger entries. Instead, while the larger sizes are actually priced rather fairly, the smaller sizes are very expensive.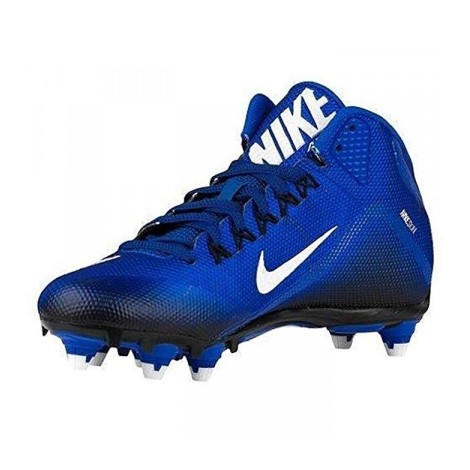 In our #5 spot, we have the Nike Alpha Pro 2. Once more returning to our friends at Nike, we have yet another great entry for their line of football shoes. This time coming to us from their world-famous Alpha line of shoes. Does the Alpha Pro 2 live up to its pedigree? Let's take a look and find out for ourselves.
Nikeskin
If there is one thing that binds together all of Nike's cleats and other sports related shoes, then it's the material that comprises them: Nikeskin. Nikeskin is an originally developed material created by Nike, a mix of different materials to create one that is both incredibly durable, very lightweight, and easy to maintain and clean.
Cushioned heel
While the rest of your foot is important, your heel is a top priority. It's what connects your foot to the rest of your body, and if you want to keep running or even walking at peak efficiency, then you need to keep your heel in top conditions. Which is why so much cushioning is prioritized on the heel of this shoe.
Cost and Value
The big problem with this shoe is the price range. Once more, we're back to the large size versions of the shoe being the most expensive, as in larger sizes of this shoe can get up to obscene prices for a pair of shoes.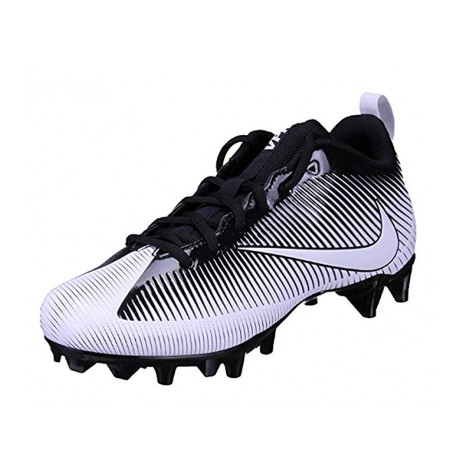 In the #6 slot, we stay on Nike for a bit longer with the Nike Vapor Strike 5. The vapor line is one of the more fascinating lines that Nike has to offer. It's nowhere near the quality of the Alpha line, but it still has the resilience to stand above almost any other football shoe on the market. How can this be? Well, let's take a look and find out.
Strategically placed cleats
We once again have high quality molded rubber cleats, but what sets these apart is the fact that they're primarily placed around the outer edges of the underside of the foot. You would think this to be counterproductive, but it's actually quite the contrary. This leaves you with just the right amount of traction for movement, without the cleats digging too deep into the ground and hindering your movements.
Padded mesh tongue
The tongue isn't really an issue a majority of the time. It's just there to provide a barrier between you and the laces. However, it can also be a great source of comfort while wearing the shoe, which is why the Vapor Strike 5 makes its tongue out of padded mesh. Making it more durable as well as more breathable.
Cost and Value
The price range of this shoe is very reasonable. While yes, the larger sizes go into the triple digits, as is to be expected, it's one of the more reasonable prices of that price gap, so at least if you need the larger size, you won't be paying as much.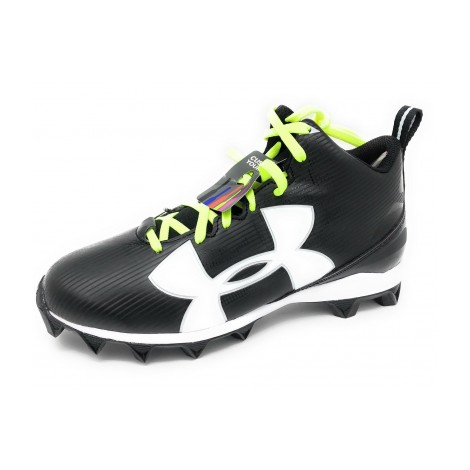 In the #7 spot, we return to our friends from Under Armour with the Crusher Molded Football Cleats. While it's been a few entries since last we featured an Under Armour product, don't take that to means that our #7 pick can't measure up. It is, in fact, one of the best items on the list.
Lightweight, comfy, yet powerful
These cleats achieve the perfect balance between being lightweight and comfortable to walk in, while still being tough, durable, and aggressive with the traction when you need it to be. And the amount of cleats on the bottom of the shoe, and the arrangement thereof is just right.
Synthetic leather upper
Many people prefer normal leather to synthetic for their shoes, but for the upper of this shoe, it actually works very well. For one, it helps the sleek, clean and fast look for the shoe overall, but it also provides excellent support and a comfortable feeling when wearing it.
Cost and Value
A very average price range, for what we've seen on this list thus far. Not too expensive in either highs or lows, but it could definitely be cheaper.

8

. Nike Alpha Field General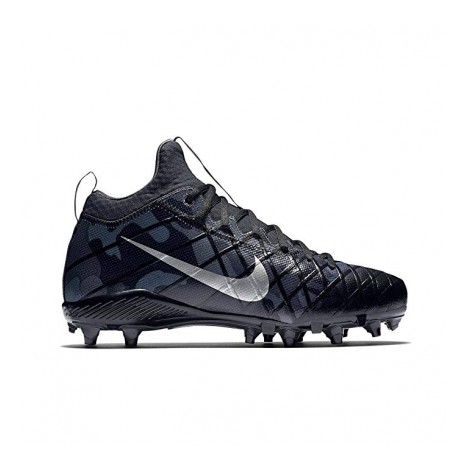 Starting off our final 3 of this list, we have our #8 spot, our good friends from Nike stopping by again for the Nike Alpha Field General. This is considered by many to be one of the best in the entire Alpha line, and as we will demonstrate with the following, it isn't hard to see why.
Crosshatch webbing upper
One of the many alternatives to shoelaces, since playing a football game doesn't exactly leave you with the time to retie your shoelaces every 5.87 seconds, are webbing shoes. And there are many ways to make a webbing shoe, but this shoe's style, the crosshatch webbing, is one of the better versions. It makes for an adaptive, dynamic fit that athletes appreciate.
Phylon wedge
Unlike a lot of the other entries on this list, which would be defined as platform shoes, these are wedge shoes. The big difference is that the heel and midsole sections of the underbelly are essentially the same segment of the shoe, or at least perform the same function in conjunction with each other. That function is, of course, support and better responsiveness from the shoe when you walk in it. Which is why the wedge of this shoe is made from Phylon, famous for its responsiveness and comfort to use.
Cost and Value
Once more, the big problem with this shoe is the price. The high price that this shoe reaches in larger sizes is some of the highest costs we've featured thus far on our list. So, if you have larger feet and need a football shoe in a larger size, you may need to skip this one.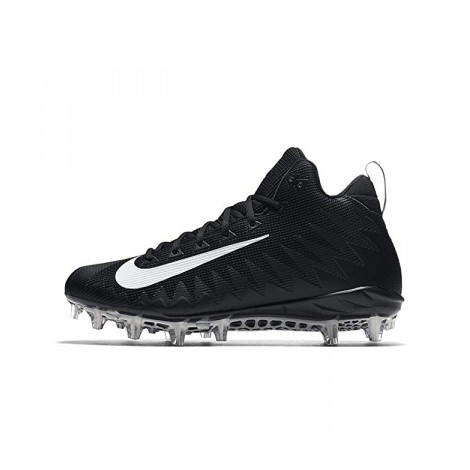 In our second to final entry, we have our second to the last presentation from Nike, with the Nike Alpha Menace Pro Cleats. While not a particularly famous member of the Alpha line, it nonetheless deserves praise as a member of that line, as well as simply an excellent pair of football shoes in and of themselves.
Flywire technology
We've all had this experience with a pair of shoes: you're running at top speed, and then, the shoes you were convinced fit you perfectly completely do a 180 spin and now you're running with an upside-down shoe. You need a way to secure your shoes better, which is why this shoe comes with Flywire technology, to help give it a better lockdown fit to your foot, so that doesn't happen.
TPU plate
The layer of rubber or other materials that the cleats are mounted on the underside of the shoe is known as the plate. Obviously, you want to make sure that the plate is as sturdy as the cleats that are mounted on it, which is why this plate is made from the ultra-durable material known as TPU.
Cost and Value
We've gone over how expensive these shoes can get in larger sizes, but now we come to the apotheosis of this, as the largest size in this shoe's lineup has the highest price tag on this list by far. Thankfully smaller sizes are far more forgiving.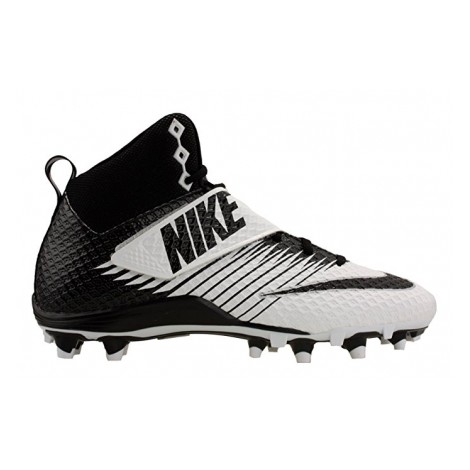 In our final entry, the #10 spot, we, of course, can only end this one way, with an entry from Nike. In this case, the Nike Lunarbeast Pro Cleats. Now, one may think these to be a black sheep of sorts considering they're so far below other Nike entries on this list. However, if it was such a black sheep, we would've left it off entirely. In truth, this is one very well-made pair of shoes.
Perfect for the defensive position
What position you typically find yourself in during a game should be a major deciding factor in what kind of football shoes you buy. Case in point, the Lunarbeast. The Lunarbeast is specially made for defensive positions and very little else. This mostly has to do with its high-cut collar, which adds to the support for your ankles. Meanwhile, the Flywire cables along the midsection help the stability of your midfoot.
Springy flexibility
But standing firm against the oncoming team is only half of being in defense. The other half is pushing back, hard. And to do this, you need a shoe that will help you bounce back from anything trying to push you the other direction. Which is what this shoe specializes in.
Cost and Value
While the price range for this shoe isn't as bad as the previous entry, it's still rather pricey. But then this is legitimately meant to be used by actual pro football players, so maybe that just makes sense.

Subscribe to our Newsletter