Best Stomp Pads Reviewed and Rated for Quality
last updated:
Mar 05, 2021
Snowboards are the slickest way to flex around any slope. In fact, some boards are so slick and shiny that you can actually see your reflection in them.
And while this may be great for checking on your hair before you go in to talk to that cute barista at the snow lodge, it is not great for allowing for any sort of traction when you're scooting around with your back foot out of its binding.
In the same way that stomp pads for surfboards allow for enhanced foot to board gripping when an already slick board becomes slicker when ocean-wet, so do stomp pads for snowboards when extra slick boards get greased up with loose snow and ice.
The products that we've rounded up for this list deliver all the traction you need to navigate lifts and not make a fool of yourself before you even hit the slopes.
In a Hurry? The test winner after 101 hrs of research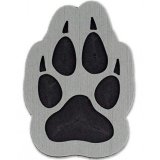 ToeJamR Snowboard Pad
Why is it better?
Comes in tons of cool designs
Made from lightweight EVA
Made with cold press adhesive
Won't cause you to lose hang time
Comes with a 3-year warranty
In a
Hurry? Editors choice: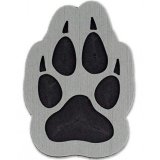 Test Winner: ToeJamR Snowboard Pad

17
Researched Sources
2300
Reviews Considered
101
Hours Researching
10
Products Evaluated
Effectiveness
Durability
Application
Style
Value
By Default
10 Best Snowboard Stomp Pads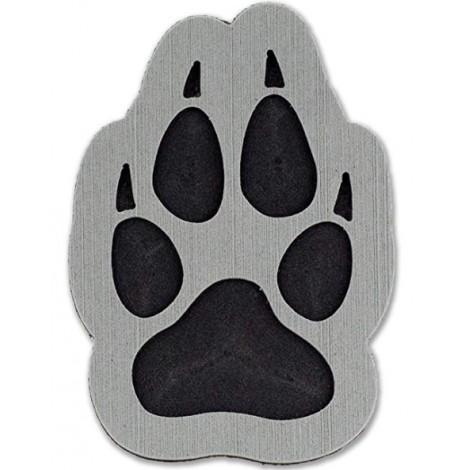 Comes in tons of cool designs
Made from lightweight EVA
Made with cold press adhesive
Won't cause you to lose hang time
Comes with a 3-year warranty
We kick off our list with an industry giant, ToeJamR. With tons of different styles and models of stomp pads for snowboards, you'll be able to customize your board in a way that is totally you. This brand is a great option when looking for gifts for snowboarders because of the variety it offers.
This specific style that we are featuring here is a bear paw and offers up all of the gritty traction that you would expect from a product like this.
Super Light and Long Lasting
The ToeJamR Snowboard Pad is made from high-quality materials that can hold up to whatever the slopes throw at them. The lightweight EVA material that the pad is constructed out of is a durable foam that provides tons of traction that won't end up weighing your board down and taking away from your hang time.
Cold Adhesive Formula
The ToeJamR Snowboard Pad is an excellent product that won't leave you wishing you had a better adhesive as you watch your mat peel off on the slopes. This adhesive is has a specialized cold stick formula that you simply peel and adhere. This formula can hold up to the super cold temps of the slopes without cracking and losing its sticking power.
Cost and Value
The ToeJamR Snowboard Pad rings up on the higher end of our price range and we love its value because it comes in tons of fun designs and because it is lightweight and durable with a long-lasting adhesive. Plus, it comes with a 3-year replacement warranty should your mat come off of your board during normal wear and tear.
Comes in vivid color
Comes in 3 pieces for customization
Compatible with almost any board
Extreme gripping
Comes with boot clearing scraping bar
Some issues with the adhesive
Here's another leader in the stomp pad industry--Dakine. This Modular Mat comes in a bright, vibrant, neon green and consists of 3 separate pieces so that you can get the just-right fit for your board and to match your favorite snowboarding pants.
Additional features put this product on another level and make it one of the best snowboard stomp pads out there, so you'll have just the traction you need for the gnarliest slopes.
Comes in 3 Sections
The Dakine Modular Mat features a fun design that not only delivers style points, but that also serves to offer up additional functionality as well.
This product comes in three different parts so it is better suited for a wider variety of different board shapes and sizes. This also accommodates snowboarders of different sizes (if you consider foot size and the overall area that an individual pad needs to take up in order for you to get the best traction).
The area of the mat measures 7 inches, by 6 inches, by 1 inch. But as we mentioned before, you can place the individual pieces further apart to create a wider gripping area, depending on the size of your board and on the size of your foot.
Comes with Scraping Bar
The Dakine Modular Mat also comes with a scraping bar for your boot. This feature clears out snow from the bottom of your boot so that you can get a better strap in that is more secure when you place your foot back into the binding. This also helps to prevent ice from building up on the bottom of your snowboarding boot which can be hard to clear off later--especially in super cold conditions.
Cost and Value
The Dakine Modular Mat rings up at the top of our price range but we love its value because it is one of the most customizable options that are compatible with virtually every board type and size and can be modified to fit your exact needs. Plus, the boot scraping bar adds another level of functionality that you won't find on most other products.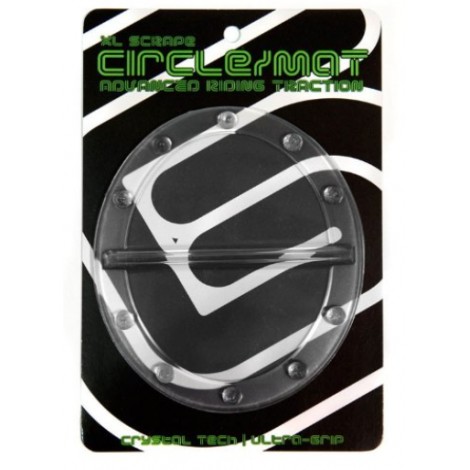 Long-lasting adhesive meant for cold
Clear design to see board graphics
Boot bar to scrape built-up ice
Perfect size for most boards
Super budget-friendly option
The Grayne Circle Snowboard Pad is a more budget-friendly option that still offers ups tons of traction and cool features that will keep you safe and secure on the slopes. With a see-through design, you won't have to worry about covering up the sick graphics on your board and you'll be able to zip around in style.
Circle See-Through Design
The Grayne Circle Snowboard Pad is just that--a circle. The unique design which measures 5 and three-quarter inches by 5 inches is the perfect size for most boards. Plus, it comes in clear, see-through plastic so you won't obscure your board's graphics. In fact, when installed, it goes unnoticed as your board can be seen right through it.
This product is nice and grippy and will deliver tons of traction if whether you are exiting the lift or rocking major airs with just one foot in the binding.
High Grade Adhesives
The Grayne Circle Snowboard Pad features adhesives made from high-grade materials that were specifically designed to hold up to the extreme winter temperatures that snowboarding has to offer. These adhesives go on easy and remain in place ride after ride.
You'll enjoy an additional boot bar that is great for knocking off built-up snow on the bottom of your boots. Especially if your bindings are rear-entry, having this feature will ensure that you can get a snug fit around your boot without caked up ice getting in the way.
Cost and Value
The Grayne Circle Snowboard Pad rings up at the bottom of our price range and we love its value because it offers up tons of gripping power without breaking the bank.
4

. Burton Medium Spike Mat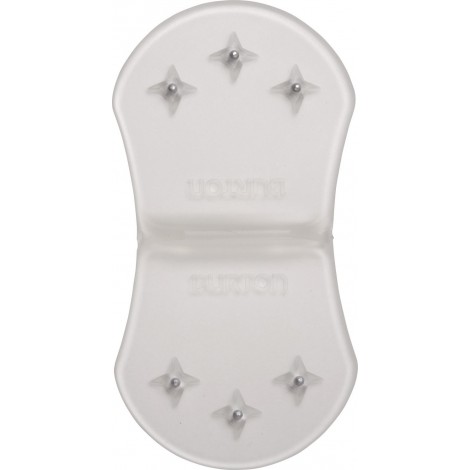 Comes in 2 different colors
Can see through the mats
Full spikes for extra traction
Spikes clear out built up ice
Easy to install with peel and stick
Spikes are plastic and not metal
The Burton Medium Stomp Spike Mat has a unique take on this product but functions well. Its durable design and easy installation make it a welcomed partner for any one-footed action that you need to involve yourself in while you're out on your board.
2 Color Options
The Burton Medium Stomp Spike Mat comes in 2 color options so that you can get the right aesthetic fit for your board. With a black mat that is see-through as well as a clear mat that is see-through, you will be able to get a hint of color without totally sacrificing the graphics that are already on your board.
Full Spikes
The Burton Medium Stomp Spike Mat features full spikes on the mat rather than rounded orbs or flat gripping surfaces. These spikes serve a few different purposes.
For one, they really get into the grooves of the bottom of your boots for incredible traction. But that's not all. They also work to clear out built-up ice and snow in the crevices of your boots as well so that you don't end up with boots that are super weighed down or that won't fit into your bindings when it's time to get back to two-footed action.
This mat is easy to install and features a peel and stick adhesive on the back of the mat.
Cost and Value
The Burton Medium Stomp Spike Mat rings up in the middle of our price range and we love its value because it has spikes that serve the same function as boot scraping bars and because you will still get to enjoy the graphics on your board.
Comes in 2 color options
Budget-friendly product
Can be cut apart and reconfigured
Easy to apply adhesive
Spikes grip well and clear away ice
Some found the product too large
Here we feature another product from Dakine--the Dakine Spike Stomp Mat. While Dakine is a pricier name brand, this product is about half the price of their more elaborate and flashy looking mats. This one is straightforward and will get the job done. Plus, it won't clash with your favorite snowboarding gloves.
Can Customize Configuration
The Dakine Spike Stomp Mat is not as flashy as the Dakine product above, but it still comes with the option to customize its configuration so that you can get all the grip right where you need it.
The mat itself comes in one piece but it has 5 different sections that can be cut apart without compromising the adhesive material. Thus, you can cut up to 5 different sections apart and adhere them to your board so that you can get the grip right where you need it. This makes it a great option for most sized boards and boots.
The combined area of the product measures 4.7 inches by 4.7 inches.
Clear and White Options
The Dakine Spike Stomp Mat comes with 5 rows of molded plastic spikes. These spikes are designed to get a grip into your boot and to help clear away excess ice that can make it tricky to get the right fit in your bindings later.
This mat comes in two color options. You can opt for the totally clear mat (pictured) or you can go with the white mat which is a little bit cheaper but will take away from the overall aesthetic of your board.
This product is a peel and stick product, and our reviewers suggest heating up the board and the mat before application to ensure that the adhesive is even more sticky and stays on for good.
Cost and Value
The Dakine Spike Stomp Mat rings up on the lower end of our price range and we love its value because it is still a customizable option that makes it a great fit for most boards while carrying a not so premium price tag.
6

. SpotLight Hosiery Sport Round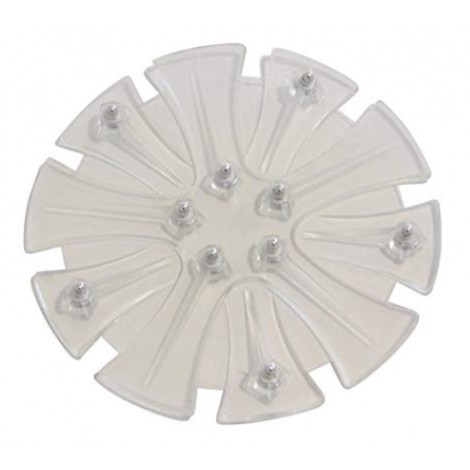 Made with aluminum spikes
Spikes grip and clear ice
Large surface area (5 inches in diameter)
Lightweight product great for jumps
Have to adhere with your own glue
The SpotLight Hosiery Sport Round is another product on our list that features a unique design to help give you tons of attractive traction. With real spikes made from aluminum, these grips like no other and are also built to be lightweight and stand up to the brutal pounding the slopes deliver.
Comes with Aluminum Spikes
The SpotLight Hosiery Sport Round is one of the few on our list that actually comes with aluminum spiles. While others on our list come with molded plastic spikes, these aluminum spikes are designed for greater durability while still maintaining a lightweight profile. In fact, this product weighs in at just around 4 ounces.
Large Diameter
The SpotLight Hosiery Sport Round is a large round that will give you tons of grip on your board. The full diameter of the round in 5 inches so you will be able to enjoy tons of traction while you are entering or exiting a lift, and if you need to maneuver on flat ground for extended periods of time.
Cost and Value
The SpotLight Hosiery Sport Round rings up in the middle of our price range and we love its value because it offers up a large surface area for more griping and comes with aluminum spikes which are more durable while still being lightweight.
7

. Burton Large Scraper Mat
Extra-large surface area
A unique shape for more security
Great for novices
Great for instructors
Yellows with intense sun exposure
The Burton Large Scraper Mat is designed for use on snowboards, but this guy can actually function well as a surfing stomp pads option or for use on your wakeboard. With an innovative design that allows you to get a secure footing no matter which direction your foot is facing, you won't have to worry about slipping and losing contact with your board.
Special Shape for All-Around Grip
The Burton Large Scraper Mat is an excellent mat to go with, especially if you are new to snowboarding. Newbies will still be learning how best to position themselves on their snowboards and may not always arrive at the best or more secure footing. That's what makes this option ideal.
Because it is larger in size (measuring 5.9 inches, by 1.2 inches, by 8.6 inches large), there is more surface area for the boot to gain traction on. The rounded shape in the middle also allows for excellent traction even if your foot is not positioned exactly horizontally to the board.
Grip Orbs and Line Track
The Burton Large Scraper Mat comes with 16 total gripping orbs that work together to keep your boot secured to the mat. It also features a traction line down the middle for even more gripping action. This is a favorite of instructors who frequently need to maneuver their boards with just one foot in the bindings.
Cost and Value
The Burton Large Scraper Mat rings up in the middle of our price range and we like its value because it offers up tons of surface area and a wide array of uses, all while offering tons of gripping power.
8

. Grayne New Tire Tread Pad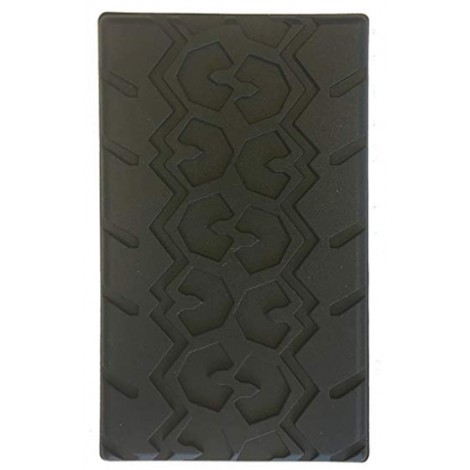 Strong 3M sticking power
Tons of gripping power
Unique design
Large footprint
Durable and long-lasting
The Grayne New Tire Tread Pad looks and feels a little bit differently than the others on our list. While the other products up until this point have been made from plastic (with the exception of the EVA pad from ToeJamR), this product is made from crazy durable rubbers that offers up a wild amount of grip while looking pretty cool at the same time.
Rubber for Super Grip
The Grayne New Tire Tread Pad is not only super functional, but it looks cool as well. Made from durable rubber, this product won't wear away quickly and you won't have to worry about pieces falling off as there are no spikes. The supreme grip is achieved through the texture of the rubber and through the tire track imprint that allows your boot to get a secure footing without slipping off.
This product isn't see-through and it takes up a large amount of space, measuring 6 inches by 4 inches, so if you are worried about covering up the graphics on the deck of your board, this may not be the product that you want to go with.
3M Adhesive
The Grayne New Tire Tread Pad utilizes the industry leader in adhesives to ensure that their product doesn't move a muscle once it is installed. 3M's industrial-strength adhesive does just the trick and will keep your pad right where you stuck it for years to come.
Cost and Value
The Grayne New Tire Tread Pad rings up at the bottom of our price range and we like its value because it offers up a unique style and tons of gripping power that will stick and stick for good thanks to its 3M adhesive.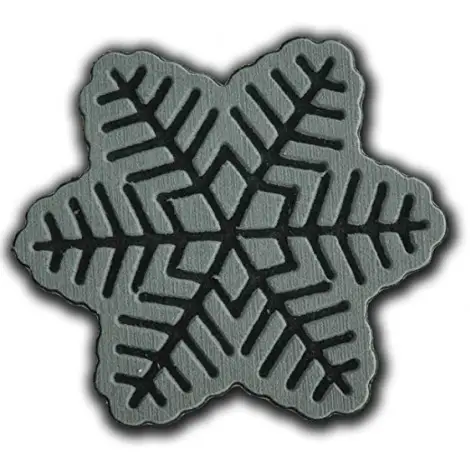 Nice size for most boards
Laminated foam is long-lasting
Foam is lightweight
Easy to install and super sticky
Ice gets caught in depressions
The ToeJamR Pad is the second product from ToeJamR to make our list. It is appropriately shaped like a snowflake and has the perfect footprint to show off your graphics on your board while still offering the necessary traction for navigating those tricky lifts.
Made from Laminated Foam
The ToeJamR Pad is not made from plastic like most of the other items on our list. Instead, it is made from a durable laminated foam that is so lightweight, it will help you get and sustain tons of lift without weighing you down.
The grip from this mat comes from the material and from the indentations and depressions in the snowflake. Some reviewers found that ice can build up in these indentations and cause the pad as a whole to be much less sticky.
Peel and Stick
The ToeJamR Pad is super easy to install. Simply peel and stick. But make sure you place your mat in the right place though, because moving it will be nearly impossible after it is stuck on.
Cost and Value
The ToeJamR Pad rings up towards the top of our price range and we like its value because it is a long-lasting product that sticks super well.
10

. RaceWax -Ten Pyramid Studs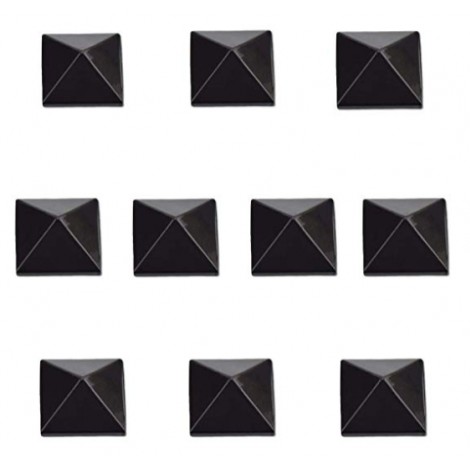 Customizable configuration
Compatible with most boards
Unique footprint won't cover board graphics
Matte black finish
3M adhesive
The RaceWax Full Set of Ten Pyramid Studs is the perfect way to round out our list. Not only is the design totally different from any other product on our list, but it also makes the product super customizable which means you can use it on practically any board out there without worrying about covering up the sick graphics on the face of your board.
Set of 10 Pyramids
The RaceWax Full Set is totally different than the other items on our list. With your purchase, you will receive 10 individual pyramid studs. Because the studs come in individual pieces, you can arrange them in any way you want. This allows you more control over the placement of your grips and can also be accommodated on any size snowboard.
Each stud measures 25mm, by 25mm, by 5mm tall. Their small footprint and the open space between them ensures that you won't have to obscure tons of graphic space on the front of your board.
Aluminum Plated Studs
The RaceWax Full Set comes with 10 studs that are all aluminum plated. These studs are lightweight, yet durable, and can stand up to the unforgiving winter elements.
They come complete with an adhesive backing that is easy to peel and stick. And because the adhesive backing is made by 3M, you know you can count on its stickiness for seasons to come.
These studs are coated in a matte black paint so they fit the aesthetic of basically any board.
Cost and Value
The RaceWax Full Set of Ten Pyramid Studs rings up at the very bottom of our price range and we like its value because it offers a totally different look than any other product on our list and also because it can be fully customized to fit the specifications of your board without interrupting the style of your graphics.
Criteria Used for Evaluation
Effectiveness
When we sat down to choose the products that would make the final cut for this Ten Best List, we, above everything else, considered how effective each product is. After all, a stomp pad that doesn't actually provide more traction is totally useless.
We determine a product's effectiveness by pouring over tons of consumer reviews. We also take a basic look at the materials that each product is made out of and the different features of each product that work to make it effective.
We value products that are comprised of sticky or tacky materials. We also value products that feature orbs or spikes to help with even deeper traction and that work to clear away built-up snow on the bottom of your boot which also creates a slick surface that can prove to be challenging.
We take away effectiveness points on products that allow ice and snow to build up in the depressions which end up making the product, as a whole, less effective.

Durability
When considering a product's durability, we are mainly looking at how well the product itself holds up and how well the adhesive on the product holds up.
When considering the product itself, we are looking at how well the spikes and orbs stay attached to the body of the mat, what kind of weathering the mat goes through (like if it yellows when exposed to lots of sunshine), and whether or not the mat is easily damaged by heavy use.
When looking at the adhesives on each mat, we are looking at how long each adhesive can be expected to last and how easy it is to install (see Application below). We love products that utilize 3M adhesives as these are industrial strength stickers that can last for seasons at a time.

Application
When considering the products that we would include in this Ten Best List, we looked at how easy each product is to install. To determine this, we take a couple of things into consideration. We not only look at the quality of the adhesive, but we look at the process of the installation.
Right off the bat, we favor products that come with their own peel and stick adhesives. This makes the application process go a lot faster and a lot more smoothly. This also drastically cuts down on "drying time" and allows you to get your board back into circulation much more quickly.
We also love products that can be configured in multiple different ways. This allows for customization for your specific board, your specific boot, and your specific size. It also means that these products are compatible with a larger range of board shapes and styles.

Style
While we always value functionality over style--we can't deny style's importance. We work to include products that function as they are intended, but that also look good while doing so.
We try to mix up the different style options so that you have a wider array of aesthetics to choose from, and we especially made sure to include true see-through options for those of you who are wild about the factory aesthetic of your board's graphics and don't want to cover them up.

Value
We love that the products on this list are at such an accessible price point. Not only are many of the products totally customizable, but they are comprised of super durable materials that can function for seasons and years to come.
In fact, one of the biggest "negative" review patterns that we encountered were that the adhesives were too sticky and hard to remove. So be prepared to enjoy your new stomp pad for years to come.
Expert Interviews & Opinions
Most Important Criteria
(According to our experts opinion)
Experts Opinion
Editors Opinion
Users Opinion
By Default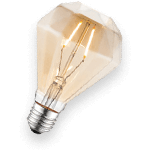 How to Properly Install Your Pad
There's tons of advice out there about how to properly install your pad, but we've worked to simplify the process as much as possible for you so that you can get the best and longest stick possible.
The first thing you're going to want to do is to make sure the board is totally clean and dry. You can use a natural cleaner to clean the board or you can use something a bit more heavy-duty if you've got a heavily soiled board. Then make sure you totally dry the board and remove any leftover residues from the cleaner.
Then, you'll want to place your foot on the inside of the back binding to get a general idea of the placement for the mat. You are going to want the mat to hit the middle of your foot. You also still want the mat to be close to your binding so that you can use the outside of the binding for traction as well. Once you have gotten the correct placement, make a tiny mark with a pencil.
It is really important that you get the right placement because once this baby goes on, it is likely not going to move.
After that, you need to ensure that your board is room temperature (or slightly above). To do this, you can use a hairdryer to heat up the surface of the board that to which you will be applying your mat. You may also choose to turn the blow dryer on the adhesive backing of the mat as well.
Then stick away! Press firmly to ensure that all air bubbles are removed, and stand on top of the mat. You should wait to use your board for around 24 hours to ensure that the adhesive has a solid amount of time to fully adhere. You may choose to rest heavy items on top of the mat during this process.
How to Get Your Stomp Pad Off Your Board
You are going to want to employ a razor blade or flat edge of some kind to break the adhesive bond. Then you are going to need to use something like the acetone in nail polish remover to get the remaining adhesive that is left behind off of your board.
Other Factors to Consider

Weight
When making this list, it was also important for us to consider the weight of each item. The reason this was a consideration of ours is that a lightweight board (which is frequently more expensive) is easier to maneuver, steer, and maintain long lifts and air time. Even slightly more weight can change the entire dynamics of your board.
So we favor products that are as lightweight as possible, while still providing durable and long-lasting traction to keep you safe during transitions.

Size
The size was an additional consideration as well for a few reasons. For one, you want a mat that is large enough to grip a wide surface area of your boot. You also want to be sure that you are accessing grip even when your foot is not perfectly horizontal to your board.
But another reason for considering size has a bit to do with style. Many boarders did not want a huge mat because they did not want to be covering up large sections of their board face with a stomp mat as it covers graphics on the board.
Frequently Asked Questions
q:

Does everyone need one of these?

a:

There's not a totally straightforward answer to this as it depends on a few different factors. These are generally recommended to novices as it makes controlling the board during entry and exit lifts far easier, and as it gives more control when navigating flat areas. In fact, many serious boarders believe that these are a sure sign that you aren't up to snuff.

Even if you are a novice, however, you may find that you don't need one of these if your board is made from a matte material. The reason being that high-gloss finish boards are super slick and harder to maneuver when you're inexperienced, but matte boards provide way more traction (like that of a mat) so you may not end up needing it.
q:

Can I use these pads on my surfboard?

a:

Most of these products are not designed to function well on a surfboard, though a few of them can. Surfboard mats are much larger and flatter to accommodate a larger variety of footings.
q:

Will the pad really weigh my board down?

a:

If you are a novice, it is likely that you won't notice the difference once your mat is installed. However, you do want to ensure that it is centered so that the weight of your board remains centered as you ride.
Subscribe to our Newsletter