Best Shin Guards Reviewed & Rated for Quality
In a
Hurry? Editors choice: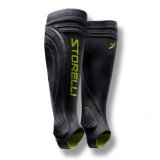 Test Winner: Storelli BodyShield

In many contact sports, a pair of shin guards is an essential tool to prevent injury. This kind of protective gear is recommended and even required in sports such as hockey, soccer, baseball or football. This is because in most high-action and intensive sports,
especially those like soccer
, the lower parts of the human body are often left unprotected and vulnerable to harsh contact from the ball or other players. In this way, a shin guard plays a vital role in protecting the bone and delicate tissues and muscles around the shin area and can offer valuable protection against any kicks, strikes, or tumbles that often occur in any
contact sports game
.
Standout Picks
Criteria Used for Evaluation
Breathability
If you were playing any kind of contact sport even just ten years ago, you likely remember the sensation of having to peel sticky and sweaty shin guards from your legs after playing. However, most sports manufacturers have been turning to more lightweight and breathable alternatives even when it comes to protective gear.
In the last few years, several studies have confirmed that there is a definite link between the breathability of the athlete's equipment and subsequent performance. When we talk about breathability, we essentially refer to a fabrics quality to either absorb moisture and dry quickly or simply to wick moisture away from the skin. Any fabric that can not do this, can cause severe discomfort during intense activity and in severe cases could lead to rashes or irritations formed on the skin, which is why breathability is such a key factor in picking out your sporting gear.
While the plastic shell and padding system may not offer much in terms of breathability, it might help to look for products with highly breathable sleeves. Ideally, sleeves should be made from synthetic fibers such as nylon or polyester, and perhaps even cotton. These fabrics offer the most breathability. However, certain manufacturers, such as Nike or Adidas also offer their very own patented performance fabrics that have been enhanced for maximum breathability.
Comfort
Many athletes, especially beginners, truly hate protective gear and understandably so. Most entry-level products offer general protection but are so uncomfortable that it hugely interferes with the athlete's performance. This is especially discouraging to beginners who are just learning the game.
The comfort of any given piece of sportswear can make or break your overall experience and the same goes for shin guards. Since many leading governing bodies, such as FIFA, are more and more insisting that players wear protective gear at all times, the best you can do is find equipment that is most comfortable for you.
When we speak about comfort, there are a variety of factors to consider that determines a product's overall comfort, such as a product's weight, mobility, fit, breathability, and overall feel.
Since it could be difficult to determine a product's comfort when shopping online, your best course of action is to look at what each product is made from. Plastic shells made from plastic or plastic composites, K-resin, fiberglass or polypropylene are the general standard in most products since they provide the most lightweight and durable protection.
As for fabric, any breathable fabric is the best option. In addition, you should look out for sleeves that offer compression for a second skin fit and adequate support.
Fit
Finding the proper fit for shin guards is notoriously tricky since there is no standard sizing guide. Sizing guides differ for kids and adults, and most manufacturer works on their own sizing standards.
What makes the fit even more complicated is that there are so many different varieties of shin guards and each has their own specific fit requirements. For the most part, any shin protective gear should fit comfortably around the shin area. A tight-fit will ensure that your product stays in place throughout the game.
As for the actual fit, a good starting point would be to measure your leg first. The ideal product should cover your leg from just above your ankle to about two inches below the knee. Measure this area accurately with measuring tape and compare it with the manufacturer's sizing guide to find the best possible option for you.
Once you try it on, it's important to walk around in it or run on the stop. An ideal fitting product should not feel restricting in any way. This will also help you to determine a product's comfort before buying. If you are buying online, you should confirm that you can return products in the wrong size.
Protection
When it comes to protective gear, of course, one of your primary considerations should be just how much protection does it give you? Your protective needs will also vary depending on your preferred contact sport, age, and sporting level.
Young children and beginner athletes will likely need the most protection no matter what kind of sport they participate in. This is because their bodies are still developing, making the fragile tissue and cartilage more susceptible to injury and could cause long-term damage.
Kids will also require added ankle padding. As they start finding their way around the sporting field, they will likely still be quite clumsy until they start learning some footwork. This clumsiness makes them more liable for trips and falls and additional ankle padding is a great way to add support to the area and potentially minimize damage in those inevitable falls.
The most comprehensive protection will ideally cover the entire lower leg, feature ankle padding, and include a hard shell made from either fiberglass or polypropylene.
For more intermediate athletes, the level of protection will vary depending on their chosen sport. Generally speaking, sports that are prone to frequent harsh blows and impact such as fighting sports or soccer will require much higher protection than other alternatives such as mountain biking.
Shock Absorption
When kinetic energy collides with another object it is bound to have some impact. In layman's terms, once you come into contact with other human beings or balls at a high speed, the force of the collision could cause severe damage.
Shock absorption works by literally absorbing some of the impact that is caused by any collision. The shock absorber generally converts the kinetic energy into a different kind of energy. When it comes to protective sports gear, the foam padding acts as the shock absorber. Effectively it works by softening the blow to the wearer.
High shock absorption is critical in high-activity contact sports such as soccer or hockey. You can determine a product's shock absorption capabilities by the kind of foam that it uses. Ideally, you should look for a high-density foam, such as EVA that is commonly used by top manufacturers such as Nike and Adidas.
The amount of padding is another important consideration. Generally speaking, the thicker the padding, the more effective the shock absorption will be.
10 Best Shin Guards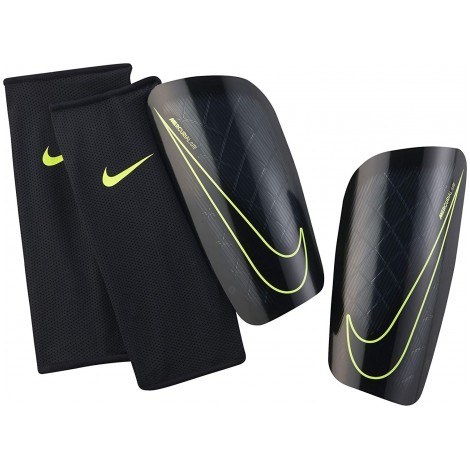 If you've ever been annoyed at drooping protective gear, you should look no further than the Mercurial Lite. Extremely lightweight and comfortable, this protective gear offers a hard shell constructed from K-resin that is held in place by highly breathable sleeves. The shells themselves offer a barely-there feel thanks to its ultra-lightweight construction. The K-resin shell is backed by EVA foam in a waffle pattern to ensure a comfortable fit as well as extra overall padding. The shells themselves are then kept in place by the included sleeves.
Shock Absorption
The Mercurial Lite offers one of the most shock absorbing products on the market thanks to the high-density EVA foam used on the inside of the plastic shell. The foam itself is inserted in a waffle pattern for added comfort and optimum shock absorption for harsh blows and impact.
Breathable Sleeve
The included sleeves have been constructed from Nike's very own patented Dri-FIT fabric. This unique synthetic fabric has been optimized with the athlete in mind and effectively wicks away moisture from the skin, while simultaneously providing some air circulation and breathability to the area.
Cost and Value
While the Mercurial Lite is somewhat more expensive than most products, it offers a comprehensive protective product that is comfortable. Each purchase includes the plastic shells as well as Dri-FIT sleeves.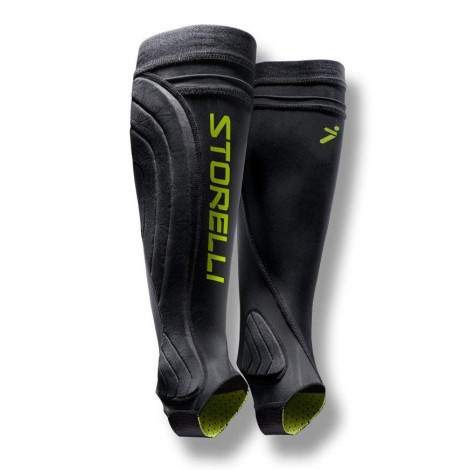 Storelli's BodyShield is perhaps one of the most-innovative "barely-there" products when it comes to protective sports gear. This product consists of a pair of hardened plastic LegGuards that is kept in place by the highly innovative lower leg sleeve. The result is a highly protective yet comfortable experience that offers any athlete plenty of protection and mobility. This is a great option for more experienced athletes who need to get the most out of their gear.
High-Performance Sleeves
It's the sleeves of the BodyShield that is truly the star of the show. The sleeve itself is constructed from performance fabric that wicks moisture away from the skin and gives you plenty of mobility. There is also plenty of padding in very vital areas to offer support and protection to the entire leg instead of just the shin area.
Anti-bacterial Fabric
This fabric is treated with an anti-bacterial product to minimize germs and odors and reduce the chances of infection. This added extra allows the athlete an easier way of keeping their gear clean and sanitary during their performance.
Cost and Value
The Storelli BodyShield is perhaps one of the most expensive products on our list of top-rated products, especially considering that the purchase only includes the sleeves and not the LegGuards. However, this product features plenty of high-tech extras as well as sheer high-quality performance to appeal to the advanced athlete.

3

. Adidas Performance Ghost Pro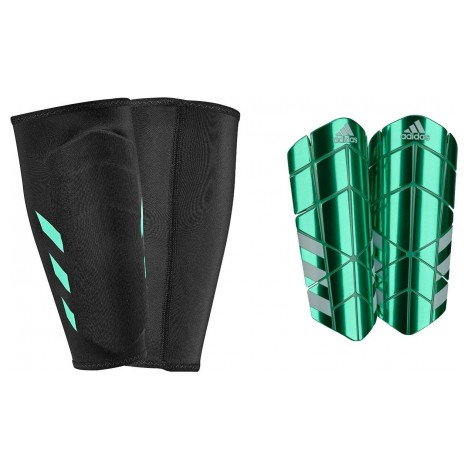 The Adidas Performance Ghost Pro is very likely one of the most flexible options out there when it comes to protective sports gear. With its beautifully sleek design, comfortable fit, and comprehensive protection, this product is ideal for any kind of athlete and is a firm favorite in the contact sports world. The plastic shell offers comprehensive to its wearer without compromising flexibility and comfort.
Highly Protective Shell
Each shell is made from a mixture of polypropylene and TPU injection-molded plastic. The anatomy of the shell consists of 3 different shields that covers a much larger surface area than the average product. The shell is then finished off by high-quality EVA foam for a snug and comfortable fit.
Versatile
However, one of the most standout characteristics about the Performance Ghost Pro is perhaps its accessibility. This product is suitable to be used by any athlete on any level. This together with its great price and various available sizes and color, makes it easy to see why the Performance Ghost Pro continues to be a best-seller.
Cost and Value
As expected the Adidas Performance Ghost Pro is somewhat more expensive than the average product. However, considering its optimized shell together with its high-quality endurance, the Performance Ghost Pro is well worth the splurge.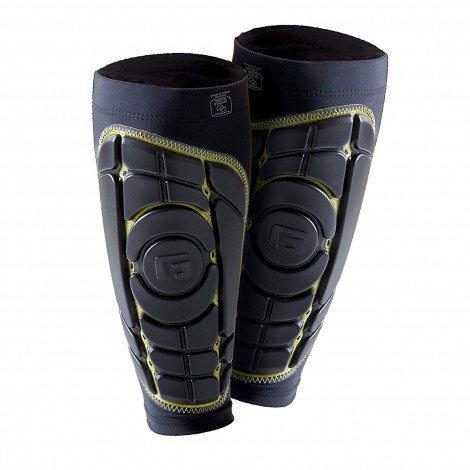 G-Form combines lightweight comfort with hardcore protection with their unique Pro-S Elite product. This sleek looking protective gear represents the very latest in protective gear technology with their own patented Reactive Protection Technology (RPT) that allows it to harden on impact to make sure that you stay protected. The soft and flexible design allows it to fit snugly around your shin area for an optimum snug fit.
Reactive Protection Technology
Perhaps one of the most innovative design to come from protective gear technology in the last few years is G-Form's Reactive Protection Technology. This allows the protective plastic itself to remain soft and flexible throughout the game but is able to automatically harden upon impact.
Lightweight and Breathable
Despite the fact that this protective product wraps around the entire leg, it remains surprisingly lightweight and breathable for a more comfortable experience. The unique performance fabric successfully reduces sweat and heat throughout the game in this area.
Cost and Value
This product is perhaps marginally more expensive than the average product. However, the Pro-S Elite is backed by years of protective gear innovation to bring you one of the most comfortable products to date. Each purchase includes a pair of the Pro-S Elite and this highly durable product will definitely last longer than most.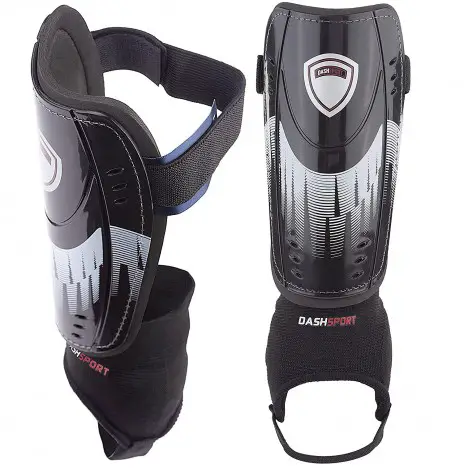 Made with the young player in mind, DashSport has innovated a product that delivers easy and lightweight protection that feels comfortable and secure on younger shins. With its unique slip-on design, the DashSport Youth protective gear will likely appeal to any age group. Considering its great price and flexible feel, this is the ideal choice for any young players from toddlers to teens! The product has a wide range of sizes and will surely become a favorite in any school sports team.
Protection and Shock Absorption
The product consists of the traditional hardened plastic shell that is backed with foam. The foam backing allows the guard to rest comfortably on your lower legs and provides added shock absorption. The plastic shell is kept in place by two velcro straps that can be adjusted to firmly wrap around the entire leg.
Ankle Support
What makes the DashSport Youth a great choice for younger players is the added ankle reinforcement that you get from the ankle sleeve. This sleeve is made from highly breathable fabrics so as to not interfere with your performance. However, it does fit snugly enough to offer some added support to this vulnerable area.
Cost and Value
Priced very competitively, the DashSport youth shin guards are a small investment for a big return. You can never pay too much when it comes to protecting the children and with this particular product, you won't have to.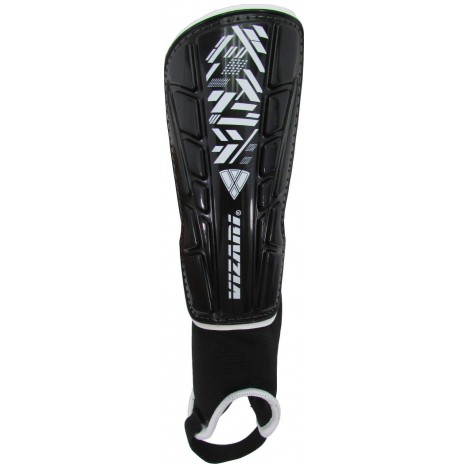 The Vizari Malaga is a firm favorite among athletes of all levels thanks to its comfortable fit and complete protection. The product itself consists of a hard PP shell that covers the entire shin area with ease. The back of this hard shell is padded with high-quality foam to provide some additional shock absorption for hard blows. The relatively low-price together with the various colors available makes this a great product for kids or entry-level athletes.
Protective PP Shell
The shell is kept in place in two ways. It fits snugly around the ankle with an attached sleeve, while also using velcro strips that wraps around the lower leg. The sleeve fabric is breathable enough to not interfere with the athlete's performance, while the strips themselves ensure a secure fit.
Ankle Support
The Malaga offers some additional padding and support around the vulnerable ankle area. This added support is great especially for younger players as it helps add some stability and reduce damage during injury.
Cost and Value
Compared to other products the Vizari Malaga is very competitively priced. For this price you receive a pair of high-quality and durable guards that offers added ankle support. The accessibility of this product makes it a great all-rounder for any level of athlete.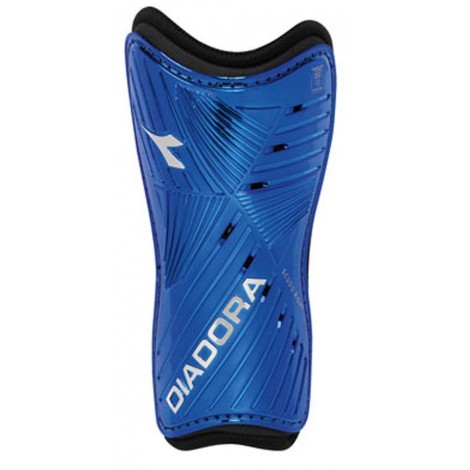 While it may be a more traditional looking option when it comes to protective sports gear, the Diadora Scudo still performs well when it comes to protection. This product is a great all-rounder that offers plenty of breathability and mobility in its performance while still being affordable. This product is primarily aimed at kids and teens and has been designed with their specific anatomy in mind.
High-Impact Shell
On the surface, the Diadora Scudo is simply an old-school guard that has the plastic shell, backed by foam, hugs the shin area and is kept in place by an included sleeve. The shell itself has been constructed using high-quality polypropylene to ensure protection against harsh blows. In addition, the shell has ventilation slits to increase the airflow circulation in this area.
Great for Kids
Made with kids and teens, in mind, this is the ideal product for any junior athlete. The high-impact shell offers all the protection needed at a younger age, while the guards themselves are easy enough to take on and off unassisted.
Cost and Value
The Diadora Scudo is very competitively priced especially considering the sheer value for money. Each purchase contains a pair of polypropylene shells along with a pair of sleeves to hold the product in place. The very low price makes this perfect for the beginner athlete.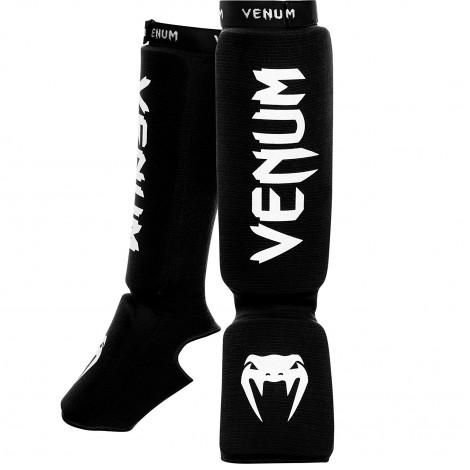 Just because you enjoy fighting sports does not mean you don't need adequate protection. The Venum Kontackt has innovated its protective gear to provide adequate support as well as comfort for the entire lower leg area. With its sleek design and handy extras such as the reinforced instep and ankle protection, the Venum Kontackt protects as well as it looks.
Ankle and Instep Support
What makes the Kontackt stand out over other products is the fact that it entirely protects both the ankle and instep. The additional reinforcement and comfortable padding add support to these vulnerable areas that are frequently damaged in fighting sports.
Snug Fit
The Kontackt was designed to fit like a second skin. This product is available in a wide range of sizes to suit every leg build. However, there are also two velcro straps located at the ankle and above the calf to be adjusted to suit your specific needs.
Cost and Value
Despite its comprehensive protection to the more vulnerable parts of the foot and ankle, the Venum Kontackt is still moderately priced. Each purchase includes a pair that is durable and machine washable.

9

. Franklin Sports Superlight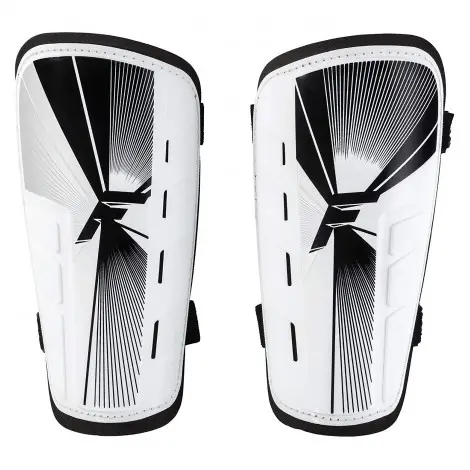 As the name suggests, the Superlight from Franklin Sports is most notable for its incredibly lightweight design. The hard protective plastic shell is constructed from a highly durable plastic. The unique design of the outer shell is completely symmetrical that gives you more complete coverage than other products. The product itself features a clean, chrome-accented and geometric design that can be worn both inside socks and out. It is available insizes for both adults and children and considering its very low retail price, this is the ideal option for a beginner or casual athlete.
Shock Absorption
On the inside, the shell is backed with high-density foam that offers plenty of padding to the discerning athlete and offers more shock absorption for those harsh knocks. The product is kept in place by self-stick straps that easily wrap around the leg and can be adjusted to fit with your body. These straps make it somewhat easier to put on the protective gear - a great feature for any beginner athlete!
For Any Athlete
The clean design together with the wide variety in sizes for both kids and adults makes this a great choice for almost any athlete. Kids and beginners will love how easy it is to use the Superlight, while adults will likely benefit from its hard protective shell.
Cost and Value
At its current price, the Franklin Sports Superlight is one of the most cost-effective options on the market. Despite its low price, it offers plenty of high-quality protection and an overall lightweight and durable performance that will impress even intermediate to advanced athletes.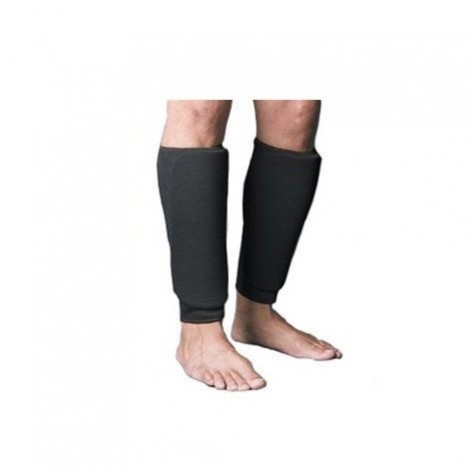 While it may not be entirely suited to harsh impact sports, the ProForce is notable for its sheer comfort and breathability. This is a single product that comes in the shape of a compression sleeve that wraps around the entire leg and reaches all the way from your ankles to below the knee for ample coverage against mild to moderate blows.
Comfortable
The fabric itself is highly breathable and stretchy for added comfort. The inside of the sleeve features added soft padding, especially around the shin area, for optimum support. However, the rest of the sleeve still provides support and mild padding to give some level of protection to the entire leg.
Versatile
The soft padding ensures a highly comfortable sporting experience. However, this product can also be used for much more than contact sports. The soft padding and comfortable sleeve makes it ideal for individuals recovering from a lower leg injury and would like some added protection to the area. It is a highly versatile product that comes at a great price and can be used by beginner athletes with ease.
Cost and Value
You'll be hard pressed to find a product more competitively priced than the ProForce. While it may not offer protection as comprehensive as some other products, its comfort and use of use make it ideal for a wide variety of beginner athletes.

Subscribe to our Newsletter