Best Kids Helmets Reviewed and Rated for Quality
In a Hurry? Editors choice: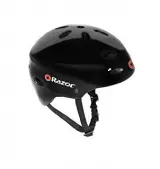 Test Winner: Razor V-17

We all love getting out and about, it's great for the heart and mind and helps to keep us healthy. When we go out with our kids or they are off on their own – a kid's helmet can be a comfort and peace of mind valve for us grown-ups when they are fully mobile. Kid's helmets are no longer a boring pudding bowl on the head and there is less inclination for your kids to blame being 'uncool' with one on. So, once you've got a mobile child who has any form of self-propelled transport – you may need that extra assurance that they are going out properly prepared.
Standout Picks
Criteria Used for Evaluation
Versatility
One of the first things you are advised to do is think about what your child will be doing when they are wearing the new helmet. If the helmet is specifically for road cycling; then it will not be equipped with a visor because they may obstruct the view and potentially cause an accident. They will usually have more ventilation because airflow is important to help keep your kids head cooler when they are working up a sweat.
For the adventurous off-roader in the family, mountain bike helmets appear the same as road riding helmets but they have a few fundamental differences. They have fewer air vents and provide fuller cover and protection for the sides and the back of the head. And, as a frequently needed bonus – they often have built-in visors which are designed not to obstruct the view when the rider is sitting more upright on an off-roader.
And if your kid is just as interested in style as they are in substance, the urban traditional style is readily available too. It has fewer air vents, but if chosen from a reputable dealer or supplier – it can provide more than adequate protection with style.
The serious off-roader may be better suited to a full face cycling helmet, these are designed to be worn in particularly rough and challenging environments and have a substantial chin guard in place to protect the whole head, these are well vented over the entire helmet and are equipped with pull down visors or can be worn with goggles for added protection from flying debris.
Size
It would be great if we could go and buy our kids helmets the same way as we buy their clothes and shoes, off the peg – no fuss. But to ensure you get the right protection for your little angel, you need to get the right size – otherwise, the potential for harm may be increased in the unfortunate incidence of an accident. So, when you're looking for the right kid's helmet, you need to work on the basis of head circumference since most modern helmets are designed around this and not specifically age.
The best way to get the correct fit is to measure the head just above the ears to get the right fit, if the helmet sits too high it will be of little use, likewise, if it is too big it will not offer sufficient protection. There are usually adjustable straps within the helmet, and some may offer extra Velcro attachable pads, also very useful for the growth spurts all kids go through – some even offer a dial so they can be adjusted to fit as the head widens.
Fit
Getting the fit spot on is imperative as well, the ill-fitting helmet will not be worth wearing if it isn't fitted correctly. A general recommendation for measuring is to place the tape measure just above the ears and then around the whole head as this is the widest part on the skull if measured correctly the right helmet size should be a perfect fit. If the helmet is to large and it will come loose and may cause an accident; especially if it slips down over the kid's eyes. Too tight and it will not only be uncomfortable but won't offer full protection. A good test is the nodding one, get your small person to nod and if there is just a slight movement then the helmet is correctly fitted, if not – use the adjusters to compensate the difference.
10 Best Kids Bike Helmets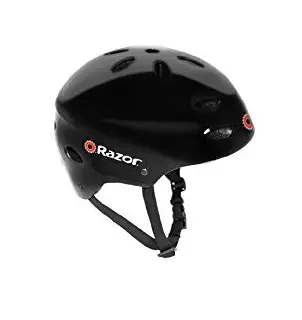 This Razor V-17 helmet benefits from being useful for a variety of sports, the youth helmet is offered in a range of striking colors and designs – a choice of fourteen in total so there should be a match for even the most discerning decision maker in the family. The multi-use functionality it offers makes it a practical purchase that can be used with a number of sporting activities that require some form of protection, thus increasing its overall appeal and versatility.
Comfortable
The Razor V-17 has seventeen ventilation maximum airflow, coolness and comfort even when it's hot and activities are exertive. It boasts ergonomic interior padding that enables superior security in the fitting and is comfortable around the head too.
Practical
The helmet is offered in size ranges between twenty-one point five to twenty-three inches with a guide age of between eight and fourteen, and it also benefits from quick release side buckles that are easily adjusted to ensure a great and safe fit.
Cost and Value
Overall, the balance between both cost and value are equal, the multi-functional use the helmet offers, along with the ergonomic padding and easy to use straps – ensures this helmet is great value for money.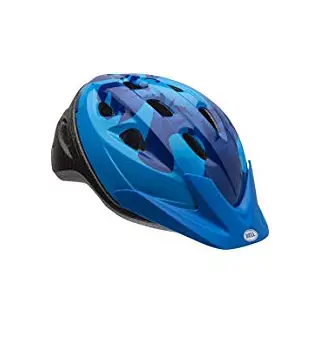 Bell offers this strikingly colored Rally helmet in a good variety of shades with complimenting peaks and strapping. The helmet benefits from sixteen vents that allows for maximum airflow and allows a cool head even when it's hot. The bike appropriate helmet weighs in a healthy and light nine point six ounces so won't put unnecessary strain on the back of the neck, it is compact and tidy and even comes with reflectors for those dimmer evening rides with the family.
Functional
The size for guidance is fifty-two to fifty-six centimeters and is offered as suitable for ages five to eight. It benefits from tapeless technology and boasts a pinch guard to reduce the risk of catching delicate skin when snapping on.
True Fit®
The Bell Rally helmet is manufactured with True Fit® technology for a superior fit every time, it boasts a fit belt at the rear that self-adjusts, a single step adjustment point on the strapping and unique fixed straps that won't ride around.
Cost and Value
This well-known brand has produced a functional and practical helmet that is useful for most younger children, the easy to adjust and use strapping makes the levels of both cost and value very appealing and well balanced.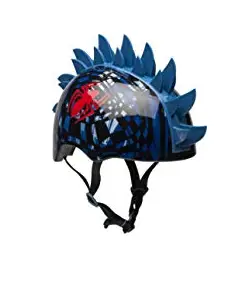 Bell Spider Man helmets are offered in a creative and stylish mixture of six designs all incorporating the Spider Man apparel. The helmets are; Tracer Multi Sport, Spidey Mind, Spider Man Hero, 3D Web Slinger, Spider Man Webhawk 3D, Speedy Spidey and 3D Mohawk Web Shatter. The bright colors are combined with different decorative additions that are creative and inspiring. Each helmet benefits fitting head sizes between fifty and fifty-four centimeters in comfort.
Ventilated
Each helmet has a good number of vents to ensure any young superhero won't get overheated during missions, and they boast being appropriate for bikes and skates. The helmets are tough enough to withstand scrapes and knocks and keeps them looking good for longer.
Safety
Each helmet holds CPSC compliance certification and ASTM F1492 which makes them safe for cycling, skating, skateboarding and for use with kick scooters. The multi-use functionality makes this a versatile and cost-effective helmet for kids who partake in different activities.
Cost and Value
The Bell Spider Man series offers great choice and designs, combined with easy to adjust strapping and a well-sized fit, the overall balance between cost and value is equally viable and this makes the helmet series a great buy for the money.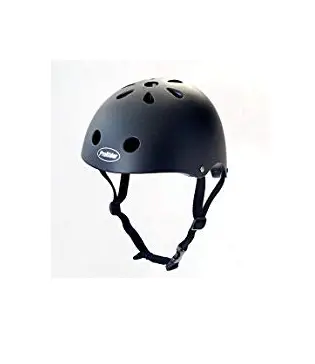 The ProRider classic sports helmet is offered in a variety of sizes that enable them to be ideal for most age groups, an age guide of three to six years is extra small at twenty inch to twenty one point five inch, small to medium size at twenty one point five inch to twenty two point five for ages six to ten; and a large to extra large measuring in at twenty two point seven five inch to twenty four point seventy five inch making it suitable for teenagers to adults. The helmet has padded inserts included that enable a tailored; individual fit.
Tough
The ProRider helmet benefits from a classic hard outer shell in a traditional design, and it has durable polyester strapping with the addition of a quick and easy release buckle to enable a simplified use for any age.
Safe
The helmets are produced with a CPSC compliance certification which gives added peace of mind in case an accident should occur, they offer full head protection with conveniently placed ventilation slots for greater airflow and cooling properties.
Cost and Value
The ProRider multi-age and multi-use classic helmet is made with both quality and safety as paramount indicators, the choice of striking colors and the tough shell and strapping ensure this helmet is a great buy and is good value.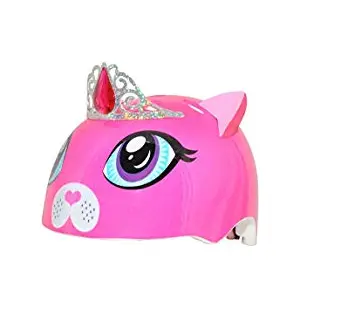 The Raskullz Color Cat range of helmets is available in four bright colors; dark pink, patterned pink, patterned purple and patterned yellow. Each helmet is suitable for an age range of five plus at fifty centimeters to fifty-four centimeters. It benefits from aerodynamic cooling to keep the airflow constant and help to keep hotheads from overheating. The tough and durable nylon strapping is fully adjustable to enable a perfectly tailored fit increasing comfort levels on small heads.
Safety Compliant
The Raskullz helmets are fully compliant with both CPSC and ASTM to give greater confidence when purchasing and peace of mind when worn. The comfortable bucket style is effective for all-round protection and adjustability.
Tough
The molded 3D design has an EPS inner shell that provided more than adequate shock absorbance when it is most needed in the unfortunate circumstances of accidents. This adds to the overall confidence in the product for parent and child.
Cost and Value
When considering the overall balance in comparing both cost and value, the combination of the safety compliant certification and the toughness of both the shell and the nylon strapping – it gives confidence that the purchase is a great one for the money paid.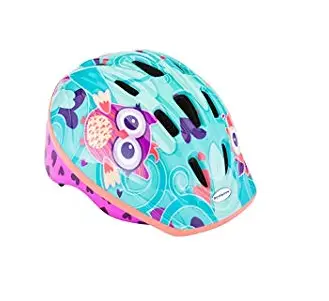 This stylishly designed Schwinn Classic helmet is available in four vibrant colors; spotty carnival, crazy owl, happy hippo and stars and stripes planes. The bright colors are complimented with durable strapping that is easily adjusted to fit safely and comfortably. It weighs in at a mere eight ounces so won't place too much stress on growing neck muscles. For easy release, there is a handy snap and pull clip that is functional and simple to use.
Comfort
The interior of the Schwinn classic helmet has a soft inner lining that adds to comfort, and it also benefits from removable padding strips to enable a perfectly individual fit for maximum comfort when worn and sits safely in place.
Practical
The helmet has been produced using a lower molded microshell for added toughness and it has a good variety of ventilation holes to allow suitable airflow and prevent heat build-up in the summer months and keeps the head cool.
Cost and Value
The overall balance between both cost and value is well matched, and when taking into consideration the tough exterior, the adjustable strapping and rear dial size adjuster – this helmet represents very good value for money.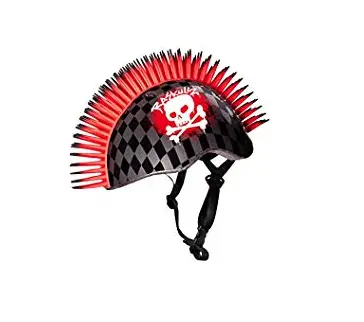 This Raskullz Hawk helmet is available as an age guide size of five years plus and measures between fifty and fifty-four centimeters. It is offered in a variety of colors; eyepatch blue, T-Rex bonez black, green, digi camo green, gray, white, hawk black, slimeball green and skull hawk red. Each design has been created with colorful detail that ranges from complete dinosaur features to bright spikes. The 3D molded helmet has the benefit of an EPS inner shell that provides shock absorbance when it's needed in case of accidents.
Safe
The Raskullz Hawk helmets give confidence with the complimenting CPSC and ASTM compliance certification, giving added peace of mind it has been designed with safety in mind that comes into its own if the need arises.
Tough
The tough nylon strapping is fully adjustable and hard wearing, and the helmets have a ventilation system that allows airflow over the head to prevent heat build-up and keeps the wearer cooler in warmer or more exertive activities.
Cost and Value
The Raskullz Hawk range of helmets offers great equality when comparing both cost and value, and the added confidence and peace of mind gained with the safety certification adds to the overall benefit in terms of value for the price.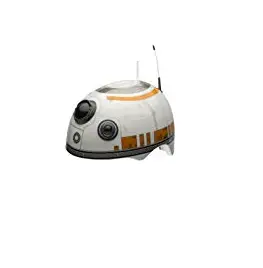 This unique Bell Star Wars helmet is offered in a choice of designs, chopper, Darth Vader, Dameron, R2D2, Villain, Galactic Empire and Hero Droid. It has an age guide of between three to five and weighs in at a slight five pounds. The tough strapping is adjustable to ensure the perfect fit to increase the safety of the helmet. The wide variety of designs makes it more appealing to all the budding franchise fans.
Multi-size
The Bell child Star Wars group of helmets come in three sizes, toddler, child and youth and the adjustable chin strap means no danger of wobble or potential twisting that can reduce the safety aspect of the overall helmet integrity.
Comfortable
The helmets have padded Velcro strips so each fir can be tailored to ensure the correct fitting for any wearer, the ventilation holes much needed airflow to keep some heat down and help to keep heads cooler in warmer climates or during exertion.
Cost and Value
The value and novelty aspect of the Bell child Star Wars group of helmets is well placed when taking into consideration the cost. The comfortable and safe helmet is hard wearing and fully adjustable for ultimate confidence.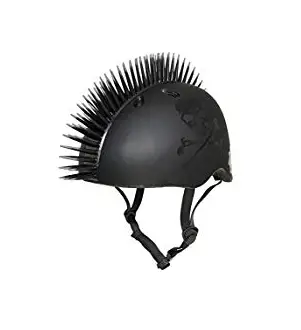 This Krash Mohawk helmet is guided at ages eight plus, the sleek and stylish designs are combined with bold spikes and are available in four colors; cube black, multi-colored, vector black and jolly black. Each design offers an individual pattern that is complemented with different colored spikes for the ultimate in visual effects. The size guide is set for aged eight and above and measures between fifty-four centimeters and fifty-eight centimeters, the helmets are fully adjustable for getting and maintaining the comfortable, safe fit.
Ventilated
The helmets are adequately aerodynamically ventilated to allow proper air flow, this helps to reduce heat build-up and helps to keep heads cooler in the heat or when used for longer periods or in extreme exercise sessions.
Safety
The helmets are certified to CPSC and ASTM safety standards that gives greater confidence in the helmets overall integrity and gives assurance and extra peace of mind for the safety of the wearer should the unthinkable occur.
Cost and Value
For the compliance certification that the Krash Vector Mohawk helmets have, and the combined EPS shock absorbing inner shell and tough hard wearing nylon straps – there is assurance that value and cost are well balanced and this is a good purchase.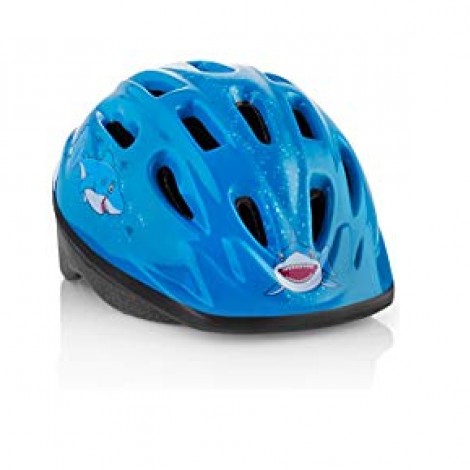 The Team Obsidian kids bike helmet is offered with adjustability to fit a guide age group between three and seven years old, there are included two sized packs of padded foam inserts. One being suitable for three to five-year-olds at forty-eight centimeters to fifty-two centimeters, with ten millimeter thick pads and the five to seven-year-old guide at fifty centimeters to fifty-four centimeters, with five-millimeter pads. This gives it greater economic value because it can grow with the wearer and reduces the cost of having to buy a bigger helmet.
Comfortable
The helmets are designed to be comfortable and are well ventilated to increase airflow and reduce heat build-up, the pads included are also breathable to facilitate a cooler wear. The chin straps are durable and benefit from having a quick release clip placed around the chin area.
Tough
The inner shell is EPS shock absorbent and the helmet has a safety compliant CPSC certificate to give greater confidence in use and peace of mind. It has a handy dial adjustment on the rear for simple and quick adjustability when it's needed.
Cost and Value
The versatility and functionality this helmet offers, combined with the ability to 'grow' with the wearer, the safety certification and the tough strapping make this helmet a great buy and ensures good value for money.

Subscribe to our Newsletter