Best White Noise Machines Reviewed & Rated for Quality
In a Hurry? Editors choice: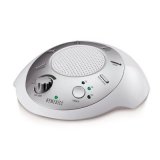 Test Winner: Homedics

So, whether you're
having trouble sleeping
, need the baby to sleep, or just
need to block outside noises
when you're trying to work, if you are considering purchasing a sound machine, you don't need to be in a rush to order one. Why not, you might ask. A sound machine is just a sound machine, right? Wrong! There are many different types of sound machines on the market today. There are different shapes, different sizes, and certainly different sounds that they produce, which can make it quite confusing to find the right one to suit your needs. Never fear, that's why we are here. Below you will find a buying guide of the top 10 best white noise machines on the market for 2019!
Standout Picks
Criteria Used for Evaluation
Power Source
Most sound generators come with a power cord, where you can conveniently plug it into the wall wherever you are. There are also products that use batteries, and even some that you can use with a USB port. Some of the top-rated in our buying guide also gives you the option of using both an adapter or batteries. The choice of which power source is best for you is completely a personal choice and according to where you are going to be using the sound generator.
Sound Quality
This may seem to be a no-brainer, but it bears talking about. After all, you are investing in one of these units, in order to get rid of distracting noises. If the sounds coming out of the machine you purchase are more distracting than the noise you're trying to mask, it becomes a problem. The quality of sound coming out of the generator you choose should never be sacrificed. After all, it's what you're buying it for, to begin with. The best products on our list feature high-quality sound.
Size
The size of the device you purchase is again according to what you need it for. If you travel frequently or want to take the device back and forth to the office with you, then you want something that is lightweight and portable, meaning it needs to be a compact size. However, if you are keeping it in a child's room or a nursery, you might be better off purchasing a larger model.
Advanced Features
Many of the top-rated on our list come with extra features included. From built-in microphones to internet capabilities, and from built-in alarm clocks to many more sounds, some of these generators have it all and more. Determining whether you need the extra features is entirely up to you. However, if you want the sound machine for the baby's room, you might want to skip the alarm…just saying.
Value
One of the important things to consider when choosing the right sound generator for your home or office is the price attached. The top-rated in this top 10 list range from under $15 to over $80. It's important to remember that the extra features included with some of these machines drive up the price. However, if you are on a budget, the others on the list are great as well.
10 Best White Noise Machines


When it comes to covering up other noises, where you can work are sleep, Homedics has the ticket. Featuring six soothing sounds, an automatic timer, has a variety of different uses, and is small, portable, and lightweight to boot. It also comes in four color options. Choose from blue, silver, black or multicolored, and has an adjustable volume.
6 Soothing Sounds to Choose From
If nature is your thing when trying to concentrate or sleep, then you are going to love the sounds you can choose from with this sound machine. The sound options include white noise, ocean, rain, summer night, and brook. Put on your headphones, choose one of these great sounds, and soon you will be concentrating like you never have before.
Take It Anywhere
Since this item is lightweight and portable, you can easily stick it in your bag for use when traveling. When you're in a strange place, the sounds can stop you from sleeping. If you have this handy-dandy product with you, you are set for a good night's sleep, and ready to face the morning with a smile.
Cost and Value
Coming in at number one on the list, this product is super affordable. The choice of six sounds, four colors, and the fact that it can go where you go, make it the perfect choice for anyone looking for a distraction from the noises surrounding them.

2

. Adaptive Sound Technologies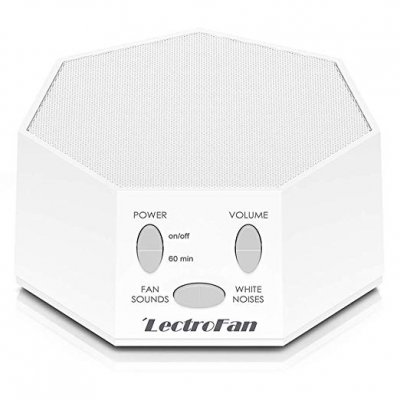 We love this elegant little bedside white noise generator. It's quiet has a number of different functions is easily powered by USB or by AC, and pretty much can go wherever you decide to go. Its precise volume control ensures it's putting you to sleep not keeping you awake and we just like the way it looks.
Dozens of Noise Variations
If you don't know the difference between white noise, and pink noise and brown noise well check out our FAQ but in the meantime know that this little machine provides all three but also ten other ambient noise variations that should have you dreaming little dreams in no time at all.
Non-Repeating Sounds
The unique solid-state design of this machine is unique in that it can easily be run by a portable battery pack but also is able to generate unique ambient sounds that don't become repetitive and it does it without moving parts so it'll never break down.
Cost and Value
This is a reasonably priced little machine that is a simple no frills and easy to use white noise machine but one that also offers a lot of variety and looks darn good sitting by the bedside. If you need a simple solution to your insomnia it's hard to do better than this simple machine that's portable and simple to use.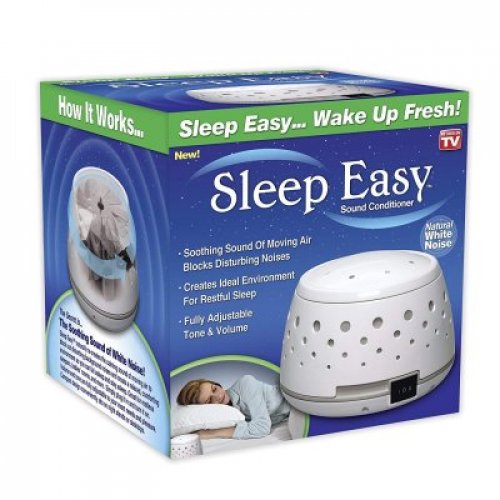 The Sleep Easy Sound Conditioner says it knows the secret to a good night's sleep. It's not different soothing sounds, but the sound of white noise itself. This product features nothing but white noise to help you drift off to sleep and stay asleep at night. It also has fully adjustable volume control and can be used for everything from getting a restful night's sleep to increasing concentration when you're studying or working.
Creates Natural White Noise
Sometimes, all you need is the capability to produce natural white noise. This sound conditioner delivers on that promise. Fall to sleep naturally with this product.
Volume Control
The adjustable volume control that comes with this product makes it easy to get just the right amount of sound when you're trying to sleep.
Cost and Value
A little higher priced than the first two items on the list, if you want nothing but white noise to lull you to sleep, then this is the right choice for you.

4

. Reacher White Noise Sound Machine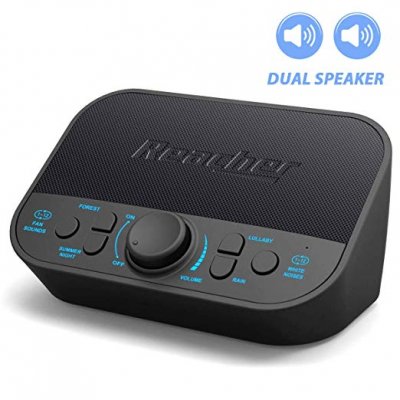 We love the Reacher because sit just does so much and comes in such a small little package that will help give you the good nights sleep we all dream of (no pun intended). It's got a cool space-age look, precise volume controls, a sound timer and a full collection of 28 sound selections including summer night, forest lullaby and rain. Along with that, it has dozens of other white noise as well.
Adaptive speakers
The speakers are remarkably well made for such a small desktop sound system. The sound is clear and never fuzzy and their high fidelity ensure that the sound coming out of this little baby sounds like the real thing and not like the sounds of rain coming through a hollow tube. That really does make all the difference and we're big fans of the speaker alone.
Dozens of Different Sounds
A full 28 different sound selections let you match the sounds you're hearing to your exact mood. From things like rain, and summer night, to forest and about two dozen different fan and white noise generators, there's just so much to choose from. The sheer number of options can be overwhelming but we like to be able to choose exactly what we want and so appreciate all of the different options.
Cost and Value
This machine is surprisingly cheap. In fact, it costs so little we were a bit surprised and kept looking for something that suggests that it doesn't work like a charm. But we couldn't find it and so give this noise machine our highest recommendation. If you're having trouble sleeping this baby might be exactly what you need.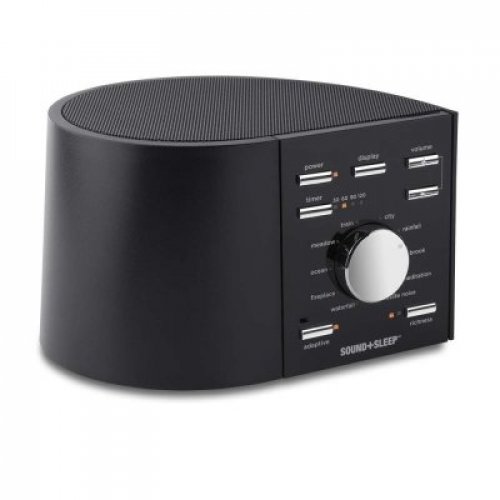 Jumping in at number five on the list is High Fidelity with their adaptive sound technology. Ranging from low to high sounds, the product features 30 different sound options, so whether you are trying to sleep, work, or even practicing yoga, there is a sound for you. It also features a sleep timer and adaptive sound, so you are covered no matter the noise outside.
Features Adaptive Sound
This product is truly the cream of the crop when it comes to white noise machines. Not only does it feature 30 different sounds for you to choose from, but it also has adaptive sound technology, meaning that it senses the noise level around you and adjusts the volume on the machine accordingly.
Features an Optional Sleep Timer
There are times when you don't want your sound conditioner to go all night long, In this case, there is the optional sleep timer. Choose settings of 30, 60, 90, or 120 minutes, so that you have plenty of time to drift away into sleep.
Cost and Value
By far, the most expensive item on our list so far, it is well worth the money being asked for it. If the 30 different sounds aren't enough to entice you, then the adaptive sound technology certainly should be. Make sure to check this one out during your search for certain!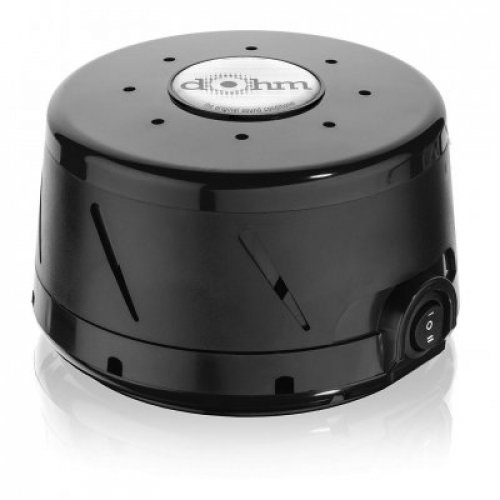 Dubbed the original white noise machine, the Marpac Dohm Classic hits the ground running at number six on our top 10 list. The product features a compact design and is known to promote sleep by masking the noise around you. This is strictly a white noise machine that is easy to use and customizable as well. It also comes in four color options.
Easy to Use
This product is super easy to use. Simply, pull it out of the box, set it on a counter or nightstand and plug the unit in with the 8-inch cord that is included. There is no complicated interface, plug it in, flip the switch, and fall asleep with white noise as your background.
Features a Compact Design
Since this is a compact design, it's lightweight and portable, meaning you can take it anywhere you go, whether it's the city, the country, work, or even another state.
Cost and Value
One of the mid-priced items on the list, this is the original white noise machine, so the brand speaks for itself. It's not complicated to use and is compact and lightweight, making it worth checking out, during your search.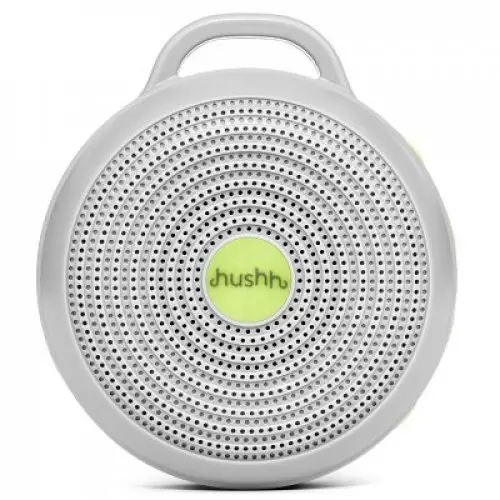 Weighing in at number seven in the buying guide is the Marpac Hushh for babies. What helps you sleep is certainly not what helps the little one sleep and many a parent has constantly had to tell guests and family alike to keep it down so the baby doesn't' wake up. This product keeps that from happening. It features an amber light, three sounds to choose from, and even a child lock. It's also portable, so you can attach it to the stroller or anywhere else, so baby will sleep...well, like a baby no matter where you go.
Three Sounds to Choose From
This unit is perfect for helping baby fall asleep and stay that way. Choose from three different sound options, including white noise, deep white noise, and even gentle surf. Any of these options are sure to keep the baby sleeping tight, all through the night.
Features an Amber LED Night Light
Nothing can disturb a baby's sleep faster than a parent stumbling around in the dark, trying to check on them. That's why this product features amber LED night light, that lets off enough light to see by, but not enough to disturb the infant with its brightness.
Cost and Value
There is no to high a cost to prevent you from finding a way to help your baby sleep at night, or during naps for that matter. However, this is still one of the most reasonably priced units on the list and the Amber LED night light makes it a must-have for sure.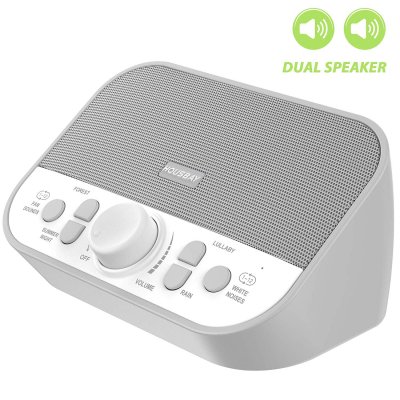 Another great noise generator that is just loaded with all kinds of great features. So many noise choices we were initially a bit overwhelmed but in the end it's nice to have the ability to choose exactly what we wanted. The sounds were all over the map from basic white noise to all kinds of random noises like rain, or forest that are designed to softly lull the insomniac into the land of sleepy town. The features like adjustable volume knobs, memory and timer functions just add to our love of this product.
Sleep timer and Memory Function
This is a nice function that allows you to plan for your generator to automatically turn off after in 15-minute increments from 15 to 90 minutes. This is a great help if like us you tend to nod off to nice sounds but also might be a light sleeper who'll wake up when a pin drops. This one has you covered. And the memory function allows you to pick up where you left off the night before with no trouble, which can be a big help when you're just worn out from the day.
Dozens of Different Noises
With 28 different sounds, one of these is bound to get the job done. They range from various white noises, to fan sounds and a few nature sounds ranging from rain to forest to summer night. Pretty standard when we're talking nature noises but it's nice to have the option in any case.
Cost and Value
This bedside sleep helper comes in at a great low price. Given all the functions, the nice speakers, the dozens of sounds, the sleep timer and the precise volume knobs we frankly expected this device to cost more. But hey we're not complaining, while it's fairly high on our list we still think it has the goods to get you to sleep easy at a great price.

9

. Adaptive Sound Technologies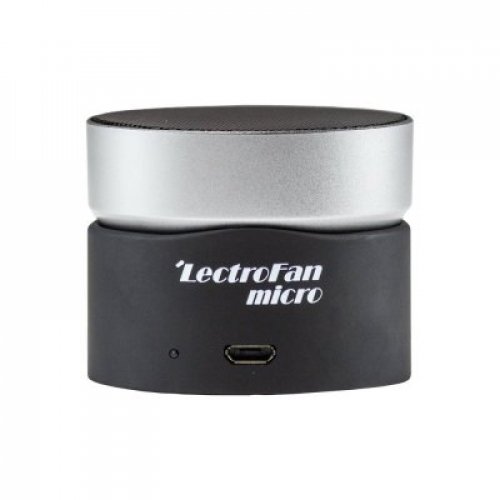 At number nine on our list is Adaptive Sound Technologies with their LectroFan Micro Sleep Sound Machine. This is different than other options on the list because it is wireless. This is a super advanced sound machine with quite a twist to it. It features ten sounds that are unique to help you sleep, These are five fan sounds, four variations of white noise, and the sound of the ocean to soothe you to sleep. It has a compact, swivel design, and Bluetooth audio technology with a built-in microphone as well.
Small Enough To Go Anywhere
By far, the smallest machine on our list, this one can go anywhere you go with ease. It's lightweight, micro and certainly portable.
Bluetooth Enabled
This is Bluetooth enabled with a built-in microphone, which means you can do everything from listening to music to take conference calls on this sound generator.
Cost and Value
With everything it does, you would expect this device to have a much higher price tag attached. However, it's one of the better-priced items on the list. Don't forget to check this compact sound generator out when you are searching for the right one to fit your needs.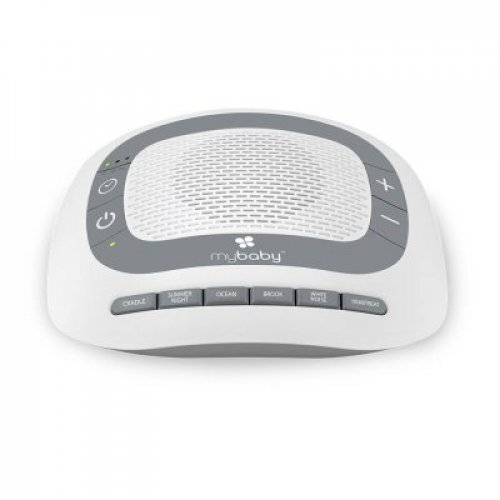 Coming in at number 10 on the list is MyBaby. This product features six soothing lullaby sounds to help get your infant, toddler or child to sleep and keep them that way. It has an adjustable volume, is compact and perfect for traveling, and has an auto-off timer, so you can set it to go off when you want it too.
Six Soothing Lullaby Sounds to Choose From
These soothing sounds are digitally recorded for crisp, clear audio. They mimic the baby's natural environment for comforting sleep. Choose from your choice of a heartbeat, cradle, white noise, summer night, brook, and ocean.
3 Auto-Timer Choices
Sometimes, the baby goes to sleep easier than others. Choose from three auto-timer choices, including 15, 30 or 60 minutes.
Cost and Value
This is one of our reasonably priced items on the list as well. It is for sure something to check into when looking for a machine to help the baby sleep.

Subscribe to our Newsletter