Best Room Dividers Reviewed & Rated for Quality
In a Hurry? Editors choice: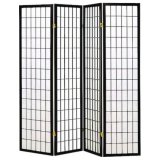 Test Winner: Coaster Home Furnishings

Are you thinking of having a few walls added around the house but cringing the cost and toll of construction? There's a way you can get the added privacy at a fraction of the cost and without all the hustle that comes with construction.

With room dividers, you have the privacy you need and you save loads of money. What's more, with careful buying and understanding of the different types of room dividers, you can rest assured you won't regret opting to go for room dividers.

To make the choice super easy for you, we thought it would be a good idea to have a comprehensive review and buying guide of some of the best room dividers that would be the perfect fit for your space.
Standout Picks
Criteria Used for Evaluation
Effectiveness
Spending hours trying to find the best room dividers for your space is something you could live without. You can save yourself the trouble of having to go through the numerous options again by choosing an option that will last for a long time. It's important to choose a divider that is made from good quality materials and decent workmanship.
If you can find a one that has a long warranty, it's a sign that you can rely on the product and save yourself the trouble of having to deal with substandard quality. The longer the warranty the better.
Size
There are a few factors to consider in terms of size. You have to consider the height of the length of the divider in comparison to the space you would like to use it in.
If the divider is short-handed, then the division will not be as effective. Before you decide on what you want, factor in the size of the space you want to divide and use that to decide on what will work best for your home.
Features
There are numerous features to pick from. As technology advances, there are more and more features that can be added to room dividers. It's impossible to find one divider with all the features squeezed in.
That means you have to choose what features matter most to you. The one feature that you should take seriously is having a foldable design. It will save you space and time when setting up and taking down the divide. Other features that are handy is having a machine washable divider. It makes it easy to maintain the divider.
Style
Even though style might not be a top priority for every buyer, having some added feel and texture to your space can be helpful. You don't always have to go for decorative dividers.
You can pick some that are easy on the eye simple but elegant. Choosing the right style for your home may take some time but going for neutral colors always seems to work best and blends with most finishing.
Materials
Your materials of preference depend on the type of divider you have chosen. If you opt for stand up foldable dividers, go for those with wooden frames. They are more durable.
If you choose to go for curtains, polyester is the most common and preferred material and once that you might want consider. There are also other decent options like faux linen.
10 Best Room Dividers
1

. Coaster Home Furnishings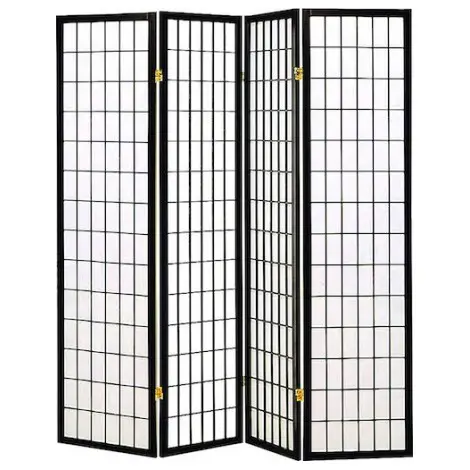 This might not be the best pick of a room divider if you have privacy in mind. However, it makes for a great and elegant divider that will add class and style to any room. It is carefully crafted to be sturdy and divide the room without interrupting the flow of light. The four-panel construction ensures you have the best possible experience and you can get the most out of the divider. It is particularly helpful when you're looking to set up a study where silence is essential. With its unique design, you're assured of impressive experience and ease of use that will help you set up the divider in a matter of minutes.
Materials
It's important that the divider is not only durable but also lightweight. The selection of materials has to be meticulous to ensure they are to offer you with the best from both worlds. This particular divider has a pine frame and has sections of fabric.
No Assembly Required
If you're worried about having to buy a new toolbox with an arsenal of tools to put the room divider together once it arrives, don't! There's no assembly involved with these panels. All you have to do is take them out of the packaging and stretch them out. Just like that, you have your own private space.
Cost and Value
For a great divider made from good quality materials with minimal demands and no assembly, the price is just right. It doesn't have a lot of features to offer but in the least, you're assured of quality and reliable performance. You get value for your money.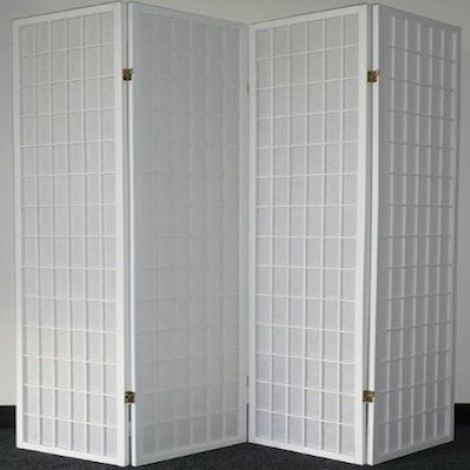 The Legacy Décor 4 Panel Japanese Oriental Style Room Screen divider is all about function. It has a unique white finish that allows it to blend seamlessly with most interior décor finishes while serving its purpose. The transparent white shoji rice means it's not an ideal option if you're looking to boost privacy.
It is better suited when you're looking to carve out some working space or simple an area where you can focus and concentrate in silent. The dividing screen has plenty of features that quickly make it a part of your home or office space. Not to mention that it is incredibly easy to work with.
Foldable Design
When you're not using the divider, you can easily fold it and keep it out of the way. It is fitted with quality 2-way hinges that make it super easy for you to position the divider and get it out of the way. The 2-way hinges allow you to fold the divider in either direction.
Size
Size is a crucial aspect to consider when buying dividers. You don't want the divider to be small that it doesn't serve the purpose correctly. Standing at over 70 inches high and 70 inches wide, you can rest assured that this divider will cover the distance in most average sized rooms without the need to resize.
Cost and Value
The price is very reasonable and one that you should consider when you're not looking to spend a fortune on a good divider. Even though the divider has good build-in quality and is very functional, it is affordable and offers you value for money.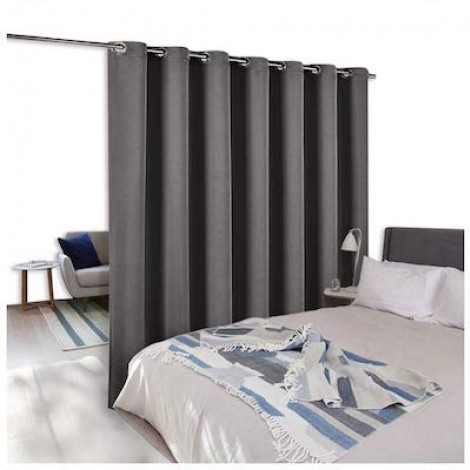 If you want something less chunky but still functional for partitioning, this one of a kind curtain divider will work wonders for you. It's made from heavy duty fabric and designed to fit with ease adding a touch of class and privacy to the room.
If you want to add some privacy urgently, you don't want the cost of constructing a new wall and the room dividers are too chunky, then the curtain is your best bet. It is the perfect temporary solution to creating a new space in your home with minimal effort ad cost.
Material
This particular curtain is a little different. It's made to be durable and heavy so it's not easily blown by gushing into the space. It is made from tripe-weaved polyester fabric and has 14 silver grommets at the top, which make it easy for hanging. The grommets also make it easy to draw the curtain away when you don't want it and spread it back with ease.
Privacy
The curtain has multiple functions it offers. Despite its lightweight nature, it excels at offering privacy and doesn't show the body shape of what is behind them. You have complete privacy. The privacy is extended to soundproofing because it absorbs the sound making it hard for other people to hear what you're discussing.
Cost and Value
The best thing about having a heavy duty curtain is that you can enjoy the same benefits offered by a room divider at half the price, half the weight and you don't have to worry about giving up too much space. The price of this curtain is perfect if you are working on a budget or space is a luxury and you don't want to waste any of it. You get to enjoy a functional and heavy duty curtain for the price.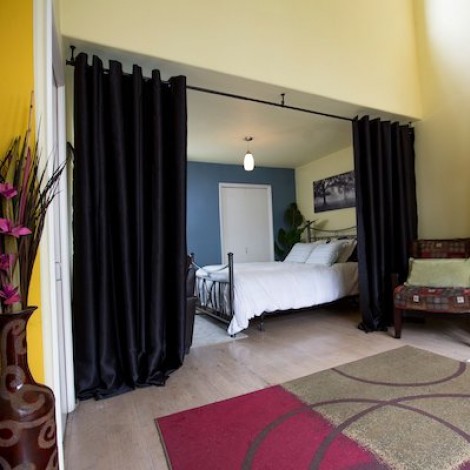 So you have a big room and you're worried that you might never find a curtain big enough to properly divide the room. This 8-foot tall and 15-foot wide monster curtain is exactly what the doctor ordered. It has the size to effectively create new spaces with ease and with it comes the feeling of privacy you have always looked for.
It is easy to set up and only takes up a couple of minutes to set up and can be used in a variety of settings including apartments, storage and even studios and offices. If you're cutting your budget to create a new room, this curtain would be a smart way to do it.
Size
When it comes to room dividers, size is always a concern. If the size is not right, then the divider cannot work. In some cases, it is better to go for bigger than smaller. For homeowners that have larger rooms and find it difficult to get the right curtain, this monster option should fit in just right. If you think it's not big enough, it also comes in a 9 by 15-foot dimensions.
Non-Flame Retardant
As any other homeowner, you have to be concerned about having such a big cloth in your home. In case of a fire, it would burn hard and bright. But, that has also been factored in. the curtain is treated with special chemicals that make it non-fire retardant so you don't have to worry about the curtain caught fire.
Cost and Value
Curtains are the most affordable way of splitting rooms and this one is not any different. Even with its quality and features, the price is still pocket-friendly. With such a curtain you get an easy, effective and cost-effective way to create a new space in your home.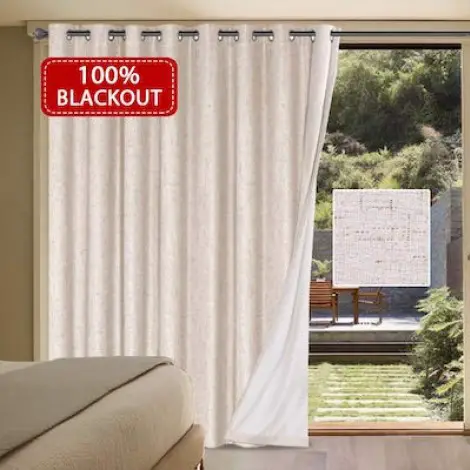 You can't just go out and grab the first room dividing curtain you find. It's even more important to make the right pick when aesthetic appear is necessary. Most curtains are made from polyester which is okay but if you're looking to have that elegant and classy look, faux linen is better.
This particular product is made from linen and features wrinkle-free technology that guarantees your curtains always look their best without much input from you. Like every other curtain, they are easy to work with, save on space and get the job done.
Easy Care
When it comes to these products, you have to think about keeping them clean and given their size, it's not an easy task especially if you have to do it by hand. This double set is very easy to take care of and can be machine-washed in cold water. You might not have to do the ironing every time because they are wrinkle free which saves you time.
Highlights
You don't have to sacrifice the look of your home. With this option, you have a set that have an incredible look with effects that give your home a great effect. They are the perfect solution to functionality and fashion for your home.
Cost and Value
You would expect to cough up quite a sum to land the quality and functionality of these room dividers but surprisingly, you don't have to. They are very affordable and well-built and feature a variety of functions that will make it much easier for you to take care of the curtain while getting more out of it.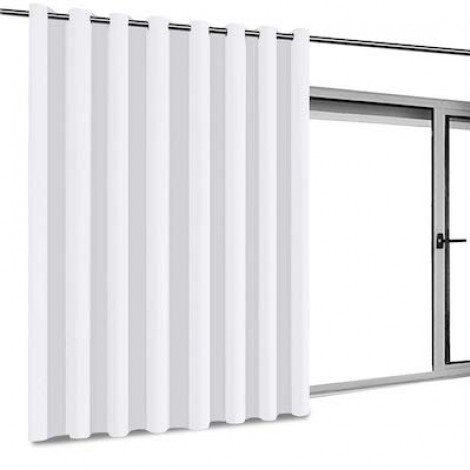 Quality doesn't always have to come at a steep price. These great room dividers are proof that you can enjoy a great product and not have to pay through your nose for it. They come in single panels and not only do they look great but they also have an ultra-soft, smooth and velvet feel.
They are made from eco-friendly materials and while they block out the light, they are breathable and airy and keep a substantial flow of fresh air into your home. Even though they come in a single panel, they are sizeable which makes them ideal for all kinds of spaces which include dorms, loft, basements, bedrooms, and even apartments. You can also use them in your office.
Machine Washable
Don't worry about keeping these clean. With this one of a kind product, all you have to do is stuff them in a washing machine with cold water and they come out clean. If you have to bleach them, be sure to use bleaches that don't contain chlorine and they should provide you long and quality service.
Size
You would expect the panel to be smaller compared to those that come in pairs. But, even though you only get one panel, it is over 8feet wide and 8 feet long. It is enough to cover most rooms with ease.
Cost and Value
Everything about this screams quality but the price is very budget-friendly. It is carefully thought out and placed and to give credit where it's due, you would expect the curtain to cost a little more but it doesn't.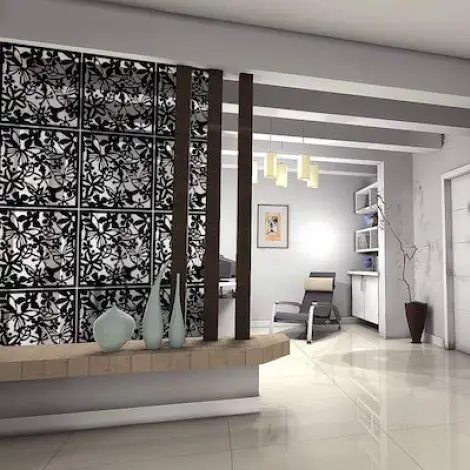 Sometimes having a new space doesn't always mean total darkness. If you want to create some depth, elegance and a little visibility within the space, this Kernorv hanging room divider will provide you with everything you need and then some.
It is made from environmentally friendly materials with 12 decorative panels that you can move around to create unique shapes and lengths from the same divider. Assembly is very easy and the entire divider is held in place by screws and hooks so you don't have to worry about damaging your walls.
Innovative Panels
The divider comes in 12 separate panels that can be freely combined. You can attach the panels in any design and also work them to any length of height you want. This makes it possible to use the same divider in different rooms while maximizing its benefits. So far on this list, we've not come across any other option that uses such innovativeness.
Decorative Finish
The Kernorv dividers have prioritized on giving the space a decorative and authentic look. Unlike most other options that you can only use in private spaces, you can use these dividers even at restaurants to give it a more unique and impressive look while separating the different spaces.
Cost and Value
These unique dividers are more affordable than some of the curtain options that we have reviewed. They are good quality and made from environmentally friendly PVC. They are lightweight and highly functional. They are a great way to add functionality, style and a decorative finish to any space that you use them in.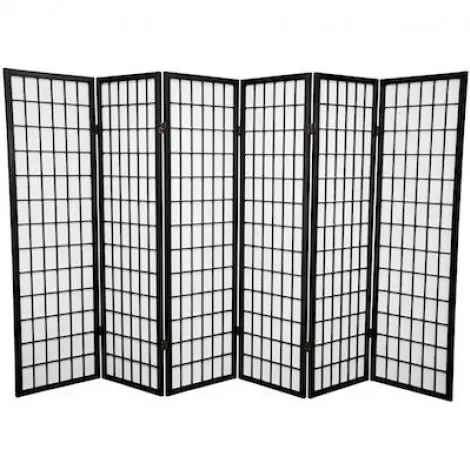 This is a great option for people with a more flexible budget and want to have a bigger divider. The Shoji screen divider has 6 panels which are enough to cover plenty of space and guarantee the best experience and utmost privacy no matter the application.
The divider is not only wide but equally tall which ensures maximum coverage. The divider has a foldable design which makes it super easy for you to fold it and save on space when you're not using it. It also has a lightweight structure that you can easily move around.
Size
If you have a large space that you would like to subdivide, finding a divider that is big enough to cover the space can be a challenge. But, the Shoji panel has plenty of options that you will find ideal for large spaces. Other than the 6 panel room divider, the room divider comes in as many as 10 panels to cater for any size of room with ease and practicality.
Lightweight
Room dividers are designed to be temporary. They should be easy to set up when you need the privacy and just as easy to remove when you don't want them up. By having a lightweight structure, the Shoji Screen Room Divider makes it easy for you to set up and remove it even when you're alone.
Cost and Value
This room divider will set you back a significant amount. If you have a flexible budget and size is important to you, you will find that the price is not exorbitant and it is reasonable even though it is clearly out of the budget-friendly zone.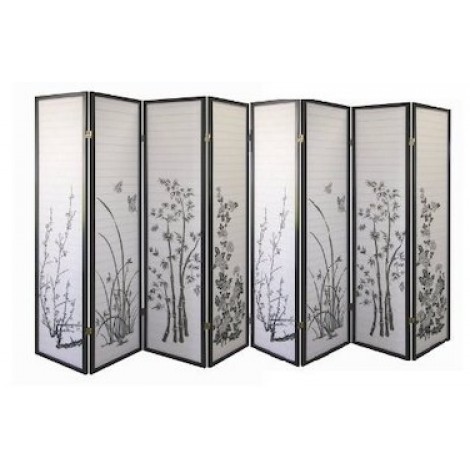 Break away from the conventional room dividers with small white screens and add a decorative touch to your space with this legacy décor black floral room divider. It is a great way to add some depth and beauty to any space.
Your room divider doesn't have to be all about creating new spaces. It is possible to create exciting new spaces as portrayed by this one of a kind option. It has up to 8 panels so you're not giving up any size and it easily folds up to save space.
Design
When it comes to your space, any chance to show off and add some much needed but affordable décor should be quickly taken up. This set of dividers offers exactly that. Not only are they functional but they are also aesthetically appealing and would make a great addition to any room even in the living room.
Quality Materials
Other than the design, the divider is made from good quality materials. The frame is made from pine wood and veneer to ensure you get long-term service out of the divider. With quality materials, durability is guaranteed.
Cost and Value
This Japanese-oriental style room dividers does not come cheap. You can easily tell by the quality of materials and its finish. You should be ready to dig deep into your pockets but, it's for a good cause. You get a larger than life room divider made from quality materials and with a unique design and finish.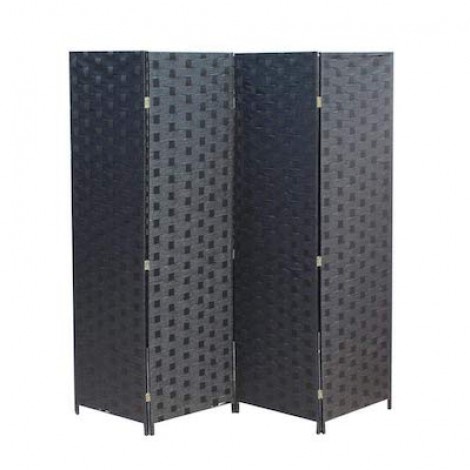 Most of the heavy duty dividers we have reviewed have screens, which for some people can be no-go zones. Even though the screen might not be transparent, having any form of light go through it a show the body shape can be uncomfortable for some people.
If you want something that is suited for privacy and will work well particularly when carving out changing areas, this is it. It has a heavy hand knit design with no screens so you don't have to worry about any light going through. It is well built and comes with four panels.
Foldable Design
In addition to the privacy you can enjoy by using this divider, you also have the benefits of a foldable design to experience. Being foldable means you can easily and efficiently store the divider without worrying about it taking too much space. The foldable design also makes it easier to set up the room divider.
Solid Wood Frame
The frame of the room divider is very important. It determines how strong and sturdy it is going to be. In this case, the frame is made from solid wood. It might add some weight to the end product but it also means you can enjoy unbeatable quality and durability from the divider.
Cost and Value
Thankfully, you don't have to stretch your budget thin to get this one of a kind divider. The price is pocket friendly and given the sturdy and strong nature of the divider, it is quite a bargain. It might not look as class as the other options but it is very functional and a great addition to your home.

Subscribe to our Newsletter