Best Reflective Running Gear Reviewed & Rated for Quality
In a Hurry? Editors choice: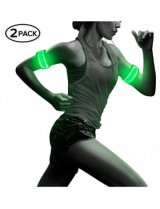 Test Winner: BSEEN Armband

For some of us, running is life. But when life happens to get in the way, we may be relegated to running in the early morning or later in the evening when it is dark outside.
As such, we must take measures to do our part in ensuring that our daily runs don't end up in tragedy.
The best way to protect yourself when
running in low light conditions
is to deck yourself out in reflective gear. This gives the headlights of cars something to bounce off of so that you are more easily visible and so that drivers are aware of your presence.
So whether you're in the market for a regular
running vest
that you would like to double as a reflective vest, or you want a full reflective running jacket, we've got all that and more to ensure that you stay safe out there.
Standout Picks
Criteria Used for Evaluation
Visibility
When considering the items that would make this Ten Best List, we took visibility into account above all else. We worked to ensure that these products have maximum visibility and that there are products that offer an array of visibility options.
This means that we feature items that have genuine reflective properties, as well as products that generate their own light source by using battery power.
Features
In terms of features, we like products that offer multiple different modes of lighting. Above all, we value products that can produce their own light source as this means they don't have to depend on outside light (what if a car is driving without headlights or you aren't close to a street lamp?).
And we like gear that provides different lighting settings like flashing and steady beams. That being said, we like products that offer lighting as well as reflective pieces.
Comfort
Of course, we want to ensure that the items on this list are comfortable to wear and use. That's why we valued the gear that is easy to put on and adjust, and products that are lightweight and that aren't bulky. Plus, we like breathable choices that feel nice against the skin as well.
Durability
In terms of durability, we want to make sure that we bring you products that last. While some of these don't have the best durability ratings, we will say that they do ring up on the very low end of the price range so it is easy to sub them out and replace them.
Value
As always, we like to bring you the most bang for your buck. We are pleased with the products that come with multiple items with your purchase, as well as with extra batteries. And we especially liked choices that can be used all year round and that have multiple different uses so that you can get the most out of your purchase.
10 Best Reflective Running Gear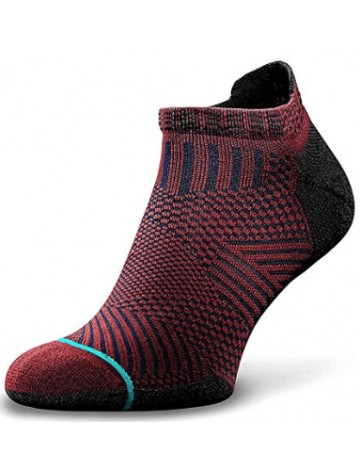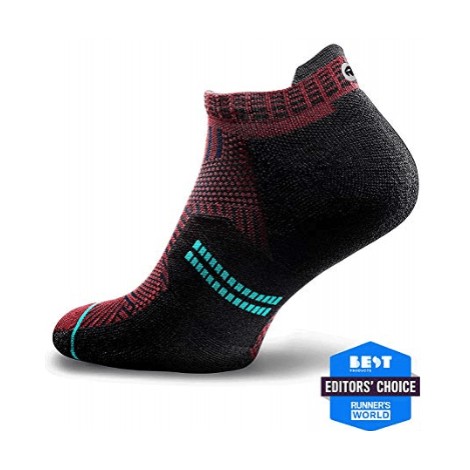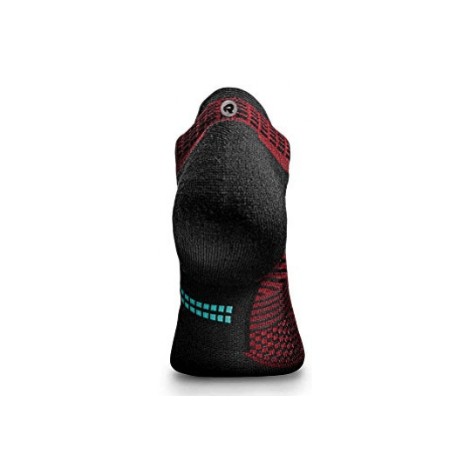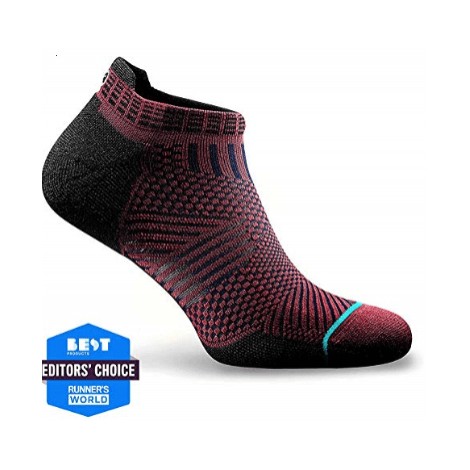 This Ten Best List pops off with the incredible Accelerate anti-blister socks from Rockay. Rockay is one of our favorite brands when it comes to running socks because their quality is unmatched and because they are loaded with features that make them suitable for a wide range of conditions. With this pair, you'll not only enjoy the comfort but the reflective logo as well.
Reflective Logo for Safety
There are myriad reasons why we are wild about the Accelerates from Rockay, but we'll start with the most important for this Ten Best List: the reflective logo on the back of the product. While these are a low profile sock, they feature a higher lip in the back, which hosts Rockay's silver reflective logo.
This feature will capture a driver's attention as light flickers off of your heels which could ultimately end up keeping you out of danger while on early morning or late night runs. We award major points for Features and Visibility here.
Blister Free Design
On top of being a super safe option, this product was created to ultimately eliminate the likelihood of you getting a blister--no matter how long the run.
With no seam in the toe as well as tons of padding there, your feet are protected on the front end. But there's also loads of padding on the entire heel to protect from impacts whilst running, as well as padding along the top of the sock so as to create a barrier between your foot and the laces.
And to top it off, there is added compression arch support that mimics the shape of a real foot to give the most amount of support possible. Add to that moisture-wicking and you can see why we endow the Accelerates with tons of Features and Comfort points.
Cost and Value
If all of that wasn't enough, we're proud to feature such a well made and durable item at our Number 1. This set is made using the finest of South American Merino wools that are all organic and constructed to last a lifetime.
And Rockay is so confident about the quality of the products that they deliver to you that they stand behind them with a full lifetime guarantee. That means that if your wool starts to give out, they'll ship you another pair for free. No questions asked.

2

. Rockay Vigor Compression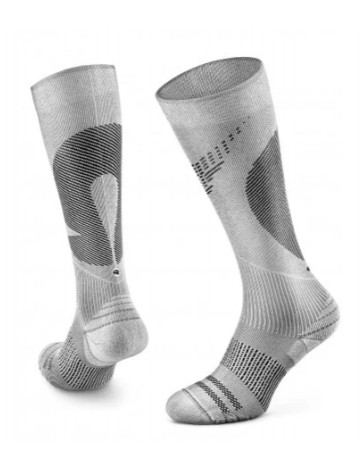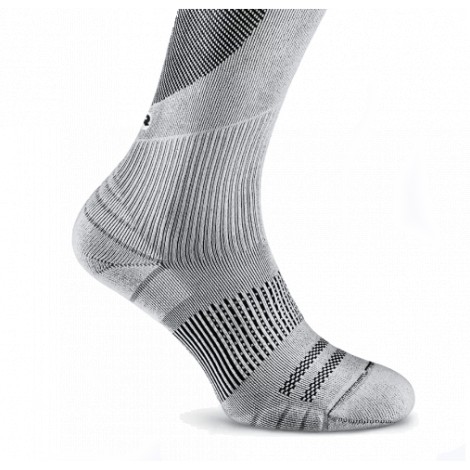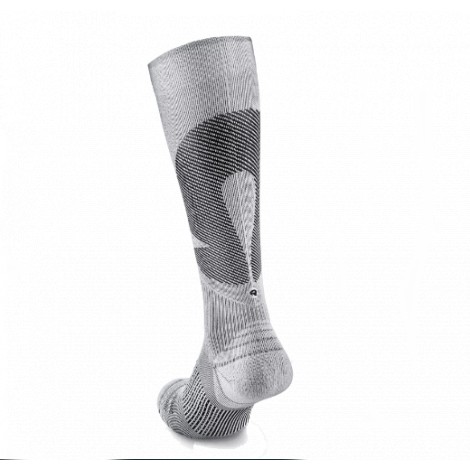 Next up on our list are the Rockay Vigor Running Compression Socks. This product not only delivers reflective protection, but tons of compression and support as well so you can keep pounding mile after mile. Great for cold and warm weather runs alike, you'll be able to get solid use out of these bad boys all year round.
Rear Heel Reflection
Like the Rockay Accelerates above, the Rockay Vigor Running Compression Socks also feature dual reflecting logos, one of the back of each heel. This silver reflective logo easily catches the light, whether from street lights or headlights, and it allows you to be more visible when lighting is low. We award points for Features and Visibility here.
Running Year Round
Another of the features that we are wild about with these guys is that you can run in these year-round. You may be thinking that they'd be a bit toasty because they offer coverage up to the knee, but they have strategically placed mesh zones throughout the sock that allow for maximum airflow and that encourage rapid evaporation of sweat.
This translates into a cool wearing sock that won't remain soaking wet, even during super long runs. We award points for Comfort here.
We also like that there is ample padding and arch support in this product. This helps to keep your lower body (and the rest of your body as well) in alignment, which helps to prevent injuries and sore muscles later.
Cost and Value
The Rockay Vigor Running Compression Socks do ring up towards the top of our price range but we love their value because they are so incredibly durable and because they stand up extremely well against rugged use.
Plus, if they do ever start to wear out, Rockay guarantees their products for life so they will send you a pair to replace them so you can keep hitting the streets before the crack of dawn. We award major points for Durability and Value here.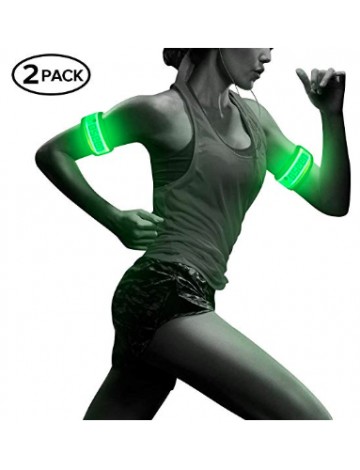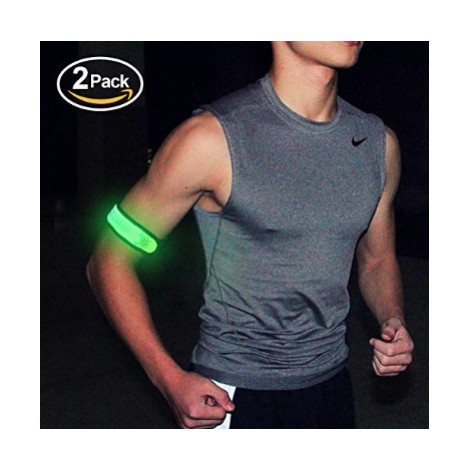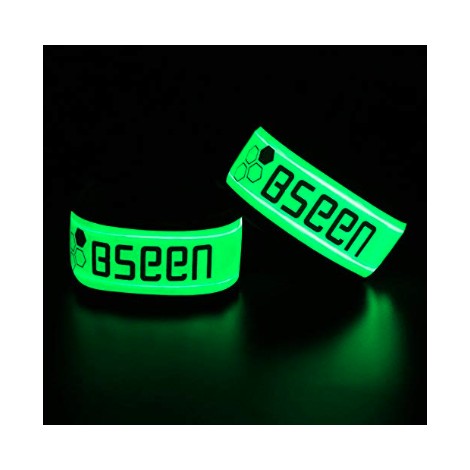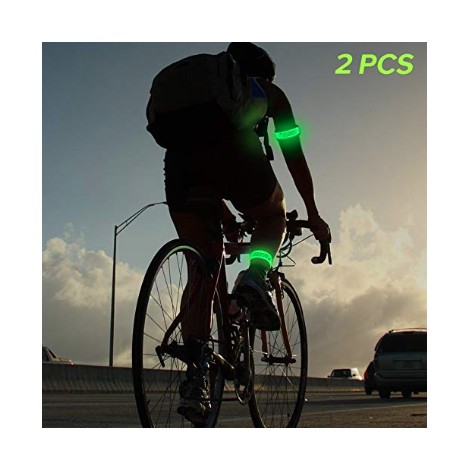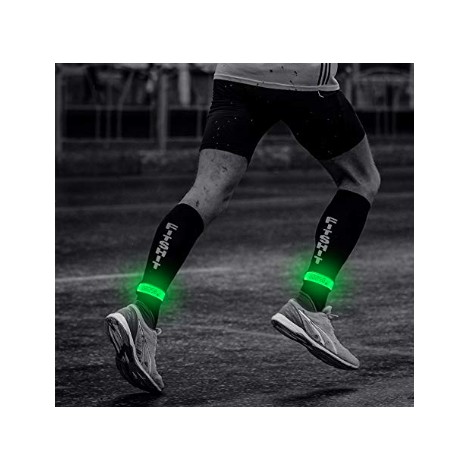 Next is the BSEEN Armband which is one of our favorites for visibility at night. With your purchase, you'll receive two fiber optic LED bands that are fully adjustable, battery powered, and ready to be taken on any low-light running adventure you can think of. And you'll even get extra batteries with your purchase.
Fiber Optic LEDs
The BSEEN Armband comes with two armbands per purchase. Each band is made up of fiber optic LED lights that are clearly visible from far distances. We like that you can purchase this product in neon green, red, orange, pink, yellow, and blue, but find the green to be most visible.
We also like that there are three different lighting modes that you can activate while you are on your run. Display a steady solid light, a fast strobe flash, or a slow flash, depending on your preferences. This setting is easy to change while you are running.
And we love that this product is adjustable so that it can be used by any member of the family--even your beloved pet dog.
Battery Powered
While many of the products on our list rely on reflective materials to keep you safe, we like that this product provides its own power, therefore not requiring other lights bouncing off of it to make it functional.
This armband is powered by CR2032/CR2016 batteries. One of these batteries can last anywhere between 50 and 70 hours, so you can rest assured that you will get a lot of use out of a single one. And you'll actually get 2 spare batteries with your purchase as replacements.
Cost and Value
The BSEEN Armband rings up at the very bottom of our price range and we love its value because you will get two armbands with your purchase as well as an extra set of batteries.
Plus, we love that these don't rely on external light sources for reflection and that they provide their own light, making them extremely visible in most conditions.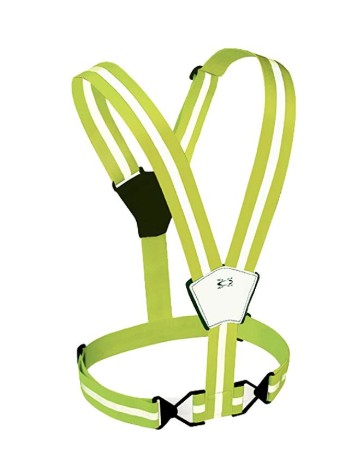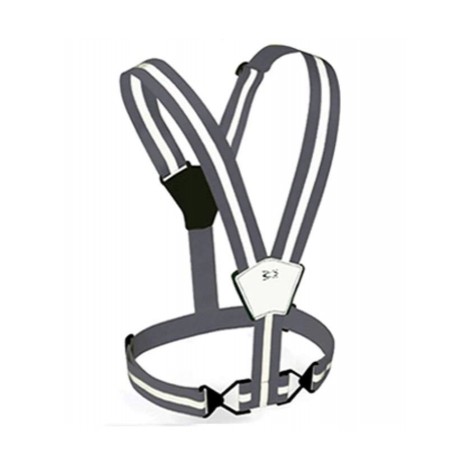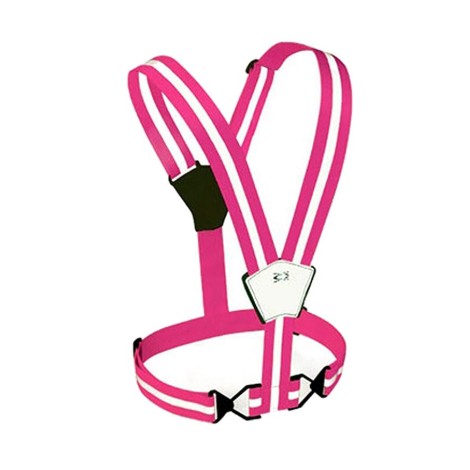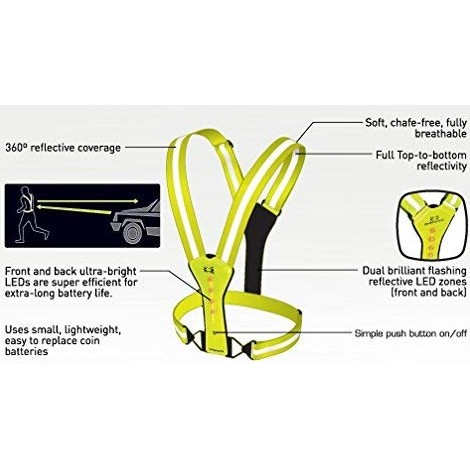 The Amphipod Xinglet Vest is another one of the most reflective options on our list. With increased reflectivity from previous models and over other models on the market, plus easy on and off features, and tons of breathability, it's clear to see why reviewers rave about this running vest.
360 Degree Reflectiveness
The Xinglet offers up a whopping 360 degrees of reflectiveness. That means that cars will be able to see you at and from any angle. Every strap, including the entire belt around the middle and the straps that go over the shoulders, are lined with reflective materials so you can easily be seen.
Plus, there are two larger reflective zones below the breastplate in the front, and in the same spot in the back. With a larger reflective plate that works to draw light in from a variety of angles and heights, reflection is increased. We award points for Features and Visibility here.
Easy On and Off
While you'll find yourself wrestling with some vests during the putting on and taking off process, you'll find that putting on and taking this vest off is a breeze.
Simply put on over your head and pull the belt around your middle. Buckle each side of the belt in and you're good to go. We like that while this belt is fully adjustable, the straps are tucked in neatly so that you aren't left with long hanging straps if you adjust to a smaller setting.
And, of course, we like that the straps are soft and breathable. Other options may result in excess sweating and chaffing, but you won't find that here with this product. We award points for Comfort here.
We also like that this product comes in an array of different color options to choose from like neon yellow, pink, and silver so you can find the perfect match for the rest of your running gear.
Cost and Value
The Amphipod Xinglet Vest rings up in the middle of our price range and we love its value because it is a lightweight and comfortable way to feel extremely safe while out running in low lighting situations. And because this thing is so easy to slip on, you won't find yourself wishing you could just skip wearing it.
However, some reviewers found that the reflective materials on this product can start to show some early wear, especially if you are running in poor weather conditions where there is a lot of precipitation. So we dock some points for durability here.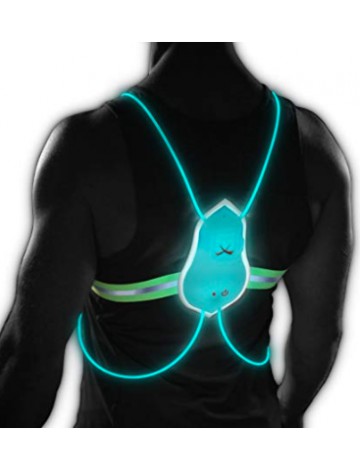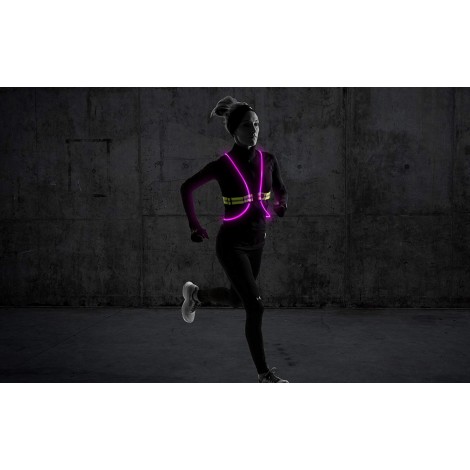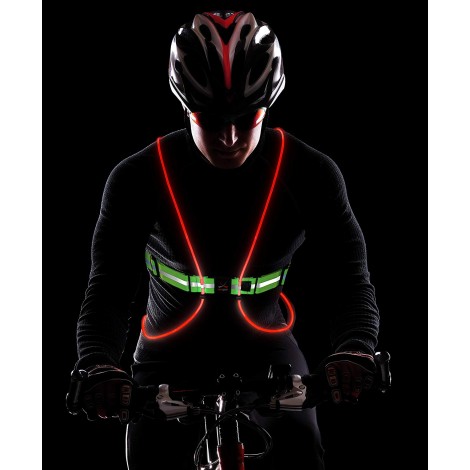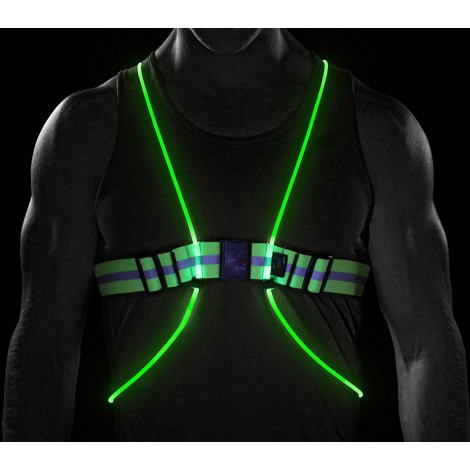 The Tracer360 takes your average running reflective vest up a notch--or several notches. This extremely streamlined reflective vest not only offers up reflective materials but LED lighting as well. And what's special about this vest is that you'll be able to enjoy all LED colors and modes in this one vest which will make you easy to see in almost any condition.
All of the Colors
The Tracer360 puts more on the table that your average reflective vest. This vest comes with fiber optic LED light strips that cross at the front and at the back of your body. This cross design works to light up a great field so that you are more easily visible from a distance.
But that's not all. This vest allows you to switch between 6 different super bright LED colors: pink, green, blue, orange, purple, and red. Plus, you'll get to alternate between light mode settings like flashing strobe and stead beams. And these settings are super easy to change, even while you're on the go.
Visibility from Half a Mile
You'll not only enjoy the benefits of crossed LED lighting at the front and back, but you'll also get the protection of 3m reflective material in the securing running belt that holds the vest to your body.
This material is made with mesh at the back to ensure that it remains soft and breathable, and the outside material works to catch the light at more angles which can make you visible up to a half a mile away! This really increases the chances of distracted drivers seeing you, especially when you and they are traveling at rapid speeds.
On top of that, we like that this product has a super minimal design so that it won't weigh you down (weighing in at just over 6 ounces, or less than half a pound), and that you will be able to adjust the sizing to fit your needs.
This product comes in small, medium, large, and extra-large, so you can get the base size you need. But you'll also be able to adjust the straps to geta great fit whether you're wearing minimal clothing during the summer or you are all bundled up in your winter running gear.
Cost and Value
The Tracer360 rings up on the higher end of our price range and we like its value because it offers so many different versatile options in one vest. Plus, we like that it can be used as effectively while cycling as it can for running and that it comes with a super minimal profile to make you forget that you even have it on.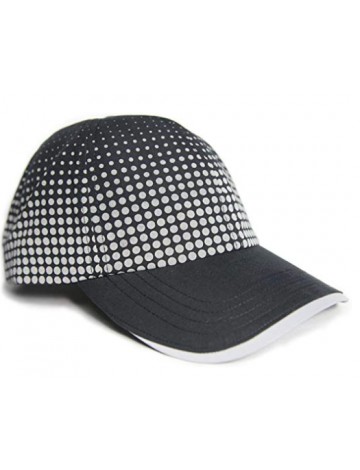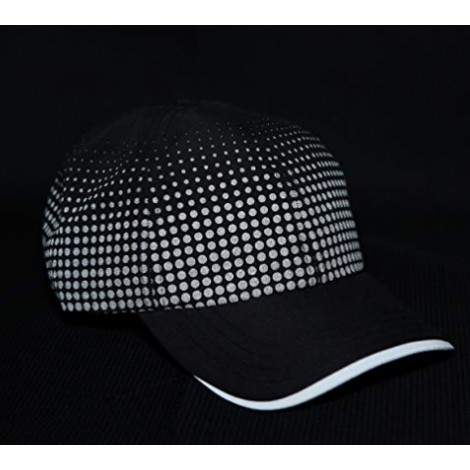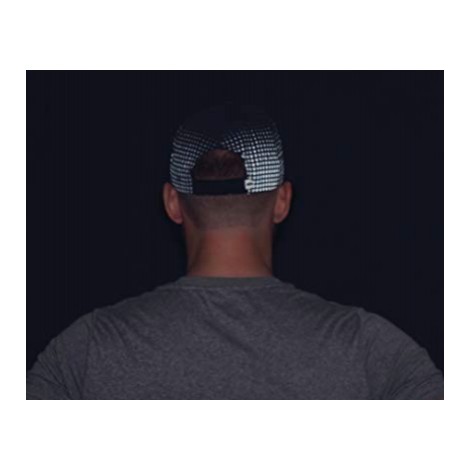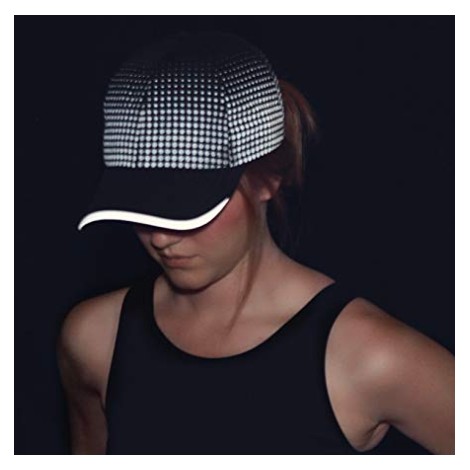 The MUN Gear Hat is a great option to add to your running hat game. Not only is it super stylish and design to work for men and women alike, but it also offers up 360 degrees of visibility which helps to keep you safe when you're out doing your running thing while most everyone else is asleep.
Full Round Visibility
The MUN Gear Reflective Running Hat is a must add to your running gear because it offers up 360 degrees of visibility without you having to wear a vest or a belt.
The unique print is not only fashionable, but functional as well and is well suited for both men and women. The reflective print is super bright and features a gradient to ensure that it catches the eyes of oncoming motorists, so we award points for Visibility and Features here.
Breathable
We also like that this is big on comfort. Not only is it breathable and comprised of a fabric that wicks moisture away from your head, but it is also fully adjustable. The hat has a velcro strap at the back so that you can get a secure fit that isn't bouncing around on your head when you make contact with the pavement.
For this, we award points in the Comfort category.
Cost and Value
The MUN Gear Hat rings up in the middle of our price range. We like its value because it offers up a fashionable and functional way to stay safe that works for both male and female runners. And because it is as comfortable as it is effective.

7

. HiVisible Reflective Band Set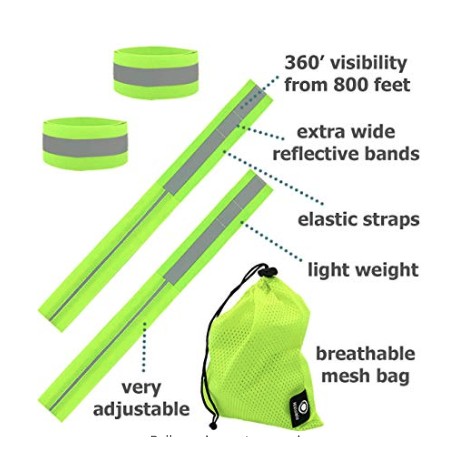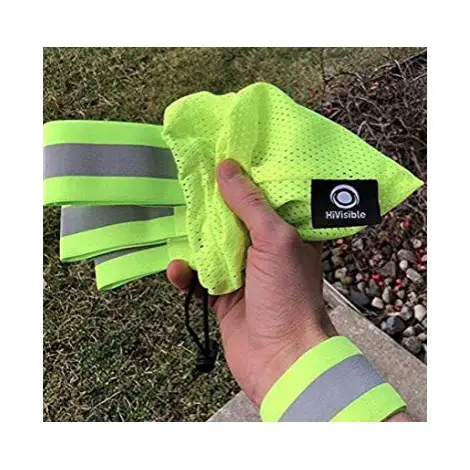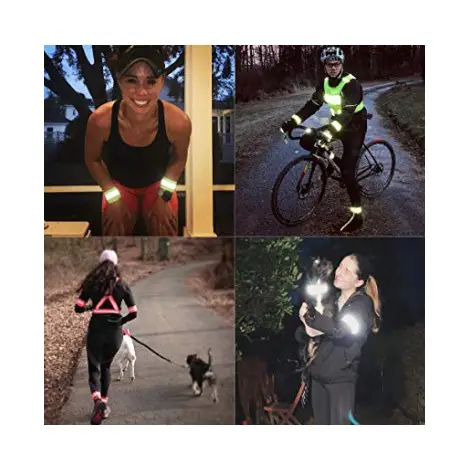 The HiVisible Reflective Band Set is another great option to hit our list that offers up tons of visibility at a very affordable price. In fact, you'll get four bands with your purchase and you'll enjoy visibility from up to 800 feet away. We love how adjustable and stretchy this product is making it useful all year round.
Visible from 800 Feet
The HiVisible Reflective Band Set is one that offers up tons of visibility without breaking the bank. You'll get four bands with your purchase, and each features 360 degrees of reflective material that is housed in bands of neon colors. You can make your purchase in neon green or neon pink.
You will be able to see these bands from up to 800 feet away. And if you know you're running gear, you know that each foot counts, especially when cars are traveling at high speeds. So we award major points for Features and Visibility here.
Stretchy and Adjustable
We also like how adjustable these babies are. While other bands on the market claim to be made from elastic and instead are delivers with a non-stretchy fit, these are guaranteed to be nice and stretchy.
This makes them comfortable to wear (as they are lightweight and breathable as well), and it allows you to get a more secure fit, whether you're wearing these on your legs or your arms. Because they are nice and stretchy with a long velcro band, you can get a snug fit.
We especially like that these can be worn over any clothing because they are so stretchy. This means you can wear them as securely when you're stripped down in summer as you can in the winter months when you're all bundled up. We award points for Comfort here.
Cost and Value
The HiVisible Reflective Band Set rings up at the bottom of our price range, and we like their value because you will get four bands with your purchase that you can use the entire year.
That being said, there are reported issues of strings getting stuck in the velcro and pulling the band apart, so we do dock some points for Durability here.

8

. GearTOP Running Gloves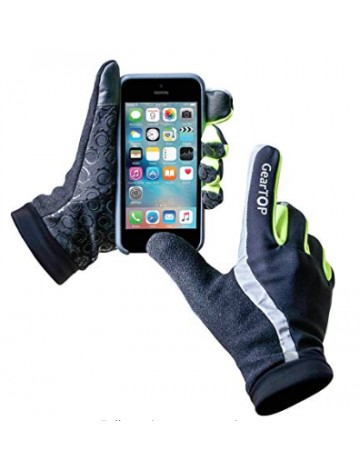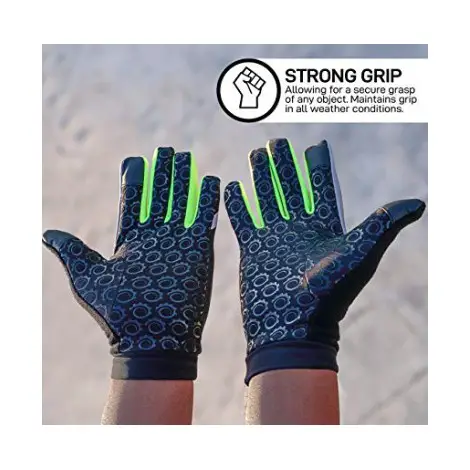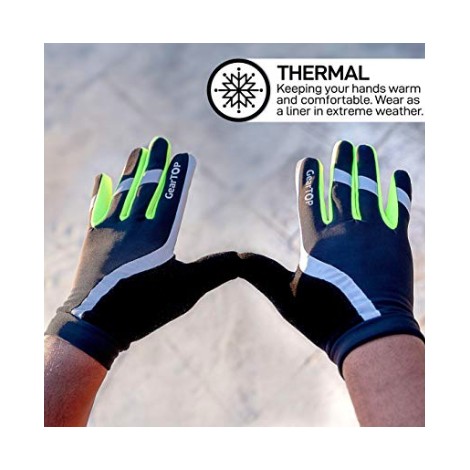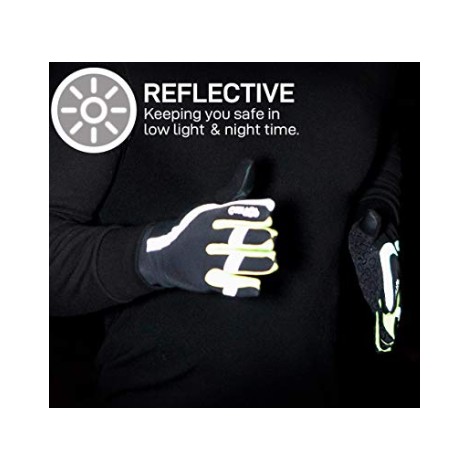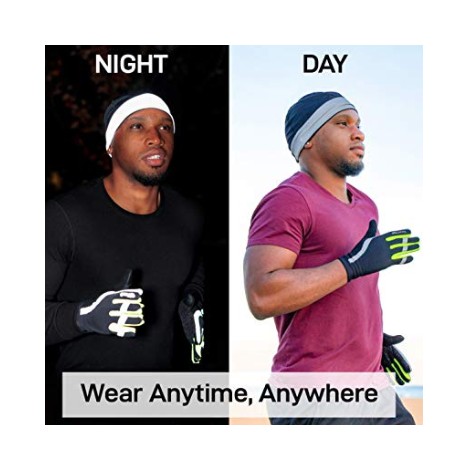 The GearTOP Running Gloves are a must if you are lacking a good pair of running gloves in your collection. These are nice and lightweight, so they can be worn during chilly winter months and warmer summer months as well. Plus, you can use your smart devices with these gloves still on your hands so it cuts down on the hassle of having to remove them.
Highly Reflective
The GearTOP Running Gloves are an excellent addition to your running get up and work to increase reflectivity while minimizing bulk. These babies have a streamlined fit with reinforced seams to ensure that you can wear these for longer without experiencing wear and tear.
And reviewers notice that cars find them far more visible and move over sooner when they are wearing these gloves then when they are using other light sources, like from their phones. We award points for Visibility here.
Great for All Seasons
And we like that these have many uses outside of just being reflective gloves. Because of their lightweight fabric design, they are good for chilly and warm weather (though they may not provide the warmth you're looking for in the dead of winter).
The fabric works to wick away sweat, and it also can double as a handy sweat rag to wipe the sweat away from your face.
Plus, you won't' have to worry about removing these to change the music on your smartphone or use another smart device. This is due to the special fibers on the fingers that allow you to use your smart device with them on.
Users like the gripping quality of the palm (which makes these suitable for cycling too) and the higher cuff that comes further above the wrists. These features help the gloves stay in place without slipping down. We award points for Features and Comfort here.
Cost and Value
The GearTOP Running Gloves ring up at the bottom of our price range, and we love their value because they offer up great visibility that is functional throughout most of the year, and that allows you the convenience of using your smart devices while you're wearing them.

9

. Nike Women's Essential Flash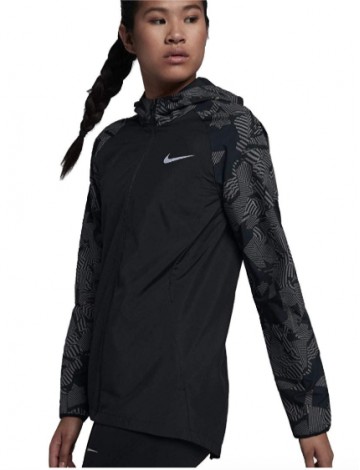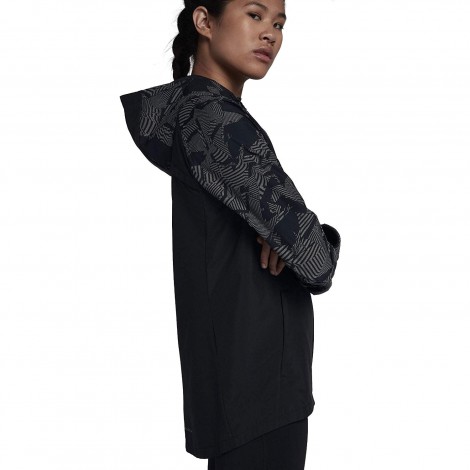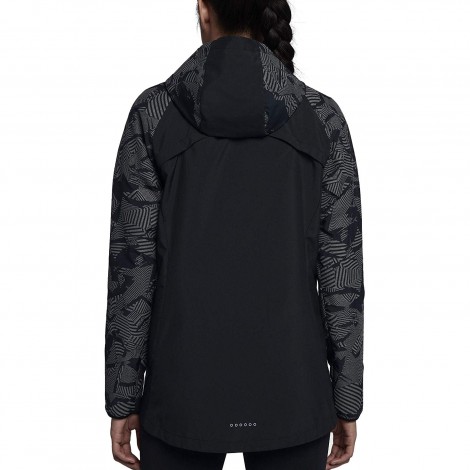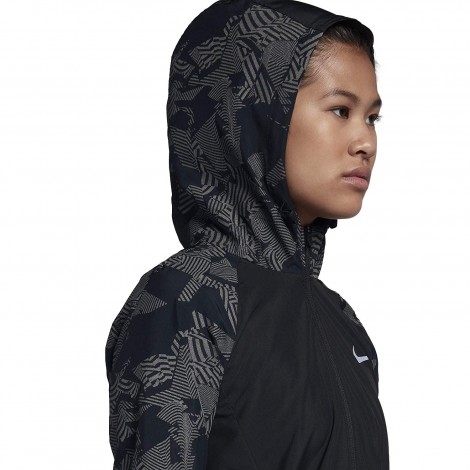 The Nike Women's Essential Flash shows again why getting a Nike jacket is a smart move. This jacket is great for the cooler months and offers up warm comfort along with breathability. And, of course, you'll get arm length reflectivity as well as reflective designs on the hood to ensure your safety while running.
Large Reflective Zones
With the Nike Women's Essential Flash, you'll enjoy larger reflective zones that help you to be more visible when lighting situations are low. The full length of the arms of this jacket, as well as the hood that can be effectively synched to stay securely in place, are fully lined with reflective designs to catch the lights of oncoming cars.
We award points for Visibility here.
Breathable and Comfortable
The Nike Women's Essential Flash is also nice and comfortable. The fabric is soft to the touch and works to remain breathable, so you stay warm and dry thanks to Dri-FIT technology. Plus, with vents in the back, you'll enjoy a flow of air that ensure that you don't overheat on your run.
And with a finish that repels water and pockets on the outside complete with zippers, you can rely on this baby to keep you dry and outfitted for those long runs in the early mornings or late at night. So we award points for Features and Comfort here.
Cost and Value
The Nike Women's Essential Flash rings up on the higher end of our price range, and we like its value because it offers up stylish protection from motorists as well as from the elements and because it works to keep you nice and comfortable in the process.

10

. MoKo Sports Running Belt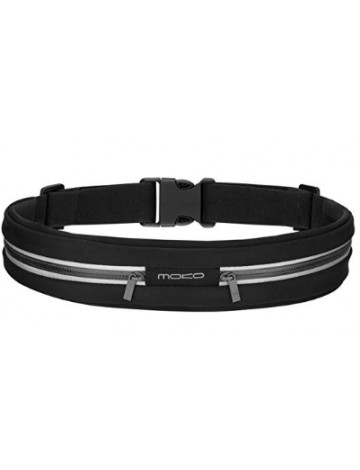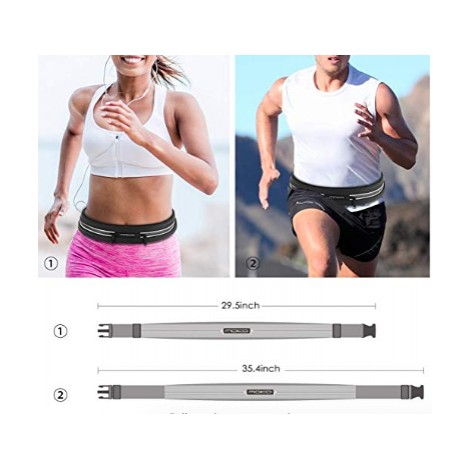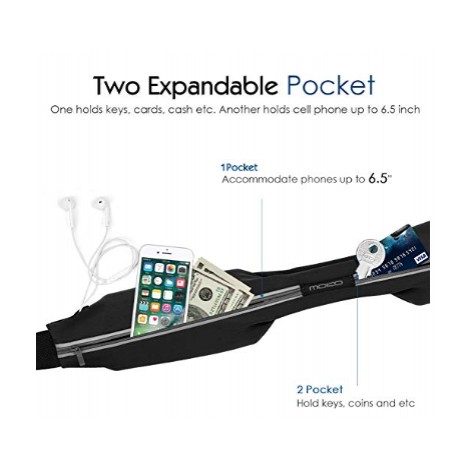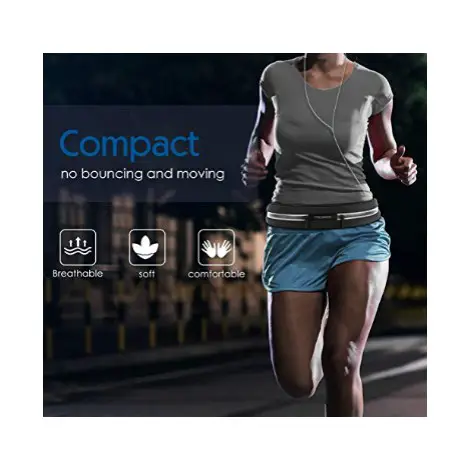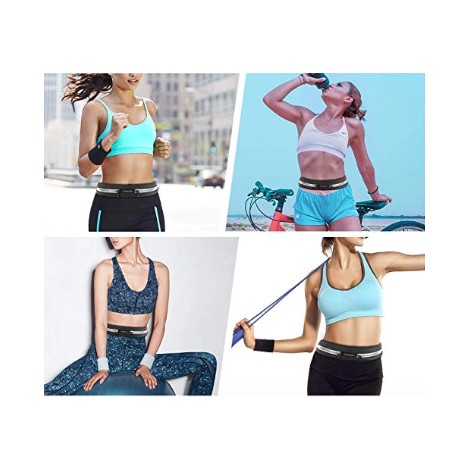 The MoKo Sports Running Belt is the perfect way to close out our list. This little buddy is a wonderful runner's companion as it allows you to be able to carry essential items with you and without having them jostled around. Plus, you'll get to choose between several colors that will work to spice up your running wardrobe.
Reflective Strip Along Zippers
The MoKo Sports Running Belt comes complete with a reflective strip that runs down the zippers of both pockets of the belt. This allows for visibility from different angles - the front, back, and sides. We award points for Visibility here, although it does not offer up full 360-degree visibility.
Tons of Storage
We love that this belt offers up tons of storage. You will enjoy not 1 but 2 stretchy pockets that can hold anything from your keys to your wallet and phone. This will help you to keep organized, and because the fabric is stretchy, your items are held tight and won't be jostled around.
And on top of that, it's easy to get into with two buckles (unlike others on the market that you have to shimmy into). You can also easily adjust the width of the belt as well. So we award points for Comfort and Features here.
Cost and Value
The MoKo Sports Running Belt rings up at the very bottom of our price range. We love its value because it offers up tons of storage and visibility at a minimal cost--the least of any of the items on our list.

Subscribe to our Newsletter